Staff profile: Ann's story – 16 years at Verbatim! - Verbatim Call Centres - ContactCenterWorld.com Blog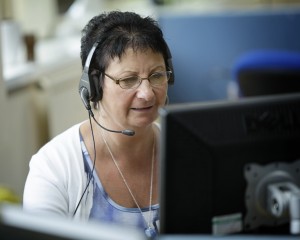 Staff profile: Ann Davidson – 16 years working for Verbatim
In 1998 I found myself at home with a two year old son. I needed to get back to work and answered an ad in the local paper for a job at Verbatim.
I got the job and started working 3 mornings a week and the odd Saturday morning. We worked in an office on Main Street, Greenham Business Park and 6 of us sat cosily around a group of desks with our phones and notebooks with a fax machine in the corner.
We started off taking calls, noting down the clients id, typing up the messages and in nine times out of ten, printing the message off and getting up from our seats to manually fax the message over. Early days and not very high tech but we did the job and the clients were pleased!
As AJ grew, so did Verbatim, we knocked a hole in the wall and moved into the adjoining office. As AJ went to school I increased my hours to work around his school day and Verbatim, being the family friendly company allowed me work around him all the way through his school years.
We grew bigger and eventually moved into new, bigger offices at Venture West. More clients, more staff and more hours to work but new technology including emails and texts and automated faxing!
A series of mishaps happened along the way with me, my mums passing and the death of my lovely husband Ken. My extended family at Verbatim rallied round and supported me with love and compassion. When times have been tough for me, Graham and the team have always been there and helped me through the bad times, as they do with all of us.
Moving on, my son has just turned 18! I have now been here 16 years. I love to chat with my clients and callers and have some great friends and colleagues here. We always look out for each other through good and bad. We laugh together, cry together but above all work together to make Verbatim what it is today. The fundamentals of the job remain the same, answer my phone, talk to my callers in a friendly and professional way, deliver the message and fulfil my client's needs. Job done!!
I cant see me leaving until pension day – which unfortunately is nearer than I would like!!!!
Ann Davidson
Source: http://www.verbatim-cc.co.uk/2014/06/staff-profile-anns-story-16-years-verbatim/
Publish Date: June 11, 2014 5:00 AM
---
PREMIUM

CTI Software
(VIEW OUR PAGE)

CTI Software is the creator of custom application called Davos, which complements the telephone client solutions with intelligent features such as automated call attendant, call recording and archivin...

(view more)

PREMIUM

Future Gen International Pte Ltd
(VIEW OUR PAGE)

Outsourcing provider of English Call Centre services, Audio Transcriptions, Big Data ETL (Extract, Transform, Load) , Big Data Visualization, Big Data Predictive Model Generation

PREMIUM

Avizent Ltd
(VIEW OUR PAGE)

Advanced AI technology and Natural Language Processing delivered to clients in the Cloud that harnesses both voice and digital conversations. The focus is on building an environment where intelligent ...

(view more)
---

View more from
Verbatim Call Centres
Recent Blog Posts:
| | |
| --- | --- |
| Cupcake Day | June 24, 2016 5:00 AM |
| It's OK, we don't like call centres either! | April 17, 2016 5:00 AM |
| Customers want to TALK to you! | February 14, 2016 5:00 AM |
| Sad news for us but great news for a little person :) | April 1, 2015 5:00 AM |
| Is Your Business Leaking Valuable Prospects? | March 24, 2015 5:00 AM |
| Verbatim helps Africa to fight Ebola – and receives the AquAid Badge of Support | October 15, 2014 5:00 AM |
| Star Wars spotted at Greenham Common | September 22, 2014 5:00 AM |
| Winners receive their weight in beer | August 1, 2014 5:00 AM |
| Staff profile: Ann's story – 16 years at Verbatim! | June 11, 2014 5:00 AM |
| When schools face closure due to bad weather – what's the plan? | March 26, 2014 5:00 AM |