Without Trust, The Customer Journey is Dead…. - Vizolution - ContactCenterWorld.com Blog
"An anthropomorphic robot waits for a ride by a highway in Canada, placed there by social scientists hoping to find out if drivers will take him to a gallery thousands of miles away". Via BBC.co.uk.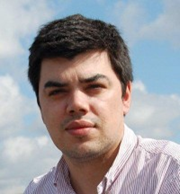 Author: Marcio Rodrigues, Customer Proposition Director, Vizolution.
When customers decide to approach an organisation these days a multitude of actions already have taken place in most cases. In a connected world, information is available in bucket loads and customers are not afraid to use it to get the best outcomes.
Marketing spends billions of pounds every year trying to understand customer needs, creating products and services that are relevant, distributing it through many channels in a way that makes it easy and compelling for customers to buy and interact with their organisations.
So why are so many of these journeys not well thought through and failing to deliver its original intent – are customers not really at the heart of these journeys? Marketers put in a lot of effort attracting customers only to lose them at first click, call, visit etc. Let me give you an example of a journey I have gone through recently:
My journey ….. My Bank got in touch:
My relationship with my bank is very much one way. When I have a job to do, I do it myself and or initiate the first dialogue. My bank has been good enough to enable me to do most of my jobs online so I very rarely have to pick up the phone or visit a branch. I do indeed call my bank when I have new jobs to do and need advice, e.g. re-mortgage, loans, investments etc, but mostly on new business transactions. So, when recently my bank called me I was very surprised. Initially I thought… this is a sales call or something went wrong. But, no, a cheerful chap told me that after reviewing my accounts the bank noticed that they could offer me a better deal on an existing product. The deal on offer was significantly better and at this point I expressed my surprise and delight that I received this call in the first place. I told him that the offer sounded good and asked him to proceed.
"Sorry I can't process this over the phone, you need to go to your local branch to complete the process" was the reply. At this point I asked why? Do I need to sign any paperwork?
"No, you are an existing customer with an existing deal… no signature required" was the reply…
It was at this point that I thought this wasn't very easy or convenient but I still thought the bank was trying to do the right thing for me. I therefore did something I haven't done for a few years. I visited my local branch.
On arrival, I told the cashier why I was there. "Sorry Mr Rodrigues you need to call us in advance and make an appointment"… But I'm here now… "Sorry we have no appointments today"… well, I left and with the promise to never go back….
The return to the branch…
As it happens… I was sent a cheque. I went to my local branch to deposit it but didn't make an appointment. Paid in my cheque and as I was there asked if I could have an appointment to go through the improved deal discussed above.
"Yes, we'll be free to see you in 15 minutes" was the answer. I was delighted and waited. A very nice, polite employee welcomed me and offered me a seat in a confortable room. As I was getting confortable and explaining why I was there, I was told "I'll finish my shift in 10 minutes but let's see if I can help you". I explained why I was there, my accounts were checked and confirmation that I could indeed get a better deal was given. However I had to buy something else that would add no value to me…. I simply expressed my dissatisfaction and left.
Coming back to my original point, why would any organisation make a customer go through the painful experience above? Did they actually think about the customer? My bank has reams of information about me so why not offer something that might be relevant?
"The journey" "or gamble" above was created to get you to buy stuff that you might or not need. This wasted both the banks time and mine. Stop gambling with your customers trust; instead start building it, one experience at a time.
Customers don't care or want to go on journeys with firms. Customers care about their experiences and outcomes. That's what they buy. What are you selling?
---

Below we continue our series of blogs on the management of the customer experience in financial services based on insight from a white paper produced by Dr. Frederic Ponsignon from Exeter University.
Author: Frederic Ponsignon, Researcher in Service and Process Management, University of Exeter
Best Practice #3: Identify value co-creation opportunities in the customer journey lifecycle
Financial services organisations take a holistic perspective to define and describe the customer experience as an ongoing cycle or continuum that includes all of the interactions occurring between the firm and the customer in the process of searching, buying and using the product. The journey lifecycle comprises discrete stages that are spread out over time and can be easily distinguished and managed separately. This is so because financial services are delivered in an ongoing over an extended period of time and characterised by long-term relationships with customers who find themselves locked in with a provider.
Organisations represent the customer experience in end-to-end journey models that consist of high-level generic stages and lower-level specific interactions. In the exhibit below, we present a hypothetical journey map that is made up of nine generic touchpoints or stages, from 'aware' through to 'defect' and 'return'. Although many touchpoints are expected to be sequential (e.g. from 'interest' to 'apply'), the journey is often dynamic and non-linear. The lower-level interactions describe customer activities or transactions.
To build 'good' journey models, organisations develop a deep understanding of the customer's personal processes and resources through market research and the generation of customer insights using various techniques such as interviews, focus groups, and ethnography. For instance, customer shadowing is an increasingly popular technique. Following customers in their daily lives makes it possible to gather insights into the customer's own context of product use. The journey map specifies the context of value co-creation from the customer point of view. Organizations then identify value creation opportunities in the journey and determine how these opportunities are best exploited. Value creation takes places across multiple points in the experience lifecycle because customers judge the superiority of their experience at different stages and their perceptions of value vary over time.
Source: http://www.vizolution.co.uk/without-trust-the-customer-journey-is-dead/
Publish Date: August 1, 2014 5:00 AM
---
PREMIUM

HigherGround, Inc.
(VIEW OUR PAGE)

HigherGround develops data collection, information storage, and interaction analytics solutions that easily transform data into actionable intelligence, enabling operational optimization, enhanced per...

(view more)

PREMIUM

Avizent Ltd
(VIEW OUR PAGE)

Advanced AI technology and Natural Language Processing delivered to clients in the Cloud that harnesses both voice and digital conversations. The focus is on building an environment where intelligent ...

(view more)

PREMIUM

ConceptCall
(VIEW OUR PAGE)

Аутсорсинговый контакт-центр ConceptCall| КонцептКолл специализируется на исходящем и входящем телемаркетинге: мы предоставляем услуги по осуществлению холодных звонков и продажи по телефону, проводим...

(view more)
---
View more from
Vizolution
Recent Blog Posts:
| | |
| --- | --- |
| Vizolution in 2015 | January 22, 2016 5:00 AM |
| Digitising the Call Centre to improve sales conversions by over 20% | January 22, 2015 5:00 AM |
| How do FS firms measure and improve the customer experience? | September 29, 2014 5:00 AM |
| Without Trust, The Customer Journey is Dead…. | August 1, 2014 5:00 AM |
| Screen sharing facilitates distance selling | July 29, 2014 5:00 AM |
| MMR Monitoring – how much and how? | June 12, 2014 5:00 AM |
| No, TANKS! "Survival is not mandatory" | May 20, 2014 5:00 AM |
| The Rise of the Phoenix | May 9, 2014 5:00 AM |
| The Power of Visual Communication | May 6, 2014 5:00 AM |
| vScreen – a significant opportunity for insurance call centres? | April 30, 2014 5:00 AM |
Industry Champion Award Leaderboard