Three Reasons Multilingual Support Can Boost Your Business - Voiance - ContactCenterWorld.com Blog
Choosing the languages, hiring bilingual agents (along with staff to train and support them), and additional costs – it can all make multilingual support seem daunting. How can you justify investing in multilingual support? Many customer service managers take a look at these challenges and conclude that maybe multilingual support is more trouble than it's worth.
Unfortunately, those who do will miss an opportunity to gain new customers and make those they already have happier and more loyal. And the challenges of providing this kind of support may even be easier than you think. Here are three reasons you should consider adding multilingual support to your organization.
US Non-English Speakers – Part of a Large and Growing Market

Many companies have begun actively targeting the non-English speaking market, and for good reason. The United States Census Bureau projects that by 2060, 19% of the

total population will be foreign-born. The buying power of the US Asian-American market alone was $770 billion in 2014, and is expected to reach , 86% of customer service leaders reported serving customers who were not native English speakers. The same survey found that 69% of customer service leaders expect their non-English speaking customer base to increase over the next three years.
Bottom line: The multilingual market is continuing to grow rapidly, and those that invest in increasing their share in this market will reap the benefits.
Multilingual Support – A Competitive Differentiator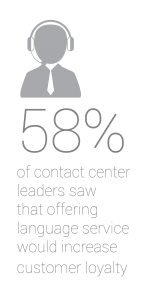 Given the rapid growth of the Limited-English Proficient (LEP) population in the US, you might think businesses would be prioritizing language services as a way to reach the multilingual market. Surprisingly though, while 65% of companies surveyed by ICMI offered formal support in Spanish, 49% were not offering support in any other languages. This is despite the fact that other portions of the multilingual market are expanding rapidly. For example, Asian immigration is up about 68% since 2007. That means a significant number of organizations are failing to invest in the development of a customer base in the rapidly expanding sections of the multilingual market.
Those that are making this investment are reaping the benefits. More than half of customer service leaders said it is a competitive differentiator with the LEP population. The multilingual market will have a major impact on your business, so prioritizing the development of a loyal and satisfied customer base within the multilingual market will be key for success.
58% of customer service leaders saw a relationship between offering service in other languages and an increase in customer loyalty. The satisfaction level of non-English-speaking customers also increased when language services were offered, according to 72% of customer service leaders leaders.
Language Services – More Efficient Than You May Realize
Many organizations are often concerned with the costs of providing language services. Many struggle to implement multilingual support, sometimes because of the assumption that they must staff their own interpreters or bilingual agents. Here are some common challenges that are faced:
82% of customer service leaders reported that their largest issue was not having enough call volume to warrant internally staffing bilingual staff
32% said they lacked the budget for additional languages
21% were unable to hire agents to speak the languages.
For those with low multilingual call volume, internally staffed language services may be cost prohibitive. Fortunately, there is a more efficient means of providing support.
Third party phone interpretation vendors give businesses with lower multilingual call volume a way to offer language services. There are vendors that charge per minute used, making it affordable to provide multilingual customer support. The efficiency of this model allows investment in the important multilingual market, while minimizing the cost to your business.
The multilingual market is going to continue to grow in the coming years. With the opportunity to efficiently grow your business in such a powerful market, you cannot afford to miss out. If you are not currently offering language services, what has been your biggest obstacle to doing so? If you are offering multilingual support, share your stories of how it has helped your business!
Source: http://voiance.com/news-blog/multilingual-support-boost-business/
Publish Date: March 2, 2016 5:00 AM
---
PREMIUM

Future Gen International Pte Ltd
(VIEW OUR PAGE)

Outsourcing provider of English Call Centre services, Audio Transcriptions, Big Data ETL (Extract, Transform, Load) , Big Data Visualization, Big Data Predictive Model Generation

PREMIUM

Avizent Ltd
(VIEW OUR PAGE)

Advanced AI technology and Natural Language Processing delivered to clients in the Cloud that harnesses both voice and digital conversations. The focus is on building an environment where intelligent ...

(view more)

PREMIUM

CTI Software
(VIEW OUR PAGE)

CTI Software is the creator of custom application called Davos, which complements the telephone client solutions with intelligent features such as automated call attendant, call recording and archivin...

(view more)
---

View more from
Voiance
Recent Blog Posts:
| | |
| --- | --- |
| 4 Myths About Your Phone Interpretation Service | November 2, 2016 5:00 AM |
| How Phone Interpretation Impacts Average Handle Time | October 12, 2016 5:00 AM |
| How Phone Interpretation Impacts Contact Center Metrics (Pt.1) | June 16, 2016 5:00 AM |
| 3 Tips for an Effective Telephonic Interpreting Service RFP | May 18, 2016 5:00 AM |
| 8 Paths to Better Phone Interpretation (Part 2) | May 4, 2016 5:00 AM |
| 8 Paths to Better Phone Interpretation (Part 1) | April 20, 2016 5:00 AM |
| Blue Goldfish: Improving Customer Experience by Leveraging Technology, Data and Analytics – Part II | April 13, 2016 5:00 AM |
| Blue Goldfish: Improving Customer Experience by Leveraging Technology, Data and Analytics – Part I | April 6, 2016 5:00 AM |
| The One Need Customers Aren't Telling You About | March 15, 2016 5:00 AM |
| Five Key Principles to Prevent Data Theft | March 7, 2016 5:00 AM |