Business Hack #1: Risky Business - VoiceNation, LLC - ContactCenterWorld.com Blog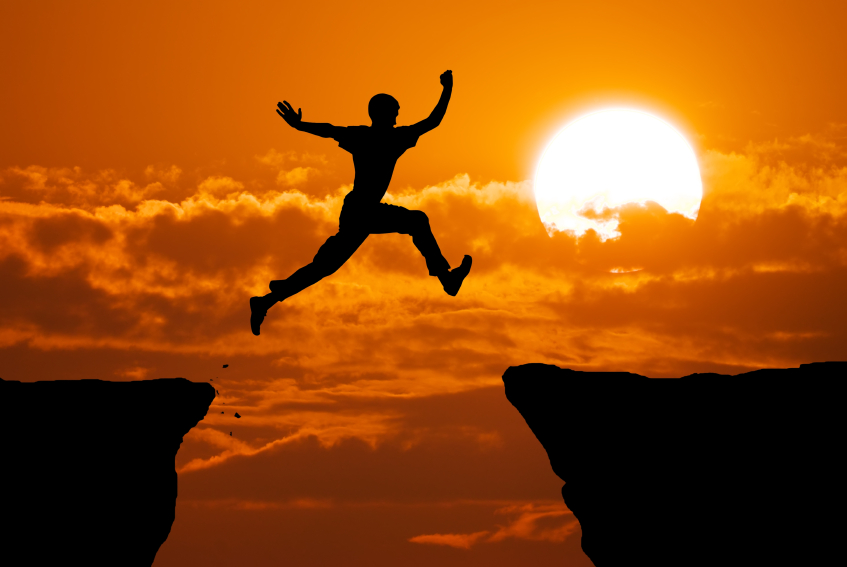 CAUTION!
"The biggest risk is not taking any risk...In a world that changes really quickly, the only strategy that is guaranteed to fail is not taking risks." - Mark Zuckerburg
I've always considered myself to be a risk taker. Well, I certainly like to think of myself as a risk taker, but in reality I only take "risks" when I feel comfortable doing so. Risks aren't risks unless you're unsure of the outcome. It takes a lot to step out, take more chances, and listen to my gut without over thinking things.
I grew up in a very cautious environment. "There are just some things that you shouldn't say, shouldn't do, and shouldn't think" was my motto as I learned to handle life on my own. Without knowing it, this mentality owned me. Whenever I would see people do the things that I was cautious to even think about doing, it would send me into a judgmental, internal rampage.
But as my early adult years approached, my sister gave me a piece of advice: "Emily, sometimes you just can't worry so much about what other people are thinking of you. They have to make their own decisions and so do you." This changed my perspective on life from then on.
Why did this motivate me to become a "risk taker"? Simple. I stopped being so concerned that I would fail. Failure used to be my biggest fear and now it is becoming by biggest motivator. If fear can be changed into motivation and anxiety turned into determination, I really believe that individuals will be able to see themselves succeed in ways they never thought possible, both personally and professionally.
"If you are deliberately trying to create a future that feels safe, you will willfully ignore the future that is likely." -Seth Godin
You're probably thinking, "What on earth does this have to do with business?" To put it simply – everything. Your business is never going to stand out without taking risks. You will never be considered the knowledge leader in your industry without stepping out into areas that no one else is willing to go. This might mean failure. In fact, some failure is inevitable. But without failure, we can never reach new heights in our businesses.
Caution chokes out growth.
Caution prevents us from looking at the glass half-full and from taking each new opportunity for what it is, instead of just sticking to the original plan. You can't always plan success, but you can put yourself in a position to succeed. And guess what? If you fail, you've learned! And what is more conducive to a successful company, small business, or personal life than knowledge from experience? If we don't experience then we don't learn, if we don't learn then we don't grow, if we don't grow then we don't reach our goals, and if we don't reach out goals then we feel like failures. When we feel like failures, we become cautious and we don't take the risks that lead to new and exciting experiences.
So get out there and take a risk! Do something you wouldn't do and if it doesn't work, then own it and move on. Never stop adventuring and be sure to take yourself and your company where you want to go.
Source: http://www.voicenation.com/blog/business-hack-1-risky-business
Publish Date: May 4, 2015 5:00 AM
---
PREMIUM

Future Gen International Pte Ltd
(VIEW OUR PAGE)

Outsourcing provider of English Call Centre services, Audio Transcriptions, Big Data ETL (Extract, Transform, Load) , Big Data Visualization, Big Data Predictive Model Generation

PREMIUM

ConceptCall
(VIEW OUR PAGE)

Аутсорсинговый контакт-центр ConceptCall| КонцептКолл специализируется на исходящем и входящем телемаркетинге: мы предоставляем услуги по осуществлению холодных звонков и продажи по телефону, проводим...

(view more)

PREMIUM

Avizent Ltd
(VIEW OUR PAGE)

Advanced AI technology and Natural Language Processing delivered to clients in the Cloud that harnesses both voice and digital conversations. The focus is on building an environment where intelligent ...

(view more)
---

View more from
VoiceNation, LLC
Recent Blog Posts:
| | |
| --- | --- |
| Should I hire an answering service or an onsite receptionist? | June 8, 2017 5:00 AM |
| Solutions Series: Do More With a Virtual PBX | March 14, 2016 5:00 AM |
| Solution Series: More Than Just Your Typical Voicemail | March 14, 2016 5:00 AM |
| Solutions Series: Live Answering Service | March 10, 2016 5:00 AM |
| Why Your Small Business Needs a Live Answering Service | February 18, 2016 5:00 AM |
| Open Source Revolution | June 30, 2015 5:00 AM |
| Open Source Revolution - OpenAnswer is Coming! | June 8, 2015 5:00 AM |
| Business Hack #1: Risky Business | May 4, 2015 5:00 AM |
| Spring Promo! The Growth Factor | April 7, 2015 5:00 AM |
| 3 Ways That Accountants Benefit From Live Answering During Tax Season | March 9, 2015 5:00 AM |
Industry Champion Award Leaderboard