Should I hire an answering service or an onsite receptionist? - VoiceNation, LLC - ContactCenterWorld.com Blog
When looking at enlisting the services of an answering service or hiring an in-house receptionist, you don't have to look too far to see which one might better suit your business, law firm, or medical office. It seems with everyone we talk with about the features of an answering service three area rise to the top. They are availability, money, and time (not necessarily in that order). Let's take a quick look each of these and what they could mean for your office.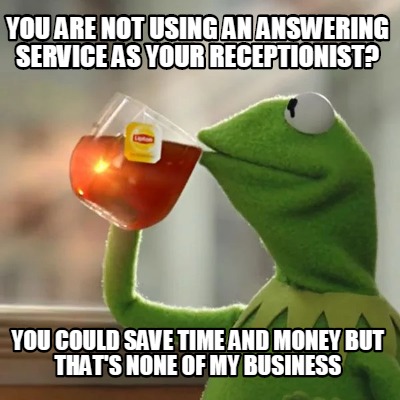 Availability
Sometimes the office can be limiting for all businesses. A regular shift for an employee is usually 8am – 5pm, Monday – Friday, but do you customers or clients have regular shifts? Do their needs stop at 5:00pm on the dot and only happen Monday thru Friday, and not on holidays? Of course not! This is where the perk of availability comes into play when you use an answering service for your business. You have a multitude of professional reps available 24/7 every day of the year. That means never having to worry about missing a sales lead, client intake, or not being available for a patient that might need to change an appointment. Being available at all times shows that you care for and are attentive to the needs of your clients or customers.
Time
Another benefit of utilizing a live answering service is that you save time (and gain peace of mind). You no longer have to worry about spending time, energy, and effort on the recruiting, interviewing, or training part of having employees as it relates to your receptionists and customer service agents. When you bring on an answering service to help manage or grow your business you not only save time from not having to hiring and train someone at the start, you save time when you grow your business or firm since an answering service scales with the growth you experience. Time is not only important for you while in your office but outside the office as well. Being freed up to spend time with your family, friends, or go on that vacation you have been wanting for a while can finally happen.
Money
This one is always the eye opener and the one that any business owner or office manager is most interested in. Besides the old thought that "Time is money", which we have already addressed, the cost of having employees on staff continue to be on the rise. Whether it is insurance, benefits, paid time off, technology or other items needed for a new employee to do their job, it is expensive and not something many people think all the way through when they need to expand or manage growth. When it comes to an onsite customer service rep let's look at a comparison:
For 1 full-time, in-house customer service rep that is paid $10 an hour it will cost you about $1600 per month, that's not including holiday or overtime pay. Plus, you will need to account for insurance sick time, or other benefits. That is just for ONE representative.
Compare this to using one of VoiceNation's most popular plans, the Premier Plan, at just $249 a month. This would free you up significantly to reinvest in your business, provide more for you customers, and give you a whole army of professionally trained call experts to take care of your business.
These are just three of the main benefits of hiring an answering service for your law firm, medical practice, or really any business. There are many more benefits and perks.
For more information on all of the services provided and the benefits of using VoiceNation's live, legal, and medical answering services, please give us a call at 1-866-766-5050 or click the chat button to the side.
Blog Author: Jason Gazaway
Source: http://www.voicenation.com/blog/should-i-hire-an-answering-service-or-an-onsite-receptionist
Publish Date: June 8, 2017 5:00 AM
---
PREMIUM

Future Gen International Pte Ltd
(VIEW OUR PAGE)

Outsourcing provider of English Call Centre services, Audio Transcriptions, Big Data ETL (Extract, Transform, Load) , Big Data Visualization, Big Data Predictive Model Generation

PREMIUM

Avizent Ltd
(VIEW OUR PAGE)

Advanced AI technology and Natural Language Processing delivered to clients in the Cloud that harnesses both voice and digital conversations. The focus is on building an environment where intelligent ...

(view more)

PREMIUM

CTI Software
(VIEW OUR PAGE)

CTI Software is the creator of custom application called Davos, which complements the telephone client solutions with intelligent features such as automated call attendant, call recording and archivin...

(view more)
---

View more from
VoiceNation, LLC
Recent Blog Posts:
| | |
| --- | --- |
| Should I hire an answering service or an onsite receptionist? | June 8, 2017 5:00 AM |
| Solutions Series: Do More With a Virtual PBX | March 14, 2016 5:00 AM |
| Solution Series: More Than Just Your Typical Voicemail | March 14, 2016 5:00 AM |
| Solutions Series: Live Answering Service | March 10, 2016 5:00 AM |
| Why Your Small Business Needs a Live Answering Service | February 18, 2016 5:00 AM |
| Open Source Revolution | June 30, 2015 5:00 AM |
| Open Source Revolution - OpenAnswer is Coming! | June 8, 2015 5:00 AM |
| Business Hack #1: Risky Business | May 4, 2015 5:00 AM |
| Spring Promo! The Growth Factor | April 7, 2015 5:00 AM |
| 3 Ways That Accountants Benefit From Live Answering During Tax Season | March 9, 2015 5:00 AM |
Industry Champion Award Leaderboard