VoIP Supply - ContactCenterWorld.com Blog
Page: 1 | 2 | 3 | 4 | 5 | 6 | 7 | 8 | 9 | 10 | 11 | 12 | 13 | 14 | 15 | 16 | 17 | 18 | 19 | 20 | 21 | 22 | 23 | 24 | 25 | 26 | 27 | 28 | 29 | 30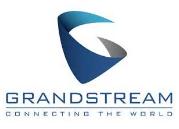 It's safe to say that Grandstream has become a very popular name in the VoIP community and their catalog of products continues to grow. Grandstream is continually releasing new products like PBX's, IP phones, gateways, door cameras and even cordless VoIP phones!
But one thing that we feel may be flying too low on everyone's radar is their free (yes free) softphone application! The Grandstream Wave.
If your business is already using Grandstream products, and you have an office that is always on the go, then you are going to want to watch this video!
Having this application on your Apple or Android device allows you to take your desk phone with you wherever you go! It's easy to use and packed with features!
Our senior VoIP expert Brian Hyrek took some time out of his day to sit down in the lab and play around with the Grandstream Wave and he had nothing but great things to say! Most notably, Brian was impressed with how easy the application was to use!
So, if you are already setup and using a Grandstream PBX, then take a look at this review video for a quick overview of its user interface and functionality!
Do you already use the Grandstream Wave? Or do you prefer a different softphone application? Let us know in the comments!
Source: https://www.voipsupply.com/blog/voip-insider/grandstream-wave-free-softphone-application/
Publish Date: July 16, 2018 5:00 AM
---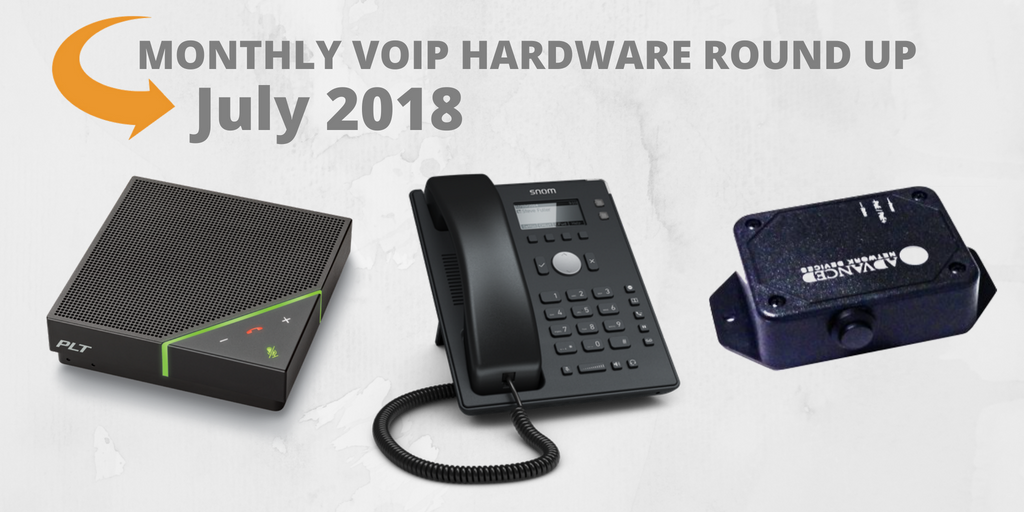 It's time to wrap up what new VoIP hardware we have this month again! Last month, we introduced a couple new IP phones and an expansion module from VTech and Grandstream. This July, we have a lot more interesting new innovations from some of our top brands. Let's take a peek!
Advanced Network Devices Smart IP Button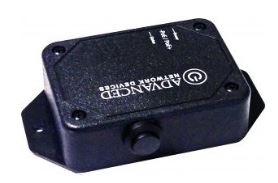 What is a Smart IP Button (IPBTN)? It's a device that allows you to instantly make a call to a preset phone/ extension or trigger an alert such as a lockdown message with just a simple push on the button!
The Smart IP Button connects to your existing data networks with Power over Ethernet (PoE) and you can easily mount it under a table, desk, or in any discrete location for emergency use!
IPBTN comes in handy or even saves lives for many facilities in need of mass notification functionality, including education, healthcare, banking, government, and more. This device comes in two versions, with and without InformaCast, an emergency mass notification system that sends critical messages to on-premises devices and mobile users.
See Datasheet Here!
Easy to use

Connect the button directly to the network with a standard network cable

HTTP support

SIP enabled
Snom D120 Entry Level Desk Phone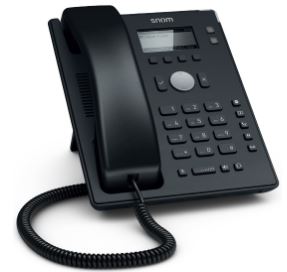 Looking for a basic VoIP phone that simply works? You have more options now! Snom just released their latest entry-level addition to Snom's D-series IP phones: The D120.
This is a fundamental telephony designed for large installations in hotels or healthcare locations. The straightforward design and features really captured many of our customers' hearts! The D120 will begin shipping in early August.
Learn more in the datasheet.
2 SIP identities

Low power consumption (PoE)

Backlit graphical display

360° degree call/message indicator

4 context-sensitive function keys + 5 function keys
Plantronics Calisto 7200 Bluetooth Speakerphone
Enjoy a 360-degree microphone coverage with Plantronics Calisto 7200 speakerphone! This new innovation from Plantronics draws a lot of attention from small conferencing users who demand crystal-clear audio.
The Calisto 7200 features USB and Bluetooth connectivity and active background noise reduction with acoustic echo cancellation. The touch-sensitive controls make it so easy to answer/end and mute your calls. Learn more here!
Volume on PC or smartphone

PC wideband audio and digital signal processing (DSP)

Plantronics Manager Pro software-as-a-service
See datasheet here.

Source: https://www.voipsupply.com/blog/voip-insider/voip-hardware-roundup-july-2018-smart-ip-button-snom-d120/
Publish Date: July 16, 2018 5:00 AM
---
Plantronics today announced that their Clarity 340 handset is going end of life effective immediately. This UC handset is ideal for enterprise workers who face collaboration issues due to hearing, vision, or dexterity challenges. For non-headset users, the Clarity 340 utilizes the power of PC communications and allows users who are specifically focused on making phone calls to connect via USB for the ultimate softphone solution.
Amplified 40dB audio with DCP digital sound processing

Built-in, full duplex speakerphone for high-quality audio with hands-free convenience

Easy to read color display screen

Standard 12-key telephone dial pad with a mute button
If you are interested in the Clarity 340, call our VoIP consultants at 1-800-398-8647 for pricing and availability!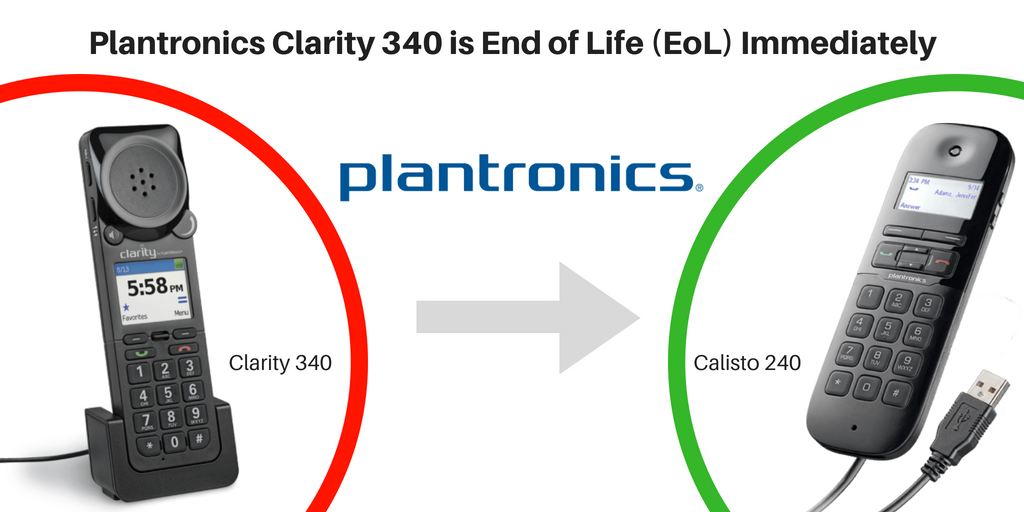 What's the replacement for the Clarity 340
For those who are searching for a replacement, we recommend the Calisto 240, a portable USB handset for PC communications. This device has wideband audio and a noise-canceling microphone in a familiar handset design.
LCD screen for easy call ID viewing and menu navigation

Wideband and noise-canceling microphone offer the best PC audio available

Built-in, full duplex personal speakerphone

SoundGuard provides protection against audio spikes
Source: https://www.voipsupply.com/blog/voip-insider/plantronics-clarity-340-going-end-life-eol-immediately/
Publish Date: July 13, 2018 5:00 AM
---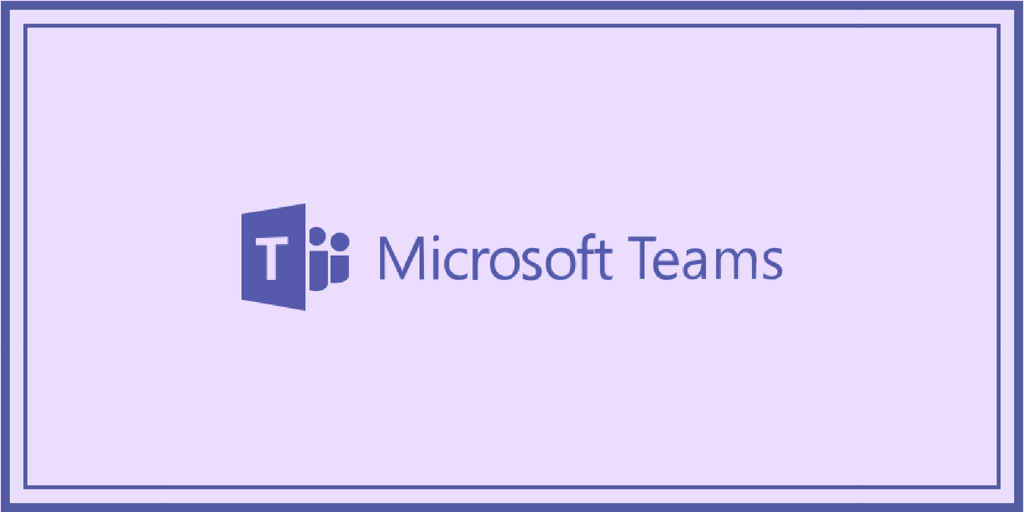 Microsoft Corporation announced that they will release a free version of Microsoft Teams to compete with Slack, a free app pioneer that allows users to try before upgrading them to a paid version.
This free version of Teams is intent to attract small firms and groups of coworkers who don't want to pay for the commercial Office 365 subscriptions, at least initially.
What does the free version of Microsoft Teams offer?
The free version is available in 40 languages and it supports up to 300 users, unlimited chat messages and search capabilities with 10GB of team file storage plus 2GB per person for personal storage.
Once the free version of Teams upgrades to paid Office 365 plans, users will get more storage and access to more of Microsoft's cloud-based apps.
The free version also offers:
Built-in audio and video conferencing for individuals, groups, and full teams

Integrated Word, Excel, PowerPoint, and OneNote apps

Unlimited integrations with more than 140 business apps such as Evernote and Trello

Is Microsoft Teams free version for my business?
The free version of Microsoft Teams certainly is appealing, but you would want to make sure that the free version is enough for your business!
Remember, there are other VoIP service options that don't cost that much but will ensure you have all the functionalities your business needs. Contact our VoIP experts at 1-800-398-8647 for a free consultation today to discuss further!
Source: https://www.voipsupply.com/blog/voip-insider/microsoft-releases-free-version-microsoft-teams-compete-slack/
Publish Date: July 13, 2018 5:00 AM
---
Broadvoice, an award-winning provider of hosted voice, unified communications (UC) and SIP Trunking services for businesses, announced that Broadvoice b-hive has been awarded a 2018 Unified Communications Product of the Year!
"It gives me great pleasure to honor Broadvoice as a 2018 recipient of TMC's Unified Communications Product of the Year Award for its innovative product, Broadvoice b-hive," said Rich Tehrani, CEO, TMC. "Our judges were very impressed with the ingenuity and excellence displayed by Broadvoice and its groundbreaking work on the b-hive solution."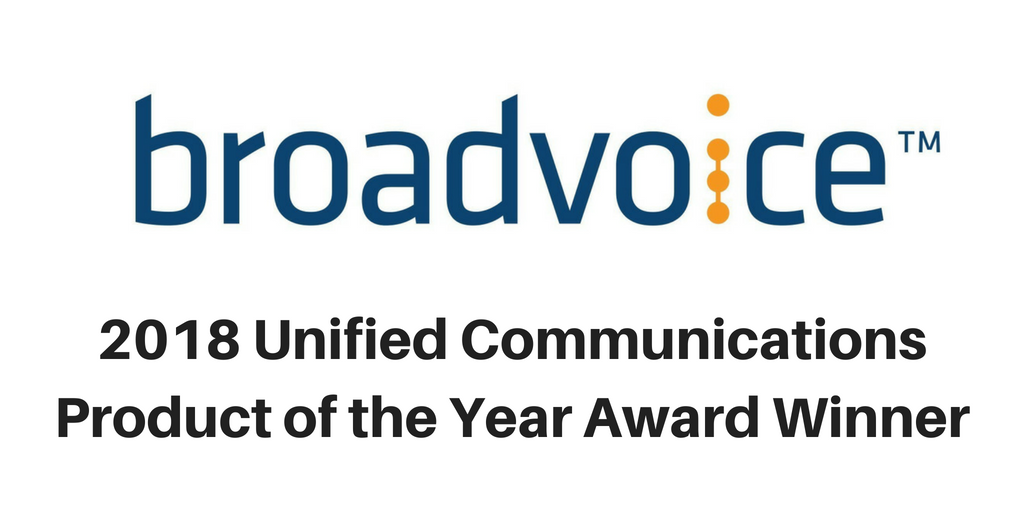 Broadvoice b-hive is a Unified-Communications-as-a-Service (UCaaS) and virtual contact center platform, which delivers cloud communications capabilities to small and medium businesses. This unique UC solution brings together powerful cloud PBX, UC and collaboration features with the virtual contact center in one platform that's connected to Broadvoice's secure, redundant network and hosting infrastructure.
Congratulations Broadvoice, we are very excited about this great news! If you'd like to learn more about Broadvoice solutions, visit Broadvice's page or contact our VoIP experts at 1-800-398-8647 today!
Source: https://www.voipsupply.com/blog/voip-insider/broadvoice-named-2018-unified-communications-product-year-winner/
Publish Date: July 12, 2018 5:00 AM
---
Our tech support team at VoIP Supply offers great pre- and post-sales support plus provisioning, consultations, configuration, and installation help. We get a lot of VoIP hardware and software questions and would like to share the solutions with everyone.
In previous Mom's calling Q&A series, we have discussed: How to eliminate static on my Plantronics Savi W740. Today, we have more new real questions and answers from VoIP users just like you.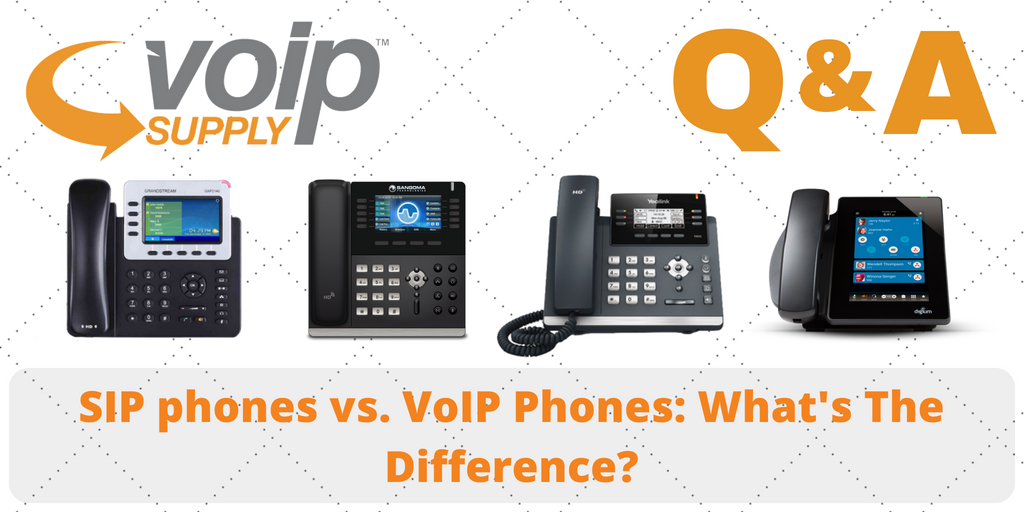 What's the Difference Between SIP phones and VoIP phones?
Q: I am not very familiar with SIP phones vs VOIP phones. Is VoIP phone designed to work independently, or as a handset for a softphone? Could a VoIP phone work autonomously without the need for direct connection to a computer?
Unfortunately, the issue we are experiencing with our currentPolycom phones is that they are basically too intelligent! Our staff daily even sometimes hours switch stations. and currently, they are having to re-verify credentials when they log into a new station so they can pair with the associated phone
A: SIP and VoIP are synonymous to a degree. All SIP is VoIP but not all VoIP is SIP. SIP is a particular protocol. There are more protocols that are VoIP. Skype for Business is a prime example. Skype is not SIP, that is why we specify a device for Skype for Business.
Yes, for sure! A workstation computer does not control the call, the PBX does.
STAY TUNED
Come back for more VoIP questions and answers next time! If you have VoIP questions to ask us, please submit a technical support ticket or contact our VoIP experts today at (866) 582-8591
Source: https://www.voipsupply.com/blog/voip-insider/sip-phones-vs-voip-phones-whats-difference/
Publish Date: July 11, 2018 5:00 AM
---
Communication is at the heart of patient-centered health care. Without a dedicated communication system, many hospitals and clinics struggle to provide the best care possible to their patients effectively. That's where Spectralink Clinical Devices come into play!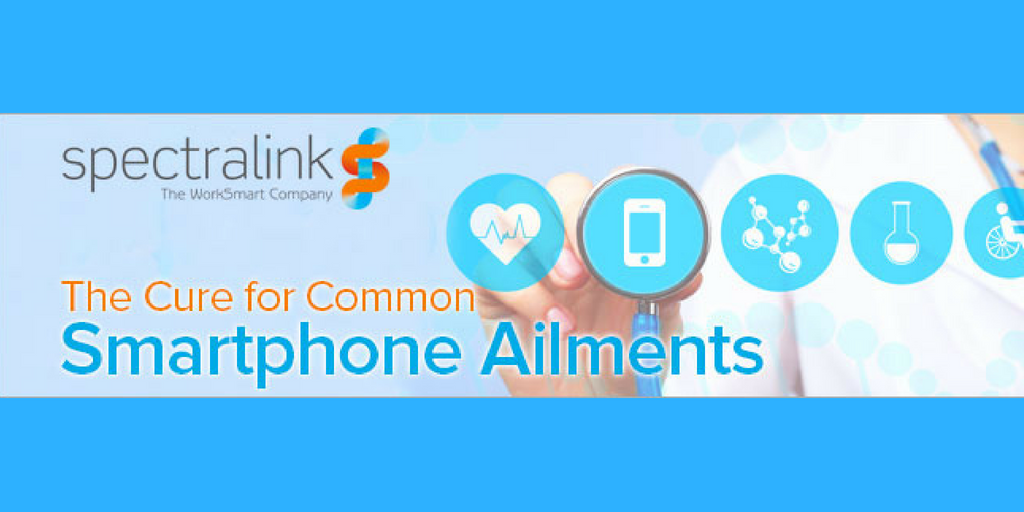 Spectralink's WiFi phones have helped many healthcare providers like yours solve communication challenges. Here are three of the most common ones that we address:
Top 3 Healthcare Communication Challenges and Solutions
Challenge 1: Retrieving patient records is a time-consuming process
Having patient records and current information at their fingertips enables clinicians to spend more time with their patients. Spectralink's PIVOT WiFi phone gives clinicians like you immediate access to patient records so that you can offer the best care possible and save valuable time to treat your patients right! A faster response will also improve patient satisfaction.
Challenge 2: Personal smartphone use increases potential security risks
Your personal smartphone comes in handy to access the web or exchange text messages, but it also brings a lot of security issues in a healthcare work environment! With the PIVOT Series WiFi devices, you enjoy the same freedom to roam in the clinic like you could with your personal phone, except that it's much safer. You can eliminate potential security risks and communicate with ease. Plus, the PIVOT WiFi phones support leading healthcare apps and come with clinical alerts and alarms, so you won't miss anything important!
Challenge 3: Lack of efficient team coordination
Team coordination can be quite challenging when helping your patients navigate through the healthcare system. Spectralink's PIVOT devices provide your dispersed care teams better coordination and clinical resource utilization with real-time video and secure text messaging. This helps to effectively communicate a patient's need or situation and reduce the risk of communication errors!
More Unique Features from Spectralink PIVOT Series:
Reliable voice quality over WiFi

Dual mode high-resolution camera

Barcode scanner

Large backlit display

Touchscreen with a full keyboard
See Datasheet
Source: https://www.voipsupply.com/blog/voip-insider/spectralink-wifi-phones-solve-healthcare-communication-challenges/
Publish Date: July 11, 2018 5:00 AM
---
We are featured in the Telecom Reseller Podcast again! This month, our Channel Manager, Don Stefanie, talks about how VoIP Supply offers provisioning services that saves VARs, service providers and customers time and money. Listen to the podcast and learn more about the VoIP Supply's provisioning service now!

/blog/voip-insider/files/2018/07/VoIP_Supply_7_5_18.mp3
VoIP Supply's provisioning service includes PBX provisioning, system configuration, PCI card configuration, wireless access point configuration and installation, and much more! Here are just some of the benefits you can enjoy from provisioning with the VoIP Supply team:
Prevent out of the box failure and major customer disappointments with comprehensive tests

Offer better and more successful installations to be competitive - just like other bigger players

Save your valuable time and money to focus on growing your core business
Learn more about VoIP provisioning service here.
Source: https://www.voipsupply.com/blog/voip-insider/podcast-voip-fulfillment-provisioning-voip-supply/
Publish Date: July 9, 2018 5:00 AM
---
Back in late March this year, Plantronics announced the acquisition of Polycom, a multinational VoIP provider for video, voice, and content communication collaboration. Today, Plantronics finally completed this 2 billion acquisition deal, with approximately $1.6 billion in cash and 6.35 million Plantronics shares.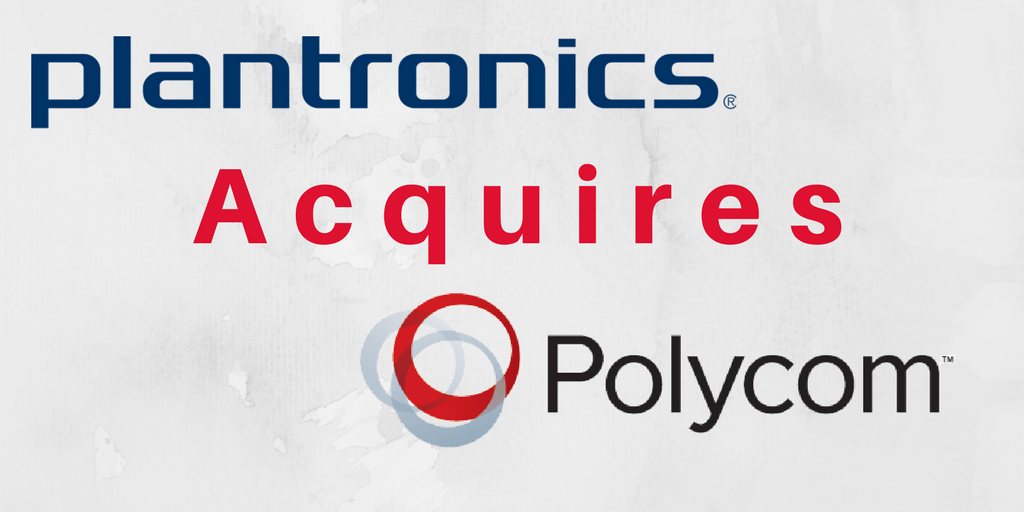 The combined company offers integrated solutions including headsets, software, desk phones, video and audio conferencing solutions and more.
We are thrilled to hear this news and looking forward to seeing how this partnership will benefit more VoIP users! Learn more about Polycom and Plantronics here.
Source: https://www.voipsupply.com/blog/voip-insider/plantronics-completed-2-billion-polycom-acquisition/
Publish Date: July 3, 2018 5:00 AM
---
We all love shopping online! According to BigCommerce, 95% of Americans shop online at least yearly. Where else can you shop at midnight, without waiting in a line or even in your pajamas?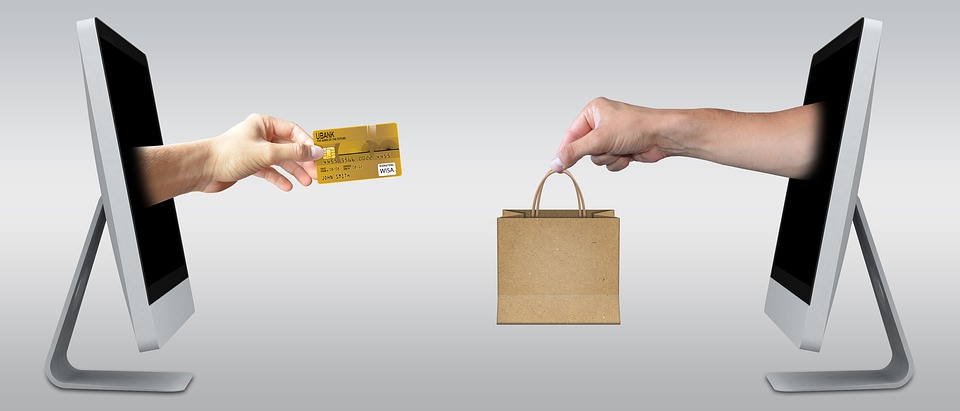 However, as the number of online stores continues to grow, so does the number of bad shopping experiences, especially for tech products like VoIP hardware! Therefore, today, we are going to share some useful tips that will help you avoid bad VoIP shopping experiences:
VoIP Hardware Shopping Checklist
#1 Brand New vs Refurbished
Are you looking to purchase a brand new VoIP phone or a refurbished one? The prices can be very different! If you decided to go with the refurbished equipment, there are a few things you would want to consider, including the device condition, default settings, and more. Read our blog to learn more: Refurbished Phone Checklist: 5 Factors to Consider
#2 Warranty
Check with the seller to see if they provide warranty for the equipment you are interested in buying. The warranty can really come in handy and save you a lot of trouble and money when your hardware doesn't work the way you expected!
"We receive many questions about troubleshooting VoIP hardware that was purchased from some random website. One piece of advice that I would give is, don't just make a purchase because it's the cheapest price, this could be a costly mistake for your business. If that equipment isn't provisioned properly and you don't have support, you could be looking at thousands of dollars lost as well has hundreds spent on support." - Mary Cheney, Marketing Supervisor at VoIP Supply
#3 Provisioning & Tech Support
If you are not a technician and don't know much about VoIP, make sure your provider or the website you purchase from offers tech support! There are many VoIP providers and website out there that only sell you the devices solely but don't install, provision, or assist you when you encounter any technical issues.
#4 Hidden Cost
Are you looking at the total price? Is there something you have to pay separately in order to make your equipment function correctly? Some providers and websites sell the pieces or service separately so they can attract you with a lower price but then after you may be asked to pay extra fees to make it work.
The bottom line is - don't just buy VoIP hardware from any website! Chances are they won't work. Buy from an accredited VoIP company like VoIP Supply to ensure the best VoIP shopping experience! How's your VoIP shopping experience? Share with us!
Source: https://www.voipsupply.com/blog/voip-insider/avoid-bad-voip-shopping-experiences-4-tips-included/
Publish Date: July 3, 2018 5:00 AM
---
Editor's Note: This article was originally posted in October 2015 and has been fully updated for accuracy and comprehensiveness in June 2018.
If you are researching into deploying a VoIP Telephony System on your own for the first time, you are probably seeing FXS and FXO acronyms all over the place. When you're new to VoIP learning it can be very difficult. Hopefully, we can help to make a little sense of FXS/FXO for you.
What is an FXS port?
FXS stands for foreign exchange subscriber. An FXS port is an interface that connects station devices such as your phones or PBX to a VoIP adapter.
FXS is an RJ11 port that connects internally to an analog office phone or fax machine. Think of the S as meaning a station or a cubicle. Any FXS port is going to connect to an analog DEVICE and the cable from the port to the device will never leave the building.
Now, on to the FXO ports…
What is an FXO port?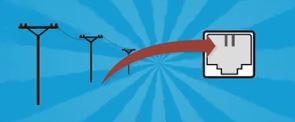 FXO stands for foreign exchange office. An FXO port is an interface that connects your Plain Old Telephone Service (POTS) line to a VoIP adapter.
It designates a telephone signaling interface that receives POTS (plain old telephone service). Um… ok. Let's put it this way, FXO is a port that will connect a device to an outside telephone line. Think "O" for "Outside". Picture an RJ11 wall jack that connects to a box in your basement which is connected to the line from your house to the nearest telephone pole on your street. Any RJ11 port on a device that is headed towards that wall jack is an FXO port. It connects your device to the "outside" world or your local area telephone "office".
What is an FXO/FXS port used for?
These ports are used to allow you to connect your analog phones to a VoIP system. An FXS port helps you connect your analog fax machine to your VoIP phone system; an FXO port enables you to use analog telephone lines with your VoIP phone system.
An FXO/FXS VoIP Adapter and Gateway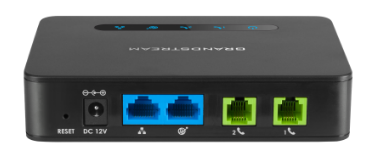 FXS and FXO ports are important when dealing with VoIP adapters and VoIP Gateways. The number of telephones, PBX systems or PSTN lines you are looking to connect to a VoIP adapter or gateway determines how many of each port you will need.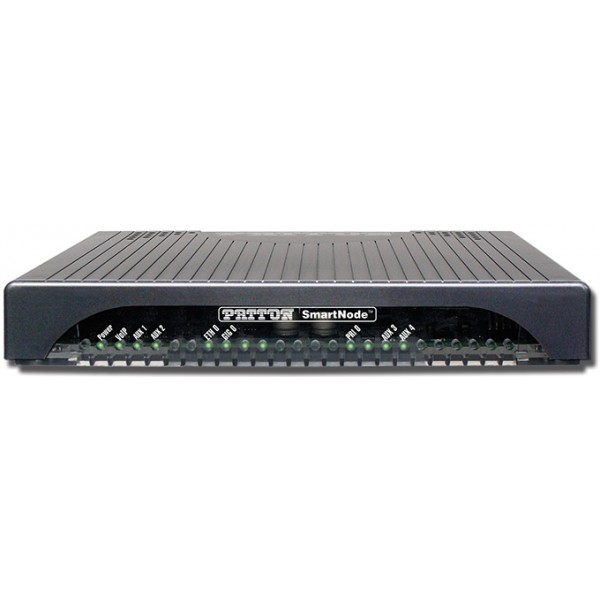 An FXS gateway is used to connect your traditional telephones and fax machines to a VoIP Phone system; an FXO gateway is used to connect your VoIP phone system to your PSTN lines.
VoIP Failover
In the event of failure, the most critical phone systems should have a failover feature so phone calls or faxes may continue during the downtime. You can still make telephone calls via the POTS line. Also, you can use the FXO port to make free local calls on your PSTN line.

Source: https://www.voipsupply.com/blog/voip-insider/fxs-and-fxo-you-should-be-in-the-know/
Publish Date: June 29, 2018 5:00 AM
---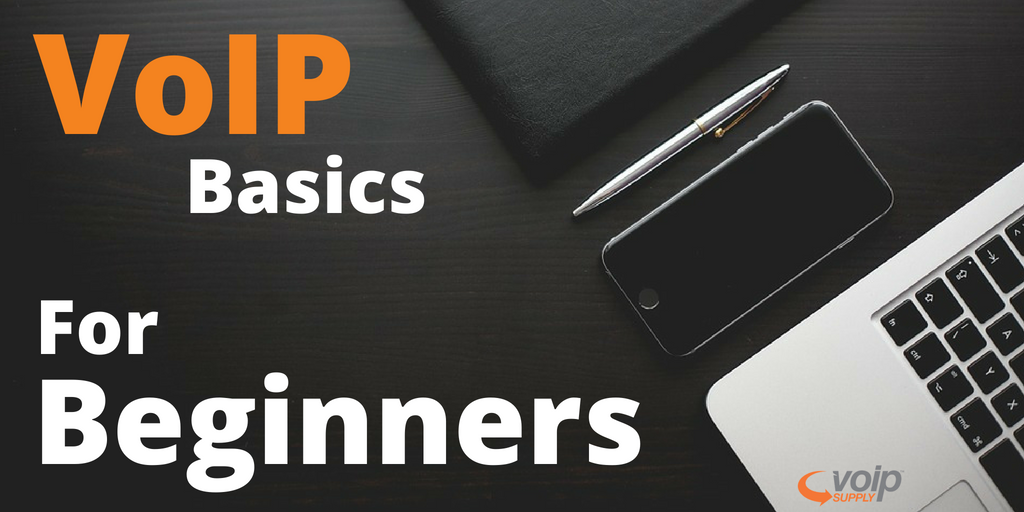 WHAT ARE VOIP PHONES?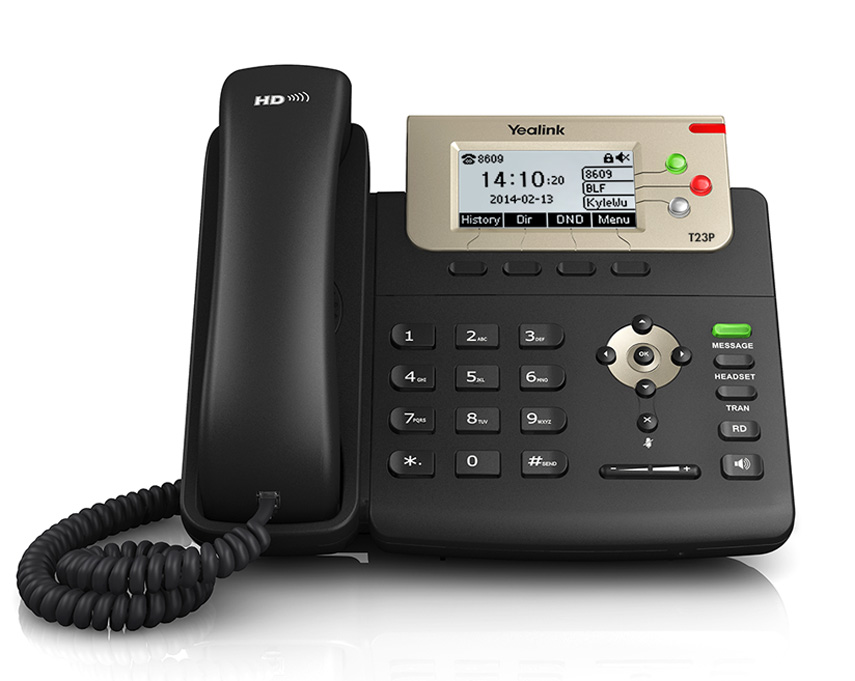 SIP stands for Session Initiation Protocol. It is a communications protocol for integrating multimedia communication sessions. VoIP (Voice over Internet Protocol) phones, also known as SIP phones, are IP (Internet Protocol) telephones that enable your internet service provider to integrate basic phone capabilities with web, email, online chat and more through IP network.
In our VoIP Phone Guide, we discuss in details about how to choose the type of VoIP phones that will fit your needs in terms of the features, functions, etc.
Note that not all headsets are compatible with your VoIP phones, so be sure to check out the compatibility guide and VoIP headset guide before you purchase!
CAN I USE A REGULAR PHONE WITH VOIP?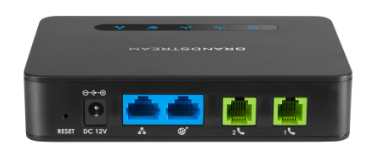 Absolutely! A VoIP adapter, or ATA, is a device that converts analog voice signals into digital IP packets for transport over an IP network. It can also convert digital the IP packets in analog voice streams.
Standard VoIP adapters connect to analog telephones via an FXS port. The VoIP adapter then connects to your Local Area Network (LAN) via an Ethernet cable and an RJ45 port. Some VoIP ATAs also feature an FXO port so you can connect to the PSTN. See how a VoIP adapter works in our free guide!
TYPES OF VOIP SERVICE
On-Premise vs Hosted VoIP Service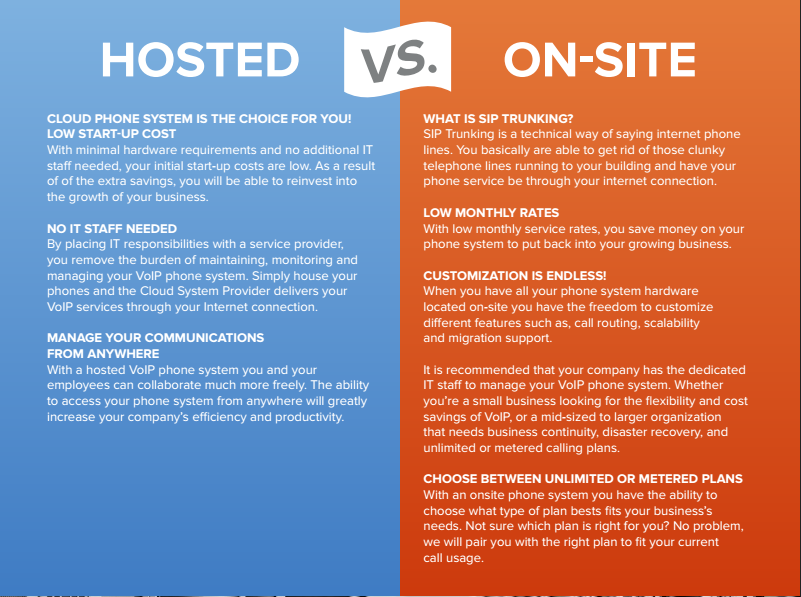 Once you've decided to switch to a VoIP system. The first thing you'll need to consider is which deployment is best for your organization. There are three typical options:
A Hosted VoIP Service - Have a VoIP service provider host your VoIP phone system off-site

An On-Premise Phone System - Host and maintain your own VoIP system

A Hybrid Phone System - Combine both hosted and on-site solutions
Learn more about the types of VoIP systems here!
Finding your ideal service provider doesn't have to be a hassle, follow our guide here to avoid risky providers and find the right level of service you need.
VOIP NETWORK EQUIPMENT
VoIP Gateway

A VoIP gateway is a piece of hardware that bridges an IP network and the PSTN. Depending on where the voice traffic originates, it will convert the voice traffic into the proper form for receipt by the destination network.
There are two main types of gateways: Analog and Digital. Follow our VoIP gateway guide, you will be able to find the right solution for your application!
Do I Need a Session Border Controller?
A Session Border Controller (SBC) is a powerful user agent device that sits at a point of demarcation for SMB and Enterprise businesses to provide services such as call control, security, interoperability and voice optimization. An SBC offers:
Unique Inspection capabilities and encryption to protect against attacks.

The ability to connect to multiple carriers and select which carrier to route a call through based on call cost ( cut down your phone bills!)

Sophisticated call processing algorithms to improve your call quality
Check out our SBCs guide to learn about the types of SBCs and important features.
MORE TO CONSIDER
WiFi Phones vs DECT Phones
Wireless VoIP phone frees you from the constraints of wires. These VoIP phones either have a built-in WiFi or DECT transceiver unit that connects to an access point or base station. If you need a wireless solution, you have to decide which type of wireless VoIP phone is right for you. WiFi VoIP Phones or DECT VoIP Phones? Download our free wireless VoIP guide to find out!
IP Paging and IP Cameras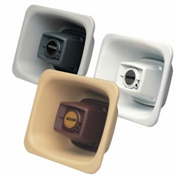 Depends on your industry and organization, there might be some other VoIP equipment you would want to consider. For example, some educational institutions need an IP paging system to stay connected with their students, parents, and faculty; some nursing facilities require secure IP cameras to ensure patient safety.
Ready to learn more? Download our VoIP guides for specific topics and keep learning!


Source: https://www.voipsupply.com/blog/voip-insider/voip-basics-beginners/
Publish Date: June 28, 2018 5:00 AM
---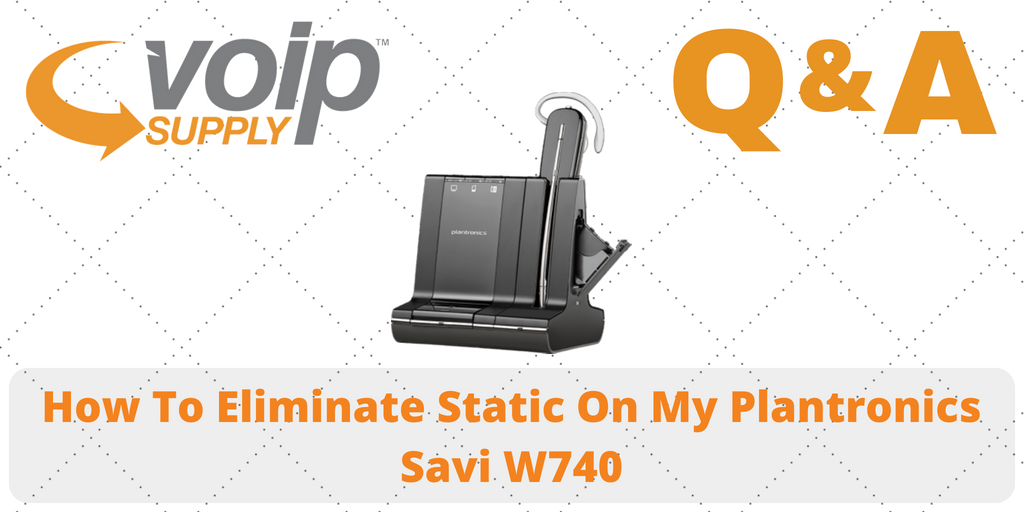 Time for our Mom's calling Q&A again! Our tech support team at VoIP Supply offers great pre- and post-sales support plus provisioning, consultations, configuration, and installation help.
Last week, we talked about: How to Set Polycom VVX Series Volume to a Persistent Level, this week, we are going to tackle the static issue on the Savi W740 VoIP headset! Let's get to it:
4 Areas to Check When You Experience Static on the Savi W740Headset
Q: I am using a Plantronics Savi W740 headset and I keep experiencing static on the headset. It is attached to a Polycom VVX media phone. What can I do?
A: There are some areas you can check to find the possible cause.
Test the VoIP headset on another same model phone just to make sure the issue is from the headset, not from the phone.

Check the settings on the base. It should be set to "A". If there is still static occurring try another channel on the headset base.

On the Polycom VVX menu settings under Menu > Basic > Headset, ensure that both Plantronics EHS and Headset Memory is enabled. After you save the settings, please reboot the phone.

If the problem remains, run through this document for troubleshooting: https://bit.ly/2Kq3MPb
STAY TUNED
Come back for more VoIP questions and answers next time! If you have VoIP questions to ask us, please submit a technical support ticket or contact our VoIP experts today at (866) 582-8591
Source: https://www.voipsupply.com/blog/voip-insider/how-to-eliminate-static-on-my-plantronics-savi-w740/
Publish Date: June 27, 2018 5:00 AM
---
It's time to review what new VoIP Phones were released this June! This month we have a lot of exciting new devices from Grandstream and VTech. Let's see what unique new features each of them has to offer!
VTech ET600 Series
The VTech ET600 Series includes 2 IP Phones and 1 expansion module.
The VTech ET685 is an Asterisk-based high-definition (HD)12-line SIP color desk set with Bluetooth connectivity for headsets. USB connectivity supports up to three expansion modules. A three-year warranty makes the ET685 stand out from the crowd! This unit is available for purchase now!
Support for 12 SIP lines/accounts

Bluetooth connectivity for headset pairing

6 self-labeling programmable feature keys with multi-color LEDs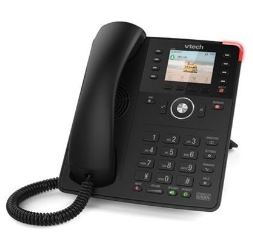 The ET635 ErisTerminal also supports 12 SIP lines but with 8 self-labeling keys and it comes with a 2.8'' color LCD display. The ET635 can be very handy for busy professionals as it supports up to three ET6 expansion modules!
We are currently accepting pre-orders. The ET635 is expected to begin shipping in mid-July.
2.8-inch 480 x 272 pixels (w x h) color LCD

8 self-labeling programmable feature keys with multi-color LEDs

4-way navigation pad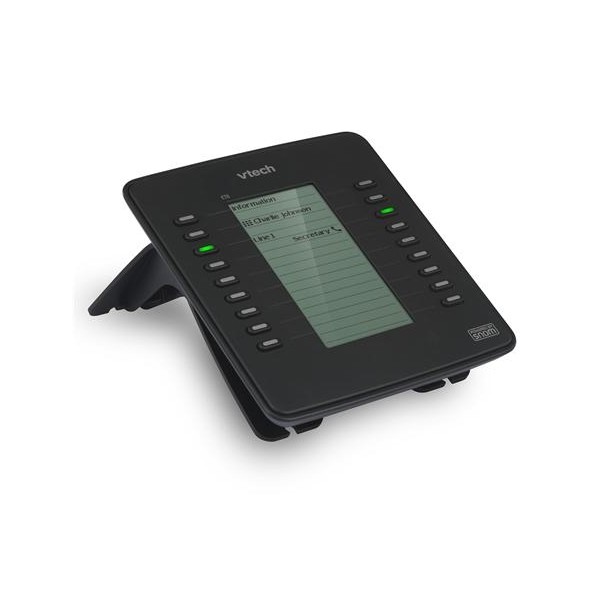 The ET6 Expansion Module is made to extend the number of programmable feature keys for your convenience. Simply plug the ET6 into a compatible ET600 series deskset with the supplied cable, you are able to enjoy up to 54 buttons (3 expansion modules) with programmable functions!
18 multi-color LED keys - Use 18 multi-color programmable feature keys to access multiple features, including BLF, park, pickup and speed dials

Large 4.3-inch graphic LCD - LCD display with a 160 x 384 resolution features easy-to-use self-labeling keys
Grandstream GXV3370 16-line IP Video Phone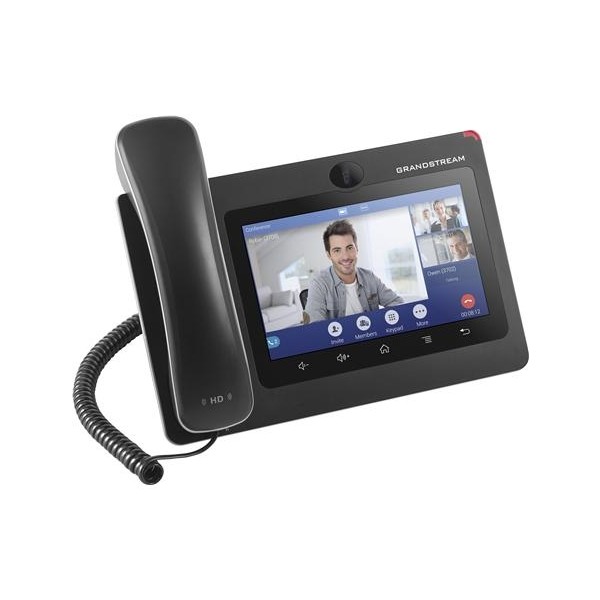 Grandstream's GXV3370 is a high-end video phone that makes it easy to seamlessly integrate video communication solutions. The GXV3370 has built-in WiFi and Bluetooth, a touchscreen 7″ display, and features Gigabit speeds.
This unit is scheduled to begin shipping in early July but we are accepting pre-orders!
16 lines with up to 16 SIP accounts

Runs on AndroidTM 7.0 operating system with flexible SDK support for custom apps

Integrated WiFi & Bluetooth
Grandstream WP800 Portable WiFi VoIP Phone
Grandstream's WiFi phone, the WP800, supports 2 SIP lines and features a built-in accelerometer, proximity sensor, panic button, and much more. Although it's still in the beta testing, it has already drawn a lot of attention as we have very few WiFi phone options so far in the industry! If you love wireless communications, definitely check out this new unit! Watch our video to learn more!
Unique Features:
Integrated dual-band 802.11 a/b/g/n Wi-Fi support

2 SIP accounts and 2 lines, and a 2.4" color LCD with real-time video streaming

Built-in accelerometer, proximity sensor, panic button, and push-to-talk features

Integrated Bluetooth
Source: https://www.voipsupply.com/blog/voip-insider/new-voip-phones-june-2018-ip-video-phones-wifi-phones/
Publish Date: June 26, 2018 5:00 AM
---
Grandstream, a leading manufacturer of IP voice and video communications equipment, announced that their GXP1760W Mid-Range WiFi Phone has been selected as the Best VoIP Device at the 2018 ITSPA Awards!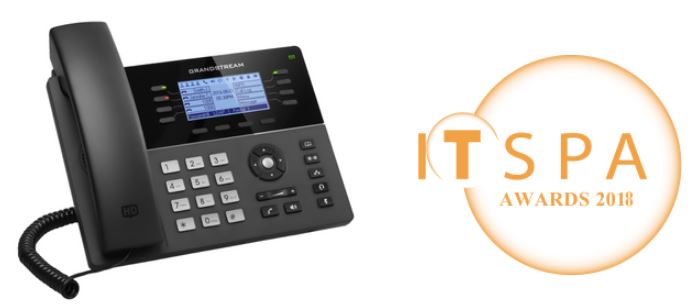 About The GXP1760W
Grandstream's GXP1760W WiFi Mid-Range IP Phone supports 6 lines and 3 SIP accounts. This model offers the same sleek design you've come to know and love but now features integrated dual-band WiFI for integration with wireless networks. Learn how to connect the GXP1760W to your WiFi network here.
Popular Features:
6 lines, 6 dual-color line keys (with 3 SIP accounts), 4 XML programmable context-sensitive soft keys

5-way audio conferencing for easy conference calls

24 digitally programmable & customizable BLF/fast-dial keys

Built-in USB port for importing and exporting data only

HD wideband audio, full-duplex hands-free speakerphone

Built-in PoE
See the GXP1760W datasheet
Grandstream has been one of our top reliable and popular brands at VoIP Supply. We are excited to hear this great news! Look forward to seeing more customers enjoying their communication experiences!
Source: https://www.voipsupply.com/blog/voip-insider/grandstream-gxp1760w-awarded-best-voip-device-itspa/
Publish Date: June 21, 2018 5:00 AM
Page: 1 | 2 | 3 | 4 | 5 | 6 | 7 | 8 | 9 | 10 | 11 | 12 | 13 | 14 | 15 | 16 | 17 | 18 | 19 | 20 | 21 | 22 | 23 | 24 | 25 | 26 | 27 | 28 | 29 | 30