VoIP Supply - ContactCenterWorld.com Blog
Page: 1 | 2 | 3 | 4 | 5 | 6 | 7 | 8 | 9 | 10 | 11 | 12 | 13 | 14 | 15 | 16 | 17 | 18 | 19 | 20 | 21 | 22 | 23 | 24 | 25 | 26 | 27 | 28 | 29
Grandstream UCM IP PBX and GXP VoIP Phones are some of the hottest products VoIP Supply carries. In our latest webinar with Grandstream, we had over 100 participants join us to learn about how to secure VoIP phone calls with Grandstream's GXP phones and UCM6200.
To make sure you get the most out of this webinar, we'd like to share the presentation slides and the Q&A session with all of you who are interested in learning more! Also, the webinar recording will be available in about two weeks. Stay tuned!
Click here to download the presentation deck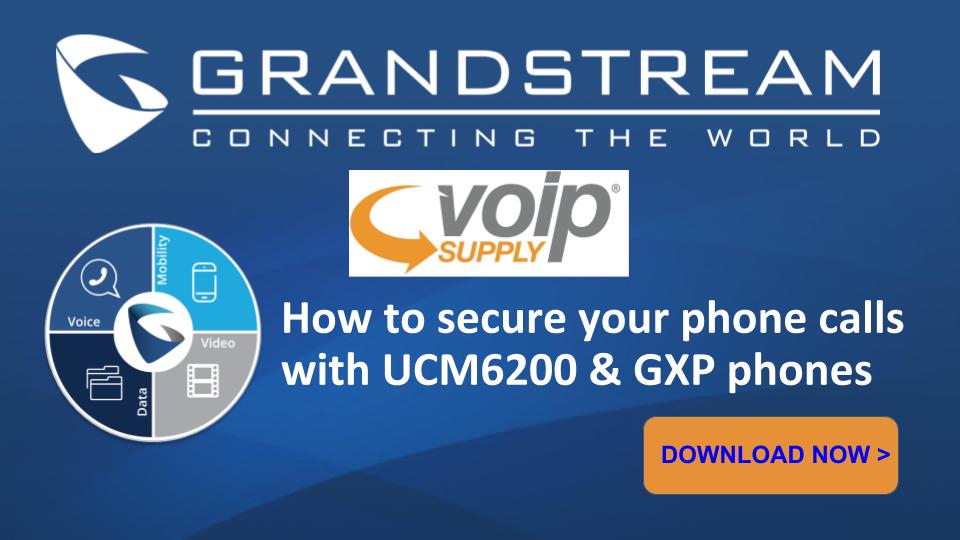 How to Secure Your VoIP Phone Calls Webinar Q&A Session
Question 1: Why is the TLS Do Not Verify is checked under SIP Settings> TCP/TLS tab? I thought TLS requires TCP?
Answer: TLS runs on TCP for sure. This option is for people who want to run SIP on TCP without TLS. When you enable TLS, it automatically runs on TCP. So even when you have "TLS Enable" checked and leave "TCP Enable" unchecked, it doesn't mean that TCP is not being used, it IS being used. It's just another option to enable TCP without TLS.
Question 2: How can we download the certificates from the UCM in order to import them to the GXP phones?
Answer: Those are built into UCM. If you have any issues, contact us and we will send you those certificates. You can then upload them to your UCM IP PBX or GXP phones.
Question 3: How about the SIP URI Scheme when using TLS? Should it be active or not when using TLS?
Answer: Yes, It's enabled by default.
Question 4: If someone is trying to register an extension on the UCM from the outside, can they be blocked?
Answer: When you enable TLS, even if you have devices that don't support TLS, they can still register to the UCM. If the devices are using plain text SIP protocol to register to the UCM, they will still be able to register even if TLS is enabled.
Question 5: Is the TLS.key field for the Private Certificate?
Exactly. That's correct. That is the private key. If you have the name private key, you have to the TLS.key
Have more questions? Don't hesitate to contact our VoIP consultant, Jon Garbin, at jgarbin@voipsupply.com or 716-531-4271!
Source: https://www.voipsupply.com/blog/voip-insider/secure-voip-phone-calls-gxp-phones-ucm6200/
Publish Date: June 21, 2018 5:00 AM
---
Grandstream, a leading manufacturer of IP voice and video communications equipment, announced that their GXP1760W Mid-Range WiFi Phone has been selected as the Best VoIP Device at the 2018 ITSPA Awards!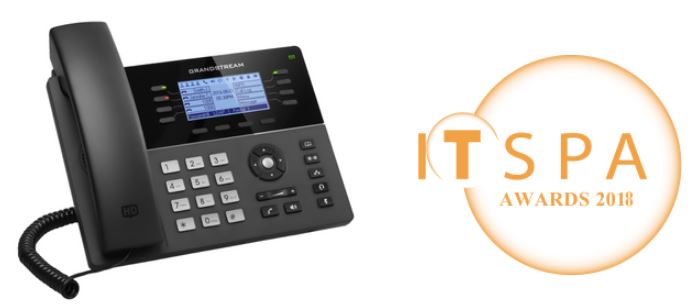 About The GXP1760W
Grandstream's GXP1760W WiFi Mid-Range IP Phone supports 6 lines and 3 SIP accounts. This model offers the same sleek design you've come to know and love but now features integrated dual-band WiFI for integration with wireless networks. Learn how to connect the GXP1760W to your WiFi network here.
Popular Features:
6 lines, 6 dual-color line keys (with 3 SIP accounts), 4 XML programmable context-sensitive soft keys

5-way audio conferencing for easy conference calls

24 digitally programmable & customizable BLF/fast-dial keys

Built-in USB port for importing and exporting data only

HD wideband audio, full-duplex hands-free speakerphone

Built-in PoE
See the GXP1760W datasheet
Grandstream has been one of our top reliable and popular brands at VoIP Supply. We are excited to hear this great news! Look forward to seeing more customers enjoying their communication experiences!
Source: https://www.voipsupply.com/blog/voip-insider/grandstream-gxp1760w-awarded-best-voip-device-itspa/
Publish Date: June 21, 2018 5:00 AM
---
We know that you have probably heard about Refresh IP Phones by now, but since we know it is such a good bargain, we can't help but to keep telling you about them! Refresh IP Phones are a used option for business owners to outfit their offices with quality products at a fraction of the cost of buying new equipment.
Check out our current most popular inventory:
Polycom VVX 410 12-Line Gigabit Phone (Refresh) $107.99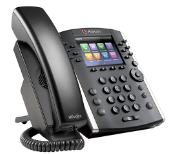 This is a high-quality phone for the professional user.
Key Features:
HD Voice

Dual Gigabit ports

RJ9 headset port

UC Telephony features

3.5 Color Display
Learn more about the VVX 410 IP Phone
Grandstream GXP2140 4-Line Gigabit IP Phone (Refresh) $59.99
This is an enterprise level phone for features and functionalities for the executive user.
Key Features:
HD Voice

Dual Gigabit ports

RJ9 headset port

Electronic Hook Switch (EHS) support
Learn more about the GXP2140 IP Phone
Cisco SPA303G 3-Line IP Phone (Refresh) $44.99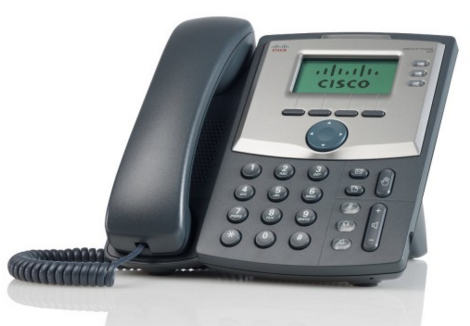 This is a basic IP Phone for the common areas or for a user with low call volume.
Key Features:
2.5 mm headset jack

LCD graphical display

Two Ethernet Lan Ports

Built-in high-quality microphone and speaker
Learn more about the SPA303G IP Phone
The IP Phones listed above are just a few of the options we have available. If you are looking for a different model, call us to ask about our inventory at 1-800-39808647. Our options change daily!

Source: https://www.voipsupply.com/blog/voip-insider/3-feature-rich-refurbished-ip-phones-price-will-love/
Publish Date: June 19, 2018 5:00 AM
---
When your VoIP phone doesn't work the way you expect it to work, nothing is more frustrating than getting a "Sorry, we don't support your hardware." message from customer service. If you've had that same bad experience before - keep reading!
You are about to find out the reason and how to prevent that in the future.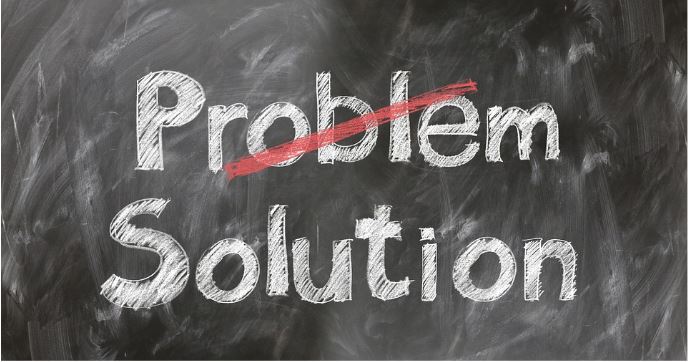 What Does My VoIP Phone Have To Do With My Service Provider or IT Administrator?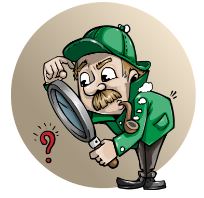 Many customers come to VoIP Supply for VoIP hardware support and most of the time our first question is who is your VoIP service provider or IT administrator? You might be wondering, what does my VoIP hardware have to do with the service provider?
Your VoIP phones functionality depends on how they were programmed and configured by your provider or IT administrator. So the best way to solve your phone issues is to first contact your service provider. Wait a minute…but does my service provider support my VoIP hardware?
Does your VoIP Service Provider Provide Hardware Support?
The bad news is, if your VoIP hardware is not from your VoIP service provider, they may not support your hardware. That's where the problem becomes more complicated and difficult to deal with. So how to do you avoid getting caught in this type of predicament? There are a couple of things you can do.:
Get everything from one VoIP company (Like VoIP Supply!)
If you are not an engineer or don't have an on-site IT staff, you may want to shop your service provider and hardware both from the same vendor. That way, you will be sure to have support on everything.
VoIP Supply is dedicated to finding you the perfect VoIP solution that fits your business needs! We are the one-stop-shop for everything VoIP and you don't have to worry about finding support somewhere else.
Make sure your VoIP service provider also supports your VoIP hardware
If, for whatever reason, you have to shop VoIP service and hardware separately, be sure to ask your provider if they offer support on the hardware before you make that decision! Our VoIP experts can also help you locate a provider that will work with your existing VoIP hardware and provider support.
The VoIP Supply team is here to provide you the ideal VoIP solution you need and make sure everything works perfectly even after the sale. Contact our VoIP experts at 1-800-398-8647 today to learn more!
Source: https://www.voipsupply.com/blog/voip-insider/voip-service-provider-provide-hardware-support/
Publish Date: June 19, 2018 5:00 AM
---
Note: this is a two-part blog series. You can read SD-WAN In the Know Part I here.
In the previous post, we have learned the basics about SD-WAN. Today, we are going to learn more about why many multi-location businesses choose SD-WAN and how secure it is comparing to traditional WAN connectivity. Let's get to it:

Why SD-WAN?
A short answer would be: SD-WAN can offer you a seamless, secure connectivity across your multiple communications platforms efficiently with lower costs.
Traditionally, when you have multiple branch offices connected to your headquarter, the traffic from each branch is pulled across the WAN links to your main site. This process is very inefficient and expensive. Now with SD-WAN, you have a direct Internet connectivity that gives you consistent performance to your applications at lower costs.
One of the biggest advantages of SD-WAN is that it can act like a sensor that provides intelligent path control to make smart real-time decisions to prioritize your tasks/ traffic and assign just the right amount of space for each task. (no waste at all!)
Better yet, This capability can be set at a single control center and then push out to all SD-WAN devices at the same time. This makes your network extremely efficient and it will highly improve your quality of service (QoS)! Learn more about QoS here.
How secure is SD-WAN?
Most SD-WAN solutions will be able to complement and supplement your existing security environment and protocols. This makes SD-WAN more reliable and secure than WAN connectivity.
Traditional WAN solution handles security through multiple appliances at each of your branch offices which makes it more time-consuming and difficult to manage. However, with SD-WAN solution, you will have the ability to define, monitor, and enforce network policies all from a single managed center.
The WAN connectivity is already in the past. If you have remote offices or branches but you are not using SD-WAN yet, you are really falling behind!
Interested in learning how your business can benefit from SD-WAN? Don't hesitate to contact one of our VoIP experts at 1-800-398-8647!
Source: https://www.voipsupply.com/blog/voip-insider/sd-wan-know-part-ii-sd-wan-secure/
Publish Date: June 19, 2018 5:00 AM
---
Last week, Comcast suffered a massive outage, affecting thousands of users across the USA including Pacific Northwest, California, Florida and more.
Many businesses were affected by this outage, unable to make or receive phone calls during peak business hours including some government agencies and emergency response teams. Many of these customers were using VoIP and only some had a failover plan. If you don't have one, this is a post you're going to want to read!
How Do I Avoid VoIP System Downtime during an Internet Outage?
One of the most important factors to consider when evaluating a VoIP system is whether your VoIP service provider offers call continuity and system redundancy. These features are made to ensure that no VoIP calls will be lost during an Internet outage. Your calls will be automatically forwarded to designated cell phone numbers or other mobile devices you prefer.
Nextiva is one of our most popular mobile-ready VoIP service providers. Let's take a look at how it can help you reduce your VoIP System downtime to zero:
The Nextiva Clarity Dual WAN Failover
Nextiva Clarity is a dual WAN failover plan that allows you to route traffic through a backup internet connection when your primary internet connection is not available.
It enables your business or employees to access the system from any mobile devices whether your Internet connection works or not. (Yes - All call features will still be available on your mobile devices!)
The Nextiva App

The Nextiva App is the primary access point for business users to manage their unified communications solution. This single feature-rich application allows you to communicate via voice, video, and instant messaging right from your mobile device. You will be able to stay connected at all times, whether you are on the road or in an event of power or Internet outage!
Want to learn more about VoIP failover plans or Nextiva? Call one of our VoIP consultants at 1-800-398-8647 today!
Source: https://www.voipsupply.com/blog/voip-insider/avoid-voip-system-downtime-internet-outage/
Publish Date: June 18, 2018 5:00 AM
---
Our tech support team at VoIP Supply offers great pre- and post-sales support plus provisioning, consultations, configuration, and installation help. We get a lot of VoIP hardware and software questions and would like to share the solutions with everyone.
In previous Mom's calling Q&A series, we have discussed: What VoIP Headsets will work with Sangoma s500 and a mobile phone? Today, we have more new real questions and answers from VoIP users just like you.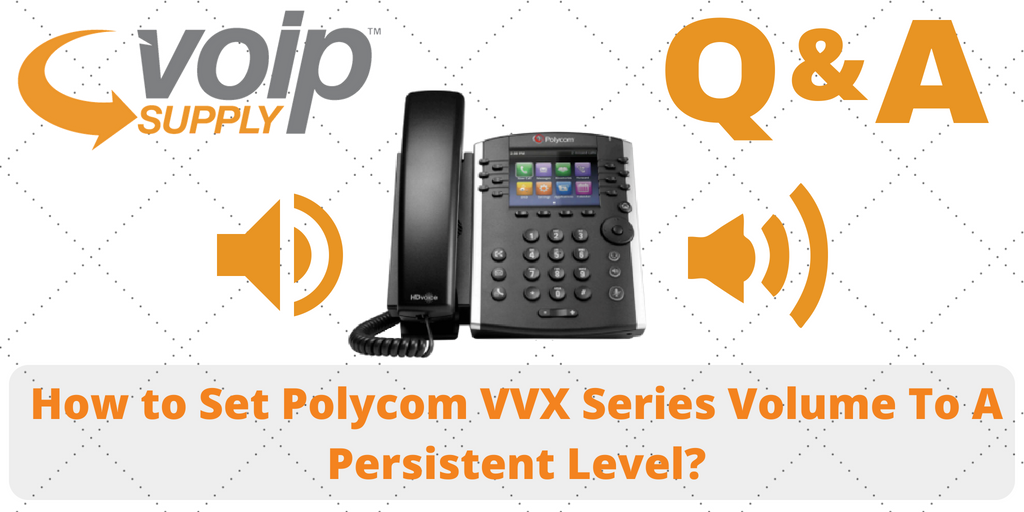 How to Set Polycom VVX Series Volume to a Persistent Level?
Q: I have a customer with 30 locations stated that the ringer is not loud enough. Is there a solution to resolve this?
A: Polycom's VVX receiver volume resets to a nominal level after each call. This is the VVX VoIP phones' default setting. To make the receiver volume persist across calls after you the volume setting is changed, you would need to manually edit the tx and Rx gains in the phones.
Here's how to:
0 is the default number, which automatically resets your phone to a nominal level after each call ends. If you change the number to 1, the volume for each call will be staying at the same level as the previous call.
STAY TUNED
Come back for more VoIP questions and answers next time! If you have VoIP questions to ask us, please submit a technical support ticket or contact our VoIP experts today at (866) 582-8591
Source: https://www.voipsupply.com/blog/voip-insider/set-polycom-vvx-series-volume-persistent-level/
Publish Date: June 18, 2018 5:00 AM
---
Great news! Google today announced that their Hangouts Meet, a designated business video conferencing solution, will be compatible with Polycom and Cisco hardware in a few weeks.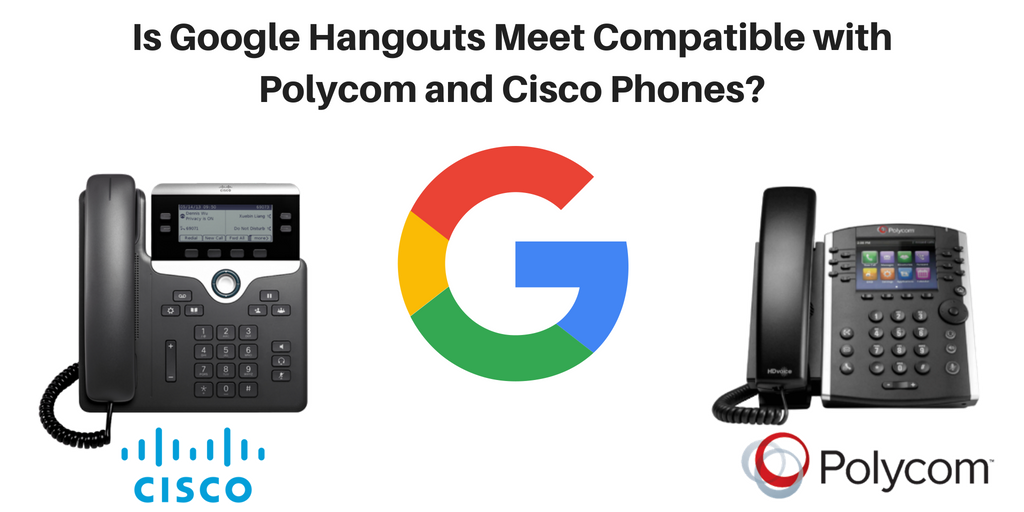 These integrations will make it easier for businesses to use meeting solutions utilizing existing VoIP hardware they have.
"Nothing's more frustrating than hosting a meeting and having trouble getting people to join because of issues with technology—it can interrupt workflows and slow down productivity," Rany Ng, Google's director of product management for G Suite
Additionally, Google also introduced its new third party integration with Google calendar. Now you can join some third party calls such as Webex right from Google Calendar with a simple click.
We are expecting to see more integrations and analytics updates from Google in a few months. Stay tuned!
Source: https://www.voipsupply.com/blog/voip-insider/google-hangouts-meet-compatible-polycom-cisco-phones/
Publish Date: June 6, 2018 5:00 AM
---
Provisioning Service by VoIP SupplyWe all have a lot to do each day and programming your customers' VoIP systems shouldn't be your focus. Luckily, there's a better solution: the provisioning service by VoIP Supply!
Check out the top four reasons why our customers choose to do programming and provisioning with the VoIP Supply provisioning team:
Why Provisioning VoIP Systems with VoIP Supply?
Reason 1: Let the experts do it right!
Each component in a VoIP system needs its own programming and little tweaks. The VoIP Supply provisioning team already has the knowledge and capability to do it efficiently for you. Why not let us do it right for you?
Our team configures the proper IP settings to match your network specifications, sets up your extension information, and makes sure the PBX is ready to connect to your phones. Your PBX will be ready to go right out of the box!
Reason 2: Focus on your core business
Time is money. Save your valuable time by having the experts at VoIP Supply configure for you, so you can focus what's important, growing your business!
Reason 3: More than just PBX Provisioning
We don't just do PBX provisioning, we also handle IP phone provisioning, system configuration, PCI Card provisioning, and more. From initial consultations to the final installation, you don't need to worry about a thing. Just relax and let us do it for you.
Consultations:

VoIP Supply Phone Support in 30 or 60 Minute Packages

VoIP Provisioning:

VoIP Phone Provisioning, Remote Phone Provisioning, PBX Provisioning

Configuration:

System Configuration, PCI Card Configuration, PCI Assembly

Installations:

Site Survey, Cat5 Cable Runs, UPS/Phone/PBX Installation, Router and Wireless Access Point Configuration and Installation
See the full list of services here.
Reason 4: We are not going anywhere
Our VoIP Solution experts are able to pair you with an installation partner utilizing our network of integrator from our Community. We have a lot of resources to help you solve your problems. If you have any questions, our VoIP experts are just a phone call away to answer!
Ready to Start?
Our provisioning services are performed in our VoIP Provisioning Lab from 8 am to 5 pm EST. Fill out the form here with your project details and one of our VoIP consultants will contact you as soon as possible.
Source: https://www.voipsupply.com/blog/voip-insider/4-reasons-let-voip-supply-help-provisioning-needs/
Publish Date: June 6, 2018 5:00 AM
---
Sangoma Technologies, a trusted leader in delivering scalable VoIP telephony systems, announced that their Vega 3000G gateway is a finalist for Channel Product of the Year (Hardware) at the Comms Business Awards on June 21st.

This award is for hardware products sold into the ICT Channel during 2017. Judges will be looking out for innovation and disruptive products which have brought a new dynamic to specific market segments.
Sangoma Vega 3000G is a 24 FXS port analog gateway with SIP support and is scalable for large deployments. This device offers voice, fax and modem support. Learn more here!

Up to 24 VoIP channels

QoS statistics reporting

SIP to SIP call routing

Emergency call routing

USB 2.0 for extra storage

Low-density PSTN gateway
Are you using Sangoma Vega 3000G? What's your experience? Leave a comment to share with us!
Source: https://www.voipsupply.com/blog/voip-insider/sangoma-vega-3000g-finalist-channel-product-year-hardware-2018/
Publish Date: June 5, 2018 5:00 AM
---
Are you interested in the Grandstream UCM6200 or other versions of the UCM? These Grandstream IP PBX appliances offer secure and reliable service at an unprecedented price without any licensing fees, cost-per-feature or recurring fees. During our previous webinar with Grandstream, we received a lot of great questions about the UCM appliances and we want to share with all of you who may have the same questions!
Download the presentation slides here
Grandstream UCM6200 & GXP Phones Webinar Q&A
Question 1 Can an Avaya phone be configured to work with the UCMs?
Answer: All our devices are SIP-based devices so any devices that support the SIP protocol should work with the UCM. Some features might not work because they were designed to work with Grandstream devices only but in terms of the functionality, it should not be a problem.
Question 2 What about an Active Directory or some other directory client on the UCMs?
Answer: Yes, you can use the Active Directory on either the UCMs or on the GXP phones.
Question 3: How do we set up Affinity desktop client?
Answer: After downloading the application through the "Resources" section of any GXP phone's product page on Grandstream.com, you can choose Simple, Advanced or Discovery setup mode. Each provide convenient configuration possibilities to any deployment.
For more information about Grandstream Affinity, download the Grandstream Affinity brochure and the User Guide here! Or call our VoIP Specialists at 1-800-398-8647.
Question 3: Does Grandstream have training available in South Africa?
Answer: Not that I am aware of. You can reach out to our help desk and select the region when you open a ticket in the system and we will get back to you with a more accurate answer.
Question 4: The Grandstream 6510 UCM had a USB port, do other UCM models have that too?
Answer: That is correct! All the UCM models come with a SD card port for external storage and a USB port that you can use.
Question 5: Is there a Cloud version of the UCM6200?
Not as of right now, all the UCMs are IP PBX appliances, not in the cloud yet.
More Questions? Contact our VoIP Solutions Consultant, Joe Shanahan, at 716-531-4316 or jshanahan@voipsupply.com!
Source: https://www.voipsupply.com/blog/voip-insider/5-questions-grandstream-ucm6200-gxp-phones-webinar/
Publish Date: June 5, 2018 5:00 AM
---
Are the 25-year FreePBX licenses too long for your business? If yes, then you are in luck! Today Sangoma released their new 1-year licenses for your FreePBX bundles. Now you can enjoy all the same benefits and add-on modules as the original FreePBX bundles, only this time, with a shorter time of commitment!

What FreePBX Bundle 1-Year Licenses are Available?
There are four new 1-year license FreePBX bundles available. One of them will be perfectly tailored for your type and size of business. With an array of options for add-ons, you are able to create a powerful PBX that allows your business to perform at the top tier of its potential. Plus, our dedicated VoIP experts are here to help you make that happen! Check out the available 1-year license bundles:
Sangoma FreePBX Starter Bundle

Sangoma FreePBX Advanced Bundle

Sangoma FreePBX Call-Center Bundle

Sangoma FreePBX Everything Bundle
Not sure which bundle is your magic solution? Read our blog to find out: Sangoma FreePBX Bundles Comparison – Choose a Right Solution. Or simply raise your phone to call our VoIP experts at 1-800-398-8647 and let us pick the ideal bundle for you!
Source: https://www.voipsupply.com/blog/voip-insider/sangoma-freepbx-bundle-1-year-licenses-available-now/
Publish Date: June 4, 2018 5:00 AM
---
Are you using Avaya IP Office PBX and wondering what VoIP phones are compatible with it? As you may know, Avaya is very proprietary and doesn't support many 3rd party IP Phones; however, there are some exceptions!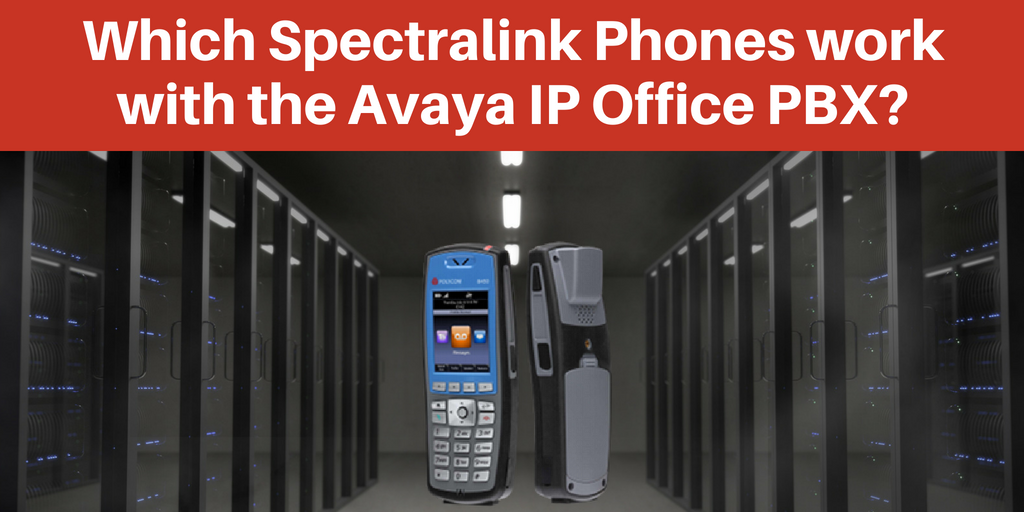 If you are looking to upgrade your WiFi phones, some Spectralink handsets are compatible with Avaya's PBX. However, you will still need a 3rd party SIP license from Avaya for the handsets to act as an endpoint off the PBX.
Here are some tested handsets to get you started but we recommend you contact our VoIP experts at 1-800-398-8647 to make sure they work with your version of Avaya PBX:
Spectralink PIVOT 8744 Series Handsets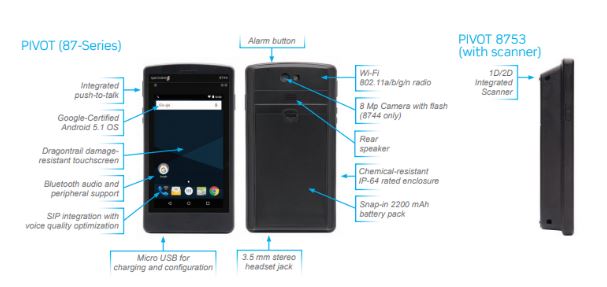 Key Features:
Dual mode high-resolution camera

Touchscreen with a full keyboard

Reliable voice quality over Wi-Fi

Open Standards for integration across call control, WiFi networks, and applications
Spectralink 8440 Series Handsets

Spectralink 8440 Series Handsets has been tested on the Avaya IP Office 500v2 software version 9.0.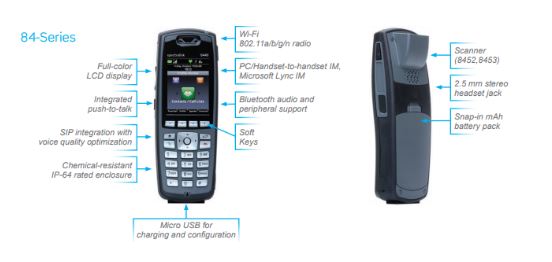 Key Features:
WiFi compatibility with VIEW Approved WiFi Access Points.

2.2 inch color LCD display, 240×320 resolution

Dedicated Push-to-Talk

Four (4) Context Sensitive Softkeys
Do you have more questions about the VoIP Phones compatibility? Call one of our VoIP consultants at 1-800-398-8647 to get your questions answered.
Source: https://www.voipsupply.com/blog/voip-insider/spectralink-phones-work-avaya-ip-office-pbx/
Publish Date: June 4, 2018 5:00 AM
---
Earlier this year, Grandstream released the beta testing for their latest innovation: GWN.Cloud, which drew a lot of attentions and interests from many VoIP users. Today, Grandstream finally announced the official release of this new cloud controller! Here's what you need to know about GWN.Cloud:
What is GWN.Cloud?
GWN.Cloud is an enterprise-grade cloud WiFi management platform designed for the GWN series WiFi access points that allows installers, network managers and end-users to quickly deploy WiFi networks at a blink of an eye! Best of all…. it's all free!
What does GWN.Cloud do?
GWN.Cloud allows users to manage and view real time reports for the entire WiFi networks across multiple locations simply via a mobile app or a web browser. It doesn't matter how big or small your organization is, or how many WiFi APs you have, GWN.Cloud is equipped to provide you a secure, centralized WiFi network management platform for all of your APs.
GWN.Cloud Key Benefits
High reliability thanks to being hosted on Amazon Web Services (AWS) with 99.99% uptime

Virtually unlimited scalability with no restrictions on the number of sites or APs

Supports customizable vouchers and built-in captive portals with customizable landing pages

Real-time network monitoring, schedules, time policy, and various other control tools, as well as configurable alerts

In-depth graphical reports broken down by network, AP, client and more
How to Sign Up for GWN.Cloud
GWN.Cloud is currently available to the public for free! To use GWN.Cloud, you need to create an account at www.gwn.cloud and add your GWN series APs to the account.
Helpful links:
GWN.Cloud datasheet

GWN Cloud AP Firmware Upgrade/Downgrade Guide

GWN.Cloud User Guide
Have questions? Our VoIP experts are just a call away. Contact us at 1-800-398-8647!

Source: https://www.voipsupply.com/blog/voip-insider/official-grandstreams-gwn-series-cloud-controller-now-available/
Publish Date: May 31, 2018 5:00 AM
---
Our tech support team at VoIP Supply offers great pre- and post-sales support plus provisioning, consultations, configuration, and installation help. We get a lot of VoIP hardware and software questions and would like to share the solutions with everyone.
In previous Mom's calling Q&A series, we have discussed: How to Determine if my AudioCodes Gateway supports an FXO or FXO G module? Today, we have more new real questions and answers from VoIP users just like you.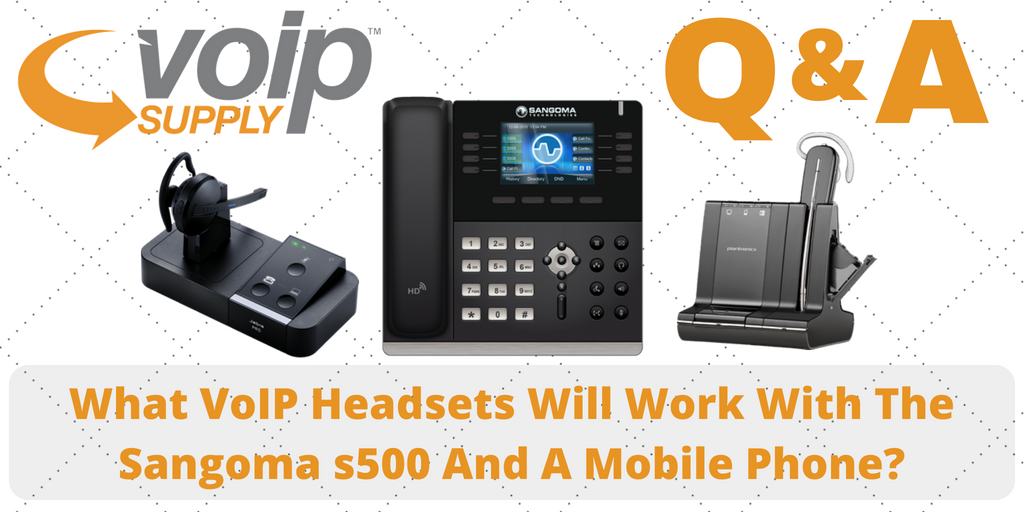 What VoIP Headsets will work with Sangoma s500 and a mobile phone?
Q: Is there an alternative to Plantronics CS540 VoIP Headset that will pair with a Sangoma s500 and a cell phone?
A: Yes, the Savi 740 will work with both. For the VoIP Phone, you will need an EHS30 to work. You can also check out other VoIP headsets here!
STAY TUNED
Come back for more VoIP questions and answers next time! If you have VoIP questions to ask us, please submit a technical support ticket or contact our VoIP experts today at (866) 582-8591
Source: https://www.voipsupply.com/blog/voip-insider/voip-headsets-will-work-sangoma-s500-mobile-phone/
Publish Date: May 30, 2018 5:00 AM
Page: 1 | 2 | 3 | 4 | 5 | 6 | 7 | 8 | 9 | 10 | 11 | 12 | 13 | 14 | 15 | 16 | 17 | 18 | 19 | 20 | 21 | 22 | 23 | 24 | 25 | 26 | 27 | 28 | 29