VoIP Supply - ContactCenterWorld.com Blog Page 12
Page: 1 | 2 | 3 | 4 | 5 | 6 | 7 | 8 | 9 | 10 | 11 | 12 | 13 | 14 | 15 | 16 | 17 | 18 | 19 | 20 | 21 | 22 | 23 | 24 | 25 | 26 | 27 | 28 | 29 | 30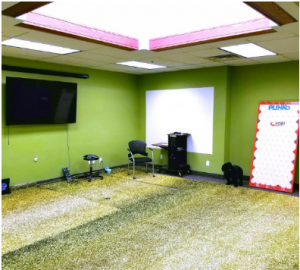 Amherst, NY - VoIP Supply's office was featured by Buffalo Business First as a cool office in the Western New York area, highlighting its full-sized kitchen, the entertaining lounge area as well as the two gym areas with a shower!
Walking through VoIP Supply's front door, a bowl of candies puts some smiles on the employee's faces. Every Monday, the company starts with an all-staff meeting on the "lawn", a bright green carpet that looks and feels like grass. Aside from discussing the business goals and performance, the employee of the week is selected to play a Plinko game for prizes including beer, gift cards, and paid time off.
After the office remodeling about two years ago, VoIP Supply's workplace was brightened up with vibrant colors and posters that encapsulate the company's five core values. On the second floor of the warehouse space sits the staff lounge with two gym areas, couches, TV set with gaming console as well as a shower for employees to use after a workout. The office is also pet-friendly which means employees are allowed to bring their pets to work.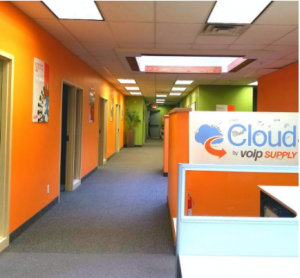 A full-sized kitchen with a double-sized steel fridge makes sure the employees have enough space to store their lunches and snacks. A full stove, oven, microwave, and toaster are also available at all times.
VoIP Supply's office sets an example of great work-life balance and makes their employees feel comfortable coming to work every day.
"We work hard, and we play hard," said Mary Cheney, VoIP Supply's marketing supervisor. "We're a family company, and having everything you'd have at home reinforces that."
See the original Buffalo Business First post here.
Watch the video below to hear what VoIP Supply's employees have to say about working at VoIP Supply!
About VoIP Supply
Established in 2002, VoIP Supply is known as a leading VoIP hardware and service solutions provider in North America, delivering valuable VoIP solutions for over 125,000 customers worldwide. Located in Amherst, NY with a full team of marketers, engineers, and salespeople, VoIP Supply also operates an office in Las Vegas to provide fulfillment services. To learn more about VoIP Supply visit www.voipsupply.com or call 1-800-398-8647.
Source: https://www.voipsupply.com/blog/voip-insider/buffalo-business-first-featured-voip-supplys-cool-office-lifestyle/
Publish Date: July 13, 2017 5:00 AM
---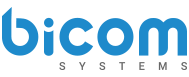 July 12th, 2017 - Bicom Systems announced that they have completed the certification of four ErisTerminal SIP phones with VTech Communications, Inc. This certification guarantees full interoperability of four VTecg ErisTerminal SIP phones with Bicom System's upcoming release of PBXware 4.1.2 including:
VSP715 ErisTerminal SIP Deskset

VSP725 ErisTerminal SIP Deskset

VSP736 ErisTerminal SIP Deskset

VSP600 ErisTerminal SIP DECT Base Station and Cordless Handset
"Our diverse product portfolio scales from small offices to enterprise level corporations," said Ernie Levenson, President of VTech Communications, Inc.. "We're excited PBXware users will have access to a wide range of offerings that add flexibility and increase productivity in the workplace."
We are excited to see this great cooperation between Bicom System and VTech Communications. Look forward to seeing how this benefit our customers and partners!
Source: https://www.voipsupply.com/blog/voip-insider/bicom-system-certified-interoperability-with-vtech-eristerminal-sip-phones/
Publish Date: July 13, 2017 5:00 AM
---

Setting up a wireless phone system can be tricky. Especially when this is the first time you try to set up a phone system. So let's check it out together and see if you have all you will need for a secure and robust WiFi phone system setup!
WiFi VoIP Phone System Checklist
Internet Connection and Adequate Bandwidth are obviously required to make and receive VoIP calls. You can contact your service provider to inquire how much bandwidth you would need to have a smooth conversation.
Wireless Local Area Network (WLAN) is the next necessity to operate your WiFi phones wirelessly. You can use the same network that's used for your computers and other wireless devices.
Broadband Routers or Wireless Access Points (WAP) will also be needed to connect to a broadband modem and transmits signals to your WiFi phones. How many WAPs will be enough? It depends on the number of users, the range of the WAP and your network area size. A usual range is a maximum of 300 feet but walls and other factors could decrease that range. Check out some popular WAP options here.
Quality of Service (QoS) prioritizes different types of traffic on your network. This will reduce common VoIP issues such as packet loss, latency, jitter, and echo and increase the voice quality. Therefore, having QoS capabilities is important when setting up your network.
Security has been a big topic for VoIP users. There are some specific security solutions that you can implement to secure your network and keep the intruders out: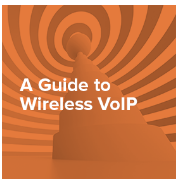 Wired Equivalent Privacy (WEP) Encryption - WEP provides the same level of security as that of a wired LAN.
Change the Default SSID of the APs - Simply changing the default Service Set Identifier (SSID) set by the manufacturers to something unique or disabling the SSID broadcast out to the wireless devices will help reduce some malicious activities.
MAC Address Filtering - Set up your MAC filter to give your network access only to the registered MAC addresses. In this way, you will be able to filter out most of the unwanted visitors.
Now, there you have it! Don't forget to review your system on a regular basis to reinforce and keep your system updated. If you'd like to learn more about setting up a wireless phone system, download our Free Wireless VoIP Buyers Guide or raise your phone and call 1-800-398-8647 to consult with one of our VoIP experts today!
Source: https://www.voipsupply.com/blog/voip-insider/how-to-set-up-a-robust-wifi-voip-phone-system-checklist/
Publish Date: July 13, 2017 5:00 AM
---
Grandstream's IPVideoTalk is a hosted service through Grandstream's GVC3200 or GVC3202 Video Conferencing System. Already known for its easy and flexible video conferencing platform, IPVideoTalk has now gone one step forward to add more advanced new features. Let's find out what they are!
Cloud Recording
The cloud recording is available to the host in the web meeting interface. Simple click "Record this Meeting", your meeting will be recorded and stored directly in your IPVideoTalk user interface. Then, you are able to store, download and delete recordings from the user portal. Recording your meetings has never been easier!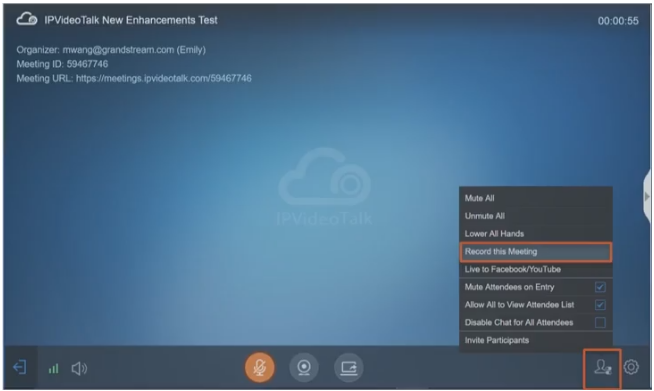 YouTube and Facebook Live Integration
Another exciting new feature is the social media live integration. This is also available to the host right from the web meeting interface. As for now, IPVideoTalk only integrates with YouTube and Facebook accounts. Select either platform and log in to the designated social media account to complete the streaming access. Be aware that there's about a five-second delay in the live meeting streaming. This feature will make your meeting more interactive and effective! Be sure to monitor the platform while the webinar is going on for comments and questions that might come in on the social platforms.

More New Features
That's not all! There are more new features you can benefit from. Find out more details here!
Customizable meeting registration pages
Enhanced customization of meeting emails
Q&A support
Dual video presentation stream (WebRTC browsers)
Pause screen sharing
Questions about Grandstream's IPVideoTalk? Call one of our experienced VoIP consultants at 1-800-398-8647 today.
Source: https://www.voipsupply.com/blog/voip-insider/whats-new-with-grandstreams-ipvideotalk-cloud-recording-social-live-integration-and-more/
Publish Date: July 13, 2017 5:00 AM
---

The days of having to listen to your voicemails are gone and now more than ever, people are "reading" their voicemails.
It's not a surprise to see Skype for Business (Lync) add new features. But what's exciting is that, this time, the new feature will benefit almost everyone from small local businesses to international enterprise. Let's check it out!
What does Voicemail Transcript do?
Voicemail Transcript automatically transcribes all incoming voicemails and delivers the text version together with the audio file to your inbox.
How does Voicemail Transcript help?
No more missing time-sensitive voicemails: Always miss important voicemails when you are outside somewhere noisy or not able to listen to the voicemails? You can now just read the text message without having to play the audio recording.
No need to write down a phone number: When someone leaves you a phone number via voicemail, the transcript writes it down for you automatically.
Hearing impairment is not a problem: For some that have difficulty listening to a voicemail due to hearing impairment, the transcript will come in handy to communicate in a timely manner.
Instant translation of foreign languages: Voicemail Transcript transcribes messages in the following languages (for the most recent list, click here)

Chinese
English
French
German
Italian
Portuguese
Spanish
Some of the hosted service providers in our CloudSpan MarketPlace have had this type of feature for a while now and our customers just love it. If Skype for Business doesn't work for you, check out the CloudSpan MarketPlace and let us do the rest! Call our VoIP experts today at 1-800-398-8647 to learn more!
Source: https://www.voipsupply.com/blog/voip-insider/skype-for-business-voicemail-transcript-for-all-cloud-pbx-users/
Publish Date: July 10, 2017 5:00 AM
---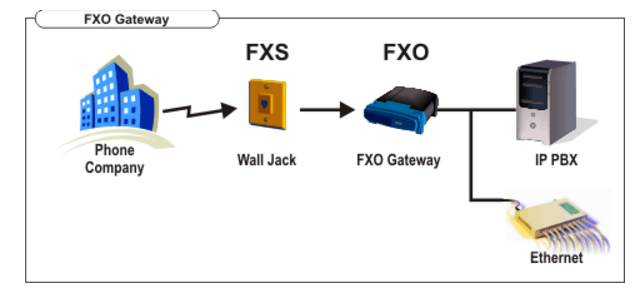 Finally, you are ready to buy a VoIP system. But you are worried about an unexpected power outage and poor call quality. These are common fears we have heard from our customers all the time. Don't worry, we have you covered!
May VoIP system owners overcome these worries simply with a VoIP Gateway. Let me tell you more about it.
How Does VoIP Connect to PSTN? Using a VoIP gateway for failover and PSTN calling
To connect your VoIP system to the PSTN, you will first need a VoIP Gateway. An FXO VoIP Gateway functions as a bridge between your IP network and the PSTN. Depending on where the voice traffic originates from, your FXO gateway will convert the voice traffic into the proper form for receipt by the destination network (IP or PSTN).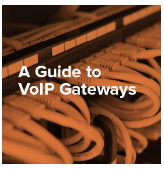 If the voice traffic is originating from the PSTN, the VoIP gateway will convert the analog voice signal into a digital signal. This digital signal is then compressed using a codec and broken into a series of packets that are transferred across the IP network using a signaling protocol.
If the voice traffic is originating from an IP network, the VoIP gateway will decompress the digital packets into a digital signal that is then converted into an analog signal to be sent across the PSTN.
So even when the power goes down or when the Internal call quality is really bad, you will still be able to use the PSTN to make phone calls and keep your business running as usual. Find a whole list of FXO Gateways HERE.
Is this article helpful? You can also download our free VoIP Gateways Guide to learn more at your own pace or call in at 1-800-398-8647 to discuss with our VoIP experts further!
Source: https://www.voipsupply.com/blog/voip-insider/how-does-voip-connect-to-pstn/
Publish Date: July 6, 2017 5:00 AM
---
Switching to VoIP can come with a lot of questions. There are always many things to consider, and sometimes important things can slip through the cracks.
At VoIP Supply, our experts are here to help you understand and craft the perfect VoIP solution. They have over a decade's worth of knowledge and experience in the industry and can make any transition to VoIP, a smooth one.
While we are just a phone call away, we thought it would be cool to put this video together for you to consider one extremely important factor that is often overlooked. Your Local Area Network! Can it handle VoIP calls? Find out now!
Source: https://www.voipsupply.com/blog/voip-insider/voip-service-qa-can-my-lan-support-voip-calls/
Publish Date: June 30, 2017 5:00 AM
---
WiFi phones are becoming all the rage in the VoIP world these days. If your business uses VoIP service then chances are you have a WiFi phone somewhere in your building.
As I have said in past blogs, WiFi phones are especially useful for warehouses and medical facilities because of their ability to carry them wherever the job takes you. Most WiFi phones have decent range on them, but through in a WiFi access point or two, and you can really go wherever you need in your office and always be able to answer the phone.
While these sound awesome (because they kind of are) they are by no means a 'plug-and-play' phone right out of the box. There is some configuring that you will have to do, and of course, you will have to adjust certain things to your liking.
For this blog, let's talk about the Moimstone MWP1100A. This phone is the real WiFi deal. It has just about everything you will need for your phone, and it looks awesome too. Once you turn the phone on, you're going to notice the MWP1100A has a beautiful color LCD display. At this point you may want to either crank your brightness or turn it way down, depending on how flashy you want to be.
So I'm guessing that your next question will be "How do I adjust the brightness then?" Well, it's really simple. If you have a Moimstone MWP1100A and you are looking to change the brightness of your color screen, then just follow these simple steps.
How To Change The Brightness On The Moimstone MWP1100A
Go to Menu
Scroll down to Display (this should be No.7 on the list)
Once on the Display screen, select Brightness
Once you are on the Brightness screen, you are able to adjust by using the and buttons
Once you have found a suitable brightness level, press OK
And that's it! Incredibly straightforward and easy to adjust. Do you have a Moimstone MWP1100A? If not, what WiFi phone are you using? We want to know!
Source: https://www.voipsupply.com/blog/voip-insider/how-to-change-the-brightness-on-the-moimstone-mwp1100a/
Publish Date: June 30, 2017 5:00 AM
---
Our tech support team VoIP Supply offers great pre- and post-sales support plus provisioning, consultations, configuration, and installation help. We get a lot of VoIP hardware and software questions and would like to share the solutions with everyone.
In the previous Mom's calling Q&A series, we have discussed: Patton 4114 FXS extension: Where do I set up a PIN paging code? Today, we have more new real questions and answers from VoIP users just like you.
What is the Default Password for the Grandstream UCM6204?
Q: This is the first time I have a log-in issue with UCM6204. I used username and password as "admin" but can't log in. I even tried factory default button but the same issue. What is the default password for the UCM6204?
A: The newer Grandstream UCM versions now have the admin password as a sticker on the bottom of the device. This should work.
Stay Tuned
Come back for more VoIP questions and answers next time! If you have VoIP questions to ask us, please submit a technical support ticket or contact our VoIP experts today at 866-582-8591.
Source: https://www.voipsupply.com/blog/voip-insider/default-password-for-grandstream-ucm6204/
Publish Date: June 29, 2017 5:00 AM
---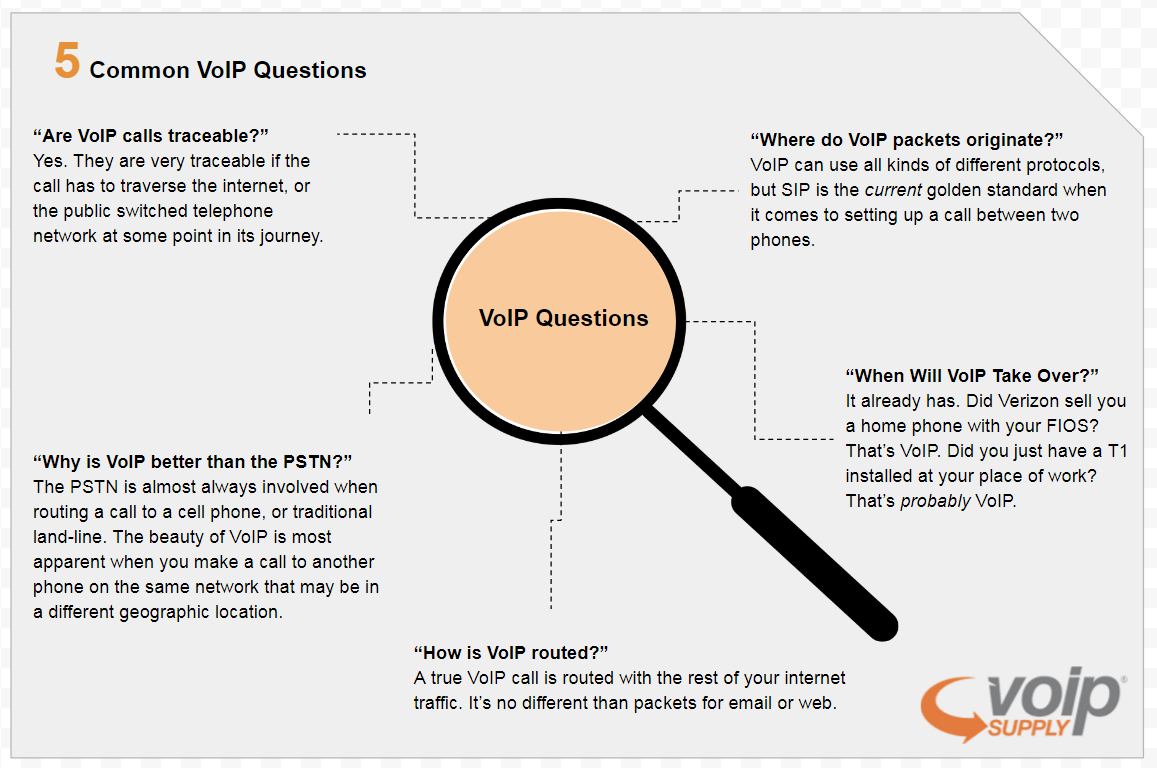 As consumers, users, hobbyists, and VoIP professionals, you have a lot of questions, and we'd love to answer them all. But, we can't answer them all. At least not all at once. So to get started, the marketing department sent me a list of regularly searched questions that have to do with VoIP that I can answer.
Are VoIP calls traceable?
Yes. They are very traceable if the call has to traverse the internet, or the public switched telephone network at some point in its journey. You can't do anything on the Internet without some sort of digital trail being left behind.
Sure, you can surf with what's no being called a "VPN", which is just a way of securely proxying your traffic to someone else's server, but whoever operates that server has a record of all of that traffic. And, who knows how secure their infrastructure is, and to whom they share it with. Carriers collect call data not only for the "greater good", but also for improving service quality, monitoring, and it helps to troubleshoot issues that arise in the world of hurling packets and multiplexed signals across the world. If you want to be untraceable, you can attempt to use a "security through obscurity" method, but that's not ever what a professional does, and is really just an indicator of nefarious activity.
Frankly, if you're wondering about traceability, you're missing the point. What you want is encryption. If you want to have a secure conversation, do this:
Do it in person, where no one is around, or use SRTP and TLS with your own generated certificates. This should preferably be across an actual VPN too. Despite its name, OpenVPN might be your best bet. It's still totally traceable in terms of a source and destination, but your media (audio) is encrypted, which is really the important thing.
Where do VoIP packets originate?
VoIP can use all kinds of different protocols, but SIP is the current golden standard when it comes to setting up a call between two phones. In basic terms, the caller, sends an INVITE to the callee, to which sends back a 200 OK. Then, the caller sends an ACK to finish the three-way handshake of SIP.
Once the SIP handshake is complete, then the media (RTP) can flow between the caller and callee.
When the call is completed, the end hanging up will send a BYE to signal the other side that the call is over. The media then stops flowing, and the call is "torn down".
Why is VoIP better than the PSTN?
There's a great number of reasons, but the truth is, the PSTN is almost always involved when routing a call to a cell phone, or traditional land-line. The beauty of VoIP is most apparent when you make a call to a cell phone, or traditional land-line. The beauty of VoIP is most apparent when you make a call to another phone on the same network that may be in a different geographic location.
For example, you take your VoIP phone with you on a trip to Singapore but need to call colleagues in New Orleans. As long as you have access to a network in Singapore that allows a VPN connection outbound, you can connect your phone (VPN enabled phones) back to the office in New Orleans and dial an extension, bypassing any international toll charges.
It's worth nothing that this can be done without a VPN, but I'd caution anyone using a "foreign" network with any unencrypted traffic.
When will VoIP take over?
It already has. Did Verizon sell you a home phone with your FIOS? That's VoIP. Did you just have a T1 installed at your place of work? That's probably VoIP.
Companies like Verizon, Spectrum, and AT&T will install devices that translate SIP to a legacy interface like an FXS, or T1/PRI port. It's called a SIP gateway. This allows you to use an analog phone or the T1 port on your PBX.
It's a lot less expensive for carriers to utilize fiber optic networks to route IP traffic than to use the aging copper telephone infrastructure. It's still in use but is quickly being phased out. VoIP isn't just the way of the future, it's already here.
How is VoIP routed?
In terms of leaving your phone system; a true VoIP call is routed with the rest of your Internet traffic. It's no different than packets for email or web.
What's important about VoIP in particular, and more specifically the audio portion of VoIP, is that it's very time sensitive. You may not notice if a website takes an extra second or two or load, but that type of latency in a conversation is very noticeable and could make a conversation unintelligible.
In terms of inside your PBX, it uses a dial plan. A dial plan is a set of conditional rules that route the call to perhaps an extension, ring group, call queue, or auto attendant. Calls are routed by the dial plan by using parameters like the number that's dialed, a specific caller ID, the time of day, or using skills based routing for example. Skills based routing occurs in a call queue that gives a certain priority to queue agents and may send more calls their way. In most Asterisk based phone systems, the dial plan is highly modifiable making the system almost infinitely configurable.
Source: https://www.voipsupply.com/blog/voip-insider/voip-addicts-guide-your-voip-questions-answered/
Publish Date: June 29, 2017 5:00 AM
---

Yesterday, Grandstream announced that their new IP Video Door System, the GDS3710, has passed the ONVIF certification testing. This certification ensures interoperability between the GDS3710 and third party ONVIF-certified recording products, such as Network Video Recorders (NVRs).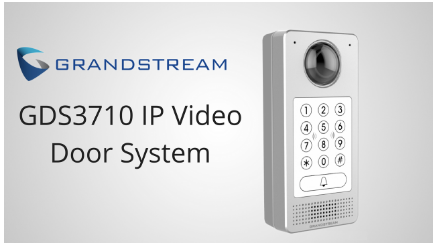 ONVIF (Open Network Video Interface Forum) is an open industry forum that provides and promotes standardized interfaces for effective interoperability of IP-based physical security products. For more information, visit www.onvif.org.
The ONVIF certification allows channel partners, installers, resellers and end users to integrate the GDS3710 with existing ONVIF-compliant video management software, NVRs and Network Attached Storage (NAS) devices.
We are excited to hear this great news and are looking forward to seeing more partners and customers benefit from the GDS3710!
Source: https://www.voipsupply.com/blog/voip-insider/grandstream-gds3710-ip-video-door-system-now-onvif-certified/
Publish Date: June 28, 2017 5:00 AM
---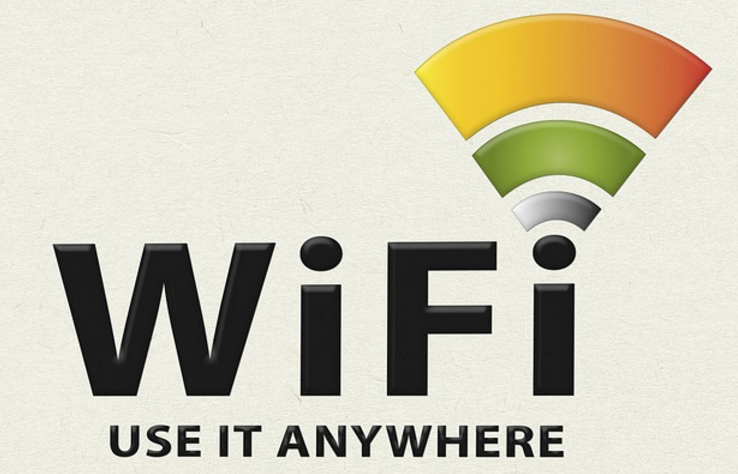 As we all know, the biggest advantage of using Wi-Fi phones is ease of use. If you know how to use a cellular phone, you are certainly able to learn how to use a Wi-Fi phone quickly. Especially when you are happy with your WLAN the way it is and want to get more use out of it without adding new infrastructures, Wi-Fi phones will be perfect for you.
After all the discussion about the two main types of wireless VoIP phones: DECT and Wi-Fi, and how to select a wireless phone in the previous blog posts, you might be wondering what Wi-Fi phone options are available. So, in this blog post, we will feature our four popular Wi-Fi phones at VoIP Supply. Let's check it out!
Popular Wireless IP Phones for Wi-Fi VoIP Calling
Yealink T5 Series
The T5 Series is the latest smart media phones Yealink released this year that highlights a heads-up screen for better user experience and a two-megapixel adjustable camera and screen. The whole series comes with a Wi-Fi connectivity.
Read our blog to learn more details: The Yealink T5 Series Strikes an Exquisite Balance Between Simplicity and Sophistication!
Key Features: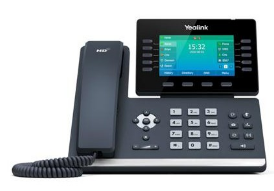 Up to 7 inch (1024 x 600) capacitive adjustable touch screen

720p30 HD video

Runs Android 5.1.1

Built-in Bluetooth 4.0+ for headsets and pairing mobile devices

Built-in Wi-Fi (802.11b/g/n)

USB 2.0 port (2.0 compliant)

Up to 16 VoIP accounts

Up to 5-party video/audio mixed conferencing and up to 3-party video conferencing
Ascom I62 Wi-Fi Handset WH1-AADA
Designed with safety, health, and security in mind, Ascom I62 is built to be a reliable and versatile Wi-Fi VoIP phone that meets extraordinary demands of hospital staff, secure establishments, and industrial facilities.
The I62 handset provides an intuitive user interface with a large color display to simplify complex features. Its centralized management allows users to upgrade and configure the system seamlessly without interrupting their daily operations.
VoWiFi Handset (Talker, Messenger, Protector) with voice, personal alarm and messaging

Supports WiFi standard a/b/g/n radio• TFT colour display

Cleanable, IP 44• Upgradeable by licenses

Dynamic output power according to 802.11h

Push button alarm, with ability to send different alarm types

Automatic call after alarm

Location (AP, Ekahau RTLSe and Cisco MSE)

Interactive Messaging

Coloured Messaging
Download the I62 Datasheet
Grandstream GXV3240
The GXV3240 is a multimedia Gigabit VoIP video phone that comes with integrated Wi-Fi, a built-in web browser, and HDMI connectivity. With up to 6 SIP accounts including FREE IPVideoTalk account with video mail, the GXV3240 is a well-known, all-in-one video, voice, data and mobility solution.
6 lines with up to 6 SIP accounts including FREE IPVideoTalk account with video mail

Phonebook with up to 1000 contacts and call history with up to 1000 records

Up to 6-way audio conference and 3-way video conference

Dual switched auto-sensing 10/100/1000Mbps network ports

Wi-Fi (802.11b/g/n), PoE+, Bluetooth, USB, SD, HDMI, EHS with Plantronics headsets support

Support for up to 4 cascaded GXP2200 EXT modules

4.3″ (480×272) capacitive (5 points) touch screen TFT LCD

Megapixel CMOS sensor camera with privacy shutter
Unidata Incom ICW-1000G
Another great Wi-Fi phone choice is the INCOM ICW-1000G, a Wi-Fi VoIP phone that can be used to provide users with mobility across a wide range of deployments. The SIP-based ICW-1000G supports 802.11a/b/g/n, has a built-in speakerphone and many popular call handling features:
Polyphonic MIDI Ring/Vibration ringer

Simultaneous bell and vibration effects

Hotkey for vibration and ring toggling

Adjustable ringing and volume levels

Adjustable display brightness and timeout

100 call history of inbound, outbound and missed call

500 phone book with 30 grouping
Download the ICW-1000G User's Manual
Can't find your ideal Wi-Fi VoIP phones? Give our VoIP experts a call today at 1-800-398-8647, we will be happy to assist. Meanwhile, if you'd like to learn more about VoIP Wi-Fi solutions, check out our FREE Wireless VoIP Guide!
Source: https://www.voipsupply.com/blog/voip-insider/popular-wireless-ip-phones-for-wi-fi-voip-calling/
Publish Date: June 27, 2017 5:00 AM
---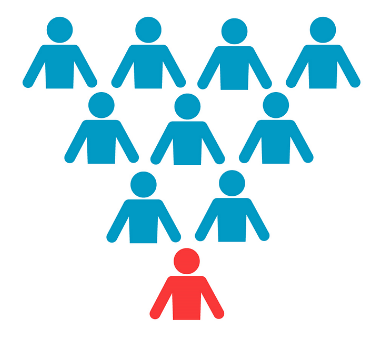 Skype for Business is nothing new to small businesses looking for a basic VoIP system with extremely low rates. You may already know the basic capabilities of Skype for Business such as video/audio calls, instant messages, and file sharing. However, Skype for Business can so a lot more than just that! It also covers a wide range of useful business features that many businesses use every day. Let's check it out!
7 Skype for Business Features You Won't Want to Miss
#1 Microsoft Office Suite includes the latest Office applications for your PC and Mac. The suite covers Word, Excel, PowerPoint, Outlook and more. You can easily format or edit information with the right tools and create documents during a meeting.
#2 Click to Join online meetings. With just a touch or click on your screen, you can host online meetings with audio and/ or video over the Internet.

#3 PSTN Conferencing allows employees to attend meetings using a standard traditional telephone. Simply dial a local access number from a landline or dial out from a meeting to add in others.
#4 Meeting Broadcast provides the tools necessary to plan and produce large virtual meetings for up to 10, 000 attendees. Meetings include real-time polling and sentiment tracking. (Very useful for big announcements!)
#5 Modern Voice with Cloud PBX enables enterprises to switch from the old PBX systems to the Cloud system, where Office 365 can handle all of the communication management duties under one roof. Make, receive, and transfer calls anywhere without using a traditional phone system.
#6 Advanced Information Protection: The data loss prevention (DLP) and encryption, both protect your important information across Exchange Online, Skype for Business, and SharePoint Online. This will keep your content safe in the email, IM and meetings, and team sites.
#7 Analytics Tools includes live dashboards and interactive reports where non-technical users can visualize and analyze data efficiently. This feature gives you organizational insights based on information across Office 365.
See more features here!
Have questions about Skype for Business? Look for the best Skype for Business Equipment? Call one of our VoIP experts at 1-800-398-VoIP.
Source: https://www.voipsupply.com/blog/voip-insider/7-skype-for-business-features-you-wont-want-to-miss/
Publish Date: June 26, 2017 5:00 AM
---
Being one of the leaders in VoIP, we get a lot of questions in regards to VoIP service. It is never an easy thing to understand and it takes time to learn the ins and outs. Thankfully, you have us!
There is no quick answer when it comes to the cost savings of switching to VoIP, so we put together a short video to help make you aware of how your calling habits can help you determine just how much you will save!
Source: https://www.voipsupply.com/blog/voip-insider/voip-supply-qa-what-are-my-calling-habits/
Publish Date: June 20, 2017 5:00 AM
---

Edgewater Networks announced that they have certified the Mitel 6800 Series SIP Phones with their portfolio of EdgeMarc Intelligent Edges.
This certification shows the interoperability between Mitel 6800 Series and Edgewater Networks' Intelligent Edges, which includes Mitel 6863i, 6865i, 6867i, 6869i and 6873i and Edgewater Networks EdgeMarc Intelligent Edges and EdgeView Service Control Center.
"The certification process helps service providers and end users deploy the joint Edgewater Networks and Mitel solution with confidence," says Jennifer Kidd, VP of Business Development and head of the QuickConnect Interoperability Lab for Edgewater Networks.
See more details here.
We are excited to see the seamless cooperation between Mitel IP phones and Edgewater Networks systems and looking forward to see more customers take advantage of this benefit for efficient communication!
Source: https://www.voipsupply.com/blog/voip-insider/mitel-6800-series-sip-phones-now-certified-in-edgewater-networks-quickconnect-interoperability-lab/
Publish Date: June 16, 2017 5:00 AM
Page: 1 | 2 | 3 | 4 | 5 | 6 | 7 | 8 | 9 | 10 | 11 | 12 | 13 | 14 | 15 | 16 | 17 | 18 | 19 | 20 | 21 | 22 | 23 | 24 | 25 | 26 | 27 | 28 | 29 | 30