VoIP Supply - ContactCenterWorld.com Blog Page 17
Page: 1 | 2 | 3 | 4 | 5 | 6 | 7 | 8 | 9 | 10 | 11 | 12 | 13 | 14 | 15 | 16 | 17 | 18 | 19 | 20 | 21 | 22 | 23 | 24 | 25 | 26 | 27 | 28 | 29 | 30
Wifi phones are becoming more popular in the workplace. This is especially true in warehouse and hospital settings.
If you work in a hospital, having a WiFi phone allows you to carry your phone on you at all times. This is a very important feature because it can eliminate the need to be paged, and having to continually check a desk phone for messages and missed calls, which can become daunting.
If you are in a large warehouse setting, then you know how frustrating it can be when you are across the room from a ringing desk phone. WiFi phones help solve this problem by allowing you to answer a call from anywhere, which can boost productivity instantly!
One of the more popular WiFi phones that are on the market right now is the Incom 1000G. This phone is feature rich and is easy-to-use.
For those of you that already have this phone, or are still learning how to utilize the phone's features, we are going to cover how to transfer a call.
How to Transfer a Call with the Incom 1000G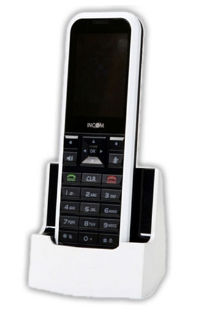 This simple, but important feature is easy to use on the Incom 1000G. If you are on the line with a customer or patient, and you need to transfer them to a different department, simply press the Send button to place the caller on hold.
Once the call is on hold, you then dial the number or extension you are transferring to. Once the number is dialed, press the send button again. This will begin calling while your original call remains on hold.
After the call is answered you will then press the left" •" button. This will access your menu. From the menu, highlight the transfer option using the directional pad in the center of the phone and press OK.
And VOILA! Your call is transferred! It can feel pretty good to be more efficient on the phone, especially while being anywhere in the workplace. If you feel like this is something that can benefit your productivity, then I would highly recommend looking into the Incom 1000G for your business or workplace!
Do you have a different WiFi phone that you use currently? Let us know what it is!
Source: http://www.voipsupply.com/blog/voip-insider/how-to-transfer-a-call-with-the-incom-1000g-wifi-wireless-phone/
Publish Date: January 27, 2017 5:00 AM
---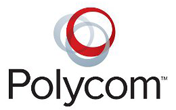 Are you currently using Polycom phones? Pairing a right VoIP headset with your Polycom VoIP phone is an important factor to enable clear communication. Let's see some of the best Polycom compatible options on the market.
Jabra PRO 9460 Mono Wireless DECT Headset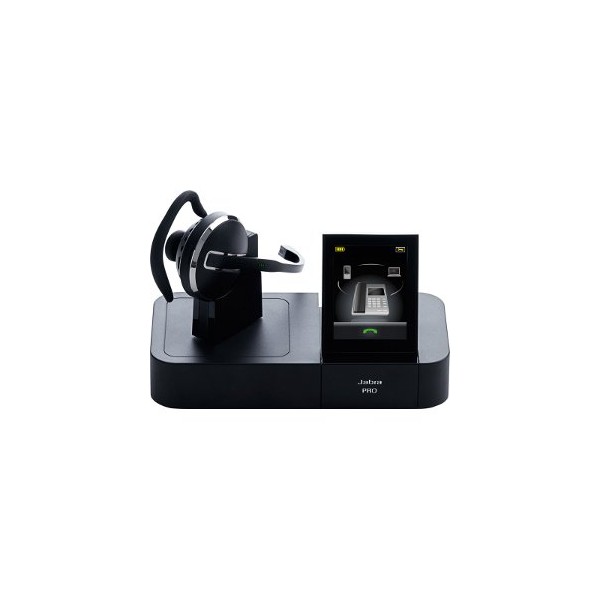 Jabra PRO 9460 features several state-of-the-art sound technologies to deliver unrivaled call clarity and safety. The Jabra PRO 9460's wideband quality ensures crystal-clear communication, while its SafeTone technology protects your hearing. Multi-taskers love this world class multi-use solution that allows you to connect up to 3 devices (Desk phone, softphone, and Bluetooth-enabled devices) from a single headset.
Look at some of the popular functions:
Touch screen base with SmartSetup wizard
Noise-cancelling microphone and Digital Singal Processing
Wideband sound (150 Hz – 6,800 Hz)
Full hearing protection with Jabra SafeTone
Up to 450 feet wireless range
VXi Passport 21P-DC Binaural Headset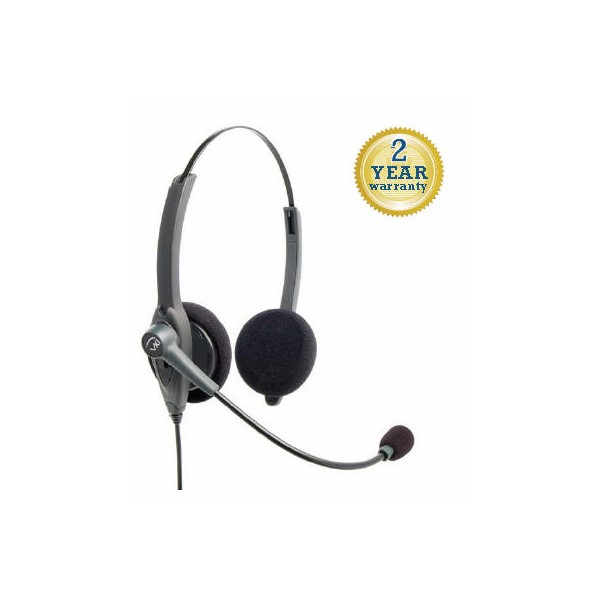 For leading companies or contact centers who are looking for a reliable and affordable solution, the Passport 21 single-sire binaural headset can be a good choice. It is designed to provide an easy integration into call centers utilizing Plantronics or VXI-P quick disconnects to meet the demands of all-day use in the office.
See some useful features VXi Passport 21P-DC has to offer:
Compatible with Plantronics and VXI-P lower QD cords and Y-cords
Binaural 2 speaker design blocks out background noise
Noise-canceling microphone blocks background sounds from the other end of the line
Flexible "gooseneck" microphone boom stays in position for consistent voice input level
Competitively priced!
2 Year Warranty
Plantronics CS540 Headset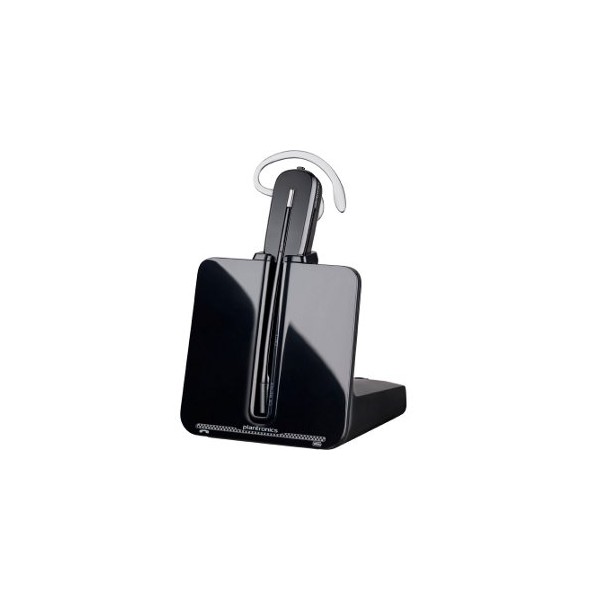 Featuring three different wearing styles, the Plantronics CS540 headset is best known for being lightweight (only 21 grams). The Plantronics CS540 is also equipped with one-touch controls, energy efficient power management, and simple plug-and-talk installation to optimize your satisfaction. If you have a limited budget, the refurbished Plantronics CS540 is available at our refresh center.
Som helpful features and functions include:
Range up to 350-feet away for maximum mobility
Offers you a choice of three wearing options to match your personal style
Premium wideband audio quality
One-touch call answer/end, vol +/-, and mute
Smart power management system optimizes for range and talk time
What headset are you using for Polycom phones? We want to know
Source: http://www.voipsupply.com/blog/voip-insider/what-are-the-best-headsets-for-polycom-phones/
Publish Date: January 24, 2017 5:00 AM
---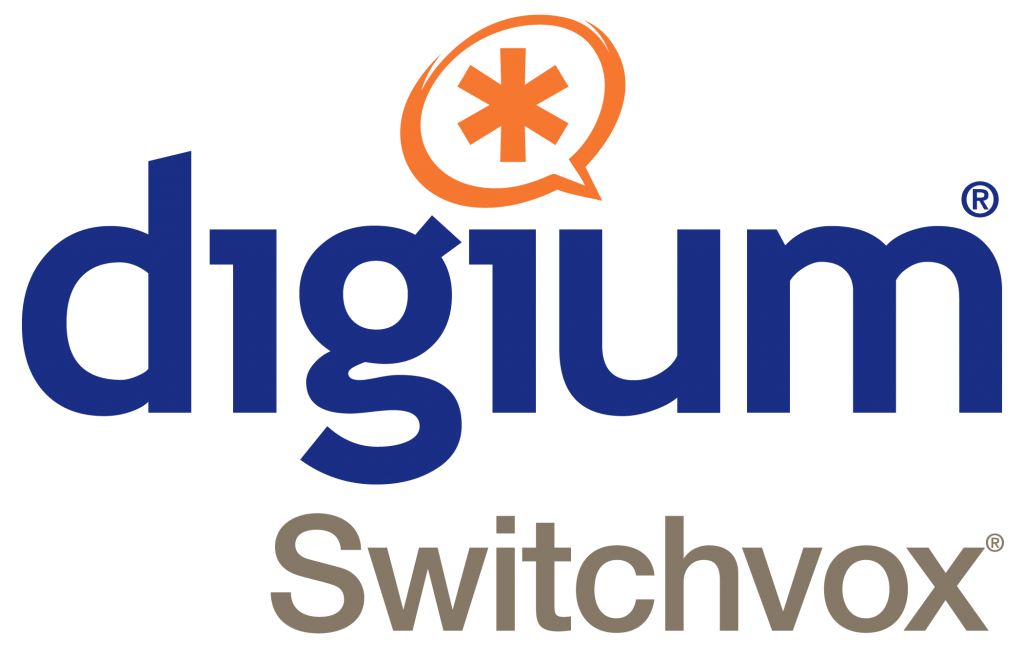 Replace and Save! Replace an Avaya or Nortel system with Digium's award-winning Switchvox UC solution and put significantly more profit in your pocket.
Who: All Select, Registered, DMR and Service Provider partners in the US, United Kingdom, France, Canada, Australia, New Zealand, LATAM, Caribbean, India, South Africa and the Middle East.
What: Receive an additional 10% off the US MSRP for selected Switchvox appliances or Switchvox software downloads when sold to replace an Avaya or Nortel system.
When: Offer valid on qualified products from VoIP Supply between January 1 – March 31, 2017.
How: All you have to do is call in to VoIP Supply and request the Avaya/Nortel Replacement Promotion and you will receive your additional discount instantly!!
Get all of the details here! Call 1-800-398-8647 to speak to a VoIP Supply solutions specialist and to order now.
Source: http://www.voipsupply.com/blog/voip-insider/avayanortel-replacement-program/
Publish Date: January 18, 2017 5:00 AM
---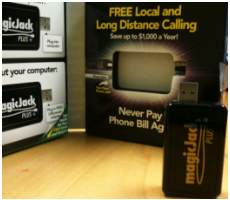 magicJack VocalTec, the popular VoIP service you might have seen on TV or at local drugstores, is known for its low pricing and simple setup process to billions of users across the world.
We've got a lot of customers asking about magicJack. "Can I replace my regular VoIP service with magicJack to reduce the service cost? Is it good enough for my business?" "What's the difference between using regular VoIP service and using magicJack?"
To answer those questions, you have to first understand how magicJack works and what advantages and disadvantages it brings.
The Pros and Cons of magicJack
Just like other VoIP service providers, magicJack utilizes existing Internet connection to enable you to make phone calls without an additional telephone service.
Pros: One of the biggest advantages of magicJack is a cheap VoIP service fee. With around $30 to $35 annual fee, you can make unlimited local and long distance phone calls to mobile phones and landlines in US, Canada, Puerto Rico and US Virgin Islands. However, be aware of the hidden costs that might come with the service such as taxes, fees in addition to the annual service fee, the cost of equipment, etc.
It's also very simple to set up. Simply connect your computer or ethernet port to your phone through magicJack and power it, you are ready to call. (See setup diagram)
Cons: If you are a busy multitasker, you might be disappointed by magicJack as it only works on a high-speed Internet connection such as cable modem and DSL. We've heard customers encountered issues such as program crashing when they tried to run multiple tasks on their computers. And let's be honest, who doesn't normally have more than one program running at once.
Another common complaint is that magicJack reduces its costs by placing advertisements on users' computers, which can be unprofessional and distracting. This usually doesn't happen for regular VoIP services.
For business users, you might find the features provided magicJack limited. Although it covers the basic phone features such as call forwarding/ waiting/ transferring and caller ID, regular VoIP service provides a more comprehensive package including advanced analysis reports and voicemail to text message.
So, magicJack or Regular VoIP Service?
It all depends on how you will be using VoIP services. We can't speak for everyone but the general rule is: if you are just looking for a cheap VoIP solution to call your friends or family occasionally, magicJack is enough to handle your needs; if you are looking for a solution to build a small to medium size business or even a call center, regular VoIP service will be a way more reliable choice in terms of stability and features comparing to magicJack's.
Although the pricing and setup process of regular VoIP services are not as sweet as magicJack, it's all going to be paid off from the service and quality you get in the long term. Some customers also consider using magicJack as a supplement rather than replacing the existing service completely. Contact our VoIP specialists for a free consultation today at 800-398-VoIP to find out the best solution for your business.
See a quick comparison between magicJack and regular VoIP service here: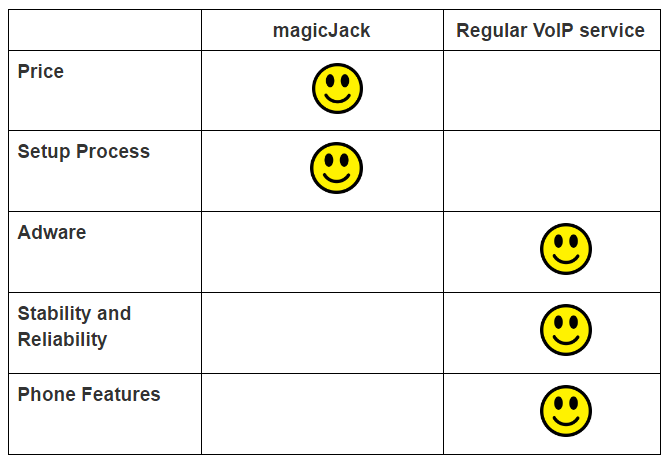 Are you using magicJack? How's your experience?
Source: http://www.voipsupply.com/blog/voip-insider/magicjack-v-s-regular-voip-service/
Publish Date: January 16, 2017 5:00 AM
---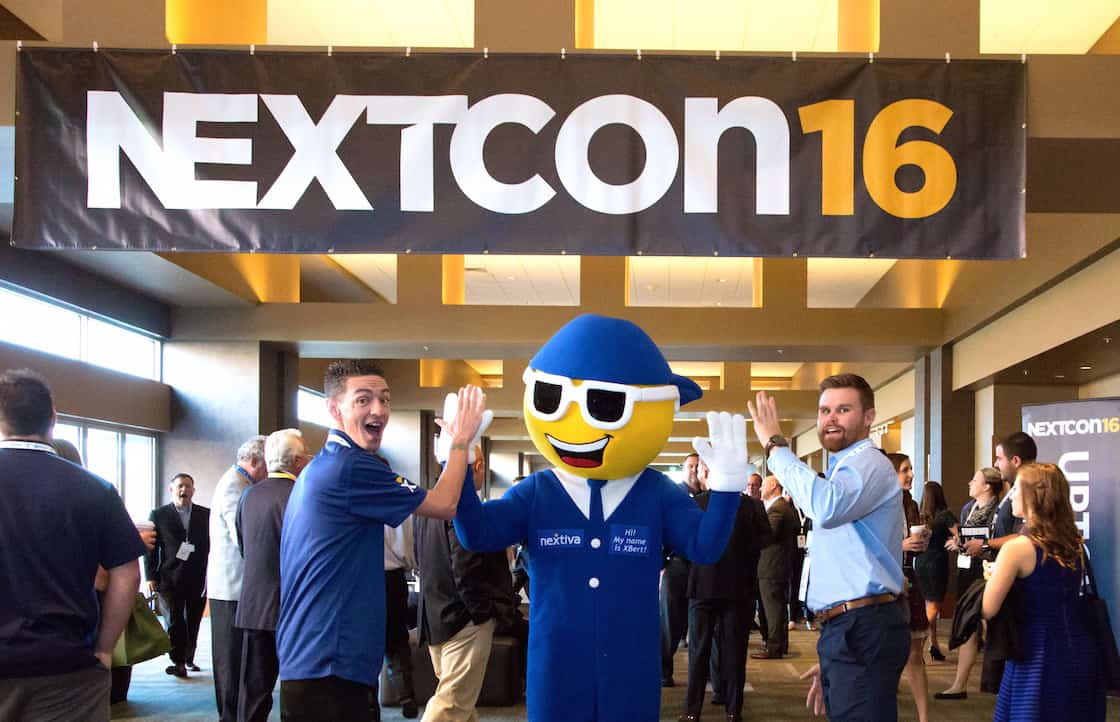 NextCon–Nextiva (www.nextiva.com), an industry-leading cloud communications company, awarded VoIP Supply North America's leading Voice over Internet Protocol solutions provider, as their Eastern Region Direct Partner of the Year at NextCon16.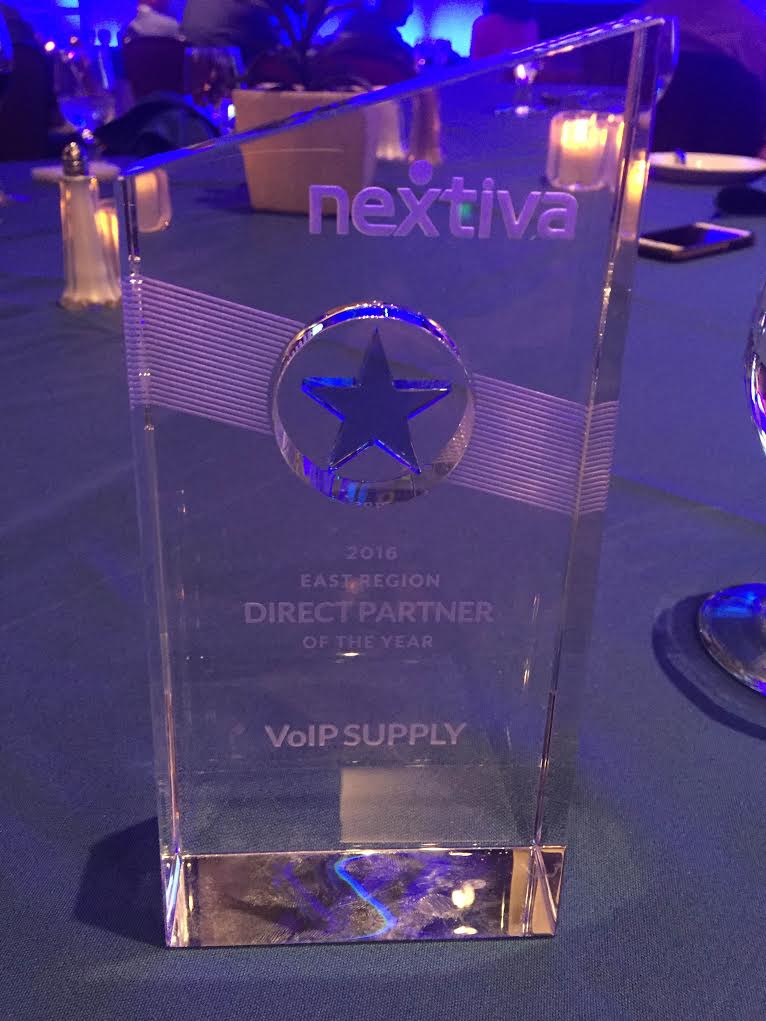 VoIP Supply and Nextiva have created a strong partnership which is grounded in helping businesses succeed. Nextiva's commitment to businesses was showcased at NextCon. The breakthrough business conference drew over 1,500 attendees who were inspired by 50 speakers including Apple co-founder Steve Wozniak, former chief evangelist of Apple Guy Kawasaki and other high octane tech superstars at 40 sessions which focused on multiple tracks ranging from entrepreneurship, business development, sales, marketing, IT, customer service and more.
"Our mission at VoIP Supply is to build a great company, with great people, who do great things. We endeavor to provide the utmost care for our customers and community placing them at the forefront of all that we do. We are proud to partner with a company like Nextiva who has a similar mission. We are tremendously honored for this recognition from a company that we admire and collaborate with to help businesses succeed." said Benjamin P. Sayers.
Tomas Gorny, Nextiva's CEO said, "Our company DNA is not just about selling products," adding. "It is about helping businesses get better."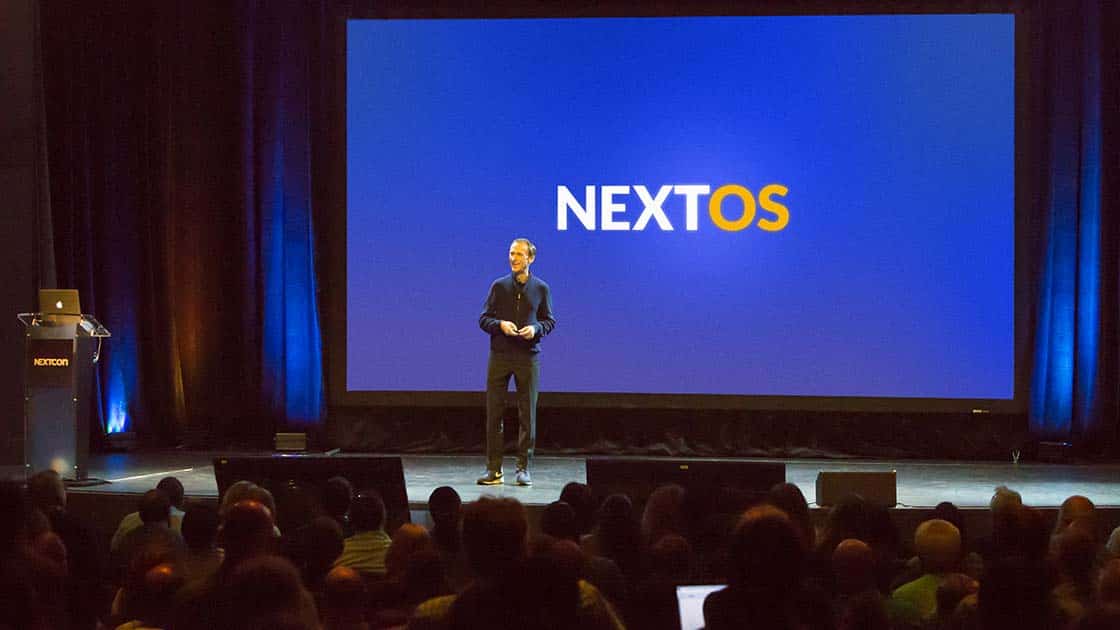 VoIP Supply is a company whose goals are centered around what's best for the customer a sentiment that was echoed by Carl Katz, director of eastern U.S. channel sales at Nextiva who shared at NextCon that the company's business model isn't focused on simply selling a commoditized phone service instead he underscored Nextiva's commitment to helping deliver what companies need to grow their business saying that Nextiva is focused on "solution selling".
VoIP Supply which became Western New York's first certified B Corporation driven by their commitment to improve the communities that they serve joined in with Nextiva's social media campaign, #NextCon16. Nextiva has connected NextCon with their philanthropic and community outreach program Nextiva Cares and has made NextCon a non-profit event. Throughout #NextCon16 attendees were encouraged to share their experience on social media using #NextCon16. Nextiva Cares pledged five dollars to local non-profits for every social media post that included the hashtag on Twitter, Instagram, and Facebook. This led to over 4,100 social posts in just three days. As a result, Nextiva Cares donated $20,500 to twelve local non-profit organizations.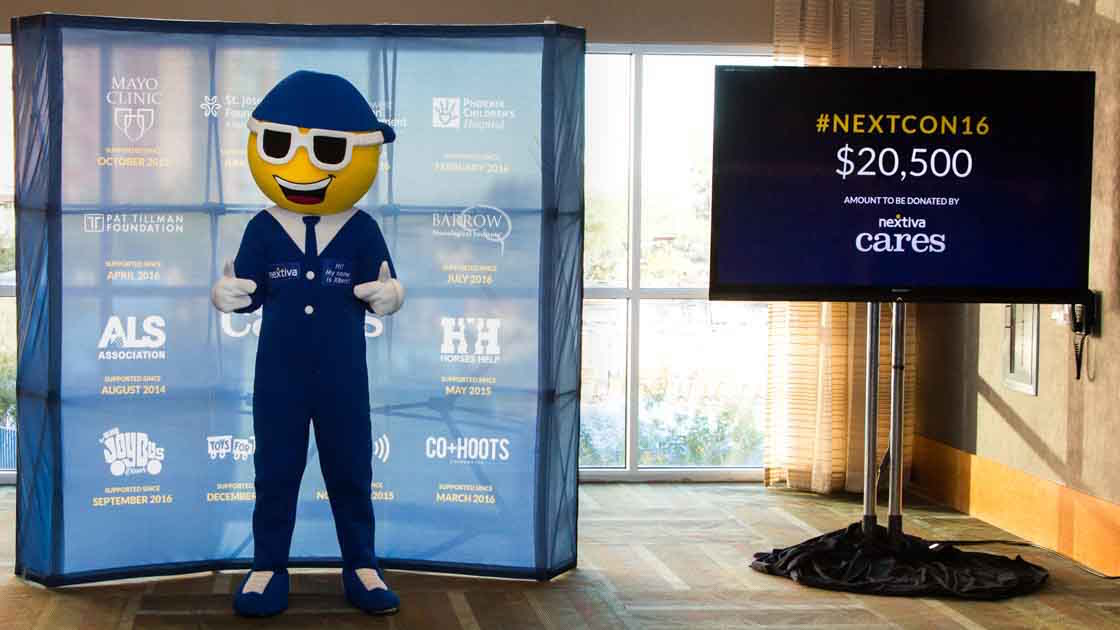 Highlights from NextCon16!
ABOUT NEXTIVA Nextiva provides cloud-based communications and collaboration solutions designed to simplify the way businesses communicate. Founded in 2006 on the principle of Amazing Service®, Nextiva serves more than 100,000 businesses in the United States from its headquarters in Scottsdale, Arizona. Learn more at www.nextiva.com.
About VoIP Supply
VoIP Supply, LLC (www.voipsupply.com) is North America's leading VoIP solutions provider. Since 2002, VoIP Supply has delivered valuable solutions for some 125,000 customers worldwide. With passionate employees, 6,500 products, 20,000 square feet of office space and an unlimited number of VoIP solutions to meet your needs, whether you are a consumer, business, service provider or reseller, VoIP Supply has everything you need for VoIP. For sales and media inquiries contact mcheney@voipsupply.com.
To learn more, call (800) 398-8647, or visit voipsupply.com and follow VoIP Supply on social media: Facebook (VoIPSupply), Twitter (VoIPSupply) and LinkedIn (VoIPSupply)
Source: http://www.voipsupply.com/blog/voip-insider/voip-supply-named-eastern-region-direct-partner-of-the-year-at-nextcon/
Publish Date: January 11, 2017 5:00 AM
---
VoIP Supply will showcase the RenegadePBX Mini, Partner Program and VoIP Fulfillment on February 8-10th at world's leading business technology show.

Buffalo, NY – January 10, 2017 – VoIP Supply, North America's leading Voice over Internet Protocol solutions provider, announced today that it will be showcasing its RenegadePBX Mini, Partner Program and VoIP Fulfillment at ITEXPO, held February 8-10, 2017 at Greater Ft. Lauderdale/Broward County Convention Center, Ft. Lauderdale, Florida. ITEXPO is the world's leading business technology tradeshow, and will converge education, innovation and networking across the entire community of IT professionals and thought leaders. Meet VoIP Supply at ITEXPO at booth #428 to learn more about the RenegadePBX Mini, Partner Program and VoIP Fulfillment.
At ITEXPO, executives, technology buyers, sellers, resellers and manufacturers from companies of all sizes and industries will assemble to forge new business partnerships, collaborate and learn together and from one another. Dozens of conferences sessions, keynotes and panels will be focused on helping attendees move their businesses forward.
"We are very excited to be participating as a Platinum Partner at ITEXPO this year." said Paula Griffo, President and CFO of VoIP Supply. "It is a great opportunity for us to showcase our RenegadePBX Mini and programs to the technology community."
Since 2002, VoIP Supply has provided expert knowledge to the VoIP industry, its customers, and has also provided unmatched product availability to over 125,000 customers. In early 2015, Founder and CEO Ben Sayers saw a need in the current VoIP market for a simple, universal, and unique appliance that would meet the demands of a growing industry. With our RenegadePBX line, we are able to provide our customers with an affordable solution for VoIP that allows them the freedom to choose the model that best fits their needs. The VoIP Supply Partner Program is designed to assist all of our partners who want to offer the perfect telecommunications solution to their clients. Our straightforward program and commission structure makes it easy for you to choose what is best for your business. And lastly but certainly not least Fulfillment by VoIP Supply. The team behind VoIP Fulfillment has been providing provisioning and fulfillment to VoIP Service Providers since the industry's beginning. Our services have continued to evolve and improve over time, leveraging current technologies and passing along the access and efficiency to our customers.
Event: ITEXPO Florida 2017
Date & Time: February 8-10, 2017
Location: Greater Ft. Lauderdale/Broward County Convention Center, Ft. Lauderdale, Florida. Booth #428
Reserve your seats at ITEXPO today!
Source: http://www.voipsupply.com/blog/voip-insider/voip-supply-to-exhibit-at-itexpo-florida-2017/
Publish Date: January 10, 2017 5:00 AM
---

Simple Phone Co. is a cloud-based phone service provider for business and teams based in California. What started as tiny IT consulting project in 2009 is now a growing start-up making a splash in the vast ocean of voice. Their mission is to build incredible experiences that take the hassle out of managing phone solutions, and just this month launched their unique Provide white-label solution for wholesale and providers.
Lost Time in Managing Fulfillment and Inventories
As Simple Phone Co. expands their personalized support and intuitive solutions, they realized they had lost critical time in managing fulfillment and inventories – which distracted them from their core experience focuses. At that point, Simple Phone Company started looking for a professional fulfillment team who shares the same attention to detail and efficiency on product fulfillment, to meet their fast growing needs.
Referred by their Managed Network development partner, Simple Phone Company consulted and partnered with VoIP Supply to discuss their growth and how VoIP Supply could assist them with their Fulfillment needs.

When asked about the reason they chose VoIP Supply, Chris Meadows, Founder and CEO of Simple Phone Company, said "Relationship is the basis of any work with a partner or vendor we do business with. With every phone and box shipped and delivered with VoIP Supply, our customers receive the experience only possible between two partners who value it so critically. Every phone delivers on time, with quick fulfillment upon order, in clean boxes, and perfectly placed collateral…When was the last time you received a clean package, and delivered with straight labels?"
Quick Delivery with Customized Colors and Logo
Since partnering with Fulfillment by VoIP Supply, Simple Phone Company has enjoyed the quick delivery service and worry-free inventory management. They benefit from the wide array of hardware resources that enables Simple Phone Company to ship phones in every make and model, in customized colors, with their own logo, and personalized collateral. And, most important of all, now they finally have more time to focus on their core business development and continuing to develop more great experiences.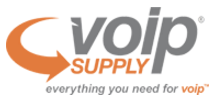 They have not only seen an increase in sales and customer satisfaction but they were also able to bring their unique fulfillment experience to their exciting new wholesale solutions by allowing white-label users to tap into the same great resources.
"As a critical partner, VoIP Supply has enabled us to better master the tangible parts of our experience, while allowing our teams to deliver great hardware and work like our users – around the world and in any time zone." – Chris Meadows, Founder and CEO of Simple Phone Co.
Simple Phone Company plans to expand their deliverable resources with Fulfillment by VoIP Supply in 2017 to meet their business growth needs.
Does your business need a VoIP fulfillment service? What's your fulfillment experience? Contact our Channel Manager, Don Stefanie, at 716-213-6906 for a free consultation today to discover your business potential.
Source: http://www.voipsupply.com/blog/voip-insider/simple-phone-co-increases-sales-and-efficiency-with-fulfillment-by-voip-supply/
Publish Date: January 9, 2017 5:00 AM
---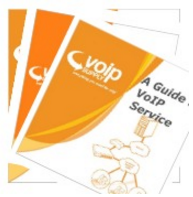 Are you a VoIP beginner who likes to learn at your own pace? Are you interested in learning VoIP with an easy-to-follow guide? Take advantage of our free VoIP Buyers Guides!
The educational guides offer you an understandable definition and examples of the VoIP hardware, system, or service being discussed. The guides also show you applicable situations for which the respective hardware can fit into.
What Updated VoIP Guides Are Available?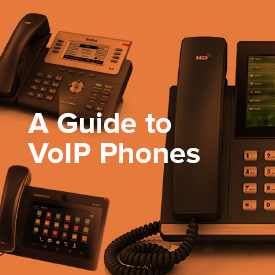 To make your learning experience even better, we have updated some of our VoIP guides. Follow the links below to find the four updated VoIP guides:
IP Paging Systems Guide
VoIP Service Provider Guide
VoIP Phones Guide
Open Source PBX Guide
What Other VoIP Guides Do I Have?
As of today, our VoIP guides cover 10 main topics. Aside from the four topics above, we also provide:
Wireless VoIP Solutions Guide
VoIP Phone Systems Guide
VoIP Gateways Guide
VoIP Adapters Guide
VoIP Headsets Guide
Session Border Controllers Guide
If any of the guide content raises any questions, just raise your hand by calling 800-398-VoIP to talk to an Account Manager. We look forward to helping your VoIP learning!
Source: http://www.voipsupply.com/blog/voip-insider/updated-voip-guides-available/
Publish Date: January 6, 2017 5:00 AM
---
Our tech support team at VoIP Supply offers great pre- and post-sales support plus provisioning, consultations, configuration, and installation help. We get a lot of VoIP hardware and software questions and would like to share the solutions with everyone.
In previous Mom's calling Q&A series, we have discussed: Jabra UC Voice 550 MS: How to Increase the Speaking Volume? Today, we have more new real questions and answers from VoIP users just like you.
Grandstream PBX UCM6102 Shows Account is not Registered. What Can I do?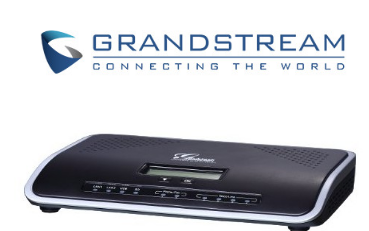 Q: I am using a Grandstream PBX (UCM6102 in the demo kit) for the first time. My phone is showing up under zero config but I get "Account is not registered". What am I overlooking?
A: You must create the extension first and then assign the extension in Zero config by clicking on the edit ("pencil icon") and then drop down to the Account, you will see the extension there and this will associate with the IP address of the phone. Click on the "update icon" and this will send a NOTIFY to the phone to SIP register the phone.
Stay Tuned
Come back for more VoIP questions and answers next time! If you have VoIP questions to ask us, please submit a technical support ticket or contact our VoIP experts today at (866) 582-8591.
Source: http://www.voipsupply.com/blog/voip-insider/grandstream-pbx-ucm6102-shows-account-is-not-registered-what-can-i-do/
Publish Date: December 28, 2016 5:00 AM
---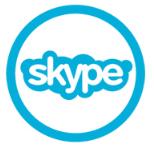 Whether you are a current Skype user or you are just about to step into the Skype world, you may have already experienced or heard a lot of complaints about not being about to get Skype to function smoothly during the calls.
In the blog: Improve Skype for Business Audio/Video Quality, we discussed the top factors that affect your Skype call quality. Choosing an ideal Skype-optimized phone is the first step to building a satisfactory Skype call experience.
Here we highlight the best Skype ready phones at VoIP Supply that will take your communication to the next level!
What are the Best Skype Ready Phones?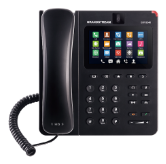 The Grandstream GXV 3240 is one of the most popular Skype phones that is designed for all size companies and Android smartphone users. It is a 6-line multimedia Gigabit VoIP video phone that comes with a 3-way video conferencing, a tiltable CMOS camera and HD audio/ voice.
Combined the functionality of a multimedia platform with a 6-line video phone for an all-in-one voice, video, data, and mobility solution, the Grandstream GXV 3240 is the most powerful solution for users connecting from different channels.
Popular Features:
6 lines with up to 6 SIP accounts including FREE IPVideoTalk account with video mail
Phonebook with up to 1000 contacts and call history with up to 1000 records
Up to 6-way audio conference and 3-way video conference
Dual switched auto-sensing 10/100/1000 Mbps network ports
Wi-Fi (802.11b/g/n), PoE+, Bluetooth, USB, SD, HDMI, EHS with Plantronics headsets support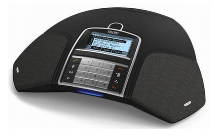 The Konftel 300 Conference Phone
If you are looking for a solution that allows you to set up multi-party calls easily and quality, the Konftel 300 Conference Phone will fit in just right. With the Konftel 300, you can easily combine or switch between connections to analog lines, mobile phones, or PCs at the drop of a hat.
Covering an area of up to 323 feet (or 10 people), the Konftel 300 also enables wireless headsets and external loudspeakers/ microphones connection to ensure that you hear and are being heard loud and clear.
Popular Features:
A new generation of OmniSound audio technology
USB connection for VoIP calls
The line mode makes it easy for you to combine and switch between connectivity technologies (analog, USB, GSM)
The conference guide makes it easy to set up multiparty calls
Record and listen to your meetings with an SD memory card.
The Polycom VVX 500 MS Skype for Business Edition is another great choice for people who are searching for a dependable, multi-tasking business media phone that can keep you up with your busy work schedule.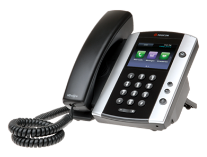 The Polycom VVX 500 is a Lync-licensed 12 SIP line IP phone with HD Voice featuring a 3.5 inch TFT color touchscreen, 2 USB 2.0 ports for multiple media uses and storage applications. Users benefit from useful functionalities such as managing exchange calendars and contacts on the phone, meeting reminders and extend PC desktop to include the VVX 500's phone screen to increase work efficiency.
Popular Features:
Gesture-based, multitouch-capable, capacitive touchscreen
3.5-in TFT LCD display at QVGA (320×240 pixel) resolution, 4:3 aspect ratio
Streaming media video playback
Screensaver and digital picture frame mode
On-screen virtual keyboard
Voicemail and video mail support
Dual USB ports (2.0 compliant) for media and storage applications
Source: http://www.voipsupply.com/blog/voip-insider/skype-ready-phones-best-phones-for-skype/
Publish Date: December 28, 2016 5:00 AM
---
Because of its traditional cost and complexity, video conferencing has always been more or less unattainable for most businesses.
Traditional video conferencing systems cost tens to hundreds of thousands of dollars to implement required entire IT teams to manage and were too complicated for most people to use. However, over the past few years, a plethora of affordable and easy-to-use web meeting platforms and video conferencing hardware devices have begun to drive the cost of conferencing down. The problem now has become that there are so many conferencing options and so many different types of platforms that each provide a different combination of services, which leaves many businesses wondering "what platform is best for me?"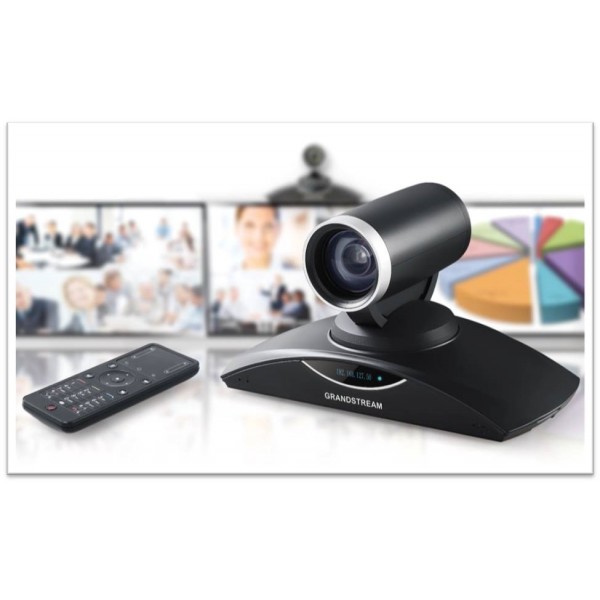 With Grandstream, they are not only driving the video conferencing marketplace forward with powerful, flexible yet cost-effective hardware solutions like their GVC3200 series, but they are making the decision easier for businesses looking for a video or web conferencing platform as well. In March of 2016, they released IPVideoTalk – their in-house developed cloud-based video conferencing platform. IPVideoTalk may have started as just a platform for their GVC3200 series hardware devices, but it has evolved to become truly one fo the most innovative and most comprehensive platforms on the market – and one of the only platforms that combines all different types of conferencing and meetings. Most current conferencing platforms offer either web conferencing & webinars or room-based video conferencing – very few offer all three types of functionality. Especially not a platform that combines all three of those functionalities with mobile integration and PSTN support.
IPVideoTalk might be the only conferencing platform on the market that offers room-based video conferencing, web conferencing, a webinar platform, PSTN and mobile integration. It allows you to almost literally hold any type of meeting and any type of webinar that can be attended by nearly any device.
You can hold room-based video conferencing meetings with their GVC3200 series which can be joined by web users, mobile users with the IPVideoTalk app and PSTN callers.
You can hold web conferences that can be attended by other web users, GVC series devices, mobile users and PSTN Callers.
You can turn any of those meetings or conferences into a webinar to allow for registration and meeting reports. These webinars can be hosted on the web or one GVC series device and can be attended by any web user, any GVC series device, any mobile user and anyone who can call in using a PSTN number.
So if you are looking for a fully comprehensive video, web and webinar platform that combines every type of meeting and conferencing that can be joined from essentially any piece of technology, IPVideoTalk is for you. You would be hard pressed to find any platform that does all of that – especially one that doesn't require a back-breaking cost. I know what you are wondering – yes, it really does all of that.
To make it even better, we are offering all of this functionality at a price that most web-only conferencing platforms cannot match. The price that we offer IPVideoTalk plans at is nearly unmatched on the conferencing marketplace. We offer plans at $25/ $39/ $55 a month and we also offer a customizable plan. Again, these prices are for a platform that combines room-based video conferencing, web conferencing, webinars, mobile and PSTN users – and gives you the ability to mix any of those together. Yes, IPVideoTalk really is that cheap and really does that much.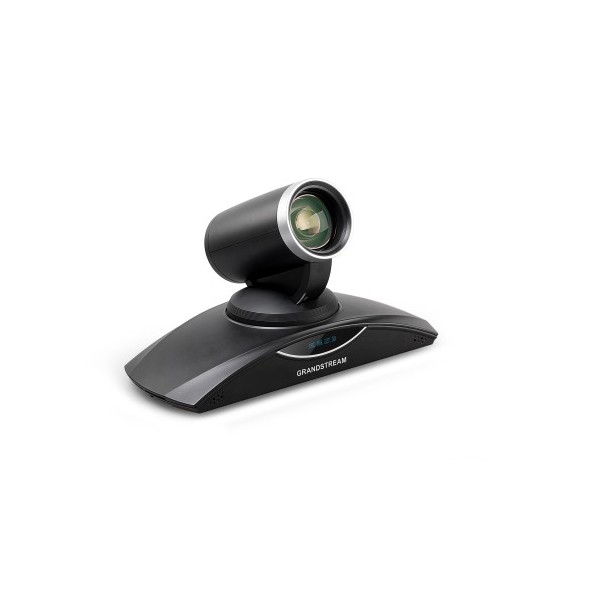 To take a step further, IPVideoTalk not only allows businesses to be more productive and hold better meetings – but it also allows businesses to save a ton of money. According to Business Travel News, the average cost of a 3-day business trip within the US costs an average of $1,343. That is $1,343 spent to send one person on one trip. Multiple that one trip by the number of trips that a business takes throughout the year and the cost becomes enormous. International trips further increase that cost. In addition to just high costs, these trips make employees out of the office and limit their productivity. For less than half of what it costs to send one employee on a 3 day trip within the US, you can purchase a year subscription of IPVideoTalk to support 50 people. You can use this to hold more meetings, conferences, and webinars that not only allow your employees to be in the office and get more done on a regular basis, but that actually saves you a ton of money at the end of the day.
In conclusion, IPVideoTalk is one of the only conferencing platforms on the market that combines web conferencing, room-based video conferencing and webinars. It allows businesses to meet anytime, anywhere, give a great impression of their business and increase productivity while actually saving money.
Source: http://www.voipsupply.com/blog/voip-insider/in-the-conferencing-world-ipvideotalk-is-a-unicorn/
Publish Date: December 21, 2016 5:00 AM
---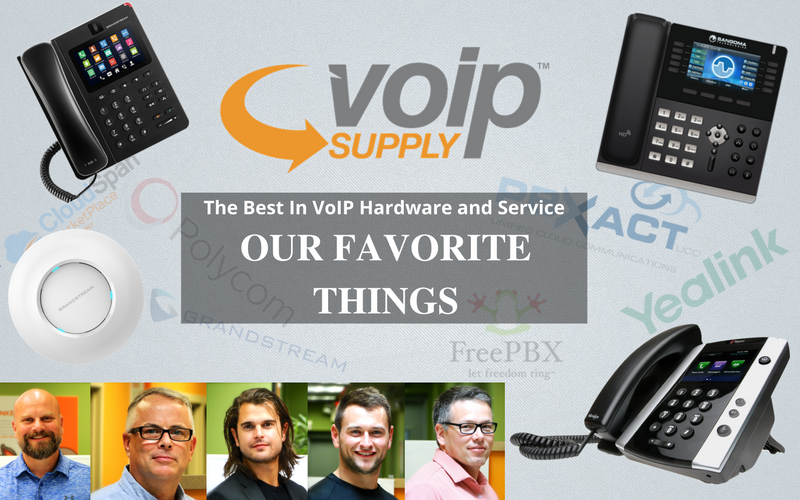 The final installment in VoIP Supply's five part series Our Favorite Things in VoIP is loaded with some of the most requested VoIP items by businesses of all sizes! Spoiler Alert! You're going to want everything on VoIP Supply's Favorite Things List!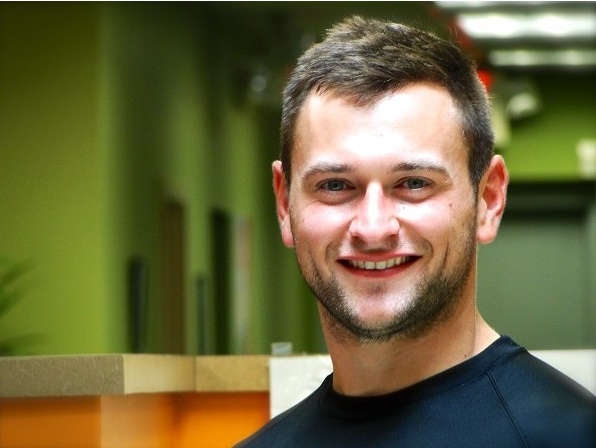 VoIP Supply Consultant Jon Garbin's Favorite Things!
What is your favorite VoIP thing?
RenegadePBX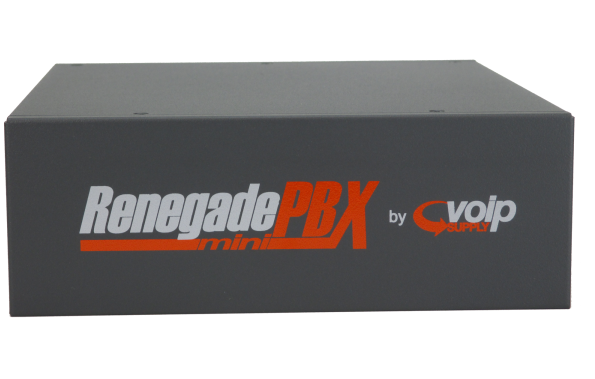 Why is RenegadePBX your favorite VoIP Thing?
The RenegadePBX by VoIP Supply was created with every size business in mind. It comes in three unique PBX solutions; the RenegadePBX mini, RenegadePBX 1U, and RenegadePBX Pro that can accommodate the needs of small to medium sized businesses along with large enterprises. An open-source PBX series it has the ability to host a variety of platforms making it ideal.
Must-Have VoIP Item.
Plantronics CS540 VoIP Wireless Headset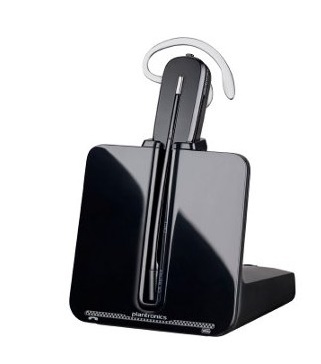 Why Plantronics CS540 VoIP Wireless Headset is a Must-Have VoIP item?
Having a wireless headset is essential in the work environment. The Plantronics CS540 Wireless Headset frees you of cords and gives you the mobility to use your computer, source materials in your office while on the phone, move around while talking and to generally multi-task which is what most businesses charge their teams with doing and what residential customers love.
WHAT is the VoIP item that you or your customers can't live without?
Polycom VVX 500 VoIP Phone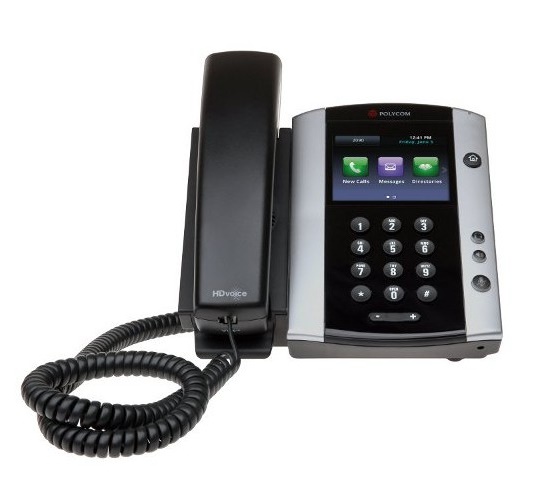 WHY can't you or your customers live without Polycom VVX 500 VoIP Phone?
The Polycom VVX 500 are feature rich enterprise level phones.
You can learn more about these items and order all of Jon's Favorite Things at VoIP Supply.com!
Source: http://www.voipsupply.com/blog/voip-insider/our-favorite-things-in-voip-part-5/
Publish Date: December 21, 2016 5:00 AM
---

Don't have time to research all the Sangoma FreePBX bundle solutions? Do you want to be more efficient at shopping for your FreePBX solution without making a wrong decision? You've come to the right place.
We see many customers struggle when trying to choose an ideal FreePBX solution for their businesses. Therefore, we went ahead and compared the 4 main Sangoma FreePBX bundle solutions below to save you time and the headache of figuring out which solution is right for your business:
Sangoma FreePBX CM System Builder Basic (25yr)
Sangoma FreePBX CM System Builder Plus (25 yr)
Sangoma FreePBX CM Call Center Builder (25 yr)
Sangoma FreePBX CM Everything Builder (25yr)
The comparison will be based on Target Users, Adds-on Modules, Price, and License& Support. Let's get started!
How to Choose a Sangoma FreePBX Bundle?
Take price, adds-on modules, years of licenses and support into consideration when choosing a Sangoma FreePBX solution. Within your budget, choose a FreePBX solution that will meet your business's needs.
Understanding your requirements and how the adds-on modules can benefit your business is the key to making your investment pay off. Having a ton of unnecessary adds-on modules might only increase your business expense.
Target Users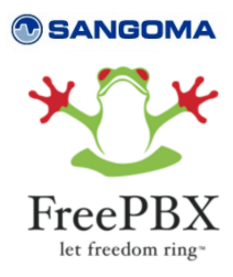 As the name implies, FreePBX System Builder Basic is for basic users such as start-ups and small businesses who have a limited budget and requirements. It covers the fundamental functionalities to keep your operation running smoothly. For small to medium businesses who are searching for more advanced features, FreePBX System Builder Plus can be your go-to solution. With a slightly higher price, you will obtain 8 more adds-on modules that will increase your business's efficiency.
FreePBX Call Center Builder is designed for dedicated call centers who deal with higher call volumes. Adding in advanced reporting tools, FreePBX Call Center Builder enables users to monitor and analyze call activities at the blink of an eye.
If you are en enterprise looking for a full-function solution, consider FreePBX Everything Builder that covers most of the Sangoma FreePBX modules. This solution is a great deal, offering $4200 worth modules at an affordable price.
Adds-on Modules and Price
Below you will find what specific adds-on modules each solution has to offer. To learn more about each Sangoma FreePBX adds-on module, be sure to read our blog series: Sangoma's FreePBX Modules.
($225.00) System Builder Basic comes with five critical adds-on modules including Endpoint Manager, FreePBX Phone Apps, SysAdmin Pro, Extension Routing, and UCP for EPM.
($525.00) System Builder Plus includes the most popular adds-on modules. Aside from the modules you can get from the basic bundle, the Plus bundle takes you to the next level with additional 8 modules: Park Pro, Page Pro, Class of Service, Conference Pro, Call Recording Reports, Fax Pro, Extension Routing and XMPP management.
($1,275.00) Call Center Builder highlights its reporting tools such as QXact Reports and Call Recording Reports. This solution also offers Call Management tools such as Class of Service, Extension Routing, Pinset Pro, Conference Pro, Caller ID Management and Advanced Queue Enhancements, including Outbound Call limiting and VQ Plus and Queue Callback.
($2,900.00) Everything Builder offers all Sangoma's Commercial Modules (23 modules in total), except for FreePBX High Availability. See the whole list here.
See the chart below for an overall comparison:
Download the comparison chart HERE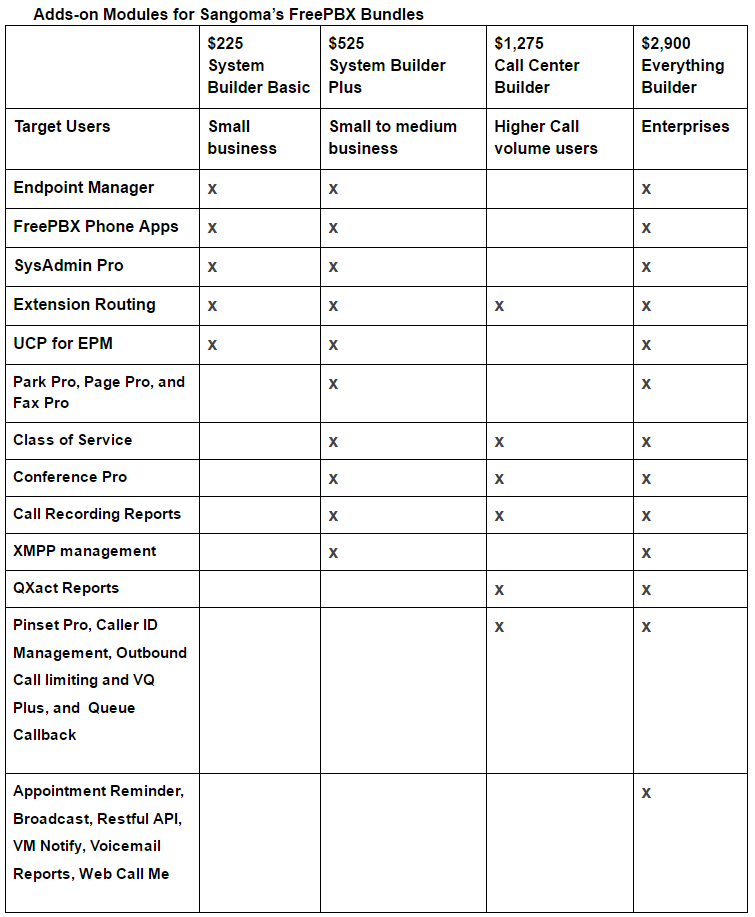 License & Support
All the FreePBX bundles listed in this post require FreePBX 2.11 or greater to work and will only be officially supported on the Official FreePBX Distro platform. A 25 year usage license with 1 year of upgrades is included with the purchase of any of the four FreePBX bundle solutions
Source: http://www.voipsupply.com/blog/voip-insider/sangoma-freepbx-bundles-comparison-choose-a-right-solution/
Publish Date: December 20, 2016 5:00 AM
---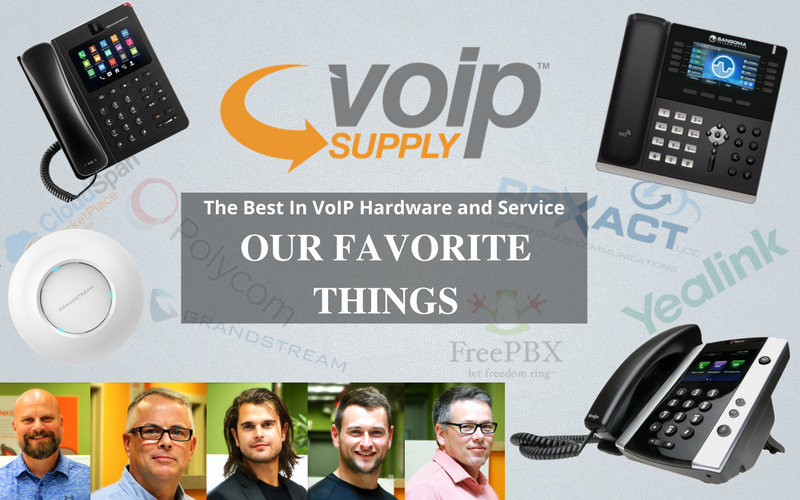 Our Favorite Things in VoIP Part 3 is from a trusted VoIP Supply Consultant who has been with VoIP Supply for a decade and is routinely applauded by our customers for his expertise in all things VoIP. Spoiler Alert! You're going to want everything on VoIP Supply's Favorite Things List!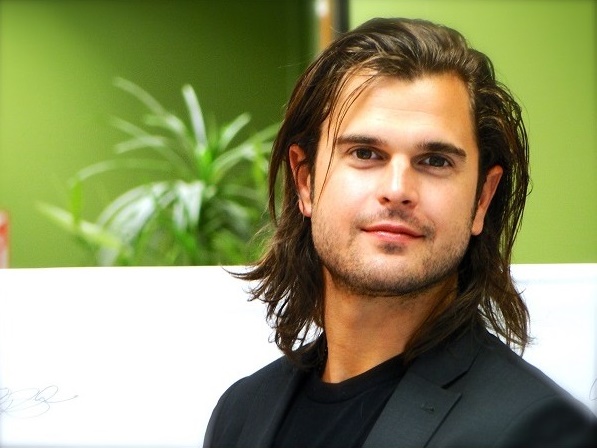 VoIP Supply Consultant Brian Hyrek's Favorite Things!
What is your favorite VoIP thing?
PBXact Cloud Service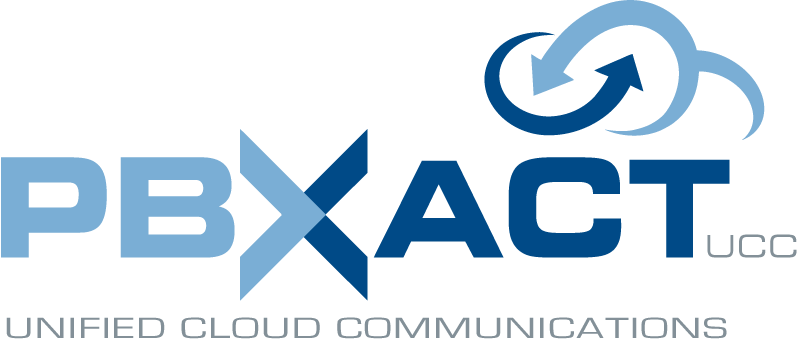 Why is this your favorite VoIP Thing?
PBXact Cloud Service is one of my favorite things because of industry breaking disruptive features and value. You can get it from the CloudSpan Marketplace.

Must Have VoIP Item.
Grandstream GXV3240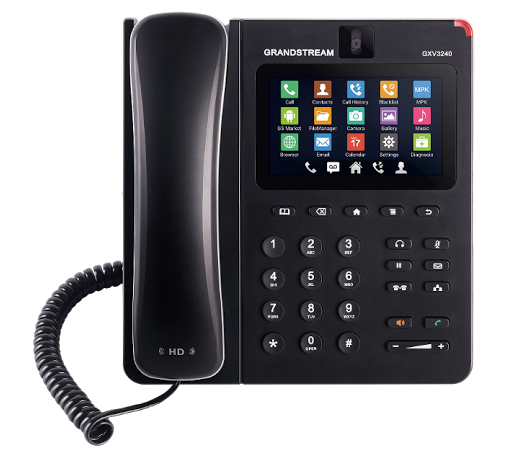 Why this is a Must Have VoIP item?
I believe it is the most feature rich VoIP phone for the cost.

WHAT is the VoIP item that you or your customers can't live without?
The new Sangoma phones!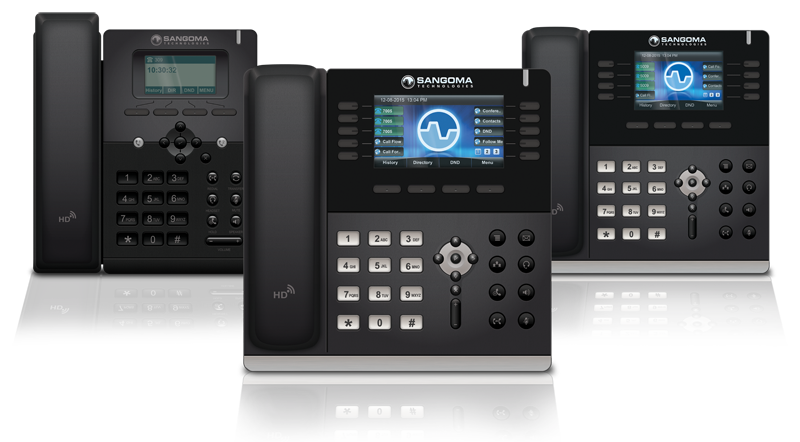 WHY can't you or your customers live without this VoIP Item?
Customers love the new Sangoma phones especially if they are using Sangoma FreePBX or PBXact, these units are simply a must due to their interoperability and feature set.
You can learn more about these items and order Brian's Favorite Things at VoIP Supply.com!
Source: http://www.voipsupply.com/blog/voip-insider/our-favorite-things-in-voip-part-3/
Publish Date: December 20, 2016 5:00 AM
---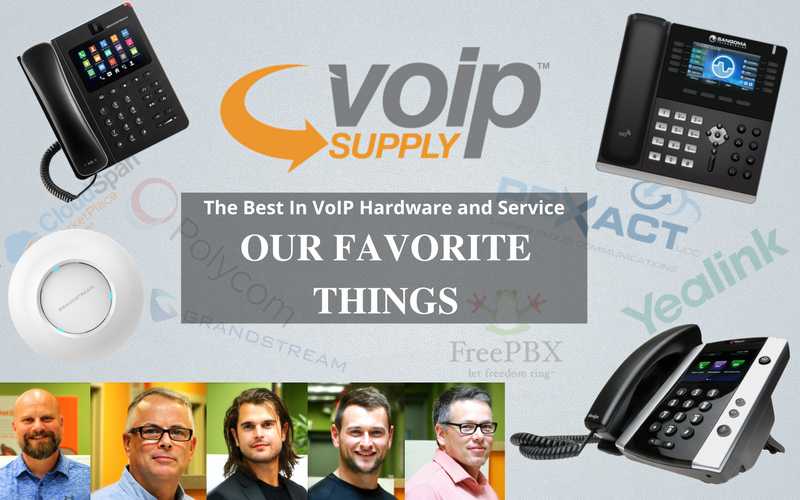 Part 4 of Our Favorite Things In VoIP is a list curated by someone who knows the ins and outs of VoIP! But, what's equally important is this value driven VoIP Supply Channel Manager puts customers first. So, this VoIP list is filled with items that will greatly benefit residential customers and businesses of all sizes. Spoiler Alert! You're going to want everything on VoIP Supply's Favorite Things List!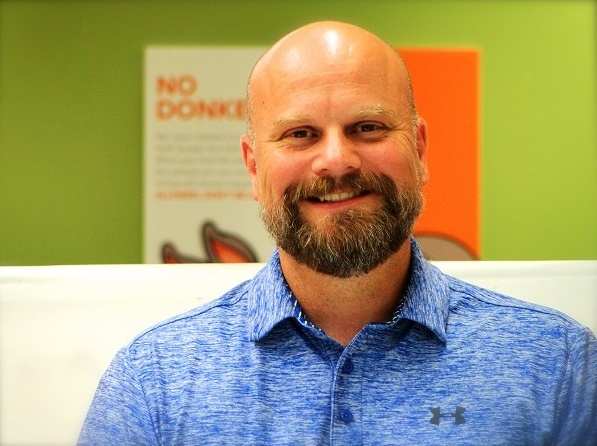 VoIP Supply Channel Manager Don Stephanie's Favorite Things!
What is your favorite VoIP thing?
KX-TGP600 and related add on handsets and a desk phone.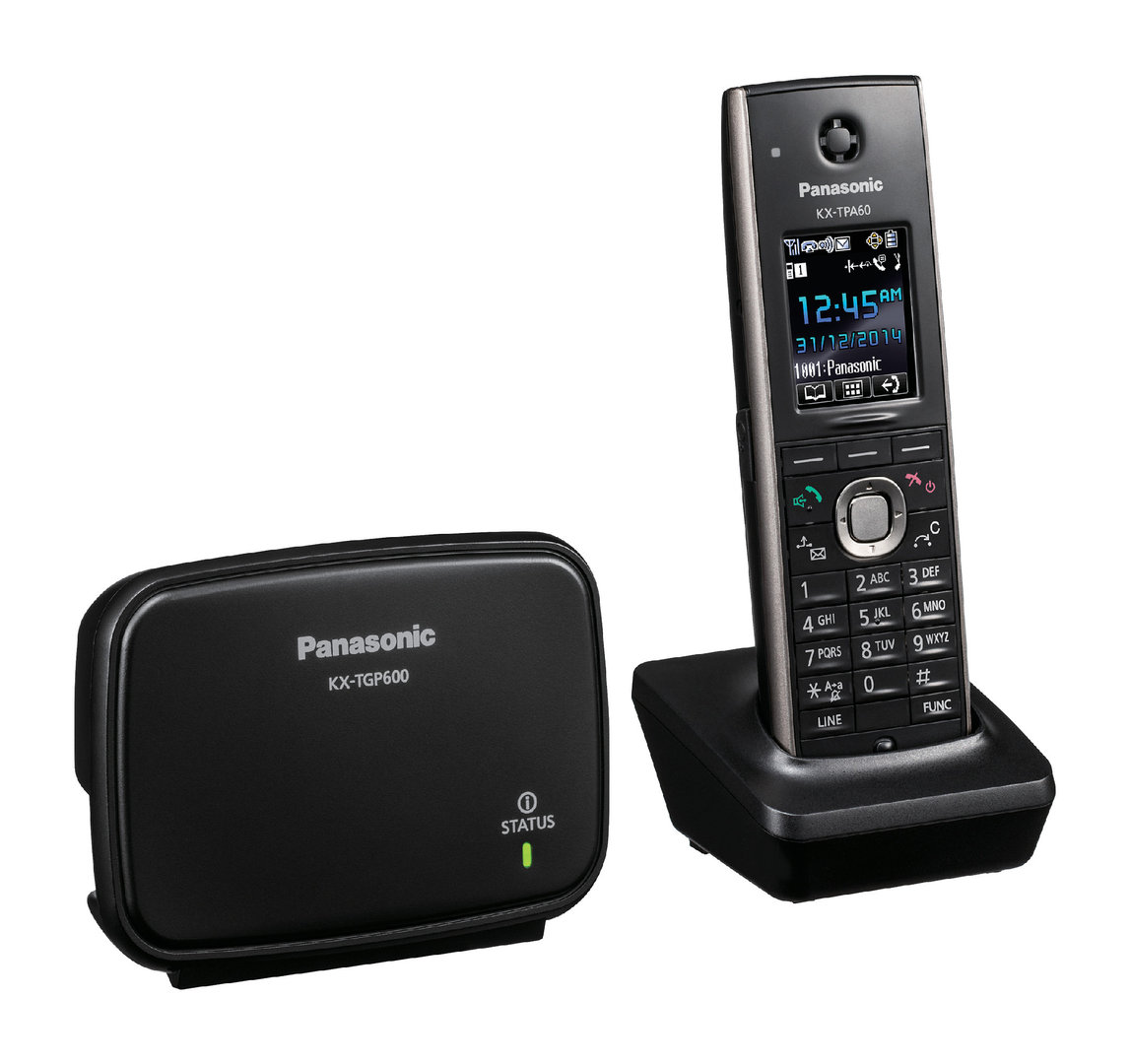 Why is KX-TGP600 your favorite VoIP Thing?
The cordless space is often the go to way to add small office and warehouse flexibility freedom. By Increasing the number of simultaneous calls(8) from its predecessor(3) and adding multiple end point options (including ruggedized and even a desk phone), this was a nice upgrade and easy transition for customers used to the older 500/550 models.
Must-Have VoIP Item.
For most SMB clients I feel like a quality Hosted Cloud Service provider with mobility option via a mobile app is the "Must-Have" VoIP service these days.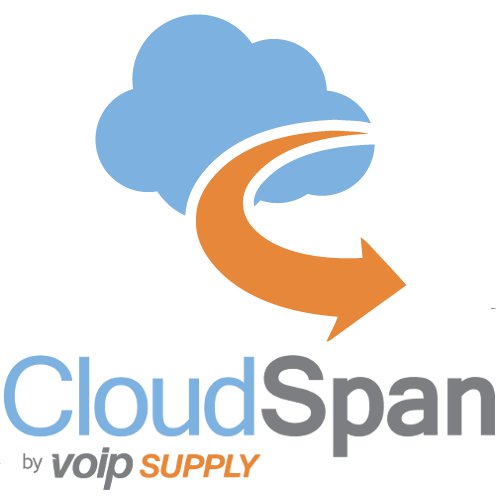 Why Hosted Cloud Service provider is a Must-Have VoIP item?
There's no better way for your growing company to increase efficiency and customer interaction. It demonstrates that even your SMB is an enterprise-class business when your workforce shows extreme responsiveness- handling calls from anywhere.
WHAT is the VoIP item that you or your customers can't live without?
Plantronics CS520 and APC-41 Hook Switch Control Adapter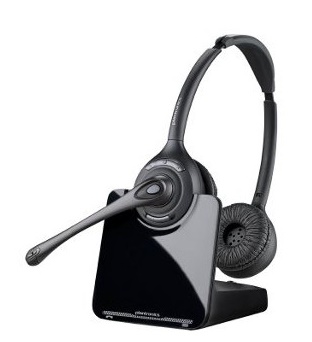 WHY can't you or your customers live without Plantronics CS520 and APC-41 Hook Switch Control Adapter?
This wireless headset allows you to stay mobile while you work and is the ultimate way to multi-task while working with your customers or team on your VoIP phone.
You can learn more about these items and order Don's Favorite Things at VoIP Supply.com!
Source: http://www.voipsupply.com/blog/voip-insider/our-favorite-things-in-voip-part-4/
Publish Date: December 20, 2016 5:00 AM
Page: 1 | 2 | 3 | 4 | 5 | 6 | 7 | 8 | 9 | 10 | 11 | 12 | 13 | 14 | 15 | 16 | 17 | 18 | 19 | 20 | 21 | 22 | 23 | 24 | 25 | 26 | 27 | 28 | 29 | 30