VoIP Supply - ContactCenterWorld.com Blog
Page: 1 | 2 | 3 | 4 | 5 | 6 | 7 | 8 | 9 | 10 | 11 | 12 | 13 | 14 | 15 | 16 | 17 | 18 | 19 | 20 | 21 | 22
Our tech support team at VoIP Supply offers great pre- and post-sales support plus provisioning, consultations, configuration, and installation help.
We get a lot of VoIP hardware and software questions and would like to share the solutions with everyone. Here are some real questions and answers from VoIP users like you.


Q: I tried to activate my 3CX Phone System Standard- 4SC and it gives me an unexpected error: LIC_ERR_FAILED_CERTIFICATE_CHECK. My 3CX version is: 12.5.39117.982 What should I do?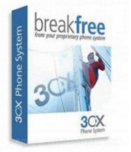 A: You will need to install a service pack for the license. Please follow these instructions in regards to that error. (The following content is from 3CX website.)
V10 users and below- Please upgrade to V11 for free. Your license key has been automatically upgraded to activate on V11. Version 11 can be download here. Perform a backup for your current system, uninstall 3CX Phone System and install Version 11. Use the restore option within the installation wizard to import your user data. Note: 3CX Phone System 11 is End Of Life and is not entitled to support.
V11 users- Please download the latest Service Pack from the 3CX Management Console. SP 4B, Build 30296. Once updated to this version you can re-activate your license key.
V12 & 12.5 users- Please send an e-mail including your 3CX License key to upgrade@3cx.com. You will receive a reply within minutes with instructions on how to upgrade to the latest Service Pack.
3CX Phone System 4 Simultaneous Calls:
A complete 3CX Phone System for Windows® consists of the server software, soft phones or SIP hardware phones, and a VoIP Gateway to connect your existing phone lines. The web-based interface makes 3CX Phone System configuration and management a breeze. No need to learn an obscure, archaic phone system interface or pay for the phone system supplier to make configuration changes. You can monitor phone system status, including which extensions and PSTN lines are busy, and more, from a web browser. Learn more here.


Q: I have a remote site that has a network but is not connected to the internet. The site is an island 12 miles from shore. I have a wireless network that connects the remote island to shore. What I need is something that I can extend a POTS telephone line across the wireless network to the island, as we have need for telephone out there. We do not have access to the internet. Is it possible to build a system that can do this?
A: We can extend that connection with two Grandstream ATAs and Peer to Peer HandyTone Scenario (Extend Analog Lines Using the HandyTone 503 without SIP Server). Please click here to see details.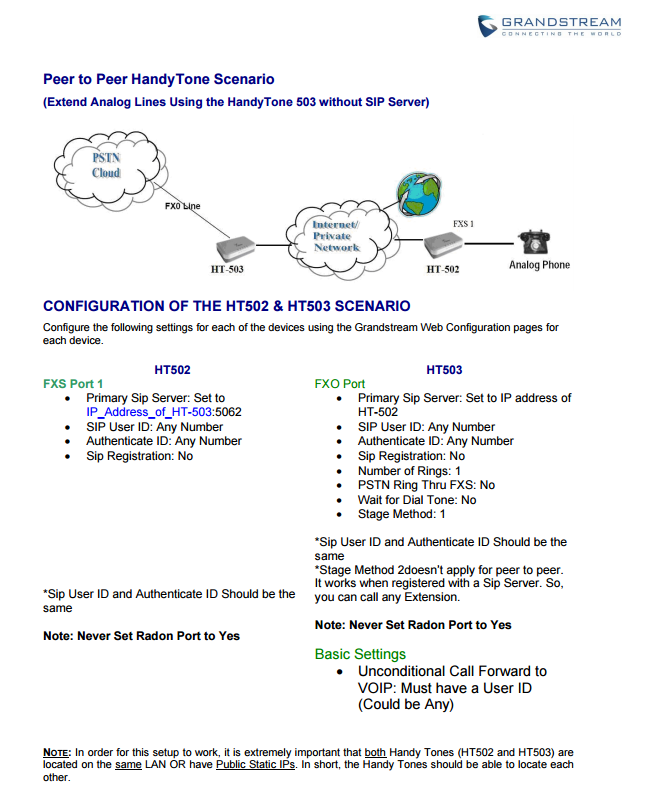 Grandstream HT502 ATA
The Grandstream HT502 is based on the SIP 2.0 standard and features 2 FXS ports, dual 10M/100Mbps Ethernet ports with integrated high performance NAT router, port status and message waiting LED, and a base stand for vertical positioning. Learn more here.
Grandstream HT503
Grandstream HT503 is a hybrid Analog Telephone Adapter and VoIP Router featuring both an FXS (analog telephone) port and an FXO (PSTN) Port so you can have backup lifeline support using the PSTN in the case of a power outage. It also integrates 2 10/100 RJ45 ports with an integrated high performance NAT router. Learn more here.
STAY TUNED
Come back for more VoIP questions and answers next time! If you have VoIP questions to ask us, please submit a technical support ticket or contact our VoIP experts today at (866) 582-8591
Source: http://www.voipsupply.com/blog/voip-insider/moms-calling-voip-qa-how-to-activate-3cx-phone-system-how-to-extend-connection-to-a-remote-site/
Publish Date: March 9, 2016 5:00 AM
---
SIP phone is no doubt the hottest topic in the telecommunication industry today. You may have heard people talking about SIP phones and have no clue what it is. What are SIP phones? How can we benefit from them? Today, we will walk you through the important things you need to know about SIP phones and help you stay on top of the trend!
WHAT ARE SIP PHONES?
SIP stands for Session Initiation Protocol which is a communications protocol for integrating multimedia communication sessions. SIP phones, also known as VoIP (Voice over Internet Protocol) phones, are IP (Internet Protocol) telephones that enable your internet service provider to integrate basic phone capabilities with web, email, online chat and more through IP network.
TYPES OF SIP PHONES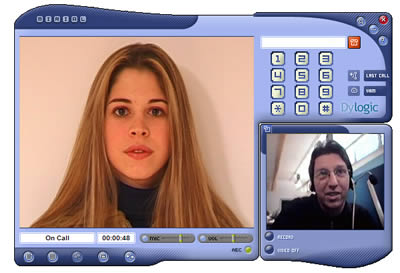 SOFTWARE-BASED SIP PHONES (Virtual Phones)
Software-based SIP phones are the software applications that are installed onto your desktop or laptop that allow you to complete the phone calls over the internet via a computer. There are a lot of softphones available including Wengo, XLite from Counterpath, and more.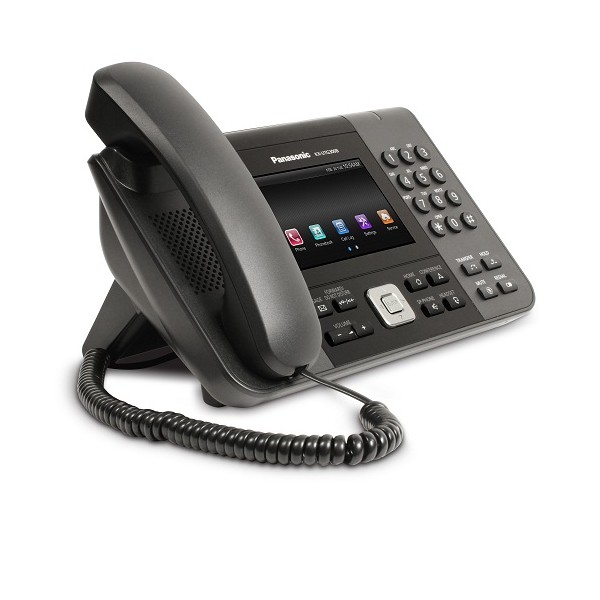 HARDWARE SIP PHONES (Physical Phones)
Hardware SIP phones function like traditional phones but they make phone calls through IP network instead of PSTN lines. SIP phones can share the existing data network with your computer and don't need to have an extra internet service. Popular hardware SIP phones include Grandstream, Polycom, and more.
CAN TRADITIONAL PHONES WORK WITH VOIP SYSTEM?
Absolutely! With VoIP adapter connecting both ethernet and your traditional phone, it functions like a standard SIP phone. VoIP Supply also offers a wide range of on sale SIP phones and refresh SIP phones giving you more options to switch to VoIP system with low cost.
BENEFITS AND DRAWBACKS OF SIP PHONES
BENEFITS
Cost Effective: You can save a lot of money by switching to VoIP phone system. VoIP system offers low monthly rate which means more saving on your phone system to put back into your growing business.
Mobility: Simply get your SIP phone connected to the internet, you can make phone calls anywhere in the world.
Integration: Some VoIP phones deliver rich enterprise telephony capabilities integrating to your Outlook contacts, CRM systems, and business applications through the thousands of available Android apps.
DRAWBACKS
Emergency: SIP phones need both electricity power and internet to operate. When the power is down, the hardware SIP phone with a backup battery unit and the software SIP phone in your mobile phone can still work. However, during a total blackout when the internet service is not available, SIP phones won't work.
Hardware and Network: In order to have high quality SIP phone calls, you will need to have solid hardware and fast network speed.
Source: http://www.voipsupply.com/blog/voip-insider/what-are-sip-phones/
Publish Date: March 9, 2016 5:00 AM
---
VoIP Supply's business, people, products and services all revolve around maintaining and living up to our five core values:
Get Goosed (teamwork)

Go Beyond the Bottom Line (the greater good)

Mom's Calling (customer first)

Be a Very Hungry Caterpillar (embrace change)

No Donkeys! (positive family spirit)
To realize our mission, we want to introduce our Mom's Calling Q&A blog series, highlighting the "Moms' Calling" core value. When Mom is calling for help, we all jump into action. VoIP Supply employees treat every customer like it's their mother on the other end of the phone. We show the same caring and urgency, because the customer comes first.
Here's What You Can Expect from the Mom's Calling VoIP Q&A Series
We will post a Mom's Calling VoIP Q&A blog every two weeks. In this series, we will be covering questions about VoIP devices and services we have received from real customers like you.
Customers submit questions through a technical support ticket or via the "Ask The Expert" tab on our product pages. We respond to these requests directly but more often than not, we think this Q & A would be helpful for lots of other folks. Thus, we would like to share the information with our readers and help you solve problems efficiently.
Stay Tuned…
Follow our blog to learn and solve more VoIP questions with VoIP Supply. Thank you to our customers for the questions!

Source: http://www.voipsupply.com/blog/voip-insider/voip-qa-series/
Publish Date: March 4, 2016 5:00 AM
---

BUFFALO, N.Y. February 29, 2016— VoIP Supply is proud to announce that they have been recertified as a B Corporation (B Corp) in Western New York for another three years. VoIP Supply first received its B Corp certification in December of 2013 and through much dedication to their employees and to the community, the company has earned the privilege of maintaining their status as a Certified B Corporation.
This is a major achievement for VoIP Supply, who continuously strives to be a great company, piloted by a great team of employees who strive to do great things for each other, their partners, vendors, as well as for the Western New York community.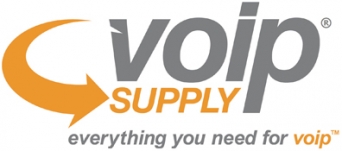 Being a B Corp Certified company means that VoIP Supply has met meticulous standards of social and environmental performance, accountability and transparency set by the nonprofit B Lab. Being a B Corp represents a new viable way of doing business and gauging success. It can be directly compared to the way food can be labeled as Fair Trade or USDA Certified, or architecture being classified as Leed Certified (Green).
VoIP Supply remains in group with over 14,000 other Certified B Corps from 42 distinct corners of the world-all-for-profit companies in a mix of over 120 industries with the common goal of reinventing success in business beyond profit growth.
As a B Corp, VoIP Supply has pledged to continue following the B the Change motto of B Corps- People Using Business as a Force for Good. The company is dedicated to constantly improving its culture in order to be a better company for employees, for the surrounding community and for the environment. As part of this, VoIP Supply remains true to participating in different volunteering efforts throughout the year, making donations to those most in need, as well as implementing an extensive recycling program.
Ben Sayers, founder and CEO of VoIP Supply is enthusiastic about the company's achievement of reaffirming itself as a B Certified Corporation and looks forward to 2016 as a year with many promising things on the horizon.
"I'm very proud that we have been able to renew our certification and continue our participation in the B-Corp movement," said Ben Sayers, founder and CEO of VoIP Supply.
For more information about VoIP Supply's B Corp Certification please call 716-531-4329 or email our Marketing Supervisor Mary Cheney at mcheney@voipsupply.com
About B Corp
Certified B Corporations 1)meet rigorous standards of social and environmental performance; 2)legally expand their corporate responsibilities to include consideration of stakeholder interests; and 3)build collective voice through the power of the unifying B Corporation brand. Since 2006, the B Corporation has added over one-thousand certified corporations from over 120 industries, representing a diverse multi-billion dollar marketplace.
About B Lab
B Lab is a nonprofit organization dedicated to using the power of business to solve social and environmental problems. B Lab drives systemic change through three interrelated initiatives: 1)building a community of Certified B Corporations to make it easier for all of us to tell the difference between "good companies" and just good marketing; 2)accelerating the growth of the impact investing asset class through use of B Lab's GIIRS impact rating system by institutional investors; and 3)promoting supportive public policies, including creation of a new corporate form and tax, procurement, and investment incentives for sustainable business.
About VoIP Supply
VoIP Supply, LLC (www.voipsupply.com) is your trusted source for everything VoIP; from our large selection of name-brand hardware to our CloudSpan Marketplace. VoIP Supply provides you with a fully staffed inbound call center with licensed, certified and highly trained VoIP experts that can help you with any problem you might have. Whether you are a home user, business, reseller or service provider, VoIP Supply has the products, experience and expertise to make your deployment a success.
VoIP Supply is a three-time Inc. 500/5000 honoree, listed by Business First as one of WNY's Most Admired Companies, as well as being consistently ranked one of Western New York's Best Places to work. VoIP Supply is also the first Certified B Corporation in Western New York.
Our dedicated Solution Specialists are here to help, so call us today at 1-800-390-VoIP or visit our website at www.voipsupply.com.
Source: http://www.voipsupply.com/blog/voip-insider/voip-supply-earns-recertification-as-b-corporation/
Publish Date: March 3, 2016 5:00 AM
---
Since 2002, VoIP Supply has provided solutions for any customer's VoIP needs by utilizing their dedicated team of Voice over IP experts, as well as offering a wide variety of Voice over IP solutions.
Today, VoIP Supply has officially added its own line of "made in the U.S.A." PBX appliances. The RenegadePBX by VoIP Supply features three unique PBX solutions that can accommodate the needs of any size business: the RenegadePBX mini, RenegadePBX 1U, and RenegadePBX Pro. An open-source PBX series, each model has the ability to be loaded with any of the following software options including Elastix, AsteriskNOW, FreePBX, 3CX – allowing for great flexibility.
RenegadePBX mini
An SMB elite solution, the RenegadePBX mini provides a compact and effective Voice over IP PBX. A full-featured IP PBX, the mini offers up to 100 extension and 75 concurrent SIP calls. The RenegadePBX mini also comes fully equipped with these additional features:
2GB RAM
24GB Flash Memory
Single PCIe half mini slot
Intel Atom Dual Core x86-64 1.86GHz CPU
External 12V DC power supply
Music on hold, Hold/Transfer, Call Pickup, etc..
RenegadePBX 1U
A stand-alone PBX, the RenegadePBX 1U can be tailored to meet the needs of businesses ranging from SMB to Enterprise by offering a 61GB SSD hard drive, 2BG of DDR3 memory as well as an additional two PCI card slots. The RenegadePBX 1U also comes fully equipped with these additional features:
Dual gigabit (10/100/1000) integrated network ports
Up to 75 concurrent calls
Hard drive capacity up to 3TB drive
Dual high reliability chassis fans
24 analog or 16 digital (T1/E1) telephony ports
RenegadePBX Pro
The largest PBX of the Renegade family, the RenegadePBX Pro is a 3U PBX solution that can accommodate up to 300 extension and up to 100 concurrent calls. Pre-configured with FreePBX, the RenegadePBX Pro will exceed the expectations of any sized business. The RenegadePBX Pro also comes fully equipped with these additional features:
Intel i5-3550 LGA 1155 CPU
500GB SATA hard drive
4GB DDR3 RAM (Upgradeable to 16GB)
400W power supply
4 PCI slots, three PCI Express slots (One 1x PCI-E, One 4x PCI-E, One 16x PCI-E)
Video Out (HDMI, DVI, VGA), mouse and keyboard ports
6 USB Ports, Dual GbE ports
Not only is VoIP Supply offering this exclusive line of PBX hardware, but they also provide the essentials for a full VoIP solution with the Renegade PBX Family; such as VoIP Phones, VoIP Headsets, Gateways, and much more. As an open-source product line, the RenegadePBX takes away the restrictions of what you previously could not achieve with your VoIP system. Visit us today online to learn more about the Renegade line, or call an expert today at 1-800-398-8647 if you have any questions or need advice for your Voice Over IP solution.
We'd love to hear from you! Leave us a comment below about this article.
Source: http://www.voipsupply.com/blog/voip-insider/renegadepbx-by-voip-supply-now-available-in-the-u-s/
Publish Date: March 1, 2016 5:00 AM
---
With the recent release of the RenegadePBX mini, and the RenegadePBX 1U, VoIP Supply has finally completed its PBX family with their release of their RenegadePBX Pro model. Fully made in the U.S.A., the RenegadePBX Pro is a 3U sized PBX that has been built to accommodate the needs of enterprise class businesses; a void that VoIP Supply has seen a large demand to fill.
An open-source PBX, the RenegadePBX Pro by VoIP Supply features a robust base configuration and has the ability to host either 3CX, Elastix, AsteriskNOW, FreePBX, Ezuce Uniteme/SIPXCom, as well as Digium's Switchvox platform – allowing any business to utilize the software of their choice that will better suit their company's needs or legacy system.
RenegadePBX Pro Features and Configuration
VoIP Supply stands behind the quality of the RenegadePBX Pro and has featured the following attributes that makes this solution stand out among its competitors:
Intel i5-3550 LGA 1155 CPU

500GB SATA hard drive

4GB DDR3 RAM (Upgradeable to 16GB)

400W power supply

4 PCI slots, three PCI Express slots (One 1x PCI-E, One 4x PCI-E, One 16x PCI-E)

Video Out (HDMI, DVI, VGA), mouse and keyboard ports

6 USB Ports

Dual GbE ports

On board audio

300 extensions / 100 concurrent calls (varies on configured specifications and system usage)

Pre-configured with FreePBX (Asterisk 11 or 13)
We want to hear from you! Tell us your thoughts about the RenegadePBX Pro below or contact us today at 1-800-398-8647 to find out more about the Renegade PBX Family.
Source: http://www.voipsupply.com/blog/voip-insider/first-look-renegadepbx-pro-model-now-available-at-voip-supply/
Publish Date: February 29, 2016 5:00 AM
---
Communication, over the ages, has consistently and constantly evolved. Petroglyphs to pictograms, carrier pigeons to lightbeam photophones…. Ok maybe I'm getting off target here a bit, but the reality of it is that everyday communication, more specifically telecommunication, is changing at a rapid pace.
With today's modern communication forms, such as wireless, Bluetooth, wifi and the like, we have the amazing ability to utilize a constant stream of information. When dealing with a Voice over IP solution, a method of constantly steaming verbal information is via a wireless technology known as DECT. DECT (Digital Enhanced Cordless Telecommunication) is a common commodity for businesses of all shapes and sizes; mostly seen in warehouse environments and/or businesses that require workers to constantly be on their feet and portable. It's not a new technology. Since the 1980's DECT has been a huge asset to businesses on a global scale.
So you're probably asking yourself, "If it's been around that long, isn't it outdated?" – to which my response would be – absolutely not. If anything, the DECT world is growing and constantly inventing new technologies and capabilities that allow for it to expand it's classic communication reach. DECT is no longer just a simple handset device with limited range – it has evolved into something so much greater!
Recently in 2015, Panasonic, a company that has been a part of the media and communications market for decades, decided to revolutionize the way that that the VoIP Industry does DECT. More specifically, they feature 5 key new features that will revolutionize the way we communicate with DECT technology:
200 Hours of Standby Time – Yep. You read it. Panasonic has upgraded their DECT solution to be available for up to 200 hours of standby time on one charge. Not only will this allow you to have a constantly portable DECT solution, but it will require less charge time and more availability from your device.
Desk Phone DECT Solution – What? DECT isn't just a handset anymore? You got it. Panasonic's new KX-TPA65 is an actual desk phone. Say goodbye to no longer being able to have a remote office environment. The KX-TPA65 is a robust desk phone that offers all of the best features of DECT and Desk VoIP hardware, such as easy, no-WAN installation, HD Audio, and a full-duplex speakerphone.
Up to 8 Devices Per Base Station – Each Panasonic DECT device delivers consistent audio quality even when there are eight devices being utilized on one base station. This includes the Desk DECT Phone as well! Any Panasonic DECT solution can also accommodate up to eight different phone numbers and calls at a time.
11 Hours of Talk Time – Tired of your DECT device not being able to last throughout your long work day? Panasonic has reversed this problem and offers up to 11 hours of talk time per DECT device.
Noise Reduction Technology – With the press of a button, you can reduce any unwanted noise while you're using your Panasonic DECT product. Panasonic's TGP-600 system will automatically adjust receiver volume to a level that is easy to hear and understand. How cool is that?
As you can see, DECT isn't just old-fashioned "DECT" anymore. Every day companies are continuing to change the way that we communicate with one another. Take advantage of these new changes in technology, or else you may miss out on the most efficient and effective communication possibilities for your business.
Have questions about DECT, Panasonic DECT Phones, or VoIP in general? Contact us today at 1-800-398-8647 and one of our VoIP Experts will be happy to assist you.
We want to know what you think about DECT! Leave a comment below and give us your thoughts!
Source: http://www.voipsupply.com/blog/voip-insider/5-ways-that-dect-will-revolutionize-your-voip-solution-4/
Publish Date: February 26, 2016 5:00 AM
---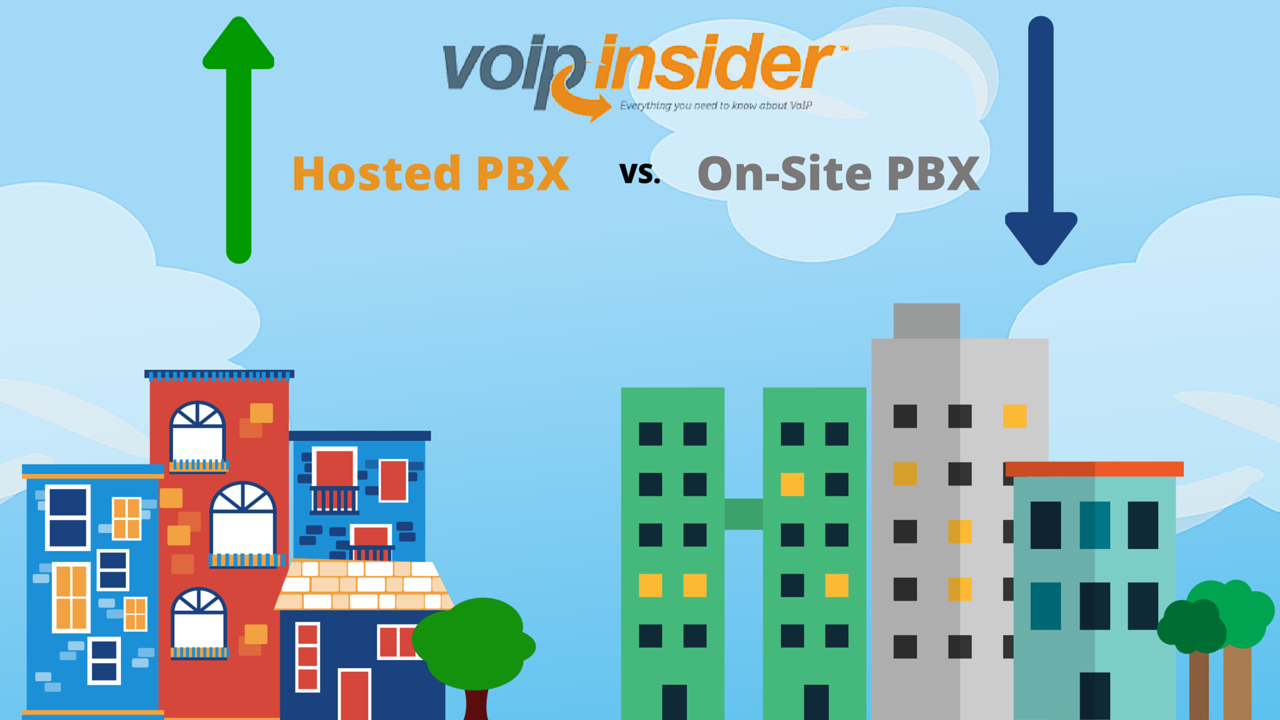 When choosing VoIP service you have two different options either an on-site system (SIP Trunks) or a Cloud Phone System (Hosted PBX).
With an on-site phone system we recommend you have someone or a group of people to manage the system. All setup and configuration will be handled by your team of experts in your office. The upfront costs are increased with the need for hardware, but your monthly recurring costs are greatly reduced with the removal of traditional phone lines.
Key Features:
On-site Phone System – SIP Trunking:
Save on costs (most SIP Trunking channels are less than HALF the cost of traditional phone lines)
No long distance charges in the Domestic US
Flexibility to own numbers based all over the country (and in some cases world), and have them terminate to the same central location or main office
Quickly and easily add numbers & capacity








Key Features:
Cloud Phone System – Hosted PBX:
With a Cloud Phone System you can reap the benefits of VoIP, but not have to struggle with technical and setup issues. You're able to afford high hardware costs and manage your phone system from inside and outside the office.
No Hardware Failures
No Maintaining the Server (Power, cooling, server space, etc)
Assistance with configuring features
Automatic Phone set up
If Internet goes down in office, PBX still answering and routing calls
If Power goes out in office, PBX still answering and routing calls
Automatic failover to cell phones if devices go offline
The VoIP and telecommunications world has been known for its acronyms and different names for the same product/feature. Here are just some of the different ways I have seen Cloud Phone System titled:
Hosted PBX
Hosted VoIP
Cloud VoIP System
Cloud PBX
Hosted Cloud Phone System
Virtual PBX
If you're interested in learning more about VoIP Service please contact us at 1-800-398-8647 or wecare@voipsupply.com.
Source: http://www.voipsupply.com/blog/voip-insider/key-features-of-hosted-and-on-site-phone-systems/
Publish Date: February 19, 2016 5:00 AM
---
Giving back to the community is part of VoIP Supply's mission.
As a B Corporation, we are dedicated to helping the local community and volunteer at one nonprofit a month.
Last month, VoIP Supply worked with Matt Urban Center distributing scarves and hats to needy neighbors (read more details HERE). This time, we joined 200 weekly volunteers at The Teacher's Desk helping in the warehouse, sorting and packaging goods. Big thanks to The Teacher's Desk for giving us the chance to give back to the local community!
"It's better to give than to receive. We are proud to see that our employees shared the same value of volunteering" said Ben Sayer, CEO of VoIP Supply.
The Teacher's Desk is a store where teachers shop for free books, school supplies, and teaching resources to distribute to students in need. Their vision is to encourage teachers and to provide purpose through volunteerism.
We have more upcoming charity events this year including:
Electronics Donation: Donate all electronics/ printer ink and toner cartridges to Camp Good Days
Hospice Spring Bouquet sale: Mixed bouquet (9 stem) $8 or a tribute bouquet for $30 (30 stems plus an $8 bouquet goes to a Hospice patient.)
Earth Day: we'll plant another tree and participate in a community Spring clean-up
To learn more about B corporation and our charity events, please follow our blog and Facebook or contact us TODAY at 1-800-398-VoIP or wecare@voipsupply.com!
Source: http://www.voipsupply.com/blog/voip-insider/february-volunteering-the-teachers-desk/
Publish Date: February 17, 2016 5:00 AM
---
Confused about where to start when choosing what VoIP solution is right for you? We are here to help!
The CloudSpan MaketPlace by VoIP Supply was created to make your life easier, by setting you up with one of our VoIP Cloud Service Specialists. They will seamlessly guide you to the perfect VoIP solution to fit your businesses needs. One of the big questions you will need to answer is if you want a hosted or on-site system. This can be a difficult decision, so to help you decide we have broken down the key features of each solution.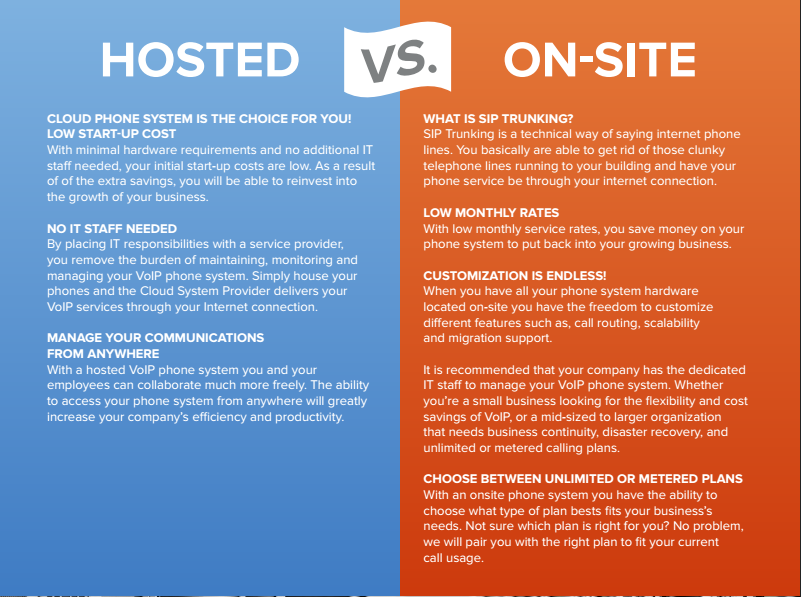 Once you make the choice between a hosted or on-site solution, it's a fairly easy process. Our VoIP Solutions Specialist will guide you through the next couple of steps and when you are done, you will have the perfect VoIP Solution that will fit your business needs. It's seriously that easy! So what are you waiting for? Fill out our consultation form or give one of our specialists a call today!


For the month of February only take advantage of the free phone promotion! Receive free phones when you sign up for a three year service contract. Click here for more information.




Source: http://www.voipsupply.com/blog/voip-insider/what-is-the-first-step-when-implementing-voip-service/
Publish Date: February 17, 2016 5:00 AM
---
Whether you are a technology company or are in the business of making teddy bears, have traveled for business before or are a newcomer to the game, attending business Expos is pretty common in the entrepreneurial world. Thus, a few words of advice on how to prepare for these types of events can't hurt. Being that VoIP Supply will be present at three Small Business Expos this year, we thought we'd share a few tips and pointers that have helped many here have a more pleasant experience while off site.
BIG TIP FOR THE EXPO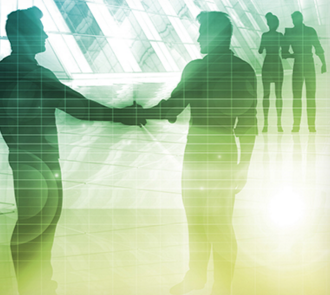 Have a plan of action for the business expo before getting there. Planning ahead what your day(s) will look like will help you be the most productive. Brainstorm questions such as: Why are we as a company attending the event? Whom do I plan to speak to? What is the overall goal for attending the event? And, how am I going to meet that goal? These questions can help guide you in the right direction, however, be flexible! Don't be afraid to switch beats if a good opportunity arises.
Before The Expo
Research and write down the companies or products that interest you and where they are located in the exhibition.
List out your three must-visit booths and create a separate list for the rest that you would like to visit if you have enough time.
During The Expo
Exchange business cards to have contact information for further connection in the future.
Write down at least one takeaway from each booth so it helps you recall the conversation after the event.
After The Expo
Follow-upwith the companies that you are interested to maintain the connection.
Be open-minded to all the information you received while at the Expo. It might come in handy!
Review and prepare better for the next Expo.
DON'T FORGET TO PACK:
Business cards to hand out at the Expo or to anyone interesting you find along the way.
Weather appropriate clothing for the climate zone you are traveling into.
Comfortable shoes that are presentable for while at the Expo since you will probably be doing a lot of walking and standing.
Light snacks to boost up on energy on any given moment. Protein bars and nuts work great.
Mints Because this is a networking event, so chances are you'll be talking to a lot of old pals as well as meeting lots of new people. Bad breath is not the impression you want to leave behind!
Chargers for your laptop, cellphone and any other electronics you may need to bring along.
Aspirin® and TUMS®. You'll be prepared for headaches and heartburn and/or indigestion.
A small notebook and pen to take notes. This can also be done electronically with a Smartphone or laptop based on personal preference.
Thanks to Ying-Hui Chen for her assistance with writing this article.

Source: http://www.voipsupply.com/blog/voip-insider/checklist-for-expo-attendees-how-to-make-the-most-out-of-a-expo/
Publish Date: February 15, 2016 5:00 AM
---
Note: This is a guest post by Tim Root, Chief Technology Officer of Revolabs, Inc.

What does UC Mean?
Recently, someone asked me how Revolabs defines "Unified Communications" (UC) and the technologies that term encompasses. As you might imagine, UC is a very broad term; at the highest level, it means the ability to combine data, audio, and video within a single application and to share it among a variety of users in different locations using multiple types of interface technologies; laptops, smartphones, pads, VC equipment.
On the technology side, the core of the infrastructure is the call manager or the web-based server that enables everybody to connect to one another. That's really where it all starts; that infrastructure has to be able to support all of the media involved, the different types of data, video, and audio, as well as presence which enables connectivity at all times. It also has to address each user's specific needs in terms of support for peripherals. For example, imagine being in a conference room, which might require a camera able to capture a wider field of view or to zoom into specific areas to identify individuals. This is requirement is not needed when using a smartphone, where a fixed focus camera is typically all one needs This is just a small example of the challenges IT managers face when providing complete solutions for their entire workforce.
FOCUS ON MICROPHONE PICKUP

Because we're in the audio business, Revolabs believes the full unified communications experience depends greatly on superior audio pickup quality. That's why we focus so heavily on microphone pickup, using
wireless technology so you can locate microphones wherever they're needed, such as wearable microphones for individuals or tabletop microphones for small groups. But it's also essential to plug into all the other parts of the UC experience, such as data-sharing components that can leverage mobile phones, laptops, tablets, any of the peripherals associated with PowerPoint presentations, even smart whiteboards, which allow people to collaborate remotely.
Our job is to create the audio communication tools organizations need to plug into all those different use models without compromising on providing the best audio quality possible. This is why Revolabs offers such a wide array of microphone and speakerphone solutions, to enable any user model to still experience great audio.
THE CHALLENGES OF UNITING COMMUNICATIONS DEVICES
As you can probably imagine, with communication technologies evolving so rapidly, manufacturers of UC devices face some significant challenges. From my perspective, the biggest of them is the lack of a common infrastructure. Every vendor seems to have a different approach, whether it's a server-based, on-premise, or cloud model, and all of them are pushing their own solutions.
Now, if we look back to the land-line phone system, there wasn't this problem; the telephone became ubiquitous because it offered a simple user interface with a basic dialer, and the government subsidized the development of the three-digit area code and seven-digit phone number infrastructure. But that's just not what's happening with UC; there's no single model that's been adopted worldwide to allow anyone with virtually any kind of device to communicate with somebody else with a different device using a common application. Until we solve that problem, either through setting international standards or to settle on a common interface such as Web RTC, we won't be able to realize the full potential of sharing a common communication experience as well as connectivity.
Source: http://www.voipsupply.com/blog/voip-insider/guest-post-revolabs-unified-communications-will-help-bring-the-world-together-once-we-decide-how-to-communicate/
Publish Date: February 10, 2016 5:00 AM
---

We are going on the road this year! We have decided to join the Channel Partners Conference & Expo March 16th to 18th in Las Vegas.
Schedule Time to Meet With Us!
We want to meet with you while in Las Vegas and are open to schedule times throughout the week. Please give us your contact information here.



We are very excited to talk with you about our new offerings for 2016. Some of the new offerings we are showcasing will be:
Fulfillment – Business automattion, Turnkey solutions & International Fulfillment options
Partner Program – Designed to assist all of our partners who want to offer the perfect telecommunications solution to their clients
CloudSpan MarketPlace – A single place to shop various VoIP service providers
RenegadePBX – A standalone IP PBX, Made in the USA, that can be tailored from small offices to enterprise grade companies
We think Channel Partners is a great avenue to meet with our current partners and create new partnerships that will benefit us both long term.
Meet Team Members and Demo Our Equipment
We will be exhibiting at booth 924 with members of our Cloud Services Team, our Solutions Specialists and also directors of multiple departments at VoIP Supply. Along with some of our team members we will have equipment for you to check out and plenty of different giveaways for you. We want to make sure you walk away from our booth with more information than you expected to gain.
There is more to offer than just VoIP Supply
There are other great vendors and networking opportunities available at Channel Partners this year. Check out the entire agenda here.
Can't make it to the Expo in Las Vegas?
Not a problem. We are happy to explain our new offerings to you over the phone or send you information via email. Please contact us with any requests or questions at 1-800-398-8647 or wecare@voipsupply.com.
Source: http://www.voipsupply.com/blog/voip-insider/come-visit-us-at-the-channel-partners-conference-expo/
Publish Date: February 9, 2016 5:00 AM
---
Do you have a lot of VoIP questions waiting for answers and don't know where to start? Are you interested in exploring the opportunities to make your business easier or grow faster? Now is your chance to get the answers all at once!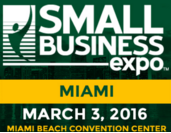 VoIP Supply is exhibiting at the Small Business Expo 2016 in Miami. We are here to help with any VoIP questions and to customize the best VoIP solution for you.
The event will be held at the Miami Beach Convention Center on Thursday, March 3rd, 2016 from 9:30 a.m. to 5:00 p.m.VoIP Supply will be atbooth 511. This event is FREE to attend. Register HERE today!
What you can benefit from visiting VoIP Supply at the Small Business Expo
1. Learn new VoIP solutions and services that will save you and help your business grow
2. FREE CloudSpan Marketplace Consultation which includes:

An evaluation of your current situation
Pricing, and solution comparisons from multiple providers
A deep dive into what features are needed to make your business successful
3. Network and reconnect with VoIP Supply
4. Drop your business card or get it scanned by us at the show to win a free Invoxia phone worth $499 at VoIP Supply booth
Can't make it to the Expo in Miami?
Not a problem. You still have the chance to network with us! In addition to the Small Business Expo 2016 in Miami, VoIP Supply will also be attending the other two shows in Chicago on April 21st 2016 and New York on June 9th 2016.
If you have any questions about the expo, please visit Small Business Expo website or contact us today at 866-582-8591 or wecare@voipsupply.com. We look forward to meeting you in the event!
Source: http://www.voipsupply.com/blog/voip-insider/save-the-date-connect-your-business-with-voip-supply-at-the-miami-small-business-expo/
Publish Date: February 4, 2016 5:00 AM
---
Infotech WNY Shadow Program
In addition to supporting local nonprofit organizations, VoIP Supply believes in developing young professionals and building a more educated talent pool. VoIP Supply sponsored Infotech WNY Shadow Program, providing an opportunity for technology-focused students to be exposed to real business experiences. Six WNY college students came to visit VoIP Supply's office and warehouse in Amherst to learn and explore WNY IT career opportunities, and network with VoIP Supply staff.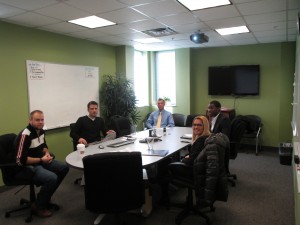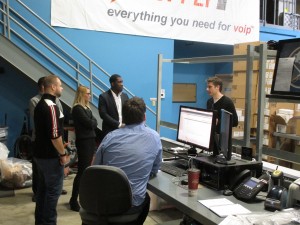 Understand Real IT Business Solutions
During the Shadow Day, our Software Development Manager, Shawn Hess, and Senior VoIP Engineer, Marc Spehalski, gave the students an onsite tour featuring our company's daily operation and explaining the career expectations in the IT business culture.
Through discussion and observation at VoIP Supply, this program helps young professionals understand the connection between their coursework and real IT business solutions in the industry. It helps them explore the required skills and personalities to be successful in the workplace.
Interested In Learning More?
VoIP Supply is thrilled to network with young IT professionals and help students identify their unique potentials and career futures. If you are interested in learning more about VoIP Supply and networking with our staff, please visit voipsupply.com or contact us at 1-800-398-VoIP or wecare@voipsupply.com
Source: http://www.voipsupply.com/blog/voip-insider/infotech-wny-shadow-program/
Publish Date: February 3, 2016 5:00 AM
Page: 1 | 2 | 3 | 4 | 5 | 6 | 7 | 8 | 9 | 10 | 11 | 12 | 13 | 14 | 15 | 16 | 17 | 18 | 19 | 20 | 21 | 22