VoIP Supply - ContactCenterWorld.com Blog Page 25
Page: 1 | 2 | 3 | 4 | 5 | 6 | 7 | 8 | 9 | 10 | 11 | 12 | 13 | 14 | 15 | 16 | 17 | 18 | 19 | 20 | 21 | 22 | 23 | 24 | 25 | 26 | 27 | 28 | 29 | 30
Take advantage of features to make your day easier
When it comes to VoIP Service there are plenty of features out there that can greatly increase your efficiently throughout the day. One of those features would be Find me/Follow me Call Routing.
The basic idea of this feature allows you to directs calls that are coming in to your desk phone or main line to somewhere else that will be more convenient for you. You're basically allowed to set up rules for when someone is attempting to call you.
Don't Miss a Call When You're Away From Your Desk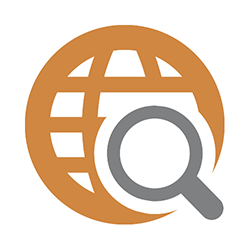 If you're someone who is away from their desk often or you work remotely this feature is a great option to keep you in contact with everyone. There are basically two paths you can have designed for yourself.
Sequential Ringing: Allow the call to ring your desk for 10 seconds (or anytime you decide) then move to another landline, such as your home office, then you can move to your cell phone if necessary.
Multiple Endpoints Ringing: This allows multiple phones to ring at once. You can have your desktop phone in your office, your home office line and also your mobile device ring simultaneously. If you're sporadically in different places at different times this is a great feature to make sure you pick up the call as soon as you can.

Benefits to Find Me/Follow Me
Never miss a call when you're away from your desk
Only one phone number to hand out to receive calls to all devices
Appear to always be at your desk when incoming calls are received
Have the freedom to go about your day and stay in contact with everyone
Contact us today
Start allowing your customers to reach you anywhere while you're working. Contact our VoIP Solution Specialists today at 1-800-398-8647 or voipexperts@voipsupply.com
Source: http://www.voipsupply.com/blog/voip-insider/voip-service-features-find-mefollow-me-call-routing/
Publish Date: May 25, 2016 5:00 AM
---
Recently, I was able to speak with Lee Marlow of Digium Switchvox and discuss the benefits of VoIP Service and VoIP Hardware within schools and universities. Below you will find the second half of our discussion. If you have not read the first half please do so here.
1. How does Digium set themselves apart for schools?
Schools need a cost-effective solution, but like many businesses, they don't want to have to sacrifice when it comes to features. Switchvox is Digium's award-winning IP PBX and delivers powerful UC tools, mobility applications and robust calling features all at one, low price. And, our phone system is easy to manage and simple to use. Our education customers repeatedly say they appreciate that our products are intuitive and easy to use, not only for the IT department but also for teachers and administrators.
Our products are standards-based which means you can save even more money by reusing existing equipment like phones and paging equipment. We have flexible product offerings and deployment methods for any budget and can provide school systems with both the SIP service and phone system equipment, for additional savings.
2. Can you describe the bell feature that can be part of a Digium phone system?
There are multiple options for integrating a school's bell system. Through the use of custom scripts, it's possible for the Digium Phones to be used as the school's bell system. Emergency alerts and notifications can be sent directly to each phone. As an example, in a school lock down situation, you can send a visual alert that will cause the Digium phone to light up or flash.

3. Can you talk about emergency broadcasting and disaster planning?
Recent events have mandated that school systems take a more proactive approach to student and teacher safety within schools and this includes implementing better communications tools. Switchvox has the ability to broadcast emergency alerts and messages over a paging system via the display on desktop phones or directly to parents' phones – or other emergency contact numbers of your students. The mobility features included with Switchvox, which help turn staff into a mobile taskforce during an emergency. The ability to readily communicate with mobile devices ensures that staff can be reach anywhere, anytime.
4.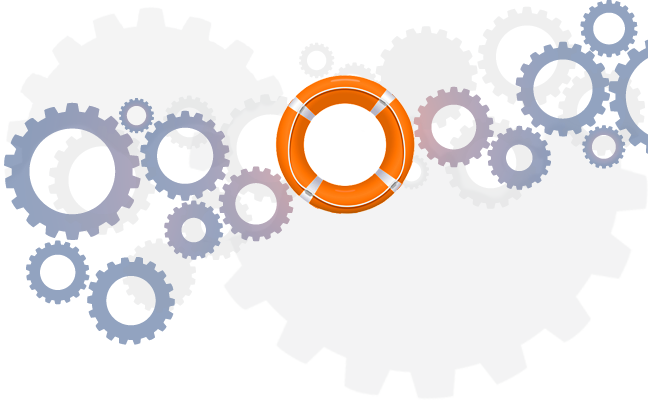 What kind of support options are out there for schools offered by Digium?
There are various support options available. With an easy-to-use system, it's easy for the IT administrator to maintain their own system. Digium offers options for 8×5 and 24×7 phone and online support. A Digium authorized partner can help you select which plan is best meets your needs.
5. Can you explain how VoIP will bring different buildings closer together?
Outdated communications systems may require that every building have a dedicated server housed onsite. In this type of situation each building essentially has its own telephone system with no centralized point of communications. VoIP can allow users to transfer calls between sites and share call capacity dynamically across a campus. With VoIP, you don't have to place additional equipment where you physically want to add employees – you just connect them to your IP network and that's it.
6.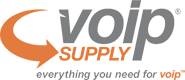 With your experience, can you give our readers some advice when switching to VoIP?
It all begins with choosing the right partner who understands your industry and needs. There are specific questions to ask yourself and your vendors. It is important to understand both current and future cost of maintaining your VoIP system. Do a side-by-side feature comparison and ask for a breakdown on the cost of each feature separately. Select a system that is flexible and can grow with you.
Don't forget about part 1 and see what Lee Marlow has to say!
Source: http://www.voipsupply.com/blog/voip-insider/lee-marlow-of-digium-switchvox-speaks-about-voip-in-educational-systems-part-two/
Publish Date: May 24, 2016 5:00 AM
---
Different Levels for Different Partners
At VoIP Supply, we understand not everyone is going to be a VoIP expert and have skills in the variety of VoIP offerings. We would like to extend our partner program not only to the VoIP experts in the field but also to clientele with vast business contacts.
Let's try and break down the different partner levels in more detail.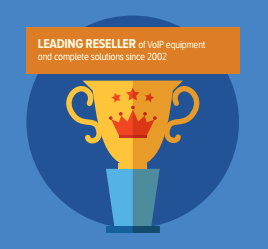 Referral Partner: As a Referral Partner you will put us in touch with possible companies or businesses that would benefit from our Partner Program. We will support that customer in finding the correct solutions. There is no need for a technical background or knowledge of VoIP to become this type of partner.
Benefits to being a Referral Partner:
No technology background needed
Earn money through referring business
Once business contact is referred to us your job is finished

VoIP Supply Partner: If you are currently working with VoIP Supply and looking to increase your customer base and reach, this is the partner level for you. We will provide sales and technical support needed to effectively build your account base.
Benefits to being a VoIP Supply Partner:
Grow your business without growing your current employee base
Provide support to your customer that you previously were unable to
Earn industry aggressive commissions for your business
We Buy Old Equipment
Another advantage to partnering with VoIP Supply is that we buy old, used equipment. You can save yourself and your customers money by allowing them to make some cash on that old equipment they were just going to throw away. Reclaim by VoIP Supply, was designed to be as simple as possible.
Become a Partner Today!
Contact our Channel Manager, Don Stefanie, today at 716-213-6906 or dons@voipsupply.com with any questions or inquiries regarding our Partner Program.
Source: http://www.voipsupply.com/blog/voip-insider/levels-of-the-voip-supply-partner-program/
Publish Date: May 23, 2016 5:00 AM
---
These days, Bluetooth integrated VoIP phones are becoming the norm, and if you are not taking advantage of this awesome feature, you are missing out.
Here is a quick How-To on syncing your cellphone with the Bluetooth enabled Grandstream GXP2140. (Don't worry, almost all VoIP phones with this feature will work with Apple or Android)
The first thing you are going to want to do is make sure that Bluetooth is turned on, on your mobile device.
Second, push the round Menu button on the front of your GXP2140 to bring up the main menu. From the main menu go to System. Next, you can scroll down and select Bluetooth.
From the page, you will be able to turn on Bluetooth if it is not on already. Once Bluetooth is turned on, the next step will be to select Start Scan from this menu page. This will bring up a list of all Bluetooth devices that the GXP2140 has discovered.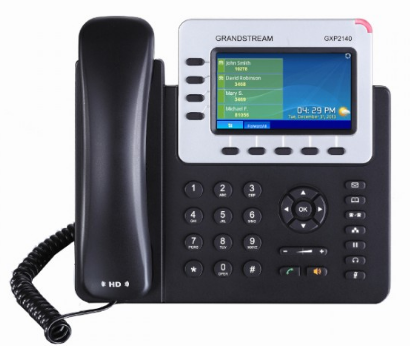 Once you have selected the device you would like to pair (in this case it would be your cell phone) it will ask you for a PIN. Simply enter the same PIN on the GXP2140 that you have entered on your cell phone and you will notice your device will change from Unpaired to Paired to Connected on the GXP2140.
Now that you have paired your cell phone with the GXP2140, you can then go back to the previous menu page and turn on Handsfree Mode. Doing this will enable you to not only transfer calls to your mobile device, but also sync all of your existing contacts to the GXP2140.
Once returning to the homepage on the GXP2140, you will see an icon that shows your cellphone is connected, and you will be able to search your cell phone's contacts via the Contact Button on the front of the phone. This is the button that has the Book icon.
It really is that simple to connect your cell phone to your GXP2140, and soon you will be able to enjoy all of the additional Bluetooth features the GXP2140 has to offer!
For additional information and video regarding the Grandstream GXP2140, please visit our website.
Source: http://www.voipsupply.com/blog/voip-insider/how-to-utilize-the-bluetooth-feature-on-grandstream-gxp2140/
Publish Date: May 20, 2016 5:00 AM
---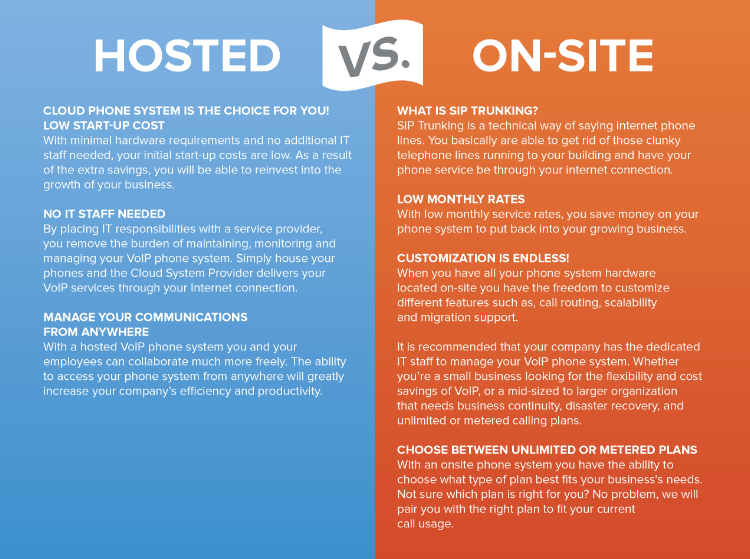 The first step when implementing VoIP Service is to choose a hosted or on-site system. This can be a difficult decision if you are not a VoIP service expert. Surely consulting an expert can make things easier and simpler; however it's even better to have some of your own knowledge before you consult the experts. After reading this blog, you will have a basic picture of the best VoIP service solution for your business.
Hosted VoIP Systems
A hosted VoIP system is usually an ideal option for inexperienced VoIP beginners as everything is taken care of by a third party company. Taking advantage of the hosted VoIP system, users with minimal hardware and no additional IT staff can switch to VoIP service seamlessly and enjoy the benefits it brings just like other VoIP service experts. This solution is a favorite for small-scaled companies with a limited budget for three main reasons:
Low initial startup costs: Little VoIP hardware purchase is required. Low upfront costs means more savings to reinvest back into growing your business.
No IT staff needed: The hosted VoIP service provider will be responsible for maintaining, monitoring, and managing your phone system. Placing IT responsibilities to your VoIP service provider can save you a lot of time, money, and energy.
Flexible management: With a hosted VoIP phone system, communications management is easier and more flexible than ever before. Being able to access the phone system almost anywhere anytime, you and the involved parties can work more efficiently and productively.
On-Site VoIP Systems
An on-site VoIP system means that you have all the phone system hardware required to run directly on site. This is a great solution for enterprise businesses who need more customized functions. The key features of an on-site VoIP system include:
Highly scalable and flexible: Everything is operated on your site, so you have better control of what you want to accomplish such as call routing, scalability, migration support and more.
Dedicated IT staff recommended: Since you are working more independently with an on-site VoIP system, it's recommended to have dedicated IT staff on site to help troubleshoot any technical issues and configurations.
Higher upfront costs with low monthly rates: Although an on-site VoIP solution requires higher upfront costs to purchase the required VoIP equipment (Servers, switches, phones, etc), this is also a great long-term investment as you own the equipment. With low monthly rates, you can save a fortune and put back into your business growth.

What's Next?

Now you have learned the differences between a hosted and on-site system. Whether you have made a decision or you're still researching, contact a VoIP solutions expert to discuss your thoughts and needs to winnow out the best VoIP service solution and service provider for your business.

Our CloudSpan MarketPlace is a one-stop shop to help you choose the ideal service provider to meet your business requirements. Simply fill out the form below to request a free consultation. We look forward to hearing from you and will be happy to provide you anything you need for VoIP.

Source: http://www.voipsupply.com/blog/voip-insider/the-differences-between-hosted-and-on-site-systems/
Publish Date: May 19, 2016 5:00 AM
---
When it comes to video chatting, nothing is worse than having poor video and/or audio quality. In fact, most of the users could have a better Skype for Business experience if they put some effort into meeting the fundamental requirements. Let's learn some Skype for Business video functions and how you can enjoy quality video calls.
Skype For Business Video Capability
In addition to the standard softphone functions such as answering/ending/rejecting calls, replying with instant message or audio only, and do not disturb setting, Skype for Business Video also offers four video layouts (Gallery View/ Speaker View/ Content View/ Compact View) and the ability to mute/unmute, turn off video or photo, set full screen or normal view. To learn detailed video functions, please visit Microsoft's site.
How Can I Improve The Poor Audio/ Video Quality?
There are many possible reasons that can cause poor audio/ video quality. Here we provide four main reasons and solutions to help you ensure a good video chat experience.
Good Network Connection
Internet connection is always the top reason that comes to mind that can cause poor video quality. Make sure you have enough Internet bandwidth and stability to support the video calls. A wired connection usually has better performance than wireless connection.
Certified Hardware and Devices
Be sure to use certified devices and hardware for your calls to ensure the optimization of your call quality. See Skype for Business certified phones, headsets, gateways, SBCs and Skype compatible phones, headsets, video phones, and web cameras.
Right Location
During a video call, we tend to focus on the image from the other end of the call and neglect the lightness on our own side. Detecting the lack of brightness, Skype webcam system will automatically adjust the signal to reduce quality and brighten your image. Therefore, make sure the location you pick has enough light source and no other distractions such as noisiness.
Upgrade System and Equipment
Keeping your system and equipment up to date can minimize malfunction and avoid poor video call quality. Visit Microsoft's website for the latest version of software and make sure your device and equipment are not outdated.
Once you meet all the requirements above, remember it's always good to test before you start important video meetings. Utilize the test function in Skype for Business to test both audio and video device. Detailed step by step instruction can be found here.
For more information about improving Skype for Business audio and video quality, please visit Skype's website or contact us at 1-800-398-VoIP or at voipexperts@voipsupply.com
Source: http://www.voipsupply.com/blog/voip-insider/improve-skype-for-business-audiovideo-quality/
Publish Date: May 18, 2016 5:00 AM
---
VoIP Supply has a line of refurbished VoIP phones that have undergone a thorough 10-step reconditioning process that assure our customers only receive quality products that can be trusted to look great and function as if they were brand new.
This month we are highlighting four of our most popular Refresh VoIP Phones. These phones have been examined, upgraded, set to default settings, and repackaged. They are offered as a cost-effective solution for those of us in need of a VoIP system, but looking for a bargain.
Polycom VVX300
From a trusted name in the VoIP industry, the Polycom family of VVX Business phones is a fan favorite. Refresh offers many of the VVX series phones like the VVX300, a 6-line High Definition IP Phone that is ideal for call centers and cubicle workers.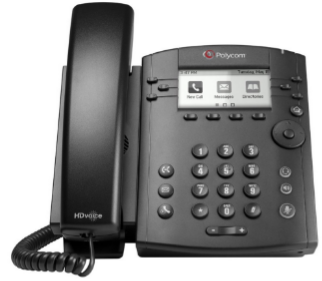 With an intuitive user interface and advanced Unified Communications (UC) features, the Polycom VVX300 is a cost-effective solution for any business.
Users are able to integrate their workplace applications from their desktop right into the phone; Microsoft Exchange calendars, corporate directory and Instant Messaging (IM) presence status can all be accessed right on the phone's display.
Polycom VVX410
Another great bargain from the Polycom VVX family is the Polycom VVX410.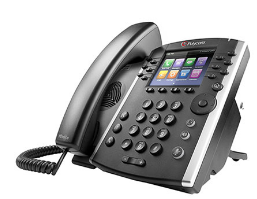 The VVX410 is a Gigabit phone that offers 12 lines and HC Voice with a large 3.5" color LCD display.
The VVX 410 also integrates with third-party UC and productivity applications, making it a great solution for any business user, knowledge worker and office staff.
Polycom SoundStation IP 5000
If you are looking for a conferencing solution, the Polycom SoundStation IP 5000 is waiting for you on our Refresh shelve. This advanced conference phone is suitable for small conference rooms and executive offices.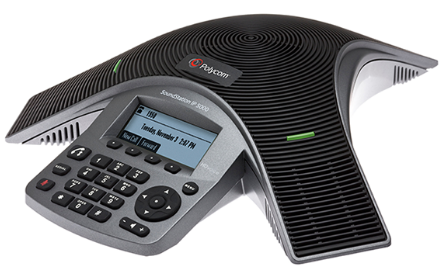 You will hear the difference in voice quality when you easily configure this conference phone and make your first call. With HD Voice technology, your conference calls will be far from ordinary. You will enjoy crystal clear conversations that sound natural, just like face to face communication.
The Polycom IP 5000 offers broad SIP interoperability and a modern design. It will work with your VoIP system and it will look good doing it!
Snom 870 Black
Our last (but not least!) featured phone of the month is the Snom 870 Black.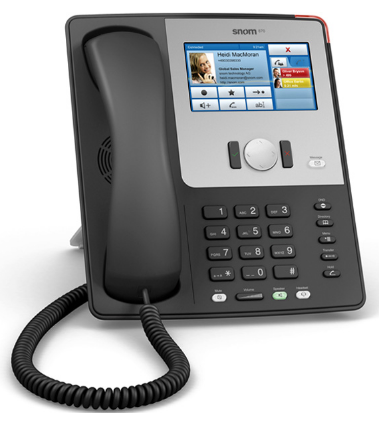 This high end VoIP Phone comes equipped with Klarvoice Wideband Audio technology. You will hear and be heard very well, reducing miscommunication concerns.
With a newly developed touch screen display, the 870 is more user intuitive than ever; users can easily handle complex tasks, like call swapping, or conference calling for up to five participants, with a simple drag and drop.
These high tech phones for the enterprise business user are only a smaple of the many great products Refresh has to offer. To learn more about Refresh products check out the Refresh page, or call us at 1-800-398-VoIP or email at voipexperts@voipsupply.com

Source: http://www.voipsupply.com/blog/voip-insider/refurbished-voip-phones/
Publish Date: May 18, 2016 5:00 AM
---
Our tech support team at VoIP Supply offers great pre- and post-sales support plus provisioning, consultations, configuration, and installation help. We get a lot of VoIP hardware and software questions and would like to share the solutions with everyone.
In previous Mom's calling Q&A series, we have discussed: Can I Use WiFi Phones With Grandstream UCM?. Today, we have more new real questions and answers from VoIP users just like you.
HOW CAN I PICK UP ANOTHER PHONE TO TALK TO THE SAME CALL IN?

Q: I have bought a Grandstream GXW4216 and set up all the lines in my house with it as the gateway for my modern with VOIPO service. My question is, when we answer on one phone we can not pick up another phone to talk to the same call in. What do I need to change in the configuration? Or is this possible. I do not need the feature of others calling in or calling out on the same system.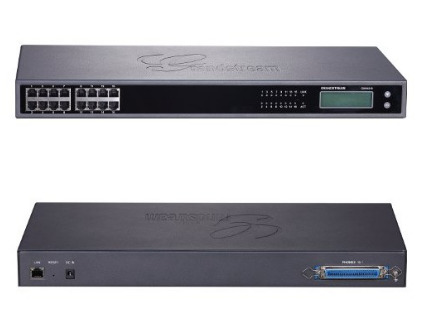 A: FXS ports in gateways are treated as separate call paths. Barging on another call is typically a function of the phone system or service. You can also splice 2 phone together on the same FXS port to achieve what you're looking for.
STAY TUNED
Come back for more VoIP questions and answers next time! If you have VoIP questions to ask us, please submit a technical support ticket or contact our VoIP experts today at 1-800-398-VoIP or email at voipexperts@voipsupply.com
Source: http://www.voipsupply.com/blog/voip-insider/how-can-i-pick-up-another-phone-to-talk-to-the-same-call-in/
Publish Date: May 18, 2016 5:00 AM
---
Just like the name implies, the Kuando Busylight by Plenom, is a light indicator that serves many purposes. First, it can be used to alert your colleagues when you are on a call so that they don't walk in on you during a conversation. When on a call, the Busylight will light up sending a clear message to anyone in the office that you are on a call and should not be disturbed.
It is impolite to interrupt your coworkers when they are busy. It also looks very unprofessional when you are on an important call and someone comes into your office or near your cubicle shouting one thing or the next. Busylight indicators solves this issue with variants for both desk phone and softphone users.
Secondly, Busylight is also very helpful in reducing the number of missed calls. If PC's do not have speakers, or if the headset is on the desk, employees are unable to hear calls as they come in. Missed calls not only reduce user satisfaction, but they also reduce customer service satisfaction.
With Busylight, every time a call or IM comes in, users are alerted with both an audible and visible blink. And if you still happen to miss a call, Busylight will provide a notification every four seconds until the missed call or IM is addressed. With right different ringtones to choose from, users can categorize calls by tone. Even better, Kuando Busylight will only play call notifications and will not play any other sound from the PC, so set up is a breeze because no audio settings are required, which means no IT support costs.
Benefits of Busylight:
Prevents missed calls
Unifies Communication
Its software offers valuable hot key functions for easy call handling
Provides visual presence to the open office so that interruptions are nonexistent
If your office is moving away from desk phones and embracing Microsoft Lync/Skype for Business or Cisco Jabber, don't take on this challenge without the Kuando Busylight indicator. This valuable and cost effective solution is available in two designs: the Kuando Busylight Omega UC Presence Indicator and the Kuando Busylight Alpha UC Presence Indicator.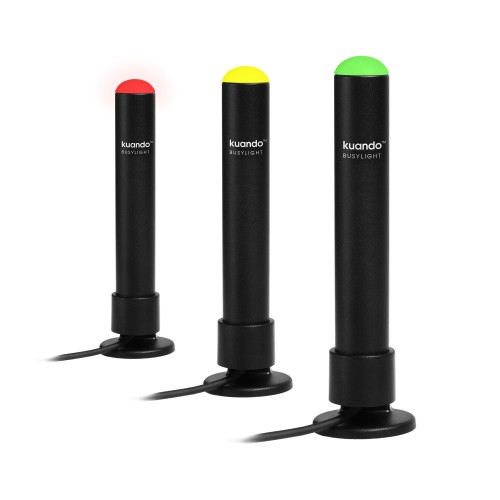 The Omega has been specifically designed with a bigger light for cubicle environments and open office plans. The Alpha has been designed to be used with monitors and/or laptops and has a smart click on/off system.
The Kuando Busylight is also available as a solution for use with the Jabra GN 9300 Series, Jabra Pro 9400 Series and Jabra LINK 850 and Jabra Motion Office.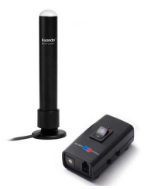 For deskphone users, Plenom offers the Kuando Busylight Combi solution. The Combi is not compatible with softphones, or mobile devices because it is meant to indicate to others in the office when you are busy on your headset or deskphone. The Combi is compatible with 90% of all desk phones and headphones, so it is very likely that it will integrate smoothly with your current phone system.
But wait, there is more. Plenom also offers the Kuando Box, which connects to the desk phone and PC to unify user presence status in Microsoft Lync. Setup is as easy as 1,2,3. You simply download the software, connect the KuandoBox to the phone/ headset and PC and Whala, the desk phone status is unified with Lync. When an employee is on a call, Microsoft Lync will automatically update his/ her status to "On a call" as soon as the handset is lifted. This is of huge value to businesses where presence is important and can really add to work efficiency and team collaboration, when used correctly.

Applications that are compatible with Kuando Busylight include:
Microsoft Lync & SfB
Cisco Jabber
ProCall 4+ Enterprise
XPhone Unified Communications
Swyx Softphone
Go Integrator
Anywhere365
Go Connect
Click2Dial
Samsung Xchange
Ucplus
Five9
Tanss
DIALit
UCware
xCALLY
The Busylight Indicator is supported by Microsoft Lync 2010 or Microsoft Lync 2013, Cisco Jabber; Windows XP SP3, Vista Windows 7 or Window 8; .NET 3.5 framework.
Busylight Indicator is a great investment for many business settings, including call centers. They can help improve productivity, communication amongst the team dn collaboration. Moreover, customer satisfaction can be largely increased when employees are picking up their calls the first time they come through. The Kuando Busylight Indicators are a reliable and cost effective solution for any business, big or small.
To find out more about the Kuando Busylight Indicators, please feel free to give our VoIP experts a call at 1-800-398-VoIP.
Source: http://www.voipsupply.com/blog/voip-insider/what-is-light-bright-and-can-stop-interruptions-kuando-busylight-that-is/
Publish Date: May 16, 2016 5:00 AM
---
Recently, I had the pleasure to speak with Lee Marlow of Digium Switchvox to discuss VoIP Service and VoIP Hardware in school systems. Our conversation involved lots of great information, so I decided to break this in to two parts. Here is the first half of our conversation.
1. What particular VoIP features do you feel benefits schools the most?
School officials need a solution that is not only easy-to-use and cost effective, but one that will improve the communication flow among administrators, faculty and parents/students. The flexibility of the right UC system can improve efficiencies, reduce costs and be an integral part of a school's safety process. Our features help improve the phone system experience for office staff, teachers, parents, and students. These features include:
Digium offers advanced call routing to ensure calls get answered quickly and efficiently. You can keep it simple by routing calls to office staff or use advanced call routing to overflow calls to different groups.

Our solution can also help reduce calls by automating communications for special events like severe weather, bus emergencies and other school events.

Digium's phones can provide visual and audible notifications for emergency situations.

We include Voicemail to Email and a smartphone application that allows staff to make calls from their mobile that appear they are coming from the school.

Paging
Conferencing
Call Queues (Ring Groups/Hunt Groups)
Call Recording
Switchboard Productivity Tool
Reporting
2. You have dealt with schools switching to VoIP before. What do you see as hurdles and how can they be avoided or simplified?
School systems face a multitude of challenges when considering transitioning from a legacy phone system to a more advanced unified communications (UC) solution. Planning is an essential component of any IT project – especially when installing a new communications system in a school. A detailed Site Survey and Statement of Work is the first key step. Scoping changes in a VoIP project can cause delays and cost overruns if not identified in the initial planning phase. Selecting an experienced partner who focuses on IT and VoIP implementation in the education field will help ensure a seamless migration.

3. What are some reasons why schools should switch over to VoIP?
A reliable communications system is critical to any organization, but the ability of a school to connect administrators, teachers and parents is particularly important, especially as it relates to the safety of students. Digium has helped more than a thousand schools select the right phone system. Our customers range from the 5th largest public school district to colleges and universities, as well as very small charter schools.
Shrinking Budgets are an issue for all school systems and the transition to VoIP along with the benefits of Unified Communications means significant reductions in operational expenses as, well as increased efficiency. Fortunately, working within a tight budget is one of our core strengths.
4. Where do you see the teachers/staff/IT benefiting the most?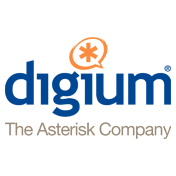 The job of the teacher is complex, and rarely ends when the last student leaves the classroom. Whether it's managing the relationships with parents or juggling a workload of grading papers and planning classes, inevitably, a teacher must take work home. Switchvox includes many features that can make a teacher's job easier, whether it's in the classroom or working from a home office. Mobile applications allow teachers to have the same connectivity at home that they have in the classroom. Teachers can access their voicemail from anywhere; and can call parents using a school phone number instead of a personal cell or home number. Switchvox Mobile also makes it easy to dial into a conference room to speak with parents, administrators, or other faculty members, all while grading papers from home.

Teachers can also manage their presence and let everyone in the school know where they are or what their class is doing. These notifications are customizable so each teacher can set a specific status such as, "Out to recess," "Testing in progress," or "In the cafeteria." Juggling the communications tasks that come with managing a school can be difficult. The right solution can free up time and increase efficiency for administrators by automating absentee and other routine calls. It's very easy to create custom greetings and messaging to enhance the school's professional image.
The ease of use of our web-based system allows IT to manage the system from any computer connected to the network. Every feature is included in the initial and since the system is permission based, features can be enabled or disabled with a click of a button. Gone are the days of creating a service ticket to make moves, adds or changes. IT managers can provide better support for their teachers by selecting a function on their Digium desk phone and move the call to their mobile phone and can be in the classroom before the teacher can finish giving their request.
Part Two Coming Soon!
Check back in a week for the second half of our conversation. If you have any questions or inquiries in the meantime please contact us at 1-800-398-8647 or voipexperts@voipsupply.com
Source: http://www.voipsupply.com/blog/voip-insider/lee-marlow-of-digium-switchvox-speaks-about-voip-in-educational-systems-part-one/
Publish Date: May 16, 2016 5:00 AM
---

There are a lot of tempting benefits that lure more and more traditional phone users to switch to a VoIP phone systems: Less expensive phone service, bountiful features, high flexibility, less phone wiring, you name it.
However, don't overlook the potential risks you are facing. Because VoIP is an Internet-based communication system, it could be as vulnerable as any other Internet-based devices. To avoid IP-based threats such as identification theft, phishing (spam), and IP worms/ viruses, it's important to take precautions.
How to Secure Your VoIP Network
Some enterprises chose to separate their VoIP network applications from other networks so that when the harmful activities happen on other networks, VoIP network won't be affected; however, this solution is usually high costs involved. Below are some other common methods to secure your VoIP.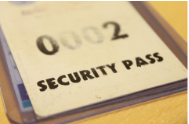 Authentication and Encryption: The system only allows traffic from recognizable sources. Advanced authentication may require both ends of the communication to authenticate each other to enforce the defence.
VoIP Firewalls: Firewall is a protection between your VoIP network system and the outer data. It filters out the suspicious data when it goes in and out of the network.
Antivirus programs: Use gateway and host-based antivirus programs to protect VoIP servers. VoIP Supply carries Internet Security Appliances to provide a comprehensive gateway security solution and VPN connectivity.
Update System: Choose to deploy the latest security equipment. If your system is outdated, remember to update it frequently to defend new threats.
Keep Awareness: Keep your eyes on the VoIP system. Take action when you spot any issues and educate yourself to be familiar with the latest attacking techniques.
With proper precaution, you can make your VoIP lines as secure as traditional telephony. If you have questions about how to enforce your VoIP security, please don't hesitate to give us a call at 866-582-3715. We are here to help you with anything for VoIP.
Source: http://www.voipsupply.com/blog/voip-insider/make-your-voip-system-secure/
Publish Date: May 13, 2016 5:00 AM
---
The RenegadePBX Pro is part of VoIP Supply's own line of IP PBX appliances. In its 3U chassis, the RenegadePBX Pro is the largest of the Renegade bunch. It offers a scalable solution that can be crafted to meet the needs of any size business.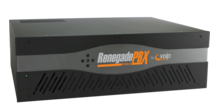 The RenegadePBX Pro permits users to host pretty much any platform: 3CX, Elastix, AsteriskNOW, FreePBX, Ezuce Uniteme/SIPXCom, as well as Digium's Switchvox platform.
This PBX application can either be purchased as a blank canvas with no software integrated so that you can customize the solution that best suits your interest.
What's even better is that the RenegadePBX Pro can be connected to any SIP trunking provider, and still gives users the freedom to connect to old legacy infrastructure via telephony card. This powerful appliance comes ready with basic call features, and provides the ability to configure up to four platforms.
Some of the features of the RenegadePBX Pro are:
Intel i5-3550 LGA 1155 CPU
500GB SATA hard drive
4GB DDR3 RAM (Upgradeable to 16GB)
400W power supply
4 PCI slots, three PCI Express slots (One 1x PCI-E, One 4x PCI-E, One 16x PCI-E)
Video Out (HDMI, DVI, VGA), mouse and keyboard ports
6 USB Ports
Dual GbE ports
On board audio
300 extensions / 100 concurrent calls (varies on configured specifications and system usage)
The RenegadePBX Pro is guaranteed to satisfy. VoIP Supply stands behind all of our products, and even more behind the Renegade line as it is our very own creation. The Renegade family offers solutions from the smallest office, to enterprise sized settings. If you'd like to learn more about the RenegadePBX Pro or any of our solutions, please call us at 1-800-398-VoIP.
The RenegadePBX Pro has been used as a fantastic solution for hosted platforms as well as on premise-deployments. To find out about some of these solutions, or to inquire about a solution of your own with the Renegade, please complete the form below.

Source: http://www.voipsupply.com/blog/voip-insider/renegadepbx-pro-fast-easy-and-reliable/
Publish Date: May 12, 2016 5:00 AM
---

VoIP Supply enjoyed the great time meeting all of you who had stopped by our booths at the Small Business Expo in Miami and Chicago.
If you missed the two events in Miami and Chicago, seize the last chance! VoIP Supply is exhibiting at the Small Business Expo 2016 in New York. We are here to help with any VoIP questions and to customize the best VoIP solution for you. The event will be held at the Jacob K. Javits Convention Center | Hall 1C on June 9th from 9:30 a.m. to 4:00 p.m. VoIP Supply will be at Booth #222. The event is Free to attend. Register HERE today! Thanks to Patton and Grandstream for sponsoring VoIP Supply booth.
WHAT YOU CAN BENEFIT FROM VISITING VOIP SUPPLY AT THE SMALL BUSINESS EXPO
Learn new VoIP solutions and services that will save you and help your business grow
FREE CloudSpan MarketPlace Consultation which includes:

An evaluation of your current situation
Pricing, and solution comparisons from multiple providers
A deep dive into what features are needed to make your business successful

Learn about our full VoIP Bundle Solutions for your business. Click here for details.
Network and reconnect with VoIP Supply staff
If you have any questions about the expo, please visit Small Business Expo website or contact us today at 866-582-8591 or wecare@voipsupply.com. We look forward to meeting with you all at the event!
Source: http://www.voipsupply.com/blog/voip-insider/last-chance-visit-voip-supply-at-the-small-business-expo-in-new-york/
Publish Date: May 11, 2016 5:00 AM
---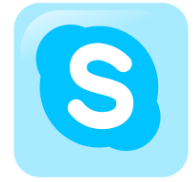 As many of you know, Skype service is free of charge among Skype users. Actually, until today, millions of users rely on Skype service to communicate over the internet with friends, families, and even business partners. You certainly would wonder if you could utilize Skype in your business as well. To answer that question, we first have to take a look at the pros and cons of Skype.
Pros
Skype is well known for its less expensive service and easy installation process which are the two main unbeatable advantages in the industry. The fee can be as low as $0.02/ minute for Skype and $2/ month for Skype for Business. Simply download the software, you are ready to talk!
Covering almost all basic VoIP functions that users expect, Skype satisfies VoIP users with fundamental needs. Skype for Business further expands the capabilities such as the number of attendees allowed in the same video conference to better fit for business usage. Here is a list of the unctions you can expect from Skype and Skype for Business:
Call waiting and forwarding
Voicemail
Caller ID
Video calling and screen sharing
SMS text messaging
You can visit Skype's page for more detailed features and functions. To learn about the difference between Skype and Skype for Business, please refer to our blog.
Cons
It sounds great so far; however, if your business requires more advanced functions such as call return and blocking, you may want to seek for other VoIP service providers. Also, Skype doesn't provide emergency call (911) service like many other VoIP service providers or landlines offer. Therefore, you will want to have a backup support for emergencies.
In addition, Skype for Business is designed to be used as a softphone that can only generate calls through a computer, cellphone, or tablet apps but not on a regular telephone. To have the best communication quality, certified hardware is required. Visit our store for Skype for Business equipment and Skype equipment.
Back to our question, is Skype good enough for your business? It depends on how much your business needs for VoIP. For small business with a limited budget who only expects basic VoIP functions, Skype could be a great deal. However, for larger-scaled companies and enterprises, the functions and services offered by Skype might not suffice their demands.
If you are looking for a VoIP Cloud Service provider that can meet your unique business needs, please give us a call today at 1-800-398-VoIP or fill out the form below for a free Cloud Service consultation. Our VoIP expert will evaluate your case and find you a perfect match for your business.




Source: http://www.voipsupply.com/blog/voip-insider/is-skype-good-enough-for-business/
Publish Date: May 10, 2016 5:00 AM
---
There can be a lot of apprehension and uneasiness when switching to VoIP. These emotions are understandable as the dependability of businesses on their voice system is profound. A successful VoIP migration is heavily dependent on choosing the right infrastructure that will support the demanding requirements of voice. When shopping for switch infrastructure, consider asking the following questions to help you find that perfect switch you can depend on.
Is this switch "voice aware"?
Because VoIP is delay sensitive, network issues can result in poor voice quality, which can in turn hinder your business flow. For this reason, the LAN infrastructure needs to be able to recognize and prioritize voice over less important tasks. The root of prioritization is in your switch. ADTRANs NetVanta Switches offer "voice-aware" features that guarantee voice quality from your VoIP networks.
Does this switch simplify VoIP rollouts and management?
Getting started with a VoIP system calls for extensive VoIP deployment expertise, and if you don't have the right IT support, it can become both an expensive and time consuming endeavor. ADTRAN's NetVanta Switches make it easy to deploy and manage your VoIP setup with features that include built-in setup wizards and zero-touch phone setup so that your rollouts are faster. Moreover, Adtran switches provide comprehensive intelligence tools, on-demand reports, and powerful monitoring tools for quick trouble-shooting if issues were to arise. What is even better is that ADTRAN switches can be managed on the go from any device at anytime through ADTRAN's cloud-managed service, ProCLOUD.
Does this switch guarantee maximum network uptime?
When choosing the right switch, this question is ideal. You need a switch that is reliable and offers enhanced features to ensure maximum uptime. ADTRAN's NetVanta Switches meet these standards. Select switches come with surge protection and backup power options to eliminate power concerns. You can rest easy knowing that your network will remain up and running even in the event of a power outage. Moreover, the NetVanta Switches provide faster recovery from unexpected network issues by automatically backing up switch configurations to ProCloud.
When talking about the ADTRAN NetVanta Switches, the answer to all of the questions above is, Yes! NetVanta Switches offer better voice quality, they maximize up time and they are easy to set-up and manage, making them the best switches for VoIP, period. To learn more about NetVanta Switches, call us at 1-800-398-VoIP.

Source: http://www.voipsupply.com/blog/voip-insider/what-are-the-key-things-to-consider-when-choosing-a-right-switch-for-voip/
Publish Date: May 10, 2016 5:00 AM
Page: 1 | 2 | 3 | 4 | 5 | 6 | 7 | 8 | 9 | 10 | 11 | 12 | 13 | 14 | 15 | 16 | 17 | 18 | 19 | 20 | 21 | 22 | 23 | 24 | 25 | 26 | 27 | 28 | 29 | 30