VoIP Supply - ContactCenterWorld.com Blog Page 25
Page: 1 | 2 | 3 | 4 | 5 | 6 | 7 | 8 | 9 | 10 | 11 | 12 | 13 | 14 | 15 | 16 | 17 | 18 | 19 | 20 | 21 | 22 | 23 | 24 | 25
WHAT ARE B CORPS?

"Beneficial Corporations"(B Corps) are corporations certified by the non-profit B Lab with the goal of developing positive impact on society and the environment in addition to the legally defined shareholders.
Seeing B Corporation as our business guideline to make decisions and develop core value and culture, VoIP Supply has been certified as a B Corp for the second time to meet rigorous standards of social and environmental performance.
With seven points higher than the median score in Environment evaluation, VoIP Supply would like to highlight its extensive recycling program, specifically the Reclaim Equipment Buyback Program which not only gives customers more options to buy and sell VoIP equipment, but saves excess VoIP equipment from being wasted.
WHY WE BECAME a B CORP
VoIP Suppy has been offering a tremendous amount of education and real value to customers and helping employees enjoy coming to work in a delightful environment. Becoming a B Corp gives VoIP Supply a clear roadmap to continue doing good business and becoming the company that's the best for the world.
HOW to BECOME a B CORP
To become a B Corp, a business needs to complete the B Impact Assessment and earn minimum score of 80 out of 200 points. The assessment covers the impact of a business on environment, workers, customers, community and governance.
Based on difficulty and impact, the Improvement Report helps businesses find the areas they want to focus their effort on. Helpful practices to improve B Impact score vary from different businesses including increasing employee satisfaction and engagement, establishing specific social and environmental targets, improving energy efficiency, etc.
WANT TO LEARN MORE?
If you are interested in learning more about B corp certification or Reclaim Equipment Buyback Program, please contact us at 1-800-398-VoIP or wecare@voipsupply.com or visit the links below for more information. We would be thrilled to hear from you and be happy to answer any questions you may have!
Reclaim

Reclaim FAQ

Reclaim Center

Refresh Center

B-Corporation
Source: http://www.voipsupply.com/blog/voip-insider/voip-supply-is-a-b-corporation-committed-to-being-a-sustainable-business/
Publish Date: January 4, 2016 5:00 AM
---

Patton Electronics SmartNode 4170 Gateway & SmartNode 5570 ESBR
For over 30 years, Patton SmartNode™ has been known for its high quality VoIP products and outstanding customer support. From VoIP Gateways to Session Border Controllers, they offer comprehensive VoIP products, as well as FREE technical support and upgrades for both pre and post-sales.
To better address a variety of applications, Patton has recently released two new models: SmartNode 4170 PRI VoIP Gateway and SmartNode 5570 Enterprise Session Border Router – targeting enterprise businesses that are searching for cost-effective VoIP solutions to bridge PBX systems on multiple sites, or even to connect to a public Internet telephony service.
Comparing the SN1470 and the SN5570
Patton has a wide range of VoIP gateways/ routers to meet customer's specific requirements. The SN4170 provides seamless network integration that matches up to ISDN standards for features and quality, and also offers an option for one T1/E1, and one Gigabit Ethernet port that can process up to 15 concurrent SIP calls.

Process up to 512 Simultaneous Calls
SN5770 can be used as an Enterprise Session Border Router or as a VoIP gateway/router that bridges IP-PBX products to their SIP Trunk service providers. It also comes with built-in security systems such as SIP TLS, SRTP, and also Stateful Firewall and Secure provisioning, which will ensure the protection of any LAN network. In addition to the two T1/E1 ports, the SN5570 can process up to 512 simultaneous SIP calls.
Ease of set up with an online wizard
Both models are equipped with full telephony features and VoIP protocol support, such as flexible call routing, hold, transfer, and also 3-way conferencing. Also, like other SmartNode products, these products provide a high-precision clock for delivering first-line IP telephony service in ISDN and DECT environments, an easy to use Web Wizard that enables convenient installation, and a customized web interface.
The table below gives you a side by side comparison of the two Patton units.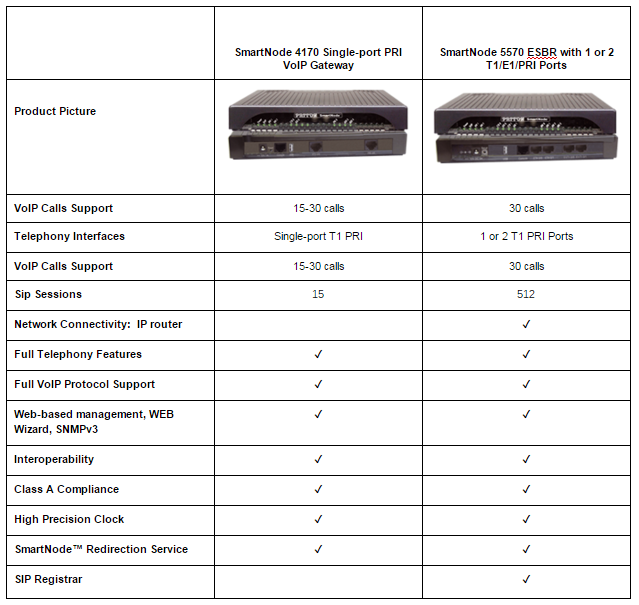 Contact Us Today
For more information or questions, please call our experts today at 1-800-398-VoIP. We are here to help you create the best VoIP solution for your business, and would love to hear from you! Please utilize the comment box below and drop us a note! We are excited to hear what YOU have to say about this product.
Source: http://www.voipsupply.com/blog/voip-insider/patton-releases-new-products-to-bridge-multiple-sites-together/
Publish Date: December 31, 2015 5:00 AM
---

A well-known name in the VoIP industry, Grandstream Networks has been on it's "A" game manufacturing award-winning IP Phones, IP PBX Appliances, and Surveillance Products since 2002. After recently unveiling their very first conference phone, the GAC2500, which utilizes the power of Android 4.4 and also offers a complete conference solution for any size business, Grandstream is at it again. This time around-following its trend of innovation, high quality and reliability- Grandstream hits the market with two new products releasing in the same week.
Grandstream released theGVC3202 Video Conferencing solution, a noteworthy business-class camera that not only supports Grandstream's vigorous IPVideoTalk Pro cloud platform, but has the ability to power multiple popular video conferencing protocols and platforms right out of the box. Based on Android 4.4, the GVC3202 provides full access to all video conferencing apps in the Google Play Store-such as Skype®, Skype for Business®, Google Hangouts™ and more.
WHAT ELSE DOES THE GVC3202 OFFER?
Flaunting a clean, modern design, the GVC 3202 also sports an inventive embedded Multi-Point Control Unit (MCU) that supports up to 3-way conferencing with local mixing between SIP and other protocols. Other high performance features include:
Built-in Bluetooth for use with Bluetooth speakers/ microphones, keyboards, data exchange, etc
Support for 2 screens thanks to 2 HDMI outputs
Local & far-end controllable PTZ camera with wide-angle lens
Can bridge calls from Android apps into SIP conference
Ability to share a presentation with conference attendees or review a document
Can remind attendees 10 minutes before start-time and automatically call all participants
Ability to easily record all video conferences to document meetings
Fast connections speeds to maximize video quality
Video resolutions up to 1080p
Powerful 9x optical zoom
Interoperable with any 3rd party platform and with full, transcending features and abilities, the GVC3202 is a great video conferencing solution for any small business.
THERE IS MORE FROM GRANDSTREAM
If the GVC 3202 Video Conferencing Solution is not enough new technology for you, Grandstream has released the GXP2170 IP Phone for High-Volume Users, a robust enterprise-grade IP phone meant to fit the needs of businesses that are dependent on phone calls. The Grandstream GXP2170 allows for up to 12 line keys and six SIP accounts with programmable context-sensitive soft keys, and supports the fastest possible connection speeds with dual Gigabit network ports, making it a reliable IP Phone solution to help pay the bills-many phone calls at a time.
WHAT'S THE GXP2170 ALL ABOUT?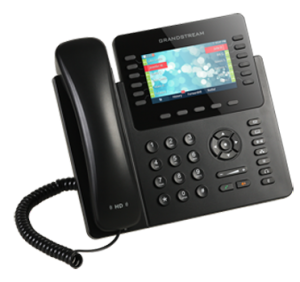 Boasting a 4.3 inch color display LCD and full HD audio, the GXP2170 has 48 digital, on-screen speed dial keys, and Power over the Ethernet (PoE), allowing for efficiency and productivity. This top-notch, executive-level IP Phone also includes the following functionalities:
Built-in Bluetooth for syncing headsets and mobile devices for contact books, calendars & call transferring Full duplex-speakerphone
Supports EHS compatible Plantronics headsets
Automated provisioning options include TR-069 and XML config files
Built-in USB port for importing and exporting data
TLS and SRTP security encryption technology to protect calls and accounts
Use with Grandstream's UCM6100 series IP PBX appliance for Zero-Config provisioning, 1-touch call recording & more
The 48 digitally programmable & customizable BLF/fast-dial keys can be optimized when used with up to four cascaded GXP2200EXT Modules
WHERE CAN I FIND THE GVC3202 AND THE GXP2170?
VoIP Supply is excited to offer both of these Grandstream Networks products as reliable and innovative solutions for your video conferencing and/or VoIP Phone needs. We would be thrilled if you shared with us what you think about these products as well! Go ahead and leave a comment or ask us a question in the below comment area. You can also contact us directly at 1-800-398-8647 or at wecare@voipsupply.com and we would be happy to chat with you about both of these VoIP solutions.
Source: http://www.voipsupply.com/blog/voip-insider/grandstream-releases-two-new-products/
Publish Date: December 21, 2015 5:00 AM
---

With the introduction of the Yealink T49G 16 line VoIP Video Phone, Yealink is able to say it covers all features from basic to advanced within a VoIP phone. Yealink was able to capture simplicity and sophistication for their flagship VoIP phone, enabling business executives and professionals with high quality telecommunications.
High Definition Video Calling
If an 8 inch full-HD 1080p touchscreen isn't enough for you, Yealink has incorporated an HDMI port to allow the connection to an external monitor. On top of the high quality screen the Yealink T49G comes equipped with built-in bluetooth and WiFi among other features.
Up to 16 SIP accounts
Three-way video conferencing
Five-way audio/video mixed conferencing
USB ports (2.0 compliant) for media and storage applications
HD voice: HD handset, HD speaker
Gigabit Ethernet ports
Screenshot transfer via USB flash drive/li>
The Yealink T49G offers basic IP PBX features such as; Busy Lamp Field (BLF), remote office (hot desking), intercom, paging and music on hold. The 8 inch touchscreen offers 8 feature keys 3 illuminated keys and also 29 one-touch DSS keys.
US-Based Tech Support
With all these features and attributes you may need to talk to an expert regarding Yealink VoIP phones. Yealink has recently launched real-time technical support service for North America.
This service allows our North American customers to rely on Yealink's prompt and professional tech support services either by email (support.usa@yealink.com) or by phone at 877-387-2624. The Yealink team is available Monday through Friday from 8:30am to 6:30pm EST.
Yealink Unified Communications Solution
With the addition of the T49G, Yealink now has a complete audio and video collaborative communication solution. For more information or if you have any questions please contact our VoIP Solutions Specialists at 1-800-398-8647 or wecare@voipsupply.com.

Source: http://www.voipsupply.com/blog/voip-insider/first-look-yealink-t49g-voip-video-phone/
Publish Date: December 17, 2015 5:00 AM
---

The CloudSpan Marketplace by VoIP Supply is here to provide you with a single place to shop various cloud service offerings, in order to help you find the perfect match for your business's size and needs.
We have trained our VoIP Solution Specialists inside and out about everything there is to offer for your business phone system.
We understand the process can be difficult and frustrating at points. We wanted to give you an idea of what the process will look like for you when you work with us.
Step One:
Access the CloudSpan Marketplace
You're shopping for your VoIP Service Solution and come upon the CloudSpan Marketplace by VoIP Supply. You can either fill out the form on the page to be contacted by a Solutions Specialist or you can call directly in at 1.800.398.VoIP.
Step Two:
Consultation
Our VoIP Solutions Specialist will offer you a consultation about your home or business. Some of the typical questions are:
How many employees do you have in your office?
Would you consider your business to have a heavy call volume? Maybe we can take a look at one of your old phone bills to get an idea.
What type of call features are must-haves for you?
Do you have the staff on hand to maintain a phone system?
It's very okay to not have all the answers that is what we are here for. We have trained our Solutions Specialists to be able to handle all inquiries.
Step Three:
Choose the type of service
We will help you decide between a Hosted VoIP Service or an On-Site Phone System. We take you through different questions about your business and staff that will help us to determine which service is best for you.
Step Four:
Select the best fitting plan
Once we have the proper service now it is time to choose the right plan for you. We want to make sure that you are not overpaying for features that you don't need or would never use.
We also employ a money back guarantee at the CloudSpan Marketplace. If the plan that we decide on doesn't fit you we will refund you fully and get you set up with the proper plan.
A brief overview of the CloudSpan Marketplace
Step Five:
We also have the VoIP hardware you need
We understand your time is valuable and you may not have the time to go research someone else to work with. We can offer you all the hardware you may need; VoIP Phones, VoIP Headsets, etc.. Depending on the service you choose we will get you set up with the appropriate affordable hardware for your office situation.
Step Six:
Switching from the old to the new phone system
We have chosen your service, set up the appropriate monthly plan, selected the necessary hardware and now it is time for the switch over. This can be painful, but that is why we are here. We will be with you every step of the way to make sure phone numbers are switch properly and all your services and plans are in place when you're ready to flip the switch.
Step Seven:
We aren't going anywhere
After the installation of your new phone system we understand issues pop up and questions arise. We are still here for you. Your VoIP Solutions Specialist is always just one phone call away to help you with any needs you may have.
Where can we improve?
We are always looking to serve you better, please if you there are some things we are missing or areas you would also like our Solution Specialists to be trained on please let us know. Feel free to contact us either at 1-800-398-VoIP or wecare@voipsupply.com
Source: http://www.voipsupply.com/blog/voip-insider/build-your-business-phone-system-with-the-voip-solution-specialists/
Publish Date: December 8, 2015 5:00 AM
---
Now Available From Grandstream Networks
Grandstream Networks, since 2002, has been successfully deploying VoIP solutions to customers across the globe. Ranging from Corded IP Phones to PBX Appliances, there has been almost no VoIP stone that has been unturned by Grandstream in its endeavor to provide the best and most cost effective VoIP solution on the market – that is, until today.
This morning Grandstream released the GAC2500 Conference Phone, the first conference unit ever to be produced by the company. Utilizing the power of Android 4.4 , as well as the many other high-end functions associated with today's modern VoIP solutions, the GAC2500 easily delivers a full and robust conference solution for any size business.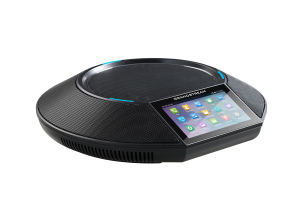 What It's All About
This circular-shaped conference phone features both a modern design, and also many high performance functionalities such as:
Auto-sensing Gigabit Ethernet with PoE
Integrated Bluetooth 4.0
Android 4.4 – allowing for full access to Google Play Store and the potential for custom app creation
Supports 6 lines with up to 6 SIP accounts
Features a 4.3″ color touch screen for each navigation and utilization
Complimentary solution for the GVC3200 Video Conference System, allowing for full utilization of apps such as Skype for Business and Google Hangouts
This product also delivers HD quality audio via 3 cardioid microphone that allow for a pickup range of up to 12 feet. The GAC2500 not only delivers high-quality audio, but also features auto provisioning to ensure an easy deployment, as well as a firmware upgrades via TFTP, HTTP, and HTTPS or via local HTTP upload. The GAC2500 also contains advanced security protection to ensure privacy, as well as broad interoperability with many 3rd party SIP devices.
The GAC2500, at every angle, delivers a very powerful conference solution. Included with the unit is the GAC2500 phone, a universal power supply, a network cable, a USB cable, a RJ48 cascade cable (for daisy-chaining), as well as a Quick Installation Guide.
Where To Find It
VoIP Supply is thrilled to offer this product as the latest and greatest solution from Grandstream Networks, and would love to hear what you think about this product as well! Please leave a comment or question for us in the below comment area, or contact us directly at 1-800-398-8647 and we'd be happy to tell you more about this solution from Grandstream.
VoIP Supply also thanks Ying-Hui Chen for her assistance with posting this article.
Source: http://www.voipsupply.com/blog/voip-insider/grandstream-gac2500-conference-phone-steals-the-spotlight/
Publish Date: December 7, 2015 5:00 AM
---
The advantages of Primary Rate Interface (PRI) service and Session Initiation Protocol (SIP) can be debated.
Both protocols use digital signals but the latter provides an advantage that allows you to customize the phone system according to your business needs.
However, it helps to educate yourself on both options before making a decision on which one is best for you.
Primary Rate Interface
What Is PRI?
PRI (Primary Rate Interface) is a interface standard associated with transmission of voice data over a dedicated line.
PRI uses a circuit switched model for voice call among people located in different locations.
How Does It Work?
PRI provides 23 voice channels that a business can use simultaneously at any given time.
Multiple users can access these 23 channels within a specified network and the hardware requirement includes a PBX (Private Branch Exchange) or IP PBXs.
However, if a business has 50 operational DID (Direct Inward Dialing) numbers, then only 23 will be available any point of time. To make all the numbers available more PRI circuits are required (which will increase your overhead).
Support Framework for PRI
Integrated Services Digital Network (ISDN) assigns the PRI service.
ISDN enables the digital transmission of voice and data service over Public Switched Telephone Network (PSTN). The PSTN is where all the global telecommunication devices are connected.
You can call to any part of the world, regardless of the receiver's device, through the PSTN. Initially, the PSTN provided analog transmission but eventually it was digitized after the advent of ISDN to provide a faster, better quality, and lower cost service.
Session Initiation Protocol
What is SIP?
Session Initiation Protocol or SIP Trunking is a system where transmission of voice data is performed over an existing network data line by creating a virtual network between the PBX and the SIP network of the carrier.
In other words, it goes over an IP Network. It uses a Packet switched model for voice calling.
How Does It Work?
The system uses an IP PBX system rather than the normal PBX (unless it's compatible with SIP framework). The primary reason for this is the use of VoIP rather than PSTN. The public internet and LAN is connected with an IP PBX.
The voice call in a SIP framework uses the same path allotted for non-voice transmission.
Similarly, when receiving voice data, the equipment at the service provider's end transmits it to the designated IP PBX. Re-routing of data packets to another pre-determined number takes place when the primary number is not responding.
Support Framework for SIP
SIP uses your existing data transmission set-up. Unlike PRI, SIP does not come in a pre-determined connection bundle.
Depending on your requirements, a business can buy call paths or increase bandwidth of the existing data line.
With SIP, businesses are not dependent upon on a bundle service such as PRI. If the number of calls is less than the actual capacity, the unused bandwidth is distributed across the network for other use. This ensures a more efficient network with no wasted resources.
Source: http://www.voipsupply.com/blog/voip-insider/differences-between-pri-sip/
Publish Date: December 3, 2015 5:00 AM
---
Note: This is a guest post by Victoria Zona, Senior Channel Sales Manager, Revolabs
Distance learning has become increasingly pervasive in both corporate America and at educational institutions.
Academic institutions are all adding programs to accommodate remote students and are now offering on-line degrees.
To save money, many corporations are remotely training branch office employees on the policies and procedures bringing distance learning to corporate workplaces.
Clear Audio Maintains Focus, Increases Comprehension, Reduces Fatigue
Many times the voice quality in remote learning environments is unintelligible. Poor sound quality makes it difficult for the student to understand the material presented, and reduces their active participation.
Our industry has made great strides to improve video quality during distance learning sessions, but crystal-clear audio is even more important to keep students' focus, increase comprehension, and prevent classroom fatigue.
Typically, there's no technical person on hand to monitor and support the remote learning session. Therefore, having an audio solution that is simple to use and easy to setup is key.
Poor sound quality makes it difficult for the student to understand the material presented, and reduces their active participation.
How to Choose Audio Devices for Distance Learning
Here are some tips to consider when choosing an audio product for distant learning:
Seek out an audio solution that provides superior audio pickup and speaker quality so users on both the near and far end of the room can hear every word.
360° Coverage
Deploy a device that has full 360° coverage of audio capture, incorporates integrated acoustic echo cancellation, and supports full duplex audio to enhance comprehension and conversational flow.
Strong Speaker, External Connections
The speaker output on the device needs to be loud enough for the participants in the room to hear, or allows connections to external speakers to amplify the sound level in the room.
BYOD Compatible
If bring your own device (BYOD) program is supported, make sure the audio conferencing device is software-agnostic and connects via standard PC, tablet or mobile communications channels.
Cloud Compatibility
For cloud based conferencing solutions, verify that the audio conferencing device supports multiple communication applications.
Ask a VoIP Supply Representative about Revolabs audio conferencing solutions for distance learning.
We have a range of products to fit every environment, offering unmatched audio quality that allows users to hear every word.
Source: http://www.voipsupply.com/blog/voip-insider/remote-learning-conference-phones/
Publish Date: November 20, 2015 5:00 AM
---

Patton Electronics provides network access and connectivity products such as gateways, routers, and session border controllers that support just about every telephony interface so that you can take advantage of VoIP in a variety of ways that suit your needs or existing infrastructure.
Back in 2012 we posted an interview with Tyler Delin, Product Manager at Patton, who gave us a background on the company.
"Patton is a family-owned-and-operated business that was started in 1984 by the three Patton brothers while students in college," said Delin.
Delin went on to explain further:
"Patton's niche was making modems and connectivity products for the telecommunications industry. Over the years Patton has taken those simple beginnings and expanded into a manufacturing company that today employs more than 170 people and provides over 1,000 products, with a focus on VoIP and Ethernet extension technologies. Today, Patton equipment is up-and-running in carrier, enterprise and industrial networks all over the world. We are headquartered right outside of Washington DC in the famous "technology corridor" and we have regional offices in strategic locations across the globe, with training and technical-support centers in Switzerland, Hungary, Italy, Lebanon, India and Vietnam."
Patton SmartNode Gateways
Patton SmartNode gateways and routers integrates IP and TDM communications so that you can use voice-over-IP.
Common applications include:
Connecting traditional phones and PBX to a VoIP service provider (SIP Trunking)
Migrating a legacy PBX to an IP PBX
Gateway to the PSTN for an IP PBX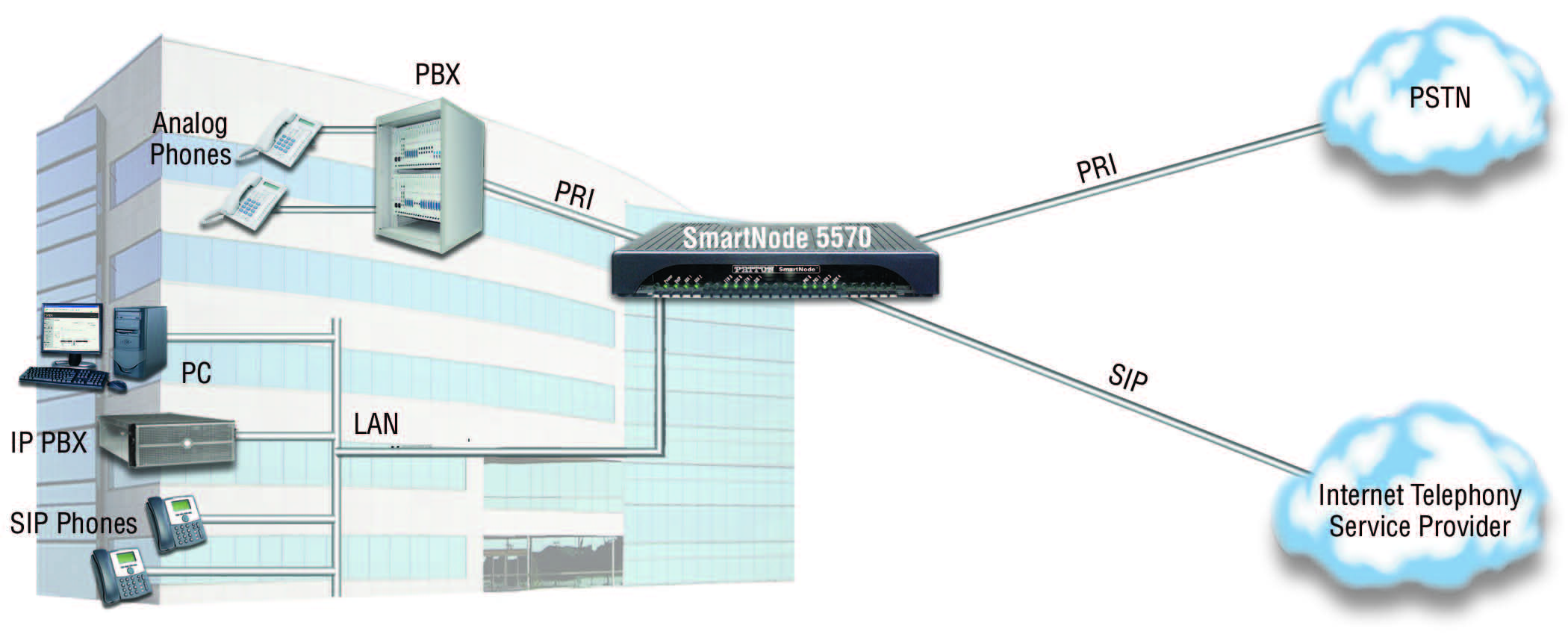 SIP Trunks Can Still Use PSTN Connectivity for Local Calls and Fallback
Patton helps you connect to VoIP but their line of SmartNode devices offer helpful PSTN features such as PSTN connectivity for local calls.
SIP trunks are great for saving money, powerful features, and more. But if your business has a high volume of local calls, continuing to utilize the PSTN with your SmartNode gateway may provide some benefits.
And if your business has multiple locations in different areas of the country, you can link Patton FXO gateways at each location via the Internet allowing you to take advantage of low cost, local PSTN calling in each region.
Additionally, for any business that relies on SIP trunking for telephony, SmartNode VoIP gateways can provide PSTN fallback in the event of an Internet outage.
Call centers live and die with voice connectivity. They can add a Patton SN4300 VoIP Gateway to their server closet to access the PSTN for failover, local calls, or just a gradual migration to VoIP and not have to worry about downtime.
Why trust Patton?
Unlike their competitors, Patton's gateways include FREE post sales technical support and configuration help, including a 1 year warranty.
Patton's SmartNode products offer gateway and router solutions with just about every telephony interface: PRI, BRI, T1, E1, etc so they will work with your network!
SmartNode supports SIP, H.323, and MGCP VoIP technologies.
SmartNode is a mature product, it has stood the test of time and is tested and deployed in hundreds of real-world networks.
When using 3CX, Patton works seamlessly as your gateway to the PSTN. Simply choose your Patton Gateway from the 3CX drop down menu.
Free Support and Upgrades
Patton offers the best customer support in the industry and it's free.
You can call Patton before or after you purchase a SmartNode device and they will answer your questions free of charge.
They also offer guaranteed response and remedy times plus as 24/7 support, for an additional fee.
And if you're in need of professional services, Patton can help you with system design, installation, configuration and more.
All Patton products have a standard 1 year warranty. Patton Enhanced Warranties are also available if your business needs advanced replacement protection should the device fail – If your unit goes down, your replacement will be shipped next-day priority at no cost to you.
Click here to learn more about Patton SmartNode VoIP Gateways or, call us at 800-398-VoIP for more information.
Source: http://www.voipsupply.com/blog/voip-insider/voip-connectivity-with-patton/
Publish Date: November 7, 2015 5:00 AM
---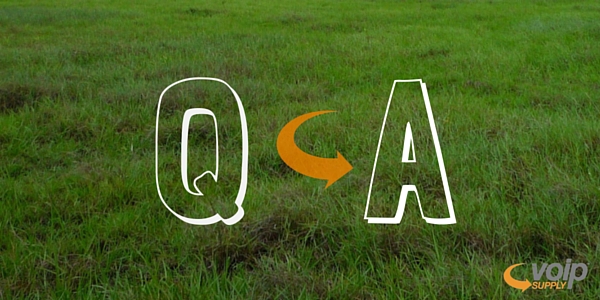 Our tech support team here at VoIP Supply offers great pre- and post-sale support plus provisioning, consultations, configuration, and installation help.
We get a lot of VoIP hardware and software questions and realized that these solutions should be shared with everyone.
Here now are our top three (real) questions and answers from this past week (from VoIP users just like you).

Q: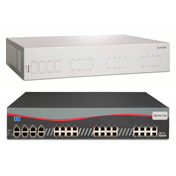 I have a customer with a Xorcom XR1000 IP PBX. Because they are a social service agency helping battered women they would like to block incoming and outgoing caller ID on a SIP trunk.
What would be the easiest way to do that?
Is there a way to send an anonymous or unavailable in the outbound caller ID only?
A: That will be a function of their phone service provider, and I would recommend they contact them and make sure that's a supported option.
You can try changing your outbound caller ID but you need to know if your SIP provider is overwriting that when the call hits their system.
They will probably need to add substitution rule on their side.
With some providers, you can remove the outbound caller ID field in your trunk to achieve an "unknown" caller ID, but as I previously mentioned, it's very much a function of your SIP provider.

Q: I'm trying to put in a pause or delay when using a DSS key for either the 3CXPhone CTI mode or Fanvil VoIP phone.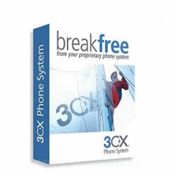 What I'm trying to accomplish is that so when I call a number and get their auto-attendant (AA), I can bypass it and dial an extension.
Is there a way of programming a custom dial to send it in pieces via 3CX through an extension or, something like that?
A: Pauses generally aren't seen in SIP systems because all digits are sent at once.
It's probably possible with some custom programming of a softphone, but it's not a standard supported feature.
3CX might have a better suggestion, or a custom solution. Doing a DTMF pause is a pretty asked for feature that doesn't really exist anymore in VoIP.
3CX has a paid support option so, if you've purchased that, absolutely take advantage of it. But, they also have a ticketing system (email support) which is free via http://support.3cx.com/.

Q: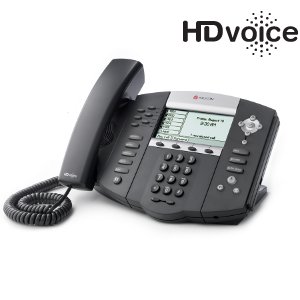 The Polycom IP 650 handset mouthpiece on one of the units failed. The other end can barely hear the person talking into the handset.
The earpiece seems to work fine. I swapped handsets with another unit, and the good handset works fine on the same phone, and the bad handset does not work on the other phone.
I am trying to get information if that is covered by the manufacturer's warranty.
A: We honor a 1-year warranty with new phone purchases. We've located a replacement handset and are sending you another one.
When you get the new handset, don't worry about sending back the defective handset, just be kind enough to recycle it.
That's all for this week, stay tuned for next week's VoIP Q & A.

Source: http://www.voipsupply.com/blog/voip-insider/block-caller-id-on-a-sip-trunk/
Publish Date: October 30, 2015 5:00 AM
---

Register for our webinar with Grandstream and you'll automatically be entered to win a Grandstream GVC3200 SIP and Android Video Conferencing Solution for your business.

SIP + Android Video Conferencing Options
Grandstream's latest video conferencing solution fills a need between low quality webcams and complex room-based enterprise grade video conferencing systems.
The Grandstream GVC3200 is a video conferencing solution for small and medium-sized businesses (SMBs) that is affordable, simple to use, and flexible.
What's Included
List price of $3,995 includes:
1080p HD Video Resolution,
Bluetooth Remote Control,
Controllable Pan Tilt Zoom (PTZ) Camera with 12x Zoom and Sony Megapixel Imaging Sensor,
(4) Four HDMI cables,
and Mounting Kit
Simple User Experience
Three-step installation process with Grandstream's IPVideoTalk Pro cloud platform that provides plug-and-play connectivity. Also included for ease of use are:
VGA and HDMI video inputs,
(3) Three HDMI Video Outputs (to connect several TV's or monitors),
Integrated Wi-Fi,
Built-in Bluetooth for Use with External Bluetooth devices (speakers, microphones, keyboard),
USB Port,
SD Card Reader,
and OLED Graphic Display on Camera Base
Flexibility and Interoperability
Hold up to a 9-way video conference from your GVC3200 that is interoperable with 3rd party SIP video conferencing platforms plus compatibility with:
Polycom,
Cisco,
Huawei,
Android Video Applications,
Google Hangouts,
Skype,
Skype for Business,
and Blue Jeans
See How it Works, Register for Webinar
To see what the GVC3200 looks like in action, check out this detailed GVC3200 product demo video from Grandstream:
The dual SIP-based and Android-based platform on the GVC3200 was designed to eliminate barriers to hosting successful video conferences with multiple callers using multiple platforms with its ability to bridge calls from Android apps into a SIP conference.
Click here to register for our webinar on November 5, 2015 to ask questions and get answers on how the GVC3200 will work for your business.
Source: http://www.voipsupply.com/blog/voip-insider/win-free-grandstream-gvc3200-sip-android-video-conferencing-small-business/
Publish Date: October 29, 2015 5:00 AM
---
Editor's Note: This article was originally posted in August 2010 and has been fully updated for accuracy and comprehensiveness in October 2015.
If you are researching into deploying a VoIP Telephony System on your own for the first time, you are probably seeing FXS and FXO acronyms all over the place. When you're new to VoIP and learning it can be very difficult. Hopefully I can help to make a little sense of FXS/FXO for you.
Let's start with FXS Ports
FXS stands for foreign exchange subscriber. Since that is so clear and makes so much sense I can stop there right? Not! So clearly the actual meaning of these words isn't going to help us remember or understand what they mean.
FXS is an RJ11 port that connects internally to an analog office phone or fax machine. Think of the S as meaning a station or a cubicle. Any FXS port is going to connect to an analog DEVICE and the cable from the port to the device will never leave the building.
Now, on to FXO Ports
FXO stands for foreign exchange office designates a telephone signaling interface that receives POTS (plain old telephone service).
Um… ok. Let's put it this way, FXO is a port that will connect a device to an outside telephone line. Think "O" for "Outside". Picture an RJ11 wall jack that connects to a box in your basement which is connected to the line from your house to the nearest telephone pole on your street. Any RJ11 port on an device that is headed towards that wall jack is an FXO port. It connects your device to the "outside" world or your local area telephone "office".
How about some visual representation?
I know for myself if I can visually see something it really helps to understand a lot better. Check out the video and hopefully it clears up the info above.
In the event of failure, the most critical phone systems should have a failover feature so phone calls or faxes may continue during the down time. You can still make telephone calls via the POTS line. Also, you can use the FXO port to make free local calls on your POTS line.
FXS and FXO ports can be used on Adapters and also VoIP Gateways
Here are a few popular VoIP Adapters:
Grandstream HT502 2 FXS Adapter
Cisco SPA122 2 FXS Adapter
Obihai OBi100 1 FXS and 1 FXO Adapter
Some popular VoIP Gateways include:
Grandstream GXW4004 4 FXS Port Gateway
Grandstream GXW4216 16 FXS Port Gateway
Sangoma Vega 50 4 FXO Gateway
So you see, FXS and FXO are super easy, as long as you don't rely on their given names for an explanation




Source: http://www.voipsupply.com/blog/voip-insider/fxs-and-fxo-you-should-be-in-the-know/
Publish Date: October 22, 2015 5:00 AM
---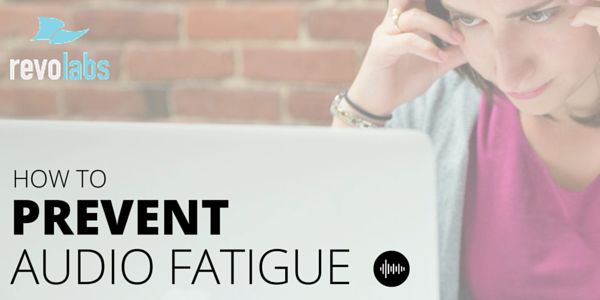 Note:This is a guest post by Ashley Nguyen, Channel Marketing Specialist, Revolabs

Recently Tim Root, Chief Technology Officer of Revolabs, wrote an article that appeared in the October issue of Sound & Video Contractor titled "Audio Fatigue is Real."
His report on why the brain works harder to make out sounds during poor audio communications, such as through a speakerphone with low frequencies, is spot on.
I've experienced audio fatigue, and I'm sure many of you have as well when you can't understand the person at the other end of the line due to more than one person talking at once or background noise from a terrible audio device.
Look for products that have ultra-wideband technology for the most intelligible speech, automatic gain control, and noise suppression to help reduce background noise, and full-duplex telephony with echo cancellation.
From Speakerphones to Softphones – How to Choose?
Communication devices come in all different shapes and sizes: speakerphones, conference phones, mobile phones, smartphones, softphones, POTS, VoIP phones, etc.
There are so many to choose from, but which help to prevent audio fatigue?
Tim cited in his article, the brain can easily recognize high frequency signals ̶ such as when I'm yelling ̶versus low frequency ̶ as when I'm mumbling.
"Look for products that have ultra-wideband technology for the most intelligible speech, automatic gain control, and noise suppression to help reduce background noise, and full-duplex telephony with echo cancellation," he wrote.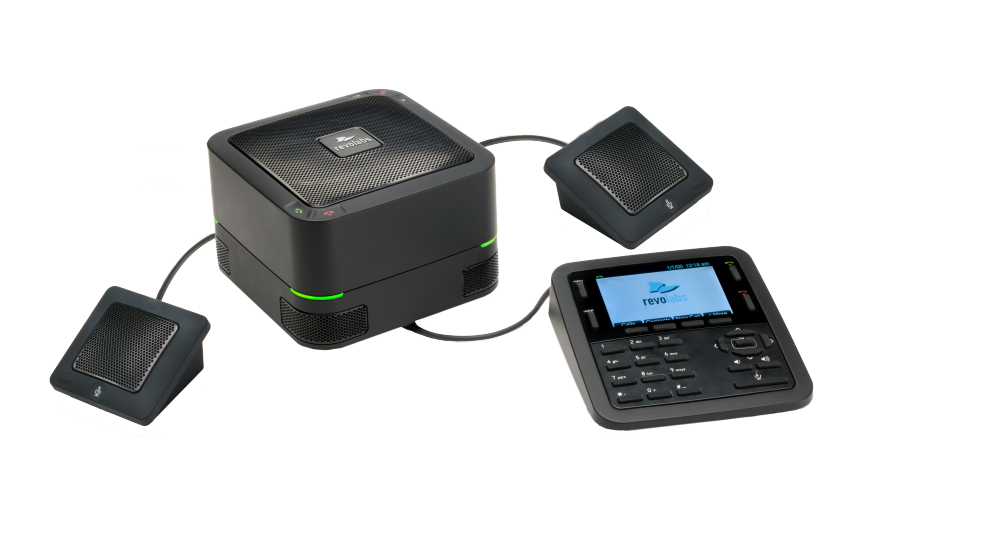 Revolabs FLX UC 1500 IP & USB Conference Phone with Extension Mics
Revolabs Helps Overcome Audio Fatigue
Make sure you have great audio products.
Revolabs offers unsurpassed solutions to help overcome audio fatigue. The FLX™ UC line has full-duplex technology and acoustic echo cancellation, as well as other attributes that Tim mentioned above.
In particular, the FLX™ UC 1000 and 1500 offer ultra-wide bandwidth, up to 16kHz, which is favorable for intelligible speech.
Don't suffer from audio fatigue again!
Author Bio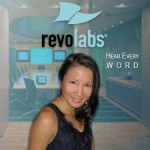 Ashley Nguyen
Channel Marketing Specialist
Revolabs
Ashley Nguyen drives a variety of marketing initiatives enabling channel partners to communicate the value of Revolabs products. Connect with Ashley on LinkedIn and Twitter

Source: http://www.voipsupply.com/blog/voip-insider/how-to-prevent-audio-fatigue-revolabs/
Publish Date: October 19, 2015 5:00 AM
Page: 1 | 2 | 3 | 4 | 5 | 6 | 7 | 8 | 9 | 10 | 11 | 12 | 13 | 14 | 15 | 16 | 17 | 18 | 19 | 20 | 21 | 22 | 23 | 24 | 25