VoIP Supply - ContactCenterWorld.com Blog Page 6
Page: 1 | 2 | 3 | 4 | 5 | 6 | 7 | 8 | 9 | 10 | 11 | 12 | 13 | 14 | 15 | 16 | 17 | 18 | 19 | 20 | 21 | 22 | 23 | 24 | 25 | 26
It doesn't matter if you are an entry or executive-level user, Sangoma's s-Series IP Phones always have the solution that can fulfill your business demands. Especially if you are a FreePBX and PBXact user, you know how easy and fast it is to deploy Sangoma's IP phones with your system.

Now, Sangoma is going one step further to roll out the new s705 that will take their executive-level users to the next level. Let's check out what it is all about!
Large Color Display with Wi-Fi & Bluetooth Support
The new s705 is a 6 SIP accounts IP Phone that boasts a 4.3-inch full-color display and Wi-Fi & Bluetooth connectivity. Targeting exective-level users, the s705 IP phone really draws everyone's attention with its enhanced network connectivity with Power over Ethernet (PoE), Wi-Fi and Bluetooth support that allows you to enjoy a completely cable-free setup with your headsets and other devices!
And, of course, just like other Sangoma IP Phones, the s705 is designed to work seamlessly with FreePBX and PBXact and it is ready to work right out of the box - True Zero Touch Configuration.
Quick Facts:
6x SIP Accounts

Wi-Fi & Bluetooth Support

Full Duplex Speaker Phone

5-way Conferencing

4.3 Inch Full-Color Display

45 Programmable Soft Keys

Dual Gigabit Ethernet Ports

Optional Annual Support & Software Maintenance Plans
Download the s705 datasheet
The s705 IP Phones are now available at voipsupply.com. For more information, visit our website or simply call one of our VoIP experts at 1-800-398-8647 now!
Source: https://www.voipsupply.com/blog/voip-insider/sangoma-released-new-s705-ip-phone-with-large-color-display-with-wi-fi-bluetooth-support/
Publish Date: October 6, 2017 5:00 AM
---
When it comes to using your VoIP Phone at work, it can be very beneficial to know all the ins and outs. What do I mean by that? I mean that your VoIP phone can do more than just answer calls, and dial calls.
Depending on your job description, there are often things that your VoIP phone can do that can help aid you in your daily work, and sometimes, these things can be hidden! What do I mean by that? I mean that sometimes a button can do more than what it is labeled for.
In the past I had written a blog talking about all of the things an arrow key can do other than navigate through your phone's interface. This blog is similar, but it focuses on the unique set of navigating keys on the Snom D725.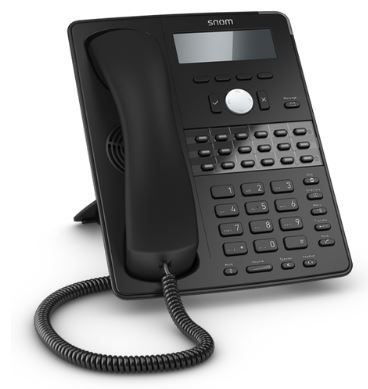 Right on the phone's front face, on either side of the navigation circle, is a button marked with a "check" and one marked with an "ex". These are considered to be a part of the "navigation key" family and can do a few different things!
To start, the navigation key labeled with a checkmark can most obviously confirm and save actions. However, the less obvious is that this button can also return you to the previous screen, accept calls on speakerphone and in headset mode. Lastly, this button can also redial from the idle screen!
This buttons counterpart, the X-mark button, can obviously cancel actions, but what you might not realize (if you are lucky enough to have a Snom D725 on your desk) is that this button can also terminate calls on speaker phone and in headset AND handset mode.
A couple more things that this button can do are turning off the call LED after a missed call, and like its buddy, it can also return you to your previous screen.
And there you have it! I feel like that is quite a lot packed into just two buttons on a phone that has 47 buttons! Did you know these buttons full potential before reading this? Do you have any other tips for the Snom D725? Let us know!
Source: https://www.voipsupply.com/blog/voip-insider/how-to-use-the-navigation-keys-on-the-snom-d725/
Publish Date: October 6, 2017 5:00 AM
---
Already known as a leader and expert in integrated network access, transmission, IP and Frame Relay technologies, Patton recently announced their new release of the SmartNode 4141 Series FXS VoIP Gateway.

The SN4141 Gateway supports up to eight phone or fax calls and is designed for all-IP applications where either old, non-replaceable telephones have to be integrated into a UCC environment. It delivers the legacy phone interfaces, service transparency, and flexible integration required for All-IP networks. Check out some highlighted features below:
8 FXS Analog Interfaces:

2, 4 or 8 FXS interfaces, supporting simultaneous voice or fax calls.

Advanced Local Call Switching:

Virtual interfaces and routing tables provide industry leading flexibility in call handling programming.

Network Monitoring:

Embedded PacketSmart Agent for network monitoring and assessment 24×7.

Easy Management & Provisioning:

WebWizard, HTTPS zero-touch provisioning, SNMP, command line interface. Automated mass provisioning with dual Software image for efficient large-scale deployments.

Proprietary OS:

Utilizes proprietary Trinity™ software for enhanced security.

Full VoIP protocol support:

SIPv2, SIPv2 over TLS, T.38, G.722 HD voice, RTP security with SRTP, fax and modem bypass, DTMF relay.0

Ease of Use:

Patton's WebWizard is a time-saving tool for a fast and reliable installation.

Outstanding Interoperability:

Interoperable for voice and T.38 fax with leading SIP service providers, Softswitch vendors, and major IP PBX manufacturers

VoIP Supply is now accepting pre-orders. Check out more details about Patton's 4141 Series FXS VoIP Gateway here!
Source: https://www.voipsupply.com/blog/voip-insider/patton-released-new-smartnode-4141-series-fxs-voip-gateway/
Publish Date: October 5, 2017 5:00 AM
---
Our tech support team at VoIP Supply offers great pre- and post-sales support plus provisioning, consultations, configuration, and installation help. We get a lot of VoIP hardware and software questions and would like to share the solutions with everyone.
In previous Mom's calling Q&A series, we have discussed: How to Restore FreePBX 13 to FreePBX 14. Today, we have more new real questions and answers from VoIP users just like you.
Soundpoint IP 560 failed to negotiate 1GB with my Cisco Meraki switch
Q: I purchased a Soundpoint IP 560 refurb from you about a year ago. Since I started using it, it's intermittently failed to negotiate 1GB with my (Cisco Meraki) switch. Now, it always fails. I tested my cable (tests fine) and swapped for another cable, didn't make any difference - seems to be the phone.
As a workaround, I forced the switch port to 1GB rather than auto-negotiate, which seems to work. I would prefer not to have a one-off custom setting on this switch port. Is this something firmware might fix? Or could it be a bad phone?
A: I would recommend upgrading the firmware to the latest first and then test.
Here is the link to upgrade your firmware to your Polycom Soundpoint IP560:
http://support.polycom.com/content/support/North_America/USA/en/support/voice/soundpoint_ip/soundpoint_ip560.html
Check which firmwares are supported for your phone here:
http://downloads.polycom.com/voice/voip/sip_sw_releases_matrix.html
Here's a list of available firmwares: http://voipt2.polycom.com/
STAY TUNED
Come back for more VoIP questions and answers next time! If you have VoIP questions to ask us, please submit a technical support ticket or contact our VoIP experts today at (866) 582-8591.
Source: https://www.voipsupply.com/blog/voip-insider/soundpoint-ip-560-failed-to-negotiate-1gb-with-my-cisco-meraki-switch/
Publish Date: October 4, 2017 5:00 AM
---

Searching for an affordable and reliable phone solution? Look no further. The Snom suite of phones has everything you and your business will need.
With a long list of compatible service providers and SIP-based product offerings, you are sure to find what you need. Best of all, unlike the competition's standard 2-year warranty, Snom offers a 3-year advanced warranty for all Snom desk phones! Snom will send you a new advanced replacement should your phone fail. Ideal, worry-free solutions for all businesses!
Highlighted Snom Suite of Phones
Corded IP Phones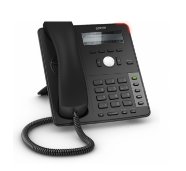 The Snom D712:

a 4 SIP accounts desk phone for small or large scale deployments with five programmable keys and built-in LEDs

The Snom D725

: a Gigabit VoIP phone with 18 two-color multi-purpose LED keys
The Snom D715

: a 4 line Gigabit VoIP phone that includes wideband HD audio, PoE, and a USB port for for use of USB headsets, the D7 expansion module or WiFi.

The Snom D765

: a high-resolution color display with 16 LED function keys and wideband audio. Enabled with USB connectivity, 12 SIP identities, and built-in Bluetooth-compatibility

The Snom D745

: a 12 SIP Phone featuring two high-resolution displays, 12 SIP identities, Gigabit Switch, USB port and Wideband audio.
DECT Phones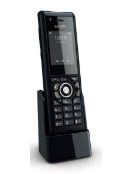 The Snom M85

: a ruggedized DECT handset

with shockproof, splash-proof, and dust-proof capabilities

The Snom M65

: a DECT wireless handset that can be paired with the Snom M700 DECT base station to offer increased mobility and freedom to users

The Snom M700 DECT Base Station

: an indoor multi cell base station connects to your IP PBX and acts as a SIP endpoint device while giving DECT signalling to up to 30 snom SIP DECT handsets
See all Snom phones here!
Snom VoIP phones combine state-of-the-art hardware with proven Snom SIP software. On most models of Snom VoIP phones, you have the ability to add a Microsoft Skype for Business license for full compatibility. (See the latest Snom firmware, Snom firmware 8.9.3.60.)
Why buy Snom phones?
Easy to deploy and configure, including mass deployment support, auto firmware upgrade and configuration, self-diagnostics (one click SIP trace), and a web interface for local/manual configuration

Supports Power over Ethernet (PoE), IP PBX, hosted IP telephony, Bluetooth, and wireless

Ideal for small/medium business and enterprise level offices

3 year advanced warranty
Source: https://www.voipsupply.com/blog/voip-insider/snom-reliable-ip-phone-solutions-with-peace-of-mind/
Publish Date: October 4, 2017 5:00 AM
---
October 3rd, 2017 - AudioCodes, a leading provider of voice networking solutions, announced their new solution expansions and enhancements for Skype for Business hybrid deployments.

The expansions and enhancements of AudioCodes One Voice for Skype for Business include IP Phones and room solutions, management capabilities, Microsoft Exchange Online Unified Messaging integration, call recording and CloudBond 365 hybrid and Cloud Connector Edition (CCE) solutions.
The comprehensive suite of voice solutions, products and service is now enhanced with IP Phones and room solutions, AudioCodes X-UM Solution, CloudBond 365, Once Voice Operation Center, Call recording with SmartTAP and other value-added applications.
Read more information here. This is another great breakthrough and integration for AudioCodes. We are thrilled to see more Skype for Business customers benefit from their enhanced solutions!
Source: https://www.voipsupply.com/blog/voip-insider/audiocodes-enhances-one-voice-for-skype-for-business/
Publish Date: October 4, 2017 5:00 AM
---
Keep your old phones out of the landfill! Reclaim by VoIP Supply has a better way.
VoIP Supply's Reclaim equipment buyback program is your outlet for selling off your used and excess VoIP equipment. With Reclaim you can submit your equipment for sale to VoIP Supply and receive fair market value for it allowing you to "reclaim" a portion of your original investment.

Why sell through Reclaim by VoIP Supply?
Easy sales process

– A streamlined five step process makes selling your equipment hassle free.

Fair market value

– Receive fair market value for your equipment – not pennies on the dollar.

Expertise

– VoIP Supply has been buying, reconditioning and selling equipment since 2002. When you work with VoIP Supply, you work with the best.

Go green

- Keep your old phones out of the landfill and reclaim some money back!
What can I sell through Reclaim?
Like the sheriff in an old western VoIP Supply's Reclaim team has a most wanted list. Here's a look at some of the usual suspects in high demand that are currently commanding the highest payouts:

Check out a complete most wanted product list here!
If you are interested in knowing what you can get for one of the products listed above, please submit the form below to request a quote!

Reclaim in five simple steps
The process for selling equipment to VoIP Supply through Reclaim is simple and straightforward.
Submit a list of equipment for sale

Receive a Reclaim buyback offer on your equipment from VoIP Supply.

Properly package your equipment for shipment and ready package for pick-up by VoIP Supply's shipment carrier.

Await confirmation of shipment receipt and equipment acceptance from VoIP Supply.

Receive a check or store credit for the agreed upon value of the equipment.
Have more questions? Check out our Q&A page or contact our Refresh/Reclaim Manager, Mike Rehac, at 716-213-6898 or email at miker@voipsupply.com.
Source: https://www.voipsupply.com/blog/voip-insider/where-to-sell-the-used-voip-equipment/
Publish Date: September 29, 2017 5:00 AM
---
Recently, Plantronics introduced the new MDA400 QD Series with advanced call management functionality.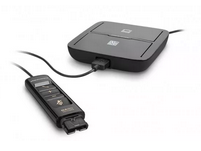 With the advanced audio processors, the Plantronics compatible headsets, and the Plantronics Manager Pro, you are able to manage your call center with analytics and insights right from desk phones and softphones.
Designed for contact center managers, the MDA400 Series highlights its flexible compatibility which allows you to connect with all major desk phones, softphones, and headsets. The MDA400 Series is also ideal for CSR agent training when used with a Y-cable, as well as a great tool for gathering data insights when used with Plantronics Manager Pro.
Key Features: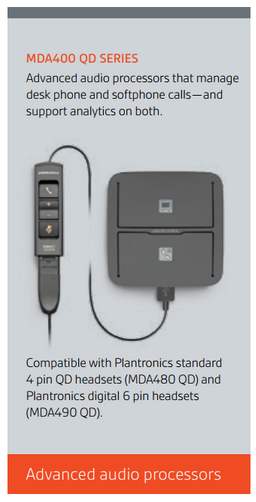 Track analytics and gain insights from both desk phones and softphones with Plantronics Manager Pro
Benefit from Plantronics software technology that detects and reports on call events, revealing insights to help make operations run more efficiently
Allows customer service representatives to take calls on desk phones or softphones
Superior noise and echo cancellation
Meets Noise at Work and G616/AAL regulatory compliance
Easy-to-use in-line call controls
Two variants are available: MDA480 QD for Plantronics standard QD headsets and MDA490 QD for Plantronics digital QD headsets
Backed by industry-leading Plantronics Customer Service
Download the datasheet
This is Plantronics first advanced audio processors to support analytics which is so important to get useful insights and improve your customer experience. The MDA400 QD Series is expected to be available for purchase soon. Stay tuned!
Source: https://www.voipsupply.com/blog/voip-insider/coming-soon-plantronics-introduces-the-mda400-qd-series/
Publish Date: September 29, 2017 5:00 AM
---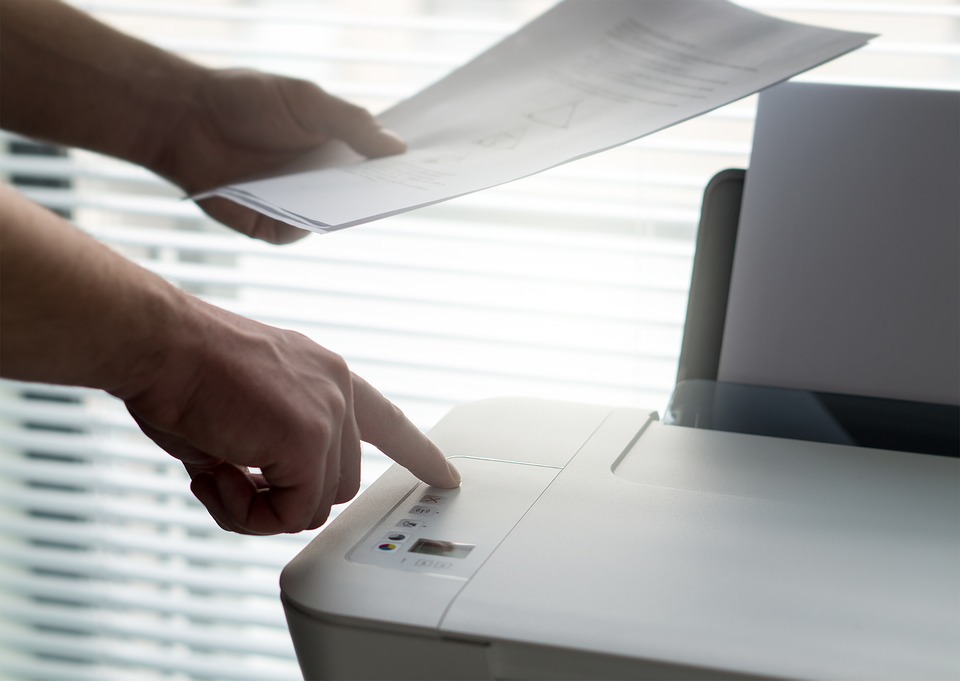 Faxing has been the nemesis of VoIP systems for as long as VoIP has been a thing. If you had a good VoIP vendor in the past, they would generally recommend you stick to a landline, or PRI for your fax services. That was because faxing over protocols like SIP had proven to be completely unreliable due to the fickle nature of faxing over a best effort architecture. Even with the advent of T.38, faxing still was a problem child for many.
Enter FoIP, or Fax over IP. Specifically, Sangoma's iteration of FoIP, which actually works. I believe we live in a time where things should just work, and we should stop dealing with custom problems born from custom solutions. Sangoma offers Fax Station, which is a service within SIP Station where you can turn on fax service, order DIDs, and order your FAXStation appliance.
How Does FAXStation Work?
What's nice is the FAXStation appliance is a plug-and-play solution that allows you to use your existing fax machines. How does that even work? Well, think of it as a FXS gateway with a little Sangoma magic on the inside. You request the appliance from the SIP Station portal, and the device ships to you ready to go. Plug it into your network, and plug your analog fax machines into the FXS ports and you're ready to go.
Sangoma claims analog line equivalent reliability, and the reason for that all of the heavy lifting (fax wise) occurs at Sangoma's data center. The inbound fax arrives there first via ISDN/SIP, then the data (the fax) is then sent your FAXStation appliance via SSL which is what guarantees the reliability. It's also a nice bonus that it's encrypted.
The appliance comes equipped with up to four analog ports for fax machines, and two ethernet ports. You also have the ability to do custom branding if you are selling these to your own customers. Custom branding is something Sangoma also does for it's FreePBX product.
Do you need a fast connection to the internet?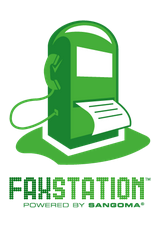 Nope, you won't be relying on best effort protocols when moving the fax over the internet. In fact, it works well with satellite services, which may be the only means of communication in remote areas of the world.
You might be wondering, why you wouldn't want to just stick with your existing landline, or PRI? Well price is the first consideration, and also those dedicated circuit type products are rapidly becoming extinct. EoIP (everything over IP, don't try and pronounce that) is the way of the present, and you should get with the times.
What does it all cost?
If you have a SIPStation account, which you SHOULD if you run a FreePBX phone system, you can see for yourself. If you're not willing to look right now I'll tell you. Expect the appliance to have a one time cost of $190.00 USD, high volume faxing ( a massive 3000 pages per month) will set you back $24.00 a month, and 150 pages per month will cost $9.95 USD per month. Compare that with your recurring analog or PRI bill!
It's also worth mentioning that FAXStation allows you to do inbound fax to email, as well as outbound faxing via a web portal that supports multi-user, and access control.
If faxing is critical to your business or organization, give Sangoma's FoIP solution, FAXStation a chance. Thanks for reading and happy VoIPing!
Source: https://www.voipsupply.com/blog/voip-insider/the-voip-addicts-guide-sangomas-foip-a-solution-to-your-faxing-woes/
Publish Date: September 29, 2017 5:00 AM
---
I don't know about you, but sometime I sit and think about all of the electronic devices that I own, and then I wonder how much more they can actually do other than what I use them for.
I know that there are a lot of people out there like me. People that use their devices for their basic features and never really bother maximizing their potential. And then there are people who learn the technology inside and out, utilizing every single feature that is offered.
When I use the term "electronic device", of course I mean your tablet, your cell phone, your laptop, and even (spoiler alert) your VoIP deskphone! Based on experience, I know that there are a lot of features that your deskphone can do that will probably never get used. Even at the entry level, a lot of VoIP phones today are packed with what can seem like an endless amount of cool options, but that does not mean everyone is dying to try them.
Sometimes, however, there can be features on your phone that can really make your life easier, but may never be uncovered. There is a long list of examples, everything from Do Not Disturb mode, to changing the annoying factory preset ringtone!
For this blog, I did some research and found something that could easily go unnoticed. Something that can easily be turned on and could help people who work in low light situations, or who might not have the best vision.
This feature is setting your phone so that your keypad will light up when in use! And the phone that owns this feature is none other than the Yealink W52P DECT phone!
Activating The Keypad Light On The Yealink W52P DECT Phone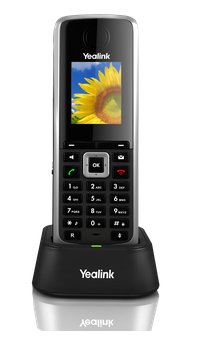 Setting this up is quite simple! If you find yourself in the dark, or not being able to see your phone's keypad well, just follow these simple steps to light up your phone!
Press the OK button to enter the main menu
Select the Settings icon
In the settings menu, select Display followed by Keypad Light
Press the Change softkey to check or uncheck the Keypad Light checkbox
And that's it! Now the next time you need to take your wireless DECT phone into some dark areas, you will have a beacon of light to help you navigate your phone! And maybe…even help you navigate where you're walking…if it's really, really dark.
Do you use a DECT phone at work? Is it the Yealink W52P DECT phone? If not, what DECT phone are you using? And does the keypad light up? We want to know!
Source: https://www.voipsupply.com/blog/voip-insider/activating-the-keypad-light-on-the-yealink-w52p-dect-phone/
Publish Date: September 29, 2017 5:00 AM
---
September 25, 2017 - Grandstream announced the release of the new HA100, a high-availability controller for their UCM6510 IP PBX.

Designed for businesses that demand a 100% uptime, redundant voice system, the HA100 provides an automatic failover solution when paired with two UCM6510 IP PBXs. The controller will monitor the operational status of both IP PBXs constantly and will automatically switch all system control to the secondary UCM6510 when the primary device fails (including all the connected telephone lines, network links, auxiliary devices, all registered SIP endpoints and the recorded voicemails).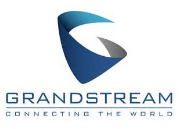 "Many businesses today require communication solutions that are always-on and fully redundant. For these businesses, a communication platform being down for even a minute can have catastrophic consequences. As our customers around the world continue to deploy the UCM6510 into mission-critical industries, the HA100 ensures that end-user customers will have a completely reliable solution with seamless failover options," said David Li, CEO of Grandstream.
Key Features:
Connects and constantly monitors two UCM6510 together for high availability

Smart failover solution that automatically switches to a hot-standby secondary UCM6510 if the primary one fails

Up to 14 LED indicators showing real-time status of all of the telecom lines, network links, auxiliary devices, etc

Gratuitous ARP forces SIP endpoints to refresh the MAC address of the new UCM6510 without interruptions

Fast 10 to 50 second system switching time depending on the number of registered endpoints
Check out the datasheet here! The HA100 is currently available at voipsupply.com. Check it out!
Source: https://www.voipsupply.com/blog/voip-insider/grandstream-introduced-ha100-high-availability-controller-for-the-ucm6510-ip-pbx/
Publish Date: September 25, 2017 5:00 AM
---
Everyone remembers the old days before VoIP when PSTN lines ruled the business telecommunication world. PSTN lines were, let's just say, a lot less advantageous than what we have today.
One thing we can all remember is putting people on hold. We can still do this today with VoIP, but now there is something more advanced called Call Parking. This has the same concept of placing a call on hold but gives you more options.
What Is Call Parking And How Does It Work?
In this video, Marc Spehalski will not only talk about the differences between Call parking and putting someone on hold, but he will also demonstrate Call Parking in action using FreePBX!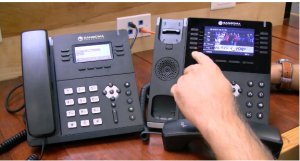 Do you use Call Parking? Let us know in the comments, and if you're not, but are looking to start after watching this video, then give us a call! 1-800-398-8647
Source: https://www.voipsupply.com/blog/voip-insider/what-is-call-parking-and-how-does-it-work/
Publish Date: September 22, 2017 5:00 AM
---
September 22, 2017 - AudioCodes introduced their latest addition to the 400HD series of IP Phones - the 445HD IP Phones!

The AudioCodes 445HD is an advanced IP phone with high definition voice experience for Microsoft 365 including Skype for Business and Microsoft Teams. It delivers enhanced productivity and support for complex legacy workflows with a high-resolution color screen and integrated LCD sidecar with speed dial and presence indication.
Some Key Features:
Optimized for Microsoft 365 including Skype for Business

4.3" color screen

Speed dial sidecar and centralized management

Advanced voice processing capabilities, including SILK codec support, ensure high-definition voice quality
The entire AudioCodes 400HD series of IP phones now support native voice dialing services based on the corporate directory.
AudioCodes will demonstrate the new 445HD model along with management capabilities and voice dialing at Ignite 2017, Orlando, Florida. This new IP phone is expected to be available for purchase by the end of this year!
We are thrilled to see another great AudioCodes new product to benefits more of our customers!
Source: https://www.voipsupply.com/blog/voip-insider/audiocodes-introduced-new-445hd-ip-phone-for-microsoft-365/
Publish Date: September 22, 2017 5:00 AM
---
VoIP adapters are small, simple devices, but they play an important role for residential VoIP service. We received a lot of inquiries about VoIP adapter. What is it? How does it work? Why is it important? Let's find out!
What is VoIP Adapter?
A VoIP adapter is a device that converts analog voice signals into digital IP packets for transport over an IP network. A VoIP adapter also converts digital IP packets in analog voice streams.
Standard VoIP adapters connect to analog telephones via an FXS port. The VoIP adapter then connects to your Local Area Network (LAN) with an Ethernet cable via an RJ45 port. Some adapters also feature an FXO port so you can connect to the Publicly Switched Telephone Network (PSTN).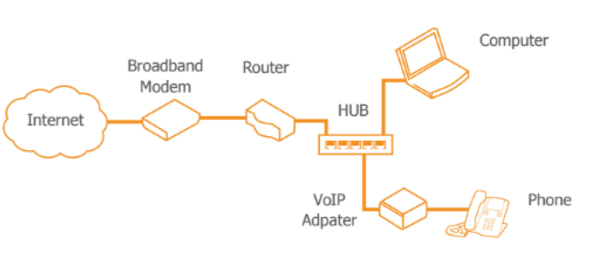 How does a VoIP Adapter work?
Think of VoIP adapters as a bridge between an IP network and an analog station device and/or the PSTN. Depending on where the voice traffic originates from, a VoIP adapter converts voice traffic into the proper form for receipt by the destination network or device:
If the voice traffic originates from an analog telephone or the PSTN, the VoIP adapter will convert the analog voice signal into a digital signal. This signal then is compressed using a codec and broken into a series of packets that will be transferred across the IP network using signaling protocol.
If the voice traffic is from an IP network, the adapter will decompress the digital packets into a digital signal that is converted into an analog signal for receipt by the station device or sent across the PSTN.
Standard Features of a VoIP Adapter
Compliant with multiple protocols including SIP, H.323 and MGCP

Support for G.711, G.723.1, G.726, and G.729A voice codecs

T.38 compliant (for faxing)

Echo cancellation, Jitter Buffer, VAD and CNG

Web-based administration/management

Automatic provisioning via TFTP/HTTP
These are just standard features found in the majority of VoIP adapters. Each VoIP adapter has its own unique differences.
There you have it! Now that you know how a VoIP adapter works, go to our site to see the popular adapters including Cisco SPA122, Obihai OBi302, Grandstream HT503 and more!
Click the button below to download our free VoIP Adapter guide to learn more!
Source: https://www.voipsupply.com/blog/voip-insider/how-does-a-voip-adapter-work/
Publish Date: September 19, 2017 5:00 AM
---

Sept. 19th, 2017- BroadSoft announced that they will be updating the firmware for Yealink T4xG/P/S Series and Polycom VVX IP Phones through their BroadCloud offering! Find some details here:
These firmware updates will affect several Yealink and Polycom phones:
Yealink T4xS Series (Firmware - 81.xxx.110)

Yealink T4xG / T4xP Series (Pending Firmware Deployment 81.xxx.90 - Sept 2017)

Polycom VVX Series (Pending Firmware Deployment 5.5.2 - Beginning Oct 2017)

Models for future consideration

Audiocodes 4xxHD IP Phones (Timing TBD)
They will be adding additional services to be managed from the phones:
BroadWorks Enterprise Directory

BroadWorks Personal Directory (Yealink Only)

Network Call Logs, Received/Missed/Placed

Office Anywhere

Remote Office

Hide Calling Line ID

Reject Anonymous calls

Sim-Ring
The XSI will also be enabled by Default for Yealink and Polycom VVX Phones. End users will need to reboot their phones to enable the XSI capabilities. Check out the User Guides for changes to the User Interface on the Phones.
More information see broadsoft's website
Source: https://www.voipsupply.com/blog/voip-insider/broadsoft-updates-the-firmware-for-yealink-and-polycom-ip-phones/
Publish Date: September 19, 2017 5:00 AM
Page: 1 | 2 | 3 | 4 | 5 | 6 | 7 | 8 | 9 | 10 | 11 | 12 | 13 | 14 | 15 | 16 | 17 | 18 | 19 | 20 | 21 | 22 | 23 | 24 | 25 | 26