What to Consider When Scoring Sales Leads - Volkart May - ContactCenterWorld.com Blog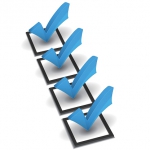 Once a lead is generated it's the goal of the sales team to move the lead further through the sales funnel toward a conversion. Of course, not every lead is going to be a good match or have the same needs and interests. That's why the next step in the sales process is lead scoring, a method of determining what happens next and who takes control of the lead. Are they ready to be passed on to sales? Or is the marketing team or an outsourced prospecting partner a better choice? Here are 4 things to take into consideration when scoring sales leads:
Perceived value
Is the lead a good match for the products and/or services you provide? Do they have the traits your company is looking for in a customer or client? You can choose to be as picky as you wish when it comes to deciding which leads are worth the time and effort required to turn them into sales. For example, you may cater to a specific niche or only work with companies of a certain size. If the lead doesn't match the desired profile, it doesn't make sense to have your top sales professionals working with them.
Level of need or interest
A lead might fit the profile but that doesn't mean that they are likely to convert soon. What is their buying timeframe? Leads should be categorized as "hot", "warm", or "cold." Hot leads are closest to conversion, have the highest current value, and should be the focus of the sales team's attention. Warm leads have the potential to become hot, but the timing isn't right. Warm leads should continue to be nurtured, increasing the chances that they do become hot. An outsourced prospecting partner can help with this. Cold leads don't have a current need but they shouldn't fall off the radar. It's worthwhile to continue to reach out regularly to maintain the connection.
Primary contact
You can learn a lot about a lead based on who the point of contact is. If it's an administrative assistant, it's likely that the company is just beginning their research phase and is at the top of the sales funnel. However, if it's a mid to top level executive, you can assume that they are a decision maker (or are working closely with one) and the company is closer to making a purchase decision.
Prior interaction
How long have you been "connected" to the lead? Have you been in touch in the past? Have they been following your company in social media, receiving email newsletters, or downloading whitepapers for quite some time? If so, they have a good understanding of your products/services and are likely closer to taking the next step when they reach out.
Having a sales lead scoring process in place ensures that every lead gets attention and is passed on to the appropriate team member. Because business processes can change, it's worthwhile to continually revisit lead scoring definitions to keep all team members on the same page.
Source: http://www.volkartmay.com/lead-qualification/scoring-sales-leads/
Publish Date: November 8, 2016 5:00 AM
---
PREMIUM

CTI Software
(VIEW OUR PAGE)

CTI Software is the creator of custom application called Davos, which complements the telephone client solutions with intelligent features such as automated call attendant, call recording and archivin...

(view more)

PREMIUM

Future Gen International Pte Ltd
(VIEW OUR PAGE)

Outsourcing provider of English Call Centre services, Audio Transcriptions, Big Data ETL (Extract, Transform, Load) , Big Data Visualization, Big Data Predictive Model Generation

PREMIUM

HigherGround, Inc.
(VIEW OUR PAGE)

HigherGround develops data collection, information storage, and interaction analytics solutions that easily transform data into actionable intelligence, enabling operational optimization, enhanced per...

(view more)
---

View more from
Volkart May
Recent Blog Posts:
| | |
| --- | --- |
| 5 Reasons to Execute an Outbound Calling Campaign | August 16, 2017 5:00 AM |
| Warm Calling: Who Teleprospectors Should be Contacting | August 8, 2017 5:00 AM |
| Set a B2B Calling Campaign Goal to Achieve a Desired Outcome | July 18, 2017 5:00 AM |
| Improve Marketing Efforts with an Outbound Calling Campaign | May 30, 2017 5:00 AM |
| Leave These Sales Functions to an Outsourced Calling Partner | May 18, 2017 5:00 AM |
| Keep Prospects on the Line by Following These Sales Call Tips | May 2, 2017 5:00 AM |
| Key Points to Mention Upfront During an Inside Sales Call | April 10, 2017 5:00 AM |
| Want a Callback? Follow These Inside Sales Voicemail Tips | March 27, 2017 5:00 AM |
| 4 Ways to Build a Positive Call Center Culture | March 16, 2017 5:00 AM |
| Keys to a Successful Relationship with an Outsourced Inside Sales Company | February 27, 2017 5:00 AM |