Warm Calling: Who Teleprospectors Should be Contacting - Volkart May - ContactCenterWorld.com Blog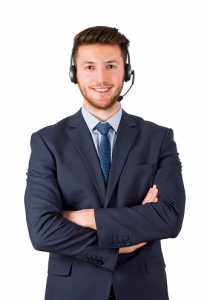 Cold calling is an essential function of the B2B contact center because it allows callers to build an accurate lead database that can be used during future calling campaigns. However, it's not the only responsibility of a teleprospector. In fact, the majority of their time is actually spent on warm calling, or reaching out to contacts that the company already has a relationship with in order to update files and ideally, turn a potential prospect into a qualified lead. During a warm calling campaign, these are the groups of people that prospectors should be contacting:
Marketing generated leads
Marketing generated leads have expressed interest by getting in touch via lead form, email, phone call, etc. after receiving marketing messaging via a marketing touchpoint. No matter how targeted a B2B marketing campaign may be, not every marketing generated lead is going to be sales-ready. One purpose of a warm calling campaign is to have an initial insight gathering conversation with these leads in order to determine the quality of the leads and whether they should be passed on to the sales team or further nurtured.
Leads that have gone cold
When a lead doesn't make an initial purchase and loses touch, it has gone cold. However, since there was interest initially, that interest can return when the timing is right. A warm calling campaign ensures that these cold leads aren't ignored entirely, keeps the lines of communication open, and helps to keep a company top of mind.
Past customers
Companies change service/product providers for many reasons, it's not always because they weren't satisfied. Sometimes the reasons are internal, such as departmental budget cuts. Because a past customer could become a customer again in the future, a warm calling campaign helps to maintain this relationship and the teleprospector can mention new products or services that might be appealing to them.
Current customers
It's common sales knowledge that it is less expensive to retain current customers than it is to acquire new customers, which is why it's important to tap into additional revenue opportunities from existing customers when it makes sense to do so. A warm calling campaign can reach out to current customers to ensure their satisfaction and advise them about new or enhanced products or services that complement what they are currently using.
Warm calling campaigns are an essential function of B2B inside sales. Since the relationship is already established, the teleprospector has more data to work with and can craft messaging to speak to a prospect's individual needs.
Source: http://www.volkartmay.com/inside-sales/warm-calling/
Publish Date: August 8, 2017 5:00 AM
---
PREMIUM

CTI Software
(VIEW OUR PAGE)

CTI Software is the creator of custom application called Davos, which complements the telephone client solutions with intelligent features such as automated call attendant, call recording and archivin...

(view more)

PREMIUM

Future Gen International Pte Ltd
(VIEW OUR PAGE)

Outsourcing provider of English Call Centre services, Audio Transcriptions, Big Data ETL (Extract, Transform, Load) , Big Data Visualization, Big Data Predictive Model Generation

PREMIUM

Avizent Ltd
(VIEW OUR PAGE)

Advanced AI technology and Natural Language Processing delivered to clients in the Cloud that harnesses both voice and digital conversations. The focus is on building an environment where intelligent ...

(view more)
---

View more from
Volkart May
Recent Blog Posts:
| | |
| --- | --- |
| 5 Reasons to Execute an Outbound Calling Campaign | August 16, 2017 5:00 AM |
| Warm Calling: Who Teleprospectors Should be Contacting | August 8, 2017 5:00 AM |
| Set a B2B Calling Campaign Goal to Achieve a Desired Outcome | July 18, 2017 5:00 AM |
| Improve Marketing Efforts with an Outbound Calling Campaign | May 30, 2017 5:00 AM |
| Leave These Sales Functions to an Outsourced Calling Partner | May 18, 2017 5:00 AM |
| Keep Prospects on the Line by Following These Sales Call Tips | May 2, 2017 5:00 AM |
| Key Points to Mention Upfront During an Inside Sales Call | April 10, 2017 5:00 AM |
| Want a Callback? Follow These Inside Sales Voicemail Tips | March 27, 2017 5:00 AM |
| 4 Ways to Build a Positive Call Center Culture | March 16, 2017 5:00 AM |
| Keys to a Successful Relationship with an Outsourced Inside Sales Company | February 27, 2017 5:00 AM |