5 Reasons to Call Healthcare Facilities during the Sales Process - Volkart May - ContactCenterWorld.com Blog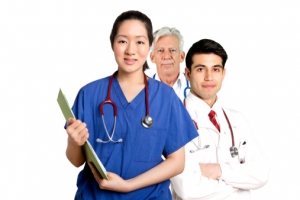 There are many ways to market and sell your company and its products or services to professionals in the healthcare industry today. It's necessary to have a strong online presence including a robust website that's easy to navigate, updated social media profiles, and an email marketing program. It is also important to pick up the phone and call the office. Hospitals, clinics, and other healthcare facilities always have someone to answer the phone and a live conversation can accomplish a lot.
During the healthcare sales process it's beneficial to create an outbound calling campaign to achieve the following:
Research
To create efficient sales and marketing campaigns, it's necessary to understand exactly who your target audience is and what their needs are. The best way to understand these needs is to ask. Create a calling campaign designed to ask healthcare facilities what their needs are in order for you to understand how you can meet those needs better than your competition. This information can be used in your sales pitch as the prospect moves further through the funnel. You can use your company name or do a blind survey depending on your objective.
Awareness
Calling a healthcare facility is a great way to generate awareness of your company/brand and its products and services. Awareness is the first step towards obtaining leads that can turn into sales and profits for your company. Combine awareness with one or more of the below calling objectives.
Database updating
Healthcare sales professionals continually need to make sure their database is current so as to not waste marketing and sales dollars. People move around a lot and data can become old quickly. The database should include the most up to date information including the names of contacts at each organization and their contact information. This information is easy to gather over the phone and can be confirmed by a number of people, not just the decision maker. Database updating is often a by-product of a lead generation or inside sales objective as outlined below.
Lead generation
One of the best ways to generate leads is via a phone conversation. That's because it is a two-way dialogue that establishes a human connection. This live connection helps build a relationship with your prospect and enables you to tailor your message. Remember, people still like to buy from people.
Sales
As a result of all the changes in the healthcare industry, companies selling in this environment are highly focused on sales force efficiency – more so than ever before. This looks different from company-to-company, but often includes doing more over the phone. For example, some start-ups plan not to hire large field sales forces and instead are building inside sales functions either internally or through outsourcing. Some established companies are tapping into markets that offer solid revenue streams when approached through a cost effective inside sales strategy, but not if they were to have high-level sales people sell in person.
Don't underestimate what can be done over the phone throughout the healthcare sales process. There is always someone to answer during business hours and you can accomplish everything from basic database updating to making a sale.
Source: http://www.volkartmay.com/lead-generation/call-healthcare-facilities-sales/
Publish Date: December 1, 2015 5:00 AM
---
PREMIUM

Avizent Ltd
(VIEW OUR PAGE)

Advanced AI technology and Natural Language Processing delivered to clients in the Cloud that harnesses both voice and digital conversations. The focus is on building an environment where intelligent ...

(view more)

PREMIUM

CTI Software
(VIEW OUR PAGE)

CTI Software is the creator of custom application called Davos, which complements the telephone client solutions with intelligent features such as automated call attendant, call recording and archivin...

(view more)

PREMIUM

Future Gen International Pte Ltd
(VIEW OUR PAGE)

Outsourcing provider of English Call Centre services, Audio Transcriptions, Big Data ETL (Extract, Transform, Load) , Big Data Visualization, Big Data Predictive Model Generation
---

View more from
Volkart May
Recent Blog Posts:
| | |
| --- | --- |
| 5 Reasons to Execute an Outbound Calling Campaign | August 16, 2017 5:00 AM |
| Warm Calling: Who Teleprospectors Should be Contacting | August 8, 2017 5:00 AM |
| Set a B2B Calling Campaign Goal to Achieve a Desired Outcome | July 18, 2017 5:00 AM |
| Improve Marketing Efforts with an Outbound Calling Campaign | May 30, 2017 5:00 AM |
| Leave These Sales Functions to an Outsourced Calling Partner | May 18, 2017 5:00 AM |
| Keep Prospects on the Line by Following These Sales Call Tips | May 2, 2017 5:00 AM |
| Key Points to Mention Upfront During an Inside Sales Call | April 10, 2017 5:00 AM |
| Want a Callback? Follow These Inside Sales Voicemail Tips | March 27, 2017 5:00 AM |
| 4 Ways to Build a Positive Call Center Culture | March 16, 2017 5:00 AM |
| Keys to a Successful Relationship with an Outsourced Inside Sales Company | February 27, 2017 5:00 AM |
Industry Champion Award Leaderboard