Live Conversations Play a Key Role in Lead Nurturing - Volkart May - ContactCenterWorld.com Blog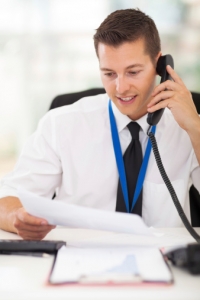 Once your B2B organization generates a lead, what happens next? Ideally, you should be following up with the prospective client/customer as soon as possible. What approach do you take?
Given all of the communication channels that are so quick and easy to use today (email, social media messages, online chat, texting, etc.) we've found that what's often missing in the B2B lead nurturing process is a live two-way conversation. While the old-fashioned phone call may seem, well, old-fashioned, there is certainly still an important place for it in the business world.
Here are 3 reasons why an organization can benefit from a live phone conversation during the lead nurturing process:
Build trust and a relationship
When communicating with a business via online channels, the prospect never really knows who they are communicating with. B2B companies must understand one important thing: people want to buy from people! A phone conversation is a much more personal method of communication. Hearing someone's human voice helps build a rapport with the person and trust with the organization as a whole.
More engaging
A live, personable phone call is often a more effective way to engage your target audience than other communication methods. The two-way conversation ensures that the prospect is getting the information they want and is able to ask questions as the conversation goes on. Both parties are involved in the communication at the exact same moment, quite the opposite of email exchanges, where time lapses of hours or even days can go by between responses. It keeps the process moving more swiftly.
Improves information gathering
There's only so much information you can ask for on a lead form or even in an email. If you ask too many questions, the prospect will be wary and it may even deter them from inquiring about your products or services at all. A two-way phone conversation can uncover key information about a prospect that wouldn't be discovered otherwise. As the conversation progresses, it gives the agent the opportunity to ask follow up questions that fill in the blanks in a natural, conversational manner. Agents can discover important information such as the organization's buying cycle, who key influencers and decision makers are, and buying patterns. All of this information helps score opportunities that can then be passed on to the sales team.
B2B organizations should never underestimate the power of a phone call. Live conversations play an important role in turning marketing qualified leads into sales qualified leads.
Source: http://www.volkartmay.com/lead-generation/live-conversations-lead-nurturing/
Publish Date: July 15, 2015 5:00 AM
---
PREMIUM

Future Gen International Pte Ltd
(VIEW OUR PAGE)

Outsourcing provider of English Call Centre services, Audio Transcriptions, Big Data ETL (Extract, Transform, Load) , Big Data Visualization, Big Data Predictive Model Generation

PREMIUM

HigherGround, Inc.
(VIEW OUR PAGE)

HigherGround develops data collection, information storage, and interaction analytics solutions that easily transform data into actionable intelligence, enabling operational optimization, enhanced per...

(view more)

PREMIUM

Avizent Ltd
(VIEW OUR PAGE)

Advanced AI technology and Natural Language Processing delivered to clients in the Cloud that harnesses both voice and digital conversations. The focus is on building an environment where intelligent ...

(view more)
---

View more from
Volkart May
Recent Blog Posts:
| | |
| --- | --- |
| 5 Reasons to Execute an Outbound Calling Campaign | August 16, 2017 5:00 AM |
| Warm Calling: Who Teleprospectors Should be Contacting | August 8, 2017 5:00 AM |
| Set a B2B Calling Campaign Goal to Achieve a Desired Outcome | July 18, 2017 5:00 AM |
| Improve Marketing Efforts with an Outbound Calling Campaign | May 30, 2017 5:00 AM |
| Leave These Sales Functions to an Outsourced Calling Partner | May 18, 2017 5:00 AM |
| Keep Prospects on the Line by Following These Sales Call Tips | May 2, 2017 5:00 AM |
| Key Points to Mention Upfront During an Inside Sales Call | April 10, 2017 5:00 AM |
| Want a Callback? Follow These Inside Sales Voicemail Tips | March 27, 2017 5:00 AM |
| 4 Ways to Build a Positive Call Center Culture | March 16, 2017 5:00 AM |
| Keys to a Successful Relationship with an Outsourced Inside Sales Company | February 27, 2017 5:00 AM |