The Importance of Collaboration When Outsourcing Inside Sales and Customer Service - Volkart May - ContactCenterWorld.com Blog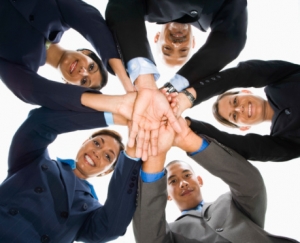 Outsourcing inside sales and customer service responsibilities to a third party company is a wise choice for many businesses. This is especially true for small to medium sized businesses that have limited resources. Outsourcing these functions is far less costly than paying for all of the expenses associated with keeping everything in house, including salaries, training, management, and other employee related costs. In addition, outsourcing provides a company with access to seasoned inside sales, lead generation, and customer service professionals and their wealth of knowledge and expertise in these important areas.
In order to have a successful outsourcing experience, a company must understand that the process should be collaborative throughout the entire relationship. A mistake that some companies make is thinking that they can disappear from the process once they sign the contract and pass sales and/or customers service responsibilities over to the outsourced partner. This is not wise and often results in a campaign with lackluster results. Instead, the company and its outsourced partner should be working as a team.
Throughout the process both the client company and the outsourced partner are bringing different strengths to the table. The outsourced Business Development Specialists and Customer Service Agents have strong phone skills and are experienced in having sales, lead generation, customer service and market research conversations with customers and prospects. The management at the outsourcing firm has experience finding, coaching and managing good people and making recommendations to clients on best practices with regard to all aspects of their programs. The client company is an expert on their product/service/solution and decides what their goals for the program are.
When outsourcing inside sales and customer service functions to a partner, a company needs to spend time both upfront and on an ongoing basis ensuring that the outsourced partner has a clear understanding of the company and its product/service/solution as well as its business practices and goals. After all, the outsourced partner will be representing the company and its brand. Because a company's offerings and its goals often evolve over time it's important to keep the outsourcing partner in the loop.
To keep lines of communication open in an efficient manner, it's often a good idea to appoint one or two key points of contact that are available and responsive at the client company as well as at the outsourcing firm. Then, on a periodic (yet regular basis), pull in others from the team on both sides of the partnership to provide input, make recommendations, etc.
Outsourcing sales and customer service is beneficial and makes sense for a lot of companies, however it doesn't mean that the client company no longer plays a role in the process. The best results come from collaboration on both sides of the partnership.
Source: http://www.volkartmay.com/outsourcing/collaboration-outsourcing-sales-service/
Publish Date: February 4, 2016 5:00 AM
---
PREMIUM

Future Gen International Pte Ltd
(VIEW OUR PAGE)

Outsourcing provider of English Call Centre services, Audio Transcriptions, Big Data ETL (Extract, Transform, Load) , Big Data Visualization, Big Data Predictive Model Generation

PREMIUM

HigherGround, Inc.
(VIEW OUR PAGE)

HigherGround develops data collection, information storage, and interaction analytics solutions that easily transform data into actionable intelligence, enabling operational optimization, enhanced per...

(view more)

PREMIUM

Avizent Ltd
(VIEW OUR PAGE)

Advanced AI technology and Natural Language Processing delivered to clients in the Cloud that harnesses both voice and digital conversations. The focus is on building an environment where intelligent ...

(view more)
---

View more from
Volkart May
Recent Blog Posts:
| | |
| --- | --- |
| 5 Reasons to Execute an Outbound Calling Campaign | August 16, 2017 5:00 AM |
| Warm Calling: Who Teleprospectors Should be Contacting | August 8, 2017 5:00 AM |
| Set a B2B Calling Campaign Goal to Achieve a Desired Outcome | July 18, 2017 5:00 AM |
| Improve Marketing Efforts with an Outbound Calling Campaign | May 30, 2017 5:00 AM |
| Leave These Sales Functions to an Outsourced Calling Partner | May 18, 2017 5:00 AM |
| Keep Prospects on the Line by Following These Sales Call Tips | May 2, 2017 5:00 AM |
| Key Points to Mention Upfront During an Inside Sales Call | April 10, 2017 5:00 AM |
| Want a Callback? Follow These Inside Sales Voicemail Tips | March 27, 2017 5:00 AM |
| 4 Ways to Build a Positive Call Center Culture | March 16, 2017 5:00 AM |
| Keys to a Successful Relationship with an Outsourced Inside Sales Company | February 27, 2017 5:00 AM |
Industry Champion Award Leaderboard