Get Your Sales Team to Buy In To a Lead Gen Program - Volkart May - ContactCenterWorld.com Blog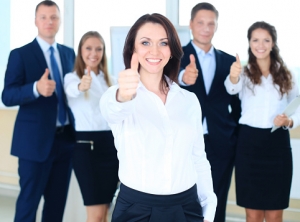 A well-defined and thoroughly executed lead generation program is an essential component of a B2B sales strategy. In order for a business to grow, it must continually be generating leads that can be turned into sales. Of course, the sales team must buy in to the lead generation program in order for it to be successful. Without sales team buy in, leads aren't followed up on and opportunities and money are lost and the time spent developing the lead generation program goes to waste.
Here are 5 ways to get the sales team to buy in to the lead generation program:
Include sales reps in the development process
Because sales reps are the ones who actually handle the leads and are responsible for turning those leads into sales, it's important to get their input as the lead generation program is developed and put into place. Their knowledge is extremely valuable and they will appreciate that their insights are considered. This should occur both at the onset of program execution and on an ongoing basis as new trainings are developed and update meetings occur. The company should be transparent and provide the sales team with program summary reports on a regular basis.
Understand sale's definition of a qualified lead
Experienced sales reps have a strong understanding of what works and what doesn't and which leads are most likely to eventually convert into a customer or client. There are certain criteria that sales reps focus on when determining which leads deserve the bulk of their time and attention. This criteria needs to be passed on to those who are responsible for generating the leads.
Have sales reps meet Business Development Specialists or the outsourced lead generation firm
The sales reps should be able to meet the individuals who are responsible for generating leads or setting appointments for them. Face to face interaction, video conferencing or even just a live phone call can go a long way in establishing trust and a rapport between the two parties who are ultimately working together towards the same goal. There should be open and regular communication.
Ask for feedback
A lead generation program is never set in stone. A businesses' products, services, and processes must continually be updated in order to meet the demand of customers and clients. The sales team is interacting with prospects on a daily basis and can provide feedback that will help shape the lead generation program. If the sales team is passing on opportunities, the marketing needs to understand why in order to adjust the strategy.
Provide clear next steps & track advancement
Tracking advancement is key. A company must provide sales with clear next steps for following up on leads and tools to track the advancement of those leads as they move through the sales cycle. Make sure it is easy to tie sales back to opportunities identified through each of your different lead generation programs so that everyone can calculate the ROI and understand which efforts are working and which ones may need adjustments.
Lead generation program buy in from the sales team should not be hard to achieve by following the above tips. After all, the sales team wants an efficient process in order to close more sales.
Source: http://www.volkartmay.com/lead-generation/sales-buy-in/
Publish Date: September 18, 2015 5:00 AM
---
PREMIUM

ConceptCall
(VIEW OUR PAGE)

Аутсорсинговый контакт-центр ConceptCall| КонцептКолл специализируется на исходящем и входящем телемаркетинге: мы предоставляем услуги по осуществлению холодных звонков и продажи по телефону, проводим...

(view more)

PREMIUM

HigherGround, Inc.
(VIEW OUR PAGE)

HigherGround develops data collection, information storage, and interaction analytics solutions that easily transform data into actionable intelligence, enabling operational optimization, enhanced per...

(view more)

PREMIUM

CTI Software
(VIEW OUR PAGE)

CTI Software is the creator of custom application called Davos, which complements the telephone client solutions with intelligent features such as automated call attendant, call recording and archivin...

(view more)
---

View more from
Volkart May
Recent Blog Posts:
| | |
| --- | --- |
| 5 Reasons to Execute an Outbound Calling Campaign | August 16, 2017 5:00 AM |
| Warm Calling: Who Teleprospectors Should be Contacting | August 8, 2017 5:00 AM |
| Set a B2B Calling Campaign Goal to Achieve a Desired Outcome | July 18, 2017 5:00 AM |
| Improve Marketing Efforts with an Outbound Calling Campaign | May 30, 2017 5:00 AM |
| Leave These Sales Functions to an Outsourced Calling Partner | May 18, 2017 5:00 AM |
| Keep Prospects on the Line by Following These Sales Call Tips | May 2, 2017 5:00 AM |
| Key Points to Mention Upfront During an Inside Sales Call | April 10, 2017 5:00 AM |
| Want a Callback? Follow These Inside Sales Voicemail Tips | March 27, 2017 5:00 AM |
| 4 Ways to Build a Positive Call Center Culture | March 16, 2017 5:00 AM |
| Keys to a Successful Relationship with an Outsourced Inside Sales Company | February 27, 2017 5:00 AM |