VoxPeritus - ContactCenterWorld.com Blog
Humans continue to be more intelligent than machin

es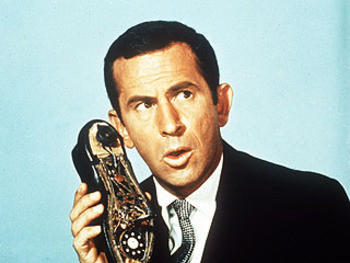 Speech recognition is continually improving. Note the functionality that Google Now and Apple Siri provide from devices that are notably difficult to interact with using text. However, has it really changed much in the contact center? Sure, a few large corporations have implemented natural language understanding or "conversational" IVR apps using traditional speech recognition. The seven-digit cost, covering the cost of the software and ongoing very expensive tuning behind these apps precludes anyone but the largest organizations from deploying these solutions.

However, even for well-designed apps, the current state of ASR still limits the ability to expand self-service past very simple apps that are limited to only a few caller inputs. The danger of even moderately complex speech-enabled apps is the dreaded "I'm sorry, I didn't understand. Could you please repeat that?" which usually drives the caller to press zero or repeat "Operator, operator!"

So should we give up all hope for speech recognition in the contact center unless you are a massive organization with plenty of cash? Absolutely not! Human Assisted UnderstandingTM, a technology developed by Interactions LLC, is an extremely potent and cost effective means to improve caller intent and expand speech-enabled self-service. Variations of it have been available for over ten years, but the market uptake was not high until two or three years ago. Adaptive-UnderstandingTM works by understanding an utterance's confidence level, and will send an utterance that fails to meet the ASR's ability to understand the utterance to a human along with a screen pop of most likely matches.

Over the history of the HAUTM and similar offerings, several companies have used different role titles, but in business conversations, I tend to use "secret agent." The secret agent matches the utterance to the correct match and the application progresses without the caller knowing that a human was working behind the scene for several seconds. The human ear is not perfect, but it still is much better at disambiguation of speech than current speech recognition technology. The NLU apps mentioned earlier require significant amounts of tuning to ensure the grammars contain enough words that will optimistically match almost all of callers' possible utterances, but not too many words to allow misidentification of non-targeted words as the correct utterance. Moreover, the tuning to keep the voices of two humans, or even just the caller's utterances on track (to the IVR: "Tomorrow" immediately followed to the child/pet, "I said stop it!") is a complex balancing act. It falls somewhere between science and art, and does not come cheap.

In contrast, HAUTM is very accurate immediately upon deployment and when combined with additional Adaptive-UnderstandingTM technology, it quickly and cost effectively tunes the ASR grammars. To be transparent, I have been a major proponent of the capabilities of HAUTM since it first hit the market. Unveil Technologies first offered similar technology, but Microsoft acquired them in 2005 and pulled the offering from the market. At least two others attempted to replicate the technology, but for various reasons, the market did not adopt it. Several years ago, Interactions LLC began offering HAUTM, just as the market awoke to the understanding of what HAUTM can do for them at a cost effective price point. Late last year, Interactions and AT&T completed a transaction where Interactions took possession of AT&T's Watson natural language understanding technologies, along with several other assets. This acquisition bodes well for continuous improvement in use of Adaptive-UnderstandingTM for tuning, as well as extension into additional customer contact channels.

Extremely successful hosted, speech-enabled virtual assistants with high ROIs are now within the reach of organizations big and small. It is great news for callers, and organizations' service and sales teams alike. Imagine hospitality reservations or the scheduling/changing/cancellation of home service appointments, perhaps full enrollment into health insurance programs; all accomplished 100% via voice virtual agents. To spark your imagination further, what if these voice channel virtual agents perform so well, they have higher NPS and customer satisfaction scores than when your own employees handle those calls? I have been involved with implementation of the technology, and it truly is here, now.

For those of us old enough to remember, this is where Don Adams as secret agent Maxwell Smart in the Get Smart! TV series would likely remark: "Would you believe…..the old IVRs transforming into virtual assistants trick?"
Source: http://voxperitus.com/2015/08/secret-agents-doubling-as-virtual-assistants/
Publish Date: August 14, 2015 5:00 AM
---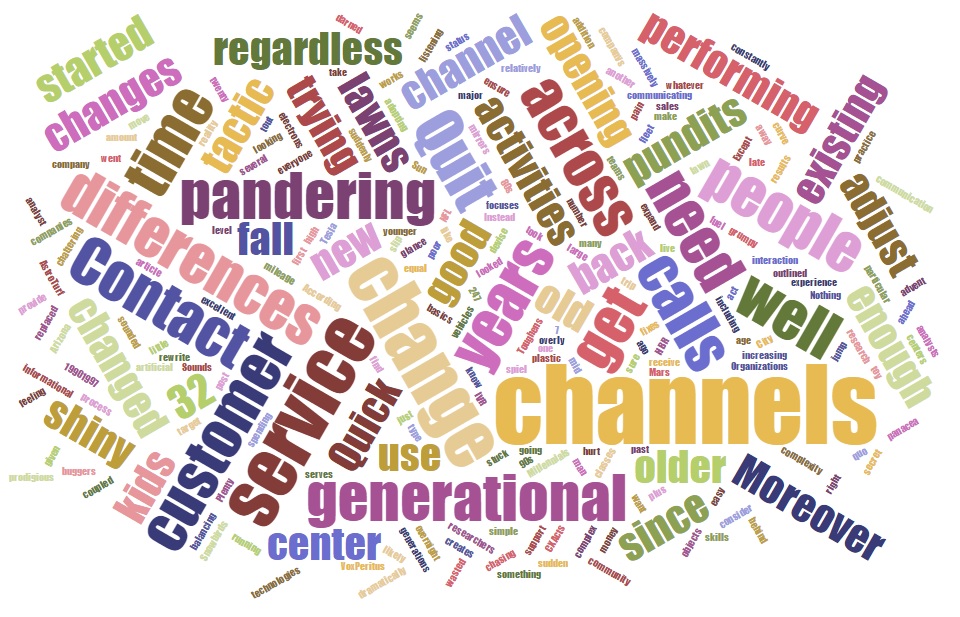 The amount of electrons wasted communicating that "Generational changes are going to change your contact center!" are enough to fuel a large fleet of Tesla vehicles for mileage equal to a trip to Mars and back.

I had to re-write the opening of this because I sounded like a grumpy old man. You know the type, "Get off my lawn you darned kids!" Except I live in Arizona and there are no lawns. Well, there are those AstroTurf lawns that Snowbirds have in Sun City. If there are kids running all over them, then it serves the little buggers right to slip, fall and hurt themselves on that plastic. Toughens them up for the NFL.

Over the past several years, the contact center technology spiel overly focuses on generational differences. According to the pandering pundits, those of us older than 32 years old just do not get it, the Millennials and younger suddenly changed their activities from everyone older than 32. Sounds good at first glance, but the more researchers have looked into this, the more they find few differences between generations.

NICE's Global Customer Experience survey provides a strong counter argument to the "everything's changing" crowd. Nuance's recent research provides a clear view that there are little to no differences between generations' customer service expectations.

Organizations should quit spending time trying to devise artificial generational differences while looking for quick fixes. Instead, they need to get back to basics and ensure that they are performing at a high level across people, process and technology, including existing interaction channels. Before opening up new channels, make sure that you are performing well in your existing channels. Moreover, quit listening to the chattering classes who are not on target about the need to expand support across an increasing number of channels. CXAct's research outlined in this HBR article mirrors VoxPeritus' experience; too many channels creates poor service across all channels. Moreover, customers are not stuck on a particular channel, regardless of their age; they want results regardless of channel.

Since self-service started in the late 80's with the advent of IVR, then took another major jump ahead in the mid 90's with companies and their customers adopting the Internet, the complexity of calls increased dramatically. Quick, easy informational calls went away, but additional complex calls replaced them.

This started twenty plus years ago! Nothing has massively changed since then. So consider the changes customer service teams had to adjust to from 1990-1997, during that time of increased self-service and additional communication channels. If your company did not adjust then, you are well behind the curve and likely are feeling the pain, as are your customers.
Hike the caliber of new hires
Even if your organization always had great hires, the huge uptake in self-service eliminated the safety net of easy calls that could be "peeled out" for new hires. This change required raising the bar for new hires, simply because new CSRs coming out of training had to manage interactions that are more complex. For most contact centers, prior to 1995, writing skills were never a high priority as nearly every contact center communication with customers was over the phone. Post 1995, many organizations were communicating with customers via email through their websites, and the requirement increased for a good portion of the new hires to have good reading and writing skills.
Adjust training
Remember, most of the "no-brainer" informational calls went away, so peeling them away from complex calls became nearly impossible. Training that could have been staggered between limited classroom and more on the floor training was no longer possible (though my experience as a consumer tells me that all too many organizations do not understand this!)
Adjust the complaint handling process
Previously, most customers voiced their complaints over the phone. Organizations who had a very tight complaint handling process in place now had to adjust their process to include an additional channel that was asynchronous, and fraught with misunderstandings created by the written word, rather than the better understanding of emotions via synchronous voice. Email was the predecessor to Facebook messages and Tweets. Yet, very few organizations get it right even twenty years later.

Unless you are doing an excellent job today with email, why would you think that your organization can provide adequate service levels with their social media equivalents of Facebook and Twitter? Now your failure to provide good service and swiftly provide service recovery is front and center for the entire world to see.

Per the HBR article referenced above, instead of allocating time and resources on attempting to provide service through even more channels, focus instead on your business basics and what causes customers to rant about your service on social media in the first place. If you improve your service via existing channels, including providing the means for customers to escalate service complaints through existing channels, you might surprise your Marketing team with a swift reduction of complaints in the digital public commons.

If and only if, you can provide good to excellent service in your existing channels, should you consider adding new channels.
Improve self-service analytics
Customers want to self-serve. Constantly analyze every facet of your digital and voice self-service channels then strive to make improvements wherever possible. Remember, the ROI is not just measured in reduced caseloads for your CSRs; it includes reduced customer effort, and increases customer loyalty.

VoxPeritus consistently finds that nearly every company overlooks this. Where there are efforts applied, companies expend efforts in a stovepipe fashion, with no coordination between the digital and voice channels. Furthermore, it is either a one and done activity, or an occasional review, when in fact, it should be part of the fabric of the organizations' operations.

Amazon takes a ruthless approach; every single voice call is considered a failure, and the reasons behind each call are analyzed for ways to prevent the need for a voice (and I should add, email) contact in the future.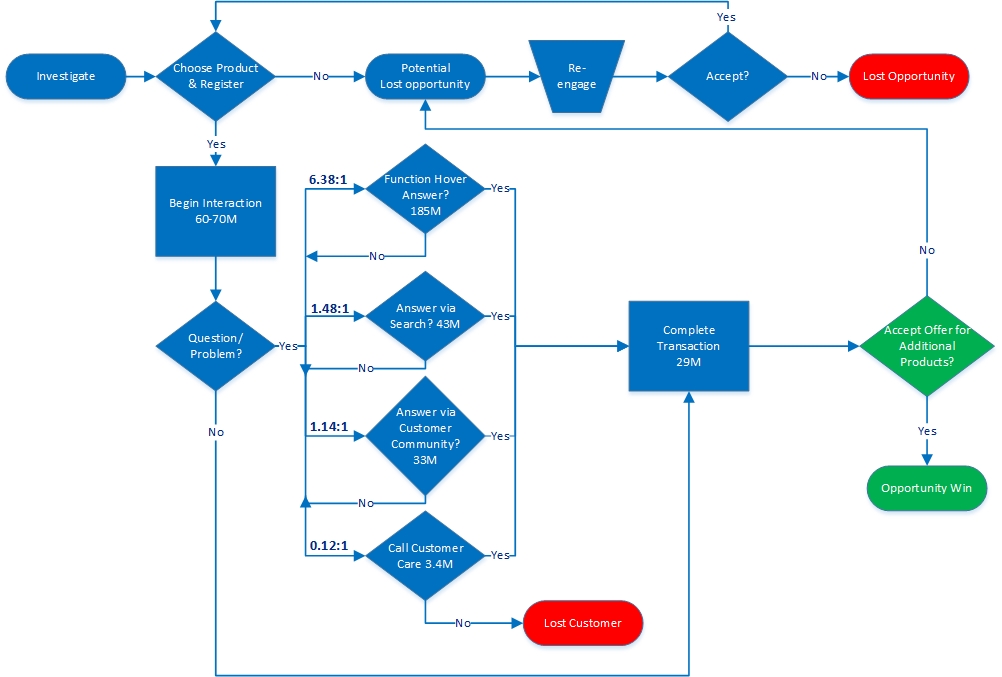 Deep Customer Touchpoint Analysis Across Digital and Voice Channels
Test every aspect of your digital and voice channels, then continue to monitor them
Then constantly monitor these channels. Nearly every transaction I have these days has at least one technical failure somewhere in the channels.

A perfect example: this week I needed to correct an airline's merger of my two loyalty programs. I could not find any difference in data between the two accounts, nor eventually could a CSR. Yet the data merger failed. Failure #1. I logged into the new web site to merge the accounts, and the site would not recognize the account number that had the vast majority of miles. Failure #2. I phoned the loyalty toll free number, was in queue for approximately 10 minutes, and then the line dropped. I dialed back in several times but was unable to connect. I later discovered their phone system failed. They tested the systems involved; yet do not actively monitor their voice channel. Failure #3. I eventually was able to merge the accounts, but the entire process stuck another stake in the heart of our nearly dead relationship.

All too often, VoxPeritus has test results supplied by companies, yet there are no follow up tests, nor ongoing monitoring. What has changed over the past twenty years is that there are now automated testing and monitoring solutions from companies like our partner Cyara, so there are absolutely no good reasons not to adopt a strategic testing and monitoring program.
Consider changing your organizational ownership of all channels, or the funding of it
The vast majority of digital channels are owned and managed by IT and/or Marketing. Think about it…. what if in 1994, IT suddenly took over store management of Nordstrom, Neiman Marcus and Wal-Mart? How would those companies be doing now? "We'll meet with the sales team every week or two and coordinate efforts. In the meantime, leave it to us."

Yet that is exactly what has happened with the advent of the digital channel; companies relegate customer service to at best an advisor, at worst, digital teams completely owning the digital channels with little to no customer service oversight. If companies cannot tolerate the organizational change, then use a financial carrot and stick approach. Make reduction of customer support calls a target for the digital channel. If they miss the target, it comes out of their pay and the bonuses go to the customer service teams for once again playing the safety net role.

All customer preference data, regardless if it comes from voice or data vendors point to customers preferring digital self-service. Increasing call volumes in the voice channel point a strong finger at the digital channel as failing customers all too often. Again, after twenty years! In most organizations, ongoing abandonment in the voice channel would mean a change in customer service executive management. Yet because contact centers' voice channel provides the safety net to the digital channel, those executives who own the digital channels get a free pass.
Quit chasing bright and shiny objects
There is no panacea to provide excellent customer service. It is a balancing act of relatively simple activities, coupled with good people skills. Contact centers use technologies that do not change overnight. The people who are pandering sudden change are trying to take your company's money, and they will use whatever tactic works. Do not be one of those who fall for the bright and shiny toy sales tactic.

Plenty of analysts and pundits post all over the Internet 24/7 who constantly tout your need to "change the status quo and move on to something new!" It seems to me that given their prodigious pandering, they cannot have enough time to practice customer service. In addition, a not too secret reality about the analyst community is that they receive compensation in different forms for helping sell "stuff." Certainly some of the positions they take are consistent over time and not tied to particular firms. Nevertheless, all too often, they base their positions on buzzwords and the latest fad just to justify why you need to buy new stuff. Hence my rant here about the Millennial, Gen Y, Gen Z hoopla. Do not fall for it! Now quit reading what I have to say and get back to your business and focus on the basics.

Kevin Brown began his career in sales, where he set company records for gaining new customers with American Greetings (breaking 80 years of records), Airborne Express and TNT Express Worldwide. As TNT's Global Service Quality Director, he was involved in Customer Service, Sales and Operations improvements around the globe. His career transition to customer support technologies began at DHL in 1993, during the time that DHL's customer service organization received awards for top contact center practices in the world from numerous organizations.
Mr. Brown's continuing work in contact center technologies focuses on the target of sustainable superb customer experience, rather than deploying gadgetry for technology's sake. In 2012, he founded VoxPeritus to assist organizations in optimizing all channels connected with their contact centers. www.voxperitus.com Follow on Twitter: @CustExpGuru
Source: http://voxperitus.com/2015/06/1060/
Publish Date: June 8, 2015 5:00 AM
---
Don't force your IVR to do something it can't do!

Routing is an important topic that drives the success or failure of speech-enabled applications, frequently more than the apps do themselves.

All IVR applications fall into one of four high-level functional groups: authentication (I am
this person); information request (what's my checking balance; where is my package?); action (change password; refill prescription); and caller intent (I need to speak with a specialist about a block stock trade; I am calling about billing questions).

Many will agree that caller intent presents the most challenges with user interfaces. Accurately detecting caller intent is important for steering callers to the correct IVR application and/or to the appropriate employee skill. All too often in our consulting efforts, we find that a multitude of customer service representative (CSR) skills drives complexity, which can counterintuitively lower service performance. This is because the more alternatives that are presented to callers, the more likely they will be confused and routed to an incorrect path in the IVR or out to an agent. For the most part, such operational complexity is manageable within customer care.

Unfortunately, most customer service executives do not have complete control of their company's voice channel. Marketing groups frequently drive telephony decisions, and though marketing ought to be very aware of the effect customer experience has on brand value, they are quite often far removed from understanding customers' real-world experiences with their company. As a result, we often encounter many phone numbers created by marketing to track marketing efforts. What the marketing people don't think through is that in their internal focus, they are ignoring the complexity they are creating for customers, customer care, and the poor telecommunications team.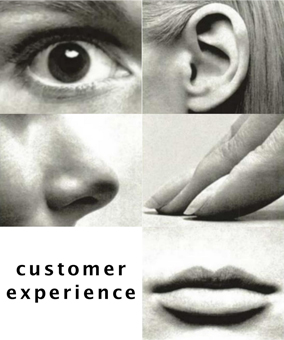 The result is misrouting of callers, causing high internal transfer rates and routing into incorrect IVR applications. Transfers negatively affect companies in multiple ways. Cost of labor increases through the lost productivity of the first employee, and during warm transfers, the cost of one employee speaking with a second employee. Telecommunication costs, including the cost of telephony platform resources, rise due to a greater number of dual paths and increased average handle time (AHT). Employee morale in contact centers with high transfer rates is markedly lower than in those that accurately route callers. Finally, customers especially do not like transfers. Several recent surveys have more than 20 percent of customers ranking transfers as their top dissatisfaction while interacting with call centers.

One company we studied implemented three new speech-enabled IVR applications in 2013. Net Promoter Scores and customer satisfaction scores were as high and, in one app, higher than calls handled by CSRs when callers were accurately routed into the correct IVR application. After misroutes into those applications, both scores dropped dramatically lower than CSR scores. Excellent IVR applications were providing very low satisfaction through misrouting. The focus for 2014 was on improving routing through retirement of 98 percent of toll-free numbers (TFNs), consolidation of CSR skills by 20 percent, and introduction of advanced speech-enabled natural language understanding routing out front on every call. The results confirm that with routing improvements, customer satisfaction with the IVR applications increased dramatically.

To reduce misroutes, your goals should include the following:
An architecture that places IVR in front of the ACD

No network prompting in front of the IVR

Reducing TFNs to very few. Justifiable reasons for an additional TFN are different brands and languages other than English and not much more than that

Reducing skills to achievable, cost-justifiable numbers. My personal "get worried" point is five skills

Getting customers to the right place, at the right time, with the least effort will result in lower costs, higher customer and employee satisfaction, and improvement of critical contact center metrics such as AHT, average speed of answer, and first call resolution
Everyone wins when you get routing right. Your employees will love you and your customers will love your IVR.
Source: http://voxperitus.com/2015/04/easing-customers-ivr-journeys/
Publish Date: April 1, 2015 5:00 AM
---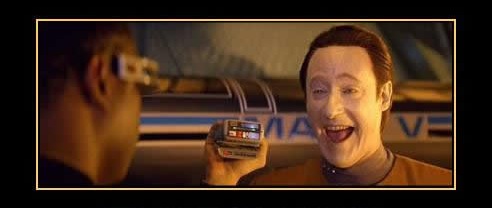 A topic frequently discussed in Customer Experience (CX) circles is whether emotion is given enough significance in assessing current state and designing future state experiences.

Dependent on the situation, it seems that either emotion or data is given a preponderance of importance. There are a myriad of reasons for out of balance CX assessments and designs. Drivers for out of balance approaches include, but are not limited to: CX professionals' personalities, clients' personalities, clients' industries, channels addressed, and other factors.

The reality is that to properly address customer experience in contact centers, a balanced approach will produce the best outcome. VoxPeritus uses a two phased approach that first analyzes current state by "walking in a customer's shoes." This includes understanding who is calling and why. Of course, having good data about call types and caller information helps speed this portion of the assessment. Lacking clear data, a sampling of calls either recorded or monitored live in side by side monitoring sessions with CSRs can provide a a reasonably accurate perspective into the "who and why" of the majority of callers.

Understanding callers' mental states helps us place ourselves in a better position to understand why certain activities could anger some customers while others ignore the offending issue. For example, a frequent complaint we hear from callers who feel that they have been ignored by a company, is that not knowing how long to expect that they will be on hold in a call queue is something that especially angers them. For those who do not feel as though they were being ignored, long call queues without an estimated wait time are reported as a negative experience, but nowhere to the degree of those who feel ignored prior to their call.

Conversely, caller experiences can also affect callers' states of mind. Poorly tuned and infrequently monitored IVR routing applications can offset a friendly, very helpful agent to the point of leaving the customer with a poor opinion of the company.

Today I had to make four calls to finally reach an agent with Chase Mortgage. Their IVR did not recognize touch tone input on my second call (the first direct extension call went to voicemail), the third call was transferred via their telco and was immediately dropped at the destination call center. On the fourth try, I made it through to an agent who was quite professional and very helpful. However, the amount of customer effort that Chase requires to get to an agent is a sign of disrespect for their customers. And this was two weeks after I informed them of the same problems and asked that it be escalated to their direct management for escalations to their IT group.

Attempting to address caller experience on emotional state alone would be short-sighted. It is impossible to accurately judge the emotional state of every caller, the best that can be done is to group callers into a few potential emotional states and attempt to eliminate the negatives and enhance the positives wherever possible. Using data to analyze callers' behavior provides another large piece of the puzzle.

Until very recently, the problem was that capturing data on end to end calls, including IVR activity was nearly impossible, and if available, it was very expensive and the solutions were problematic because they used IVR logs and frequently broke. So we resorted to telco, ACD and IVR reports in an attempt to stitch together an accurate picture.

The good news is that with the advent of advanced speech analytics and other voice channel technologies, gathering valuable data for end to end caller experience is becoming much easier, faster and more cost effective. Data, coupled with audio recordings allow VoxPeritus to accurately track caller activities, while also providing a glimpse into callers' emotional states or at minimum, their verbal reactions to prompting and menus.

VoxPeritus uses advanced solutions from our partner Cyara that provides analysis through the entire voice channel, including IVR interactions. During the second phase, we initially set aside our subjective findings including caller emotion. We then focus on what the Cyara data tells us.

Cyara's solutions allows us to choose a prompt and then analyze caller activity across hundreds of utterances in a single morning. Furthermore, we can easily listen to the utterances, thereby weaving the emotional connection into the analytical approach. It is at this point where we sometimes make discoveries that would be highly unlikely to be found through random sampling hundreds of calls across many days. Combining data to drive our focus to transactions where callers do not interact with the IVR as expected, coupled with the ability to quickly and easily listen to utterances provides insights that improve caller experience while driving high ROIs.

Source: http://voxperitus.com/2014/04/caller-experience-emotion-or-data/
Publish Date: April 28, 2014 5:00 AM
---
In our last post, we discussed why companies should first fix their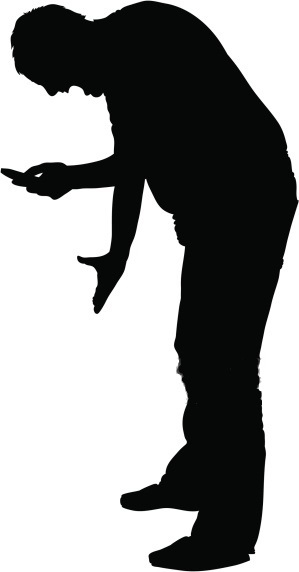 current channels before rushing into providing customer service via social media. Internet sites have been up for over fifteen years for most companies, yet even the best sites are not integrated with the company's voice channel, thereby increasing customer effort to receive service that the site could not provide.
Here is the typical scenario, and I experience it weekly:
Attempt to self serve on the website, and fail for any number of reasons

Call company support (and aren't many companies sneaky about making it difficult to find their phone number?)

Drop into an IVR that asks you to re-authenticate even though you authenticated on the website, then asks you to listen to a

menu of reasons of why you are calling

Eventually drop out to hopefully the correctly skilled customer service representative who asks you for the information you supplied to the website and then again to the IVR
So I almost always ask myself, "Why use the website? I should just call in next time." Then I remember, "Oh yeah, their IVR is so horrendous, I'll do anything to stay out of it."

I have been very vocal about companies not addressing this problem for many years. Mostly the responses I receive are:
"too expensive" and "too complex."

Now there is no excuse!

Fonolo provides an extremely easy Web Rescue solution that deploys in days and doesn't require a massive IT project. And this hosted solution is so cost effective, even small businesses are deploying it. A new, simplified pricing plan to be announced very soon. We will post it here.

Customers requiring help click on a button appropriately labeled to speak with your support representatives. Typically the most the widget will request the customer to complete is name and phone number. Dependent on where the customer is on the website, different customer service skills can be targeted; e.g., billing vs. technical support.

Fonolo makes an inbound call to the call center, silently navigates the IVR on behalf of the customer, then waits on hold.
So it looks like a regular inbound call to the call center. When the customer service representative answers, Fonolo calls the customer, bridges the two calls, so when the customer answers, there is already a fully informed customer service representative, ready to assist. No IVR menu pain, no re-authenticating and then being prompted for the same information
yet again. And no expensive, complicated multi-vendor integration.

As a customer who is sick and tired of dealing with these ridiculous scenarios, I say:
"So enough with the excuses, just fix it!"

Web Rescue

Enable customers to seamlessly transition from web to live assistance. Offer them a call-back and let them fast-track the IVR with just one click.

Connects Easily: With just a few lines of code, add a widget to your website that allows customers to request a call-back.

Works with Your IVR: Automatically navigate callers through the IVR based on their web context. No need to install additional hardware or software.

Empowers Agents: Pass customer information from web sessions to your agents and improve their efficiency.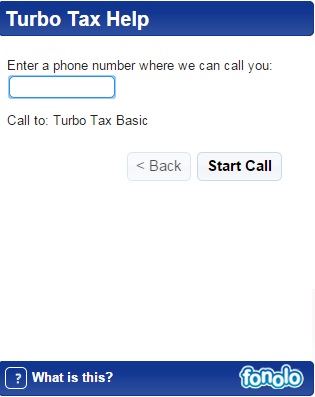 Success Story: Optus – My Australian mobile carrier, great service!

Companies who have either deployed mobile applications, or are planning to, need to think about integrating their voice channel with their mobile self service apps.

Fonolo's Mobile Rescue solution works like their Web Rescue solution, and takes the pain out of customers contacting your customer support and then trying to look at their mobile app while providing IVR authentication such as account numbers. The solution makes a seamless call carrying relevant information to inform your customer support staff of who the customer is, where they were in the mobile app when they decided to call, and can also provide relevant transaction details.

Who wouldn't continue to use your mobile app when it's so easy to get voice support when you really need it?

I have a few really great mobile apps (Vanguard Mutual Funds, Southwest Airlines) and quite a few really poor apps. What they have in common is that not a single company provides mobile app integration with their voice channel. With Fonolo's simplicity, speed to deliver, and unbelievably reasonable cost, there simply are no excuses not to offer it to your customers!

Mobile Rescue

Let customers easily connect to a live agent, directly from within your mobile app. With one tap on their smartphone they can request a call-back and avoid hold time.

Easy to Use: Give mobile customers a simple and intuitive way to request a call-back
from a live agent.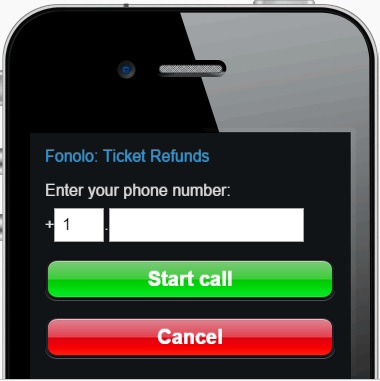 Works with any App: Offer customers live assistance from within any mobile application on any platform.

Connects to Your IVR: Automatically navigate callers through the IVR. No need to install any additional hardware or software.

Success Story: 1st United Services Credit Union – Credit unions are customer owned, and customer focused

Think your company is customer focused and modern because you offer a mobile app? Sounds much like the first days of being on the Internet, and we've all seen that just is not good enough. "So enough with the excuses, just fix it!"
The direction is clear, the time is now!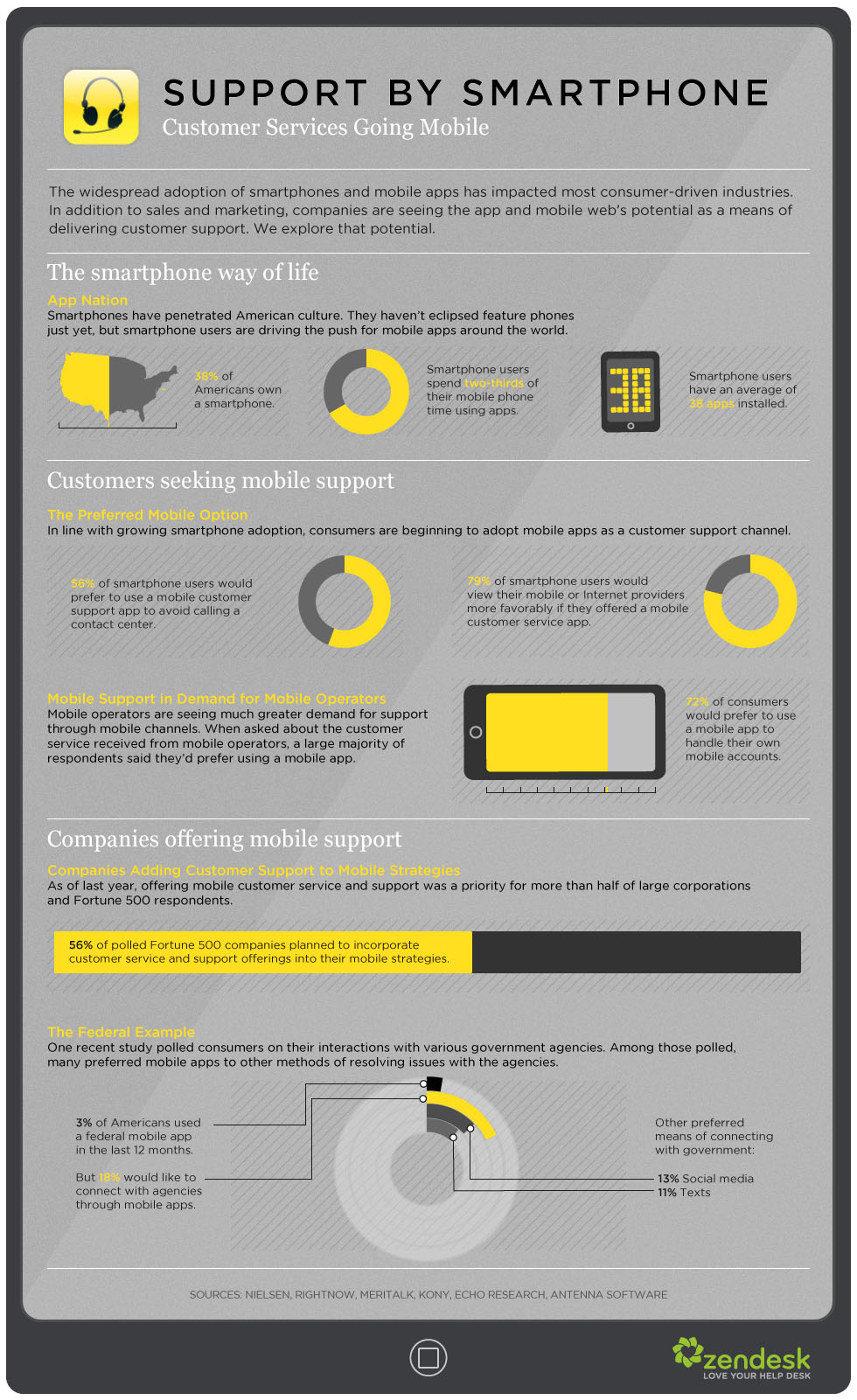 Image originally posted on Zengage, The Zendesk Blog
Source: http://voxperitus.com/2013/07/excuses-fix-it/
Publish Date: July 18, 2013 5:00 AM