Welsh Contact Centre Forum - ContactCenterWorld.com Blog
Every organisation wants happy customers and healthy profits to increase their competitive advantage and drive future business growth. Today's corporate mantra is "do more with less" and it's no different in contact centres where every contact centre leader dreams of achieving more either with the same number of people or less - and today it's possible.
The trick is to take a long, hard look at every process and the types of customer contact received to establish where immediate savings can be made and then evaluate the effectiveness of the technology underpinning the contact centre. Fortunately, the latest cloud-based solutions provide flexibility and scalability while giving opportunities to reduce costs at every turn.
Seven reasons to go cloud:
Here are seven reasons to move to the cloud if you haven't already done so. And for those who have, here's a solid business case for expanding your existing implementation:
1. Pay-as-you-go business model – a common misconception about cloud-based contact centres is that costs will spiral out of control. The reverse is actually true.
The beauty of using a cloud solution is that you only pay for the services you use and the number of live agents at any one time. No up-front capital expenditure or annual maintenance payments, regardless of usage, makes it perfect for contact centres with a seasonal business that has peaks and troughs in demand and a fluctuating workforce.
2. Flexibility and scalability – cloud solutions make flexible working models such as home working a cost-effective option. Companies that employ remote agents typically report reduced operational costs because they can increase their staff without impacting on expensive physical space and on-premise technology. And with cloud-based technology calls can be directed to home workers regardless of their location or device.
3. The power of integration – cloud technology allows easy customisation. Users can develop their own bespoke applications without resorting to expensive external consultancy staff. Integration in the cloud also allows easier integration with other critical solutions such as corporate CRM, ERM and other databases. This means that customer records are always available and agents are presented with the right information when they need it – without having to switch between applications. This level of integration empowers agents and empowered agents lead to reduced attrition and recruitment costs.
4. Workforce Management – cloud solutions linked to a Workforce Management (WFM) system enable managers to quickly allocate the right employees, with the right skill sets at the right time, in order to meet service level agreements in the most efficient and cost effective way possible. At the same time, the risk of overstaffing is reduced and overtime is minimised.
5. Self-Service - customers can complete simple self-service transactions such as bank balance look-ups or utility meter readings, providing them with access to services 24x7 without extra staffing or operational costs.
With agent self-service staff can highlight their work preferences, resulting in lower administrative costs and increased agent morale.
6. Automated Payments – customers can pay for products and services at a time and in a way to suit them without agent intervention, confident that their personal details and card information are protected at all times. The deployment of a cloud-based solution is one way of increasing security levels that aid organisational compliance with the best-practice procedures and requirements set out by the Payment Card Industry Data Security Standard (PCI DSS)[i].
7. Web Chat and Omni-Channel – as well as responding to growing consumer demand, the deployment of Web Chat in cloud-based contact centres is proven to yield tangible business benefits[ii]. At the third of the cost of a typical phone call, Web Chat can tangibly reduce operating costs and increases productivity by allowing multiple sessions to be handled at one time. Likewise as customers choose new alternative communication channels such as social media and messaging apps they still expect the same level of service. The cloud allows organisations to adopt an omni-channel approach to customer service by utilising skill-based routing regardless of channel keeping down costs while maintaining service.
Today's cloud contact centre solutions offer superior automation, advanced self-service and intelligent routing capabilities that boost productivity whilst reducing the need for additional headcount, always an attractive business proposition. It really does pay to move to the cloud and invest in the latest contact centre technology. One reason or all seven, they all lead to a healthy bottom line.
Thomas Rødseth is VP of Marketing and Product at Puzzel
Click here for a full copy of the white paper "Seven reasons why it pays to invest in cloud-based technology in contact centres".
Source: http://www.welshcontactcentreforum.co.uk/newsarticle/1217/
Publish Date: November 14, 2017 5:00 AM
---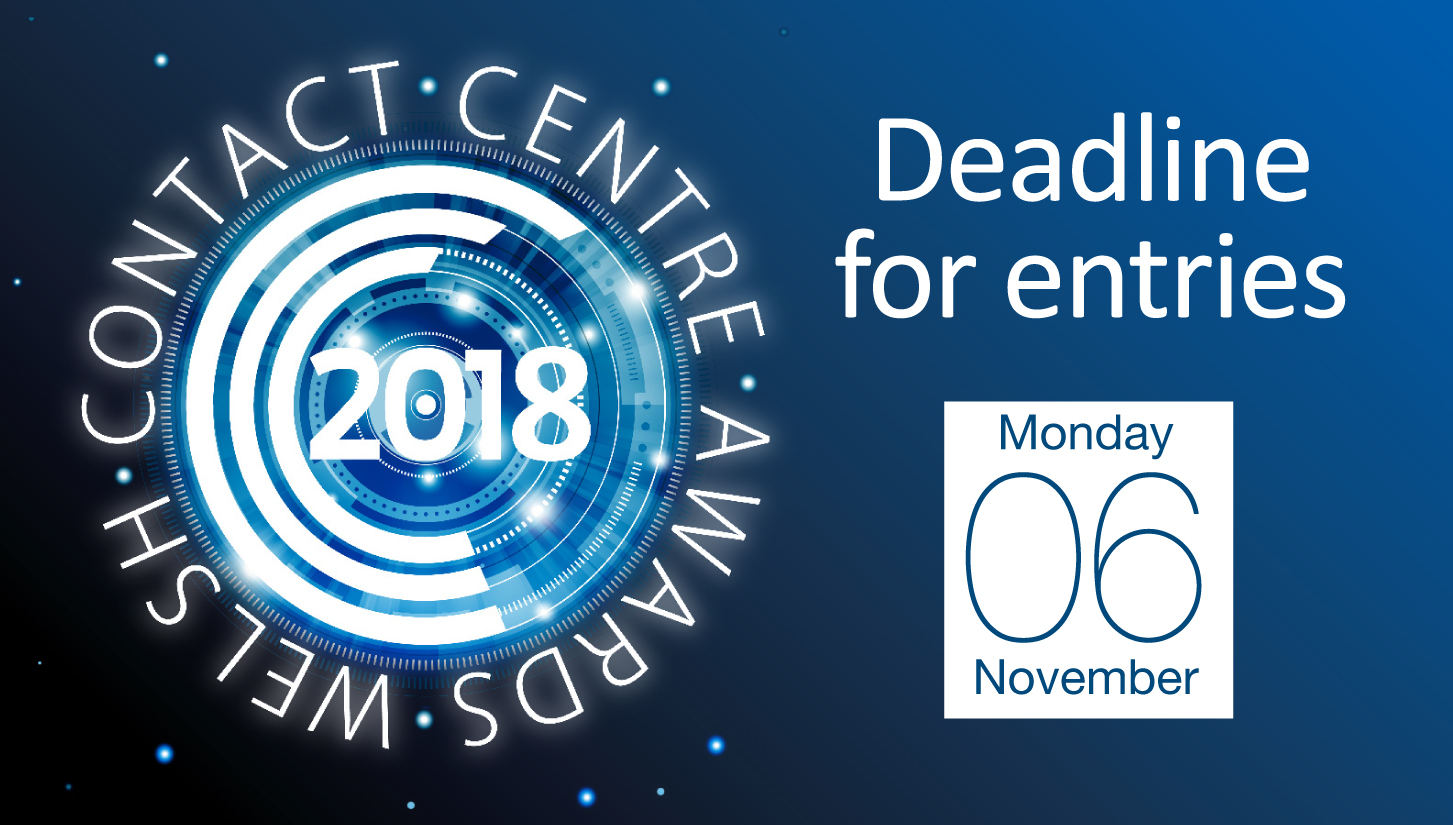 Source: http://www.welshcontactcentreforum.co.uk/newsarticle/1216/
Publish Date: November 2, 2017 5:00 AM
---

Puzzel (formerly Intelecom's contact centre entity) has announced new functionality in the latest release of its multi-channel cloud-based contact centre solution, designed to improve the customer experience. New outbound dialling and call rescheduling features enable agents to manage customer interactions and support real time communications more efficiently. Added functionality allows easier importing of customer details from CRM and other systems, via a new API, providing improved management of customer contacts and call outcomes.
Christian Thorsrud, Product Manager at Puzzel explained: "Companies today are investing in the latest contact centre solutions to manage customer interaction across all communications channels, both inbound and outbound. We have introduced the latest enhancements to Puzzel to help agents deliver the best customer experience, making sure that they have the most up to date customer details and preferences before they make or take that all-important call. Successful companies are those that can offer a truly omni-channel experience and effectively manage the customer journey. By ensuring that each customer interaction from any channel is made, answered, recorded and acted upon efficiently organisations can provide the seamless levels of service that customers expect."
The key features of the latest version of Puzzel include:
Additional outbound dialler functionality to schedule calls
If customers do not have time to take or finish a call, agents can arrange a future outgoing call at an agreed time with the new dialler functionality. Customers can also request callbacks online, specifying both a day and time for the call. At the scheduled time, the same agent is called as soon as they are available, and on answering, the destination number is called. No calls slip through the cracks because should the agent not answer, the call is passed to a colleague. This rescheduling functionality is also available outside of the dialler, within the main contact centre application.
New API for easy integration of data
The new release incorporates an updated application programming interface (API) providing more flexibility and enabling data to be easily imported from CRM solutions, databases and campaign management systems. In addition, administrators now have the ability to add, delete or edit customer contact details on imported lists. This means that external lists do not have to be de-duplicated prior to import – saving time and ensuring that the latest customer data is always used.
Enhanced reporting
Administrators can easily generate historical statistics from the system, collating data from an agent's user group for each particular day, rather than the agent's current user group. This helps to ensure continuity of follow up calls, improving the overall customer experience.
The latest release is now available, for more information on Puzzel, its complete solutions portfolio and the latest release visit www.puzzel.com
Source: http://www.welshcontactcentreforum.co.uk/newsarticle/1215/
Publish Date: October 25, 2017 5:00 AM
---
Firstsource Solutions, the UK's customer experience expert, has won gold in the Large Contact Centre category for its Cardiff centre at this year's UK Customer Experience Awards. Firstsource's Kath Chivers, Vice President – Sales Operations, also won the CX Professional of the Year category at the awards on Friday.
Now in their eighth year, the UK Customer Experience Awards celebrate and showcase the best in customer experience across a variety of sectors. Attendants from as many as 200 different companies joined the ceremony at Wembley Stadium in London, on the 28th September.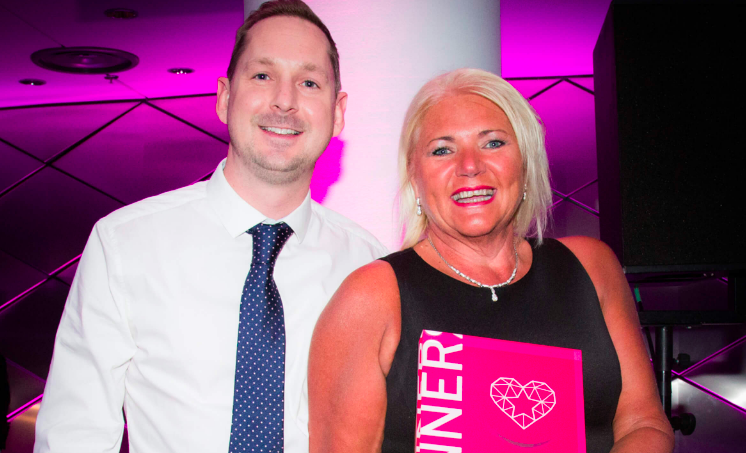 The wins celebrate Firstsource's work in Cardiff to deliver top quality customer experiences, and Kath's drive and commitment to the business. This is the third year in a row that Firstsource has been recognised at the awards, following last year's win in the Technology and Telecoms category for their work with NOW TV.
Commenting on the awards, Rajesh Subramaniam, MD and CEO at Firstsource Solutions, said: "The two award wins are fantastic news and testament to the dedication of our superb team. We work as a strategic and collaborative partner with our clients, so we're delighted that this has been recognised at this year's UK Customer Experience Awards. Well done also to Kath and all of the team in Cardiff."
www.firstsource.com
Source: http://www.welshcontactcentreforum.co.uk/newsarticle/1213/
Publish Date: October 12, 2017 5:00 AM
---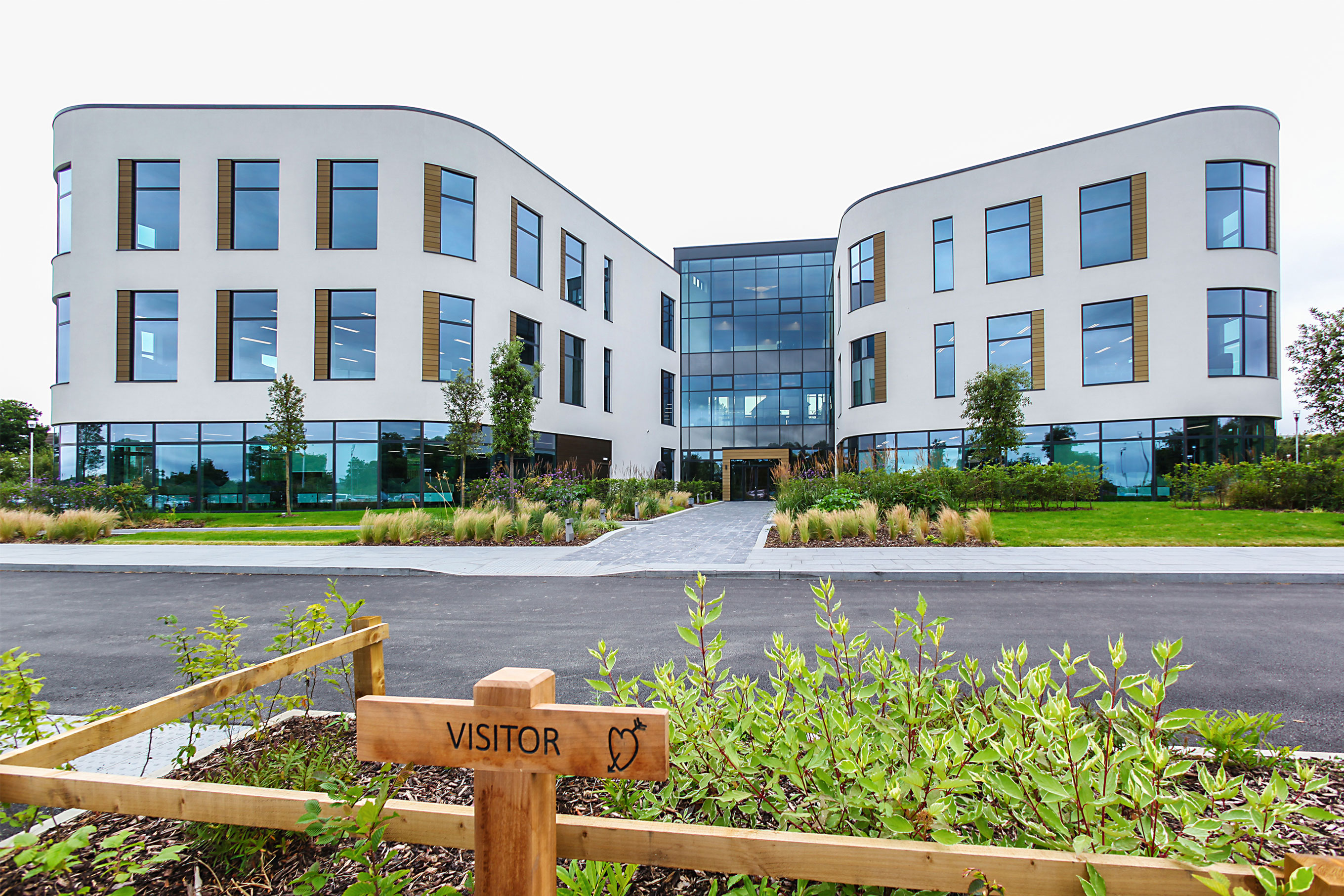 Moneypenny, the UK's leading telephone answering specialist, has officially completed the move to its new, £15m headquarters.
The development, located on the Western Gateway site in Wrexham, is designed to be the "happiest workplace in the UK". Reflecting Moneypenny's rapid growth, the building is able to accommodate up to 1,000 staff, supporting the company's plans to create an additional 500 jobs over the next few years and double its client base by 2018.
Ed Reeves, co-founder and director of Moneypenny, masterminded the project. He said: "What we believe is simple: the happier our staff, the happier our clients.So when we out
grew our previous offices and made the decision to build a new headquarters, we asked ourselves how we can make sure our receptionists are the happiest in the UK? The answer was easy - ask them, so that's what we did. Through a series of focus groups we collated their ideas, suggestions and thoughts and used these to form the basis of the blueprint for the design."
Building work on the project was finished on time and on budget, with the move from its offices on Wrexham Technology Park taking place over the summer.
Inside, the striking 91,000sq ft building - which rivals the likes of Google and Apple's headquarters - boasts a treehouse meeting room, its own village pub, a sun terrace and a triple height atrium with stadium seating and a restaurant offering free breakfast and fruit. Outside the development is equally impressive and surrounded by seven acres of landscaped grounds with nature trails, a duck pond and orchards with picturesque countryside views.
Remarkably, the entire development - designed by award-winning AEW Architects - cost the same price as a standard brick 'box' office too.
Ed continued: "We provided our architects with the same budget we'd been quoted to build a standard office and said 'right, show us how we can create something amazing'. It was a challenge, but we ripped up the rulebook and that's exactly what they did. Our new headquarters will deliver serious benefits for both ourselves and our clients, and we've already heard from a number of companies who want to use it as a model for their own developments."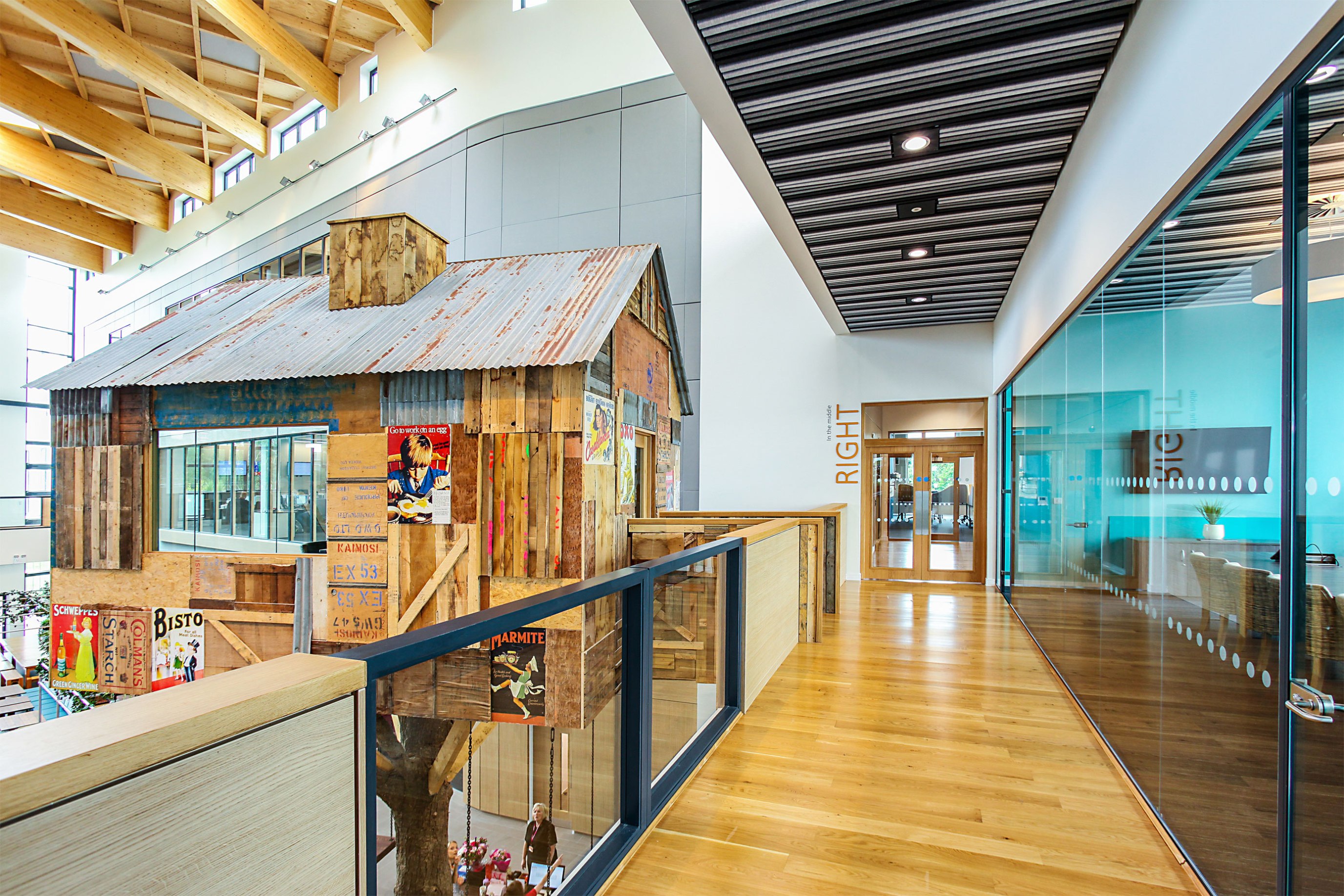 No ordinary workplace, this is the latest in business-leading moves that the company has made to guarantee the well-being of its staff. Four years ago, Moneypenny set up an office in New Zealand where staff fly out to on six month secondments to answer overnight UK calls so they don't have to work night shifts.
"Offices in Britain," Ed continued, "are constantly ranked the coldest, ugliest or most miserable places to work, but business owners are missing a trick. There are countless studies which have proven that staff are more productive when they enjoy coming to work - but what are companies doing to make this a reality? For us, the building is more than just bricks and mortar. It's a manifestation of our ethos, of our achievements so far, of our culture and of our aspirations.
"It's about blurring the lines between work and home so employees feel happy, comfortable and empowered. We understand what our clients need - and that's the very best receptionists in the world. Our new office has once again raised the bar in achieving this, ensuring we attract and retain the most talented staff in order to support our clients in the future.
"Moneypenny's HQ will also be one of the most acoustically innovative buildings in the country. Using a combination of bespoke sound absorption and elimination technology, sound engineers have created the perfect call handling environment."
The Welsh Government is helping to facilitate and support the company's investment and expansion by acquiring two properties that Moneypenny is vacating. Cabinet Secretary for Economy and Infrastructure, Ken Skates, said: "Moneypenny is a great made-in-Wales success story and I am delighted the Welsh Government is supporting this significant investment which is great news for the economy and for Wales.
"Moneypenny is a valuable member of the financial and professional services sector in Wales. Its investment in a bespoke new headquarters secures its long term sustainable future in North Wales and offers the real potential for future growth and the creation of many more jobs as it continues to expand. In tandem with this, our plans to invest in two of the properties they are vacating will provide an additional opportunity to attract new business and new jobs to the area." Moneypenny worked with a number of Welsh companies on the build, including Hatrick Property Services, Bostock Air Conditioning, Wright Landscapes and Simon O'Rourke.
Cllr Neil Rogers, Lead Member for Economic Development and Regeneration, added: "Moneypenny is an excellent example of how companies can work with the Council when they wish to expand which will result in new jobs. Their continued investment in Wrexham proves that we are an area that companies want to invest in and that means jobs for local people. I am delighted with their success and their new premises and wish them every success for the future."
Moneypenny answers in excess of 10 million calls a year either on an overflow or fully outsourced basis for both small and large businesses. Founded in 2000, the company currently employs over 500 people and has offices in the UK, US and New Zealand.
Source: http://www.welshcontactcentreforum.co.uk/newsarticle/1207/
Publish Date: September 8, 2016 5:00 AM
---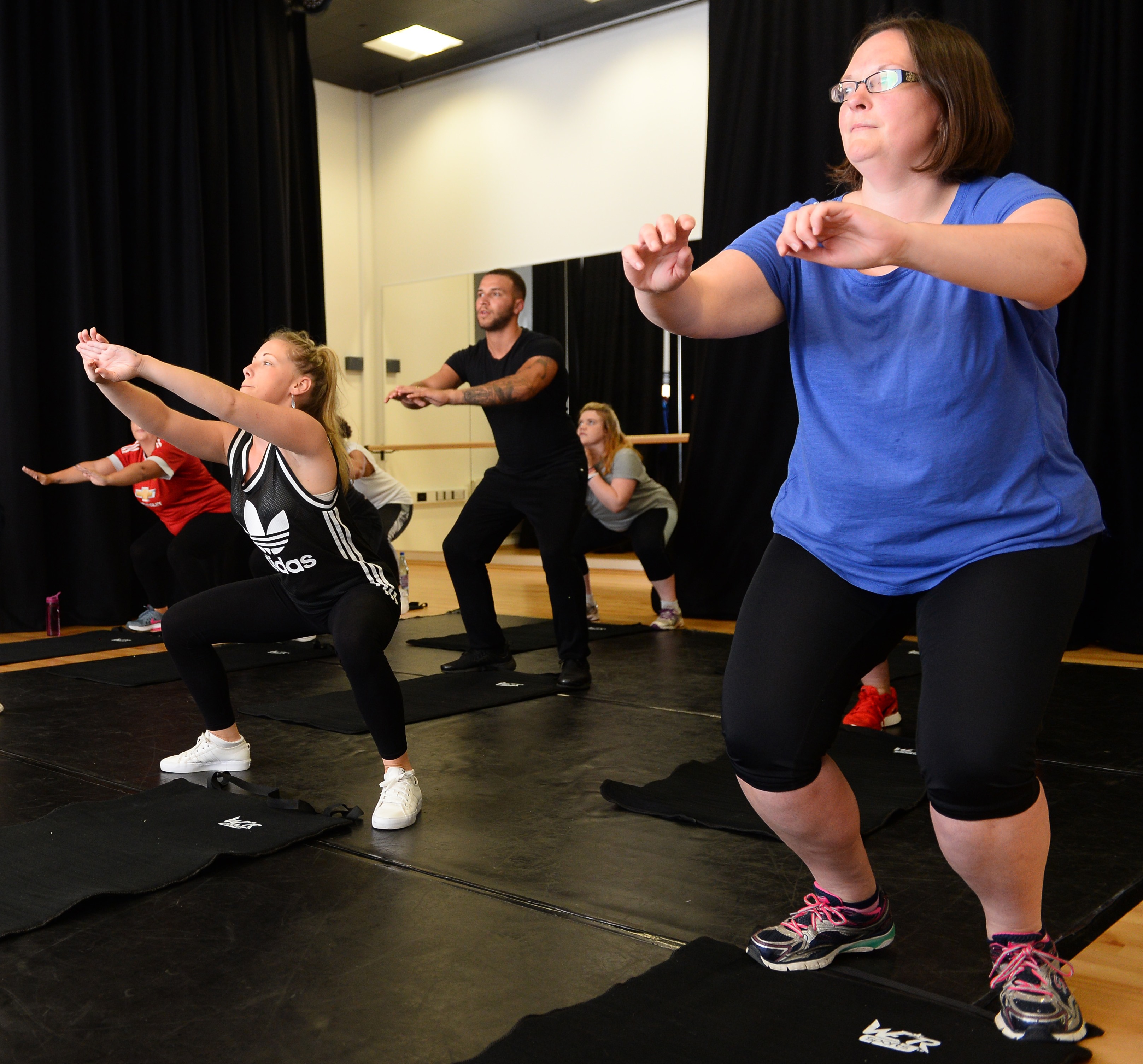 A Cardiff contact centre is letting its staff swap ringtones for muscle tone thanks to the launch of an innovative new boot camp, the first of its kind in the UK.
With a study by experts at the University of Cambridge released last month claiming that sedentary office work can be more damaging for health than smoking, Firstsource Solutions is tackling the issue by enrolling employees on a 12 week fitness challenge.
The holistic programme, created by Cardiff based Operation Fitness and the Welsh Contact Centre Forum, is designed to get staff away from their desks and working together to become fitter, healthier, happier and more productive.
The 1200 employees at the Cardiff Bay based contact centre can be sat down for up to 10 hours per shift while dealing with customer queries. Firstsource, is a customer experience expert and global provider of customised BPM (Business Process Management) services with 23,000 employees across five countries. Their clients include brand such as Sky, giffgaff, BBC and Virgin Atlantic.
The new initiative will see them undergo a full body and diet analysis under the supervision of expert instructor Owen Phillips, a personal trainer who has trained alongside some of the world's top professional boxers. A detailed report will outline individuals' body composition, muscle mass, fat percentage and obesity levels, analysing everything from whether they're drinking enough water to if one side of the body is developed more than the other through typing or answering the phone.
Each team member will then receive tailored advice on the exercises they can do to become fitter, along with guidance on a grocery list of healthier foods to complement their more active lifestyle.
Kathryn Chivers, Firstsource Solutions vice president - sales, said: "Verbally and mentally, our staff are superstars in their activity levels, but the nature of a contact centre means all of this happens sat down at their desks. Time and again we see staff who join us as their first job out of the education system seem surprised when they're putting on weight, having previously been used to eating whatever they like and getting away with it.
"Throughout the course of an eight hour shift, the typical movements away from the desk can be to get a biscuit from the kitchen, to go to the loo or to go for a cigarette. Anyone who's worked in an office environment will know that the kitchen can be full of treats and we've already begun to offer free fruit as an alternative. We know that a healthier workforce is a happier workforce which is why we've been so keen to pioneer and pay for this scheme. We're expecting brilliant results which can only help improve our business."
Mark Jenkin, a team leader at Firstsource Solutions said: "Having broken my leg last year playing football and just coming back from injury, I've struggled and been unhappy with my weight and I felt I didn't have the drive I once did. I've been shelling out on a gym membership for the past six months but with personal trainers being so expensive, it can be difficult to keep up. When I found out the programme was funded by Firstsource, this gave me the kick up the backside I needed.
"Since I signed up, I've already started to ride to work and started eating right again. I now have the determination in me where I want to be happy with my fitness and general health again. My message to other people sat at their desks in contact centres who felt the way I did is don't accept things the way they are, have the courage to change them and get up and keep moving. Anything is possible. I can't thank Firstsource enough for such a brilliant opportunity and putting a spring in my step again."
The employees will attend four bootcamp sessions at Cardiff & Vale College where they'll be put through their paces by Owen Phillips. He said "All employees will be tracked and monitored throughout the 12 week period. Each individual will be provided a home/lunch time body weight exercise workout which they will need to perform every other day of the week to ensure they achieve results".
Sandra Busby, managing director at Welsh Contact Centre Forum said: "Like any office based organisation, contact centres rely on rooms full of people being sat down for long periods. Research tells us this isn't good for our long-term health, but even in the short-term inactivity can lead to sickness absence which costs business time and money and causes disruption. We're determined that contact centres shouldn't just be places where you can have a healthy career, but a healthy life.
"Firstsource is a great example of a really innovative business that values its staff and we're sure that once the benefits are felt in productivity terms, we're hoping other contact centres in Wales and the rest of the UK will follow their lead."
Source: http://www.welshcontactcentreforum.co.uk/newsarticle/1206/
Publish Date: September 1, 2016 5:00 AM
---
Magnus Geverts, head of business development at Teleopti, looks more closely at raising the customer service bar in contact centers.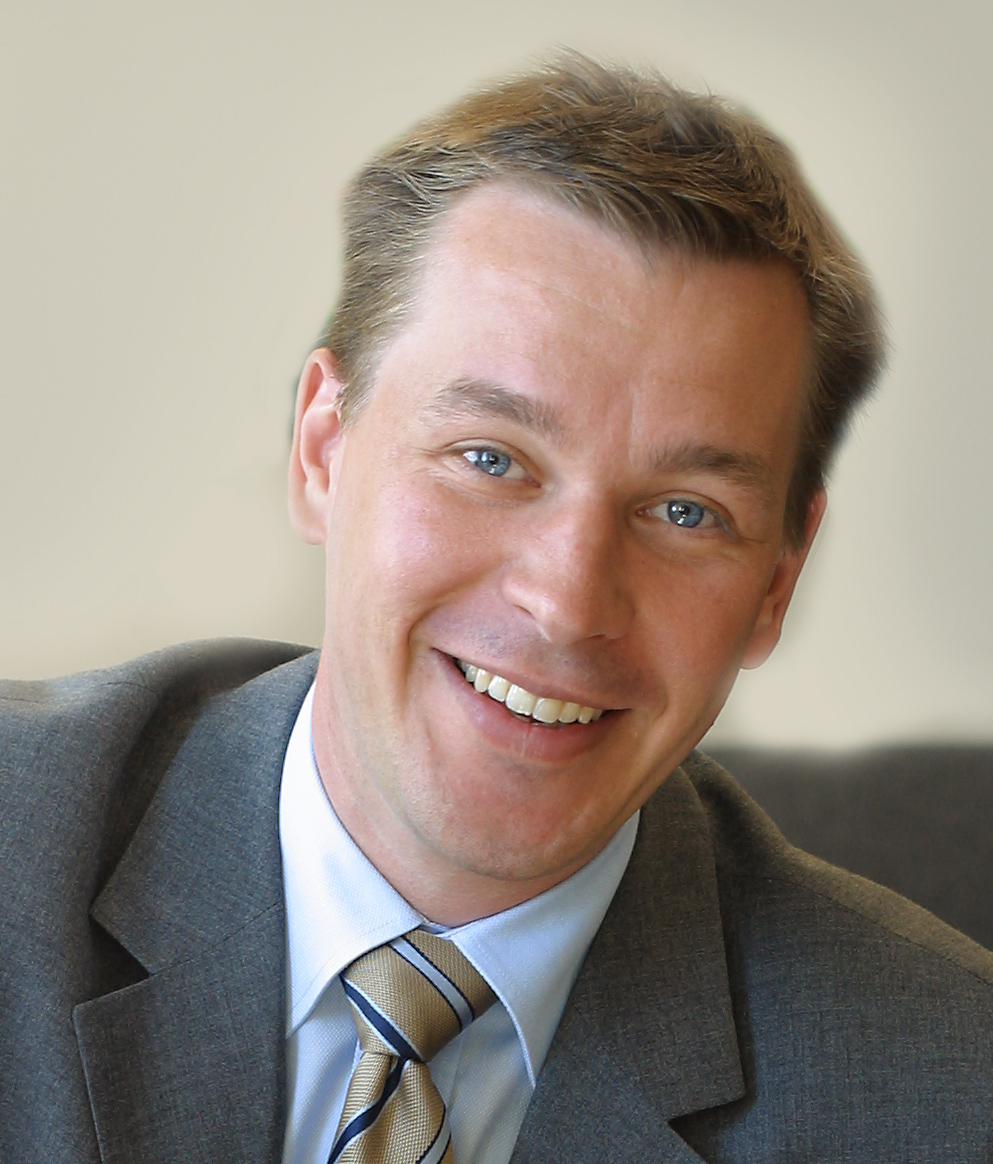 Customer Journey mapping is becoming an increasingly popular term in contact centers. Many organizations are using customer journey initiatives to drive customer value and growth. But what does the term 'customer journey' mean and why is it important to the contact center?
Quite simply, the expression refers to the interactions a customer has with an organization from beginning to end – from when they first establish a need for a product or service to when they no-longer use the product or hopefully, keep coming back to become a repeat customer.
Organizations recognize that these customer journeys occur across multiple channels (eg, email, Web Chat SMS and website), over time and because humans are fickle, they can appear random and stuttering. Sounds familiar? Contact centers today are already multi-channel environments supported by agents who have to use all their experience, skills, knowledge and sometimes diplomacy to win over customers daily, often in difficult situations.
Empathy and Touch-Point Mapping
In an attempt to add clarity and structure to the customer journey, companies use techniques such as empathy and touch point mapping to establish how a customer feels at each stage of the journey (empathy mapping). Then draw up a list of all the possible points of contact a potential or actual customer has with the business before, during or after purchase (touch point mapping). This means tracking a customer's conversation, real or virtual, every step of the way from the customer seeing an advert or user review, visiting a website for product info or walking into your online shop or store.
Does all this sound very complicated and a little too scientific? Although the very idea of the customer journey appears very clinical and detached from human experience, the concept also opens up some distinct and real possibilities for today's multi-channel, multi-faceted contact centers.
Top tips for achieving customer value leadership
At Teleopti, we are proud of our achievement to win Frost & Sullivan's 2016 EMEA Customer Value Leadership Award. It's an incredible milestone that, we believe, recognizes our work on raising employee engagement. At the same time, it reflects our dedication to understanding our customers' individual journeys, essential to increasing satisfaction levels.
For example, our consultants stay with customers and support them long after the installation phase, ensuring not only that their workforce management (WFM) solution is up and running properly, but that it's tailored, fine-tuned and maximized in its usage, therefore fully meeting each customer's needs. A thorough and detailed hand-over of the customer from pre-sales and consulting to service desk secures the well-formed circle of continuous customer care.
We'd like to share some of the lessons learned since we started out nearly 25 years ago. Here are our top three tips for acknowledging the importance of the customer journey to improve customer service and attaining the holy grail of true customer value leadership in the contact center:
- Schedule the right person, with the right skills at the right time. This is the core objective with a WFM solution. Our experience is that a feature-rich product set enables you to innovate and improve both the customer experience and employee engagement.
- "The right skills" includes both hard skills and soft skills (for example empathy). What makes an agent perform well in your line of business? Use competence management to find out and take the right actions to manage your talent pool and resources.
- Keep employees happy and empowered – with easy-to-use and visually appealing access to technology that allows them to plan their work around their life while still optimizing service levels. Make the most of gamification techniques to motivate agents in an enjoyable way, enabling them to see their achievements and therefore perform better in the long run.
Following the above points is a step towards creating a highly efficient contact center that boasts well-motivated, productive agents who actively drive customer value and support business success.
Source: http://www.welshcontactcentreforum.co.uk/newsarticle/wccf/
Publish Date: August 23, 2016 5:00 AM
---
UK businesses are increasingly integrating digital and traditional customer service channels to adapt to changing consumer behaviour, according to the Arvato UK Outsourcing Index. Analysis of customer service outsourcing deals signed in the first half of 2016 (H1 2016), found that 83 per cent of contracts covered multi-channel services, compared with just 50 per cent in the same period in 2015.
The Arvato UK Outsourcing Index, compiled by business process outsourcing (BPO) provider Arvato and industry analyst NelsonHall, also found that total spend on outsourced customer services reached £706 million in H1 2016, a sharp rise on the £62 million worth of deals agreed in the first half of 2015.
Debra Maxwell, CEO of CRM Solutions, UK & Ireland, Arvato, commented: "UK brands are increasingly alive to the fact that it's no longer acceptable to dictate to customers how and when they should make contact.
"As companies seek to provide a seamless customer journey, outsourcing providers have responded with contact centre models that integrate traditional phone and email support with newer channels, such as web chat, video and social media. As our research shows, this is becoming the norm in the UK market, to the benefit of consumers."

Overall, UK outsourcing contracts worth £3.91 billion were signed in H1 2016, representing a 19 per cent year-on-year rise.
The private sector was responsible for the bulk of spend (£2.20 billion). IT outsourcing spend also grew, with the value of contracts across both public and private sectors surging 63 per cent year-on-year to £2.63 billion.
Bryan Mouat, CEO, Arvato Financial Solutions UK & Ireland, commented: "The UK market remained buoyant in the first half of the year despite the political and economic uncertainty in the run up to the EU referendum. This supports the view that organisations continue to see outsourcing as an effective strategy to tackle key challenges and fluctuation in demand, but it remains to be seen if the prolonged uncertainty following the vote to leave will dampen spending in the second half of the year."
According to the findings, average contract value for all deals agreed in the UK in H1 2016 increased by 16 per cent year-on-year to £47.5 million. Agreements also lengthened in the first two quarters of 2016, up 14 per cent to 59 months average deal length.
Source: http://www.welshcontactcentreforum.co.uk/newsarticle/1199/
Publish Date: August 3, 2016 5:00 AM
---
We are officially a nation of complainers: 2016 Consumer Action Monitor (CAM) Survey Findings. According to Thomas Rødseth, VP of Product and Marketing at Intelecom, contact centres cannot stem the rising tide of complaints but they do hold the key to keeping customers happy.

At Intelecom's Get Connected conference, David Pilling from the UK's leading dispute resolution group Ombudsman Services unveiled the results of the 2016 Consumer Action Monitor (CAM) survey. Commissioned by Ombudsman Services and conducted by ICM Research in January this year, the study is the third annual report of its kind and is a comprehensive multi-sector study into the state and prevalence of consumer complaints in the UK.

This year's CAM survey provided insight into the number of problems experienced by consumers and how many of them take action in the form of complaining. Over 2,000 adults, representing a cross-section of the British public, were sampled via an online omnibus survey.

Highlights of the study revealed:

- Growing consumer activism - there were 52 million complaints about products and services last year, up from 38 million two years earlier in 2013. 82% of Brits are also unwilling to put up with poor service, that's up from 67% in the same period
- Strong influence of social media - consumers are increasingly going online to air their grievances. Advances in technology, particularly social media, have afforded every person a voice in the public sphere. Of complaints escalated in 2015, more than a third (36%) were via social media
- Differences between industries - in 2015, a quarter of complaints (23%) related to issues with retailers, with faulty products the most common cause of dissatisfaction amongst consumers. The next most problematic sectors were telecommunications (16%) and energy (13%).
But all is not lost! The way an organisation handles complaints is equally important. It sways how a complainant feels about that organisation and has a massive impact on future customer retention. The CAM study cited that 52% of people think more highly of a business that handles complaints efficiently and that 75% would be more likely to return to a company if a complaint they made was handled well (compared to 8% if badly handled).
A major challenge? Yes. However, the findings of the CAM report also present a significant opportunity for contact centres, often the first point of call when it comes to customer complaints. Increasingly, organisations are looking to their contact centres, not necessarily their marketing departments, to track online feedback to products and services and then turn the negative into a positive with a direct impact on customer loyalty and sales.
Ombudsman Services themselves regularly handle 40,000 calls every month but these volumes can vary considerably. The organisation believes the ever increasing volume of calls also reflects the growing number of companies and consumers requiring their specialist services, no doubt the result of a massive sea change in British consumer behaviour when it comes to vocalising feelings of discontent.
Faced with a barrage of complaints, contact centres everywhere can maximise the latest cloud-based solutions to:
- Add scalability – to accommodate growing businesses or scale up and down with changing business requirements.
- Build in flexibility – agents can log into the latest cloud-based contact centre solutions from anywhere using their own personal devices, making home-working possible and an attractive proposition. This boosts productivity and increases customer satisfaction.
- Integrate – with other business systems such as case management applications to resolve complaints quickly and deliver a seamless service to customers.
- Gain complete control – advanced reporting capabilities and transparency provide greater visibility of agent activity, aid faster, improved decision-making, support future planning and put the organisation in complete control of its contact centre environment including its case management activities.
The 2016 CAM report tells us that consumers are increasingly looking for quick, hassle-free resolutions to their complaints and, with the rise in social media, they are seeking routes to fast and free redress. By deploying the latest cloud-based solutions contact centres have the ability to track and influence their interactions with consumers at every step of the customer journey. Using one single, integrated platform, agents are empowered to handle complaints sensitively and at lightning speed whilst organisations are rewarded with tangible savings in time, cost, reputation and, most importantly, customers.
Source: http://www.welshcontactcentreforum.co.uk/newsarticle/1198/
Publish Date: July 28, 2016 5:00 AM
---
Intelecom, a provider of cloud-based contact centre solutions, today announced that Affinity Water has built on the success of its original Intelecom implementation to support the organisation's business, workforce and customer base. The UK's largest water-only supplier operates a 300-strong contact centre that serves a population of 3.5 million people and manages on average 90,000 calls every month. Affinity Water's latest investment in Intelecom has maximised the flexibility and scalability of the platform to benchmark the contact centre's performance against specific targets. In addition new services such as Web Chat and a fully automated, secure payments facility have been introduced.
David Gray, Resource and Planning Analyst at Affinity Water commented, "We first turned to Intelecom in 2005 to create a completely new cloud-based contact centre that could help automate call handling and improve customer response times. Since that time, it has evolved to become a sophisticated infrastructure that supports the focus of our company in terms of high quality customer service, transparency and good governance. We have also established a close parternship with Intelecom. The company's openness and willingness to share learning and best practice are critical to our success, enabling us to explore new ways of delivering a better customer experience with utmost confidence."

The highlights of Affinity Water's recently expanded Intelecom deployment include:

Integration with the company's Verint Workforce Management (WFM) system to drive call predictions accurately and manage hundreds of shifts and work schedules for 240 out of a total of 300 agents. When complete, Affinity Water expects skills-based routing to manage multiple staff talents and meet different Service Level Agreements (SLAs) across the complex organisation.

Geographic routing to detect, identify and direct calls from certain parts of the country that might be suffering a crisis, such as flooding, to a specially tailored recorded message. This allows agents to maintain business as usual and deliver a personalised service to other customers with generic enquiries.

Seamless connectivity with third party applications has enabled Affinity Water to offer a wealth of new services, such as a Payment Card Industry Data Security Standard (PCI DSS)-compliant automated and secure payments facility, under one roof with one single contact point for the customer.

The introduction of speech analytics from Intelecom means that every call is transcribed and recorded for compliance and benchmarking purposes making it an effective tool for spotting trends and making meaningful changes and improvements to processes and services.

New initiatives such as post-call surveys and agent scorecards enable Affinity Water to measure customer satisfaction levels and track agent and contact centre performance against specific Key Performance Indicators (KPIs) accurately.

Early experiences of customers using Web Chat to interact with the contact centre are very positive and indicate a definite focus going forward. Currently, 3% of all calls, around 2,700 per month, come in via Web Chat, a number that is expected to increase exponentially. The rising use of the Internet makes it easy for agents to direct Chatters to other parts of the website to find the information they need to confidently resolve their queries and encourage further self-service in the future.

Borge Astrup, Managing Director, Customer Contact Division of Intelecom Group AS concluded, "Organisations like Affinity Water who have undergone periods of significant transformation rely on the flexibility and scalability of our solution to add agility to their operations. With our focus on continual product innovation, they can also depend on us to introduce new features that increase customer engagement and meet the needs of today's Internet-savvy consumers such as Web Chat. Intelecom is so much more than technology. It is a valuable strategic tool and partner that empowers staff, boosts customer loyalty and enables next generation customer service."
Source: http://www.welshcontactcentreforum.co.uk/newsarticle/1195/
Publish Date: July 21, 2016 5:00 AM
---
Teleopti has announced that FEXCO, Ireland's most successful multinational financial and business solutions provider, has renewed its investment in the company's strategic Workforce Management (WFM) technology replacing a competitive system.
The decision to reinstate the Teleopti solution was driven primarily by FEXCO's confidence in Teleopti's excellent approach to customer care. The re-introduction of Teleopti has also contributed to a sharp reduction in call abandonment rates and increased satisfaction levels for both clients and FEXCO's team of contact centre customer service representatives.
Fexco uses automated workforce management software from Teleopti to create a highly agile, flexible contact centre environment. The system has helped to streamline resource planning and maintain thousands of shifts across four award winning* contact centres. In 2015, FEXCO's 460 plus customer service representatives handled over 2 million calls and administrators managed 1.1 million tasks in one of the company's major business units, the Managed Business Solutions and Outsourcing (MBSO) Division.
Vivian O'Callaghan, Planning and Systems Project Manager at FEXCO commented, "When it comes to customer service, I cannot recommend Teleopti enough. When working with Teleopti to deliver a solution they keep us informed every step of the way. In a fast moving, high pressure industry such as customer contact, good communication is essential. Teleopti's can-do attitude inspires us with the confidence to deliver an equally professional service to our own customers."
Schedules for over 460 contact centre employees were loaded into the system which was fully operational just months after signing the contract. Agents are able to view adherence to their personal schedules, even from their own mobile devices, increasing a sense of empowerment and encouraging closer engagement with the overall running of the contact centre. Supervisors can better monitor their teams and senior managers have access to accurate real-time information, giving them both the confidence and impetus to explore new ways of driving innovation in the contact centre eco-system and speeding up decision making.
Nick Smith, UK Business Manager at Teleopti concluded, "Many large international organisations, serving customers around the globe, rely on our blend of technology and exceptional people skills to drive efficiencies in their contact centres. Our partnership ethos is critical to our customers' success. We go out of our way to understand their needs and put smarter workforce management at the very heart of their contact centre operations to deliver excellent customer service and help to strategically improve organisational performance."
For a copy of the full case study, please visit: http://www.teleopti.com/piece/37532/50097/fexco.aspx
Source: http://www.welshcontactcentreforum.co.uk/newsarticle/1194/
Publish Date: July 7, 2016 5:00 AM
---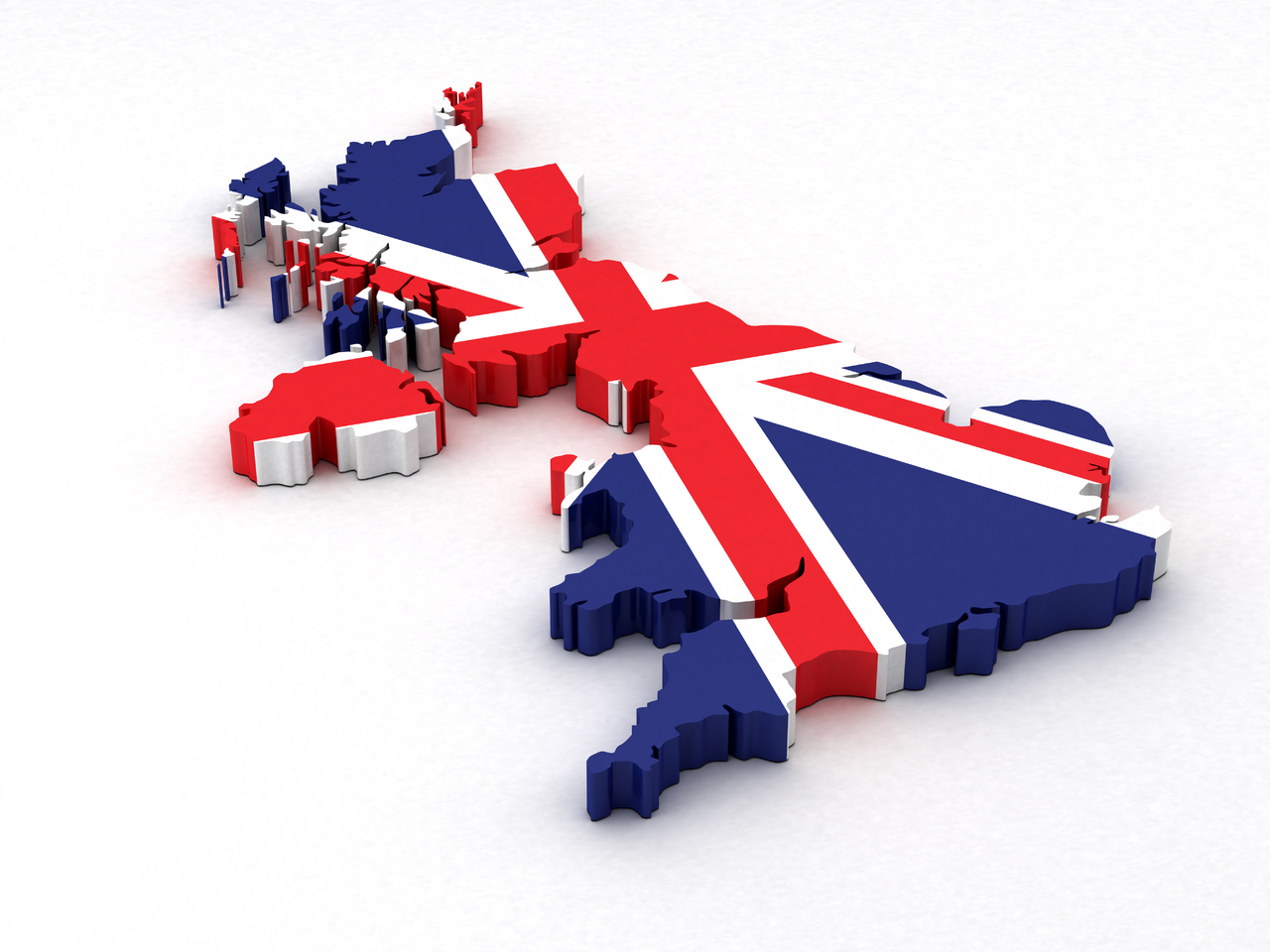 We're starting research for the UK Contact Centre Decision-Makers' Guide - the UK's largest study of customer contact.
The report gives you the facts about every aspect of customer experience management, technology and strategy - with new sections on omnichannel, gamification, PCI compliance and web chat.
As a taste of what's in the full report, you can download the current Executive Summary PDF infographic.
Survey respondents receive the full report, pre-launch and free of charge. You'll also receive a free copy of the detailed "2016 UK Contact Centre HR & Operational Benchmarking Report", with details on salaries, attrition, absence and operational benchmarking (£295 + VAT to non-respondents).
Download Executive Summary
Take the 2016 Survey
Source: http://www.welshcontactcentreforum.co.uk/newsarticle/1193/
Publish Date: June 20, 2016 5:00 AM
---
Conduit Global General Manager for Operations and Client Services, Alan Superfine, shares his thoughts on the importance of flexible, multichannel customer service
Going into the second half of 2016, it is amazing to think how quickly the first part of the year has flown by. However, for those working in the contact center space, it is common to look back six months and ask where the time has gone, especially when it comes to consumer interaction tools. For enterprises, the necessity to provide the right communications channels has never been more pressing, and can mean the difference between a lost customer and one that is loyal over a lifetime.
In today's environment enterprises have no choice but to provide their end-users with non-voice contact options, a trend that will only become more pronounced. This was clear in Dimension Data's most recent Contact Center Benchmarking Report, which indicated that for consumers born after 1980, the telephone was the fifth channel of choice (behind chat, smartphone applications, social media and electronic messaging). And, while older consumers have not embraced non-voice communication to the same extent as their younger counterparts, many of those born in 1980 and earlier are also forgoing the telephone for other communications mediums. As a function, enterprises must adapt to this reality.
However this may be easier said than done. There is no blueprint for any company on what channels to implement alongside the telephone in their contact centers. Key considerations that need to be taken into account when making these decisions include the average age of the organization's consumers (the older the demographic, the less likely they will be to use internet channels for support), access to types digital technology (which could place a premium on using mobile apps as a means of communication) and vertical-specific compliance (in some cases, this will limit the choice of channels available to an organization, especially in highly-regulated sectors).
Another challenge that many organizations face is their capacity to invest in non-voice channels. Acquiring and maintaining this technology is a costly proposition for CRM managers, who have been perpetually strapped for resources over the past five years. Equally, recruiting and retaining front-line talent for different channels is also a major (and costly) challenge, especially when agent profiles can differ tremendously, depending on the communication medium they support. Unfortunately, in order to work toward end-user loyalty, these are costs that enterprises must bear out. An innovative way for many organizations to successfully achieve the needed balance between channel deployments is by way of partnering with a contact center services player that is positioned to provide the technology, workforce and strategic guidance needed to incorporate one or more non-voice mediums. This will be important in ensuring minimal capital investment, and that the required levels of customer experience management are provided to the consumer. For organizations that are limited in resources, but that want to ensure their channels reflect the ongoing changes in communication choices, this is a solution that helps ensure long-term consumer loyalty.
Visit the Conduit Global website
Follow Conduit Jobs on twitter
Source: http://www.welshcontactcentreforum.co.uk/newsarticle/1192/
Publish Date: June 16, 2016 5:00 AM
---

Conduit Global is pleased to announce that Emma Clarke, Senior HR Director of UK, Ireland & the Philippines and Board Member of the Welsh Contact Centre Forum will be chairing the upcoming HR Contact Centre Summit. The event is a combined initiative of The Welsh and the South West Contact Centre Forums. Key issues to be addressed include some of the most important HR-related matters in the contact center industry, such as economic challenges related to human resources, dealing with generational differences in the contact center and agent engagement.

'It is a true honour to be chairing this prestigious industry event', said Emma Clarke. 'The contact centre sector continues to undergo significant changes, and having access to discussions that will address some of the biggest challenges to human resources professionals can only benefit attendees.'

The HR Contact Centre Summit takes place on June 29th at the Celtic Manor Resort in Newport, Wales. It will feature Tanya Korobka, a millennial blogger and marketing consultant among the presenters.

Conduit Global President Jim Farnsworth had the following comments on the selection of Emma Clarke as chair of The Contact Center HR Summit: 'The face of contact centers is evolving in terms of the management of the agents that represent businesses to consumers, and in order to remain competitive CRM managers must empower their HR leaders with the best knowledge available. Emma stands out as a leader in human resource management within both our company and the contact centre industry, and I know her enthusiasm for the topics being discussed will ensure a lively conference.'

For more information on The Contact Center HR Summit, please refer to www.welshcontactcentreforum.co.uk/hrsummit

For more information on this release please contact Peter Ryan, Vice President of Customer and Market Solutions at Conduit Global at peter.ryan@conduitglobal.com.
Source: http://www.welshcontactcentreforum.co.uk/newsarticle/1190/
Publish Date: June 6, 2016 5:00 AM
---
Magnus Geverts at Teleopti takes a look at providing a cohesive experience across different channels supported by flexible workforce management (WFM)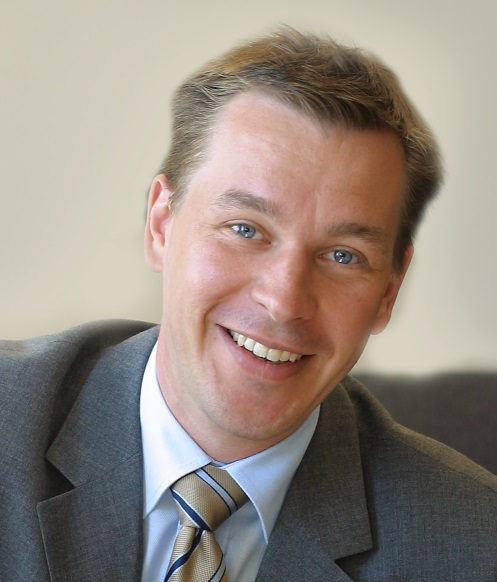 A recent study found the average person checks his or her smartphone a staggering 85 times a day! And just look around in shops and cafés, on buses and trains – even while walking in the street - almost everyone is glued to a personal electronic device. The rise in mobility has created a world of 24/7 connectivity and a subsequent demand for instant information.
This puts increasing pressure on contact centers and customer service departments. Many have transitioned from single-channel to multi-channel, to now omni-channel interaction. Irrespective of channel, be it voice, e-mail, chat, social media, Skype or other mobile apps, customers want and expect a consistent, satisfying and effortless experience – each and every time. As for employees, they expect an environment that encourages them to flourish and make a positive difference in their customer-servicing work.
This is where automated workforce management comes in and can play a crucial role, ensuring contact centers have engaged and knowledgeable staff on hand to provide rapid and accurate customer responses.
A survey by Business Systems (UK)[i] indicates that nearly half of the contact centers surveyed utilize social media and 69% utilize e-mail in customer interaction. The question is: How do you provide customers with a cohesive experience across the different channels? This is precisely where the new generation of workforce-management (WFM) systems can make the difference.
Let the following four tips help maximize your omni-channel opportunities and, with the help of workforce management, ensure that your customers get the best experience.
1) Flexible WFM design that evolves with your business – examine how your WFM solution supports chat, e-mail and social media. Ask your WFM vendor for examples and references. Are backlogs (e-mail) and parallel chat sessions supported? Is the system capable of scheduling in a blended environment? Can it be integrated to collect data for the different channels? The foundation for efficient omni-channel WFM is not only that these core functions work well but that, as your business evolves, the configuration can easily accommodate additional channels.
2) Employ the right people – make sure you have the right agents for the right channels. Use your emphatic, tech-savvy agents for social-media channels; making mistakes in these channels often increases the workload for other channels. Use your WFM solution to understand which talents and competencies are required for the best performance in the various channels. Remember to schedule up-skilling for those who need it.
3) Empower Agents – you may have the right people in place but have you supplied them with the right tools so they can do their work effectively? Are they proud of making a difference? Do they reward the organization with happy customers and long-term loyalty? Opt for a WFM solution that allows employees to feel empowered by having a say in scheduling, that offers incentives or game-like competition to reward excellent performance and lastly, that provides performance feedback, skills training and coaching.
4) Promote real-world successes – many of Teleopti's customers have reaped immediate operational and commercial benefits through its WFM automation and employee- empowerment tools. Promote success by building confidence and raising the status of the contact center of your business. WFM automation allows you to devote more time to customers and focus on meeting their needs for seamless multi-channel integration and rapid resolution.
Let's take a look at some organizations to see how they have benefitted from Teleopti WFM automation:
P&O Ferries in the UK made annual savings of £1.6 million, all the while maintaining their service levels. It also increased forecasting accuracy to 99.5% and reduced staff turnover substantially
Telenor in Denmark is now able to devote an extra 49 minutes per agent per day to their customers. As a result, satisfaction levels have risen by 7% and total sales per store increased by 6%
OTIP (Ontario Teachers Insurance Plan) achieved 7% savings in overall salary payout, improved queue times by 79% and decreased average handling time (AHT) by 95 seconds
Cigna Insurance Services in the UK views automated WFM technology as a part of strategic resource planning and a people-management tool that covers the various channels, including web chat.
So, what's stopping you? There's no hitch. With the help of well-implemented automated workforce management, providing the same level of service across all channels is today a reality that has come true.
Visit the Teleopti website
Follow Teleopti on Twitter
Source: http://www.welshcontactcentreforum.co.uk/newsarticle/1189/
Publish Date: May 26, 2016 5:00 AM