Wilmac Company - ContactCenterWorld.com Blog
If you're thinking about changing any of the technology in your working environment, we encourage you to consult Wilmac before follow through on those changes.
You may not realize it, but changes to existing technology can negatively impact your Call Recording system, and in some situations, even cause loss of recordings. To avoid this risk, please consult Wilmac before you make changes to:
Telephony positions
Volume settings
Network source time
Network storage location or credentials
3rd party system credentials
Antiviruses
Firewalls
Talk groups
Server network address
Server network adapter settings
Network infrastructure settings
Our highly experienced Field Service Engineers (FSEs) will take a detailed look at the state of your existing technology, and then balance what they find with your future goals. From there, we will:
Give you the go-ahead to make the change(s)
Advise you on a different (and better) course of action
Perform changes for you – this is your safest and best option!
We also recommend a complete System Health Check after any change is made, to safeguard that the adjacent technology will continue to operate properly and integrate seamlessly. Contact us today to learn more.
Source: http://www.wilmacco.com/blog/2017/05/15/environmental-changes-that-can-impact-call-recording
Publish Date: May 15, 2017 5:00 AM
---
Selecting a Next Generation 9-1-1 recording partner is an important decision and can have significant impacts on your PSAP now, and well into the future.
Here are 6 factors to consider when selecting a Next Generation 9-1-1 recording partner:
Your NG9-1-1 recording partner needs to be flexible, adaptable, and ready for whatever technology, processes, or legislation comes next, especially since the amount of incoming communication sources (mobile phone calls, text to 9-1-1, body-worn camera footage, etc.) is going to continue to increase.
Recording and Digital Evidence Management solutions must integrate properly with existing technology in your PSAP technology environment or else risk operational failure. A good NG9-1-1 recording partner will have recognized and certified relationships with PSAP technology vendors and can ensure proper integrations.
Emergency Communication call takers and dispatchers perform truly mission-critical work, and should be evaluated on a regular basis in order to make sure they are performing according to standards. To optimize the assessment process, PSAPs should utilize an automated QA/QI solution.
100% of Emergency Communication calls are recorded, but very little of that data is actually used. Audio Analytics can empower your PSAP to detect risks earlier, expedite searches and investigations, and ensure quality and compliance.
Companies that actually listen to their customers feature technology that will meet real world needs and scenarios. When evaluating potential NG9-1-1 recording partners, look for a company with an established user group community that takes the time to discuss relevant issues, pain points, and needs.
PSAP technology is constantly changing, and you need a company that has strength, experience, and staying power to support you no matter what technological changes may occur.
Wilmac is well prepared to address all of your Next Generation 9-1-1 recording challenges. Read our eBook, "Top 6 Must-Haves for Selecting Your Next Gen Recording Partner" today!
Source: http://www.wilmacco.com/blog/2017/03/06/choosing-a-ng9-1-1-recording-partner-6-factors-to-consider
Publish Date: March 6, 2017 5:00 AM
---
These days, we're inundated with news about fraudulent big bank activity. The offenses run the gamut from falsifying accounts to currency exchange fraud. We've seen major corporations fined and bailed out – yet deemed 'too big to fail'.
Big banks play an essential role in the economy, and having the right technology in place can improve their business practices, enhance accountability, and better protect customers. While technology alone can't change individual human error and lack of judgement, it can create and improve a culture of compliance.
Specifically, Call Recording software can help:
Record and analyze customer interactions on helplines, social media, SMS, online, and more
Investigate interactions using analytics and automated surveillance features
Alert and respond to high volume queries and complaints
The damage of fraud and non-compliance is severe; we've seen scandals cost big banks hundreds of millions of dollars in fines, payments, and legal fees – as well as tremendous loss of business. Recording technology is also able to assist in that regard. Not only can it help prevent fraud, it can also better protect customers with automated fraud monitoring and detection and alerts for suspicious behavior.
Technology may not be able to prevent points of ethical failure – the human element isn't going away any time soon – but the right technology can help prevent systemic fraud and protect customers and their interests. Customers are better protected when the right technologies and processes are put in place.
Source: http://www.wilmacco.com/blog/2017/02/06/big-banks-call-recording-how-technology-can-help
Publish Date: February 6, 2017 5:00 AM
---
Speech analytics has received a lot of press in the past few years. Some centers have purchased it, and many more have it on their wish list. If you have not had the opportunity to observe it in action, you really must carve some time out of your schedule to do so. Even if it is has not yet made your radar, speech analytics offers a great view of what is possible with voice technology today. It is impressive, and it is powerful.
It also offers another way for us to measure the quality of the work that we do. Our arsenal for this type of analysis is quite comprehensive—customer satisfaction surveys, mystery shopping, test calls and quality monitoring are four other options in the toolbox. With all these options, contact center leaders are well positioned to know how well customer inquiries are being handled, and where opportunities for improvement exist.
FINDING A PLACE FOR SPEECH ANALYTICS
So with a toolbox that was already pretty full to begin with, it is reasonable to ask where speech analytics fits in. To be of value to us, it really needs to provide something different than the other more traditional approaches. And it turns out, that differentiation is not a problem where speech analytics is concerned. The list of value-adds is pretty long, and many of them boil down to two key elements:
It can be applied real-time to real (not test or mystery) calls
It can be applied to all calls (not just a sample)
Those two differences really reformulate the quality assurance equation. In the past, our approach has always been to monitor, survey or test a sample of calls, thoroughly review each in the sample, and extrapolate the data to the whole population. With speech analytics, we start with the whole population, observe specific, pre-determined areas of focus, and drill down to the actionable events of either positive reinforcement or performance modification.
That sounds pretty impressive, and it leads to the obvious question: Can speech analytics replace the more manual approach to quality assurance? The prospect of replacing quality monitoring programs with speech analytics has been raised, and in some cases, the cost justification for the technology purchase has hinged on a savings in, or total elimination of, the quality monitoring program.
SPEECH ANALYTICS AND QUALITY MONITORING
Let's start by acknowledging that speech analytics is still relatively new for contact center technology, and fine-tuning it for a specific center's needs takes some trial and error. Once that setup work is done, though (and we will assume it is done properly), the bottom line is that speech analytics does a tremendous amount of work, and does it quite well.
Of course, "quite well" does not mean perfect. Speech analytics will not catch every single instance of whatever phrase or event you have defined. This is partly because you cannot always identify the manner in which situations will arise or the wording used to convey a thought, but also because the technical challenge of 100% capture is too high a bar—for now, anyway.
Because they approach quality assurance from such different vantage points, speech analytics and quality monitoring differ in the areas where they excel. The table below outlines some of these differences.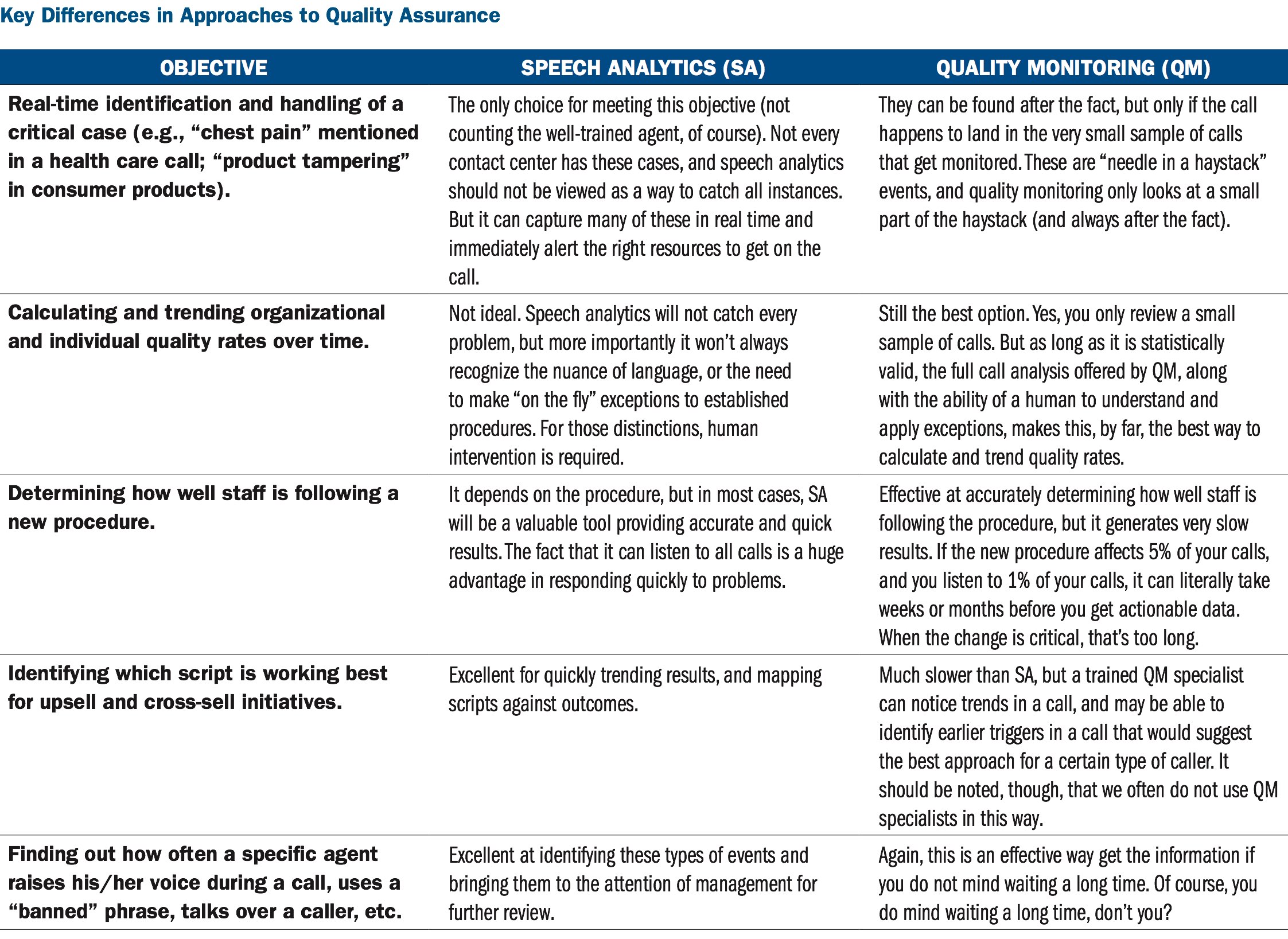 The table points out that these are two different approaches with varying strengths and weaknesses. It makes it easier to see how well these two can work in tandem—speech analytics working hard, driving through every call, finding those nuggets of potentially important information, and handing off to a quality specialist for a deeper dive.
WHAT'S THE REAL VALUE?
The bottom line? If you can have both speech analytics and a quality monitoring program, that's the way to go. Speech analytics can offer value on its own, plus it can make your quality monitoring program better. It does not, though, eliminate the need for a quality monitoring program. It might be able to save you some money by allowing a reduced sample size. The real value in speech analytics, though, is in the ability to spot errors and other problems more quickly. That's the ROI that should capture your attention.
Source: http://www.wilmacco.com/blog/2017/01/23/speech-analytics-and-quality-monitoring
Publish Date: January 23, 2017 5:00 AM
---
It finally happened…your Call Recording system has bit the dust. It's reached its End of Life (EOL) and you've determined that the cost to maintain it will be higher than the cost to replace it. Or maybe you can't risk the possibility of falling non-compliant. Either way, replacing the system is the logical and smart decision. What happens then?
How do you plan for an upgrade?
Step one: Determine your needs.
Think about how you've used the system in the past.
Why do you have a Call Recording system at all? Is compliance your primary concern? Are there legal requirements that necessitate calls are recorded? Or do you use the recorded data for Quality Monitoring? Is it the nuts-and-bolts recording you use, or the extra features?
Deciding what you need is critical to selecting the right product, services, and level of support.
Step two: Communicate your needs.
Your vendor should be a partner; they should ask you lots of questions.
Does your current system meet all of your needs? What needs are not currently being met? What pain points do you experience?
If the vendor doesn't ask, you must make sure to clearly articulate what you need and why. There's nothing worse than buying a product only to later find out later that it doesn't meet your needs.
Step three: Ask questions.
You need to know what comes with your new purchase.
Can the company provide service and support? What about a maintenance agreement? Are SLAs met? Guaranteed?
If you are not happy with any of the answers given to you, push for what you need, or else find someone who will make you happy.
Step four: Plan a budget.
Budgetary planning can often be the most frustrating part of this process. Make sure you communicate clearly and honestly with your vendor.
What type of quote do you need? A budgetary quote or a full proposal with SOW? When does your fiscal year start and end?
A good vendor will be flexible enough to work within your parameters. Whether you need something NOW or are beginning to plan for a year or two down the road, the vendor should demonstrate their full commitment to your unique situation and needs.
Step five: Consider your "wish list".
You may need the system to record, playback, and archive communications, but you should also put a bit of thought into any additional features and benefits that would simply make your life easier.
If money were no object, what would you wish for? What one thing would make you use the system more often? What would make that one task you dread doing less dreadful?
It can't hurt to mention additional features or benefits that you'd like to have. There's always a chance that the thing you'd really want is available and within your budget.
Contact us today if you have any questions about planning for your upgrade.
Source: http://www.wilmacco.com/blog/2017/01/09/how-to-plan-for-a-recording-system-upgrade
Publish Date: January 9, 2017 5:00 AM
---
There are many factors in an environment that can affect a recording solution. Our years of experience have provided us with a thorough and unique understanding of these factors. To help shed light on potential problem areas, and to best create solutions, we have designed our Operational Assessments specifically to optimize your recording solution.
First, we take the time to understand your organization's current state and end goals. There is no point in designing a solution if we don't first understand what it is you are trying to achieve.
Next, we take a comprehensive and in-depth look at your people, processes, and technology to identify strengths, gaps, and areas for improvement. Specifically, we do such things as evaluate integrations with third-party technology (phones, radios, turrets, etc.) and speak with staff to discover any gaps in end-user knowledge.
Operational Assessments typically occur on-site, so we can get the best look at your system. We look at hardware, software, cabling, servers, and more. If there are current or potential problem areas, or areas that are underutilized, we make detailed note so we can generate the most complete Post-Review Plan possible.
This Post-Review Plan brings together all insights gathered and creates a detailed improvement plan that answers the 'what', 'how', and 'why' of moving towards optimization. This plan includes:
What needs to be changed, tweaked, or fixed – our recommendations will be specific and actionable
How to implement the recommended changes – we make sure to detail out step-by-step strategic actions to take
Why each change should be made – we also detail out how each change will affect your overall ROI
To make sure our recommendations are fine-tuned to your specific environment, Wilmac offers three types of Operational Assessments, with differences based on your industry.
Contact us today to learn more about the specifics details and benefits of our Operational Assessment.
Source: http://www.wilmacco.com/blog/2016/10/10/improving-your-recording-environment-starts-with-a-wilmac-assessment
Publish Date: October 10, 2016 5:00 AM
---
There is a reason that NICE turns to Wilmac when they have need of an on-site engineer or are ready to install a new system. Similarly, there is a reason that hundreds of customers turn to Wilmac to install, service, and support their NICE products.
And the reason is…Wilmac knows NICE.
We know their products, systems, and solutions – and that includes products that are at or past End of Life (usually called "legacy" products), and those that are new and current.
Our work with NICE has extended successfully for over 10 years, but that does not mean we are content to rest on our laurels. Just because something was true a year ago, doesn't mean that that it is true now. For this reason, we stay current on the latest versions and models so that if you need support for your NICE system, we CAN support it – this is true if your system is one-year old, or five, or more!
We know the ins-and-outs of NICE, and we are more than happy to train you on it too. We pride ourselves on having trainers who can seamlessly alternate from 'tech talk' to end-user speak. This is important when you're trying to teach your agents how to use a new system or upgrade. But conversely, you also need someone who understands the intricacies of the technical side and can go toe-to-toe with the manufacturer on your behalf if necessary. We are that person, or more accurately, we are that team of people.
Wilmac has the largest team of tier-3 certified engineers in the industry and every time you get support from one of our Field Service Engineers, you get direct access to a high-level technician who has the knowledge, experience, and resources to actually help you with your problem.
Here are just a few examples of some of NICE's products we can support:
Current Products:
NICE Inform (Essentials and Professional) 7.2
NICE Engage Platform 6.3, 6.4, and 6.5
IEX TotalView (Workforce Management)
NICE Recording eXpress (NRX)
NICE Trading Recording (NTR)
Sunset and Legacy Products:
NICE Inform versions 1 - 7.1
NICE Perform R1 - R3.5
NICE Perform eXpress 1.0, 2.1, & 3.0
NICE Scenario Replay & LMR
MIRRA I, II, & IV
NICE 8.7 - 9.0
NICE Call Focus II & III
NiceUniverse
NICE Quality eXpress
NICE Recording eXpress
NICE Interaction Management (NIM) 4.1
NICE Engage
Click here to see a more comprehensive list of version and products we can support!
To learn more about Wilmac's extensive NICE expertise, or to see how we can put this NICE knowledge into action for you, contact us today.
Source: http://www.wilmacco.com/blog/2016/09/06/wilmac-support-for-nice-systems
Publish Date: September 6, 2016 5:00 AM
---
For many years now, Wilmac has selected NICE Inform as our Incident Information Management selection for our Public Safety customers. As a result, we are frequently asked "why?"
Here are a few answers directly from Wilmac's Director of Public Safety, Joe Grube.
Q: What does NICE Inform have that other systems (from other manufacturers) do not?
A: Nice Inform has the ability to manage data (recorded audio) from itself and from outside sources (imported mugshots, audio recordings, pictures, reports, etc.), and to put it all into a format that makes sense. Inform allows you to bring context back to the individual pieces of evidence. No other product or manufacturer can do this.
Along with this, NICE Inform has the ability to export large packages of recreated content with a standalone player – transferring the "context" from the creator to the viewer. This is extremely helpful for outside investigators, prosecutors, and other law enforcement personnel.
Q: Compared to other software on the market, what features or functions make it "better"?
A: From a "better" perspective, the interface is polished and refined. Users who have worked with Inform before can easily transition to the latest version of the software with minimal effort. And for those who are new to Inform, its design and ease-of-use is recognizable and intuitive.
Inform is also an extremely reliable platform. It's existed long enough (and been thoroughly tested enough) to have the first-round (and second and third-round) quirks worked out.
Q: In simple terms, what are the quick, high-level main selling points for NICE Inform?
A: In addition to what I mentioned above, NICE Inform is…
Highly flexible
Full of advanced features
A mature product that has had time to become very solid
Priced competitively when compared feature-to-feature with competitors. (Many people think "NICE is so expensive" but it isn't if you compare apples-to-apples. The added features are what makes it more, but you're getting more.)
Paired with a solid recording platform
An enterprise-grade design, regardless of organization size
Source: http://www.wilmacco.com/blog/2016/08/22/nice-inform-what-makes-it-the-industry-leader
Publish Date: August 22, 2016 5:00 AM
---
Since the release of PCI-DSS 2.0 several years ago, Contact Centers have struggled to understand its implications on Call Recording. Early on, the Security Standards Council was inundated with requests for clarification. This prompted them to issue an FAQ to clarify the requirements, and in fact, they had to revise that FAQ twice because the questions kept pouring in. Finally, they published an Information Supplement in March, 2011 called Protecting Telephone-based Payment Card Data, which focused exclusively on Call Recording.
So before we go any further let's first help to provide some clarity. Exactly what does PCI-DSS require as it pertains to your Call Recording system?
First, we have to recognize that there is no doubt that Call Recording is in scope. That means that virtually all of the twelve requirements have some impact on your Call Recording systems. As such, your Contact Center will need to apply the same rigorous evaluation to things like network security, data retention, access control, and audit trails, just to name a few.
PCI-DSS 3.2 states that storage of the card validation code or PIN is prohibited, even if encrypted. So you either cannot capture it or you need to delete it immediately after verification.
Storage of the Primary Account Number (PAN) is discouraged, but may be permitted if it is deemed necessary to meet the needs of the business. As stated in requirement 3.4, the PAN must be rendered unreadable. As it pertains to Call Recording, this means that the recording must be encrypted or stored in a format equivalent to encryption. PCI-DSS 3.2 states that disk encryption which is native to the operating system or tied to a user account, is unacceptable. It must be separate and independent.
Your best bet for addressing these requirements is an automated tool from your Call Recording vendor that stops or pauses recording while the credit card information is being exchanged. This type of tool will detect when your payment application comes up on the agent's screen, or when the agent clicks on a certain field, such as the card number field. These events are used as "triggers" to stop the recording. Another screen event, such as clicking "submit" or closing the payment window, would then trigger recording to resume. Some applications of this type are designed to work out of the box, with minimal configuration. These are sometimes referred to as "desktop analytics" applications by the Call Recording vendors. Others may offer this function as a custom software development or an "API." Both methods can be effective. However, if you have a choice, I would recommend leaning toward a solution that doesn't require software development, since this can often involve extra, unexpected costs to build and maintain. In any case, rigorous testing of an automated solution is highly recommended.
In summary, as long as your Contact Center continues to take credit cards over the phone, your Call Recording systems are in scope for PCI-DSS. When evaluating your systems for compliance, you need to apply the same rigorous evaluation to things like network security, data retention, access control, and audit trails, and all the other DSS requirements.
In particular, you need to focus on requirement 3.2, which prohibits the storage of the card validation codes or PINs, even if encrypted. And you need to focus on requirement 3.4, which requires that the PAN is rendered unreadable.
Source: http://www.wilmacco.com/blog/2016/06/28/pci-your-call-recording-system
Publish Date: June 28, 2016 5:00 AM
---
More and more these days we read and hear about the need for customization. "One size fits all" no longer truly fits all. This is true in marketing, sales, and the customer experience. Studies show that Millennials (born early 1980s to early 2000s) especially look for individually customized experiences and products.
In a world where Millennials make up more than one-quarter of the total population, can your Contact Center afford to continue with its rote script, one-size-fits-all approach? Are your customers leaving their interactions with your agents truly satisfied? Or would they prefer a more individualized approach?
The greatest asset your Contact Center has are its agents, and with the right guidance and coaching, your agents have the ability to provide the personalized experience your customers want.
To that extent, it is important to remember that while technology is important, even the latest piece of technology is just a machine without the support of engaged, caring agents. With that in mind, your agents are not able to be their best if they don't have the tools they need to succeed.
Finding the balance of technology and people can be difficult, especially when your end goal is customer satisfaction.
Tools and programs such as Workforce Management, Workforce Optimization, and Quality Monitoring can help your agents to be their best, while other solutions, such as Real-Time Process Optimization, Real-Time Authentication and Fraud, and Speech Analytics, can help make the Contact Center environment run as efficiently as possible, so those same agents can do their best.
To quote Bill Gates, "If you give people tools, [and they use] their natural ability and their curiosity, they will develop things in ways that will surprise you very much beyond what you might have expected."
Source: http://www.wilmacco.com/blog/2016/06/02/technology-is-important-but-people-still-have-a-place
Publish Date: June 2, 2016 5:00 AM
---
On February 10, 2016, the Association of Public-Safety Communications Officials (APCO) International announced the launch of Project 43, Broadband Implications for the PSAP.
According to APCO, "Project 43, Broadband Implications for the PSAP, will help telecommunicators, public safety answering points (PSAPs), 9-1-1 authorities, emergency operations centers, and others in the public safety community to embrace existing and prepare for evolving broadband communications technologies that will impact PSAP operations and support emergency responders."
The ultimate goal of Project 43, "is for every public safety communication professional to have access to effective broadband connections," says Homeland Preparedness News. The project will be led by Steven H. Proctor, former APCO president and current executive director of the Utah Communications Authority.
To learn more, click here.
Source: http://www.wilmacco.com/blog/2016/05/11/project-43-broadband-implications-for-the-psap
Publish Date: May 11, 2016 5:00 AM
---
Many of our everyday solutions and applications are hosted in the cloud. Whether it's our personal pictures or our work email, more and more data is stored and accessed online instead of on a physical computer. Thanks in part to this increasing trend, your Voice Recording solution can now be hosted in the cloud as well.
As with all hosted solutions, data is stored on a secure network of remote servers that are maintained by the service provider instead of by your internal IT team. That means there is little or no on-site physical equipment to manage either!
Moving to a hosted solution offers many benefits:
Lower Cost – with hosted solutions, most or all physical equipment and all storage and server requirements are off your plate. You'll also have fewer internal staffing demands as the administration, service, and support will be taken care of by your service provider. Even if there is some physical equipment on site, it can be fully maintained by your service provider.
Decreased Complexity – the administration and security of your system is controlled by your service provider. When managed properly, your solution will always be up to date with patches and bug fixes, and all maintenance needs will be handled.
Greater Accessibility – as with all cloud-based solutions, all you need is a commercial internet connection to access the full features and functions of your solution.
Scalability – you can easily increase or decrease licenses to adjust for seasonality or variable staffing needs.
Hosted solutions are a great option for environments of all sizes, in all industries, and especially for those with crucial Call Recording systems.
Source: http://www.wilmacco.com/blog/2016/05/02/hosted-solutions-why-you-should-move-to-the-cloud
Publish Date: May 2, 2016 5:00 AM
---
CX – or Customer Experience – is all the buzz these days, and understandably so. Study after study shows that exceptional Customer Experience leads to customer loyalty, which leads to increased sales. The end result is happy customers and increased revenue.
However, talking about the optimal CX is easy; achieving it can be far more difficult.
The first step to achieving your CX goal is listening to your customers, and the best way to do that is by leveraging the Call Recording solutions you already have. You can't know what your Customers want, need, or think if you don't listen to what they say.
Additionally, many Call Recording systems also provide optional features that can help you get the most out of your data and agents. Are you using your…
Entire set of Workforce Optimization tools to their fullest potential?

This includes Quality Monitoring and Workforce Management!
Speech Analytics to sift through days/weeks/months/years of recordings?
Real-Time solutions to provide in-the-moment guidance and coaching for your agents?
These features, and others that leverage the voice of the customer, can move your organization in the right direction towards creating the best Customer Experience possible.
Source: http://www.wilmacco.com/blog/2016/04/26/leveraging-voice-recording-to-improve-customer-experience
Publish Date: April 26, 2016 5:00 AM
---
Last week, I had the opportunity to attend the New Jersey NENA Annual Conference in Atlantic City. Wilmac has been involved as both a vendor and a presenter at NJ NENA in the past. I was excited to attend and connect with both current and future customers, with the goal of learning more about their needs and concerns, and how the ever-changing technology landscape in the PSAP, along with the continuing push toward consolidation and sharing of services, is affecting their decisions.
I certainly wasn't disappointed in the discussions I was able to have. Several themes emerged through those talks and I thought I'd share them here so that you can consider their impact on your PSAP or agency's operation.
The rapid introduction of video, specifically body worn cameras, is a hot topic but has slowed in its progression. The early, emergency-like push to deploy body cameras has slowed in the interest of making sound decisions, from both an operational and fiscal perspective. The complexity of mass deployment, especially considering the collection and storage of the data, has given agencies reason to be careful.
Evaluating PSAP personnel in a formal manner is something PSAPs are looking to streamline, enabling them to gain insights from the data more easily. There is a direct correlation between needing this data and the drive toward accreditation by the various entities, including the state and CALEA.
Planning for technology upgrades needs to be an inclusive process, both internally and externally, involving vendors who are willing to be honest and consultative. This can help avoid problems later in processes, including duplicate systems provided by different projects doing part of the work rather than having a unified approach.
Consolidation is a hot topic, and many agencies aren't certain what direction will be taken with many PSAP operations and technologies.
The feedback I received and information I came back with is valuable for our Public Safety team. Wilmac's consultative culture and drive to serve as a trusted partner with our customers is only enhanced by listening to interactions with our customers.
It was also great to share with our customers the growth we've had in our services team and the relationship we have with NICE Systems. Wilmac provides on-site support for both their direct and Motorola channel partner customers. This relationship demonstrates the superior level of subject matter expertise our team maintains, and continues to establish Wilmac as the most knowledgeable and experienced service provider available in the industry.
Source: http://www.wilmacco.com/blog/2016/04/22/wilmac-attends-new-jersey-nena-conference-2016
Publish Date: April 22, 2016 5:00 AM
---
We're excited to officially announce our partnership with BT, and are looking forward to bringing tremendous value to the Financial Compliance market.
Over the years, we've seen significant change in the Financial Compliance space. While the technology has dramatically improved, it also became more complex. Regular IT staff often aren't available or certified to appropriately support these new robust solutions. Furthermore, governmental regulations and mandates are constantly evolving, which adds an additional layer of complexity.
As such, financial organizations today have very different needs than those of three or five years ago. When our customers' needs change, so do our service offerings and solutions.
With that, we've developed comprehensive solutions for BT's customer base:
Expert system design and configuration to ensure the voice recording investment is maximized
Management and conversion of legacy systems and data to adhere to the current regulatory standards
Proactive managed services including remote monitoring and automated testing of the recording estate to ensure services are fully operational before trading starts
Sophisticated software solutions that mirror voice recording activities to meet compliance requirements
Confirmation that every call is recorded, archived, and deleted in accordance to your policies
Our goal is to provide our customers with an easier way to stay compliant; our partnership with BT does just that. With one relationship, customers get best-of-breed products and excellent service from the industry's leading compliance experts.
Learn more about our partnership with BT - click here!
Source: http://www.wilmacco.com/blog/2016/04/14/exciting-news-we-ve-partnered-with-bt-to-provide-enhanced-financial-compliance-solutions
Publish Date: April 14, 2016 5:00 AM