2018 Top Ranking Performers Present:

CONTACT CENTER & CUSTOMER ENGAGEMENT
BEST PRACTICES
MAY 7-10 BERLIN, GERMANY
BOOK NOW!
Welcome to the HIGHEST Rated Contact Center & CX Event!
100% Case Study - AWARD WINNING IDEAS from the best around the World
Fantastic NETWORKING, CERTIFICATION & TOOLS to help you today and tomorrow!
Conference Overview
LEARN, ENGAGE & NETWORK
in the contact center world's most highly rated event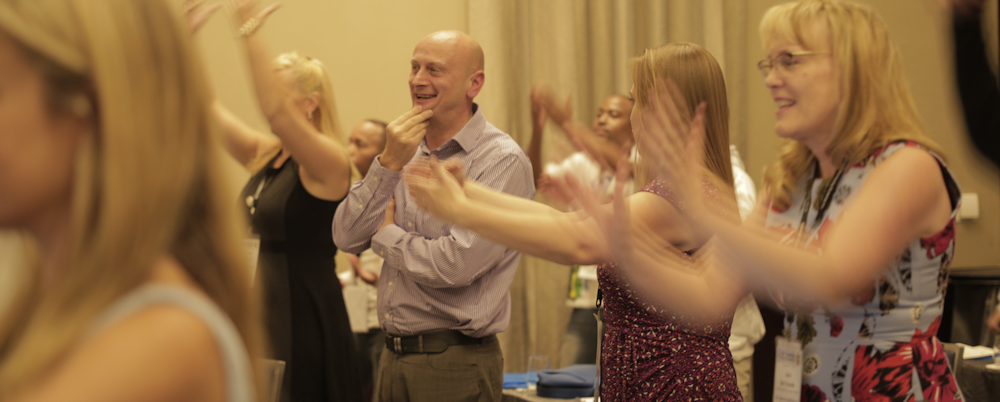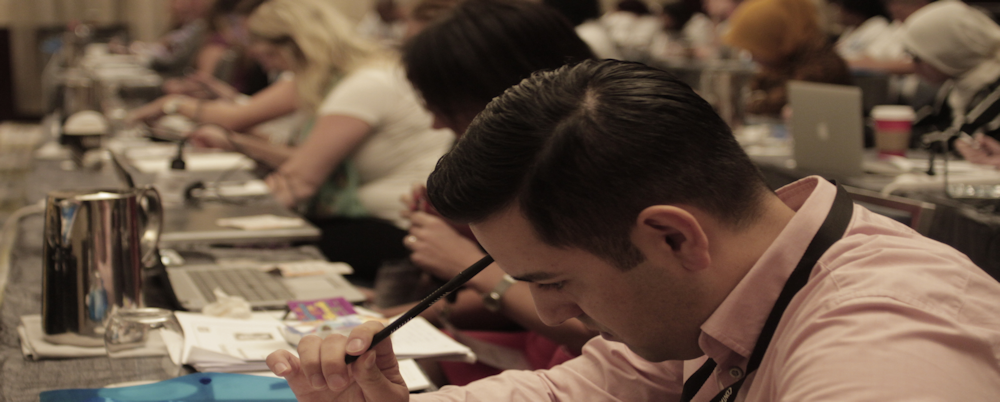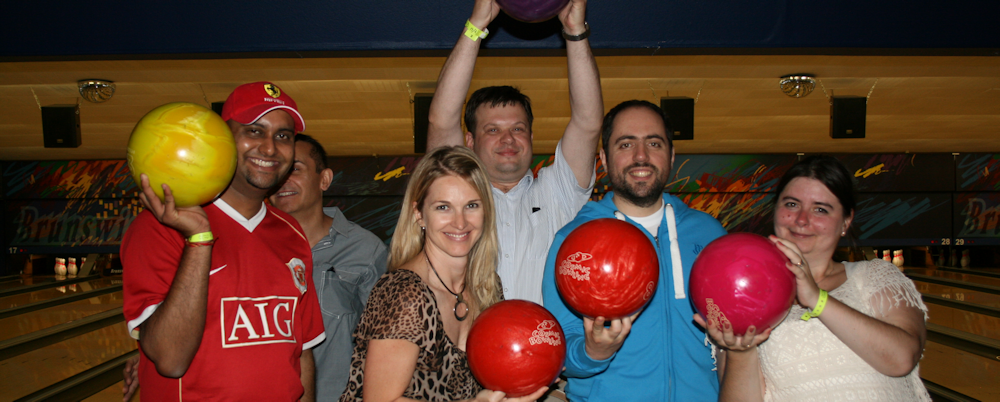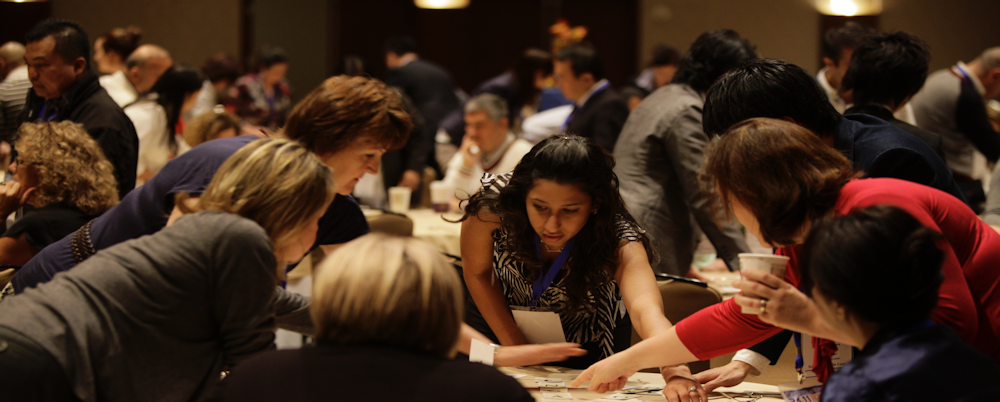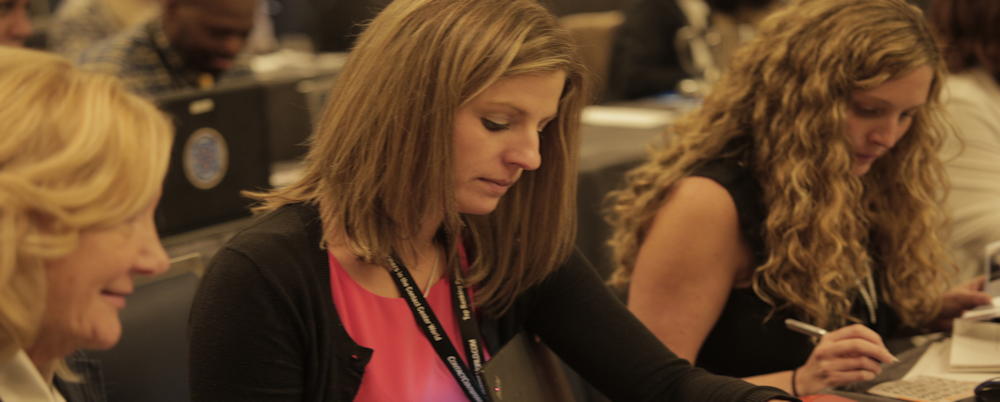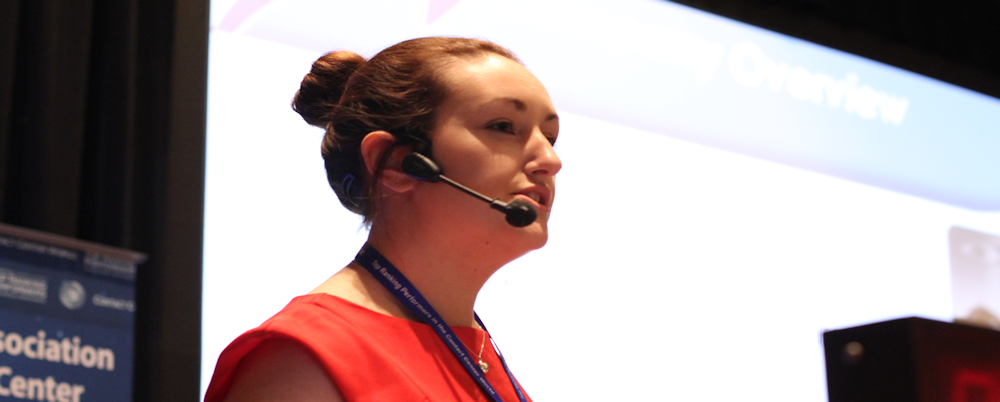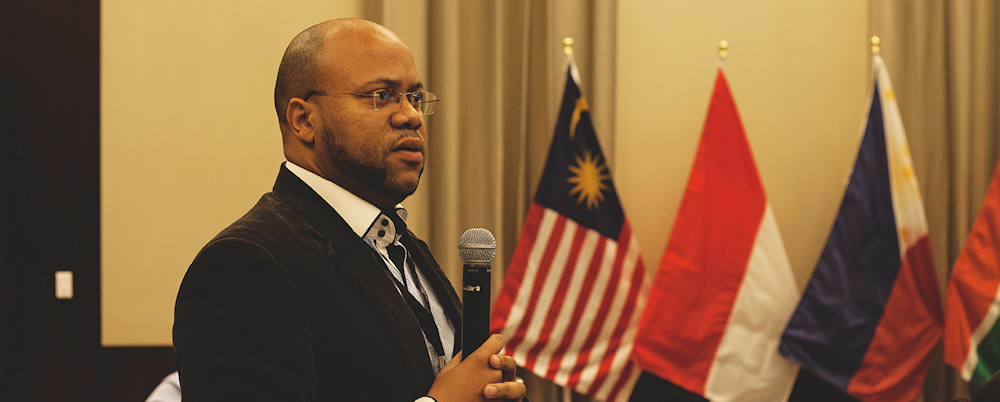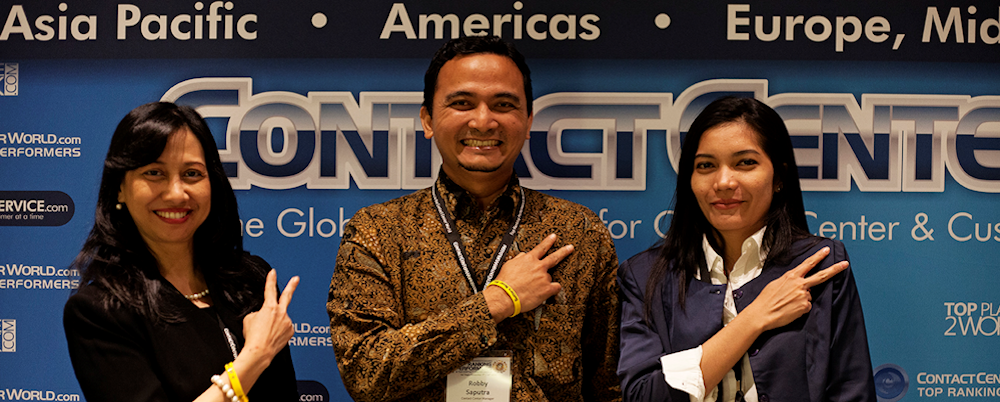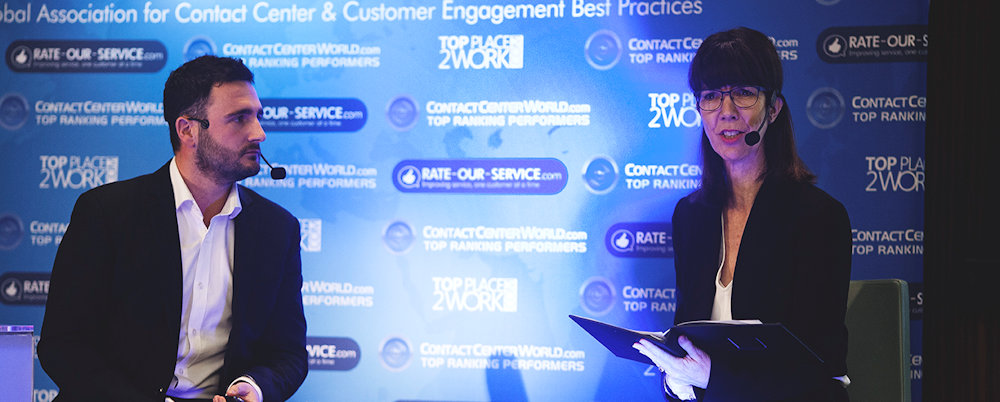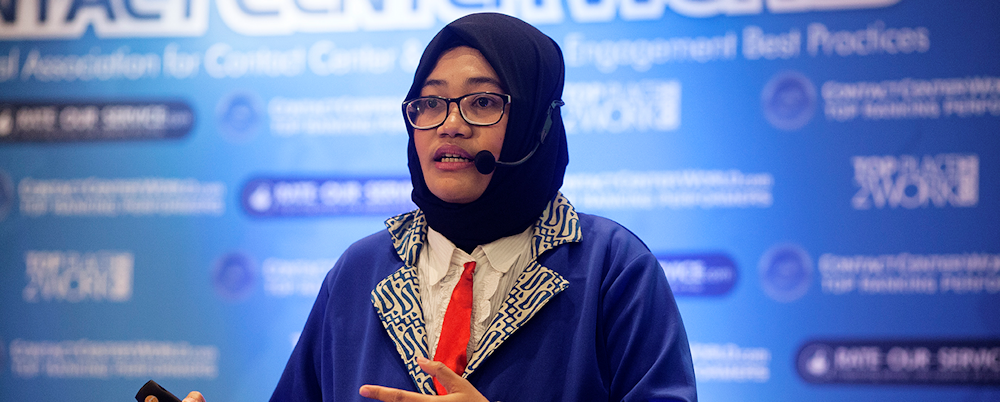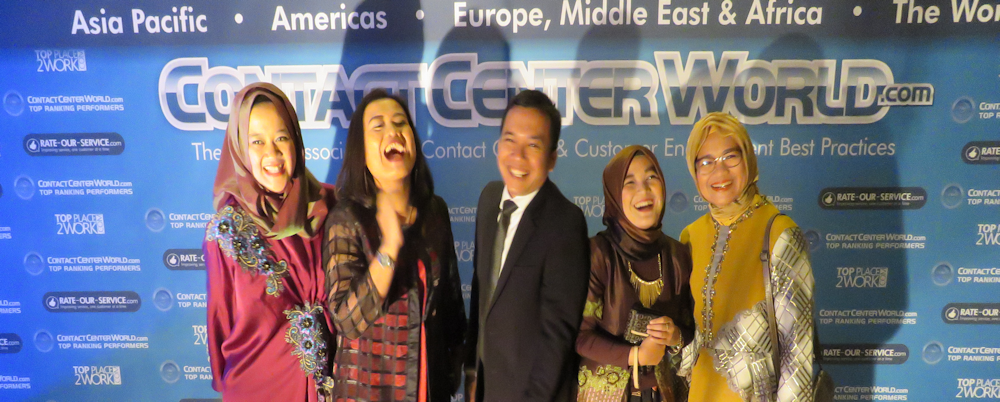 ---
Presenting the Best in the Region
including many 2017 Award Winning companies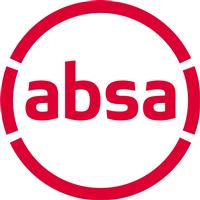 South Africa

Company Overview:
In 2013 the ABSA Wealth , Investment Management and Insurance ( WIMI ) business cluster clearly re-defined the future operating model for its direct delivery channel with a core focus on achieving a sales center of excellence to promote WIMI solutions through its Bancassurance partnership within the Absa Retail Banking channels.
Role of the Center:
Our Contact Centre's main focus is on Inbound and Outbound Sales of Non-Advice Short Term and Long Term Insurance Products. The centre also supports a Short Term Adviser Force where Adviser Customers are assisted in updating policies etc. We also have a Service Area which mainly focus on setting up appointments for Face to Face Advisers and supporting an Orphan customer base.

Turkey
Company Overview:
Alonet Bilgi provides Call Center, Complaint Management, Customer Experimentation, CRM, Social Media Management, Quality and Process Consultancy services to all industries; with a focus in telecom, finance and retail sectors.
Role of the Center:
We are one of the Leading Customer Experience Centers in Turkey, operating with 750 employees and a capacity of 2.500 seats in 9 main industries such as Telecommunications, Retail, Finance & Insurance. We have 3 Locations in Turkey: Istanbul , Izmir,and Sivas
Turkey
Company Overview:
Arcelik A.S. Year of Establishment: 1955 Headquarters: Istanbul,Turkey Having operations in durable consumer goods industry with production, marketing and after-sales services, Arçelik A.Ş. offers products and services around the world with its 27,000 employees,15 different production facilities in 6 countries (Turkey, Romania, Russia, China, South Africa and Thailand), its sales and marketing companies all over the world and its 10 brands (Arçelik, Beko, Grundig, Blomberg, ElektraBregenz, Arctic, Leisure, Flavel, Defy and Altus) serving products and services in more than 135 countries. International organization in 27 countries.
Role of the Center:
Arçelik Contact Center is the FIRST Contact Center in TURKEY. It has been operated since 1991. Our principle is make customers to feel the best customer experience 7/24 not in words, but of deeds. In this regard, we strive for being one step ahead of customer's demands and moves with the vision of "to reach more customers with innovative products and applications in rapidly changing world "provided by optimized processes and digitalized technology with maximum productivity and minimum cost. We have won many awards in the national and international field with our customer satisfaction and CRM applications In our opinion, secret of success for excellent customer experience is managing the perception, empathy and interaction of customer. As a result we want to live and sustain end to end customer experience management. Our contact center includes both support and sales function. We have inbound (white goods, TV, nontv, fcr processes, pos device and other dealer & service system's support teams) Outbound ( sales, inquiry and survey process teams) Solution Center, Back Office, Social Media, IT Help Desk Support, Reporting and Training and Quality teams.
Turkey
Company Overview:
AssisTT, serving in 20 cities and 25 different centers throughout Turkey with approximately 10 thousand employees, is a customer contact point. It also serves as a strategic companion to many public organizations and private companies in addition to Turk Telekom group companies.
Role of the Center:
As one of the biggest call center company in Turkey, AssisTT aims to be the company that defines standards in its field in a short time.

Saudi Arabia

Company Overview:
Bank AlJazira (BAJ) is a Joint Stock Company incorporated in the Kingdom of Saudi Arabia. BAJ commenced its business on October 9, 1976. BAJ is recognized as a Shari'ah compliant financial institution in Saudi Arabia. BAJ is a client-driven and service-oriented Saudi Financial Group which provides individuals, businesses and institutions with Shari'ah compliant financial services through professional and dedicated staff.
Role of the Center:
Aljazira Phone acts as a one-stop-shop for Bank Aljazira existing and potential customers, whether internal or external. We offer the following services: 1) Inbound Customer Service 2) Inbound Sales 3) Outbound Sales 4) PoS Merchant Help Desk 5) Online Banking Help Desk 6) Branch Help Desk 7) Social Media Help Desk
Turkey
Company Overview:
Borusan Otomotiv, founded with the partnership between Borusan Holding and Giwa Holding operating in Germany has been the Turkey distributor of BMW. With the addition of BMW Motorrad in 1992, Land Rover in 1998, MINI in 1999 and Jaguar in 2014; the range of Borusan Otomotiv has expanded.
Role of the Center:
The CRM vision of Borusan Otomotiv Group is achieving increased customer satisfaction, loyalty and profitability through a personalized customer experience enabled by a simple, fast and omni-channel CRM approach. In line with this vision, Borusan Otomotiv Customer Interaction Center becomes a crucial touch point of the premium customer experience. Our single centralized center provides a 365-day customer service.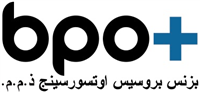 Qatar

Company Overview:
BPO+, a collaborated entity of two distinctly varied professional corporations, is a provider of World-class Contact Center and BPO services, Telecom System Integration and IT services from the Gulf Countries.
Role of the Center:
BPO+ offers services ranging from primary voice-based inbound and outbound services to non-voice BPO and KPO services. Owing to its rich experience and understanding of the dimensions of customer relations and highly qualified and trained professionals, BPO+ have also successfully branched out into a variety of related services including tech-support, online shop assistance and debt collections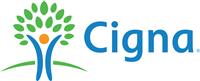 United Kingdom

Company Overview:
We have over 30 years' experience in providing global health insurance and more than 1 million hospitals, physicians, clinics and specialists worldwide. You'll have the reassurance of our experiences, delivering international healthcare across more than 200 jurisdictions. Everything we do is driven by our mission to help improve your health, wellbeing and sense of security. We help customers stay well, prevent sickness, obtain access to health care, recover from illness or injury, return to work and provide for their families.
Role of the Center:
The role of our contact centre is to provide 5* customer service to all of our customers, by supporting them though their full end to end care journey. We have a blended team, of fulfillment, customer service and claims. The fulfillment team are responsible formwelcoming the customer to Cigna, through welcome calls and then ensuring that the customer received all of the correct documentation for their policy. Customer service are our front end 24/7 team, who are responsible for inbound and outbound calls from both customers and medical service providers. They also provide this service through email and web-chat. The claims team ensure that all of our customers treatment is approved, their claims are paid in a timely manner and the customer is referred to our clinical team for case management, should they require ongoing support through their treatment.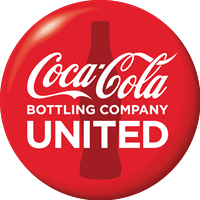 uk

Company Overview:
Coca-Cola Beverages Africa (CCBA) is the tenth largest Coca-Cola bottling partner worldwide and the biggest on the African continent. We serve 12 countries in sub-Saharan Africa including South Africa, Kenya, Ethiopia, Mozambique, Tanzania, Uganda, Namibia, Mayotte, Comoros, Swaziland, Botswana and Zambia. The latter three countries will be integrated into CCBA's operations over the next 12 to 18 months. We boast a diverse pan-African footprint with more than 30 bottling plants serving over 450,000 outlets across the continent. CCBA employs more than 14,000 people and enjoys the number one market position in all of our 12 territories. CCBA is pursuing an ambitious growth strategy that is aligned with The Coca-Cola Company's 2020 Vision and will be supported through investment in manufacturing, sales, distribution and marketing. We aim to be the leading Coca-Cola bottler in Africa, delivering profitable and sustained growth through increased availability and access to Coca-Cola beverages across Southern and East Africa.
Russia

Company Overview:
GRAN is one of the leader of BPO Contact center in Russia &CIS (founded in 2006). 7 sites, approx. 2000 employees which speak 9 languages and having extensive background in customer service, sales and client relationship. GRAN has experience in different vertical market from Finance& Insurance to Retail and E-commerce and have trusted-based and long-term partnership with a lot of Global and Russian Companies.
Role of the Center:
Our Company is BPO contact center, so we have a number of projects of different types: customer support, tech support, leads generation, sales campaign, market research. Our Company is one of the leader in Russia and CIS market.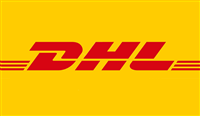 Kenya

Company Overview:
DHL is the global market leader in the logistics industry. DHL commits its expertise in international parcel, express, air and ocean freight, road and rail transportation, contract logistics and international mail services to its customers.
Role of the Center:
The Contact Centre Supports Customers to purchase our goods and Services, Upsell on the product , Generates New business and identifies potential leads. Serves as a central information Centre for the customers, A tracking platform for customers tracing for their shipments.

Qatar

Company Overview:
HMC has been the principal public healthcare provider in the State of Qatar for over three decades, and is dedicated to delivering the safest, most effective and most compassionate care to each and every one of our patients. HMC manages eight hospitals, incorporating five specialist hospitals and three community hospitals. HMC also manages the National Ambulance Service as well as home healthcare, both accredited by Joint Commission International. While HMC continues to upgrade its facilities and services, it has also embarked on an ambitious expansion program, targeting the areas of need in our community.
Role of the Center:
BPO+ have been working with Hamad Medical Corporation for over 3 years partnering to deliver the HPCC and RBMS services to support the Patient care mission. We very closely understand and have been actively contributing into the Vision of our Emir to provide high quality healthcare services to all citizens and residents in the country, which meet the best global standards of quality and outcomes. BPO+ and HMC wanted to highlight their fruitful partnership to the world , so that could provide meaningful learnings from this partnership to others in the filed.

Turkey
Company Overview:
The leader of online shopping in Turkey; With over 12.7 million products
Role of the Center:
The center supports customers

United Arab Emirates

Company Overview:
Mashreq has provided banking and financial services to millions of customers and businesses since 1967. We are one of UAE's leading financial institutions with a growing retail presence in the region including Egypt, Qatar, Kuwait and Bahrain. We focus on providing our customers access to a wide range of innovative products and services. Our branch network extends across the UAE with one in every two households in the UAE banking with us. We also have customer service centres in key retail locations and one of the largest ATM networks in the country. We also have 12 overseas offices in nine countries, including Europe, US, Asia and Africa.
Role of the Center:
Our Call Center is a highly professional, multinational, multilingual contact center which provides 24 x 7 SUPPORT catering entire Retail Banking Group. This team is backed by the best in class IVR and dynamic call routing technology – a perfect balance of efficiency and personalization. We operate on the core belief of customer centered Innovation and a currently working on pushing our First Point of Resolution scores northwards of 80%. We servicing the following unique geographies and customer segments:- – UAE Banking, Qatar, Bahrain & Kuwait – Priority Banking – Gold and Private Segments – Securities – Small & Medium Enterprise – Interacting with 140,000+ customers every month – Our entire product suite can be bought over the phone
South Africa

Company Overview:
Merchants is a leading Customer Management Outsourcing solution provider specialising in delivering exceptional customer experiences. We are pioneers in the contact centre industry with almost 35 years of experience in designing, building and operating contact centres around the world on behalf of blue chip clients. Our services and solutions are built on tried and trusted models, systems and processes that are based on best practice standards.
Role of the Center:
The Global Service Centre operated on behalf of Dimension Data acts as the primary interface for DD's customers should they need to invoke any support services. Services range from simple catch and dispatch incident logging, Fast Fix First Call Resolution calls, Remote Desktop support, live event monitoring. These services are provided to local, as well as multinational clients, and the Centre is operated around the clock 265 days a year.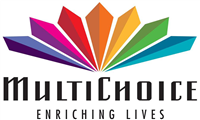 South Africa

Company Overview:
Pay TV Company based in South Africa, offering various TV and online-based entertainment services such as movies, series, sport, documentaries, and actuality programs. These are offered on various platforms including Digital Satellite TV, Web Streaming, and Mobile TV. Multichoice South Africa is owned by Naspers - the largest company on the Johannesburg Stock Exchange.
Role of the Center:
The role of my contact center is to provide customers with information to address inquiries regarding products and services. In addition to that we help resolve any customer complaints. For instance, a customer would like assistance in opening a new dstv account or would like to be assisted in resolving a problem with a technical query. We also help our customers on how to use equipment or resolves issues with equipment mainly their decoders, mobile devices. Turning on and off accounts or suspending them as well.

Portugal

Company Overview:
Randstad Holding is a temporary and contract staffing organisations. Set up in 1960 by Frits Goldschmeding in a one-roomed office in Amsterdam, it now has 1,600 branches and 642 in-house locations at customer sites in Europe and North America.In Portugal, Randstad Contact Centres collaborates, as a partner, in the start-up of many of the main Portuguese Contact Centres, in fields such as Banking, Insurance, Telecommunications and Services. Holder of the means and expertise required to quickly and effectively meet the most stringent human resource requirements, whether temporary or permanent, Randstad Contact Centres is a business partner of resource management companies, providing a global service, so that, together, they may achieve high levels of customer satisfaction.
Role of the Center:
Our Contact Center is a Support service to customer one, for a telecommunications company and we: - Handle inbound calls: customer calls us to obtain information about equipment's, services, tariffs, to report malfunctions, ask for help and Customer retention; in my contact center we handle inbound calls for mobile and fixed services, for 7 different segments of our Client customers and 1 for internal Customers; - Handle Outbound calls to campaigns launched by our client; - Back-office: beside treating the Work-Orders requested by our answering agents, we deal with Email Response.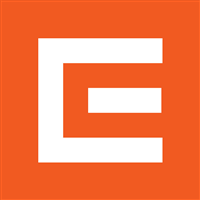 Czech Republic

Company Overview:
We are is the biggest power company in Central and Eastern Europe. It provides sales and distribution of electricity and gas in the Czech Republic. We are responsible for the whole service (retail segment) in the Czech Republic. Our role is: support customers and also sell products - electricity, gas and other complementary products.
Role of the Center:
There are many ways to contact us - customers can use the customer service line, web based virtual sales office, visit the 24 customer centers or 53 offices of business partners - all contact places are situated in significant cities. There are 500 employees in customer branches, serving face to face customers. Almost 5500 customers visit us daily in our contact centers.

South Africa

Company Overview:
We are an outsourced contact centre that supports retailers and manufacturers. We deal with customer servicing and consumer services. Our number appears on the back of packs for certain products. If a consumer is unhappy with the product, they connect with us via telephone, email or any social media channel.
Role of the Center:
We offer end-to-end solutions that include courier service to pick up the damaged product and transport it to a lab for independent testing. We also manage an electronic voucher system for consumer redemption. We process orders of products that go onto the shelves at retail outlets as well.

South Africa

Company Overview:
Sell products in the short term insurance sector as well in the assurance and secured lending segments. We also sell short term commercial insurance across South Africa. We sell products that cater to the specific needs of our clients in a way that is truly customer-centric. As a brokerage, we have access to a panel of underwriters whereby we can ensure that we get our clients the best possible deal at every juncture and also do the shopping for them in order to save them time and stress should they lack the specific acumen that is associated with insurance. We have two sales contact centres which are divided into multiple arms that service specIFIC clients with defined income bands. We also group related insurance products such that we are able to solve our customers' problems in a holistic sense. We have a variety of products within each insurance category requiring our consultants to be highly knowledgeable, multi-skilled, and experts in treating our customers fairly.
Role of the Center:
Simply put, the role of the sales contact centre is to provide peace of mind to our customers and to sell a product that meets their individual needs and will be there should they need it.

South Africa

Company Overview:
As a licensed financial services provider Talksure offers broker and intermediary solutions including personal lines, short term insurance, long term insurance and medical gap cover. Talksure takes great pride and responsibility in being an authorised financial services provider. We do not just follow guidelines for compliance and treating customers fairly we live those values and this is what differentiates us from our competitors. We have an ever growing team of highly skilled, fully accredited customer consultants as well as, trainers, coaches, quality assurance assessors and key Individuals, who together ensure top quality sales are generated and services of a high standard are rendered to our clients, as well as our partners and their client base. Furthermore, we are accredited with INSETA and receive funding annually to further upskill and develop our people to ensure that we stay abreast of industry trends and customer requirements.
Role of the Center:
Being one of the leading contact centres in the country we strive to make every call a success, be it a sale or service. We believe that our telephone etiquette and mannerisms place an everlasting impression in the minds and hearts of those we interact with. Additionally, we offer a wide range of insurance products at affordable premiums making it accessible and affordable to all.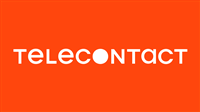 Russia

Company Overview:
Telecontact started in 1999 among first outsourcing call centers in Russia. Now the company operates a distributed contact center system of 18 sites in 9 cities over 5 countries: Russia, Ukraine, Belarus, Kazakhstan and Uzbekistan; the overall amount of full time equivalent agents now is 3500+.
Role of the Center:
Telecontact provides the full range of inbound and outbound services, involving all up-to-date communication channels. The industries most presented in clients portfolio are Banking (50%+), E-commerce, and Telecom. Since 2009 the company has the biggest revenue share on Russian market.

Turkey
Company Overview:
Turkcell Global Bilgi was established in 1999, as a Turkcell Group Company. And as Turkey's leading customer relationship management center (support customers, sell and collection, etc.)
Role of the Center:
we operate with more than 13 thousand employees and a capacity of 7, 500 seats at total of 24 centers, with 19 in Turkey, 4 in Ukraine and 1 in Russia. Besides its broad experience in the telecom sector, Turkcell Global Bilgi combines expertise with a wide ranging customer portfolio in such areas as the public sector, retail, finance, IT, and media/entertainment.

Turkey
Company Overview:
Vestel is a Turkish home and professional appliances manufacturing company consisting of 18 companies specialised in electronics, major appliances and information technology. Vestel's headquarters and production plant are located in Manisa, while the company's parent conglomerate is the Istanbul based Zorlu Holding.
Role of the Center:
Our contact center supports customers via various channels 7/24, gives help desk service for customers and our authorized technical services, sells products and services such as additional warranty, maintenance tools for home appliances, refrigerators, dishwashers, TV's, smartphones etc.
South Africa

Company Overview:
Volkswagen Group South Africa is a wholly owned subsidiary of Volkswagen Group AG and employs in excess of 5000 people. The Volkswagen Group comprises eleven brands: Volkswagen, Audi, Bentley, Bugatti, Lamborghini, Porsche, Scania, Ducati, SEAT, Skoda and Volkswagen Commercial Vehicles. The Group operates 60 production plants around the world and nearly 370 000 employees produce about 28 000 vehicles or are involved in vehicle-related services each working day. The Volkswagen Group sells its vehicles in more than 150 countries worldwide.
Role of the Center:
The Volkswagen Group South Africa Customer Interaction Centre (CIC) was established in 2004. To remain a leader in the automotive industry it is imperative to have an acute understanding of customer needs and to ensure that people, processes and technology are aligned and geared to reach and exceed the overall company objectives. The CIC offers its customer base a host of inbound services, namely: 24 hour Roadside Assistance, General Enquiries, Customer Care, Dealer Helpdesk, Fleet Support Services and Social Media that supports a national dealer network of approximately 150 dealerships comprising the Audi, Volkswagen and Volkswagen Commercial Brands. The role of the Customer Interaction Centre is to provide end-to-end Contact Centre services in support of customer loyalty, acquisition and retention. Strategically positioned at the VWSA manufacturing plant in Uitenhage, the Customer Interaction Centre is set to beco
To view details about the company and their contact center, use the scroll tool below.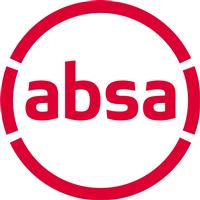 ABSA Bank
South Africa


Alonet Bilgi Teknolojileri
Turkey
Arçelik
Turkey
AssisTT
Turkey

Bank Aljazira
Saudi Arabia

Borusan Otomotiv
Turkey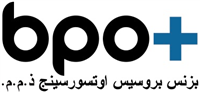 BPO PLUS WLL
Qatar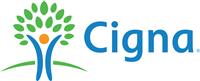 Cigna
United Kingdom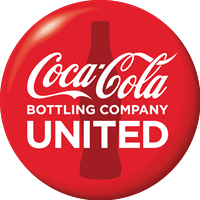 Coca-Cola Bottling Co. Consolidated
uk

Contact Center Gran Ltd
Russia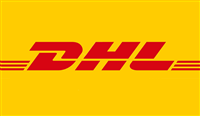 DHL Express (K) Ltd
Kenya


Hamad Medical Corporation
Qatar


Hepsiburada
Turkey

Mashreq Bank
United Arab Emirates

Merchants SA (South Africa)
South Africa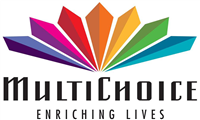 Multichoice SA
South Africa


Randstad Portugal
Portugal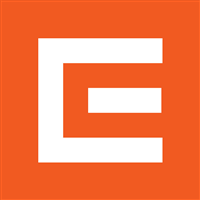 Skupina ČEZ
Czech Republic


Smollan
South Africa


Standard Bank South Africa
South Africa


Talksure
South Africa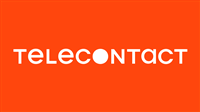 Telecontact
Russia


Turkcell Global Bilgi
Turkey

Vestel
Turkey
Volkswagen Group South Africa
South Africa

---
PRESENTERS
Confirmed speakers include
Bharat Parshotam
ABSA Bank
Head of Direct Delivery | 6 Yrs in the industry.
Imtiaaz Dhoodhat
Standard Bank South Africa
Dialler Manager | 11 Yrs in the industry.
Miguel Azevedo
Randstad Portugal
Branch Manager | 11 Yrs in the industry.
Ebru Demir
AssisTT
Operations Director | 22 Yrs in the industry.
Mogammod Adams
Merchants SA (South Africa)
Work Force Manager | 10 Yrs in the industry.
Sean Coomer
Multichoice South Africa
Workforce Management Manager | 10 Yrs in the industry.
Bora Denizeri
Hepsiburada
Customer Services and Supplier Relations Head | 0 Yrs in the industry.
Mustafa Azizoglu
AssisTT
Corporate Communication Manager
Yasar Tuzel
Vestel
Business Development Specialist | 3 Yrs in the industry.
Lorna Clarkson
Cigna
Operations Manager | 19 Yrs in the industry.
Miray Yılmaz Okunakol
ALONET BİLGİ TEKNOLOJİLERİ A.Ş
Customer Experience & Operation Development Director | 13 Yrs in the industry.
Osman Firat
ARÇELİK A.Ş
Head of Contact Center | 2 Yrs in the industry.
Teresa Rodrigues
Randstad Portugal
Quality Auditor | 2 Yrs in the industry.
Muhammed Shuaib Shaik
Standard Bank South Africa
Contact Centre Sales Manager | 11 Yrs in the industry.
Eugene Merckel
Merchants SA (South Africa)
Head of Operations | 3 Yrs in the industry.
Kadir Ataş
AssisTT
Director of Technology
Sinem Ozel Ucar
Borusan Otomotiv
CRM Business Development Center Unit Manager | 4 Yrs in the industry.
Kayahan Balta
ARÇELİK A.Ş
Customer Services Expert
Amjad Naim
Mashreq Bank
Call Center Manager | 13 Yrs in the industry.
Natalia Gorokhova
Contact Center Gran Ltd
Chief Operations Officer | 18 Yrs in the industry.
Sean Moss
Talksure
Head of Sales | 12 Yrs in the industry.
Minenhle Mathobela
Multichoice South Africa
Sales Consultant | 5 Yrs in the industry.
Michelle Meteve
ABSA Bank
Sales Manager
Deven Govender
Merchants SA (South Africa)
Head of Operations | 21 Yrs in the industry.
Cláudia Martins
Randstad Portugal
Business Manager | 17 Yrs in the industry.
Ilse Hess
Merchants SA (South Africa)
Head of Talent | 2 Yrs in the industry.
Olesya Krasutskaya
Telecontact
Project Manager | 3 Yrs in the industry.
Annie Padayachee
Smollan Contact
Executive - Customer Interaction | 17 Yrs in the industry.
Omer Kalin
ARÇELİK A.Ş
Line Manager
Johnaton Dorasamy
Multichoice South Africa
Sales Manager | 4 Yrs in the industry.
Khaled Ramadan
Bank Aljazira
VP - Head of Alternative Delivery Channels | 15 Yrs in the industry.
Amelia Ribeiro
Randstad Portugal
Contact Center Trainer | 2 Yrs in the industry.
Marlene Fernandes
Randstad Portugal
Head of Operations
Melda Sofuoglu
Turkcell Global Bilgi
Channel Experience and Operation Development Manager | 18 Yrs in the industry.
Ipek Yuksel
AssisTT
Quality Auditor
Jane Karugi
DHL Express (K) Ltd
Head OF Customer Service | 12 Yrs in the industry.
Adam Gottlich
Standard Bank South Africa
Senior Manager Behavioural Science | 1 Yrs in the industry.
Vladimira Rosendorfova
CEZ ZS
Specialist
Turky Almuharib
Bank Aljazira
Head of Phone Banking Division | 6 Yrs in the industry.
Hugo Emanuel Silva
Randstad Portugal
Head of Operational Efficiency | 14 Yrs in the industry.
Jennifer Algie
Merchants SA (South Africa)
People Director | 12 Yrs in the industry.
---
CONFERENCE RELATED VIDEOS
Videos from past events - including a visit from a President of the USA!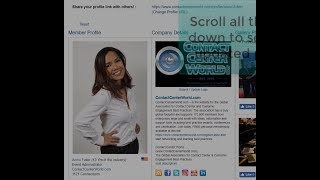 How to set up and update your professional profile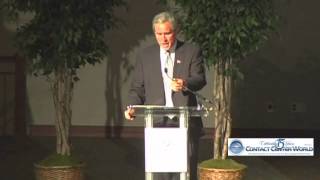 President of the USA Speaks at a ContactCenterWorld.com Awards Dinner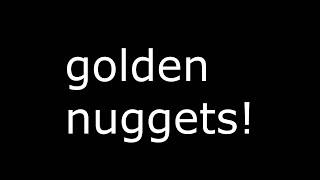 ContactCenterWorld.com Conferences - Golden Nuggets!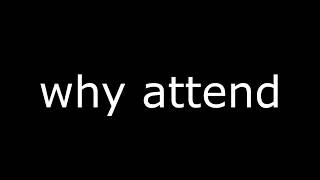 ContactCenterWorld.com Conferences - why attend?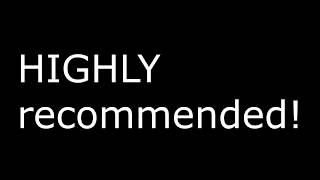 ContactCenterWorld.com Conferences - Highly Recommended!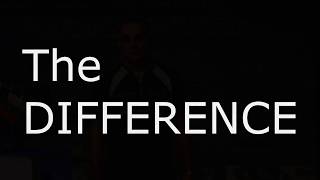 ContactCenterWorld.com Conferences - the difference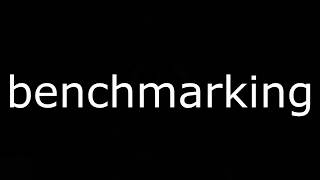 ContactCenterWorld.com conferences and benchmarking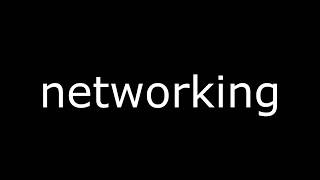 ContactCenterWorld.com Conferences - Powerful Networking!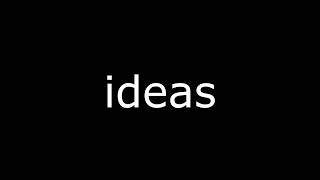 ContactCenterWorld.com Conferences - ideas!!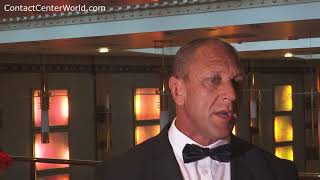 Jaques de Beer of Talksure SA on ContactCenterWorld Events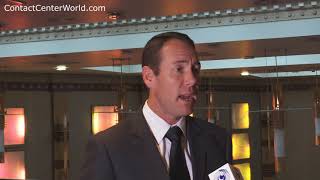 Malcolm Vining of ABSA on ContactCenterWorld Events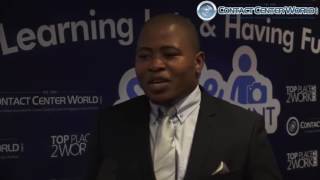 Mthokozisi Nsango Multichoice on ContactCenterWorld Conferences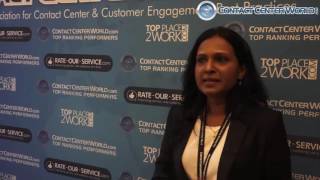 Edna Pereira Astro on ContactCenterWorld Conferences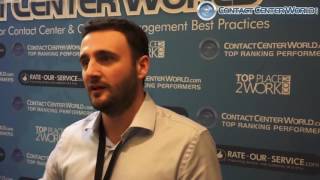 Stephen Abbruzzese Concentrix NZ on ContactCenterWorld Conferences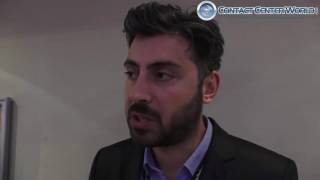 Utku Toprak Teleperformance Turkey on ContactCenterWorld Conferences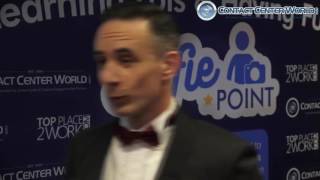 Christoph Stolp Tipico on ContactCenterWorld Conferences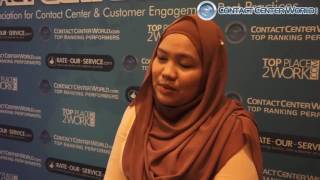 Jasmin Aksan Astro on ContactCenterWorld Conferences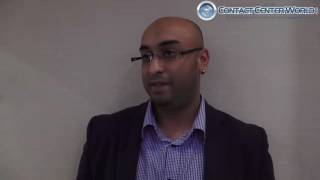 Ashil Ajoodha Standard Bank on ContactCenterWorld Conferences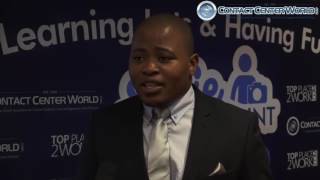 Mthokozisi Nsango Multichoice on ContactCenterWorld Conferences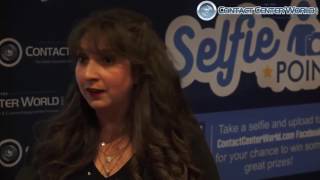 Stephanie McDonald Concentrix UK on ContactCenterWorld.com Conferences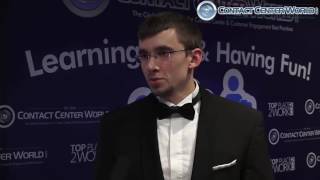 Martins Gagainis Lattelecom on ContactCenterWorld Conferences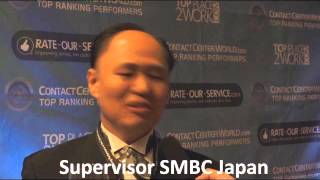 In ONE word what delegates said about our latest event!
---
DELEGATE TESTIMONIALS
EVEN MORE REASONS TO NOT MISS THIS EVENT!
Sunjveer Panday
Talksure
Sales Manager | 6 Yrs in the industry.
There is a lot to learn from all parts of the world that will help you in your industry and make you much better.
Sibusiso Ndaba
Multichoice
Team Leader | 8 Yrs in the industry.
I did not expect such an event it exceeded my expectations, well done. It was absolutely an amazing experience. You learn a lot from it and you are able to network with the right people.
Bharat Parshotam
ABSA Bank
Head of Direct Delivery | 6 Yrs in the industry.
The best practices shared and networking opportunities that present themselves is awesome. Raj and Team, well done, The event was incredible and i must say it really did it for me!!
Miray Yılmaz Okunakol
ALONET BİLGİ TEKNOLOJİLERİ A.Ş
Customer Experience & Operation Development Director | 13 Yrs in the industry.
it's a good experience to be there and see new ideas
Koray Bebekoglu
Doğuş Otomotiv
Director | 20 Yrs in the industry.
Very well organized, friendly atmosphere, structured and promoting to get out of comfort zone and build warm relationships. Such a good example enabling people to interact
Maria Kotsyfaki
Mellon Group of Companies
Business Developement Director | 18 Yrs in the industry.
Inspired a lot from the people participated. I contacted most of them and took back tips for improving rewarding system, performance and customer satisfaction KPIs. Friendly atmosphere in an event that looked like Oscar's fin
Renée Thomas
Aegis South Africa
Senior Manager Operations | 19 Yrs in the industry.
Awesome conference, very insightful. Great tips and ideas.
Sheena Shaik
Talksure
Quality Assurance Supervisor | 8 Yrs in the industry.
The take back from the event was fantastic. You get to meet different people from different cultures. You get to exchange ideas with industry leaders. This event allowed me to grow as an individual .
Vanie Subramoney
Merchants
People Development Consultant | 10 Yrs in the industry.
This is a great opportunity to benchmark industry standards, gain new information and network beyond.
Eray Özcan
Turkish Ministry of Health
Director of Software
İt is very well organized event. and professional. Thx Raj for the great event.
Sandra Costa Martins
Teleperformance Portugal
Vice President of Business Development | 23 Yrs in the industry.
Excellent event, excellent organization and excellent best practices sharing . Thank you so much for this week!
Kassondra Riley
Hamad Medical Corporation
Asst. Executive Director of Patient Contact Centre | 18 Yrs in the industry.
this conference was an opportunity for many call center professionals to express and showcase what they are doing.
Mariana Arnaut
NOS
Manager of Customer Service Change Management | 5 Yrs in the industry.
The event was even better than I expected, as I could learn from other people's projects from all over the world and have the chance to network.
Mithum Singh
Merchants
General Manager - Operational Support | 16 Yrs in the industry.
Overall experience was excellent, could not ask for more.
Skuli Skulason
Reykjavik Energy
Managing Director (CCO) | 22 Yrs in the industry.
Here I saw people who are dedicated and enthusiastic in their work. People who love their work presenting with honesty what they are doing, what is working and what is not.
Ekaterina Osina
Teleperformance
CEO | 16 Yrs in the industry.
Excellent best practice sharing floor, excellent opportunity to connect with a lot of new friends. ... Best communication channel:)
Carla Basilio
Portugal Telecom
Head of Customer Care
Learn the best pratices from the best in the industry - it's an enriching event to everyone.
Lucia Pinto
Cisco
EMEA Service Delivery Manager
It has been a great week, thanks everyone for the inspiring presentations!
Vanesa Criado Silvar
Concentrix
Operations Manager
Excellent opportunity to learn and get tips from other colleagues from the industry!!
Pedro Gomes
Teleperformance Portugal
Chief Operating Officer
It's a great way of meeting people from other countries and other sectors but who face the same challenges as we do on a daily basis. It's a great way to see what other companies and contact centers are up to and to get some very good ideas that you can decide to implement yourself and raise your own bar.
Ashil Ajoodha
Standard Bank
Manager Campaign Execution | 16 Yrs in the industry.
This was my first time with ContactCenterWorld , it's was great ! Very organized and professional team. . The sharing of best practices between the best in the industry was priceless. I would recommend others to come see and experience it for themselves
Vildan Cal Özel
Turkcell Global Bilgi
Operations Director | 11 Yrs in the industry.
This is a perfect opportunity to see best cases in the industry and to meet with different people from different countries/cultures and exchange ideas. Every year, it inspires me with new ideas to implement
Ronelle Cain
Multichoice
CCM DStv Digital Care | 4 Yrs in the industry.
Thank you so much for this! Awesome experience
Tunde Hubina
UPC Direct
Customer Care Director
I liked the diversity of the businesses represented by the attendees & the similar job but differ in many ways we do on daily bases. I learnt a lot about the novelties & way of managing employees, career & professional development of employees.
Ana Ferreira
Metlife
Telemarketing Operations & Projects Manager Iberia | 20 Yrs in the industry.
This conference represents an opportunity to better understand the industry in the areas and realities we don't know so much and an amazing opportunity to networking with people all over the world with exciting backgrounds and experiences to share. I learned a lot with all them. Thank you very much for the opportunity.
Philippe Belhomme
ING Bank
Traffic Manager ING Contact Centre
Fantastic conference - amazing networking abilities, it was a real pleasure!
Gustavo Madeira
NOS
Director
The fact that everybody takes a full participation (or at least has the opportunity to do so) & shares concerns, challenges & lessons learned is a key differentiator.
Emil Seyfferdt
Emirates Airlines
Retail & Contact Center Development Manager
A must attend conference if you are serious & want to improve the service currently delivered to your customers. Top tips for everyone on how to improve your business, your people & your service.
Mine Ozkut
Turkcell Global Bilgi
Business Development and New Operations Division Head
This is an event where you can listen to the best practices in the industry, share your experience & network with the professionals of the industry. Everyone is so willing to share what they are doing, so you can benefit as much as you want. All you have to do is communicate with people. There is fun, too.
Erbil Topgul
B/S/H/
Call Center Line Manager
It was an amazing conferences & learned many new ideas, I strongly recommend to everybody ... It was an amazing conferences & venue. If you 'd like to make benchmarking, to find your development areas, to meet with new people & share your best practices, your ideas your tips. this is the right place you should be
Joaquim Costa
NOS
Customer Service Improvement Manager
The event it's been very interesting because we had the opportunity to share best pratices with the best performers in the industry
Christelle Correia
Clientele Limited
Operations Director
ContactCenterWorld conferences are a great way to open your mind and increase your knowledge of the Contact Center Industry. It is a great way to share your own experience with the rest of the world.
Paul Kavanagh
Sportingbet
Managing Director
excellent networking opportunity and a conference where you can learn what happening in the industry. Contact center World is the oxygen of the industry. Resisting change is like holding your breath, if you persist, you die so attend and learn from your peers.
John Connolly
British Gas
Head of Innovation
The openness of all presenters was refreshing, and it was a pure best practice event. There's no point in re-inventing the wheel when so many great best practice ideas and initiatives already out there, and are freely available during the course of this conference... plus you won't be pestered by vendors!
Tamsin Bradford
Sage
Head of Support & CX | 19 Yrs in the industry.
This is the event to attend if you are passionate about the contact centre environment & you wish to get practical hands on tips from peers in all areas of the industry. I do not attend any other conferences or events anymore.
Glenda Mailloux
Ooredoo
Chief customer experience officer
I found that the material covered was very relevant to all contact centers in today's environment. The quality of the presentations were very good as were the group discussions.
Ghassan Anabtawi
REACH for Telecom
General Manager
This event tops all previous events i attended. Cannot name them but they were in sweeden, france, Jordan, and two other countries but this one is more serious ... the most enjoyable, yet condensed learning experience in the contact center world
Halima Baksha
Clientele Limited
Assistant Manager - National Contact Centre
It was an amazing event - very well organised - professional - nice ideas to implement - & lots of fun :)
Les Blacker
Hinduja Global Solutions UK Ltd.
Operations Director - Europe | 5 Yrs in the industry.
Attended contact centre world Emea conference in London. Well organised Raj and some great presentations.
---
LEARN FROM THE BEST
hundreds of ideas and best practices
How to Run a World Class Contact Center
Leadership and Team Management best practices
Social Media Management and the role of the contact center
Campaign Management - sales / direct response / outbound programs for top performance
Technology - innovation and solutions that are developed internally 
Customer Engagement - Improve your service and increase profits
Supporting the Center for Success - HR, Workforce Planning, IT - how these professionals support the center and how to get more from your teams

Outsourcing Partnerships

Help Desks - how they run, how to be a top performer
Training in Contact Centers - whats the best ways to engage your staff
Employee Engagement - how to engage staff, motivate and inspire them
Home / remote Agents - how to set up programs and run them successfully
       ... a full program designed to help any contact center professional learn more
           and become more valuable to their company!
      PLUS, You will literally walk away with hundreds of new, refreshing ideas from the best in the region! 
       and remember this is the contact center world's most highly rated event
       - a whopping 98% of delegates say they would recommend it!
---
EVENT BROCHURE
Everything you need to know about this amazing event!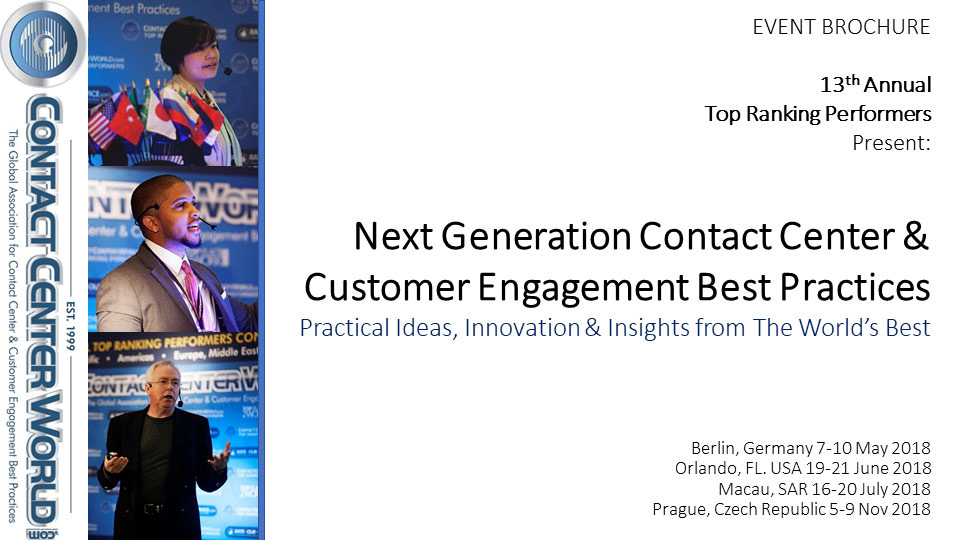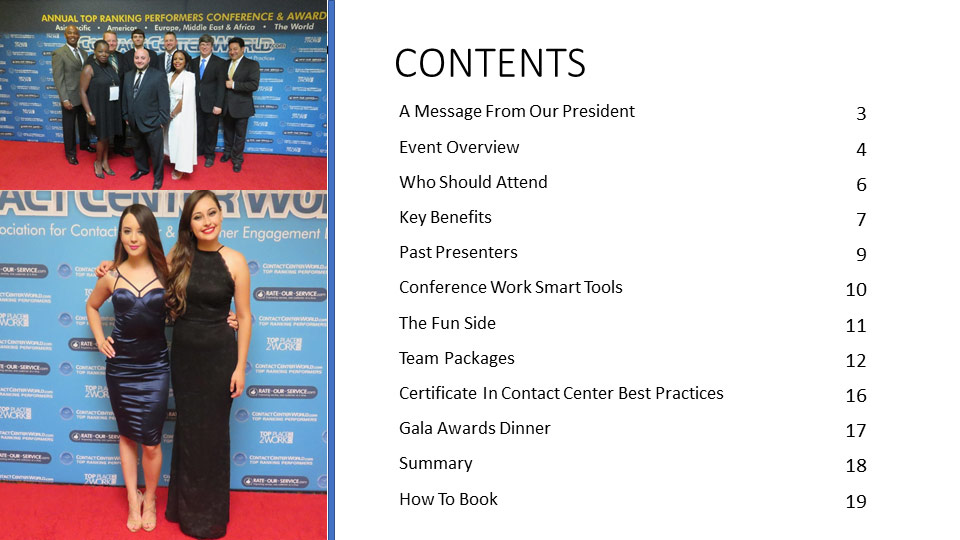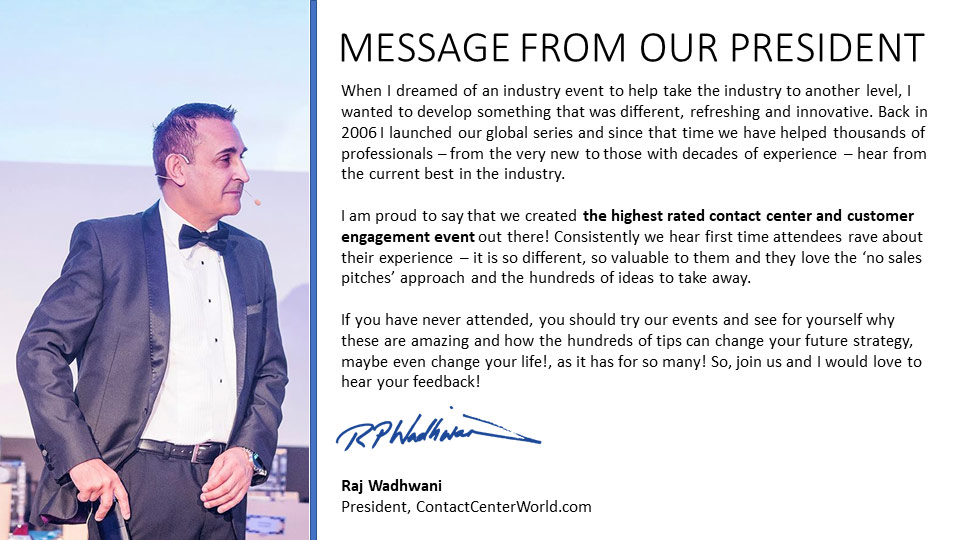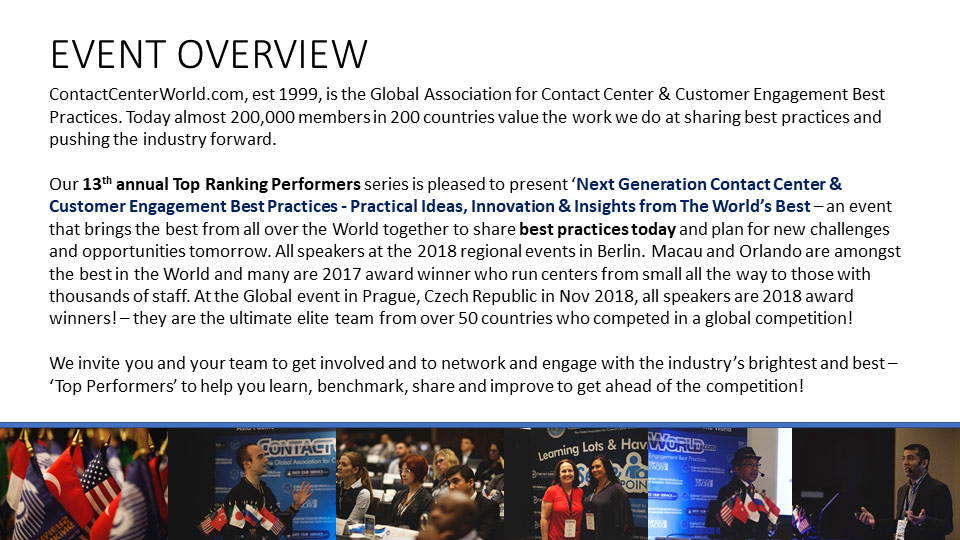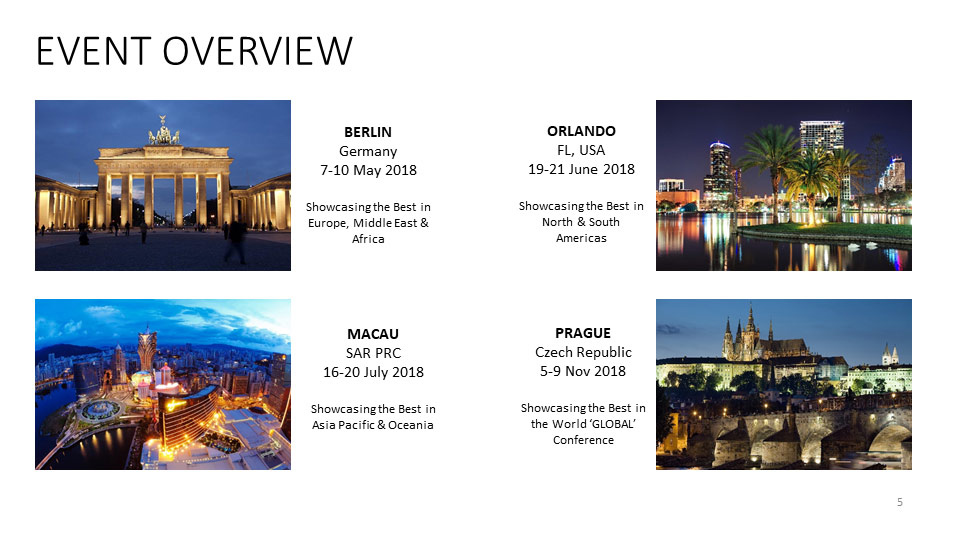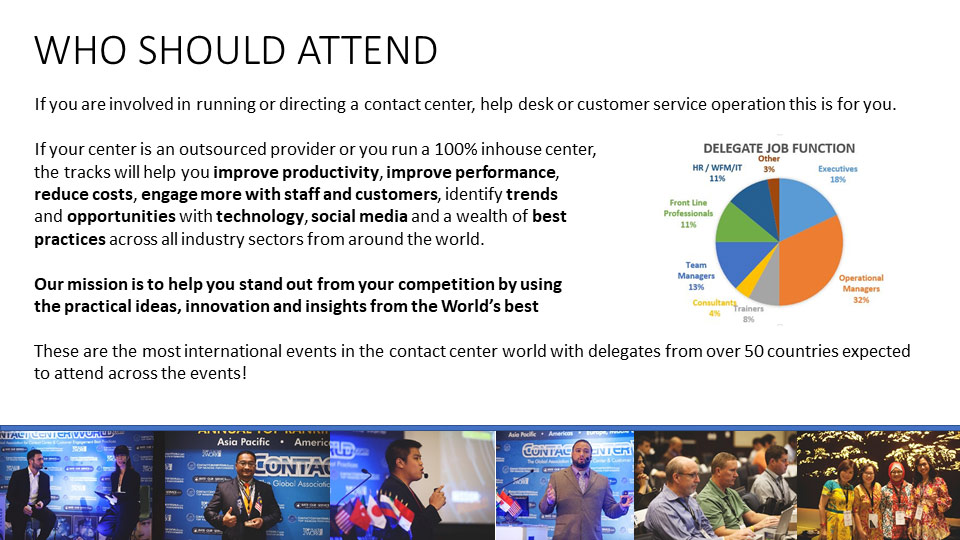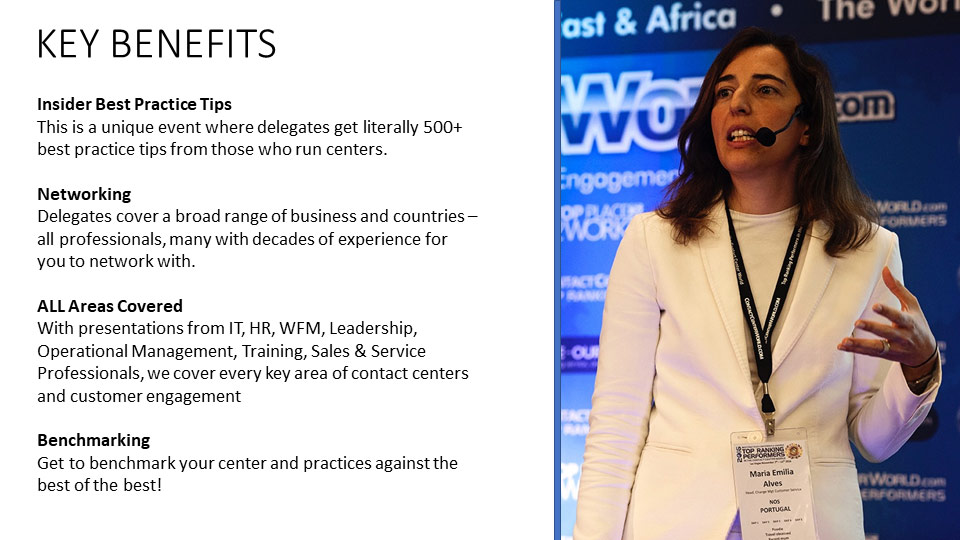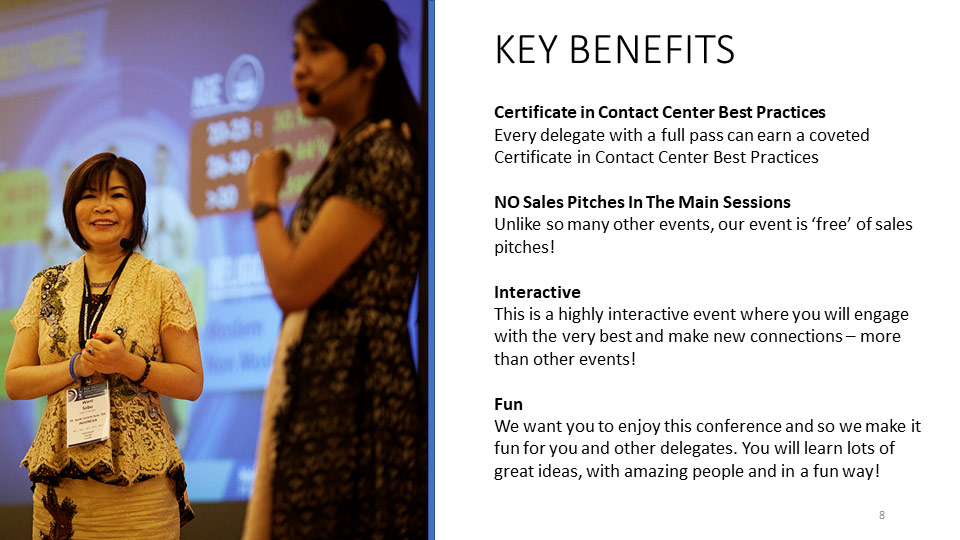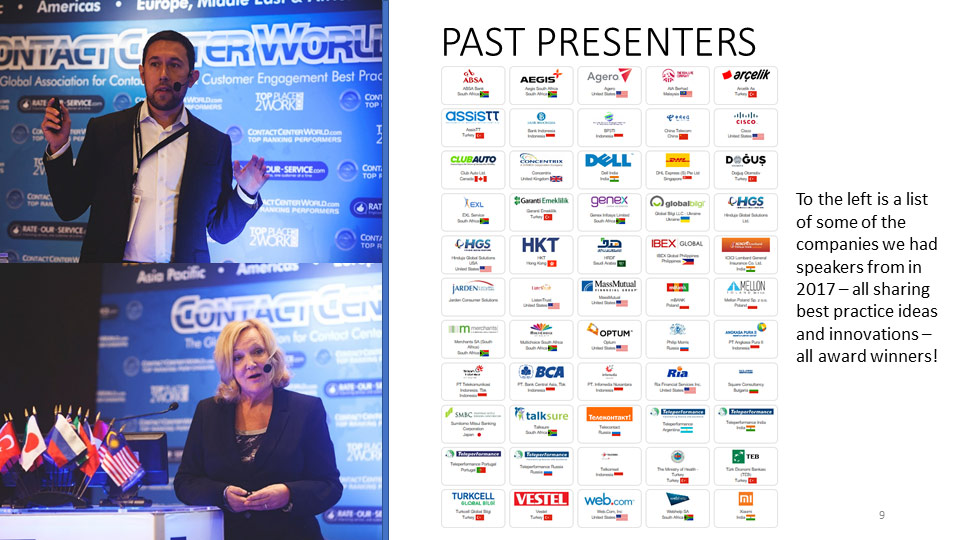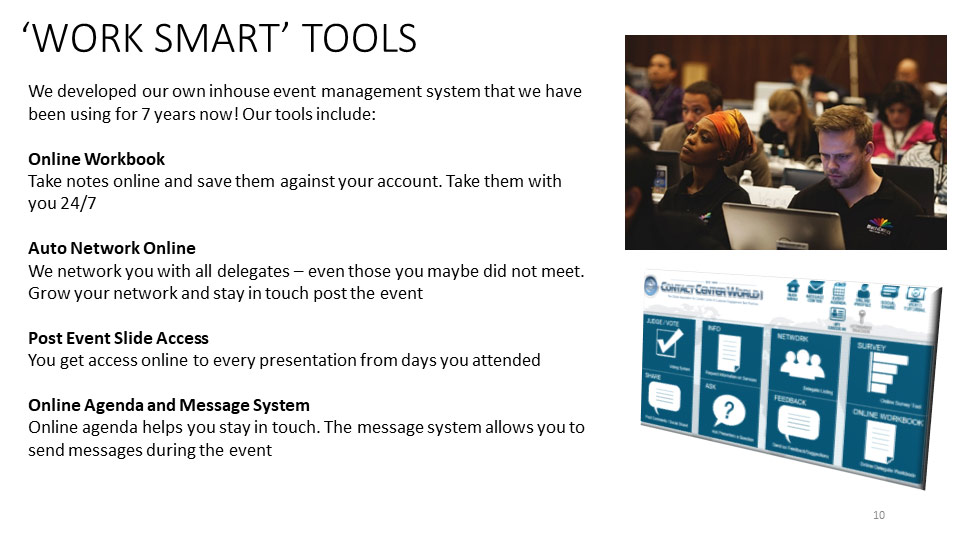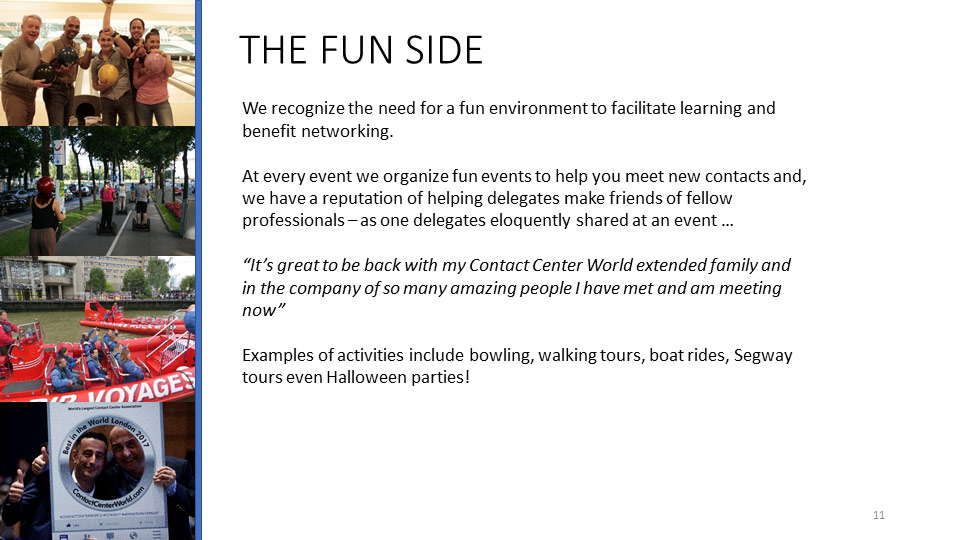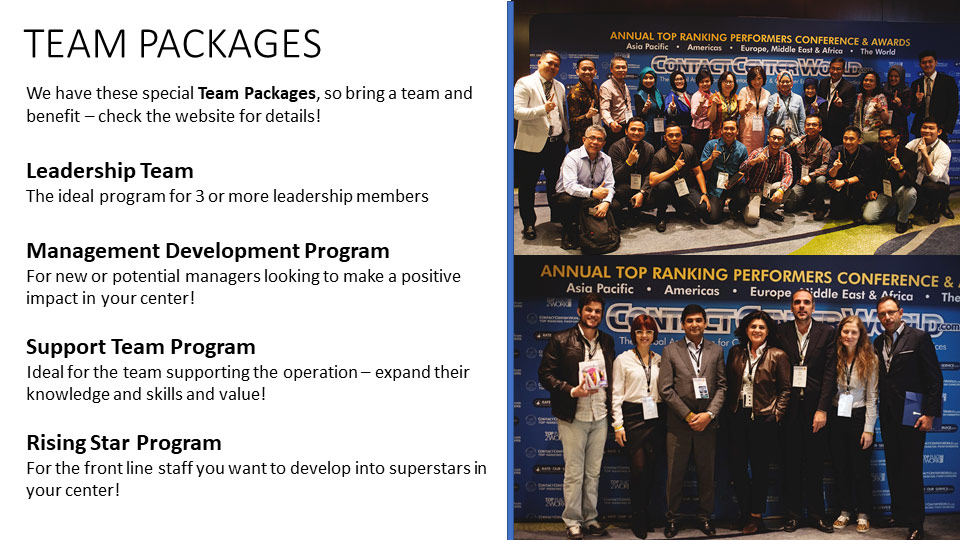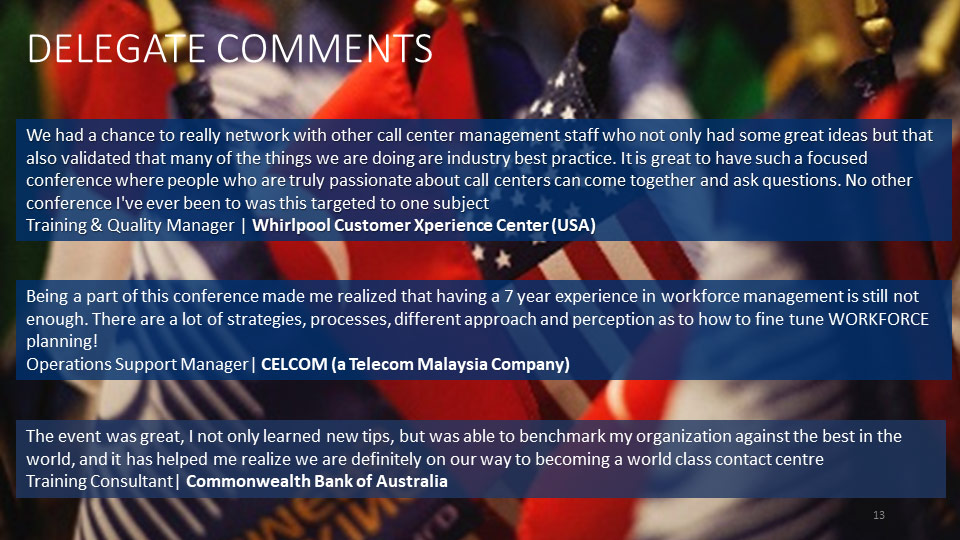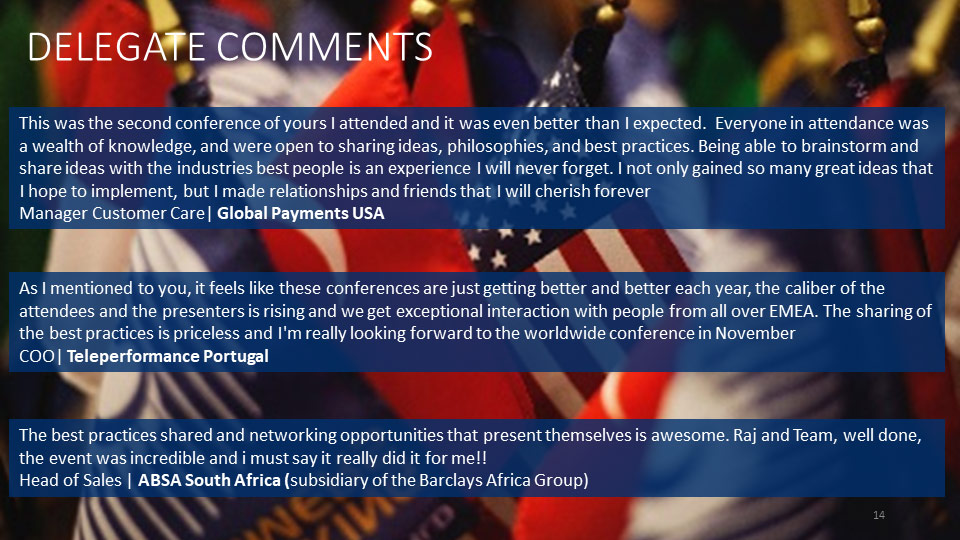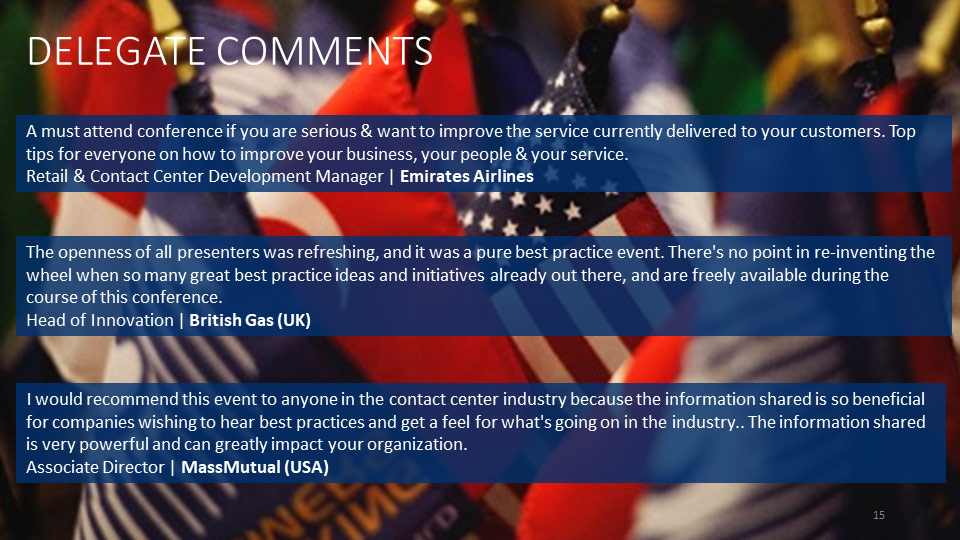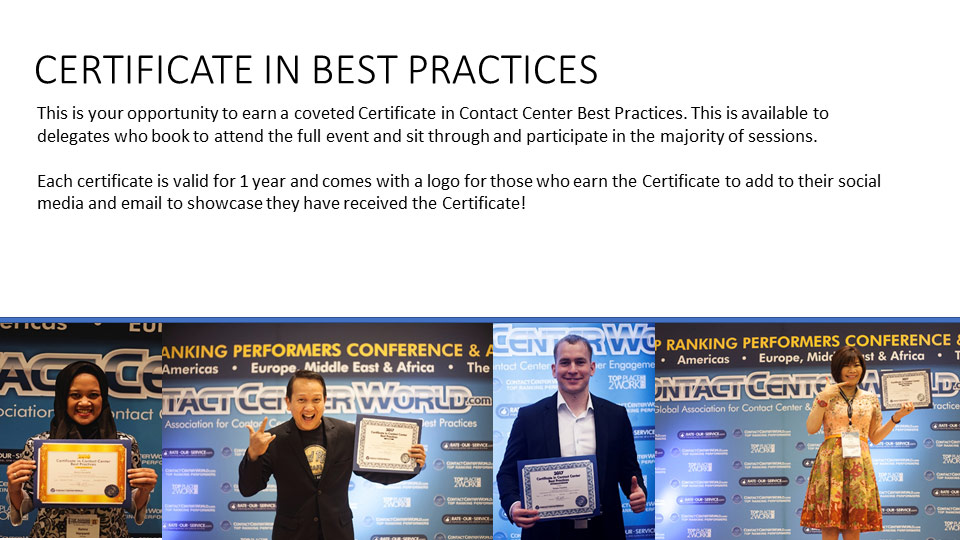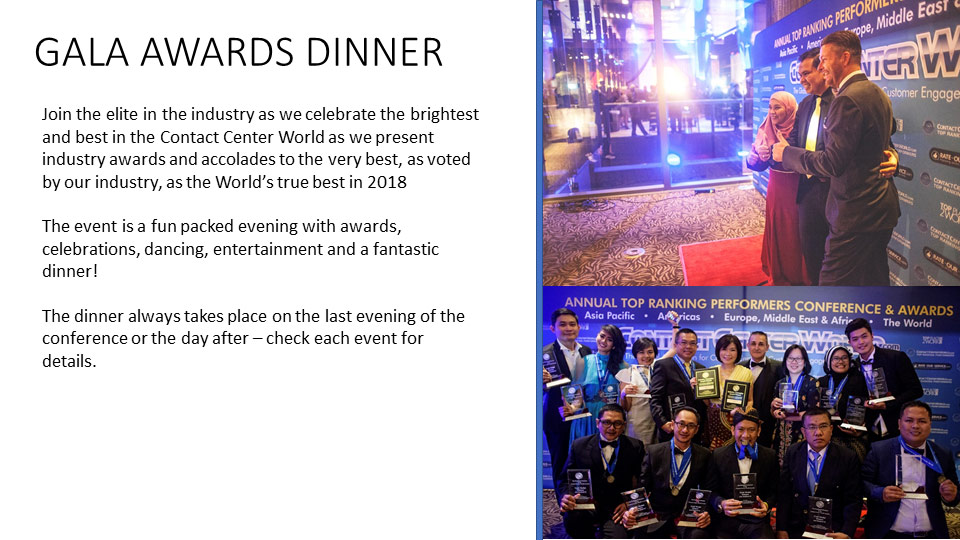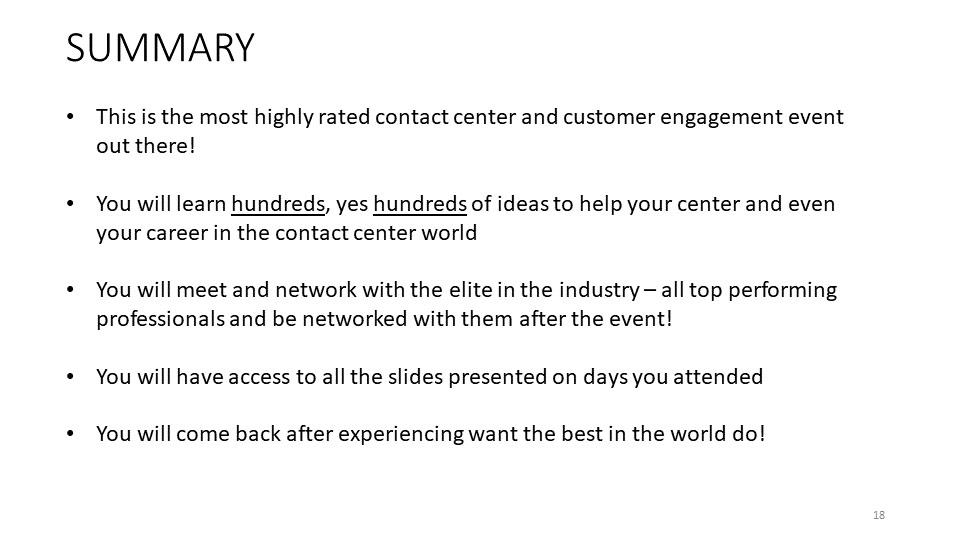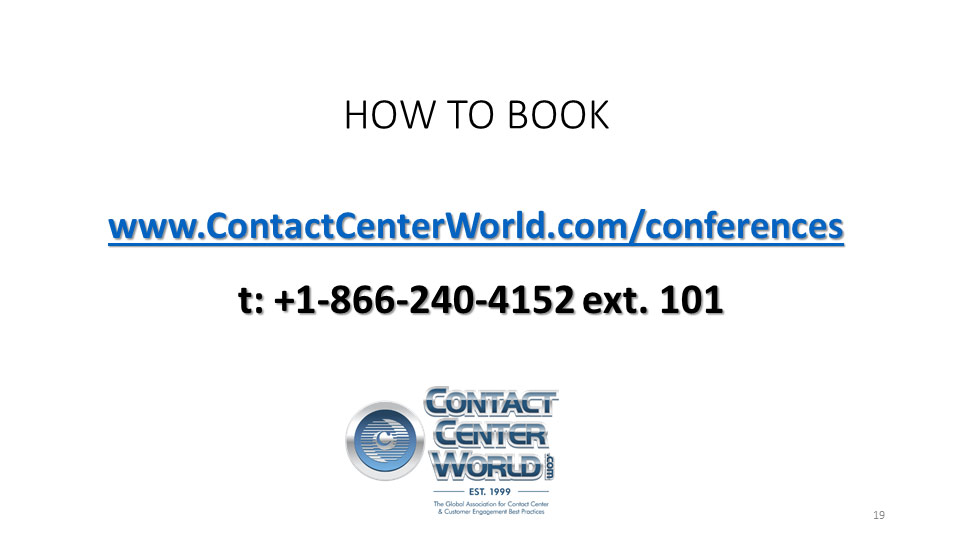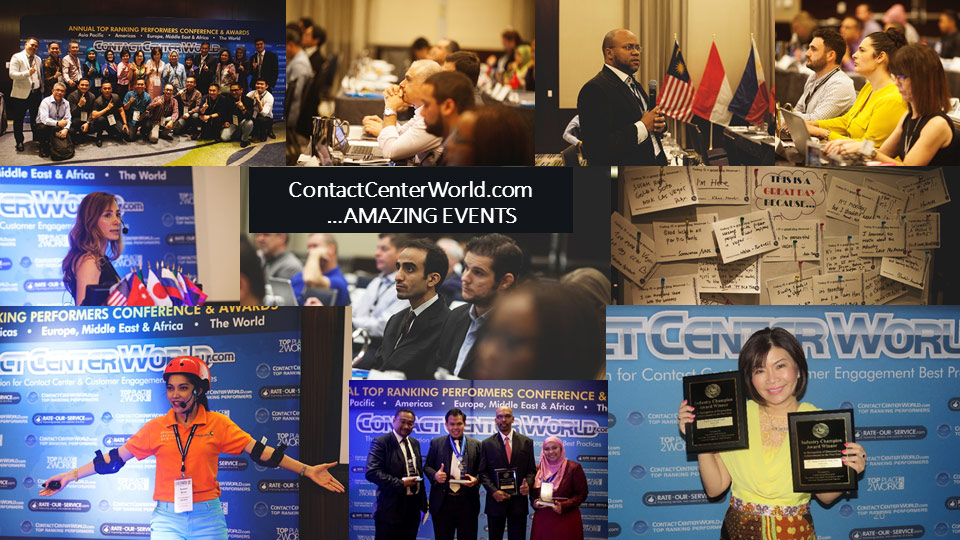 CLICK HERE to download the event brochure


---
GET YOUR CERTIFICATE
in contact center best practices
Attend the event and you could qualify for this prestigious annual certificate to show off your knowledge. Add a logo to your LinkedIn profile and email to show off your professional status!
We would like to congratulate the members pictured below who are our latest recipients of the Certificate in Contact Center Best Practices!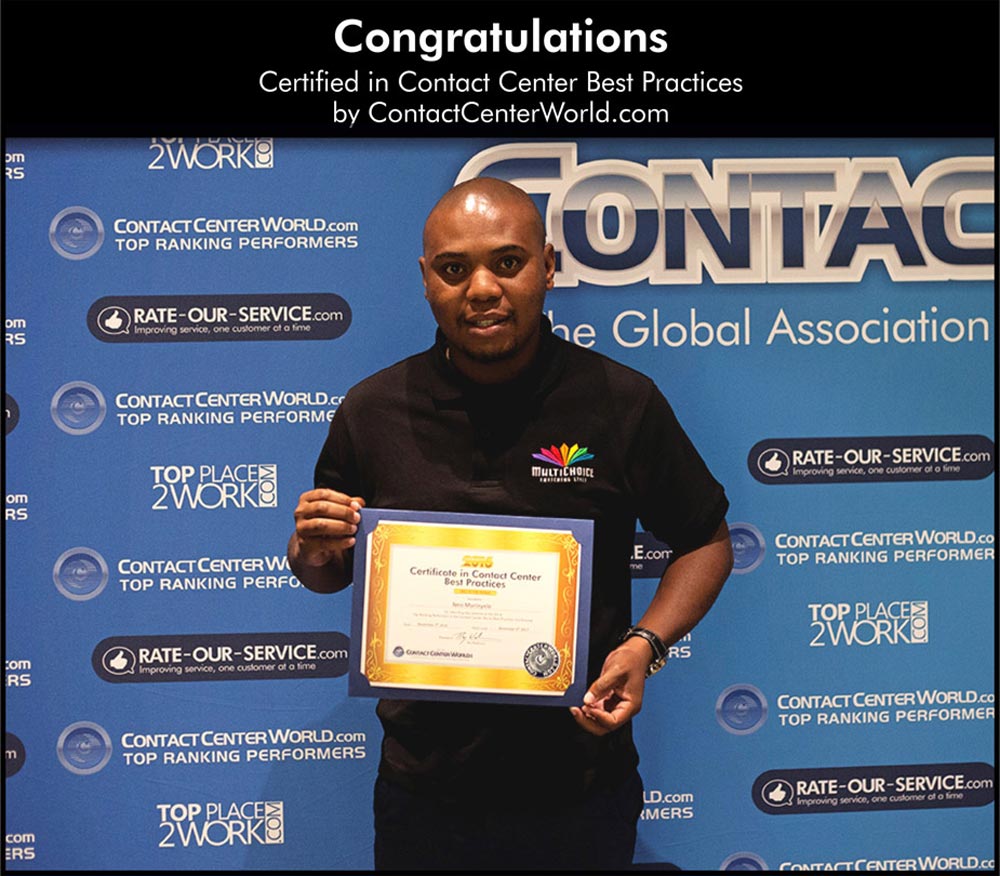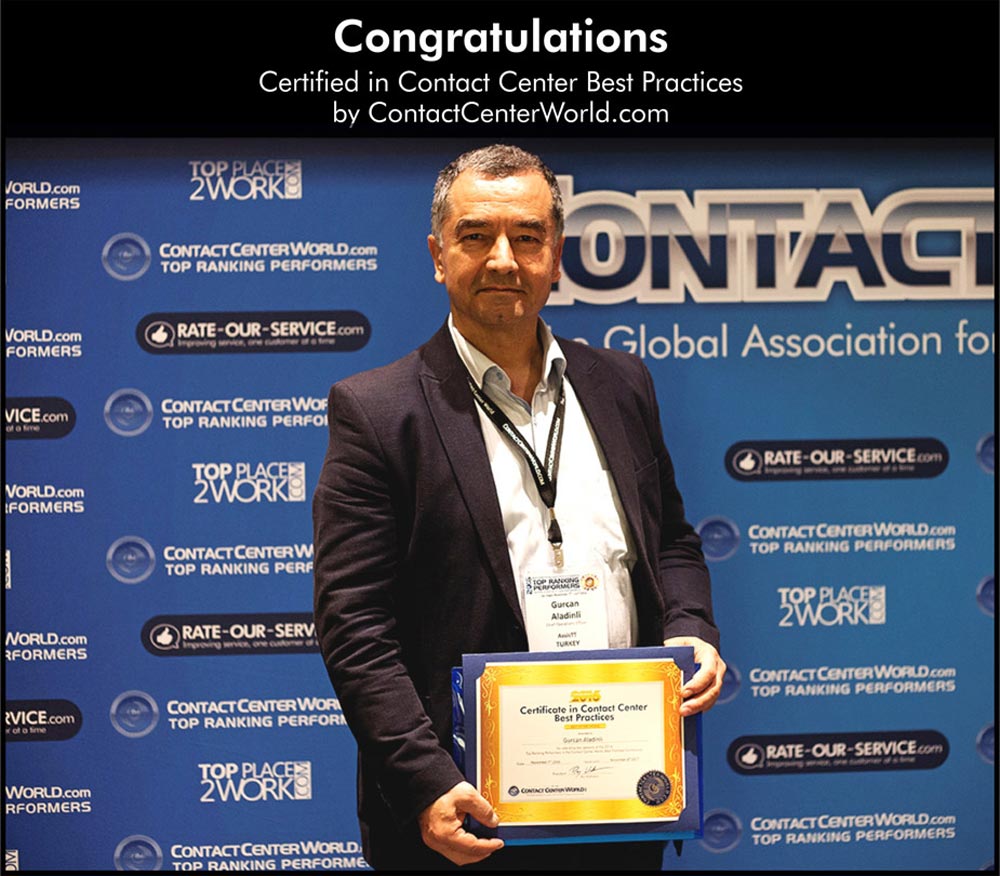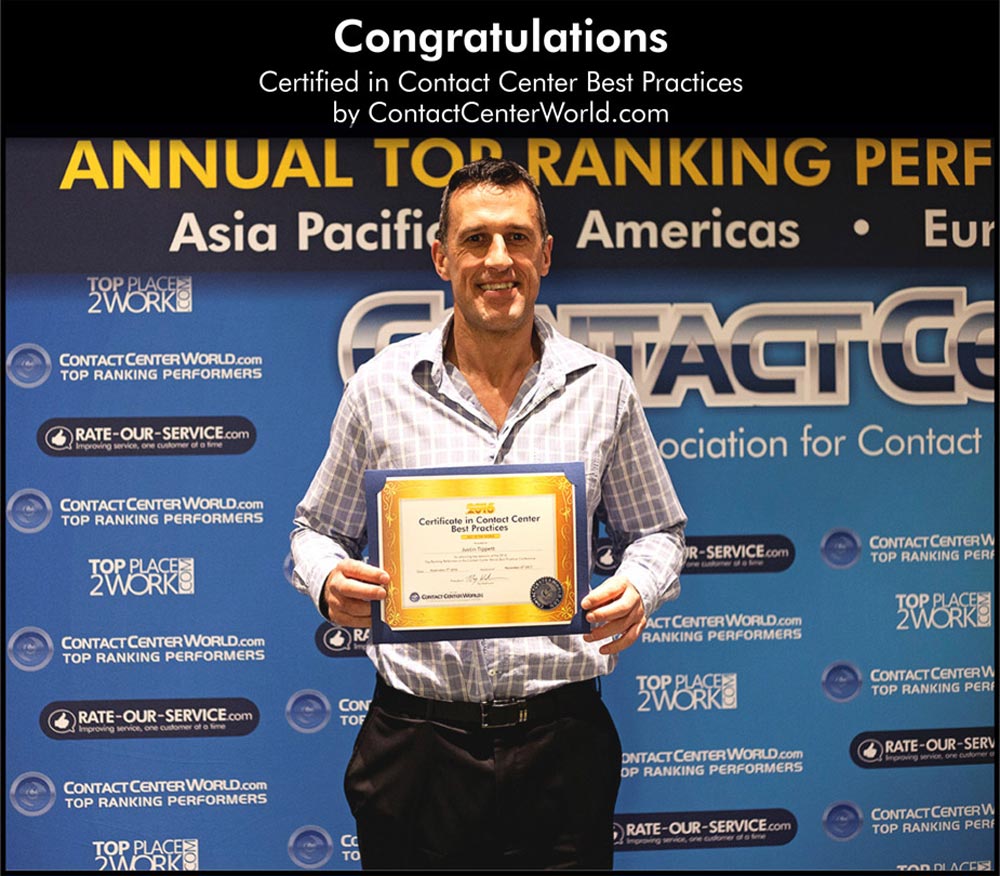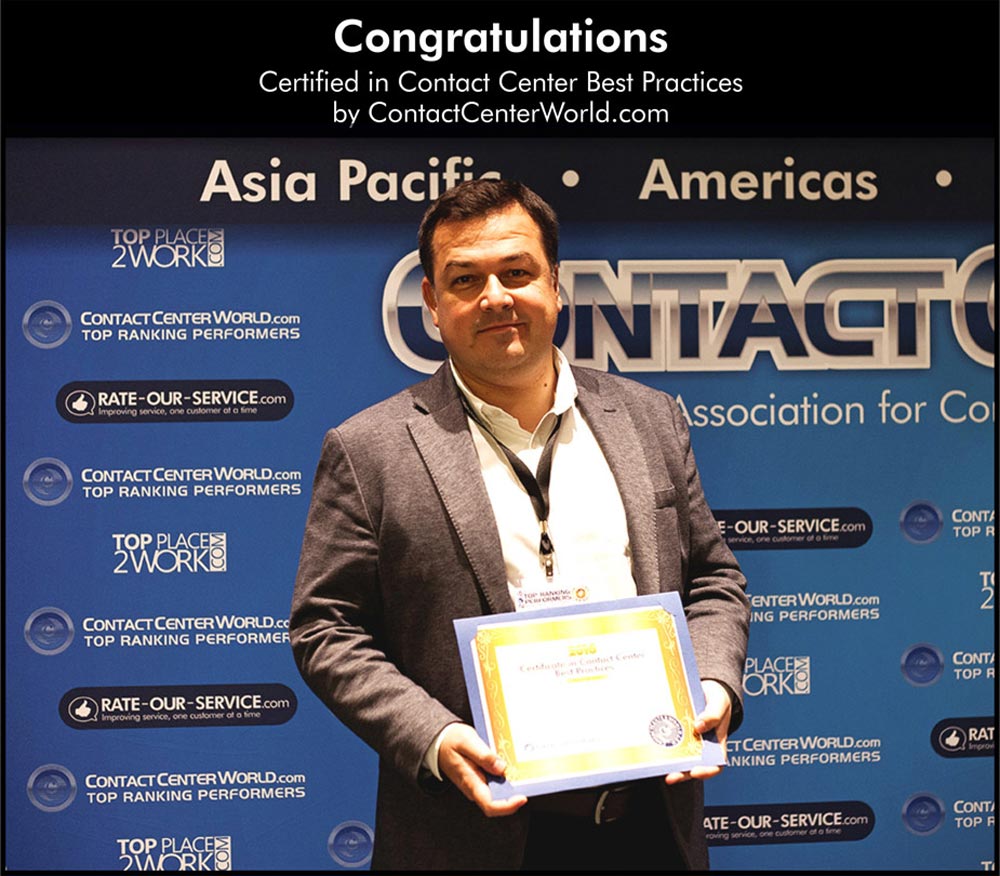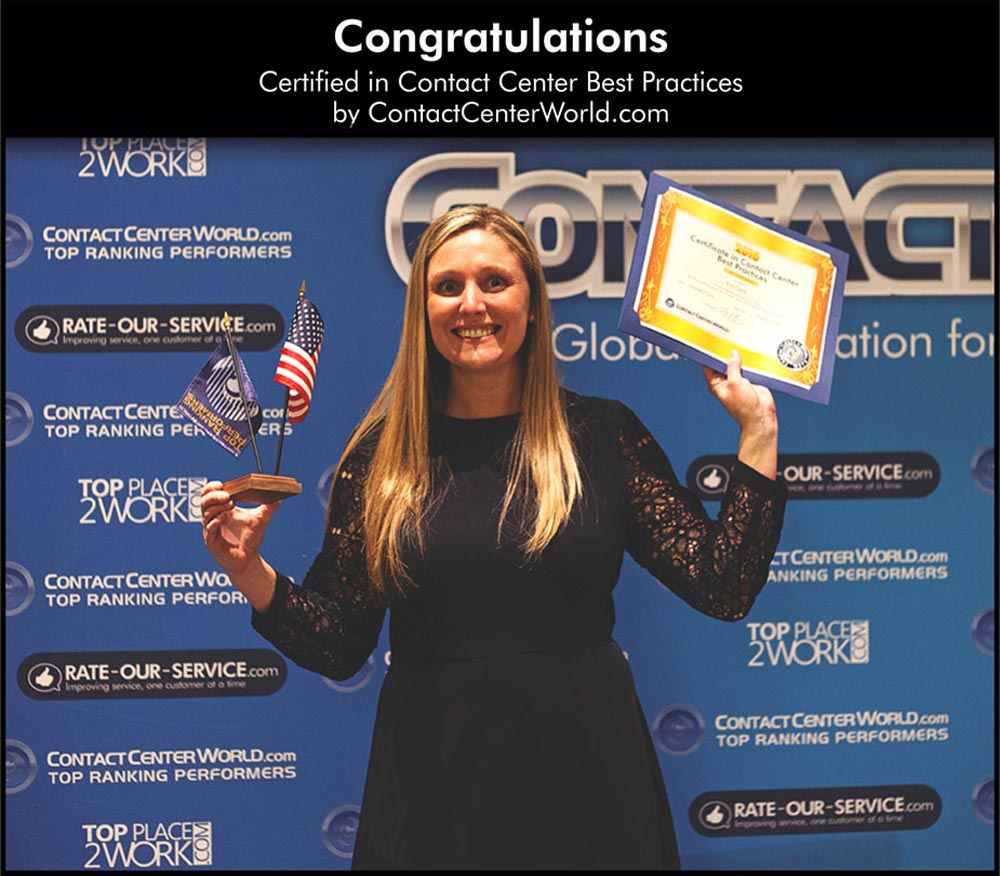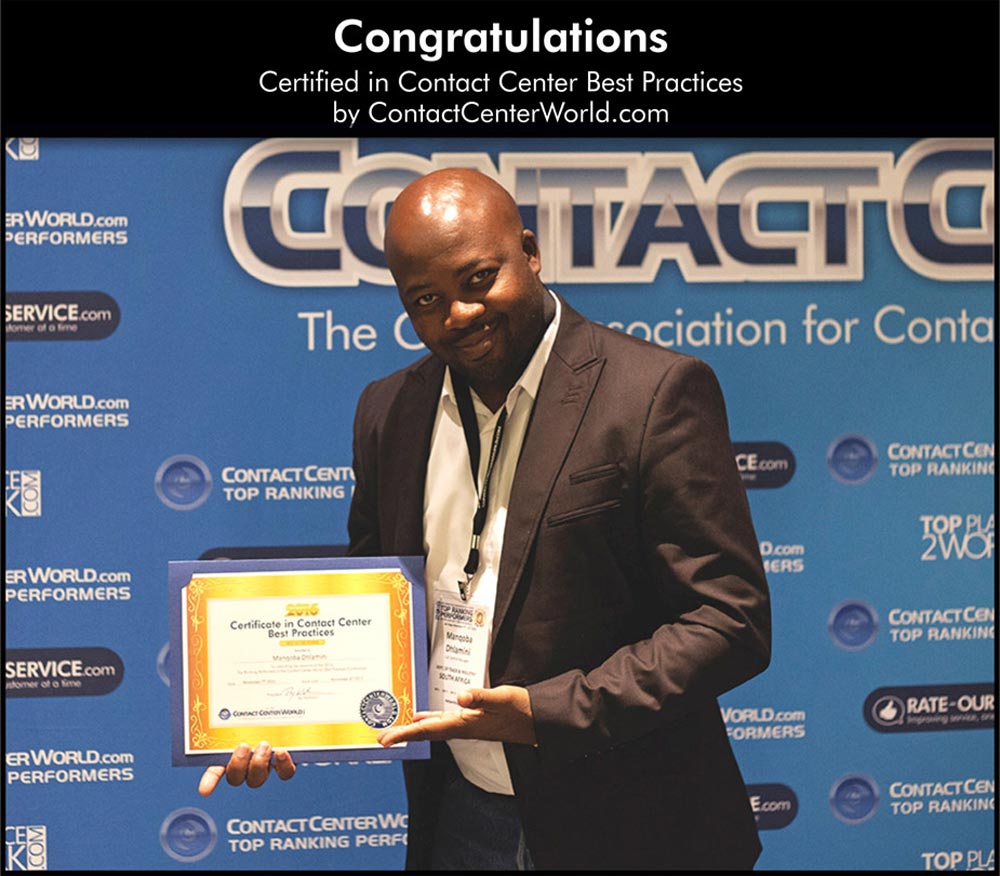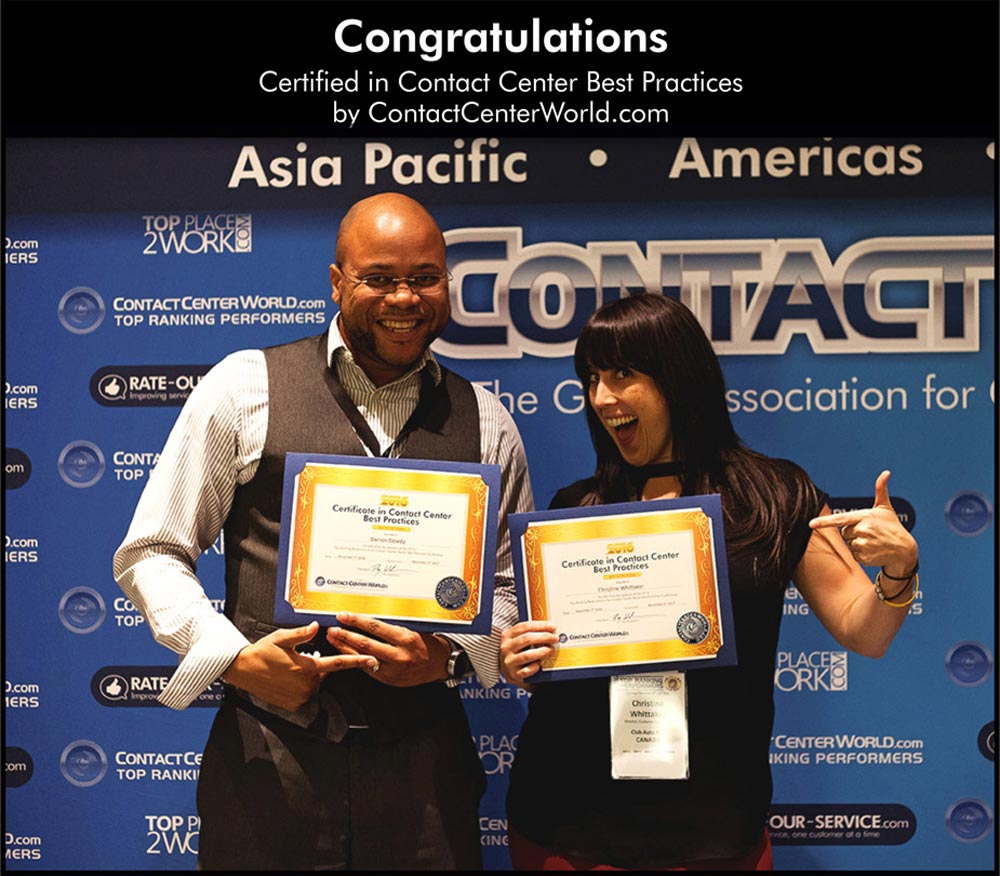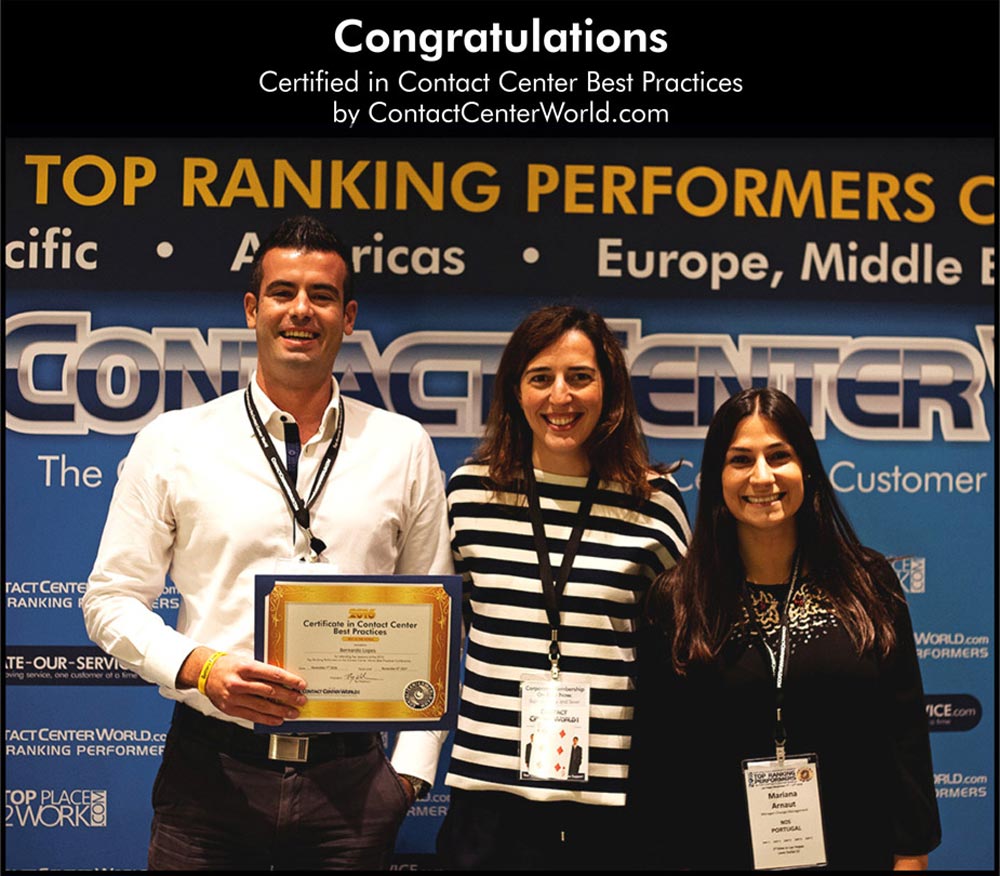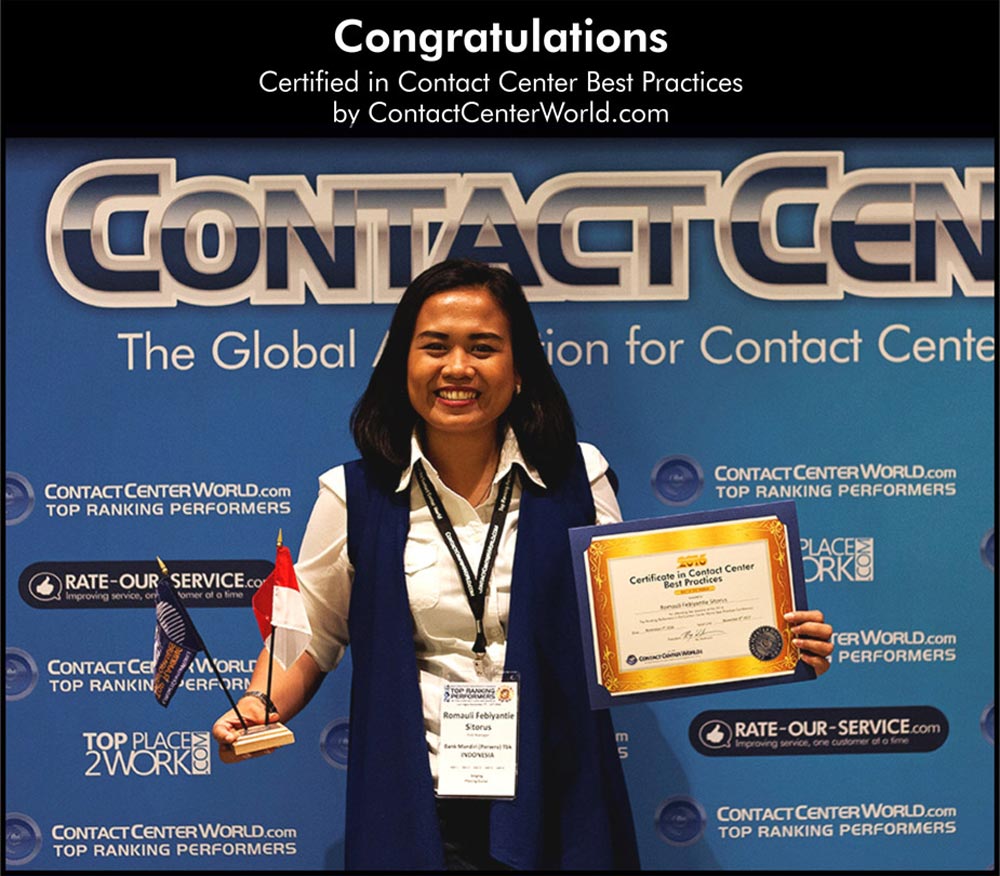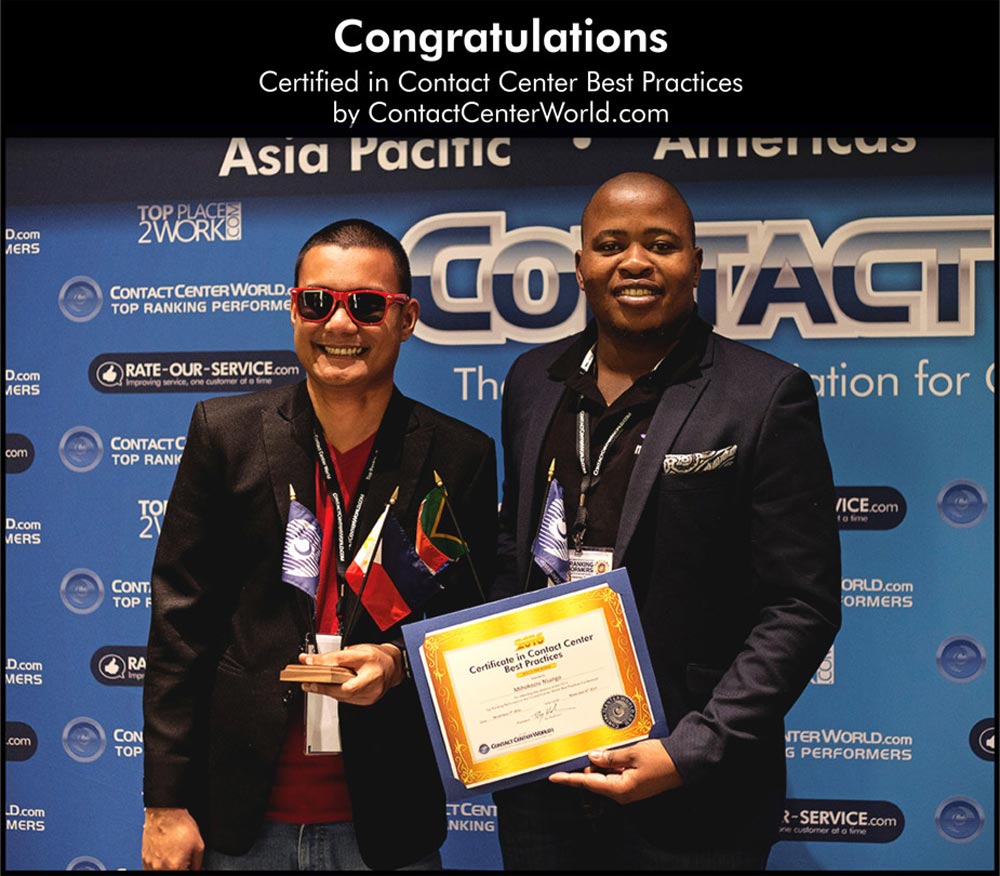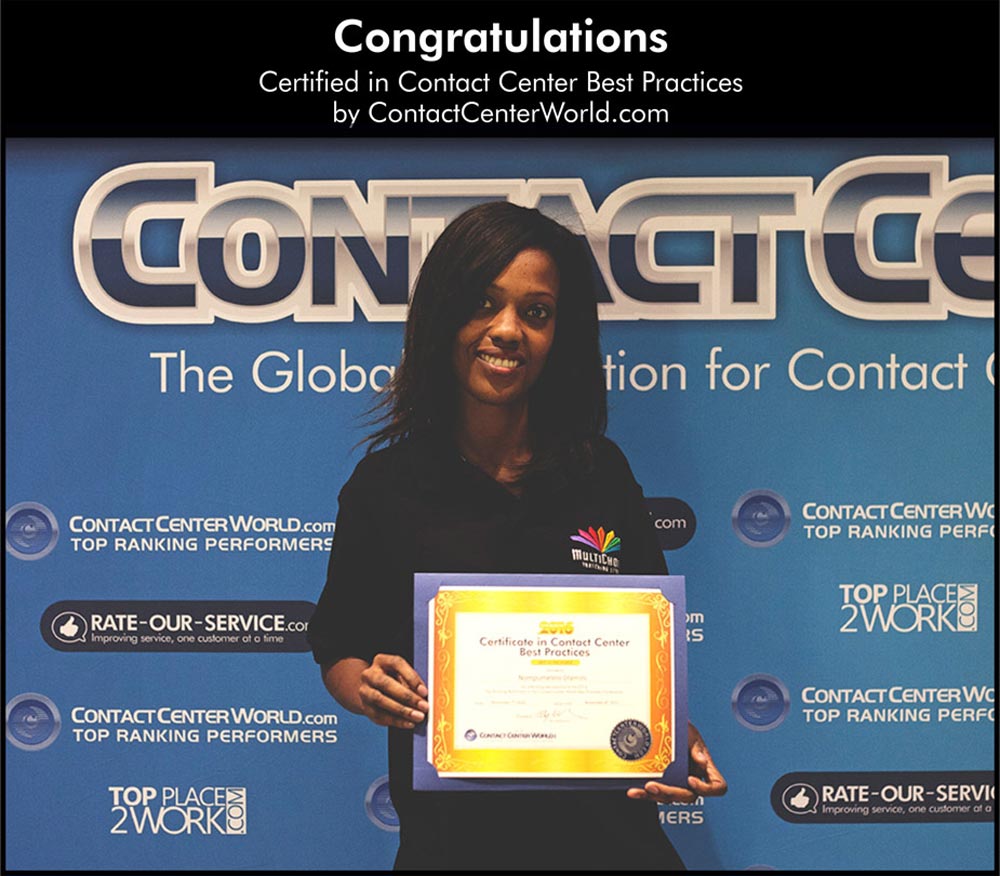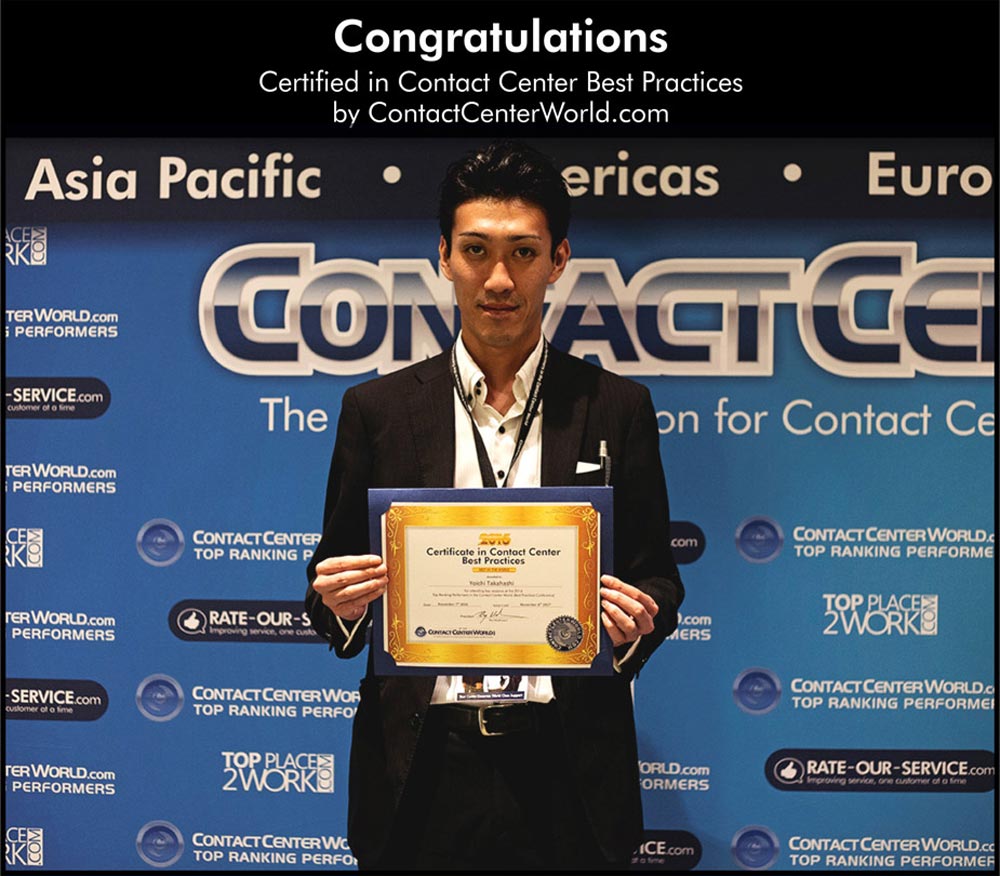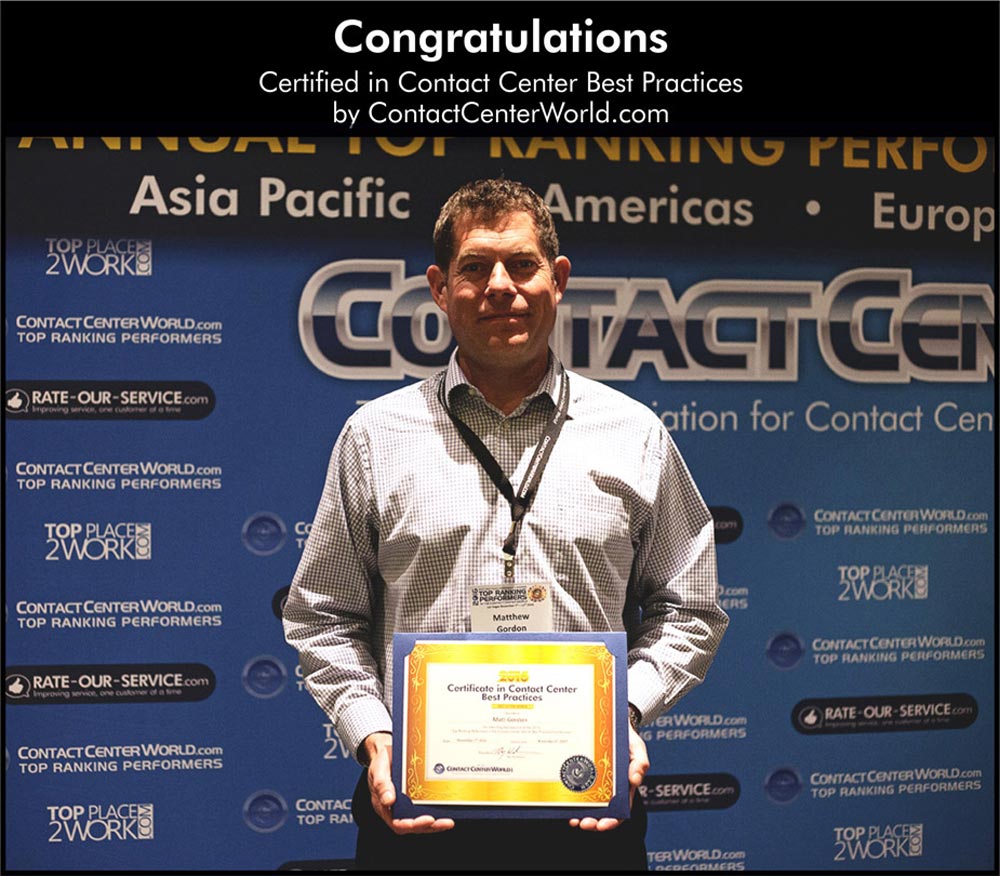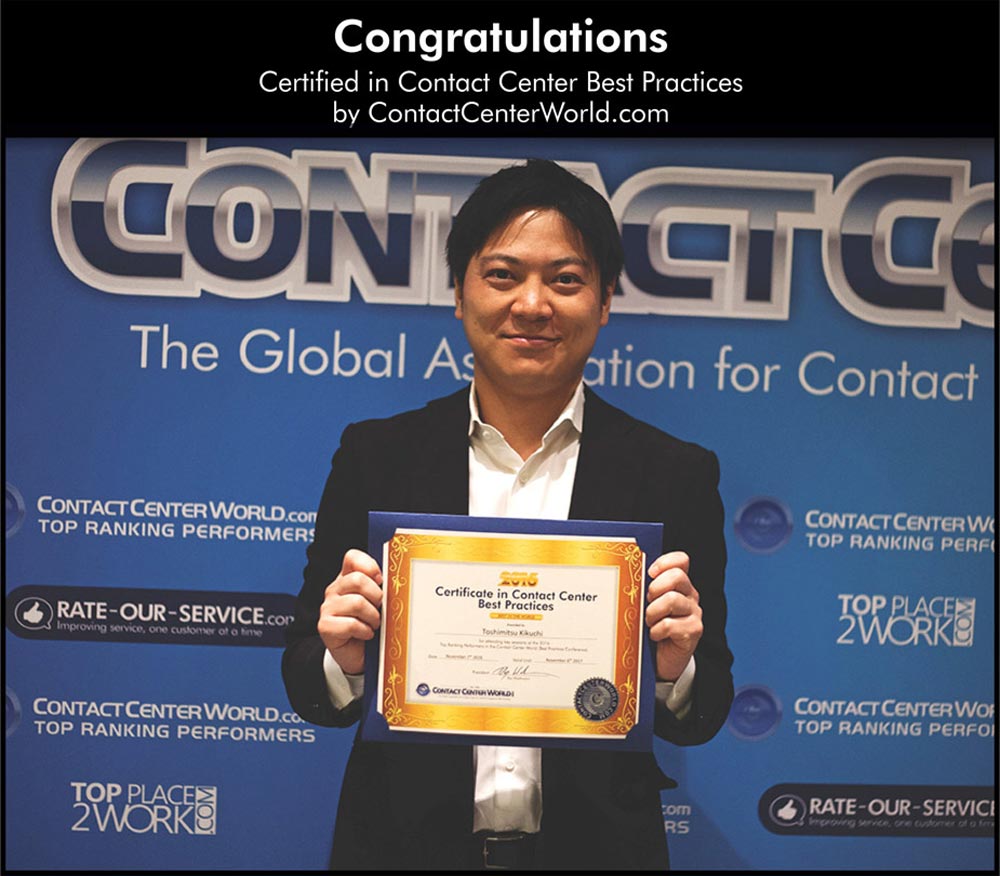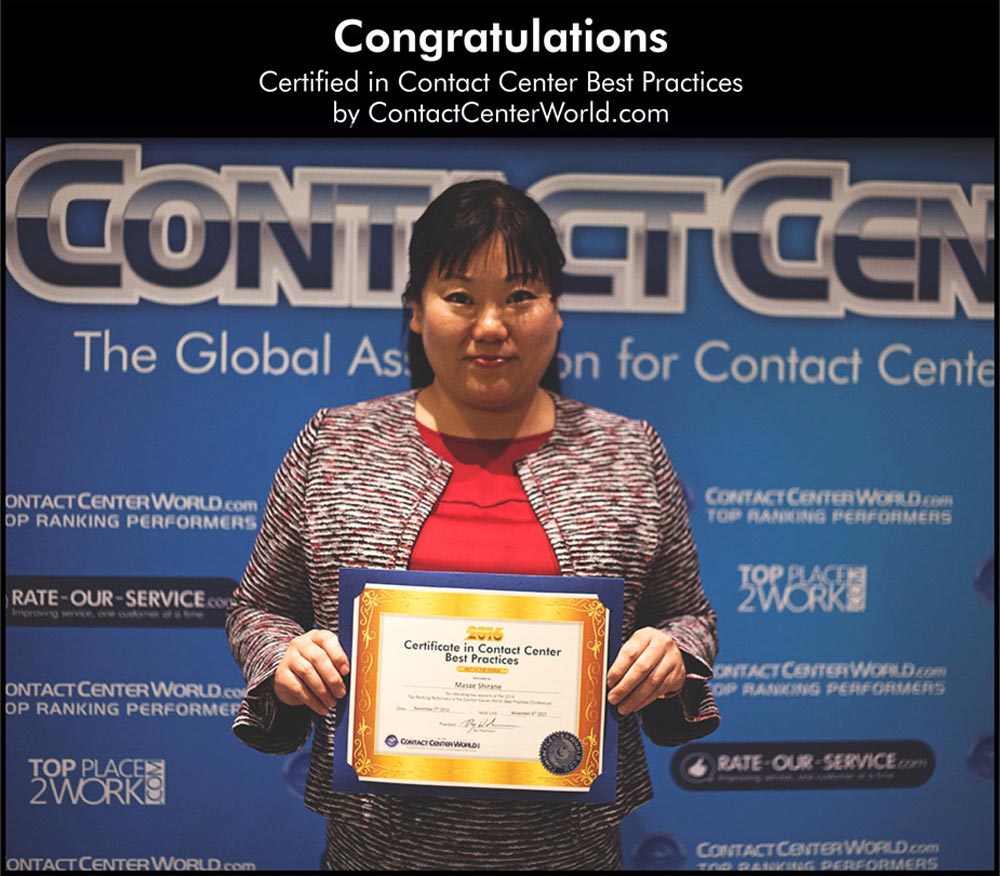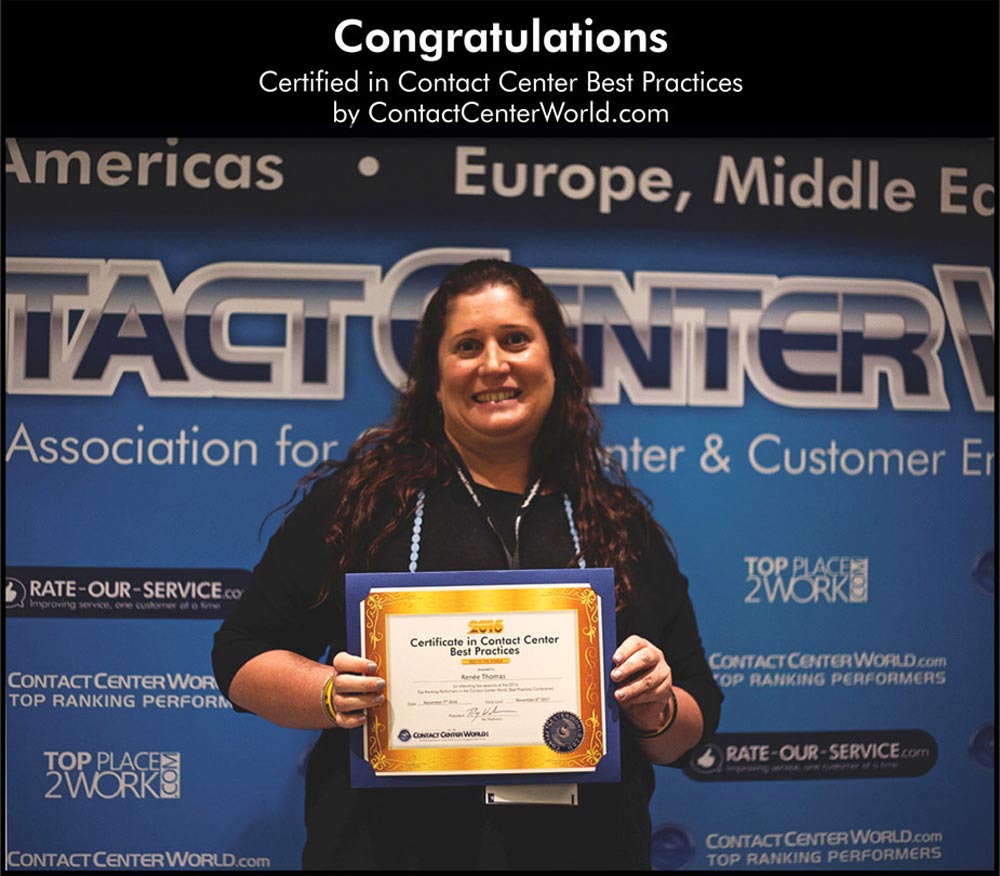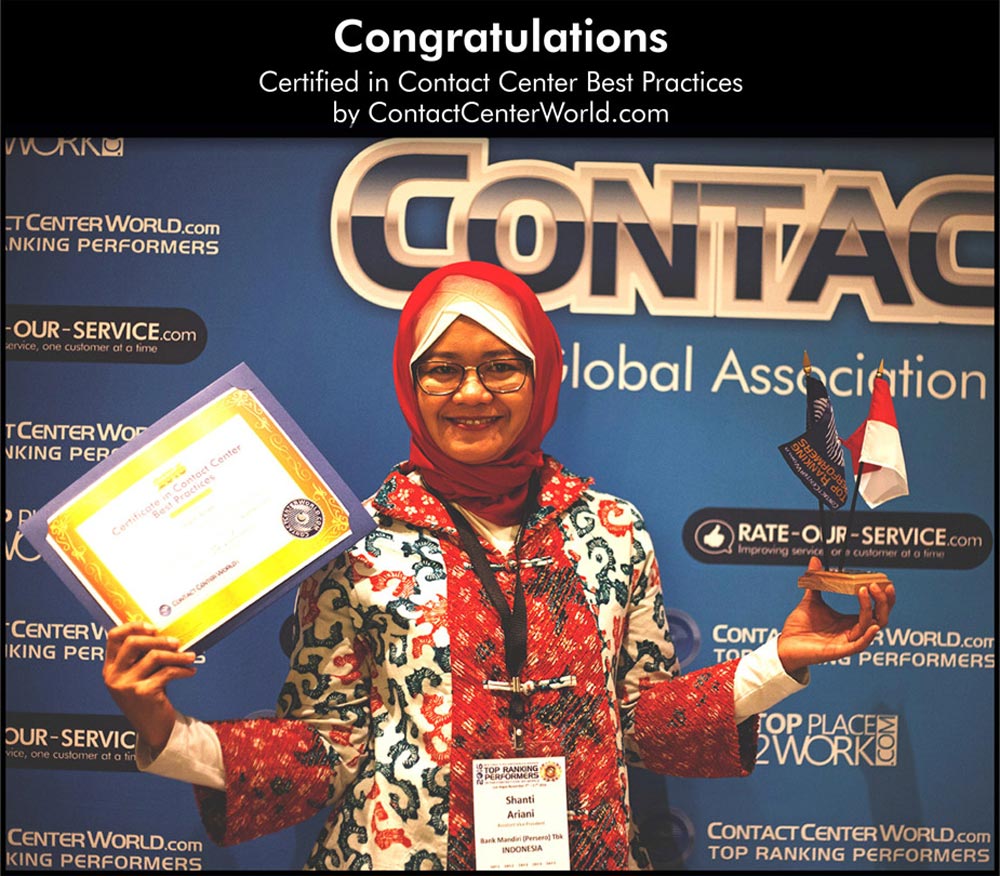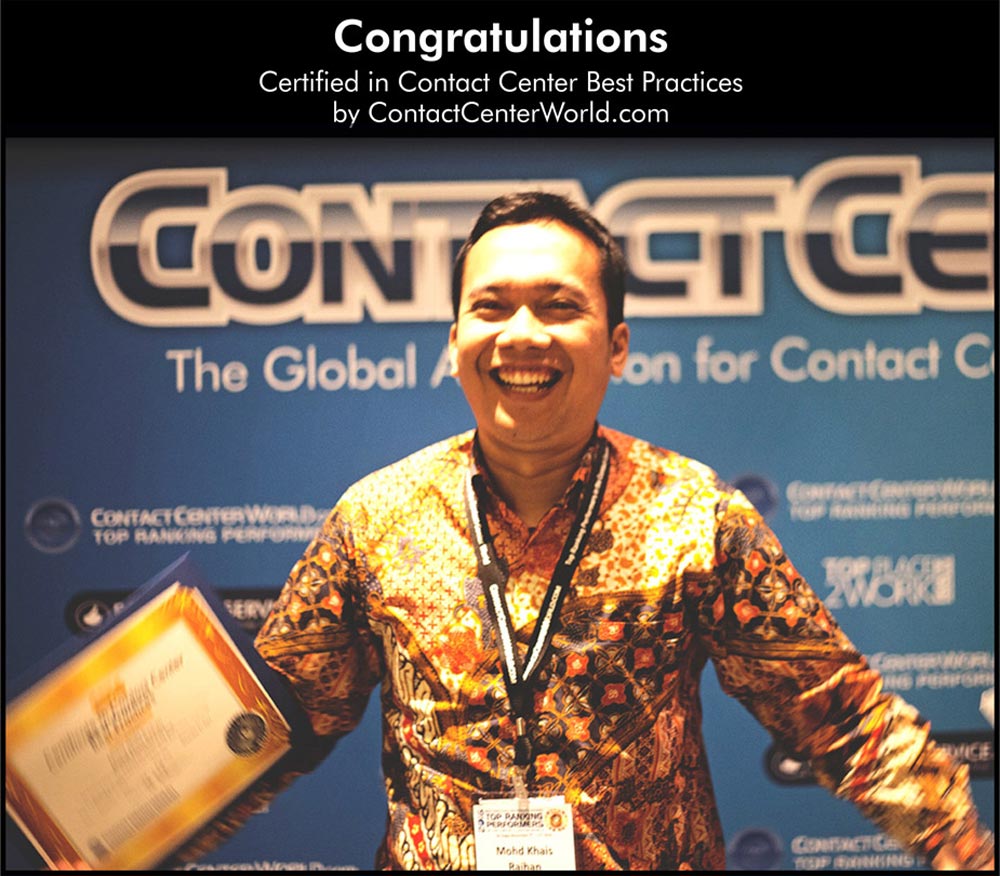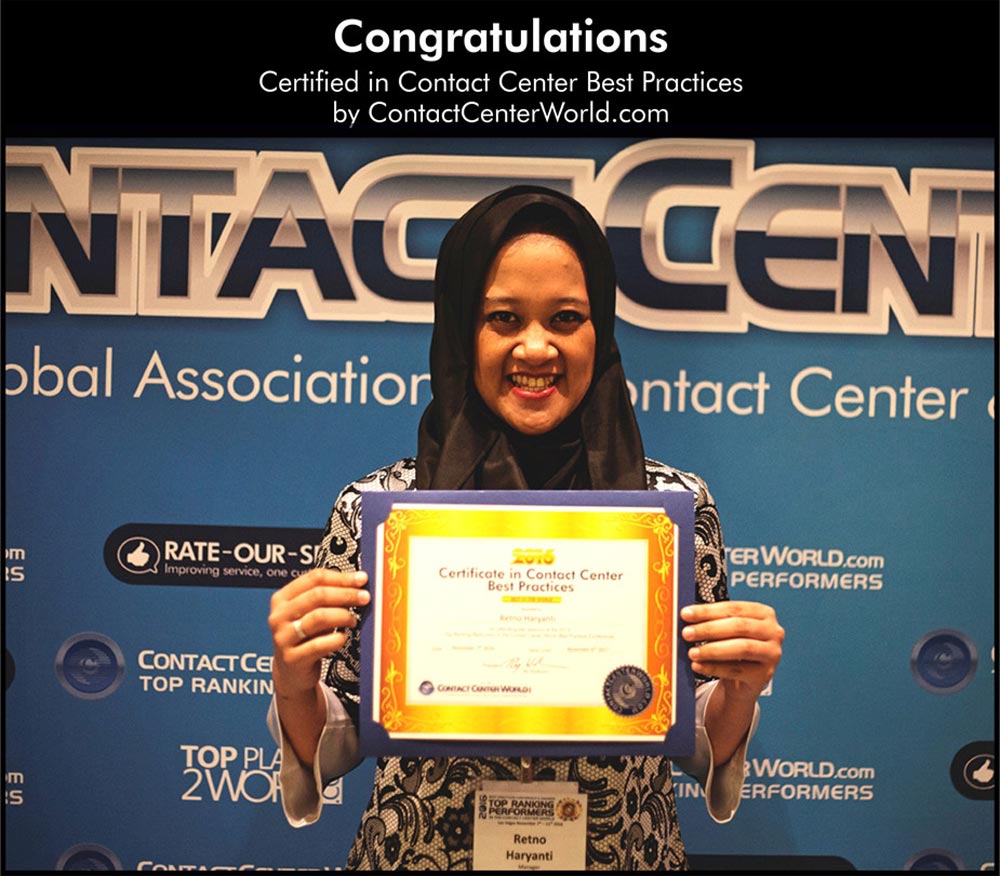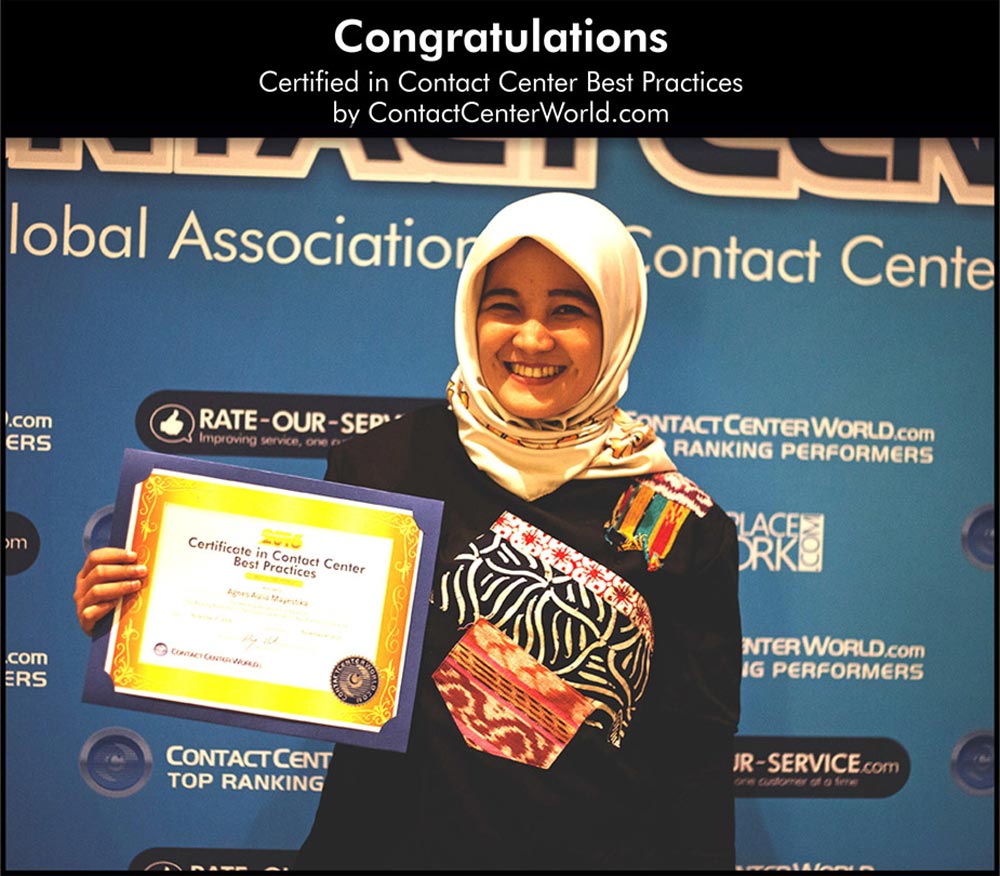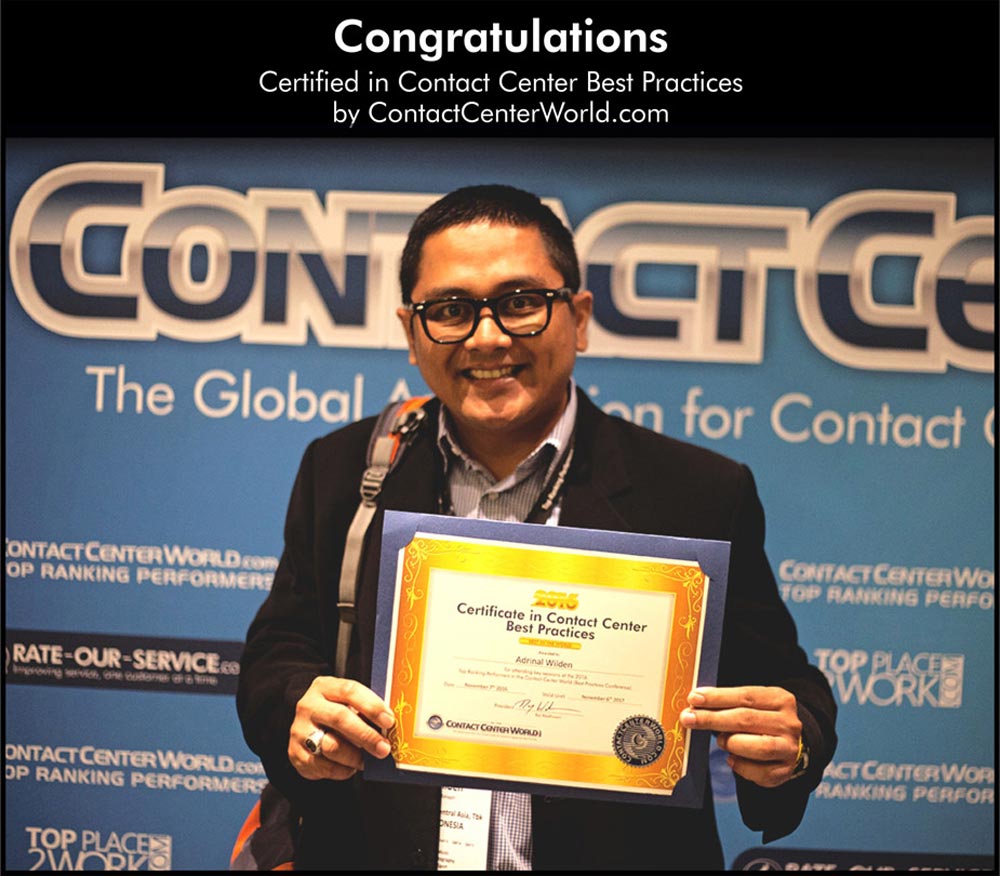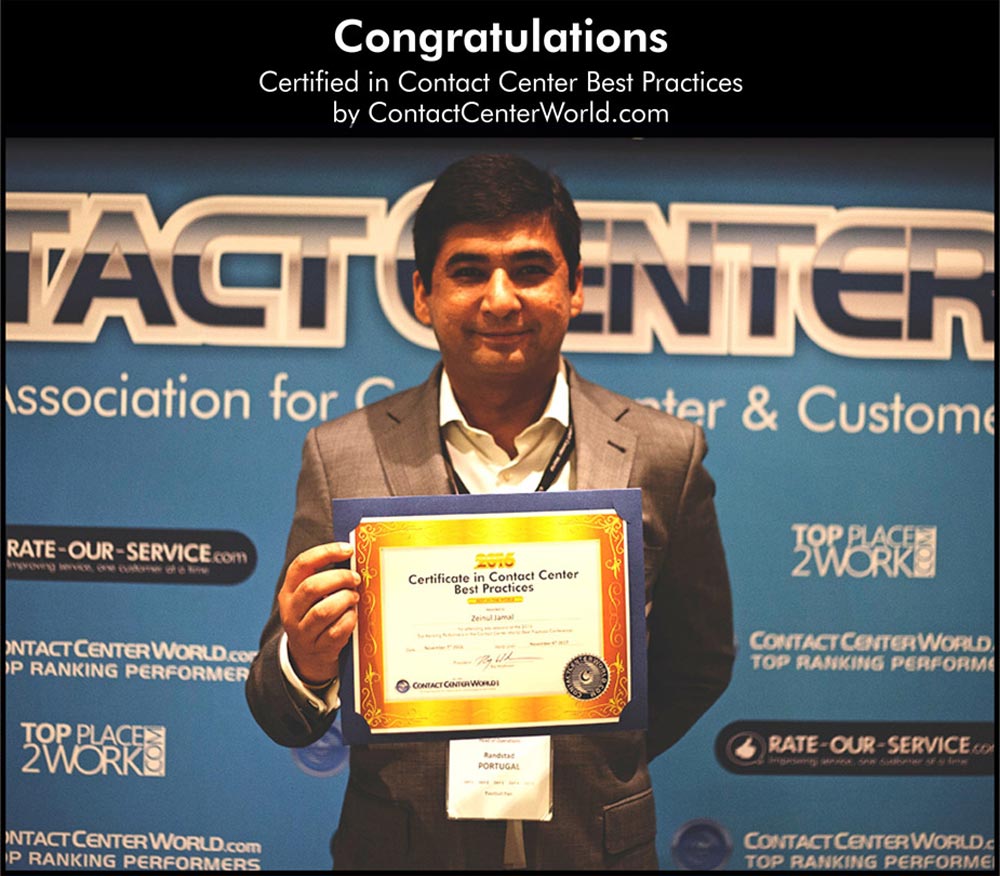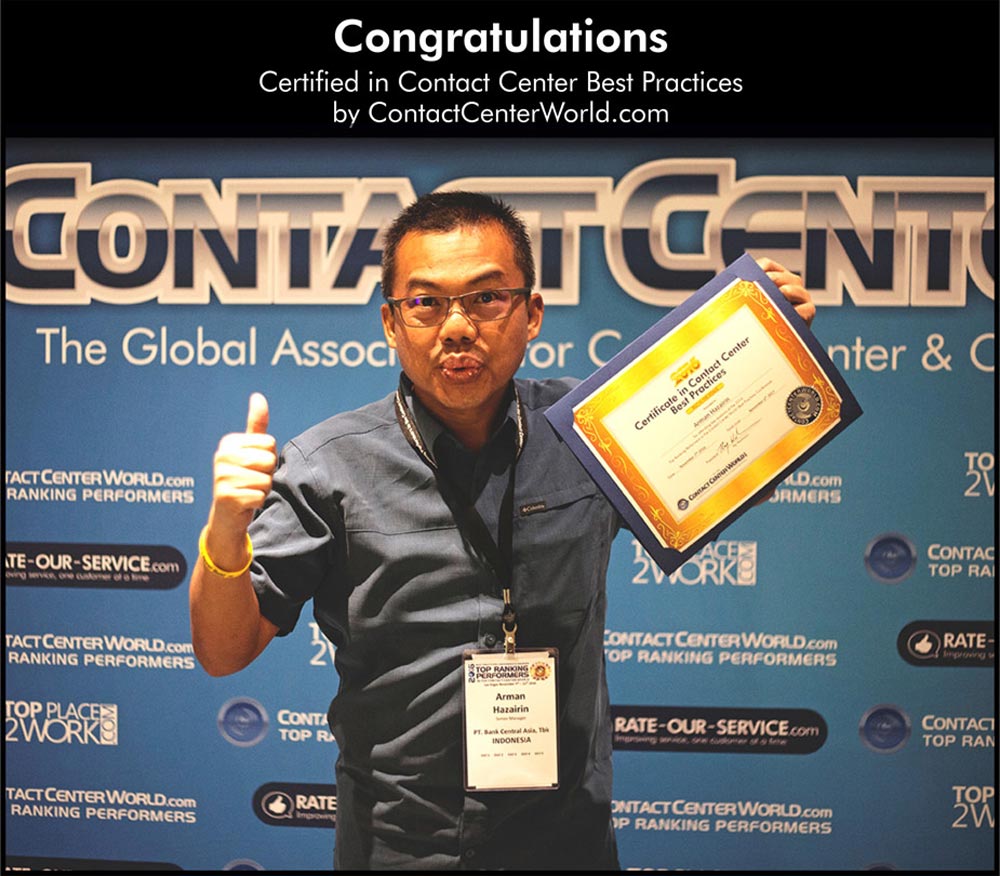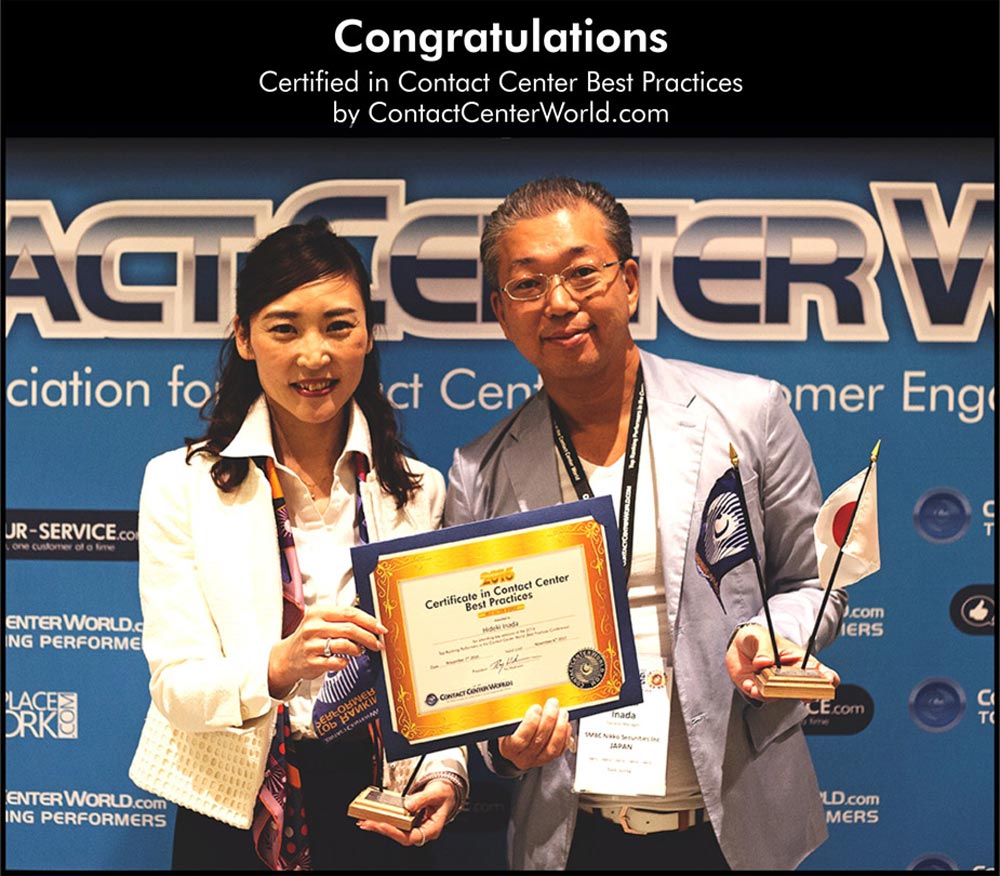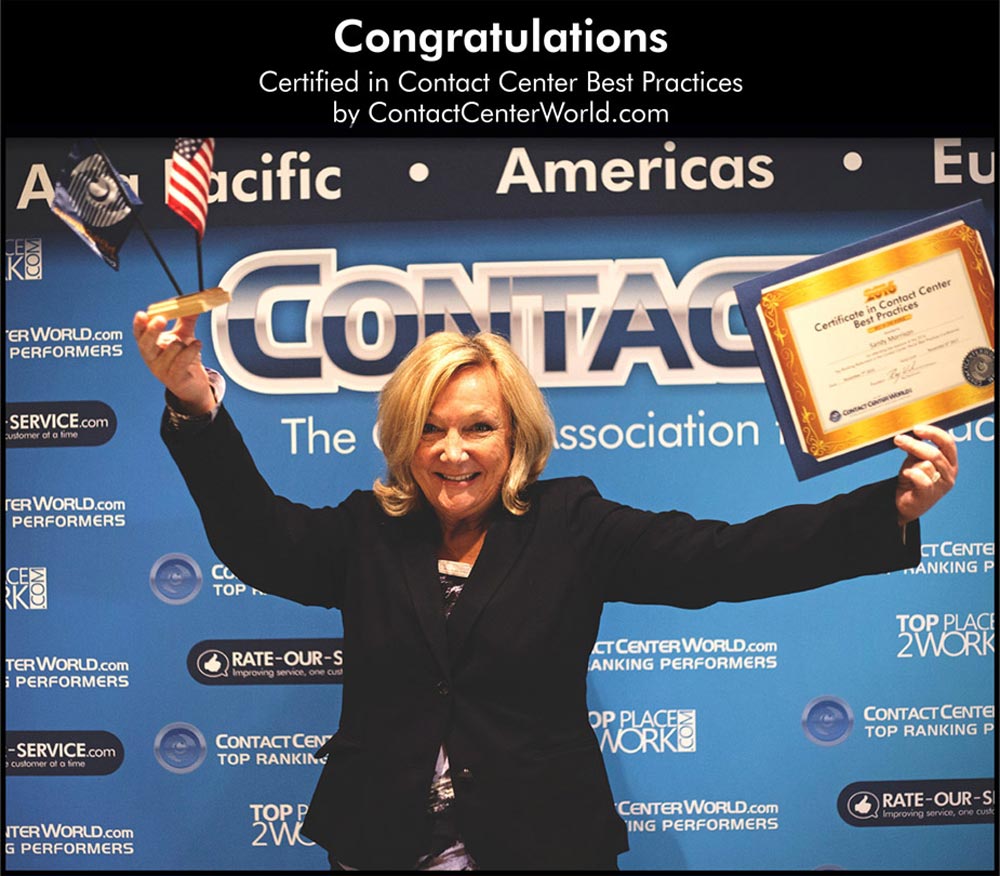 ---
Who Should Attend?
Industry professionals looking for best practices and to add value to their company and their career!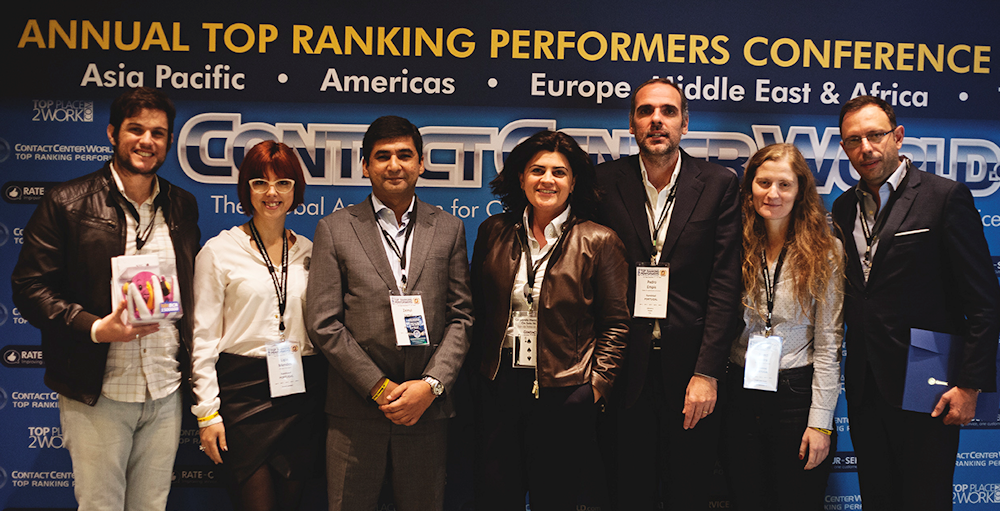 The event is ideal for:
VP's,  Directors, Senior Managers - involved in running or strategy for contact centers and or customer service


HR Personnel, Workforce Managers, IT Managers - looking for best practices!


Supervisors/team managers - and even rising stars in your contact center!


Consultants - who advise business on contact centers and customer engagement


Hardware / Software and Service Providers - wishing to learn current trends and challenges
     ... Anyone who either runs, sells to or supports contact center / customer service operations.
     NOTE: Everyone pays the same - unlike some events where those who sell solutions pay more,
     we treat everyone the same! 
---
Who Typically Attends?
Industry professionals looking for best practices and to add value to their company and their career!
Top professionals from the region including those within the following sectors:
Banking / Finance / Insurance
Government
Utilities
Healthcare
Business Services
Telecoms
Distribution
BPO/Outsourcing
Charity / Not for Profit
Travel / Tourism

This event attracts delegates from all over the region - its probably the most multi-national event in Europe, Middle East & Africa! 

Typically we attracted delegates from:

UK

Saudi Arabia

UAE

South Africa

Czech Republic

Ukraine
Turkey

Tanzania

Poland

Ireland

Malta

France

Spain

Portugal

Belgium

Russia

Austria

Qatar

Greece
---
Awards Gala Dinner
Join in celebrating the best in the industry!
Join us at the awards gala dinner to wrap up the amazing conference! We will have fun and celebrate the best of the best as we recognise this years Top Ranking Performers Awards and present medals and awards to those who are voted the best at the conference!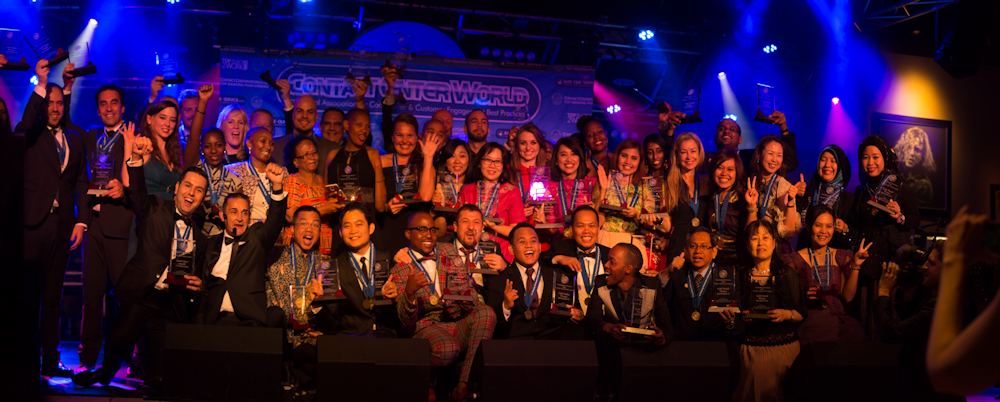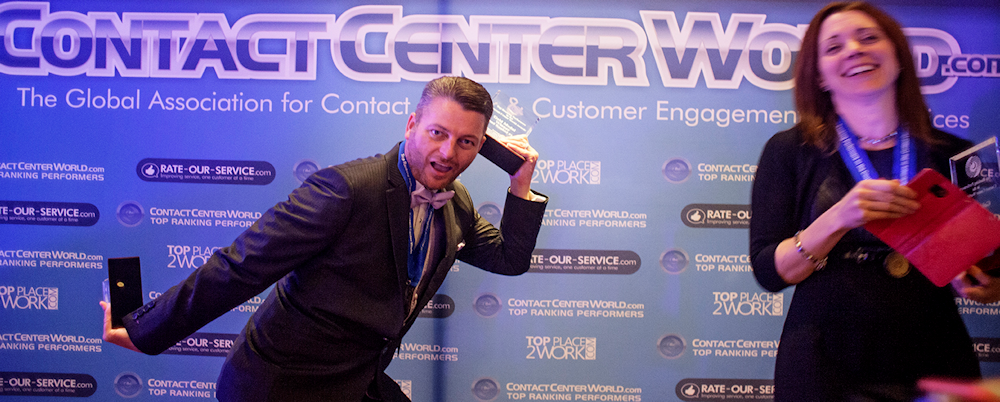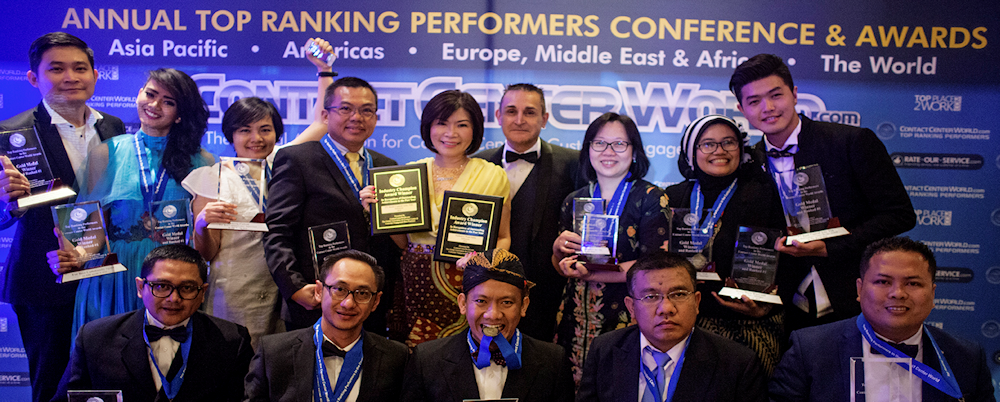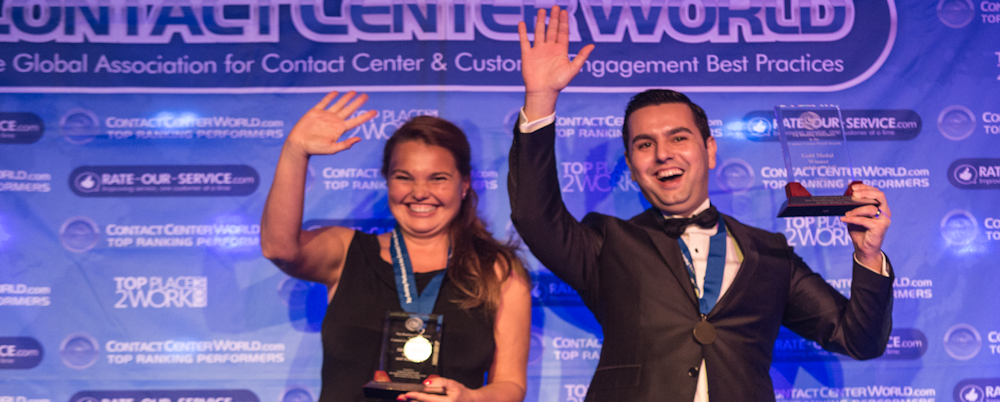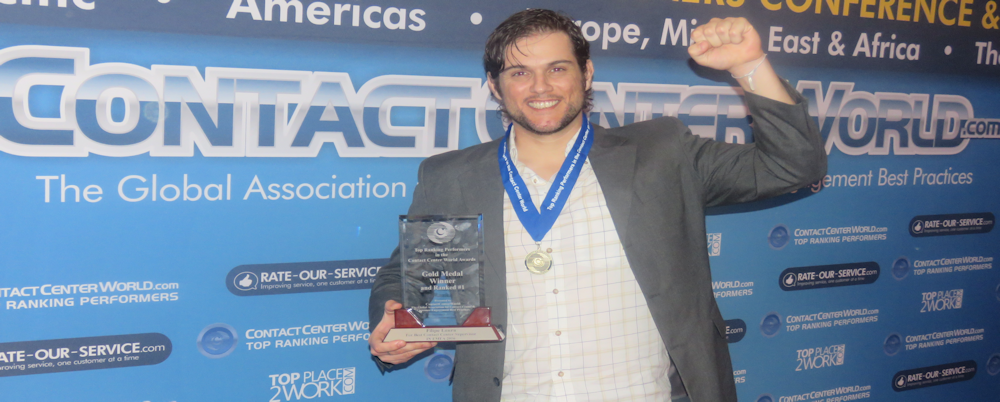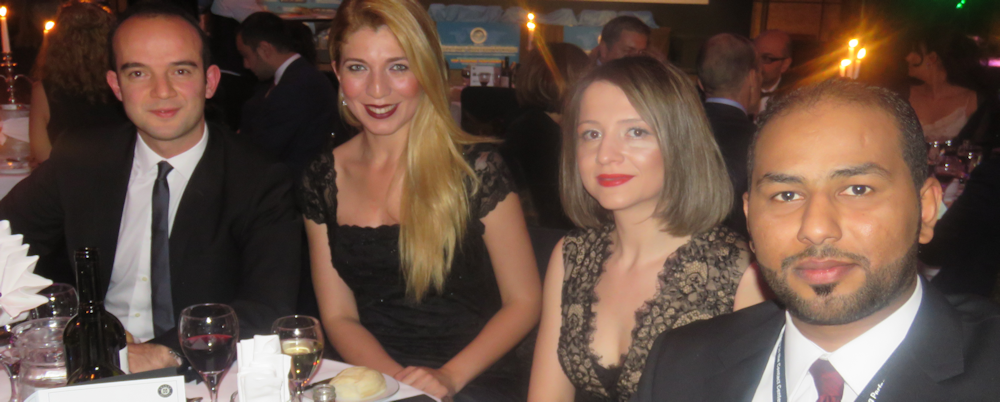 ---
DELEGATE TESTIMONIAL VIDEOS
Delegates Share their thoughts on these events from ContactCenterWorld.com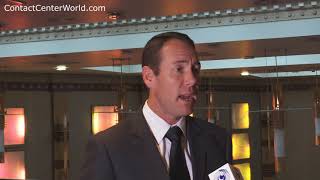 Malcolm Vining of ABSA on ContactCenterWorld Events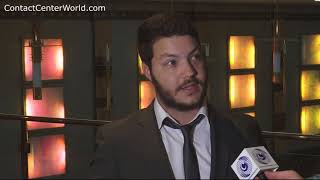 Gerhard Landry of Webhelp on ContactCenterWorld Events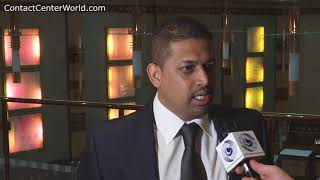 Bharat Parshotam of ABSA on ContactCenterWorld Events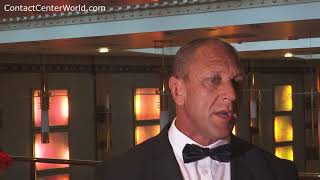 Jaques de Beer of Talksure SA on ContactCenterWorld Events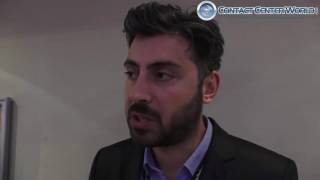 Utku Toprak Teleperformance Turkey on ContactCenterWorld Conferences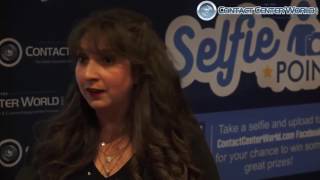 Stephanie McDonald Concentrix UK on ContactCenterWorld.com Conferences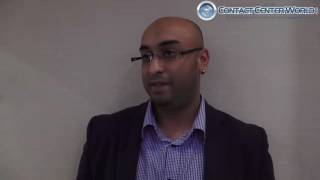 Ashil Ajoodha Standard Bank on ContactCenterWorld Conferences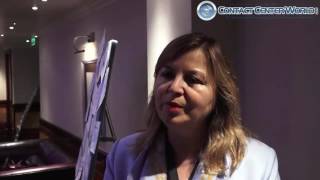 Ozge Tekalp Turk Ekonomi Bankasi on ContactCenterWorld Conferences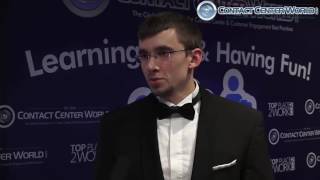 Martins Gagainis Lattelecom on ContactCenterWorld Conferences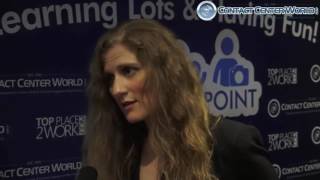 Joana Vieira Randstad on ContactCenterWorld Conferences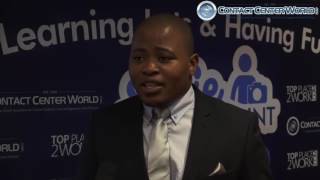 Mthokozisi Nsango Multichoice on ContactCenterWorld Conferences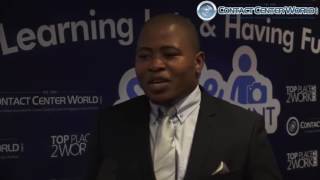 Mthokozisi Nsango Multichoice on ContactCenterWorld Conferences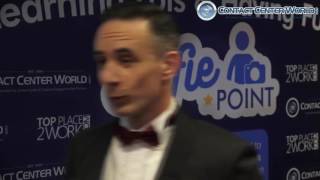 Christoph Stolp Tipico on ContactCenterWorld Conferences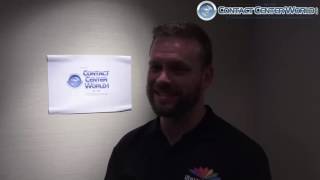 Gert Jacobs Multichoice on ContactCenterWorld Conferences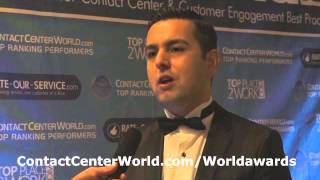 Sercan Salgin Turkcell Global Bilgi on ContactCenterWorld Awards and Conferences
Marlon Samson Multichoice on ContactCenterWorld Awards and Conferences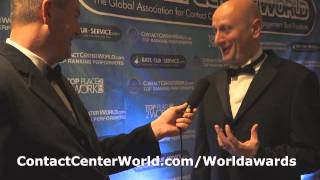 Les Blacker HGS on ContactCenterWorld Awards and Conferences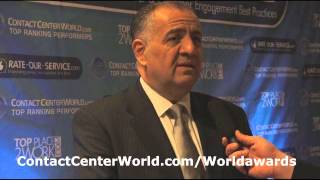 Khaled Ramadan Bank Aljazira on ContactCenterWorld Awards and Conferences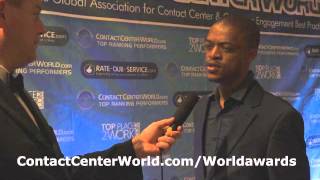 Bathembu Futshane DSD SA on ContactCenterWorld Awards and Conferences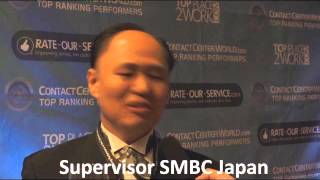 In ONE word what delegates said about our latest event!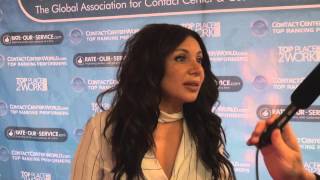 Tulay Dogrular - Teleperformance Turkey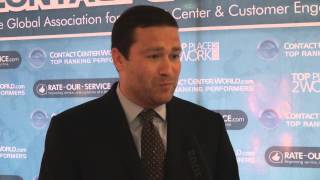 Emre Ozmen - Samsung Turkey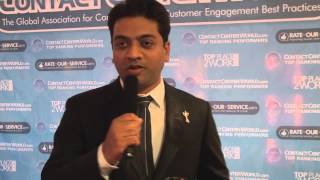 Brian Dcosta - DHL UAE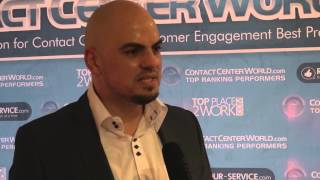 Marlon Samson - Multichoice South Africa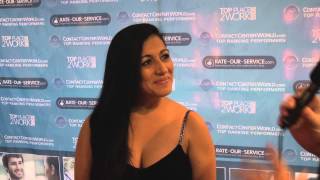 Fatima Sullivan - DHL Sub Saharan Africa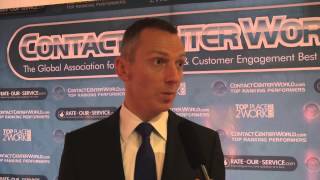 PJ Fouche - Advance Call South Africa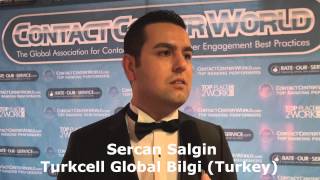 Sercan Salgin - Turkcell Global Bilgi (Turkey)
Garanti Bank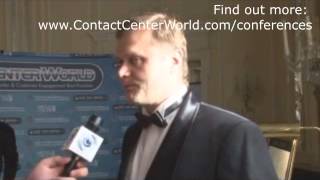 Adelina Holding LLC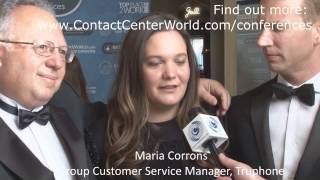 Truphone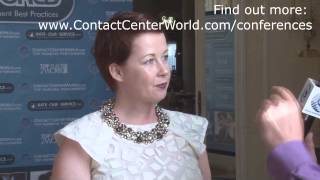 Vodafone Qatar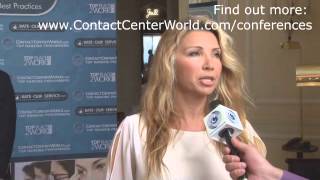 DHL Express Turkey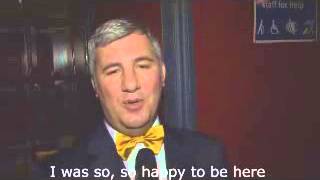 ege-esbeoglu-desmer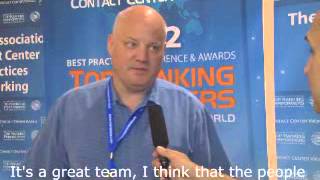 Brian Flygare - Credit Europe Bank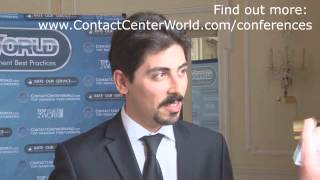 Turkcell Global Bilgi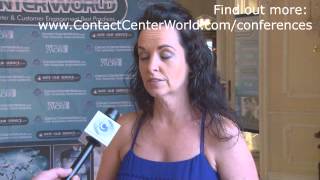 Concentrix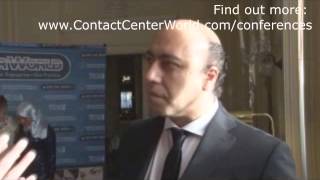 Randstad Portugal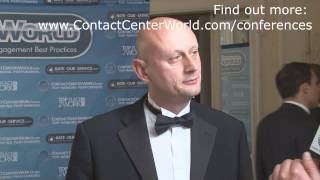 Hinduja Global Solutions UK Ltd.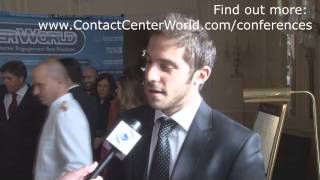 TEB (Turkey)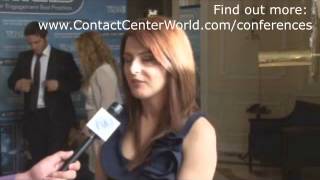 CMC Turkey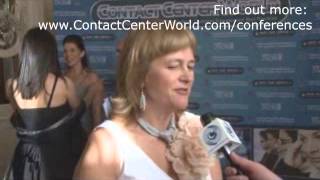 Kyivstar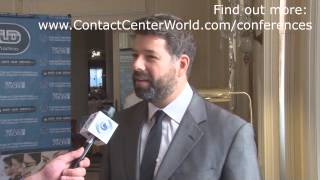 Rhmais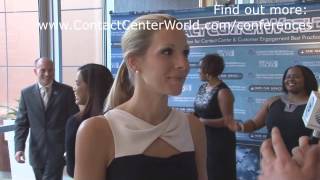 Desjardins Card Services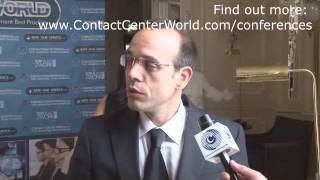 La Caixa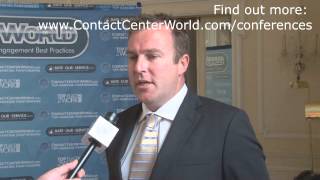 Tipico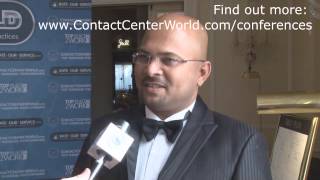 DHL Express Qatar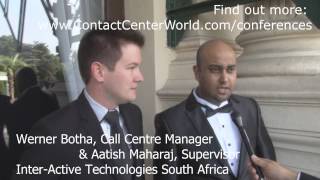 Inter Active Technologies South Africa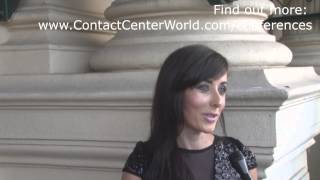 Savant People Development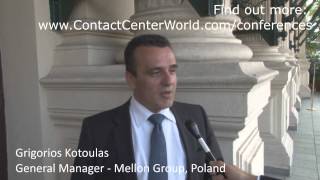 Mellon Poland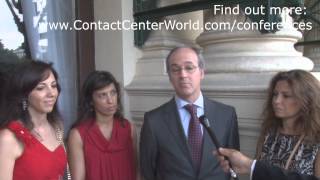 Montepio Portugal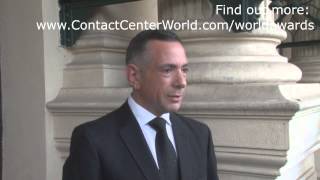 DHL Express UK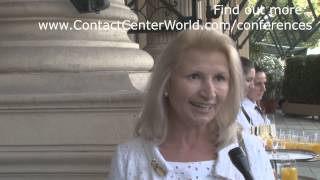 4life Direct Poland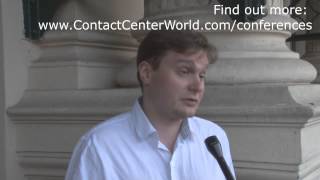 BNP Paribas Ukraine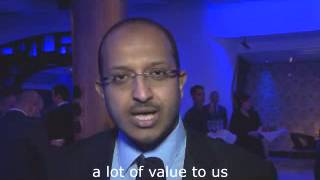 Abdullah-Bawazir-alj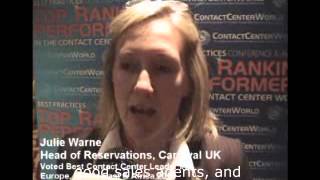 julie-warne-carnival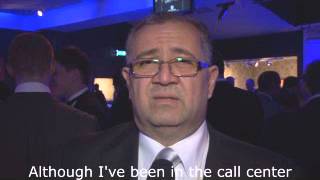 Khaled Ramadan - Bank Aljazira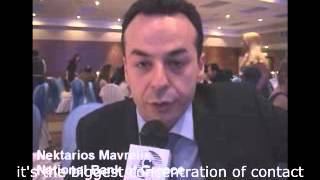 NBG - Nektarios Mavrelis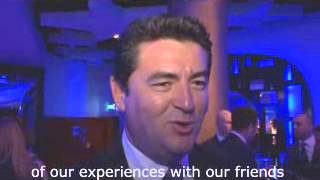 mesut-cure-avea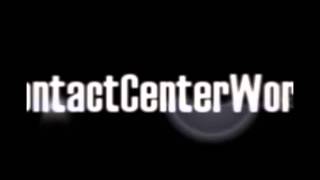 Gustavo-madeira-zon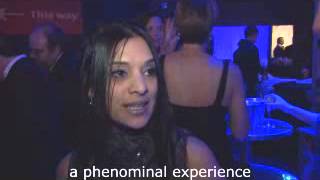 Standard Bank - Jasmina Ajoodha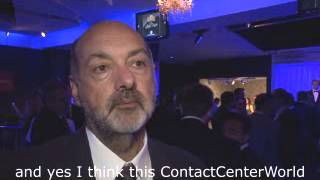 First Data Hellas - Giannis Tsitsanis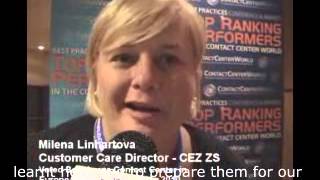 Milena Linhartova - CEZ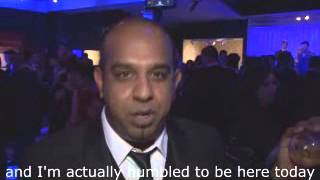 kilan-dwarka-okeeffe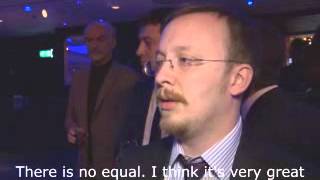 emre-yoleri-assistt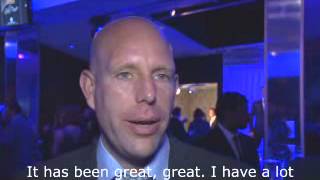 jorgen-holm-carlsberg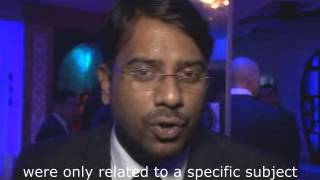 meraj-shabbir-abdul-latif-jameel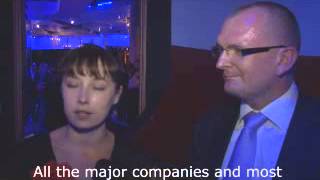 katarzyna-Hetman-Maleszka-iti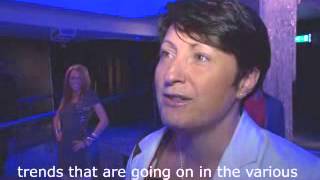 isabelle-bussel-actical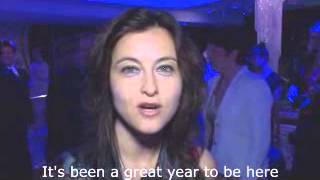 sandra-matos-zon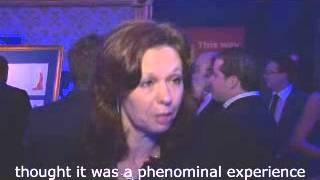 claude-bekker-cipc
---
Contact Center Visits!
Combine your attendance with visits to centers at the destination city or en route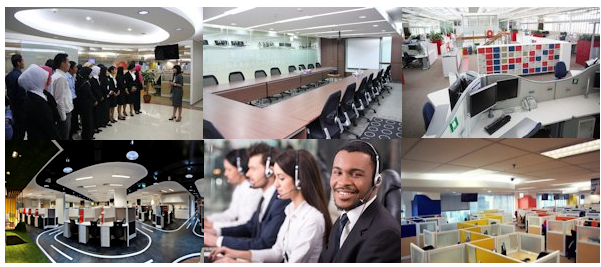 Looking for a custom tour on your travels?

If you want to stop over on your way to one of our events to visit a contact center or two, let us know - we will be glad to see how we can assist you and your group. We also have details of our Contact Center Exchange Program at this page
---
Help Sell the Idea to your Boss!
How to justify the investment to your leadership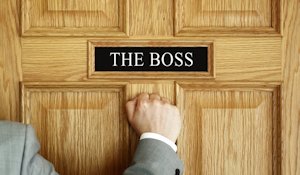 When it comes to this event, sometimes you need a little extra help to persuade your boss this is a really worthwhile investment in your time and the corporate funds.
Remember, this is perhaps the fastest way to learn best practices and if you can take a few ideas back that will help your center, it can pay for itself many times over!
We have a dedicated page with information to help you at this link
---
Added Value - Increase Your ROI
Tools to Help You Get More Out of the Event!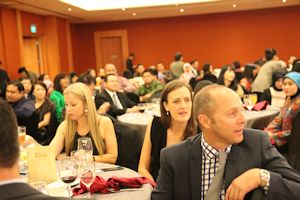 Full access to presentation slides and conference videos* online after the event

We will make sure you are networked with delegates from the event so you can stay in touch post the event using our fantastic online chat and messaging tools!
We offer translation equipment to rent for groups of 4 or more so you can bring along staff members who may not understand English (all sessions in English). Details here
*Videos shared by presenters.
---
Sponsors Welcome
Want to Sponsor This Event?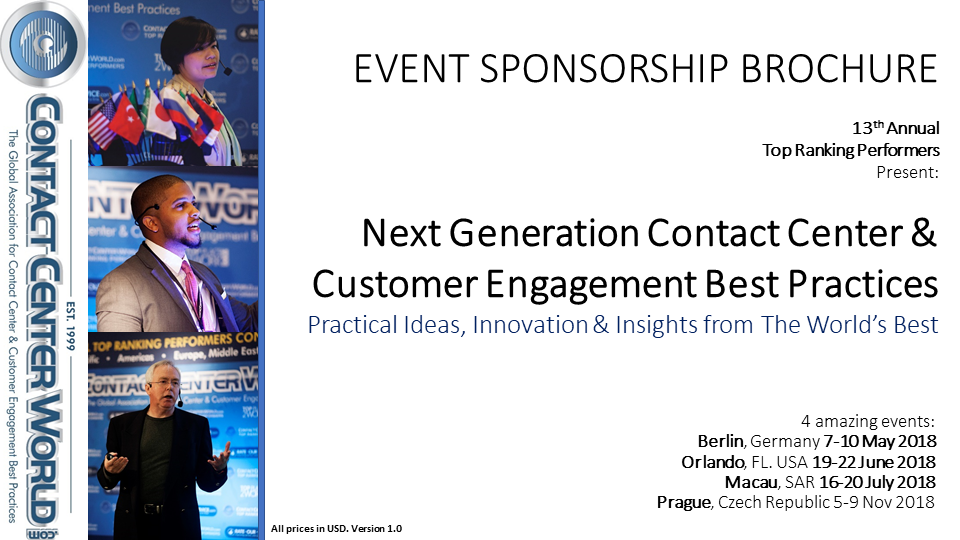 If you sell hardware, software or services to contact centers and would like to be a sponsor of any of our events, or our Industry Awards, request a sponssorship brochure today from THIS LINK
---
Overseas Visitors
Information about Visas and more!
Do I need a visa? Click Here
Visa letters (if required) are available when you confirm details for each ticket holder.
---