We believe value at a conference is increased substantially if we help you network with your peers - the people who do the same job as you. Most other events try and network you with sponsors who want to sell you a product and/or service. We prefer peer to peer networking as its more relaxed and way more fun!
At our conferences we develop a number of unique activities to help you meet and build lasting relationships – even friendships – with fellow industry professionals who, like you want to be the best at what they do.
Here are some pictures from great networking activities including netwosking brainstorm sessions, bowling, Segway tours, adventure activities, boat trips, halloween events and more!

BUT - It's not just what we do at the event - we NETWORK (by connecting on our website) you to ALL the delegates at this event using our networking tool (it's similar to how LinkedIn works!) so you have connections from all over the region! It's a fantastic way to make sure you stay in touch with other delegates! - see down the page for details


SPECIFIC NETWORKING ACTIVITIES AT OUR EVENT IN ASIA PACIFIC ARE FURTHER DOWN THE PAGE!
---
Networking activities at our Phuket, Thailand Event
Phuket is an amazing place - so much to do for those who are active and, if you like a more peaceful time, soak up the sun at the amazing beaches!

We chose Phuket as our 2019 NEXT GENERATION Contact Center & Customer Engagement Best Practices event for these reasons and more. It's a beautiful island easily accessible by air and the people are welcoming. Getting around is also easy and stress free!

Here is a great networking activity we recommend to all delegates attending our event and further down the page we also give our own thoughts to some attractions / activities based on our personal experience!

There is also a note about one of the charities we will support - SOI DOG - please read this and contribute!


---
Must Do! Elephant Jungle Sanctuary! Networking event!

Last year and this we visited 2 elephant sanctuaries in Phuket. Sadly, many people have seen elephants only at zoos or at the circus and not in their natural 'free' state.

In Thailand the elephant sanctuaries we visited take care of these amazing creatures and offer us the chance to get up close with them in a natural environment where we can feed them, walk with them and even swim/bathe with them! All the elephants have been rescued from circuses, elephant ride camps, shows and even the logging industry and given a new life.

Most people don't know how badly treated many elephants are in Thailand and tourists marvel at elephants who can paint pictures or can dance or can be ridden, but these elephants are not happy and are often physically and mentally tortured until they give in to their human masters. And the abuse does not stop - you can see elephants tied up or beaten so they obey - a common tool used is a hook which handlers use behind the ear to control the elephants. So, if you visit Phuket, please do not visit and support any place where elephants are tied up, made to perform, can be ridden etc - these are not ethical places at all and the elephants are suffering!!
We selected 2 'ethical' elephant sanctuaries to support and arranged a trip to one of them for a once in a lifetime experience that you will love! NOTE - we have a maximum of 40 places available so book early!


You can get to bathe with the elephants in a mud bath! - its amazing!

Date: 14th July (pre conference)
Time: 11:45am depart from JW Marriott (Conference hotel) and back around 3-4 hours later
What to expect: When you arrive at the Sanctuary, the guides will give you a basic overview of the tour, how our elephant welfare programs take place and some information about the elephants. Since the tour can get messy and wet (in a very fun way!) we suggest that you bring some things with you. Bring a hat, sunscreen, a bathing suit, a towel and a change of clothes.
You can also bring a camera with you but if you're worried about taking photos with the elephants you need not worry. Elephant Jungle Sanctuary offers a photography service at no extra charge. The photographer will take photos of you throughout the day and upload the photos to Dropbox, which you can then access through the link on the EJS Facebook page.
Throughout your visit at Elephant Jungle Sanctuary, you will be feeding, bathing and even playing with the elephants. You will even get to tell everybody you know that you went swimming with elephants in Phuket!

It is also important to us that you learn as much as possible about the elephants and why it is important to protect them. As an ethical elephant sanctuary in Phuket, Elephant Jungle Sanctuary wants to promote ethical treatment of elephants all around the world. With the money we raise from visits and donations, we can contribute to elephant welfare by rescuing elephants, feeding them, provide veterinary care and giving them land and infrastructure for them to live on.
Price: 2,800 THB (includes a 300 THB donation to Phuket Elephant Sanctuary)
How to book: We have just 40 places so book today at this link RESERVE MY PLACE
CCW comment: this is an amazing experience. It will change how you view these fantastic animals. They will melt your heart and with what you learn, you will appreciate how we should all make sure they are treated well and not used for rides, in shows, in the logging industry as so many of them are. This is an incredible experience you will remember forever!


---
SOI Dog - Charity we are supporting!

We visited SOI Dog - a charity totally funded through donations and had a tour. We met countless volunteers who look after the 800+ dogs and cats this charity cares for. The dogs and cats are abandoned, abused, rescued from the meat trade and given a new life. The facility has medical staff on hand to help treat the animals and is a wonderful place. Visitors can take a free tour and purchase t-shirts and make donations to support the facility and the dedicated team who do an amazing job. You can also meet many of the dogs and cats - I personally spent time with an amazing group of puppies including some with only 3 legs who were so sweet.
How you can help? Please make a donation at our event - we will ask one of the staff members to come by and do a quick talk.

Also, if you love dogs and cats, please bring a dog/cat toy or two - this would be appreciated as with so many animals at the facility, toys are always in high demand!


---
Other fun thngs to do / places to see

Trickeye Museum
Wow, this is a lot of fun! have your photo taken in some crazy situations - great memories for sure!

Sea-Bees Diving
Right on site at the JW Marriott is a dive school! You can learn to scuba dive in the pool at the resort and then go out to some great dive spots!

Big Buddha
Worth a visit and an amazing place. you get great views from the hill top and make sure you visit the monk at this location for a blessing! Don't forget to pay him something as well.

Turtle sanctuary
Also at the JW Marriott is a turtle rescue sanctuary in the gardens - its free to visit and see how they rescue and return these beautiful animals back to the sea!


---
NOT RECOMMENDED!

Although our aim is to recommend places to go / things to do, we think its also good to suggest places to avoid!

Tiger Kingdom
I love tigers and years ago visited a sanctuary in Chang Mai, Thailand and had my photo with a tiger cub. So on our recent trip we thought we would take a look at Tiger Kingdom. Don't go there! - tigers are abused - in front of us tigers were being pulled around by their tails and pushed into positions just so tourists could have a photo with them. Adult tigers were in small cages and the whole place felt like it was there to make money at the expense of tigers and their well being. If you go, you will be dissapointed. Places like this should not be allowed to treat these amazing animals the way they do!

Elephant shows
There are plenty around - do not go to any show where they ride elephants or get them to perform. You will notice handlers using what looks like a stick behind the ear - its actually a 'hook' used to control the elephants by inflicting pain! Don't go to these shows - they are cruel to elephants! And if you see someone with an elephant in the street or when shopping and they want you to pose with the elephant for money - do not do that! It's likely the elephant has been abused!
---
Keeping in touch post the event! 
We also give every delegate access to a delegates only networking group at each event so you can build a healthy network of contact center industry professionals from around the region and beyond
When you are online you can see your connections
(see sample below)
You can also select any to start a LIVE CHAT session!


and, at any time you can view their profile, as well as send them direct messages
---
---
CONFERENCE RELATED VIDEOS
Videos from past events - including a visit from a President of the USA!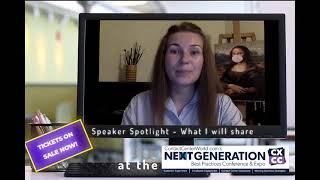 Tetiana Nemyrska - Adelina Call Center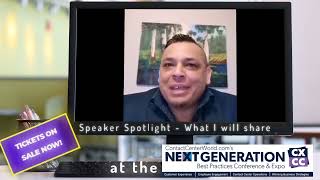 Chester Prince - DSG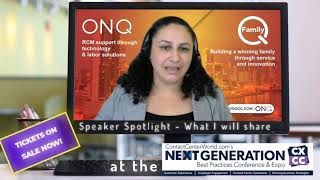 ONQ-Caitlin Morvidelli Contact Center Support Professional-HR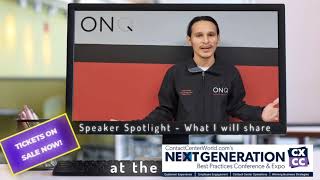 ONQ Lucas Fuentas Best Trainer Pre presentation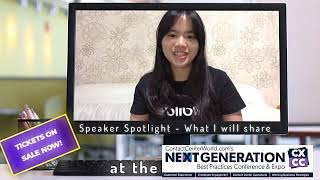 Melody Halim - Blibli