Event Report 2016
Event Executive Report 2016
The past few months have been amazing for the ContactCenterWorld.com Team - 4 fantastic events completed in Europe, Asia and the Americas! The following report outlines what we covered, how the delegates benefitted and we give a preview of what to expect at the next series in 2017. Please enjoy this roundup.

About the events
They are 100% Best Practice events with presentations by industry practitioners sharing ideas from how to motivate the front line, to managing social media, from leadership skills for executives to overall best practices in contact centers and almost every subject matter in between!

Unique, Fresh Content!
Every year the ideas pour out of these events! Over the 3 events in the summer, we estimate that some 1500 business ideas were shared! - more than you get from doing an MBA over several years and all condensed into practical, bite size chunks by those who do this job day in day out!
We bring in award winning presenters - the ones who have literally shed blood, sweat and tears to make things happen and can proudly say "we did this, that and wore the t-shirt"! These 'heroes' are the ones who are trail blazers and the fact they are so open to sharing is simply amazing and a credit to these elite professionals!


Integrity!
As the Global Association for our industry, ContactCenterworld.com believes Integrity is everything. Those presenting at the conference are actually competing in an awards program created by ContactCenterWorld.com entitled "The Top Ranking Performers Awards."


Our Score Card - How Delegates rated These Events!
How Our Awards Program Benefits You as a Delegate!
Why is this important for you to know? Every year a call goes out from us to our world-wide members in the industry who are seeking recognition. Those presenting at the conference have already been through a number of rigorous procedures. Their journey first began with a written submission for their particular category. A panel of judges who are not even in their region, score and evaluate the content of the award application. Only those who have received the highest score from neutral judges are invited to present at their Regional Event.


The winners and runners-up from each region are then invited to present at the World Championships in later this year in London. This is the 4th such conference we run every year and it puts the champions from each region up against each other in competition in an effort to decide who is the Best In The World in that specific category. So we can assure you that the content they will be covering is truly World Class. They have already been approved by impartial judges in the written summary stage and have earned their ticket to the World Finals by winning or coming in second place at the Regional Event after being scored by a panel of industry peer Judges.

Presenters are competing for a World Championship Award and will bring their best foot forward in terms of content covered.
---
The Road to the Best in the World Global Conference
---
Kota Kinabalu, Malaysia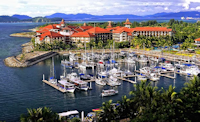 Nestled at the edge of the South China Sea, we selected the fabulous Sutera Magellan Resort for this year's conference. With one of the best facilities in the whole of Malaysia, delegates were rewarded with breathtaking sunsets, glorious inviting seas, a massive range of outdoor pools, wonderful accommodations and delightful cuisine. With so much to do in the immediate vicinity including scuba diving, sailing and an onsite challenging golf course, no one was disappointed. Plus within just a few hours, delegates could partake in climbing the highest mountain in South East Asia ... and a few brave souls did just that - details further on!

London, England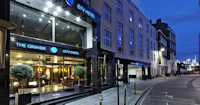 Located in the heart of London, The Grange Hotel provides its guests with easy access to tourist sites and transportation. The hotel itself provides views of The Tower of London and Tower Bridge, both of which are just a 5 minute walk from the hotel entrance. There are two tube (subway) stations) located within a minute's walk of The Grange. Piccadilly Circus and Trafalgar's Square are just a few short stops away as well. For those who are interested in grabbing a bite to eat or getting to know some new friends, there are a high number of pubs and restaurants within walking distance as well. Plenty of people can be seen discussing business throughout the day because The Grange is located within the heart of the city's financial district.

Miami, Florida USA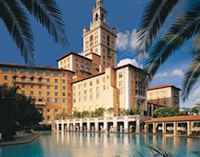 An oasis on its own land. The Biltmore hotel is legendary in the United States of America. It's known as the wedding capital of the U.S. because of its beauty. The Biltmore celebrated its 90th year in 2016 and this architectural masterpiece will take you to a foreign place. With plenty of European and Latin influences, the Biltmore offers a picturesque stay with a number of fountains and statues. The hotel features a giant swimming pool, spa, workout area and much more for the travelling professional. Located on the Biltmore grounds is a championship golf course designed by world renowned architect Donald Ross. It's also famous for its "Capone" room which was featured in the movie "Bad Boys" starring Will Smith and Martin Lawrence. The Biltmore offers travelling professionals modern day amenities along with an opportunity to relax and enjoy the surrounding environment.
---
Key Topics Covered at the Regional Events you can hear about
Motivation
Without doubt, a key topic for everyone. How do you motivate your staff from the baby boomers to the Gen Z / Millennials when they differ so much? How do you engage with those who are looking for a stop gap? We all know that in reality no one wants to grow up and be a contact center professional and that most of us find our way almost by chance. But once in, how do we motivate them? We heard so many great tips and ideas from around the globe. Whilst the challenge is the same pretty much everywhere you go, it was amazing to see and hear the diversity of ideas and methods used. There was so much in this area that without doubt everyone could take away lots of great ideas to implement immediately

---

Technology
Whilst there is a lot of great technology out there, we were particularly interested to hear what companies have developed internally and why. This trend towards creating fully customized solutions continues strongly and the solutions developed that were presented were incredible! Take one company who for a few thousand dollars created a solution to a monumental problem and in the process turned the challenge into a business opportunity by selling their solution for literally millions!

---

Customer Engagement
This topic garners a lot of interest in all three regions of the world. Everyone wants to know how to benchmark themselves against what others are doing in order to re-enforce what they are doing is correct and to pick-up ideas on how they can improve. The world is moving at such a fast pace in this realm, it's difficult to know if you have your finger on the pulse of social media. Find out if you are missing out, what some of the "rules" are for dealing with and helping customers via social media from those who have been crowned champions in this area from each region of the world. This category is a must-see for those in attendance and are trying to be on the cutting edge.

---

Business Strategies
So we all know a challenge is going from a cost center to a profit center and it was enlightening to hear from different companies (different sectors and also different countries) how they deal with this. The strategies were fantastic and some clearly showed us the way in a manner that was easy and fun! Then, there are the programs for outbound and for direct marketing on how to engage customers. The list goes on and on!

---

Customer Loyalty
Learn from companies around the world who have broken away from the competition when it comes to customer loyalty. You will learn strategies, concepts and methods that have lead these companies to an increase in customer satisfaction and loyalty for a sustained period of time. If these regional champions are doing it and have separated themselves from other elite Contact Centers, shouldn't you be listening?

---

Home/Remote Agent Programs
An intriguing topic for sure and one that garners a lot of interest from those looking to implement such a program in their own company. Learn from companies around the world who have the experience and can tell you about the process from start to finish, some of the shortfalls they had to overcome. The hiring, training and security procedures and how they made their Home/Remote Agent programs work for them and their employees.

---

Community Spirit
Giving back and helping to grow and nurture the communities we live in is of the utmost importance to these champions. Find out which companies advocate, create and involve their employees in programs that benefit others in the community they live in. Learn how their programs work and what the benefits are to the company, the employees and how they measure their programs' success.

---

Executives, Directors & Managers
Hear and learn from those who are doing fantastic work in their own Contact Center through leadership, mentoring, engagement, motivation and more. We have searched the world over looking for Executive Directors, Contact Center Managers, Operational Managers, Project Managers, Sales Managers and Client Service Managers to find out what makes them different in their respective roles, what motivates them, what their performance results were for the past year and how they were measured. Find out what makes them different and special compared to others in similar roles as they share their knowledge of the industry and their particular roles with you.

---

Analysts & Quality Auditors
Wonderful people to have working on the betterment of your Contact Center. Those presenting in these categories will share their knowledge and experience when looking at, evaluating and extracting important data that can help to shape and improve your Contact Center. These are the elite who are shifting, formulating and capturing the data that can help to improve processes in your Contact Center.

---

Support Professionals - IT, HR & Workforce Planning
These people help support what is the heartbeat of any Contact Center. Learn how these individuals earned championship status in each of the three regions because of how they approach their areas of expertise with passion, energy and a true desire to make the Contact Center better. IT Professionals will define their role and how they measure their success. HR Professionals will share their ideas on hiring and how to look for the "right" people for the "right" situation and other parameters for future advancement within the company. Workforce Planners will tell and share with you their views on forecasting, scheduling and how they ensure their Contact Center is running at peak performance no matter what the situation is.

---

Customer Service & Sales Professionals
These are the people who make Contact Centers work. Front line professionals who are customer facing every day and they're great at what they do! Find out more about what makes them tick, what makes them passionate about their jobs and what motivates them as individuals to stand out from a crowd. Learn more about these wonderful and enthusiastic people who are at the very root of what makes Contact Centers what they are and how their metrics make them a cut above.
---
Gala Dinner - Amazing Finale!

We have our own prestigious celebration at the end of the conference to celebrate the industry as a group and to announce who the World Champions are in each of the categories that were presented in throughout the course of the week. It's a formal affair but well worth attending with the friends you have made during the week. It's a chance to enjoy a delicious and well thought out 5 course meal with others who were in attendance during the week.
This is the night that all those involved in the presentations have been looking forward to all year long. We first enjoy the food, a bit of live music from the band and then announce the award winners. After that, the band will help us to party and celebrate the industry for the rest of the evening.
Some presenters even perform on stage! Watch these great videos from our event in Malaysia!
---
Summary! What Makes This Event Different for YOU!

There are three key things that we feel make our conferences completely different from anything else out there and they are:

1. All presentations are about having Best Practices within Contact Centers.
All presenters work in Contact Centers and have specific guidelines for the content of their presentations. These presenters have been judged by a jury of their peers and named as a first or second place representative in their respective region. This ensures audience members will walk away with fantastic ideas.

2. Networking!
We at ContactCenterWorld.com believe there are some amazing people who are doing incredible things in the Contact Center industry all over the world. Our conferences promote Networking and the ability to create long-lasting friendships with other like-minded professionals well after the conference is over. We even help you connect with them via the website, so you can continue to share ideas and exchanges in the future.

3. Move The Industry Forward! Move YOU forward!
Our intent is to help move this global industry in the right direction. The main premise behind designing such a unique conference series is to help people connect and learn Best Practices from each other all over the world. Our Regional events help to identify true industry leaders and that's how they earn an invitation to present in their specific category the World's Best conference. When you bring in this level of Contact Center industry talent from all over the globe to speak and share their Best Practices in more than 30 industry specific categories, it makes for a wonderful and truly global event from which everybody can learn from and take back to their Contact Center. It's a wonderful way to benchmark your contact center against some of the very best and an opportunity to get to know and develop relationships with those same people who share a similar industry passion. We think you will be amazed.
---
ContactCenterWorld Team gets a Standing Ovation!

Have you been to an event or conference where those in attendance have given organizers a standing ovation as part of a "Thank You?" In London we had 12 different countries represented at our Regional event for Europe, Middle-East & Africa. At the end of the event we as a company asked for feedback and those in attendance were so happy with the week they gave us a spontaneous "Thank You" that touched our hearts.

Watch the video here!
---
Behind The Scenes - It's Not All Work!
Our team works very hard at trying to advance this amazing global industry. We also select some wonderful places to travel to for our conferences and venues which provide those who are interested in some fantastic opportunities for new adventures. Our motto is "Work Hard - Play Hard" and while we pride ourselves in creating events that are amazing, we do try and experience some of the local culture, scenery and highlighted adventures available to those in the immediate area.

This year our ContactCenterWorld.com Team played some golf in Kota Kinabalu, Malaysia, went Scuba diving off a nearby island in the South China Sea and in Key Largo Florida. Created our own trail through the Borneo Jungle machette in hand!
And, to cap it all a few of us climbed to the Summit of Mount Kinabalu, the tallest mountain in all of South East Asia.
Of course wherever we go, we also try and get in a bit of fun with our delegates and have a Bowling night. It helps solidify and create new friendships all over the world. Try it with your own team!


| | |
| --- | --- |
| Wreck diving off Key Largo, Florida | Climbing to the summit of Mount Kinabalu, Malaysia |
| An exciting jungle trek, Borneo, Malaysia | After a day scuba diving, Kota Kinabalu, Malaysia |
---

We at ContactCenterworld.com believe very strongly in these conferences and our product. We are here to ensure you get the right content at our conference and have the right tools to take full advantage of the content you will hear throughout your conference stay, including access to our own technically advanced Conference Application which allows you to permanently store your notes on your ContactCenterworld.com account electronically and for all-time, allowing you to re-visit some of the great ideas after the conference is over.

We believe you too will enjoy your time at the upcoming events simply because we can assure you that the intention is for us to have the right people presenting with No Sales Pitches, only Best Practice Sharing. We belive in Networking and creating long-lasting friendships and relationships which can grow even after the conference, because we connect you to all of the delegates on-line after the event, so you can instant message, chat live or even e-mail.

This conference series is also designed to move the industry forward and this meets our third and final criteria for creating a comprehensive and pioneering event which has an immeasurable Return On Investment for your Contact Center thanks to the hundreds of Best Practice Ideas which are shared during the course of the event.
The following video is a broadcast aired in South Africa during our event from SA Business News


We had one Contact Center Executive come up to us after the Las Vegas event to say "Thank You - you just helped me sign a 10 year extension on my contract just because of the ideas I wrote down during this conference alone and I can roll out a new plan to help my Contact Center every six weeks for the next two years."

Our great story is just beginning and even though we have been putting on Conferences of this nature for 11 years now, we believe that you too can achieve success. Our hope is that you come and learn Best Practices from the Best at our events and your take-aways are unprecedented compared to any other conference you might attend. Eventually we would love to see you come back as "Presenters" in the Top Ranking Performers Awards Competition and be ranked with the World's Elite Contact Center Industry Professionals.

Profile of Delegates Who Come To Our Global Event
Full details of the Global event can be found at this link
If you went to these events, add your comments here:
thank you everyone who came along and participated - been an amazing series!


July 19, 2016 12:29 PM EST

Thank you so much for this wonderful experience!


August 30, 2016 6:02 AM EST

This year we craft another exciting and memorable events......#ContactCenterWorld Year 2017


July 4, 2017 10:28 AM EST
---