Newsletter Selection
•
APAC
•
EMEA
(Currently Selected Newsletter)
---
EMEA Newsletter - Friday, December 7, 2018


Hi

Here is your weekly eNewsletter from ContactCenterWorld. To manage your subscriptions please use the link at the bottom of this newsletter.
HOW TO ENTER THE MOST PRESTIGIOUS CONTACT CENTER WORLD AWARDS
On demand webinar - watch when you want and find out about these awards, best practice tips and more

Join us at OUR Industry Leading 14th Annual NEXT GENERATION CONTACT CENTERS event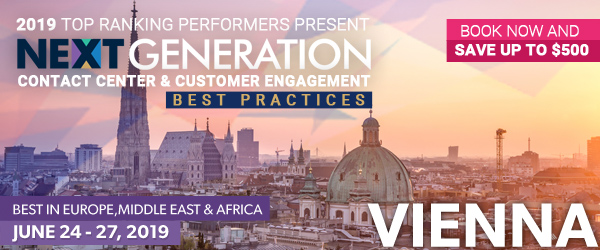 Click on the company logo to access their company page and get more information about the supplier
LATEST ACTIVE MEMBERS
Click on a member's name to connect with them
Mohammed Hegazy


Business Development Director
Teleperformance Egypt
Connections: 2
Yuri Zager


Senior Manager - Customer Interaction Centre
Smollan
Connections: 3
Thea Lewis


Marketing Manager
Go4customer-UK
Connections: 3
Marisa Silva


Assistente de relacionamento com o cliente
ManpowerGroup Solutions Portugal
Connections: 273
Pratish Karshan


Business Development Operations Manager
SA Commercial
Connections: 30
Ahmed Samak


Projects Manager
Citizen Account KSA
Connections: 528
Dirk Frans


Senior Management Consultant
4C
Connections: 2
Dave D'Arcy


Senior Director Customer Support and Service Delivery
Vonage
Connections: 67
Sam Smith


CEO
Cloudsmallbusinessservice
Connections: 0
Yusuf Adams


Work Force Manager
Merchants SA (South Africa)
Connections: 232
2019 '14th annual' Global Contact Center World Awards NOW OPEN!
Enter your Center, Strategy, Technology Innovation, People and more into the ONLY TRULY GLOBAL awards program - regarded by many as being like the Olympics for the Contact Center World! Join the best from over 50 nations and compete for the most prestigious awards out there!

BEST CONTACT CENTERS IN THE WORLD IN 2018
Want to know who are the best in the World? the current World Champions in our industry? The best contact centers, best leaders and more!

Video: Best in the World Awards Gala Dinner Prague 2018
Video: David Birittieri of MassMutual on Contact Center World Awards
Video: Dell India on Contact Center World Awards
Video: Bharat Parshotam of ABSA on Contact Center World Awards
Video: The ContactCenterWorld.com Awards Program Overview
Video: ContactCenterWorld.com Global Awards Overview
View More Audio Podcasts

|

View More Videos

Head of Customer Service (60000 GBP)

Senior Project Manager – Project Manager - Customer Project Manager (18 Month Fixed Term) (45000 EUR)

Contact Centre Manager (6 Month Contract) (55000 GBP)

Team Leader (22000 GBP)

Contact Centre Manager / Team Manager (35000 GBP)

Customer Relations Manager – Complaints Manager – Customer Resolutions Manager (40000 GBP)

Progress Developer - Software Engineer

Team Leader/Team Manager Customer Service (35000 GBP)

Customer Service Administrators - Sligo

Customer Service and Sales Advisors Needed for Model Farm Road

Outbound sales agents (Hull)

QA Tester (Kiev)
View More

|

Submit Jobs
Join us at this leading event!