Top Outsourcer Ranking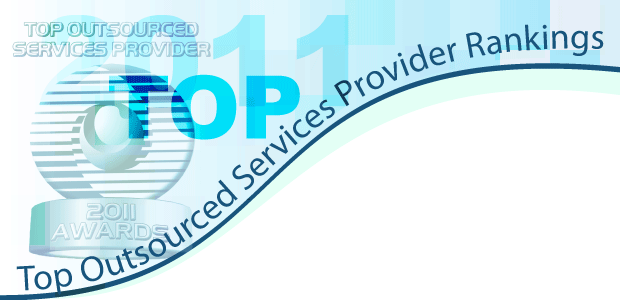 Four of the TOP 10 Google search results for Outsourced Services Provider Rankings refer to ContactCenterWorld.com



Benefits for Outsourced Services Provider
| | |
| --- | --- |
| • | Outsourced Services Providers who achieve designation on the final "Top 100" will receive the current years "Top Outsourced Services Provider" logo. |
| • | Top Outsourced Services Providers have taken advantage of the marketing potential of the rankings by using them in communications media. |
| • | All information provided by companies is kept strictly confidential. |
| • | Participating companies will be featured in the current annual "Top 100" Outsourced Services Provider Rankings. |
| • | Our 205,000 members will have access to the rankings, increasing exposure. |
| • | The report will be released to various industry associations and other partnerships. |
| • | It's a great way to impress client companies and an effective way to confirm your status in the Outsourced Services Provider industry. |
Here's what Outsourced Services Providers say
Click to see what the following Outsourced Services Providers have to say:
Current Ranking
Here are the 2011 Top Outsourced Services Provider Rankings!
Outsourced Services Provider Rankings 2011
2011 Top Outsourced Services Provider Rankings
Whether your company specializes in inbound, outbound, or blended contact center services, this is your opportunity to participate in a prestigious award program aimed at acknowledging the best in the industry - companies who have outperformed their peers and deserve global recognition!
The Top Outsourced Services Provider Ranking Awards listing has become a reference for client companies seeking the best in the outsourcer industry. Client companies review the lists to both confirm the value of existing relationships and to build new ones. The rankings include companies from around the world, many of them leaders in their class, but also includes rising stars that are quickly making their way to the top.
Benefits for Clients
| | |
| --- | --- |
| • | Outsourced Services Providers listed in the rankings have successfully passed a rigorously judged process that examines a variety of defining criteria. |
| • | Whether you are looking to contract or affirm a present relationship with an Outsourced Services Provider, the rankings provide an accurate point of reference. |
| • | Judging is based on comparative data that has been verified. |
| • | The rankings are broken into many categories that help you refine your search, helping you find the best no matter your criteria. |
| • | The "Top Outsourced Services Provider" logo is your guarantee that you are dealing with a globally recognized top performer. |
| • | If you are in a relationship with an Outsourced Services Provider, their entry into the rankings is further proof that you have chosen among the best. |
Previous Rankings
Outsourced Services Provider Rankings 2011
Outsourced Services Provider Rankings 2010
Outsourced Services Provider Rankings 2009
Outsourced Services Provider Rankings 2008
Outsourced Services Provider Rankings 2007