WHAT CAN WE HELP YOU FIND?

All

Articles

Tips

People

Company

Jobs

Video

Blog

Gallery

Glossary

Store
Article : 2012 Top Ranking Performers Conference - Never Been? Read What Delegates Said!
Interested in best practices? Consider attending a ContactCenterWorld event - for the next upcoming event go to www.ContactCenterWorld.com/conferences
If you had to write a paragraph to summarise the conference for someone who has never attended, what would you write?
"An excellent learning and networking even where you get the opportunity to learn, network and share experiences with the best in the Contact Center industry."

- Khaled Ramadan, VP - Head of Alternative Delivery Channels, Bank Aljazira, Saudi Arabia

---

""Contact Center World Award" is highly regarded and organized in a professional way, we know our participation is a great window to expose our work. We learn something everyday and improve the system with new concepts. The conference is a great way to learn best practices in a limited period. By participating in the last year awards, we started creating a positive company image in the world marketplace. The process need to be persisted. Success in the awards is always good to have. It brings recognition and the important thing is that awards are the result of the work. This will be an essential part to motivate our employees break and exceed the expectations. Never rest satisfied. Good enough is not even good!"

- Anastasia Makovets, Research Analyst, Telecontact, Russia

---

"If you want to get an overview of the best operational practices to deploy in your contact center, this is the place to go!"

- Isabelle Bussel, EVP, International Development, Acticall, France

---

"CCW event is one of the most extraordinary evet among the similars. Lots od experience sharing, networking opportunities. Come and learn from all over the world."

- Tunca Meric, Technological Solutions and Services Manager, Turkcell Global Bilgi, Turkey

---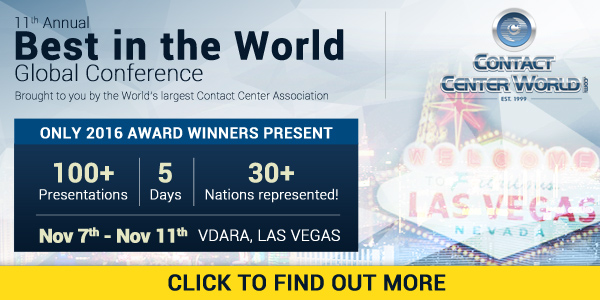 ---

"This event was the highlight of my career. It was very professionaly planned and a great opportunity to share and learn from each other."

- Yolande Terblanche, Call Centre Manager, Inter-Active Technologies, South Africa

---

"Definitely a must attend event. Money back guarantee. You will not regret it."

- Burak Fakioglu, Account Manager, AssisTT, Turkey

---

"The conference was a life changing experience for me, the best of the best shared unreservedly their best parctice tips that have made them world leaders. We celebrated our abilities like never before. We partied, made friends and emerged more informed."

- Mxolisi Dube, Quality Assurance Manager, O'keeffe and Swartz, South Africa

---

"This conference brings together professionals from contact centers around the world and affords attendees the opportunity to be exposed to innovative business practices that serve to improve our individual performance in our native countries, as well as enhance the industry as a whole."

- Joanne Papapetros, Customer Service agent, First Data Hellas, Greece

---

"If you really wanna go for an international environment and hear waht the world is doing on contact center, you should definetely attend CCW Top Ranking Performers organisation."

- Nil Keskin Keles, Customer Interface Director, DHL EXPRESS TURKEY, Turkey

---

"It is great to have the opportunity to share experiencies and best practices with the leading companies of the contact Center marketplace"

- Abilio Puente, Project Manager, La Caixa, Spain

---

"It's the best conference to personal and profissional development - learning from the best and how they run their companies and contact center is priceless!"

- Sandra Matos, Manager, ZON Multimedia, Portugal

---

"Great place for networking with Industry professionals."

- Rajesh Chabbra, Account Manager, arvato India Services, India

---

"2012 Best in EMEA Conference is a fine collection of best practices and networking opportunities that every contact center with a global vision must attend."

- Murat Aras, Senior Consultant, MANNAGENN, Turkey

---

"Great experience and knowledge to take home and use on a daily basses"

- Michelle Patricia Bailey, Internal Sales Agent, Carlsberg, Denmark

---

"The Contact Centre World conferences is an ideal benchmarking opportunity for contact centres wanting to learn from the best in the worldwide industry. No matter what contact centre discipline you specialise in, these conferences bring together the best players from accross the globe to share their ideas in a content packed conference. There are no sales pitches from vendors, just loads of practical best practice tips from several organisations accross the world. In addition the conference presents an excellent platform to network with fellow conference attendees in an environment where everybody wants to learn from one another."

- Ryan Kleynhans, Contact Centre Manager, Volkswagen Group South Africa, South Africa

---

"great networking opportunites. Chance to see best practices. A platform helps you think about your company's future."

- Erhan Ula, Strategic Planner, Turkcell Global Bilgi, Turkey

---

"The conference was an absolute blast, from networking, sharing best practices and not forgetting the awesome events planned. The venue and staff are very well organised and for anyone in the contact centre industry, you will most certainly take something back to your call centre that will make a difference."

- Edmund Reddy, Call Centre Manager, Inter-Active Technologies, South Africa

---

"I would like to wish for everyone not to miss a chance to attend such event.It is a great experience, a lot of opportunities, new friends and a lot of new usefull information to work with:) It is a great chance to share with other people from different countries all over the world your experience, youre ideas and youre success."

- Marta Kindzerska, Telesales Supervisor, Adelina Holding LLC, Ukraine
Published: Monday, July 23, 2012

Printer friendly version
Industry Champion Award Leaderboard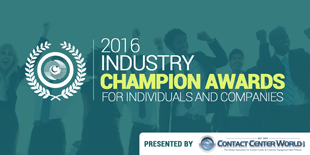 Contact Center Video News