Article : A Week in Las Vegas With ContactCenterWorld
#contactcenterworld, @AndyBarkerCoach

Although I have enjoyed many visits to the USA over the years, on business and leisure, I had never before been to Las Vegas. Neither had I attended the ContactCenterWorld.com Global Contact Center Awards conference event before, so I was in uncharted territory on both counts. Las Vegas is all I thought it would be - and more. It's frenetic, larger than life, brash, exciting and crazy in equal measure. It's an assault on the senses and if one isn't prudent in the immense and dizzying casinos, an assault on the wallet too!
The conference however was quite different in so many fascinating ways from what I originally imagined it to be. Let me tell you about it. Firstly, it's rather unusual as it's actually a clever blend of conference, best practice master class and awards. Secondly, there actually is a truly global presence. Attendees from Europe, Asia, Australia, The Americas, and Africa present to and compete with their peers in a host of categories. In fact, the only continent not represented, disappointingly in my view, was Antarctica however; I'm told that there are not too many contact centers there.
Attendees to the conference had already competed in and won previous regional events in London, Orlando and Singapore respectively, so the best in class competition is fierce and the quality of entrant extremely high. Judging is undertaken by a democratic system whereby delegates register as judges and can then vote at the event live using ContactCenterWorld.com's clever app.
Here's how it works. Speakers are given a set time to present and if they overrun, their mic's and presentations are cut and voting begins. Judges have just thirty seconds to register their votes. This serves to sharpen the minds of presenters and judges alike. Despite the event being run on a precise schedule, the atmosphere is surprisingly relaxed, friendly and jovial, thanks in no small measure to a few cheeky fun activities designed to break the ice and mix up delegates to encourage networking.
Over the three and a half day event, I saw myriad presentations covering a broad range of categories. In saying that, I'm aware that the reader may envisage a dry barrage of tedium, however nothing could be further from the truth. I witnessed end-to-end passion. Speaker after speaker with a unique story to tell, full of enthusiasm for their subject and the work that gets them out of bed every morning. This clearly wasn't false sales inspired jargon, but genuinely enthused and engaged people speaking with dedication about the work that they do and the pride that they take in doing it well. I liked the fact that this was an all practitioner event. No vendors and no sales pitches.
And here's the truly surprising thing for me with twenty years of service in the industry. I learned loads of new and interesting things. These guys are doing really innovative work in so many areas. Sure, there are cultural differences and anomalies, but many of the ideas I heard can be adapted for use anywhere. The other surprising thing for me - actually there were many surprises - was that I never expected to be emotionally moved at a conference. But I was here. It's easy to forget in our rather comfortable lives in the developed world, that things can be so different elsewhere. But different they are if you run a contact center in Johannesburg SA. One delegate's presentation on leadership discussed the fact that he was mindful that many of his team members had to decide in the morning on whether to get the bus to work or eat lunch. That's the stark choice they have and yet members of the group who had been flown to Las Vegas by their company were wonderfully, refreshingly eloquent and passionate about the jobs they did and the opportunity it afforded them. It was frankly humbling.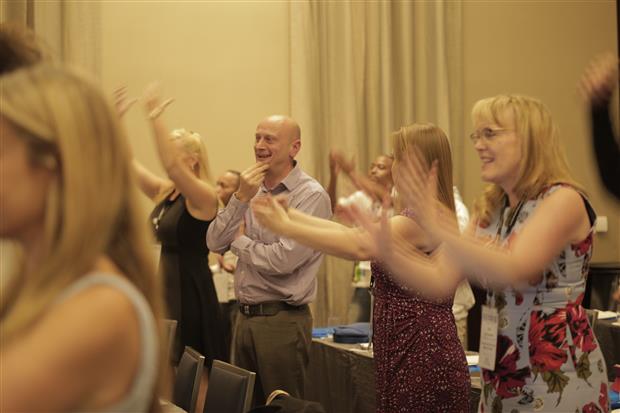 I'd hate you to take from this article that the event was all work and very intensive. Sure, it moved at an efficient pace, but there was plenty of playtime too. We were in Vegas after all! Many of us went bowling one evening. Strangers before but now firm friends. We went to see two incredible shows. You have to whilst in Vegas. Then there was the awards night itself. Hosted at The Hard Rock Café on The Strip, it was an evening of recognition, celebration and laughter. A time to let your hair down and dance the night away.
So, a week to the day after I had arrived in Las Vegas, I boarded my night flight back to the UK and slept almost the entire ten hours, pleasantly exhausted. I'd had a really memorable and packed week attending a unique, highly interesting, informative and entertaining annual event. I'll certainly be back. I hope that I see you there next year too!
Today's Tip of the Day - Feasibility Of An IP Contact Center
---
About Andy Barker Coaching Ltd:

My name is Andy Barker. I run Andy Barker Coaching Ltd along with the valuable contribution of several wonderful and clever collaborators. I'm a certified coach and trainer with a diverse working background that spans forty years and encompasses experience in the arts to senior management in a blue chip corporation. I spent twenty amazing years as a director with Sony Corporation heading up Customer Service for PlayStation. Andy Barker Coaching offers innovative and highly effective coaching and training solutions based on Rational Emotive Behavioural Coaching and Mindfulness models to a growing range of sectors including customer service and contact centres. It is an honour to be partnering with Contact Center World as their UK and Ireland representative.






Published: Monday, November 23, 2015

Printer friendly version
Infosys

Infosys BPO is an end-to-end outsourcing services provider. We address your business challenges through our integrated IT and business process outsourcing solutions. We unlock business value by applyi...

(view more)

Alorica

At Alorica, we only do one thing – we make lives better. How? By creating insanely great experiences for customers — online, on the phone and through social media. From acquisition and sales to custom...

(view more)

AssisTT

AssisTT, serving in 20 cities and 25 different centers throughout Turkey with approximately 10 thousand employees, is a customer contact point. It also serves as a strategic companion to many public o...

(view more)

Concentrix

Concentrix, a wholly-owned subsidiary of SYNNEX Corporation (NYSE: SNX), is a business services company. We focus on customer engagement and improving business outcomes for over 450 global clients acr...

(view more)