Article : Challenges in the Multilingual Contact Centre Environment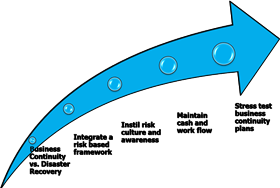 #contactcenterworld, @MindpearlGroup
Business Continuity (BC) and Disaster Recovery (DR) can mean life or death for any organisation and this is every bit as true in the Multilingual Contact Centre environment.
In an environment where you are servicing clients over multiple channels, in multiple languages and across time zones the potential risks are categorically amplified.
In the event of a business disruption, Business Continuity Plans (BCP) are designed to ensure critical business functions can continue or can recover quickly, but what do you do when you are servicing clients in multiple languages? This adds an element to your planning that other contact centres do not have to think about.
According to Continuity Insights and KPMG LLP 2011-2012 Global Business Continuity Management Program Benchmarking Study, which surveyed 685 executives from over 40 countries, the leading causes of operational disruption are severe weather (50%), power outrage (47%), flood (31%) and various IT related interruptions.
This survey clearly shows the potential for area-wide disasters that could affect an entire country and result in significant loss to an organisation, are 'real' possibilities.
To ensure long-term sustainability, it is accepted that the board and executive management are responsible for ensuring that the organisation identifies, assesses, prioritises, manages and controls these risks. Yet, according to this survey many businesses do not have a BCP in place.
In addition, according to the US National Archives and Records Administration, 93 percent of companies that lost their datacentre for 10 days or more due to a disaster, file for bankruptcy within one year of the disaster. Advancement in business process and technology, increase in terrorism attacks and catastrophic natural disasters make it obvious that the need for an effective BCP is no longer an option. In a Multilingual contact centre this need is intensified, due to 24/7 customer service and multilingual requirements. Today, a business cannot afford to be down for continued periods of time.
This whitepaper will focus on key areas that executive management need to consider when putting their BCP in place to ensure business as usual.


Key areas in Business Continuity Planning to ensure business as usual
Business Continuity vs. Disaster Recovery

Integrate a risk based framework

Instill risk culture and awareness

Maintain cash and work flow

Stress test business continuity plans


Business Continuity vs. Disaster Recovery
BCP and DR are often seen as interchangeable. They are in fact completely different, but complement each other. The first step in planning for disaster is distinguishing between the two.
BCP involves identifying risk and having contingencies in place to ensure business does not halt whilst critical components and functions are recovered. It is a comprehensive approach to ensure that the business can continue to make money, not only after a natural calamity, but also in the event of smaller disruptions.
DR involves the recovery of systems and infrastructure components after significant event that disrupts the business.
BCP and DR are both essential to ensure prevention and reaction to calamities.


Integrating a risk based framework
When putting your BCP in place it is necessary to plan for expected and unexpected events.
Routine disruptions such as office moves, service promotional uptake and holiday season increased demand need to be factored into your BCP.
As well as more serious events such as product disasters, cyber-attacks, severe weather effects on operations or sales, terrorist situations, industrial action, telecommunications or power failure in specific geographies, to name a few.
Your BCP needs to firstly identify critical operational areas, in terms of the customer, facilities, options available and critical decision timelines relevant to the site and type of event.
Key considerations for a risk based framework are: people, location (dual & multi), technology, network virtualisation, duplicated circuits, off-net back up, separate & independent power supplies, UPS, generators, as well as, water, food and basic amenities.

It is also worth mentioning that when faced with a time critical event, the importance of having a user-friendly, workable document giving you an immediate view of all critical aspect, as well as a notification matrix cannot be overstated. Basically identify your risks and plan accordingly.

Instil risk culture and awareness
This is all about good housekeeping. Remember your continuity is reliant to employees, customers and suppliers. They are key stakeholders, because they can all be affected in some way should an event arise, either by your contingency plan or the event itself. Therefore, they need to be an integral part of your plan. Educate, communicate and involve key stakeholders!
For your BCP to be successful consistency across the organisation is important, whether you have one site or multiple sites. Identifying key business owners for the BCP within your organisation is also necessary.
Good housekeeping also involves another people element that needs to be planned for whether things are going smoothly or not.
In a multilingual 24/7 contact centre environment this is even more critical, as a majority of staff could have scarce linguistic skills which need to be duplicated across time zones should an event arise.
Considerations include resource planning, temporary/part time, seasonal workers, temporary relocation of staff and load sharing between centres, geographies and time zones.

Maintain cash and work flow
Maintaining cash and work flow during a crisis is your ultimate goal.
Your considerations need to include, your contractual obligations to your customers and suppliers, the longevity of your BCP, adequate insurance coverage in case of an event (and have you read the small print?), are you prepared to be flexible and unorthodox where needed; your customer permissions & processes (will they work?); supplier & customer BCP's (how do these affect you and are they regularly enacted/tested?); and people considerations in terms of labour laws and additional human resource.
The answer to these deliberations could mean the difference between as usual and crippling your cash and/or work flow.
Stress Test Business Continuity Plans
Stress testing your BCP is an essential part of the process. You do not want to find out that it does not work during an event.
Stress testing must include annual testing of all emergency numbers/network failover services/ACD failover services; local testing and maintenance of UPS and Generators; local site building emergency drills e.g. fire drills; incident reporting of even minor and or "successful" incidents; checking that procedures really met expectations, and continually improving the process; testing the notification procedure, communication plan, roles & responsibilities; test your local & global vendor escalation; check that you know your customer requirements & procedures and recognise the limitations of your local site plan.
Testing should include incident reports and check lists. This allows you to review and continually improve the processes.
In business change takes place rapidly, your BCP must be a working, living document which is correct when you need it, as well as accessible and easy to use for everyone.
Conclusion
The bottom line is no strategy will be risk-proof, but you can get extremely close through meticulous planning and preparedness. You must get all stakeholders on board. BCP cannot work in isolation.
'DR only' sites can and do work, but are expensive & limiting. Multi-site readiness is the safest structured solution, preferably in different geographies. These can and in most cases should be part of your steady state operational model.


2018 Top Ranking Performers Present:

CONTACT CENTER & CUSTOMER ENGAGEMENT
BEST PRACTICES
BERLIN - ORLANDO - MACAO
FIND OUT MORE!


Business Continuity planning is not a once off project. It is a continuous process and requires continued focus & improvement.
BCP is an investment, not an expense. You need to allocate resources, time and money in this critical area of business.
Consider how much it could cost your organisation if you are not ready?
Published: Monday, September 23, 2013

Printer friendly version
PREMIUM

Genesys
http://genesys.com

Genesys® powers 25 billion of the world's best customer experiences each year. Our success comes from connecting employee and customer conversations on any channel, every day. Over 10,000 companies in...

(view more)

Al Futtaim

Al-Futtaim Established in the 1930s as a trading business, Al-Futtaim is one of the most progressive regional business houses headquartered in Dubai, United Arab Emirates. Al-Futtaim operates th...

(view more)

Turkcell Global Bilgi

Turkcell Global Bilgi was established as a Turkcell Group company in 1999. It provides services from a total of 18 locations, 14 in Turkey, 4 in Ukraine with over 12.000 employees with a seat capacity...

(view more)

Concentrix

Concentrix, a wholly-owned subsidiary of SYNNEX Corporation (NYSE: SNX), is a business services company. We focus on customer engagement and improving business outcomes for over 450 global clients acr...

(view more)