Article : Contact Center Performance Maximization
Having Tools With No Directions
The Performance Maximization process seems like common sense but is not often common practice. In our experience many contact center managers don't know their company's business objectives. Instead they depend on executive management to determine what contact center statistics should be measured and the associated goals. This seriously limits contact center management's ability to make effective business decisions.
For example, typical contact center statistics include total calls received to calls handled, service level, average speed of answer, average talk time, abandon rate, agent utilization, call to sale conversion, call resolution percentages, etc. And while all these measurements are important, a manager's lack of understanding about how each contributes to the company's goals is the same as having a map but not a destination.
Here are all the routes you could take, don't go over the speed limit, don't drive for more than 12 hours a day, make sure your car is functioning properly and good luck getting there. Getting where? Don't worry about that, just drive.
....NOTE - content continues below this message
---
INVITATION
We invite you and your colleagues to take a couple of days out of your busy schedule to join us and the elite in the industry to listen to the NEXT GENERATION Contact Center & Customer Engagement Best Practices - WORLD'S BEST IN 2018! - ALL AWARD WINNERS!.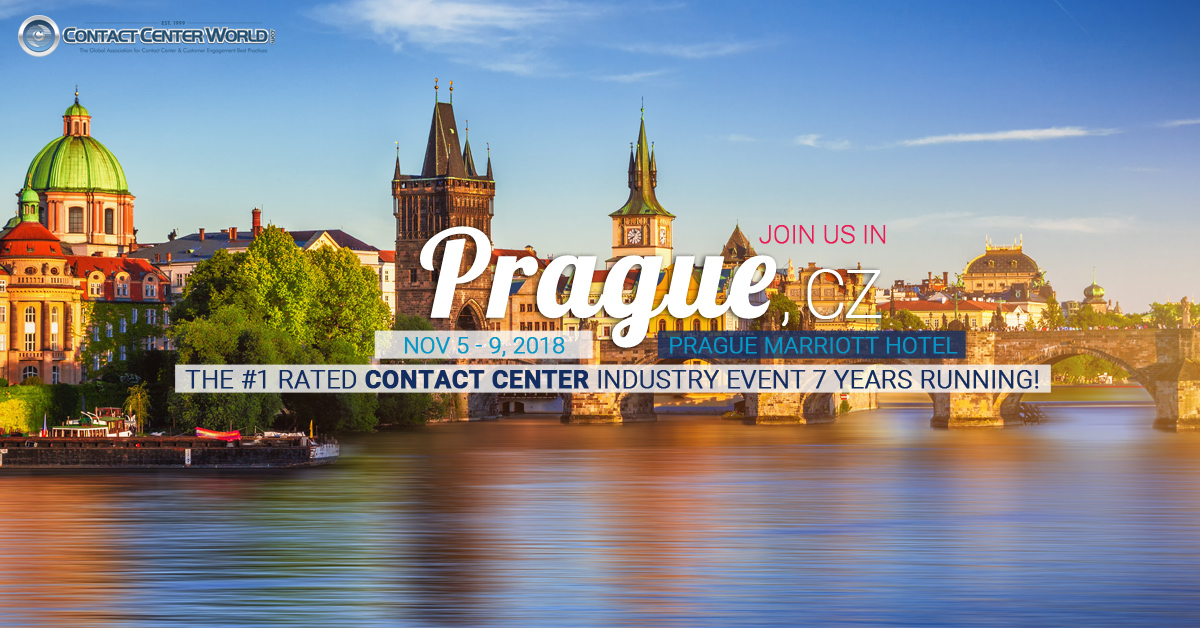 >>>>> FIND OUT MORE: HERE
---
....ARTICLE CONTINUED
A Road Map For Success
Of course that makes no sense. Neither does running a contact center without knowing what destination is desired. If we focus on the dashboard of a car and don't look up to see where we're going, we're going to crash at some point. And while it may be possible for one person to drive while the other gives directions, the person driving is bound to ask the question, where exactly are we going and why? By giving someone that information, they will be capable of making split second decisions that impact the success in arriving at the destination, and in some cases avoiding disaster. You want your management team to be in charge of their destiny.
A Look At Performance Maximization
What could your contact center be contributing to your company, if the training and tools where there to determine the best route to maximizing the contribution to your business objectives? What sets high performance contact centers apart from all the other contact centers is management's ability to do two things: 1) analyze how their results impact their company's objectives; and 2) develop and meet contact center objectives that contribute to the company's objectives.
Case Study: Performance Maximization At Work
Most clients ask for typical contact center reporting. In this case the objectives were:
Leads per hour: .8

Call to lead conversion: 20%

Cost per lead: $100 or less

Average call handle time: 9 minutes

Agent utilization: 65%+
These were the average of what they had been measuring the past 12 months. ePerformax can't look at these goals and understand how we – as a CRM outsourcer – impact the company's business objectives. So we ask questions that enable us to understand what our contribution could be to their overall business objectives. One of the questions often asked is, "What would be the impact to your company if you didn't have a contact center?"
In this case, the answers were straightforward because the contact center is part of the sales function. Calls would go directly to sales forcing them to qualify prospects and reduce the time they spend actually selling. No outbound leads would be generated to balance lead flow. They said sales revenue would decline because there would be fewer sales, and cost per sale would increase because they would need the same number of sales people to deliver the those sales. The question then becomes, "How do you quantify this?" We look at the sales goals and ask, "What percentage of the leads currently generated by your contact center are closed by the sales team?" Answer: 5.5%. "What is your current cost per sale?" Answer: $2,575. "What do you want your sales team to accomplish?" There were three clearly defined sales goals:
Increase close ratio to 8%.

Increase revenue per sales by 10%.

Reduce cost per sale by 20%.
The client also pointed out that if we hit our goals, we would be contributing to the reduction in cost per sale. What we know is that if we give our supervisors leads per hour, conversion rate and average handle time goals, they will hit those goals within the "quality" guidelines we give them – especially if they get a bonus for doing so. What the client isn't considering is that in achieving these goals, we may indirectly reduce the close ratio, which ultimately increases the cost per sale. What we also know is that without direct accountability to sales, the judgment used to determine whether or not a borderline lead goes to sales or not is not even a question. Of course it's going. That's the fork in the road problem. You've got a map, but you don't know the best way to go because you're not really sure where you are going.
Even though the contact center doesn't have any direct control of the close ratio, they have a tremendous amount of indirect control in terms of lead quality. They are also on the front line and often have access to information that would help close the sale, and they need a reason to listen for that information and share it. Having a Leads Per Hour (LPH) goal alone doesn't motivate that behavior. Having a LPH goal tied to close ratio does.
That's where alignment of the business (sales) and contact center objectives comes into play. By measuring the correlation between LPH and close ratio, you can get an accurate picture of the impact of the contact center objectives on the overall business objectives.
So once the contact center team knows where they are going and why they are going there, they make the move from a dashboard navigator to performance driver. Let's talk about how to become a performance driver.
Step 1: Review The Business Objectives
Business objectives are financially focused, measurable and have very specific timelines. For example, a company could provide a goal of achieving $100 million in sales and the contact center could certainly measure their contribution to that objective. It may be more difficult to determine a direct correlation between a non-sales contact center activity and a revenue objective, but it's certainly possible. In fact, many contact centers are in the business of saving revenue that would have to be replaced with new sales to achieve the company objective. So a non-sales contact center should be in a position to take credit for the revenue "saved." It may even be able to take credit for the marketing and sales dollars saved too, because we all know how expensive it is to acquire a new customer. The more sales saved the less to replace.
Once we understand the correlation between the contact center's activities and the company's business objectives, the question then becomes what should the contact center's objective be?
Step 2: Identify The Critical Factors
To answer that question, it is imperative to understand which factors directly and indirectly impact the success in generating or saving sales. At ePerformax we call those metrics having direct impact on our client's success "critical factors." Looking at what we call the "typical" contact center metrics, we can evaluate each one in terms of its direct and indirect impact by asking the question, "If this objective isn't met, can we still meet our goal? If the answer is no, the metric is considered a critical factor. If the answer is yes, then it is probably indirect. Here's our analysis of some sample metrics and whether they have direct or indirect impact based on the case study.

The goal of this assessment process is to drive focus. With focus on the factors that directly determine our success or failure, we are able to develop clear concise objectives that are measurable, logical and achievable. If the team is not successful in achieving the metrics that directly impact the contact center's ability to achieve the business objectives, the indirect metrics should then come strongly into focus and be addressed to correct performance.
Step 3: Develop The Contact Center Objectives
The critical factors drive ePerformax's contact center objectives. The Financial Impact Report, which we also refer to as a performance assessment grid, is used to determine the standard (minimum acceptable level of performance), expectation (what we expect to achieve) and goal (where we ultimately want to be).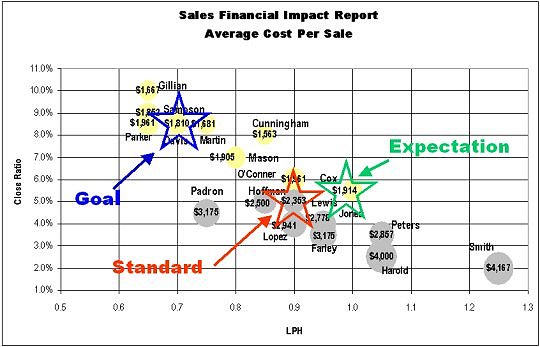 The performance assessment grid provides the data to determine what level of performance is required to achieve a reduction in the cost per sale and how to maximize the leads per hour and close ratios. By looking at the critical factors this way, we are able to see that the reps are not clustered around the average performance and it shows that setting objectives based on group averages will not provide an accurate picture of what needs to be done. Instead objectives are set to support the standards, expectations and goals we establish using the following guidelines.
The objectives are directly set to support the expectation we establish for the representatives. As a rule of thumb, we have found that if at least 50% or more of the team can achieve a consistent level of performance, then we can expect everyone to be able to achieve that same level with the proper training and motivation or we need to find new hires that can.
We also set a standard as a minimum level of acceptable performance that basically allows a representative a specified period of time, typically 30 to 90 days, as he/she develops the knowledge and skills to achieve expectations. The standard is set based on two factors: what has historically been achieved through training, coaching and mentoring and what amount of turnover we can reasonably handle. Our ultimate goal is to refine our hiring profile and training so we minimize the number of people that fall below expectations as time goes on.
Finally, a goal is set at the level of performance we ultimately want everyone to achieve, – typically what the top 20-25% of the team is able to achieve. Once we identify a new level of performance, we can identify the knowledge, skills and behaviors that result in these higher levels of performance, we have a specific point to drive to. We just have to draw the map to get us there.
Once the standards, expectations and goals are established, we project the financial impact of our performance improvements with a simple financial model (as shown below). We include all the reps below standard in our most conservative model. We also calculate a stretch goal by determining the highest possible point of success we believe most of the team can achieve in the objective period.
At this point, we are ready to prepare a draft of our contact center objectives. For this client, the objectives were set as follows:
Achieve a .6 or better LPH.

Achieve a 6% or better close ratio.
Then, provided sales continued to maintain or improve their current lead to loan close ratios, we could commit with sales to providing an incremental $673,272 in contribution due to reduction in cost per sale.
And it's important to note that the reduction is not coming as a result of reducing our cost in the contact center but rather by improving our performance, which ultimately increases the cost per lead.
Step 4: Conduct A Gap Analysis
Finally, before we commit to our contact center objectives, we conduct a gap analysis to determine why we are where we are today versus where we want to be to ensure that the gaps can be closed. This provides a plan to enable us to achieve the objectives we've established. During the gap analysis process we focus on understanding what knowledge, skills and behaviors are driving higher sales. Then we create a performance development plan to ensure everyone is given the appropriate level of training so we can achieve our objectives. We also look at the other things that are keeping us from meeting our goals such as staffing, scheduling, training, coaching, motivation, supervision, etc. to see what's working and what needs improvement. When we are confident we have a plan that will work, we set the objectives and move to communication – quite possibly the most essential tool we have for improving performance.
Step 5: Communicate The Plan
It's important to note that the single most effective way we can change behavior is by communicating the contact center objectives and the reporting, which spells out how each representative contributes to that objective. Then each week the representative receives a scorecard and the supervisor receives a similar one for their team. Each month the manager updates the management team on his or her progress and what steps are being taken to maximize their team's contribution to our objective. Our goal is to create drivers who know where they want to go, have the map to get there and the dashboards to make sure they are on track. Today's CRM contact centers can't afford to be out of alignment with their company's business objectives.
A customer relationship management team should not be focused on reducing costs but rather on finding ways to increase their contribution in terms of revenue generated or saved and profitability of each customer relationship. Our process provides the processes and disciplines to develop achievable objectives enable managers to say here's how much budget I'll need to achieve this contribution versus here's how I'm going to further reduce costs this year. That's not to say we shouldn't be cost conscious. However, our focus is the same as our clients, which is typically focused on growth and that's simply a whole lot more rewarding.
More Editorial From ePerformax
---
About Teresa Hartsaw:
Teresa Hartsaw, president of ePerformax Centers has more than 20 years experience in sales, marketing and contact center operations. Since 1988, she has successfully led the company's growth by developing the Performance MaximizationTM Model and Process that enables ePerformax to deliver customer service performance for its clients.
About ePerformax:


ePerformax Contact Centers & BPO is a high-performance Philippine-based call center that focuses on building strategic partnerships with Fortune 500 clients that require English speaking inbound customer service, sales support and non-voice back office processing services to deliver superior results in a very cost effective manner. ePerformax was one of the first call centers in the Philippines in 2002 and now has two locations – Manila and Cebu – with over 2500 seats.






Published: Monday, April 19, 2004

Printer friendly version