Article : Customer Service To be Remembered By
We asked industry professionals whether they could recall a really good customer experience they had recently - where they were 'wowed' by the service they received. Many of the responses showcase the fact that excellent customer service can still be found.
- a survey by Joss Jalbert, ContactCenterWorld.com
"I have an estate agent who sources tenants for an investment I have; she's great! She follows up, keeps me in the loop and because of a long term relationship, even when I don't hear from her I'm comfortable that she's busy in the background because that's how I know her. So I guess there's a component of trust built up, that takes time. I know if I haven't heard from her, it's because she's working on it, not because she's doing nothing."

- Chrissie Jay, Contact Centre Business Analyst, Nedbank, South Africa

---

"I called the Irish Revenue Service. They had an organised call centre IVR (neither too long nor too short); with self help explanations along the way. Reaching an agent was not difficult at any time, and when I spoke to someone, they sounded genuinely interested in my query. For the first time in a long time, an agent made me feel like I was the first person they had spoken to about that topic that day. They also went the extra mile - giving me extra information to make my tax application process more efficient. And this from a government organisation! I was well impressed!"

- Megan Easey, Consultant, Independent, Ireland

---

"Working in the industry, I'm hard to impress when it comes to contacting a support line. To be WOW'ed by something, it really has to go above and beyond what I expect from a contact center."

- Adrian Martinez, Manager, Unable to Disclose, United States

---

"Switching to a new HD home entertainment system. Power company service temporarily blacked out neighborhood power, corrupting my new HD cable box. It was late in the evening, but I readily got through to a "live body." In just a few moments, they had the box reset and operating. I was pleased."

- Donald Gillis, Sales and Marketing Manager, Dynamic Instruments, United States

---
....NOTE - content continues below this message
---
INVITATION
We invite you and your colleagues to take a couple of days out of your busy schedule to join us and the elite in the industry to listen to the NEXT GENERATION Contact Center & Customer Engagement Best Practices - WORLD'S BEST IN 2018! - ALL AWARD WINNERS!.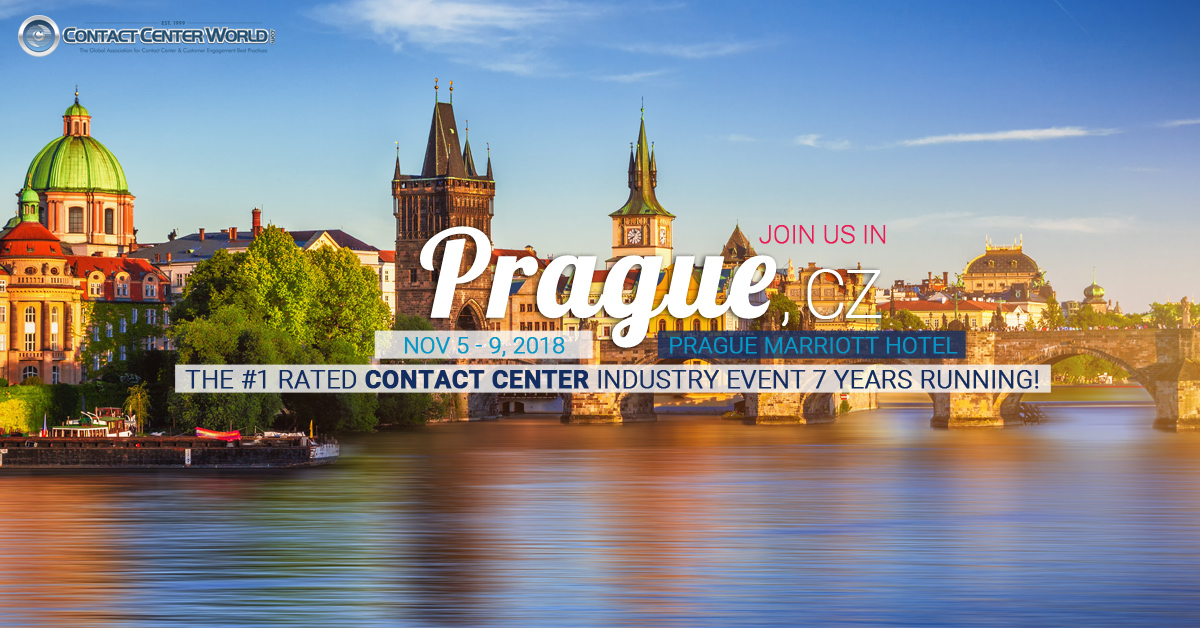 >>>>> FIND OUT MORE: HERE
---
....ARTICLE CONTINUED
---

"I always buy pet food at the vet. A driving distance of about 10 miles. It was one of those hard winter days. At the vet said the stock of pet food was exhausted. The next day I got the pet food by mail directly from the distributor. No bad weather conditions for me again."

- Fred Zimny, Call Center - Operations Manager, UVIY, Netherlands

---

"Yes - purchasing an engagement ring. We went to a jeweler who spoke to us about styles, what our price range was, what we liked and then sketched something up which we liked. He had it made and then we went to see the 'draft ring'. At this stage he recommended we actually use less diamonds as it better suited the style to have fewer - he was in effect asking us to spend less, but get something we would better like. This final ring was brilliant and exactly what we wanted at less than we had planned to spend. Very impressed."

- Jared Mortlock, Service Channel Manager, Telecom New Zealand Ltd, New Zealand

---

"My account rep who provides my phone system support will answer my call any time day or night. That is very important when we operate 24x7x365 and I do not feel like my issue is being addressed adequately."

- Jeff Hattendorf, MIS Manager, Renzenberger, United States

---

"Yes. I bought framing services from a local custom framing shop that I'd had good experiences with. This time the finished product did not appeal to me as much as it did when I approved the sample. I expressed this, and the proprietor re-did the entire job without a single gripe and without charging a penny more. And the second job was gorgeous. Of course, I've given them all my framing business since then."

- Jeff Roberts, Director, Inforonics, United States

---

"Unfortunately I cannot. The service I receive is usually adequate but nothing that stands out in my mind as a Wow experience."

- Phil Taylor, Head Of Sales & Service Toronto, ING Direct, Canada

---

"Almost any customer will feel somewhat "wowed" by contact with a service representative who (1) completely addresses the concern, and (2) offers something "extra" or "free" to the caller for their trouble. Again, scientific studies have identified exactly what behaviors callers associate with quality. Knowing what these behaviors and capabilities are, training customer service representatives to exhibit them, and creating an environment that encourages service employees to take initiative in these directions, is a matter of management know-how. Any contact center manager that takes the time and effort to learn the science of quality and implement quality monitoring processes can create a "wow" factor in their center."

- Nina Kawalek, CEO, RCCSP Professional Education Alliance, United States

---

"Do you know this is quite difficult? I am rarely wowed by service these days, not because it is all bad (although much of it is!) but because my expectations are high. But here a couple of 'good service' examples... I recently ordered a baby cot from the web site of a national chain. The website said delivery would be 3-5 days; it arrived in 2 and was exactly as ordered.
I do most of my grocery shopping over the internet and realised that one item I had ordered was incorrect - my fault not theirs - so I took it back to the shop the next time I was going. I had no receipt or other proof of purchase but the assistant let me swap the goods for the one I should have ordered with no argument and no hassle - she even gave me 1p change!"

- David Morris, Consultant, Sharphill Management Services, United Kingdom

---

"A telecoms company which we were thinking of leaving provided excellent service recovery with the head of organisation's PA personally ensuring that our requests were met, keeping in touch regularly and being available for a further query after our initial poor experience."

- Geoff Langston, Managing Director, Arizion, United Kingdom

---

"I recently had a problem with a pair of expensive motorcycle jeans - the kevlar lined ones. It was a niche clothing business and they sent me repair patches to match my pants free of charge, without being asked (all I did was ask them to help). Good experience, with one of the key ingredients of delight - the element of surprise!"

- John Turnbull, Management Consultant, Customer Connect Australia Pty Ltd, Australia

---

"I have a separate bank account which I use for just one or two transactions each month. There is a payment which goes into this account to cover them. A direct debit was due out (just today) and I had mistakenly used the account over the weekend, switching a transaction, meaning that there was not enough money in the account to cover the direct debit. The bank called me on my mobile, asked me if they should transfer some more money from the other account to cover it and sent out the direct debit. I was extremely impressed, they could have bounced the payment and charged me; but chose not to, saving embarrassment, time and of course, money in charges!"

- Sue Marshall, Sales and Marketing Director, Respondez, United Kingdom

---

"American Express offered to do all my Christmas shopping for me when my Mum died just before Christmas. Of course they would benefit but none of the other card companies offered to do this."

- Sam Antiero, Manager, Samantiero, United Kingdom

---

"I was WOW'd at a UPS retail store in my neighborhood. We were shipping Christmas Gifts and needed special packaging for an unusual shaped box. We had exceptional service AND while we were being helped another clerk took a call and walked a customer through how to log onto the website and track a package. They also made sure that each customer was greeted as they entered the store."

- Patricia Martin, Contact Center Manager, 1-800-PLUMBER, United States

---

"Travel industry - when booking a recent holiday the company paid immense attention to our personal details and tailored the service accordingly. When we arrived everything was specifically geared to meet the needs of a young family - from toys provided though to the fridge being stocked with child friendly food. The attention to detail and understanding of our life event and life style was impressive."

- Tom` Martin, General Manager, Econiq, Ireland

---

"Yes, a faulty unit which was just out of warranty was collected, the same HOUR I called the call center. The unit was repaired as it was under warranty"

- Marco de Jager, Director, Active Communications Europe, Netherlands

---

"ORANGE mobile phone company. (sorry had to mention them by name) I had a problem with my phone. The adviser was SO helpful, said he would call me back, he DID call me back, was patient and most of all worked with me until my problem was solved. It went across 2 days."

- Margo Webb, Customer Contact Manager, Renfrewshire Council, United Kingdom

---

"It was actually an inter-departmental experience. I spoke with an individual in one department and explained my problem. They explained that they were not equipped to address my issue, but they could put me in contact with the department that could. They politely put me on hold. The person that next answered the line knew my name and the details of my concerns and already was prepared to move towards resolution. It required a follow-up the next day, but the same person called me and communicated the resolution and made sure that I was satisfied."

- John Gourdin, Financial Advisor, New York Life, United States

---

"I purchased a household appliance recently, called their customer service when I found out that the cooling system was not working as it should. The agent that responded to me told me that they would replace the unit in 3 days and they did."

- Jackelene Aquino, Human Resources Department Manager, Paragon International Customer Care Ltd., Philippines

---

"I recently contacted a bank we do business with out of the UK. Since my company operates outsourced contact centers in Africa and Mexico, this bank works closely with us on a number of fronts. I have found their customer service agents to be highly trained and experienced. However, most importantly, they do not communicate in a "scripted" manner. They have regularly demonstrated their ability to "connect" with me in a more personal manner, far less scripted than what I have experienced with similar institutions in the US or other offshore markets. Such a connection via the phone, without scripted dialog, often results in a "Wow" experience."

- Steve Shefveland, CEO, Ashesi Global Services, Inc. (AGS), United States

---

"I will share a recent experience I had with my auto insurance. I received my renewal from "the co-operators" and was shocked to see how much the rate had increased. I called them up and as usual I was greeted in a pleasant manner and the agent proceeded to tell me why rates increased. However, he then went on to say that he would review my policy and see if there were any changes I could make to reduce the rates. After a brief period on hold, he came back and indicated some options I had. He was frank, open, honest, and genuine, and I felt he was really looking out for my best interest. By the end of the call, he had provided me with a few options to reduce the cost, but the savings were not that substantial to warrant the reduction in coverage. In the end, I thanked him for his time, decided not to make any changes and proceeded to renew my insurance. I have dealt with "the co-operators" ever since insuring my first car many years ago, I have added multiple lines of business with them and have nothing but praise for the level of service I have received over the years. They are a good example of great customer service from the front office to the claims department."

- Arnold Ward, Head of Client Services, ACW, Canada

---

"I ordered wine from a major retailer. Due to weather conditions, the delivery was delayed. In recompense I received a £50 credit on that order. Not a voucher for the future, but an immediate credit. Amazing!"

- Karen Wenborn, Call Center - Operations Manager, Screwfix Direct, United Kingdom

---

"Yes for sure, it was just the other day. I was trying to complete an online financial transaction, but having difficulty. My call the to call centre was handled by a lady who knew who I was and what I was trying to achieve on the web site before I even introduce myself, because she had been monitoring the issues internally. She gave me an immediate fix to the problem which allowed me to complete the transaction and then without prompting, later called me to confirm that all had gone through OK. I was impressed with the personal service I had experienced even through a faceless online organisation that I had no prior relationship with. I will recommend this service to others as a result"

- Sarah Bolton, Consultant, The Accord Partnership, United Kingdom

---

"Surprisingly from a public sector telecom institution. After having requested and paid for the add-on broad band service, my service was connected within three days. With the technical team showing great patience in explaining to me how their system would work as well as how I could get in touch with the regional manager for follow up on any service issues"

- Kevin Raul, Manager Operations, Respondez, India

---

"American Express Platinum... I had just purchased a lifetime membership to "CLEAR" - an airport security screening service that allowed members to quickly pass through security checkpoints. Soon after my purchase, CLEAR unexpectedly shut down and the service was no longer available. There was no way to speak to a live agent at CLEAR, so I called American Express. They immediately placed a temporary credit on my account, called back the next day to confirm they had permanently removed the charge, sent an email confirming the same, and then followed up with a letter sent to my home apologizing for the inconvenience (which was really in no way their fault at all). In the few similar issues I've had with American Express over the years, they've consistently met (and often exceeded since having the Platinum card) my expectations. Their actions have ensured my loyalty (cardmember since college in 1989) and justified the upgrade to Platinum, which carries a hefty $450 annual fee."

- Ellen Hosafros, Marketing Communications Manager, Connextions Inc, United States

---

"My banker has gone above and beyond to manage my personal and business accounts. The relationship started off the normal way: client and average bank teller to repeated courtesy calls on a weekly basis in order to ensure that everything is up to speed. In addition, my own mother receives a VIP treatment when she enters the branch. I have taken the liberty of sharing this multiple experiences with his superiors and fellow co workers. Since I live abroad and my account is in the U.S., I must rely on him to handle large amounts of money and to put all my fears to rest."

- Richard Blank, CEO, Costa Rica's Call Center, Costa Rica

---

"I was WOW'd by the service provided by the Akasaka Hotel in Tokyo, Their attendant barely spoke English but was very courteous, cordial and fast in attending to requests. From the moment I got off the chartered bus to the time I boarded it again a week later... the service was just awesome!"

- Lorna Bondoc, General Manager, Global Hotline Philippines, Philippines
---
About ContactCenterWorld:


ContactCenterWorld.com – is the website for the Global Association for Contact Center and Customer Engagement Best Practices. The association has a truly global footprint and supports 190,000 members from enterprises large and small with ideas, information and support tools including best practice awards, conferences and certification. Join today, FREE personal membership available at this link https://www.contactcenterworld.com/register.aspx and start networking and learning best practices. Contact Center World. (www.ContactCenterWorld.com), The Global Association for Contact Center & Customer Engagement Best Practices.








Published: Friday, April 30, 2010

Printer friendly version
Genesys

Genesys® powers 25 billion of the world's best customer experiences each year. Our success comes from connecting employee and customer conversations on any channel, every day. Over 10,000 companies in...

(view more)

Zendesk

Zendesk is inspiring the help desk 2.0 movement through a focus on enlightened customer support. As the first organization in the industry to leverage SaaS and the benefits of web-based communication ...

(view more)

Convergys

Convergys delivers consistent, quality customer experiences in 58 languages and from more than 150 locations around the globe. We partner with our clients to improve customer loyalty, reduce costs, an...

(view more)

Noble Systems

Noble Systems Corporation is a global provider of contact center, workforce engagement, and analytics technologies, offering premise, cloud, and hybrid platforms. Noble Systems has been providing inno...

(view more)