Article : Empower Your Callers With Self-Service Speech Recognition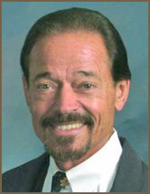 Add Contact
Introduction
If you think that phone menus are a nuisance, the bane of modern society, then you share a common belief with millions of other callers, including the guy who invented them, Dr. Michael J. Freeman. Dr. Freeman was a pioneer in "telephone branching," and holds several key patents, including one granted in 1982 for a "verbally interactive telephone interrogation system with selectable variable decision tree." You know its descendant as the tyrannical voice that prods you from menu to menu, forces you to listen to information you don't want, and then places you on interminable hold. The industry calls it "interactive voice response," or IVR.
Dr. Freeman says his brainchild is "a good technology that's been well abused and over-used in terms of the things you're asking of the people who are calling." He's right. But with recent advancements that have made speech technology more accessible and more user-friendly, Dr. Freeman's project is on course to experience a remarkable revival.
What Do Callers Want From Self Service?
When a company elects to offer automated self-service options to its callers, it must realize that its very survival may depend upon how well it delivers the self-service options to the customer. Automated customer service over the telephone, poorly deployed, is worse than no service at all. If the caller is badgered by inflexible "press-a-number" prompts and limited, impersonal options, they are likely to abandon the call feeling hassled and helpless. That's "customer-disservice," and that's not good for business.
---
Sponsor message - content continues below this message
2019 '14th annual' Global Contact Center World Awards NOW OPEN!
Enter your Center, Strategy, Technology Innovation, People and more into the ONLY TRULY GLOBAL awards program - regarded by many as being like the Olympics for the Contact Center World! Join the best from over 50 nations and compete for the most prestigious awards out there!

---
Content continues ….When callers seek to self-serve with a company, they want to be served with:
Efficiency-in other words, they want to move to the information or action they're seeking with a minimum number of steps.
 

Speed-they want to get there quickly, not experiencing long delays, detours, or dead-ends.
 

Accuracy- once there, they must be presented with correct, complete, unambiguous information.
 

Convenience-self-service customers want to be served at a time and in a manner of their own choosing, any day at any time.
 

Clarity- they want the information sought and/or action chosen delivered in a straightforward, comprehensible, and uncomplicated manner.
 

Friendliness- customers appreciate a self-service experience that is pleasant and satisfying, with a feeling that the company cares about them and wants to keep them as a customer.
That's why speech recognition is such an exciting breakthrough technology. Speech recognition brings a natural flow of communication to your automated customer service phone lines. The callers' experience is a comfortable, self-controlled, conversation with your company, rather than a series of insufferable prompts, narratives, and confusing choices. Callers can conduct transactions automatically simply by speaking in a natural voice over any telephone at any time, 24 hours a day, 7 days a week. They can get information, make purchases, conduct account transactions or connect with other people quickly and pleasantly.
Additionally, few, if any, contact center applications have more potential to generate ROI more quickly than automated self-service speech recognition. Companies like automated speech recognition (hereinafter, also referred to as ASR) for the following basic reasons:
It costs much less than call service representatives (CSRs), and is not adversely affected by turnover, absenteeism, seasonal call-volume fluctuations, or labor pool availability.
 

It delivers consistent, controllable language in a conversational manner.
 

It extends business hours, available to callers whenever they choose to call, any time, every day of the year.
 

It permits automated service to rotary and pulse dial telephone users.
 

It greatly simplifies service to users of cell phones and cordless phones, whose numeric keypads are in the headset, inaccessible while you listen to a prompt.
 

It is effective in delivering consistent, high-quality customer service.
 

It reduces average call handle times, thereby resulting in lower toll costs.
How Can You Intrigue The Caller With ASR?
Develop A Persona
Paying attention to the development of the persona(s) of your ASR system will yield dividends in higher caller satisfaction and increased caller loyalty, as well as efficiency and effectiveness of its operation, and the extent of support required.
Every speech application has a persona (the personality, character, disposition, tone and attitude of the application as it interacts with the user). Verbal games may have a cheerful persona, banking applications are usually more formal, and applications providing driving directions often sound knowledgeable.
Just as the television news program's ratings depend upon its anchor "personality" as much as the news content, an application's appeal may depend on its persona as much as on its content and functions.
In screen-based applications with graphical user interfaces (GUI), we use the terms "look and feel" to describe the application's persona. Developers carefully select and consistently apply fonts, colors, screen layout and wording to give the application the desired look and feel. Voice user interface (VUI) developers need to carefully select the voice characteristics, as well as wording for prompts and event handling messages, to define the VUI's persona. A poorly designed persona is a turnoff and distracts the caller from performing their intended task.
Creating a persona has many similarities to creating, casting and acting the leading character in a motion picture film. In creating a persona, the author must identify the audience; determine the major theme; describe a fictional persona; define the wording of each message and prompt; conduct an audition; determine the speed, tone, and prosody of each prompt; and audio-format the dialogue.
When developing a persona, authors should also: consider whether to buy or build the persona, evaluate staffing requirements, leverage conversational symmetry, avoid cutesy personalities, and test, test, test.
Personalize Your Application
Just like orchestras sometimes tailor their repertoire for specific audiences, so should a good call center speech application be tailored to address specific subsets of callers. The more the experience can be customized, the more positively it is likely to be perceived by the audience.
You can personalize your speech application for callers by using their Automatic Number Identifier (ANI) and/or their specific account information (member number, etc.) as the "key" from which to tailor the remainder of the call. (ANI is the enterprise version of the "caller ID" feature many consumers now have in their homes).
For example, if a hotel chain can determine that their frequent guest number A587623W (Melinda Lopez) is calling their reservations line, they can use the information attached to her profile to make proactive suggestions, e.g., "Do you want a king-sized bed on an upper floor again, Ms. Lopez?" Not only does this make for a better caller experience, but it's also much faster than going though the question and answer session that would normally be required to collect her accommodation request information on every call. Eliminating the need to ask callers a series of "identifying" questions can reduce call length by 30 to 40 percent in a typical speech self-service session and help save you some money as well.
How Do Callers Feel About Speech Recognition?
Companies effectively deploying speech are seeing quantitative and qualitative benefits; a friendly, easy-to-use speech interface results in a stable, satisfied customer base. And, user acceptance of speech systems results in increased automation rates, reduced live call volume and reduced costs of handling customer calls. In other words, both businesses and consumers are reaping the rewards of speech.
In a Harris Interactive Study commissioned by Nuance Communications, it was found that as more and more companies adopt automated speech recognition to assist their callers, the speech users in the general public continue to grow. In fact, 41 percent of people surveyed said they had used an automated speech system in the past three months, and among this group, two-thirds said they encounter automated-speech systems regularly. Clearly, consumers are becoming more accustomed to and accepting of automated speech recognition as a method for doing business with companies.
Businesses are choosing automated speech applications because they allow callers to interact in a more natural fashion than cumbersome keypad or touchtone systems. It is no surprise, then, that the majority of speech users (61 percent) from the survey said they were satisfied with their most recent speech encounter, as depicted in the graph below.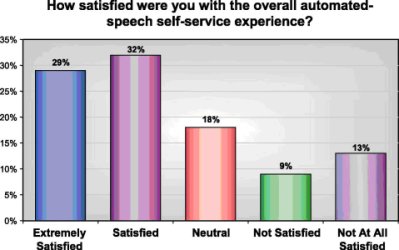 Moreover, speech users' current satisfaction levels are directly related to their likelihood to use speech recognition enabled systems in the future. In fact, 56 percent of users indicated that they would "definitely" or "probably" use the speech system again, while only 7 percent said they would not.
Survey respondents validated a variety of speech benefits. For example, speech users gave high marks for functionality, with more than 70 percent agreeing that speech systems are easy to use and understand, and almost two-thirds concurring that speech systems are efficient and provide what they need. Additionally, more than 75 percent stated that speech is convenient and easily accessible, and two-thirds agreed that speech provides accurate information and eliminates time waiting for live CSRs.
Respondents also agreed overwhelmingly that speech systems deliver advantages over other forms of customer interaction. Those advantages were most striking when comparing speech to keypad entry systems. Users described speech systems as easier to access and use, faster, and more efficient than keypad entry systems, as shown below.
Speech systems also compared favorably with other customer contact methods, including "live" support and online access. Consumers recognized that speech systems are faster, easier and more accessible than a live CSR or Web/online access.
Conclusion
Dr. Michael J. Freeman's "verbally interactive telephone interrogation system" has come a long way since 1982. Advancements in automated speech recognition technology are delighting callers with the efficiency, speed, accuracy, convenience, clarity and friendliness a successful self-service application requires. Today, companies deploying speech systems are finding that customer satisfaction levels are improving, and the resulting high percentage of repeat users is driving greater efficiencies.
---
About Dr. Jon Anton:
Dr. Jon Anton is the Director of benchmark research at Purdue University's Center for Customer-Driven Quality. He has published 24 books and 117 papers on customer service and call center methods. His education includes a Doctorate of Science and a Masters of Science from Harvard University, a Masters of Science from the University of Connecticut, and a Bachelor of Science from the University of Notre Dame.
About BenchmarkPortal:


BenchmarkPortal is the source for Contact Center best practices with our Benchmarking, Education and Consulting services. Our mission is to help you run your center more efficiently and effectively. We are still continually growing our database, already the world's largest, for call center metrics by conducting data drives twice a year to have the most up to date information in the industry.







Published: Tuesday, July 12, 2005

Printer friendly version