Article : First Call Resolution Takes Center Stage
Rob McDougall, President of Upstream Works, often asks call center directors, what is your First Call Resolution rate? He claims about half of those executives admit they are not tracking the metric at all. Yet, improving First Call Resolution (FCR) has a major positive impact on the entire organization, with increases in customer retention, improvements in agent morale, and lower costs in the call center. The bottom line is that customers are happier when one contact solves their problem, and agents are happier with fewer inbound problem calls in the call center, claims McDougall.

According to McDougall, many call centers are just gaining awareness of the importance of FCR, companies are increasingly beginning to consider and measure it. The big question is, once you know the FCR rate, how do you improve on it?

Improving your First Call Resolution rate is key to improving your business' profitability both through decreased costs and increased revenues. Nobody has more control over your FCR rates than the agents who deal with your customers all day long, McDougall explains.

In an increasingly competitive job market, ensuring that your staff turnover is low is one of the most important things you can do to improve your overall contact center's performance. Some businesses focus primarily on the bottom line. Many believe that the customer is king. But another school of management thought says that if you take care of your employees, they will take care of the customer, McDougall advises.

In speaking with some very successful call center managers, McDougall found that they actually focus more on first getting the right staff of agents on board, and then making sure that they are motivated, rewarded, and happy with the job. That means getting the right demographic for the job; providing the career path, or other intangibles that keep people motivated. Call center staff ultimately need to enjoy where they work. If they do, they are much less likely to leave, claims McDougall.

So what is it that makes a good workplace? McDougall looks at a few common motivators: money, recognition, clear objectives, and finally, fun.

Money, it is known as a negative motivator. That is; not enough money and people will go looking elsewhere. But once salaries are in line, you need to start looking at the actual work environment. The key here is to keep people happy enough that they don't want to go looking for another job. Money in many call centers is a problem; however in many others, the staff are paid fairly and it is not the biggest issue.

Recognition can be viewed as the simple 'atta boy' at the right time, however, there are underlying values that management can propagate in the contact center that recognize the importance of the agent's contribution on an ongoing basis. If for example, you gave a group of software developers a new, state-of-the-art development machine, you would see a productivity increase that has nothing to do with the text editor they use. They feel valued by management and the minor speed improvement the fancy hardware provides has little to do with any productivity improvement. It reflects an attitude of management and their view of the staff's importance to the organization. By providing the best tools you can get(and by best McDougall means in the staff's view, not an individuals view or in the Vendors view!) this will improve morale and increase retention.

Providing contact center agents better tools, not only helps them do their jobs, but it also shows that you, as management, pay attention to what they need and are willing to provide it to them. There are steps you can take that don't take massive management or cultural changes. These are simple technology changes to shift the attention away from sometimes useless call handling statistics, and to agent performance metrics that can positively affect your agent's performance and help lower costs while increasing revenues, says McDougall.

McDougall states, before you defend call handling statistics, let's face it; most agents realize that call handling time is not the key statistic on which we should base decisions. Most agents have even figured out ways to work the system and meet call handling time goals at the expense of customer satisfaction.
McDougall looks at some of the new technology tools and approaches that have a great chance of improving First Call Resolution:


1. Implement screen pop on your inbound calls
Many companies shy away from using Interactive Voice Response. That's because they don't want to burden their callers with a bad IVR system. Simply prompting your customers for an account number and then forwarding them to an agent allows you to ensure that they get appropriate treatment from your automated systems. You can increase their satisfaction and reduce your costs at the same time.

Once you've asked them for information, you need to make sure you don't ask them for it again. By collecting their account number and delivering that to the agent along with their call, you eliminate repetitive information while providing the agents with the information they need to best handle the call efficiently. With screen pop, you will not only provide better customer service, but you will increase your efficiency by about 10% in a busy center.


2. Provide agents some context for the incoming call
In a perfect world, a service center would use a single application for everything, however, an average contact center uses six applications to provide service.

When an agent gets an incoming call, they know nothing about the call or the caller, and must determine everything from scratch every time. If you pre-determine who is calling you and potentially why, you can help guide agents to the correct application. If a caller is contacting you to inquire about the shipping status of an item, it doesn't make sense to deliver that call to a CRM application if the agent only needs to switch immediately to the legacy shipping application.

Even if agents are asking the reason for the call, providing them easy access to the right record in each of the applications they use will save them time, hassle and training. Providing some context around each call helps them prepare sooner and react more naturally. Guiding them to the correct application will allow them to provide better and more efficient customer service and eliminate key clicks from the call.
....NOTE - content continues below this message
---
INVITATION
We invite you and your colleagues to take a couple of days out of your busy schedule to join us and the elite in the industry to listen to the NEXT GENERATION Contact Center & Customer Engagement Best Practices - WORLD'S BEST IN 2018! - ALL AWARD WINNERS!.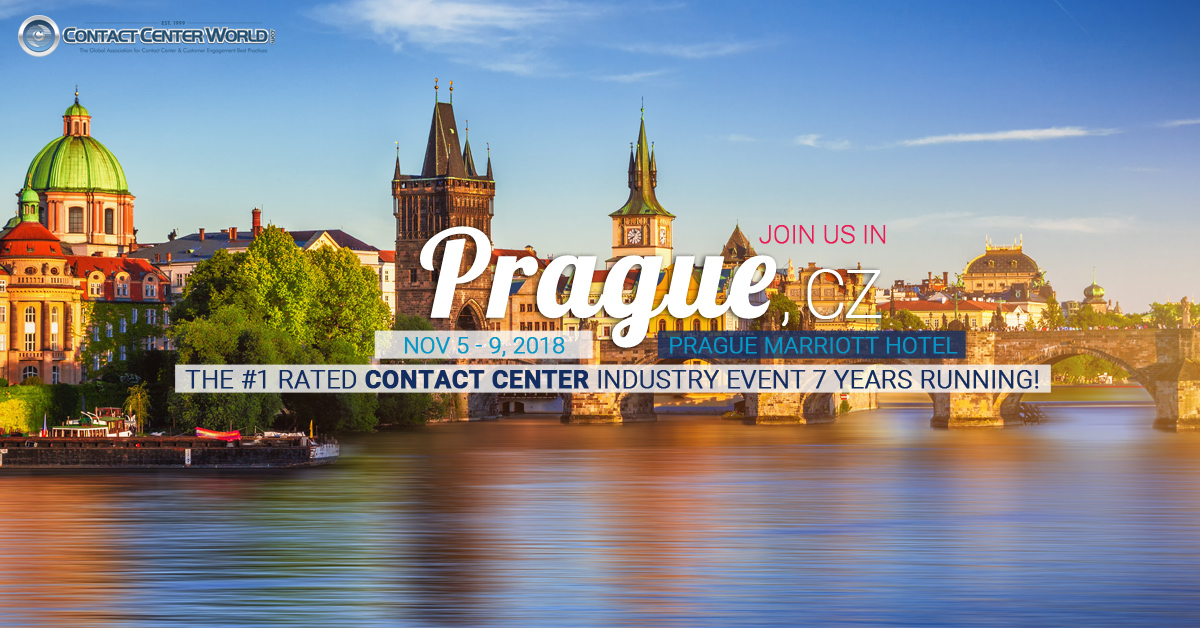 >>>>> FIND OUT MORE: HERE
---
....ARTICLE CONTINUED
3. Contact History
Providing a concise history of a caller's contact with your company will help your agents deal with a caller. It shows them why someone called, who dealt with the caller, and even if they abandoned their last call attempt. A big key here is to provide a history across all contact media, so an agent can reference not only voice calls, but also emails and chats. Providing this information to an agent allows them to use their brains in determining a course of action for this call.
One of the key elements of contact history is setting up a mechanism to identify whether the problem was resolved on the first call. This helps you measure FCR and establish a baseline for improvement of that metric. For example, you can modify your call handling process and add a simple question the agent can ask, who then enters the answer in a field in the record. There are automated methods of determining FCR as well, such as an IVR-based question at the conclusion of the call, which tends to be more accurate than a live agent asking. Additionally, if you set up tickets for specific problems, you can correlate number of contacts with a specific ticket. There are other methods as well. It has been found that the most successful technique for determining your FCR rate is to use several methods and combine the results.
4. Automation
Your agents will often need to deal with multiple applications on a single call. This may be due to the caller having multiple reasons for the call, or it may be due to the agent solving the customers issue and moving on to up-sell them to new products.

In many instances, information must be manually re-entered into several different applications. Agents will make mistakes in transcription; in other cases they will not update every application due to time constraints in the call center. Human nature will ensure that you will end up with incorrect information in some applications as a side effect. Providing agents with the ability to easily share information between applications will save the agent time and provide more efficient customer service. It will eliminate errors* and ensure that the tediousness of retyping information is eliminated from the agents daily work flow. Automation will give you more accurate information, as well as more efficient calls, saving money and increasing revenue as a result.


5. Adaptability
Service centers are often the last people in a company to find out what's going on. Marketing or manufacturing will often do things that have a direct affect on the center without considering the impact. For example, if the fulfillment department isn't adequately staffed, a big marketing push might slow down delivery of materials to the customer. It could take several weeks for something to be sent to the customer, when the agents have been promising that item will be delivered within several days.

When these situations arise, the center should track resulting customer calls and compile a report with a numeric estimate of the added cost to the call center. This report allows a call center manager to approach other departments and make a case for operational changes in other parts of the company, for example: By implementing a technology solution that can quickly and easily adapt to changes in market conditions or business initiatives, you can ensure that you are actually increasing the value of the center to the overall business while not adversely affecting your bottom line.


6. Information Access
Do your agents know where to get the information, and if they do, is it easy to get at? If agents can't find the information they need, then the customer's needs are not met, which can lead to multiple calls, or worse, a lost customer.

Even in cases where information is available, if it's not 'handy', a well meaning agent may just rely on their memory to provide an answer – introducing a potential for errors. Agents need to have any information needed available to them quickly and easily to ensure that it's timely and correct for the caller. Knowing how and where to find out the answers to questions quickly can eliminate major blocks of call time, such as fruitless network searches, conferencing other agents in, or finding a supervisor.

Another aspect to Information Access is as simple as the desktop layout an agent sees on the screen. Are there ways to consolidate views, layer applications intelligently, and set up a view that requires less clicking and scrolling? Just trying to navigate between applications can be mind numbing and ergonomically dismal. There are new approaches to this science that can have a huge positive impact.


7. Measurement
Lack of clear objectives is an area that plagues businesses around the globe. Objectives are often misinterpreted or implemented locally without consideration of the spirit of the objective and the rest of the organization. But in contact centers, the typical measurement and rewards aren't even related to the performance of the business – they are specifically and tightly related to the performance of the telephony system of the contact center.

Clearly, next to sales, call center agents are about the easiest employees in the world to measure. So how come senior management talks about customer retention and satisfaction, and then turns around and measures the agent against average handle times and speed of answer? They complain about excessive call times and then use those same quality recording examples for training the other staff. Whenever management does this, they send out inconsistent signals, which significantly affect staff job satisfaction and performance.

As your organization pursues higher revenues, you must constantly weigh all costs and "people" challenges. As managers attempt to grow their businesses, far too many are numbed by a deluge of nearly meaningless call handling statistics to the point they've forgotten about supporting their people first.

These statistics are then used to measure staff and to reward or punish them. Management must actively align their business measurements with how and what they measure their agents on. Only by doing this can you hope to get the performance that you want. Further, companies must ensure that they are providing their call center the tools and support they need to do their jobs as valued front line customer service staff.


8. Fun Factor
Human beings in general like to please other people. They like to be proud of what they do and be complimented on it. They like dealing with happy people, and they like to be able to make people happy in return. By providing agents the tools and the authority they need to do their job, you can significantly improve staff retention and satisfaction.

By focusing on critical agent performance metrics instead of a blizzard of call handling statistics, your contact center can excel in its markets and differentiate you from the competition. The contact center is, after all, a very large aspect of how your customers see your business, and in many cases the only way your customers interact with your business. The importance of the service provided by your agents is paramount to your success. Your agents have no real control over the quality of your products or your delivery systems. They do however; take the brunt of the complaints. They deal with the daily hassles of customer service, and they greatly influence the perception of anyone who contacts you. Using intelligent measures like FCR show the agent what they're fighting for.

Finally, through focus, measurement, and ultimately improving the agents, the tools and the ability to provide customers with the service they need the first time, you increase First Call Resolution Rates. This improves customer satisfaction, which in turn decreases agent stress levels and increases the fun factor. When you actively encourage a customer focused, service based business by focusing on the people who provide that service, it's not surprising that you will achieve great customer satisfaction levels.

McDougall feels, first call resolution (FCR) should be one of your key metrics for the service center. Achieving higher FCR rates not only relates directly to the satisfaction level of your customer base, it also directly relates to the "people productivity" of your center.

He asks, so what are you doing for your agents to achieve that? Are you doing anything to take away some of their daily frustrations? Giving them the right tools and objectives? Helping them deal effectively with each call?

McDougall advises, by correlating 'customer saves' with talk times you can find out who your best agents are. By tracking and eliminating the reasons behind repeat calls, you improve your call volumes and have happier callers. By measuring the center in conjunction with other business information, you can start to get a clearer picture of how your contact center is performing as a business unit rather than as a call center.

Remember, your customers aren't calling your center; they are calling your business. If they have to wait in queue five seconds less but have to call back several times to get an issue resolved, you aren't meeting their expectations. Measuring your centers' performance won't in itself save you any money. However, it will allow you to identify what areas need improvement, McDougall states.

McDougall would like to remind executives and managers that they have a lot riding on their agents. They're the gateway to your world of serving existing customers and thousands of possible new ones. You've invested a lot in your agents, so it's a good idea to make the effort to ensure that they've got all the right tools and resources that they need to be performing at their best. Having a happy and productive staff doesn't require massive changes, just a few smart steps.

*Purdue University found that the number one negative key performance indicator in a call center was errors.
---
About Rob McDougall:
Rob McDougall, President and co-founder of Upstream Works focuses on business interaction management and has provided contact center solutions to many customers. To ensure that Upstream Works continues to be a leader of innovation, Rob plays an active role in promoting the company through corporate evangelism, articles, and speaking engagements.
About Upstream Works:

Upstream Works provides best-in-class Omnichannel Contact Center software to increase customer engagement and agent success. We bring the omnichannel customer journey together across all applications and platforms with a single, integrated agent desktop with management simplicity. For over 15 years, organizations around the world and across all industries have benefited from Upstream Works' experience and expertise, gaining operational efficiencies and transforming the customer journey.







Published: Tuesday, July 31, 2007

Printer friendly version