Article : Grace Heny, Director, Contact Center Indonesia on Contact Center Best Practices
Grace Heny and her team from Contact Center Indonesia, an organization designed to support the organizational and institutional strategic objectives in driving Contact Centers to become a well accepted profession in society and for a better Indonesia, attended the 2014 Top Ranking Performers conference in Singapore and spoke with us at ContactCenterWorld.com about her experience. Here is the full (transcribed) interview.
If you are interested in hearing and learning sharing best practices at the 2014 Top Ranking Performers 'Best in the World' Conference taking place 10-14th November in Las Vegas, U.S.A. (details here www.contactcenterworld.com/conferences/?confarea=GLOBAL)

ContactCenterWorld.com: Did you have a good week?
Grace: Very good week.

ContactCenterWorld.com: Why?
Grace: The community has asked me to share all the ideas and practical aspects to help each other as a Contact Center practician. This is related to the fact that all ContactCenterWorld.com activities and events are about sharing the challenges and solutions. Those aspects of maintaining Contact Center keep growing and are becoming more complex than ever. With that background, ContactCenterWorld.com has a vision to help all professional contact center operations around the world through networking. I think that this is the real value of coming here and get involved with ContactCenterWorld.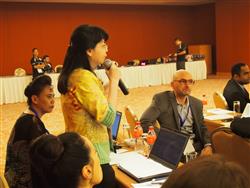 ContactCenterWorld.com: Over the course of this week, people got to know each other and so they are free with their information. It is so easy to go up to people and get more information about a key topic that they may have been presenting about. How easy is that for you?
Grace: It is very easy. You just meet people and you ask. People are welcome to share, because they see it as sharing sessions to help each other and bringing all the community of the contact center industry to the next level. This will also help to enter a more prestigious level of industry that will benefit all. I think that is the key objective of ContactCenterWorld.com, to help professional contact centers and also bridging all the challenges with an innovative solution.

ContactCenterWorld.com: Is it fair to say that this conference is different from other conferences that you have been to?
Grace: Definitely, 100%. The reason why it is different is because it brings each company value to a real exposure within the industry. First, all the presenters are professional and sharing those practical things. Those are the ones who do the contact center day-to-day jobs. What they are bringing are very practical items that you can apply and also best practices. They won't waste your time with the things not common or unapplicable. What you will get is a key initiative that is applicable. So you won't get that anywhere in the world. These are the most competitive and valuable contact center event.
Want to see more from this video on the ContactCenterWorld.com Youtube channel? - over 200+ interviews available at this link
You and your company can learn from industry leaders on how to increase performance and productivity, avoid HR challenges, improve customer service and much more. Don't miss out on this amazing learning and networking opportunity! Visit www.ContactCenterWorld.com/conferences for conferences. For more information on how you can take part in this prestigious and sought after awards program for the best of the best in the industry visit www.ContactCenterWorld.com/worldawards.
The Contact Center World winners will share their best practices on 10-14 November, at the ninth annual Global Best in the World conference in Las Vegas, Nevada. www.contactcenterworld.com/conferences/?confarea=GLOBAL
---
About 168Solution:


168Solution is a leading Consulting and Training of Contact Center, with proven approach and experience in Contact Center or known as Digital Interaction for Inbound and Outbound, Voice, Email and alternate media Channels. Our focus is Processes and Operations Management with local and International Contact Center Knowledge and foot prints. Led by a recognized professional in the Indonesian Contact Center Industry around Asia Pacific bringing a 15 years of Contact Center experience to help clients in setting up and managing in-house and outsourced Contact Centers, also translating ISO Quality Management System to Contact Center dynamic






About ContactCenterWorld:


ContactCenterWorld.com – is the website for the Global Association for Contact Center and Customer Engagement Best Practices. The association has a truly global footprint and supports 190,000 members from enterprises large and small with ideas, information and support tools including best practice awards, conferences and certification. Join today, FREE personal membership available at this link https://www.contactcenterworld.com/register.aspx and start networking and learning best practices. Contact Center World. (www.ContactCenterWorld.com), The Global Association for Contact Center & Customer Engagement Best Practices.








Published: Friday, August 22, 2014

Printer friendly version
Tower Bersama Group

PT Tower Bersama Infrastructure Tbk ("TBIG") is the holding company of the Tower Bersama Group. TBIG was established in 2004 and was listed on the Indonesia Stock Exchange on October 26, 2010. Towe...

(view more)

NOS

NOS is a telecommunications and entertainment group which offers fixed and mobile next generation solutions for Pay TV, internet, voice and data to all market segments - Residential, Personal, Corpora...

(view more)

PT Telekomunikasi Indonesia

Telkom Group is the only state-owned telecommunications enterprise as well as telecommunications and network service providers in Indonesia. Telkom Group serves millions of customers throughout Indone...

(view more)

Saudi Telecom

Saudi Telecom Group is a Saudi Arabia-based telecommunications company that offers landline, mobile and internet services.