Article : Kent Becomes A Call Centre Capitol
Kent is on the verge of single point contact for UK and international companies looking to establish a European operation:
Call Centres/CRM Centres in the UK
There are over 5,000 call centres already located in the UK – more than any other European country

The UK dominates the European market in this sector, and is home to over 50% of all European call centres

More than 30 million calls are handled every week with nearly 40 per cent of the centres undertaking international telebusiness

Over 11,000 overseas companies in all sectors operate in the UK, including almost all of the world's leading international companies. Flexible workforces with extensive language skills have given an additional boost to the Customer Contact Centre sector in the UK

At the forefront of telecommunications in Europe, the deregulation of the UK telecommunications industry offers investor companies lower costs that have resulted in greater competition, and the latest communications technology
Call Centres in the South East
There are over 180 call centres in the South East region, excluding London. The majority are national, although there are an increasing number of multi-lingual call centres, including Virgin Atlantic in West Sussex and Eurostar in Kent

The concentration of call centres in the South East is proof that the region is capable of serving the language requirements of business. Many prestigious international companies have already set up call centres in the region, and research shows that there are sufficient numbers of linguists available for further call centres

The South East's universities offer a wide range of language courses for 2000. Degree courses in French, German, Italian and Spanish are available in most universities; some also offer Russian, Portuguese, Japanese and Greek. The number of language degrees gained in 1999 was 3619

With around 106,644 mainland European-born people residing in the South East, the region has almost a fifth of the total for Great Britain. There are currently almost 14,000 students studying languages at South East universities

The number of students studying languages in the South East's universities in 1998/99 was over 13,650. The latest figures show that over 3,619 students gained language degrees in the same year. Approximately 2,380 of these qualifications were first degrees and over 700 were at master degree, doctorate or higher bachelors level

There are also an increasing number of students of other subjects who are taking language courses as a subsidiary subject. These undergraduates may speak the languages to degree standard
Call Centres/CRM Centres in Kent
There are currently over 50 Call Centres in Kent and Medway employing over 6,000 people

Being close to mainland Europe, Kent has an abundance of highly skilled multilingual people and a high concentration of language schools teaching English to foreign students

Kent has a number of strategic development sites all of which are located no more than 3 miles from the nearest BT exchange, and sites such as Chatham Maritime, Crossways and Kings Hill have been developed by BT with state of the art telecommunications already in place to support call centre needs.

A recent national UK survey has shown Kent and Medway to be the most efficient call centre location in the UK (Source: Mitial Research 1999) and has a pool of skilled workers with a wide variety of multi-lingual skills

The average Call Centre wage in Kent is significantly lower than that for the rest of the South East. A customer services representative can expect a salary of between £11,000 and £12,000 in Kent, compared to about £14,000 in the rest of the South East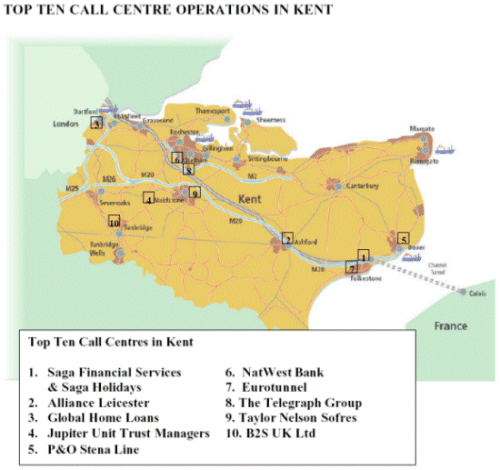 ---
About the Company
Locate in Kent is the single point of contact for UK and international companies looking to establish a European operation in Kent and Medway. From its headquarters in West Malling, and through a network of international representatives in Brussels, USA, Japan, Taiwan and Korea, Locate in Kent is able to provide a free, comprehensive and confidential relocation service to help businesses benefit from the area's unique locational advantages.
More Editorial From Locate In Kent
Published: Monday, February 3, 2003

Printer friendly version