Article : Skills-Based Routing In The Modern Contact Center
In the beginning, there was the call center. Calls came in and were handled immediately if there was an agent available; if not, they waited for an agent to become available. All agents could handle all calls, and if a call was not handled immediately it waited on a first-come-first-served basis until someone was available to take it (see Figure 1).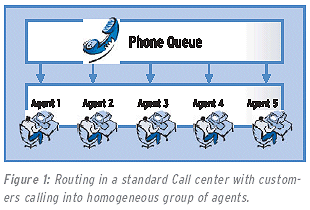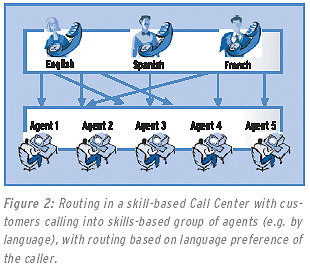 Accurate forecasting, accurate scheduling, and cost-effective planning were significant challenges for management even then, due to uncertainties in call volumes, arrival patterns, and handle times as well as agent breaks, lunches, attendance, and attrition. But at least managing the routing was simple.
Then, back in the dark ages of the 1980s, along came The Skill-Based Call Center. Different agents were trained and skilled to handle different call types. Some agents handled one type of call, some handled calls from multiple queues, and perhaps some agents handled all types of calls (see Figure 2).
Suddenly, forecasting became harder ("how do I deal with multiple queues with different Service Level targets?"), agent scheduling became harder ("how can I tell if I have enough coverage I have on the French queue when some of my agents speak both English and French?"), and planning became much harder ("how many people should I hire for which groups, and should I cross train some of my existing agents?").
Then, back in the recent glory days of the 1990s, The Skill-Based Call Center somewhat abruptly became The Modern Contact Center (also know as the Multi-Channel Contact Center). In addition to one or more inbound call queues, suddenly inbound emails (and in some cases chat sessions, web forms, and customer callbacks) were added to the traffic load (see Figure 3).
And now effective forecasting, scheduling, and planning are really, really hard. This article is focused on Skill-Based Routing and Workforce Management in today's Modern Contact Center ("MCC"). To begin, we will provide some historical background about how we came to be where we are. From here, we will examine the different routing strategies that can be employed within a contact center today and discuss the basic pros and cons of different strategies. From here, we will look at the challenges of forecasting, scheduling, and planning for MCCs. We will conclude with some predictions about what the future may hold for routing and workforce management.
The Modern Contact Center
Many outsiders yawn at the notion of the Modern Contact Center. "What's the big deal?" they ask derisively. "Haven't most call centers always had to deal with faxes, correspondence, and customer callbacks when doing their planning and scheduling? What's so different now?". Good questions. Indeed, what is so different now? Email. Lots of email.
The evolution Modern Contact Center is a direct consequence of the explosive accessibility and popularity of email. Email is clearly the "killer app" for the Internet: according to Jupiter Media Metrix (July 2000), 96% of all Internet users are using email.
The growth rate in the number of Internet users continues to be explosive, with nearly all of them using email. Given this widespread adoption, email customer service appears at first glance to be an ideal on-line business-to-business and consumer-to-business application.
For customers, email communications are not limited to the hours of operation of a call center, and they need not ever wait on hold before sending an email. For online merchants, customers' expectations have made email support virtually a requirement. Managers salivate at the prospect of reduced telecommunications and labor costs coupled with the promise of increased customer satisfaction, while customers dream of efficient, frictionless communications.
NET RESULT: this tidal wave of Internet email users has been the primary catalyst for transforming yesterday's Call Center into today's Modern Contact Center, although the results have not quite been what we all had expected and hoped for (more on this below). More recently, Chat and "Call-Me-Back" features have also emerged as potentially important channels for the delivery of support and service via the Internet—and through the call center. However, the pace and volume of adoption of these technologies has to date been far less than that of email.
Early adopters proudly trumpeted the availability of service and support via email to customers, press, and analysts. Other companies, pressured by customers and competitors, scrambled to make themselves accessible via email. In many cases, there was not much real thought about the systems or people infrastructure that would be needed to support email traffic. Nor was their much recognition of, (a) how quickly customers would adopt this medium; (b) what types of expectations for responsiveness and problem resolution customers would have for email; or (c) what the cost and public relations implications of poorly managed email processes might be.
Many management teams typically just dumped this responsibility onto their call centers with a shrug and a "just deal with it" directive.
The results have been decidedly mixed. Good news: Customer adoption has been strong. Customer contacts by e-mail have been projected to grow by more than 250% during 1999-2001—and the actual growth rate will end up being even higher. Bad news: Email service quality (and its management) has been abysmal. A recent ICSA/e-Satisfy (March 2001) survey lays out the state of email support and service quite starkly. Among its many findings: only 4 of 10 emails ever get resolved. More telling is the fact that only 1 of 10 companies monitors the quality of service that is delivered by email.
Worse news: Customers are not happy with companies who provide poor service. For executives, the most serious findings in the ICSA/e-Satisfy survey: customers' negative experience with email services drives a 30-48% decrease in customer loyalty. So what exactly has gone wrong?
At the most basic level, what we have been learning the hard way over the past few years is that management of a Modern Contact Center is a more complex undertaking than standard call center management. Managing effectively in these environments depends on a clear and integrated vision of Technology, Processes, and People. The two most important components of this are Skill-Based Routing and Workforce Management, which we will discuss in the next two sections.
Skill-Based Routing For The Modern Contact Center: Technology + Processes + People
Historically, there has been a tendency to think of Skill-Based Routing as a feature of an ACD, a CTI device, or some other piece of call center technology. Similarly, MCC Skill-Based routing is thought of by most people as the combination of routing technologies (email servers and tracking systems, chat servers, ACDs, and CTI devices) that work together to physically route the traffic to, and through, the contact center. In reality, however, Skill-Based Routing is actually a combination of Technology (technical specifications programmed into routing devices about which contacts should be routed to which people at which times), Processes (policies and decisions about how to how best to manage these different types of contacts), and People (the employees who actually have the skills, training, and knowledge to diagnose customer issues, resolve them successfully, and communicate effectively with customers through the different channels that the center supports).
To understand MCC Skill-Based Routing, it is important to first recognize that there are really two distinct types of contacts: "Immediate" and "Deferred." Each contact type, in turn, has different Technology, Process, and People aspects to consider.
Inbound phone calls, as well as Chat sessions, are "Immediate" contacts. Immediate contacts require an immediate response to a customer who is interacting with the agent in real-time and staying engaged with the agent until the issue that prompted the service request is resolved. Immediate queues have Service Objectives that are measured in terms of the time a customer spends waiting before being engaged in direct communication with an agent, and these goals are typically defined in terms of short time intervals of seconds or minutes (for example, Average Speed of Answer of 30 seconds, 95% being answered within 2 minutes, etc). Customers who make contact through Immediate channels and have to wait to be served by an agent will eventually abandon the queue—and quite likely be unhappy about it.
Emails, as well as customer callbacks, are "Deferred" contacts. Deferred contacts are not handled in real-time, but instead are queued up in a database-driven routing system for agents to work on without having the customer through the whole process. For example, a customer sends an email that waits in queue for some time; its contents are eventually read, researched, and replied to by an agent. Similarly, for a customer whose issue is not resolved on an initial phone call, an open case or trouble ticket may be created in a database and put into a queue; a second-level agent will eventually read this case, research the problem, and call the customer back.
Deferred queues typically have Service Objectives that are measured in terms of the time spent until a customer's issue is either initially responded to or eventually resolved. These goals are typically defined in terms of hours or days (for example, Initial Customer Response within 4 hours, 95% Resolution within 12 hours, etc). Deferred contacts do not formally abandon the same way that Immediate contacts do—instead, the backlog of cases in these queues continues to grow until the cases are addressed. However, there is a clearly observed and logical phenomenon that occurs: the longer a customer's issue waits in a Deferred queue, the more likely that customer is to either make a phone call and/or send another email trying to understand what is happening with their case.
Initially, many organizations gave very little thought to email, and management of these queues was far less formal than traditional phone queues, both in terms of technology and process. Organizations often fall into the following bad practices when launching their email support channel:
Lack of Service Level Objectives. Just as with inbound calls, the definition of a Service Level objective for email has major implications for staffing requirements and agent schedules. By treating email as an informal support channel without a specific service target, managers create problems, both by not helping to establish customers' expectations and by not understanding the financial costs associated with supporting email.

Unclear Queue Definitions.Just as with inbound calls, different types of email require agents with different knowledge. Early adopters of email service often lack either the routing technology or the clear thinking to separate out different types of cases into separate queues that are handled by different agents. The result can border on chaos: slower response times and reduced first-reply resolution, both of which drive up the backlog and reduce the average response and resolution times.

Lack of Recognition for the Different Skills Required to Support Different Channels. Different channels require agents to have different skills. For example, the ability to interpret an issue that is presented in writing in an email is a somewhat different capability than being able to troubleshoot a problem with a customer over the phone.

Naïve Assumptions About Self-Service and Auto-Response. Thanks in part to overzealous vendors of new technologies in this area, there has been a lot of hype around web-based customer service ("just publish your FAQ list, and customers will solve all their own problems") and around email auto-response capabilities ("we can determine the customer's question and reply without any assistance from an agent at all!"). However, such hype overlooks the fact that both self-service and auto-response.
depends heavily on the quality of your knowledge base, which can have significant expense associated with it

simply will not resolve the issues for a great many customers.
The result: unrealistically low forecasts for traffic, and overly optimistic estimates of the cost of supporting web, email, and chat channels. Once management have defined queues, established service level expectations, examined the agent skills required, and taken their best realistic guess at the traffic that will be coming through each of your new channels, there are still key business questions about how to route these contacts through the center.
For Modern Call Centers, there are three basic types of routing strategies (see Figure 4):
Dedicated Groups: In this model, each queue for each type of contact has a group of agents that is dedicated to handle those contacts.

Task Switching Groups: Here, agents are capable of handling multiple types of contacts (email, inbound phone, chat, etc), but are scheduled to handle different contact types at different times of day. For example, an agent may be scheduled for email from 8:00 am to 10:30 am, lunch from 10:30 am to 11:15 am, inbound phone calls from 11:15 am to 2:30 pm, and email from 2:30 pm to 5:00 pm.

Blended Groups: In this model, agents who are skilled for multiple types of channels can get routed contacts from each of these channels at any time. For example, an agent who is skilled for inbound phone queue, an email queue, and a chat queue could handle three phone calls followed by an email followed by a chat session.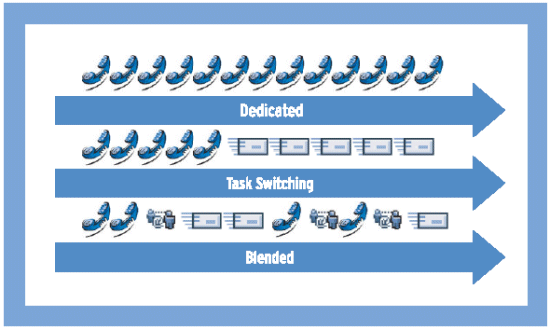 Figure 4: For MCCs, there are three basic types of routing strategies: Dedicated, Task Switching, and Blended .
When selecting a routing strategy, whether for a multi-site virtual center, a single contact center, or for an individual group of agents or queues, there are a number of key factors to take into account, including:
Agents' Capabilities

Costs of Acquiring/Training/Retaining Agents

Scheduling Processes

Technology Capabilities and Limitations

Response Time Objectives For Different Queues and Different Channels

Benefits of Specialization

Agent Occupancy
Each of the routing models described above has its pros and cons, as summarized in the table below: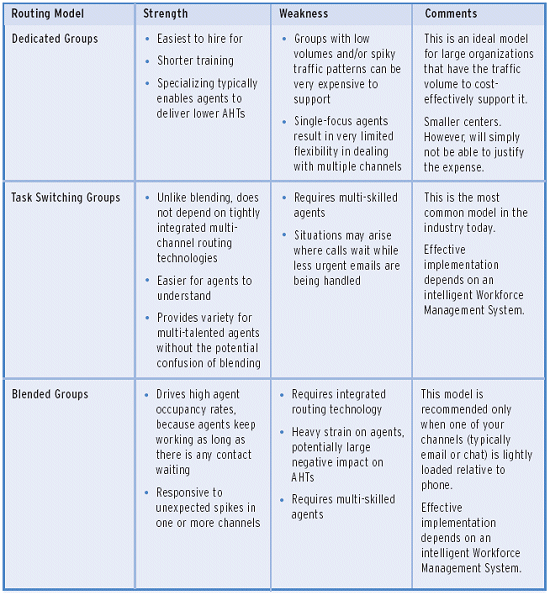 To summarize, different environments will require different routing strategies. In particular, email (as well as chat) may require different competencies (interpretive reading and analysis, strong written communications skills) than traditional call centers require. In addition, there is almost always a trade-off between specialization, Average Handle Time, and agent occupancy: greater specialization typically produces lower AHT values, but can also result in lower agent occupancy.
Finally, true blending of traffic across different contact types will require an integrated routing technology, while task-switching will require either a single platform for inbound calls and inbound emails or multiple desktop systems and logins for agents. However, from our experience, it is more important for the management team to focus on the competencies and trade-offs associated with these different strategies, and to acquire or adopt the technology to fit the business needs. Today, the availability of many, many different technological solutions in different price and complexity levels lets you focus on the people- and process-aspects of skill-based routing first, which is critical.
How should one go about choosing a routing strategy? When possible, it is usually very valuable to try different groups under different conditions and carefully examine the results. For example, for a center handling both inbound calls and emails, it may be worthwhile to try one group in a task-switching mode and another in a blending mode and then to compare the results the resulting values for AHT and overall contacts handled. From these results, you have a better chance of estimating the impact of adopting each of these strategies on a larger scale.
As contact centers become more complex, simulation models are also increasingly useful for examining the impact of different strategies. Using historical data to understand arrival patterns for different queues from different channels, simulation models provide insight into the impact of different routing strategies, and staffing levels, on the service levels for the different queues.
Workforce Management For The Modern Contact Center: More Complex Than Ever
The traditional call center Workforce Management problem has three main components:
Planning: Based on call forecasts, identify the right number of people needed on staff to achieve Service Level objectives, typically within some cost constraints.
Scheduling: Based on near-term call forecasts and work rules, schedule the right number of available agents (including start times, breaks, lunches, and other off-phone activities to achieve Service Levels for an upcoming week or month.
Real-Time: Based on new information (such as updated call forecasts, absences, and schedule adherence), make adjustments to the schedule to maintain service quality for the current day or week.
In traditional call centers, these business processes are typically supported by a single software application, or more commonly by people with large impenetrable spreadsheets, dark circles under their eyes, and a long line of people outside their office. While there is a great deal of experience, science, and software to support Workforce Management for traditional call centers, most call centers today are still "winging it" with their home grown tools.
This can be effective for traditional call centers, especially those with small numbers of agents. However, for Skill-Based call centers, planning, scheduling, and managing the agent workforce is a problem that cannot be effectively handled without more sophisticated Workforce Management software.
What is different about the Skill-Based environment? First of all, there are multiple queues to be forecasted, and often these queues will have different service level requirements. In addition, Skill-Based Scheduling is a far more difficult mathematical problem, because Skill-Based Routing means that agents are inherently "differently abled."
By "differently abled," we mean that some agents can handle one type of call, others can handle all types of calls, and still others may be somewhere in between. In addition, with different routing logic, calls may be offered to different groups of agents at different times, with different priorities, and under different conditions ("send Sales calls to the Service group only when after they have been waiting at least 30 seconds and only if the average occupancy of the Service agents is under 70%").
Traditional call center scheduling methods seek to determine the required number of agents needed during each time interval, and then scheduling as close to that number as possible. However, this assumes that all agents can handle the same types of calls.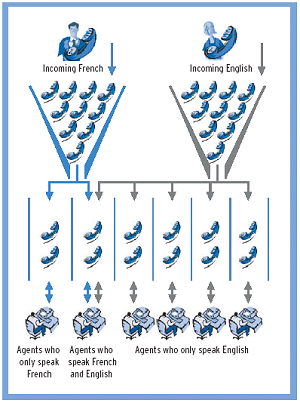 However, under Skill-Based Routing, agents are differently abled. Therefore, the idea of a single "required number of agents" no longer makes any sense: the number of agents needed depends on the specific skills of the available agents and on how calls are actually routed to them. Intelligent scheduling algorithms must therefore estimate how much of an impact specific agents will have on Service Levels for multiple queues during each specific time interval, and then use this information to determine the best overall schedules. To see this more concretely, consider a Skill-Based call center taking calls in English and French queues, with three different types of agents—English only, French only, and Cross-Skilled (see figure 6).
Adding a French only agent will not only help improve Service Levels for French calls, but may also allow Cross-Skilled agents to spend more of their time on English calls, which will improve the SLs for English calls as well. The actual magnitude of the impact of agents on each of the queues will be influenced by many factors, including call volume forecasts, AHT forecasts, the mix of skills and agents in the call center at the time, and the details of the routing logic for both types of calls.
If Workforce Management tools are valuable for Skill-Based call centers, they are even more essential for MCC environments, where the workforce management challenges are even more complex. For forecasting in MCCs, it is critical to have accurate data about contact volumes, arrival patterns, and handling times. For centers who do not email-handling software with either a robust database or custom reporting capabilities, obtaining this data can be challenging; in general, estimates and rough observations are far better than no information at all about traffic, and time spent conducting this data analysis is well invested.
Even when there is an established system for storing and accessing historical data about deferred queues, it is important to examine the data carefully. In particular, today's email systems typically do a poor job of actually tracking how much time is spent on specific contacts. To see this, think of how often you have multiple emails open on your own screen: how should your "handling time" for those contacts be measured? Getting realistic estimates for these values is vital to good forecasting and scheduling.
For both planning and scheduling, forecasts are a key input, as are the details of the routing strategy that is being followed (dedicated groups, blending, or task-switching agents) and other information about agents' skills and availability.
In addition, it is critical for workforce management software to be designed specifically for MCCs, for the mathematics of optimal scheduling of blended or task-switched agent groups—and the calculations associated with estimating Service Levels—for both immediate and deferred queues—are significantly different than the Erlangbased algorithms used by traditional call center software.
Without an appropriate workforce management model, the result will be inaccurate predictions of service levels, particularly for deferred queues, and errors in headcount and deployment
What The Future Holds
Despite the recent demise of many "dot-com" companies, it is clear that email and other channels are a permanent part of the customer service landscape, and that yesterday's inbound call centers will be called upon to handle most or all of these customer contacts. This will require more investment in Skill-Based Routing, which includes the hardware and software technologies, as well as the business processes and the people resources needed to support them. The overall financial investment in the Modern Contact Center, along with the increased emphasis on customer service as a differentiator between competing firms, will put tremendous pressure on executives, directors, and managers.
In these more complex contact centers and more competitive business environments, those responsible for managing contact centers will be required to deliver ever better and more consistent service at lower relative costs.
Workforce management software for the Modern Contact Center—along with the people and processes needed to support them—will be critical for providing a foundation for intelligent planning, scheduling, and day-to-day management for these contact centers.
---
About the Author
As Vice President, Solutions, Vijay Mehrotra works closely with Blue Pumpkin Marketing, Engineering, and Consulting groups to define and deliver business solutions for Blue Pumpkin's customers. During his ten year career as an operations management consultant, he has worked with a wide range of contact centers across many different industries.
About the Company
Blue Pumpkin offers workforce optimization solutions that improve the performance of a customer contact center's most important and valuable asset—their people. Their customers improve profitability, increase customer satisfaction, and raise employee productivity through our innovative applications and best practices professional services.
Today's Tip of the Day - 5 Ways To Start Motivating Agents Today!
Published: Friday, June 20, 2003

Printer friendly version