Article : The Truth About Agent Training In The Contact Center
Let's begin with a pessimistic assumption: Contact center turnover will always be higher than you want, no matter what you do. If this is true (and a mounting body of research and expert opinion suggests it is), you'll want to get the highest possible productivity from your agents before they head for greener pastures.
Imagine that you run a busy contact center with 30% annual agent turnover – and that you just hired ten agents. You can assume that each new agent will last on average about two years. And that may include weeks of training for each agent! Considering that sobering fact, if you can't get your agents to stay any longer, your best bet is to make them productive sooner.
The Truth About Training
According to conventional wisdom, only about 15% of what is learned in a classroom sticks in the learner's head, especially if that information is fact-based rather than conceptual. The reality is, most people learn on the job by doing the job. That's okay if you're comfortable with the fact that on-the-job learning often involves asking supervisors or fellow agents what to do – taking up their valuable time. What's more, contact center agents may never be able to memorize all the product details, policies, services, and other information their callers need. Plus, agents have to master the details of software and processes.
....NOTE - content continues below this message
---
INVITATION
We invite you and your colleagues to take a couple of days out of your busy schedule to join us and the elite in the industry to listen to the NEXT GENERATION Contact Center & Customer Engagement Best Practices - WORLD'S BEST IN 2018! - ALL AWARD WINNERS!.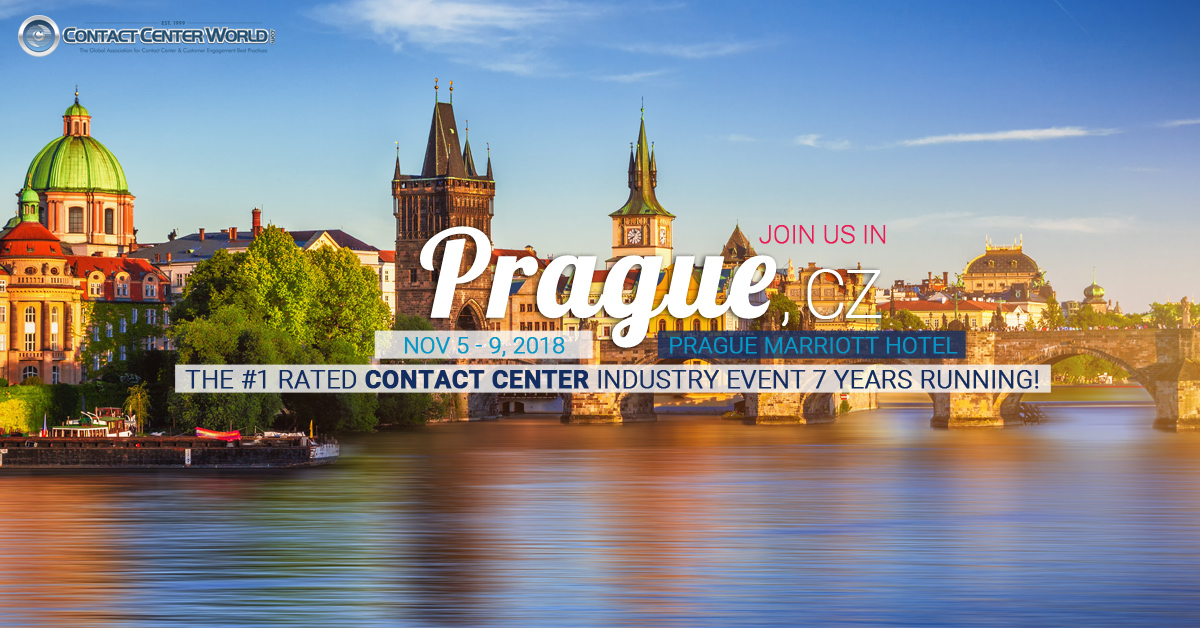 >>>>> FIND OUT MORE: HERE
---
....ARTICLE CONTINUED
Agents Don't Need To Be Trained To Be Experts
The truth is agents need to appear as though they're experts. This can be accomplished efficiently and cost-effectively through better on-the-job support, such as through a performance-centered knowledge management system. You need to deliver specific information and expertise to agents: only what they need to solve their customers' problems, and only when they need it. So instead of subjecting agents to hours upon hours of training (most of which they'll forget), organizations can reduce detail-oriented training time, and spend more time training and coaching in 'soft skills' such as problem solving, communicating effectively, and handling difficult customers.
Provide The Right Access To Expertise
"At a contact center, the biggest business problem is that as you try to resolve a customer's issue you go through mounds of data," says Janet Emery, President of a consulting firm specializing in human performance. A good performance-centered knowledge management system guides the agent through the process or to the right information. "It minimizes searching for information," says Emery. Performance-centered knowledge management, she says, is like walking into a library and finding all the books you need laid out on a table in front of you, open to exactly the right pages!
According to Emery, performance-centered knowledge management "pushes rather than pulls." Traditionally, agents must pull the information they need from a vast repository. This can be time consuming, and it can result in failure as well: they won't always find what they're looking for. With performance-centered knowledge management, however, the right information is 'pushed' up through the ocean of data, right to the agent's computer.
Compared to traditional training, here are some of the benefits you can expect to see when you use performance-centered knowledge management:
Higher productivity: Agents become proficient and productive faster than before.
 

Reduced call-handle time: A good performance-centered knowledge management system will reduce average call time and improve customer satisfaction simultaneously.
 

Improved first-time call resolution: At organizations with performance-centered knowledge management, agents are more likely to resolve customers' problems during the first call. That means there are fewer costly escalations – and more satisfied customers.
 

Flexibility: Agents who use performance-centered knowledge management to guide themselves through customer calls require less product, process or software training. That means, for example, that when call volume for one product spikes, supervisors can more easily shift agents from one project to another.
 

Standardization: With performance-centered knowledge management, even though your agents are spread across the country you can be sure your customers will hear the same message from them. And you can be sure that the best practices you implement can be practised by agents every day.
 

Strategic support: Performance-centered knowledge management helps managers, directors and executives implement the organization's strategic plans. A powerful operational tool, it enables workers on the 'front line' to adapt quickly to changes in a dynamic business environment.
The Cost & Benefits Of Knowledge Management Systems
While the investment an organization makes in a performance-centered knowledge management system will vary depending on numerous factors, it doesn't take an advanced degree in economics to run some numbers and determine whether such an on-the-job, self-support system makes good economic sense for your contact center.
First, consider the number of instructor-led training days per agent and the cost of that training. Factor in the cost of escalating calls to second- and third-tier experts. And don't forget the cost of supervisor-supported and peer-supported on-the-job training, much of which results in an interruption of workflow and taking two people 'off line'.
Average contact centers should expect to see dramatic reductions in time lost searching for information, and up to 50% fewer second-tier or supervisor escalations. Plus, there's many fewer days of formal instructor-led training to cover details, specifics and expertise that can now be found quickly and easily in the knowledge management system. It all adds up to significant savings, plus greater productivity when agents can be online faster and more often. The truth is: less training and better support systems equals greater contact center performance!
More Editorial From Panviva, Inc.
---
About Ted Gannan:
Ted co-founded Panviva after almost 20 years in a wide range of senior management, sales and editorial roles in the publishing industry. He identified the need for a better way of delivering employee performance support, which led to the design and development of SupportPoint. Since then he has led the company's growth and overseen SupportPoint implementations for major customers around the world.
About Panviva, Inc.:


Panviva offers Business Process Guidance software that helps guide users, step-by-step, through their procedures in real time. The benefits are shorter training time, greater policy and procedure adherence, accuracy and consistency together with overall lower costs and improved productivity. Panviva's SupportPoint helps many companies around the globe increase revenue and drive higher Operating Income numbers, like HP, Catepillar, Fosters, British Telecom, BUPA and more







Published: Tuesday, July 4, 2006

Printer friendly version