Article : World's Best Contact Centers and Contact Center Practitioners Announced at Stunning Gala Awards Gala
World's Best Contact Centers and Practitioners Announced at Stunning Gala Awards Gala
Las Vegas, NV USA – Friday 2nd November 2012 – ContactCenterWorld.com – The Global Association for Contact Center Best Practices and Networking hosted a stunning industry awards gala where the very best were recognized and honored.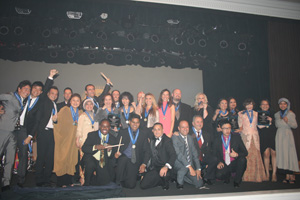 Attendees from China, UK, USA, Canada, Mexico, Ukraine, Portugal, Indonesia, Haiti, South Africa, Russia, Japan, Hong Kong, Indonesia, Malaysia, Poland, Singapore, Australia and others were in attendance I what is regarded by many as the ultimate industry recognition – the annual Top Ranking Performer Awards from ContactCenterWorld.com (find out more www.ContactCenterWorld.com/worldawards)
In announcing the 2012 award winners, Raj Wadhwani, President honored all those who participated and shared their best practices. He reflected on the amazing success of the annual awards and how it was inspired by a quest for sharing amongst contact center professionals.
The awards gala also featured Marveless Mark and a Rock Star theme where attendees were invited to play instruments live on stage.
The 2012 award winners – best in the Contact Center World are as follows:
Best Small Contact Center – Inhouse
-Gold: QNet (Malsyasia)
-Silver: Bank Aljazira (Saudi Arabia)
-Bronze: Acronis Inc. (Russia)
Best Small Contact Center – Outsourced
-Gold: SOFTBANK MOBILE Corp. (Japan)
-Silver: Orion Contact Center Services (USA)
-Bronze: GoResponse (UK)

Best Mid-sized Contact Center - Inhouse
-Gold: DHL EXPRESS (Turkey)
-Silver: Housing & Development Board (Singapore)
-Bronze: Western Power (Australia)
-4th Place: Scotiabank (Jamaica)
-5th Place: MSD (Japan)
Best Mid-sized Contact Center - Outsourced
-Gold: NTT Solco corp. (Japan)
Best Large Contact Center - Outsourced
-Gold: Teleperformance (Portugal)
-Silver: Agero (USA)
-Bronze: VADS Business Process Sdn. Bhd. (Malaysia)
Best Help Desk
-Gold: Singtel (Singapre)
-Silver: Acronis (Russia)

Best Large Contact Center - Inhouse
-Gold: PT. Bank Central Asia, TBK (Indonesia)
-Silver: National Australia Bank (Australia)
-Bronze: DHL Express (USA)
-4th Place: Bank Mandiri (Indonesia)
-5th Place: Guangzhou Customer Service Center, GuangDong Co.,Ltd, China Mobile Group (China)

Best Use of Social Media
-Gold: Guangzhou Customer Service Center, GuangDong Co.,Ltd, China Mobile Group (China)
-Silver: Bank Mandiri (Indonesia)
Best Green Contact Center
-Gold: PT Astra International Tbk – AstraWorld (Indonesia)
-Silver: LoyaltyOne (Canada)
-Bronze: PT. Bank Central Asia, TBK (Indonesia)
Best Customer Loyalty Program
-Gold: VADS Business Process Sdn. Bhd. (Malaysia)
-Silver: PT. Bank Central Asia, TBK (Indonesia)
Best Customer Service - Inhouse
-Gold: Optimus (Portugal)
-Silver: SingTel (Singapore)
-Bronze: Vivint Inc (USA)
-4th Place: PT. Bank Central Asia, TBK (Indonesia)
Best Customer Service - Outsourced
-Gold: Agero (USA)
-Silver: AssisTT (Turkey)
Best Home / Remote Agent Programs
-Gold: ZON (Portugal)
-Silver: LoyaltyOne (Canada)
-Bronze: iiNet (Australia)
Best Recruitment
-Gold: CMC (Turkey)
-Silver: PT Astra International Tbk – AstraWorld (Indonesia)
-Bronze: PT. Bank Central Asia, TBK (Indonesia)
Best Contact Center Executive
-Gold: Malou Caluza, Chief of Network Services QNet Ltd (Hong Kong)
-Silver: Tim Izatt, Customer Services Director Vivint Inc (USA)
-Bronze: Mark Kirby, Managing Director GoResponse (UK)
Best Workforce Planning Professional
-Gold: Vijay Vettiyamkunnath, Head: Campaign Management O'Keeffe & Swartz (South Africa)
-Silver: Anna Yee, Assistant General Manager, Operations Support & Development VADS Business Process Sdn. Bhd. (Malaysia)
-Bronze; Daniel Iyan David Nababan, Assistant Manager Bank Mandiri (Indonesia)
Best Operational Manager
-Gold: Sue Coe, National Client Services Manager, Shine Lawyers (Australia)
-Silver: Ryan Kleynhans, Contact Centre Manager Volkswagen Group (South Africa)
-Bronze: Samantha Panto, Associate Director MassMutual (USA)
Best Supervisor
-Gold: Erich Sunarta, Supervisor PT. Bank Central Asia, TBK (Indonesia)
-Silver: Rennee Smith, Customer Care Leader LoyaltyOne (Canada)
-Bronze: Dillon Pillay, Sales Manager O'Keeffe & Swartz (South Africa)
Best Sales Professional
-Gold: Narado Smith, Team Leader Scotiabank (Jamaica)
-Silver: A. Rakhmat Taufiq, Outbound Specialist, Directorate General of Taxes (Indonesia)
-Bronze: Tetyana Nemyrska, Xerox corp. Dedicated Agent Adelina CC (Ukraine)
-4th Place: DIANI EKA RAHMI LUBIS, Telesales Agent PT Astra International Tbk – AstraWorld (Indonesia)
Best Trainer
-Gold: Yusi Rahima, Supervisor Trainer PT. Bank Central Asia, TBK (Indonesia)
-Silver: Begum Kocaefe, Excellent Service Measurement and Development Unit TEB (Turkey)
-Bronze: Roman Grysyo, The Staff Trainer Specialist Adelina Holding LLC (Ukraine)
Best Contact Center Incentive Scheme
-Gold: OCIS Group (Australia)
-Silver: Affinion Group (USA)
Best IT Professional
-Gold: Marco da Silva, IT Operating Manager, O'Keeffe & Swartz (South Africa)
Best HR Professional
-Gold: Indah Rungkat, Professional HR, PT. Bank Central Asia, TBK (Indonesia)
-Silver: Christine Kopp, Health and Wellness Leader, ACCENT Marketing Services (USA)
-Bronze: Gita Nrangwesty, Manager, Bank Mandiri (Indonesia)
Best Self-Service Technology for the Contact Center
-Gold: SOFTBANK BB (Japan)
-Silver: Turkcell Global Bilgi (Turkey)
-Bronze: FedEx (USA)
Best Technological Solutions developed Internally
-Gold: ZON (Portugal)
-Silver: PT. Bank Central Asia, TBK (Indonesia)
Best Contact Center Design
-Gold: SingTel (Malaysia)
-Silver: ZON (Portugal)
-Bronze: ACCENT Marketing Services (USA)
Best Quality Auditor
-Gold: Karen Greco, Director, Business Optimization, Unified (USA)
-Silver: Mxolisi Dube, Quality Assurance Manager, O'Keeffe & Swartz (South Africa)
Best Direct Response Campaign
-Gold: 4LifeDirect (Poland)
-Silver: PT Astra International Tbk – AstraWorld (Indonesia)
-Bronze: PT. Bank Central Asia, TBK (Indonesia)
Best Outbound Campaign
-Gold: VADS Business Process Sdn. Bhd. (Malaysia)
-Silver: O'Keeffe & Swartz (South Africa)
Best Outsourcing Partnership
-Gold: Turkcell Global Bilgi & Ministry of Labour and Social Security (Turkey)
-Silver: C3/CustomerContactChannels & Universal American (USA)
-Bronze: VADS Business Process Sdn. Bhd. & Tabung Haji (Malaysia)
-4th Place: PT Astra International Tbk – AstraWorld & PT Astra Otopart (Indonesia)
Best Community Spirit Programs
-Gold: Affinion Group (USA)
-Silver: ZON (Portugal)
-Bronze: PT. Bank Central Asia, TBK (Indonesia)
Best Sales Campaign
-Gold: 4LifeDirect (Poland)
-Silver: VADS Business Process Sdn. Bhd. (Indonesia)
-Bronze: PT Astra International – AstraWorld (Indonesia)
Published: Sunday, November 4, 2012

Printer friendly version
PREMIUM

Genesys
http://genesys.com

Genesys® powers 25 billion of the world's best customer experiences each year. Our success comes from connecting employee and customer conversations on any channel, every day. Over 10,000 companies in...

(view more)

Intelenet Global Services

Intelenet Global Services is an Information Technology Enabled Services (ITES) provider delivering contact center and business process outsourcing (BPO) services to global clients. The company provide...

(view more)

Alorica

At Alorica, we only do one thing – we make lives better. How? By creating insanely great experiences for customers — online, on the phone and through social media. From acquisition and sales to custom...

(view more)

Concentrix

Concentrix, a wholly-owned subsidiary of SYNNEX Corporation (NYSE: SNX), is a business services company. We focus on customer engagement and improving business outcomes for over 450 global clients acr...

(view more)