Executive Interview : Cisco Wins Awards for Social Media Use From ContactCenterWorld.com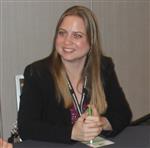 Add Contact
#ContactCenterWorld

Customer Assurance - Social Monitoring Program Owner and Business Analyst Angela Wilson with Cisco presented and won in the category for Best Use of Social Media at the Top Ranking Performers Awardsfrom ContactCenterWorld.com. Wilson took the time to reflect on her experience at the conference which focuses on Best Practices within the Contact Center industry and puts like-minded people together to share ideas and network in a friendly but competitive environment.

ContactCenterWorld: What was your reaction to being named Best Use of Social Media in the Americas Region?
Angela Wilson: We were thrilled to be recognized once again by ContactCenterWorld and our colleagues in the industry. It's a great honor.


ContactCenterWorld: What was the reaction from your Cisco colleagues upon returning to your Contact Center?
Angela Wilson: I was congratulated by my colleagues, our monitoring team was honored that their efforts were recognized, and additional teams and cross functional organizations have shown great interest in leveraging the insights.


ContactCenterWorld: What was the reaction from your boss and can you share with us what they said to you?
Angela Wilson: My manager was thrilled, immediately sharing the news with his colleagues, our Director, and the Vice President of Customer Assurance.


ContactCenterWorld: Has winning this award changed your approach to your job in any way?
Angela Wilson: I am more confident to share the program, and explore the possibilities. On a personal development note, the experience has made me less risk adverse and willing to step out of my comfort zone.


ContactCenterWorld: How did you celebrate your success upon winning the Best Use of Social Media Award?
Angela Wilson: After enjoying the Gala, and returning home, I was congratulated by our local director, who proudly displays the trophy in his office, prominently placed the flags from presenting in my office, and wore the medal for a full week to work (I actually did not, but was encouraged too).



ContactCenterWorld: Are you or your company telling others of your achievement and what are they doing to help promote your win in Americas?
Angela Wilson: Our Senior Vice President of Technical Services shared the win in the year-end review for all of the Cisco Technical Services organization.


ContactCenterWorld: What do you believe you are doing differently in Social Media that others can potentially learn from?
Angela Wilson: We are leveraging insights from social media, not just where we are discussed, or the conversation is directed at us or our handles, but as a pulse of our customers end users and for events that impact their success, not just for response, and product or process improvements, but to trigger proactive engagement with relationship owners to support our customer's business outcomes for a stronger partnership, and greater success.


ContactCenterWorld: When it comes to Social Media what are some of the "rules" people need to know about?
Angela Wilson: If you have a presence in social media, your customers expect you are listening. Be transparent, use it to inspire, and always strive to close the loop.


ContactCenterWorld: Do you think being named a winner in this category might have an impact on what others are doing in Social Media?
Angela Wilson: Possibly as the differentiator for the particular program we highlight moves beyond listening and responding, or leveraging social for marketing, to creating the opportunity for better customer intimacy.


ContactCenterWorld: Plenty of ideas were shared during the conference, how have you been able to take some of these Best Practices and introduced them into your Contact Center?
Angela Wilson: Stepping aside and letting the team impact improvements and direction, recognizing employees that continually deliver and are ready to stretch, and embrace the risk of enabling the agents to act directly with supporting guidelines versus stringent process.


ContactCenterWorld: Outside of your own category of Best Use of Social Media, what was another category that captured your interest and why?
Angela Wilson: Best use of Self-service Technology - Not because we don't do this, but we've done and do self-service in so many ways, it is great to see how others approach it, their understanding and experience with customer expectations around it, how they leverage opportunities in different ways, and/or revive a previous technology for a new solution.


ContactCenterWorld: How would you describe your journey to this point to someone who is considering entering the Top Ranking Performers Awards for next year?
Angela Wilson: Don't be afraid to embrace the opportunity. Applying for the award allows you to take a critical eye to your program, and articulate the value to others in ways you may be already sharing, but for consumption by different audiences and for executive recognition. Requiring the presentation of your best practices in person for final judging is a unique opportunity to test the pulse of your colleagues in the industry, expose you to other opportunities and can be a great way to develop and recognize talent in your organization.


ContactCenterWorld: How are you preparing for the World Championships in
Angela Wilson: We have leveraged the work to apply for additional awards in industry, taken the time to further developing our message, and leveraged opportunities to present for additional audiences.


ContactCenterWorld: Besides the award, what has been the best part of your experience with ContactCenterWorld.com so far?
Angela Wilson: The non-sales driven, open sharing of best practices at the conference, the positive, inspiring atmosphere, and the feeling of investment in the success of the industry, both the customers' and the employees' experience.

#ContactCenterWorld

---
About Angela Wilson:
Angela Wilson is a Customer Assurance - Social Monitoring Program Owner and Business Analyst with Cisco and a gold medalist at the Top Ranking Performers Awards in 2016. She presented and won on behalf of Cisco in the Best Use of Social Media category.
About Cisco Systems (USA) Pte Ltd:


Cisco provides Unified Customer Contact solutions that extend customer care beyond simple phone transactions and the traditional contact centre to unique content-rich customer centric experiences. These solutions let you uniquely personalize communication with individual customers through a variety of media including voice, Web, e-mail, and video.





Published: Thursday, August 10, 2017

Printer friendly version
Sitel

As caring for customers becomes the differentiator that drives consumer spend, Sitel is advancing its position as a world leader in outsourced customer care innovation. With 30 years of industry exper...

(view more)

Alorica

At Alorica, we only do one thing – we make lives better. How? By creating insanely great experiences for customers — online, on the phone and through social media. From acquisition and sales to custom...

(view more)

AssisTT

AssisTT, serving in 20 cities and 25 different centers throughout Turkey with approximately 10 thousand employees, is a customer contact point. It also serves as a strategic companion to many public o...

(view more)

Turkcell Global Bilgi

Turkcell Global Bilgi was established as a Turkcell Group company in 1999. It provides services from a total of 18 locations, 14 in Turkey, 4 in Ukraine with over 12.000 employees with a seat capacity...

(view more)