Executive Interview : GOLD Award winners 2015 - Interview With Herny Novianti from PT Bank Central Asia Tbk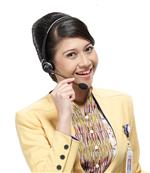 Add Contact
Bank Central Asia is eyeing up a number of different awards in Las Vegas this coming November in the Global Top Ranking Performers Awards. Herny Novianti, a Customer Service Professional, will be presenting her Best Practices after capturing gold in the regional Conference in Singapore. She spent some time with ContactCenterWorld.com to discuss her experience in the awards process so far.

Can you tell us about the company you work for, the center you work in and your role?
Bank Central Asia, Tbk is the biggest and largest private Bank in Indonesia. The Bank, which was founded in 1957, offers a wide selection of individual business products and services to its customers. The bank holds the vision to be the bank of choice and a major pillar of the Indonesian economy. BCA's total assets reach over 50 billion USD. BCA is supported by 1.079 branches, with the total number of banking and credit card customers reaching 12,7 million. Operating with 13.893 ATMs and more than 263.399 point-of-sale (POS) devices throughout Indonesia, as well as facilitating internet, mobile and telephone transactions.

Halo BCA holds the vision "To be a Contact Center that is reliable in providing continuous quality services, exceeding customer expectations and meeting the standards of world-class Contact Center services". To achieve this vision, Halo BCA has three missions : (1) To provide competent human resources and innovative and appropriate technologies, (2) Implement a world-class Contact Center, (3) Provide the best banking solutions in order to create a very satisfying Customer experience. Halo BCA is designed to be able to provide fast and accurate solutions. We operate 24/7 and can be reached by phone, email, fax, video call, Video Banking, Twitter and web. Halo BCA services : banking, credit card, electronic banking, credit consumer, bancassurance, Islamic banking/syariah branches, outbound calls and many more. The key to a successful Halo BCA is our reliable team with up to date technology that can provide any solution to any problem customers may have. Halo BCA contact center is the channel, PT Bank Central Asia, Tbk is the organization and also the community where we are grow and at the end bring value to the country level. Halo BCA has received many awards in Indonesia and at the world level. Halo BCA has become a Role Model for branches and the contact center industry. Many companies in Indonesia and from other countries visit our contact center for benchmarking and sharing with us. So in summary, Halo BCA's role is supporting services, providing value added interaction, support for customer growth, and contributing to all aspects of business and country.

Now I have the responsibility of being a customer service professional for prime customers and video banking.


Which Top Ranking Performer Award did you enter and why did you choose it in the first place?
Best Customer Service Professional in the Contact Center World awards, because this event is the international top level award in my company.


You won one GOLD medal - how do you feel about being a champion?
I won one a GOLD medal for the best customer service professional category this year, I feel so lucky because this is my first year joining and I got my first gold. I'm so proud to be part of this precious conference.


Can you tell us about the sense of pride you have now that you won a medal for your company and country?
I'm so grateful to be bringing home a gold medal, so it can help build a continuous spirit for my co-workers and set a high standard of service representative of the company. I'm so happy that I can be the person who is inspiring them to always be competitive and gain more value for themselves so they are prepared to join an international award representative of Indonesia.


How does your company justify your involvement in this process? i.e. how do they know its valuable enough to participate?
Yes, our company is very selective in choosing the people who have ability to join and participate in this competition. This event is very prestigious and can build our company image. Our company and management has qualifications to choose and finally decide to send our people to compete such as :

A) The performance of each person from our company

B) The ability to speak in English

C) Personal confidence, attitude, etc.

Besides that our management made every preparation for the participants to give the best presentation and earn their best result.


For those who are considering entering these awards, what would you say to those who are not sure about the value of these particular awards?
The ContactCenterWorld Competition event is not just average, but it's the competition that we always await every year. There are many reasons as to why our company always participates such us :

A) This awards is world class and prestigious competition.

B) We can meet and learn other best practices to be implemented in our company and center to improve performance and enrich our value.

C) Represent our contact center and nation to the world that can build our image.

So, don't ever doubt about joining and being a participant in these awards because you will never lose.


Lastly, as you have been to one of our events, how would you describe the ideas from fellow presenters?
Every presenter is very interesting and they come from other companies, industries and countries. They are very unique and sometimes funny with their characters and their own style. Also, many brilliant ideas come from them that we can get and implement in our center. We recommend every participant attend each event.
---
About PT. Bank Central Asia, Tbk:


BCA was first founded on 21 February 1957 as Bank Central Asia NV. A lot of things have happened since then-the most significant of all being perhaps the Asian monetary crisis in 1997. Although this crisis had a tremendous impact on Indonesia's entire banking system, in particular it affected BCA's cash flow and even threatened its survival. Panic rush forced the bank to seek assistance from the Indonesian government. The Indonesian Banking Restructuring Agency (IBRA) took over BCA in 1998. Thanks to its management's business sagacity and shrewd decision making, full recovery was accomplished later in the same year. In December of 1998, third-party funds were back at the pre-crisis levels.






Published: Tuesday, August 25, 2015

Printer friendly version
Ufone

Pakistan Telecommunication Company Limited (PTCL) that started its operations in January 2001 under the brand name 'Ufone'. As a result of PTCL's privatization, Ufone became a part of the Emirates Tel...

(view more)

Alorica

At Alorica, we only do one thing – we make lives better. How? By creating insanely great experiences for customers — online, on the phone and through social media. From acquisition and sales to custom...

(view more)

AssisTT

AssisTT, serving in 20 cities and 25 different centers throughout Turkey with approximately 10 thousand employees, is a customer contact point. It also serves as a strategic companion to many public o...

(view more)

Turkcell Global Bilgi

Turkcell Global Bilgi was established as a Turkcell Group company in 1999. It provides services from a total of 18 locations, 14 in Turkey, 4 in Ukraine with over 12.000 employees with a seat capacity...

(view more)