WHAT CAN WE HELP YOU FIND?

All

Articles

Tips

People

Company

Jobs

Video

Blog

Gallery

Glossary

Store
Executive Interview : GOLD Award Winners - Interview With Elisangela Rosario Santos from Oi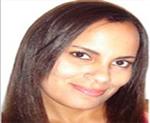 Add Contact
#ContactCenterWorld

Elisangela Rosario Santos with Oi telecommunications in Brazil is considered a veteran of the Top Ranking Performers Awards. Her company claimed a number of gold medals in the Americas Regional Conference. She sat down with ContactCenterWorld.com to discuss her success in Orlando in 2015.

Can you tell us about the company you work for, the center you work in and your role?
I´m a Customer Service Manager at OI, a telecommunications provider in Brazil.


Which Top Ranking Performer Awards did you enter and why did you choose them in the first place?
America - Best Customer Service Medium and Large Call Center and Best Sales Campaign.


You won three GOLD medals - how do you feel about being a champion?
It is a great sensation, I felt the opportunity to compete in Orlando, and the prize, is a good way to learn with other competitors and to share ideas. In additional, a way to have my company´s effort recognized for our hard work.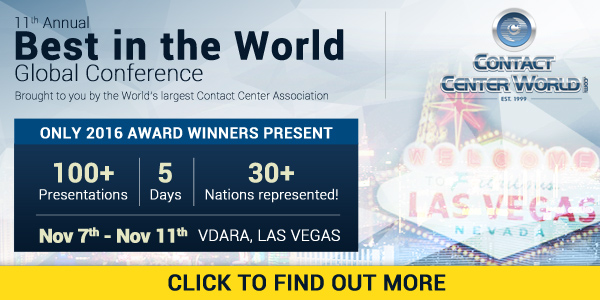 Can you tell us about the sense of pride you have now that you won a medal for your company and country?
I feel special, proud of our job, our team, our presentation in Orlando and a real winner.


How does your company justify your involvement in this process? i.e. how do they know its valuable enough to participate?
The company justifies my participation with our results in the last year or event, and from our meetings after the event where we have shared the best practice.


For those who are considering entering these awards, what would you say to those who are not sure about the value of these particular awards?
It is a great opportunity to learn with others players, to share knowledge and ideas with other players and to be recognized.


Lastly, as you have been to one of our events, how would you describe the ideas from fellow presenters?
Don´t lose the opportunity to be part of our industry´s evolution, for me the event is that, a way to make our industry better by our projects, benchmarking and ideas.



About ContactCenterWorld.com
ContactCenterWorld.com is the Global Association for Contact Center and Customer Engagement Best Practices and is the largest networking group for contact center industry professionals with over 145,000 professional members. Founded in 1999, ContactCenterWorld.com helps members improve service, performance, reduce costs, enhance sales and employee engagement.
Find out more at www.ContactCenterWorld.com.
Download our iPhone/Android app – details at www.ContactCenterWorld.com/App

About the Top Ranking Performer Awards
The annual Top Ranking Performer Awards was established in 2006 and is regarded by some as the Olympics of the contact center world as companies from all around the world compete for these prestigious awards and recognition. The 2016 awards are open already – details at www.ContactCenterWorld.com/worldawards

About the Top Ranking Performers Conferences
The annual Top Ranking Performer Conference was co-established in 2006 to run alongside the Top Ranking Performer Awards and is the most recommended industry conference in the contact center World. Delegates from all over the world attend and hear best practices shared by those who run centers. 4 events are run annually – one in Asia Pacific, one in Europe and 2 in North America – details at www.ContactCenterWorld.com/conferences
---
About Oi (telecommunications):


Oi is a pioneer company in offering converging telecom services in Brazil. It offers traditional telephone services, local and long distance calls, mobile phone, internet, public telephones and satellite TV
Published: Monday, April 4, 2016

Printer friendly version
Industry Champion Award Leaderboard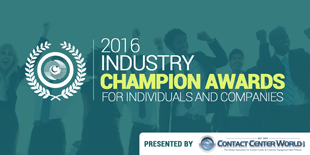 Contact Center Video News