WHAT CAN WE HELP YOU FIND?

All

Articles

Tips

People

Company

Jobs

Video

Blog

Gallery

Glossary

Store
Executive Interview : Members Share Customer Service Stories Of Note
We all love a good customer service story so ContactCenterWorld.com asked some of its members from around the world to share some personal favorites from 2014. Enjoy the read, some are truly wonderful, others did not experience one of any significance which leaves the "Wow" experience still out there to be delivered in 2015.
"There wree no specific stories I can remember over the phone. My great story of service was face to face at hotel Vdara in Las Vegas when I attended the 2014 Top Ranking Performers Conference from ContactCenterWorld last November. My experience was wonderful. My room was not ready when I arrived from the airport at 10:30 am. I was told that it would be ready in about 45 to 60 minutes. When I returned to the counter after 75 minutes, there was no one available to greet me for about 2 minutes and I was standing in the priority line. Then the day manager saw that I was not served and came to me right away. He was sorry for my wait . When he saw that my room was not ready yet, he decided to upgrade me to a corner suite to apologize for the delay. He also made sure by calling my room that everything was all right. Now that is what I call a "royal customer service". This made me happy enough to share this experience on TripAdvisor. Customer experience is all about caring and finding a way to correct a situation if something happens. I understand that if you have the necessary empowerment to handle difficult situations, this becomes an added value. CSR (Customer Service Representatives) should also be given certain options to better serve their customer. This cannot apply to all industries, but most of them should rethink what is customer experience in 2015."

- Paul Lang, 'Senior Vice President', Unify, United States

---

"Unfortunately, we did not have a "great" story of service in the past year."

- Christopher DeVany, President, Pinnacle Performance Improvement Worldwide, United States

---

"I often receive excellent service from individuals, despite their being limited by e.g., the company line or an inherent failure (from my perspective) in its methods or processes. Personally, and in the past year, I've received excellent service from individuals working for Royal Bank of Scotland and Volkswagen Financial Services."

- Ian Colville, Product Manager, Aculab, United Kingdom

---

"American Express: I called AMEX because I had lost my credit card. The way they answer the phone, readily having my information in front of them to expedite the call, has always been consistently great service! The agent I dealt with sounds fantastic on the phone - personable, upbeat, knowledgeable and confident. More importantly, I received a replacement card in just 2-days!!! AMEX's customer service from the front end call to the back-end fulfillment is stellar."

- Hui Wu-Curtis, Director, Business Results - Shared Services, Choice Hotels International, United States

---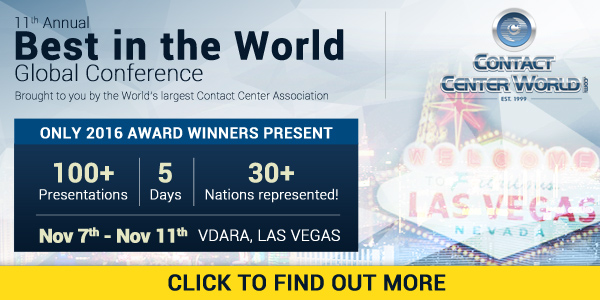 ---

"Expedia for rebooking a flight when a personal event caused me to cancel my original flight. The call was routed to a third party and I was pleasantly surprised on how they managed to provide the right information, precise changes that were made within 15 minutes of me calling, that's what I call good service. I wrote back and gave them compliments as it is rare to have outstanding call handling skills and pleasant clear communication."

- Mohan Nair, Project Manager, Nair Consulting Group, Canada

---

"An advanced credit and risk management company with more than 600 employees and a sophisticated contact center infrastructure, GERI HDP needed to upgrade its contact center capabilities in a very competitive industry. The company wanted to integrate its contact center with enterprise-wide operations without losing what it had already accomplished – it wanted to build on its existing infrastructure and what it knew already worked.

Based on these priorities, GERI HDP chose ASC telecom AG and its partner ADABUS to install a workforce optimization solution compatible with its existing infrastructure. The solution addressed GERI HDP's needs for improved agent training, analysis of customer interactions for a high-volume contact center, streamlining internal processes and implementation in a seamless manner.

Speech analytics helped GERI HDP retrieve the most critical interactions for training through best practices, and eLearning provided agent instruction on a customized basis. Workforce management ensured the right agent was assigned to the right job at the right time.

Moreover, ASC's WFO suite provided critical intelligence for the entire enterprise, enabling top executives to optimize processes and analyze trends on a real-time basis. For financial institutions, seconds can mean the difference between success and failure.

Mr. Francesco Sorgato, IS Manager of GERI HDP and Project Manager for the implementation of the ASC solution, said, "Our challenge, to integrate a complex infrastructure, an enterprise VoIP system and a third-party CTI environment, was seamlessly accomplished by ASC's solution in a stable, reliable and effective manner.""

- Verena Wissel, Product Management, ASC telecom AG, Germany
Today's Tip of the Day - All Customer Touchpoints Need To Provide Service
Published: Wednesday, February 11, 2015

Printer friendly version
Industry Champion Award Leaderboard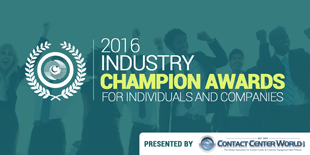 Contact Center Video News