Industry Research : Beyond The Point Of Purchase - A Look At Behaviors That Build Brand Loyalists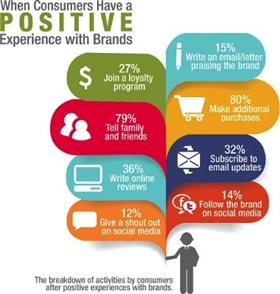 Traditionally, CMOs (Chief Marketing Officers) have focused attention on acquiring customers - tracking hundreds of metrics like cost per impression, lifetime value, channel value and other data points to make the customer acquisition process as scientific and effective as possible. Marketing teams analyze campaign spend and results to inform the next campaign - a repeatable cycle for customer acquisition.
But how much time do marketers spend on understanding and engaging customers across the entire lifecycle - from prospect to acquisition to new purchases and even collections? One of the biggest challenges for brands is knowing how and when to interact with consumers after a purchase has been made. Brands that focus purely on acquiring new customers are missing the opportunity to create loyal brand advocates who will return to brands for repeat purchases. Considering the entire lifecycle, CMOs looking to maximize return on investment need to understand how to best engage with customers regardless of where they are in the sales funnel or what channel they are using.
In addition, the role of the CMO is shifting and now is responsible for an ever-expanding number of sales and service touch points and the fragmentation of customer segments. This broadening of the CMO role will alter the way marketing functions in an organization. The CMO has a larger role representing the "voice of the customer" across a brand's organization, significantly impacting brand loyalty efforts.


To better understand the habits of today's empowered consumers, ACCENT Marketing surveyed more than 1,000 consumers throughout the United States.


Highlights from the survey results include:


Nearly half of consumers interact with brands after a purchase

86 percent of consumers say that it's important to have a positive experience after making a purchase

Word of mouth marketing is still critical with 79 percent of consumers telling family and friends when they have had a great experience with a brand

93 percent of consumers claim that a positive response or special offer can help restore the company's reputation after a bad experience

Brands can't solely focus on mobile for interaction post-purchase. Only 26 percent have used their phones to contact a company through a mobile app with service question after making a purchase
In short, ACCENT Marketing Services shares this research with the intent that chief marketing officers can better understand the changing landscape of consumer engagement and how their targeted actions can maximize the return on investment for marketing campaigns.
---
About StarTek:


StarTek is the customer care expert in business process outsourcing. Our job is to improve and manage the customer experience for our clients. StarTek's suite of solutions includes sales, order management and provisioning, customer care, technical support, receivables management, and more. We offer clients a variety of multi-channel customer interaction capabilities including voice, chat, email, IVR and back-office support. Headquartered in Denver, Colorado, StarTek has delivery centers onshore, near shore, offshore and virtually through its StarTek@Home workforce.







Published: Thursday, February 26, 2015

Printer friendly version
TechMahindra

Tech Mahindra is a leading provider of solutions and services to the telecommunications industry with a majority stake owned by Mahindra & Mahindra Limited, in partnership with British Telecommunicati...

(view more)

TransPerfect

With annual revenues of more than $400 million, TransPerfect is the world's largest privately held provider of language services and technology solutions. From offices in more than 85 cities on six co...

(view more)

Ufone

Pakistan Telecommunication Company Limited (PTCL) that started its operations in January 2001 under the brand name 'Ufone'. As a result of PTCL's privatization, Ufone became a part of the Emirates Tel...

(view more)

Saudi Telecom

Saudi Telecom Group is a Saudi Arabia-based telecommunications company that offers landline, mobile and internet services.