Industry Research : One Approach To Competing In The ContactCenterWorld.com Awards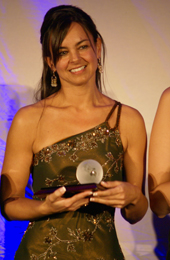 Nathalie Milot
Regional Manager -
Residential Sales & Service
Bell
ContactCenterWorld.com's Top 100 World Awards are extremely popular to start 2008. We've had so many companies contact us to let us know that they are holding their own version of the awards program internally to decide who should represent them at the upcoming Regional Awards in June 2008. One company that is doing this is Bell Canada, a company that provides connectivity to residential and business customers through wired and wireless voice and data communications, high speed and wireless Internet access, IP-broadband services, e- business solutions, local and long distance phone and directory services. We went back to them with a list of questions as to why they chose to decide their entries using this format. We are more than happy to share their responses with the rest of our 108,000 members.
Managing Editor at ContactCenterWorld.com, Chris Prystanski, touched based with Barbara Blondeau, their Communcations Manager for feedback on the following questions.

How as a company did you decide to hold a competition to select which representatives to enter in the ContactCenterWorld.com Regional Awards?
A culture of high performance excellence is pervading every employee who forms our company and our raison d'être, our customers. The Contact Center Award was an opportunity to innovate and maintain a high level of excellence, an ambitious but achievable challenge. We launched an internal challenge to both employees and leaders to strive for the Agent, Supervisor and Leader categories as well as for the overall Contact Center. The nominations were based both on achieving or exceeding the business objectives and the attributes and values that drive our company. This approach aimed, in parallel with internal recognition programs, to mobilize all employees for external recognition as worldwide best in class.


How are you incentivizing these awards to allow for as many company entrants as possible?
Pride. We have adopted a Pridebuilder approach that perfectly suits our call center environment. We invited and challenged our employees to achieve new heights of excellence for the honor and pride of representing their company on the world stage. We appealed to the employees' desire to become ambassadors of excellence across international borders. By launching this challenge, we spread a very positive message.


---
Sponsor message - content continues below this message

2019 '14th annual' Global Contact Center World Awards NOW OPEN!

Enter your Center, Strategy, Technology Innovation, People and more into the ONLY TRULY GLOBAL awards program - regarded by many as being like the Olympics for the Contact Center World! Join the best from over 50 nations and compete for the most prestigious awards out there!

---
Content continues …. What has the response been thus far from employees within your company?


First, this challenge has become larger than life. We had a very high focus gala at which we unveiled the top 3 semi finalists within each category. Finally, at the gala, we announced the 2 finalists in each category.


How are you judging the awards internally?
Nominations for peers/leaders were based on personal achievements and leadership attributes. A web-based nomination has been created for each category with a list of questions. A rigorous and objective selection process has been built to align with our internal recognition and incentive programs along with our internal corporate values and DNA. All our internal semifinalists have been approved by the management team.


How as a company do you intend to recognize the category winners?
Each finalist has been honored at the annual gala with a trophy designed especially for them.
As well we will recognize them for this prestigious honor at the unveiling of the finalists in January and then for the final in November 2008.


How as a company did you feel that you benefited from holding an internal awards program?
Launching such a challenge is mobilizing employees to target all our own goals: excellence in the best interest of our client. Initiatives that promote excellence are important in business. We believe in the honor, prestige, and distinctiveness of the Contact Center World Award. Although we are submitting several candidates, it goes without saying that everyone cannot expect to be selected as a semi-finalist as it would diminish the value and international distinction of the honor. Nevertheless, we recognize and praise the performance of several who have been recognized by peers and leaders as ambassadors for inspiring their surroundings. Regardless of the CCWA outcome for all of them, this is a Pride investment and benefit to our company.


Can you provide us with some comments from those who entered the internal awards and from those who won their respective categories? We'd like to hear from them about what they enjoyed about the process and some thoughts about how others might benefit from a similar experience.
The comments are, at this stage, common to all: they are all very touched and honored to have been nominated and recognized as ambassadors of excellence. This experience has made them aware of the influence they bring as a contribution within their respective teams to satisfy the customer. For now, at this preliminary stage, candidates are concentrating on completing their nominations. It will be our pleasure and privilege to share their feedback if they are selected for the next stage.

For more information on The 2008 Contact Center World Awards program, please visit: https://www.contactcenterworld.com/worldawards/
For information on hot to enter the 2008 Contact Center World Awards, please visit: https://www.contactcenterworld.com/worldawards/awards-application.asp
To read about what it means to particpate in the Contact Center World Awards, we would suggest you - Click Here
Published: Friday, January 11, 2008

Printer friendly version