WHAT CAN WE HELP YOU FIND?

All

Articles

Tips

People

Company

Jobs

Video

Blog

Gallery

Glossary

Store
Overview
 

Welcome to The Industry's Most Coveted Awards Program from the World's Largest Contact Center Association...

  
 
2017 BEST IN THE WORLD AWARDS
The 2017 '12th Annual' ContactCenterWorld Top Ranking Performers Awards are OPEN!
... where Champions are Crowned, The Best Professionals Recognised, Teams and Companies Awarded World Class Performers Medals and the best of the best compete, benchmark, learn and share from each other in the accompanying MasterClass conference sessions at the respective Top Ranking Performers Conference!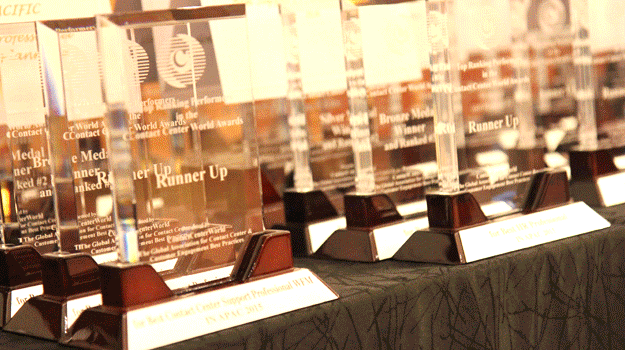 The ONLY truly Global Awards and Recognition Program in the Contact Center World!
This is UNIQUE. You will gain VALUABLE INSIGHTS into world class practices from contact centers and professionals across multiple INDUSTRY SECTORS. Involvement helps FOCUS your business performance and strategy.

Past International entrants include (this is a partial list from thousands who have entered)
DHL
AssisTT
Vivint
New York Life
HGS
Abtran
iiNet
FedEx 
Acronis
True touch
Sitel 
CLP Power HK
Vodafone
ANZ
ListenUp Espanol
Cisco
SingTel Optus
Holiday Autos
National Bank of Greece
Commonwealth Bank
Directorate of Taxes
CCC
VADS BPO
Airmiles 
Softbank
Truphone
4LIfe Direct
SALT (Orange)
Fujitsu
Merck
Humana
Citibank
Turkcell Global Bilgi
Bank Central Asia
Amway
China CITIC Bank
Westpac
Garanti Bank
CEZ
NOS
Callzilla
MassMutual
Acticall
Randstad
Accenture
Hydro One
Yapi Kredi Bank
Teleperformance 
Oi
Bank of New Zealand
China Telecom
Sage 
Minacs
Clientele Life
National Australia Bank
IGT
Cara
Lloyds
ING
Turk Economic Bank
Bank Aljazira
HP
Infomedia
La Caixa
Softline Pastel
Bank Mandiri
Rail Europe
Service Queensland
Nedbank
Oppenheimer Funds
Scotiabank 
NTUC
Sony
VW Group
iSelect
Starwood Hotels
Zurich Insurance
Alorica
Intel Corp
Samsung
Kroger
Bank of Queensland
Astra International
QNet
Qatar Telecom
Siemens
SMBC
thousands have entered over the years across ALL industry sectors and with centers with as few as 5 agents up to 50,000+!

Last date to enter the 2017 Awards is 30th November 2016
Why Enter!
Last date to enter the 2017 Awards is 30th November 2016
The Process - Fair, Unbiased, Easy to Follow!

STEP 1
Entrants select up to 34 awards and complete the form online and submit. 
One entry fee covers a center for 1 of each award!
STEP 2
Entries judged by professionals around the world and scored. No details about who the entrant is goes to the judge so they are judging what you are doing NOT who you are!
STEP 3
Shortlisted finalists invited to one of 3 regional events to present their entry formally in front of an audience. Judges score and medals / awards presented.  
STEP 4
GOLD winners from each region then compete in the Global awards in Las Vegas where they again present live and are judged. The Best in the World are announced at this event
We pride ourselves on the integrity of the process. It means that centres of all sizes from any nation can compete in a fair and unbiased way.
We have many checks and balances to support this.
At the conference where finalists present, we use electronic scoring systems, again with substantial checks and alerts to ensure a fair judging process and eliminate the boas that sometimes comes with other awards. To us, the awards should be fair, unbiased and offer equal opportunity to everyone.
Entrants complete their initial submission on line. It's judged by several online judges and the top are invited to the regional finals (conference) to present. If they cannot attend we can't award them any ranking or recognition - the online submission is a qualifying round. Winners at the regional events go on to the World finals and at the end of each year we announce the best in the World (see previous winners here)
Group Award
New for this year we will introduce a Group Winner - Overall Best in the Region based on points! For every award you win in the regional heats, you will earn points. The overall company with the ost posints is named Overall Regional Champion of the Year. You earn 5 points for each GOLD win, 3 points for a SILVER win, 2 points for a Bronze win and 1 point for a Runner Up Award. If your company earns 25 points in the regional heats, you also win 2 FREE tickets to any event of ours (full conference pass excluding travel/accommodation)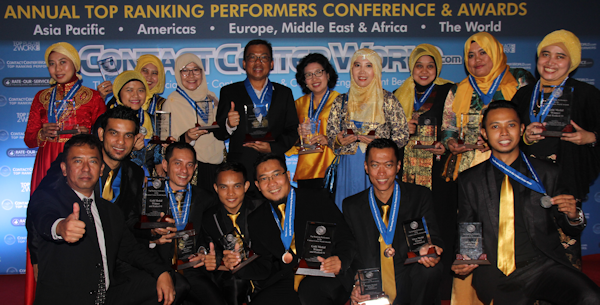 The process is easy and allows you to have different people enter for different awards all for one low entry price per center of only $195 (Canadian) if you register on or before 30th September and $295 (Canadian) after 1st October 2016.
NOTE:
Remember! These Awards are more than just an award, they are a statement to show your status and help you continue in your quest to be world class - no other award program allows you to benchmark, win awards and learn new ideas at the same time as the 2016 Top Ranking Performer Awards from Contact Center World
Last date to enter the 2017 Awards is 30th November 2016

Highlights from last years' World Finals in Las Vegas 2-5th November
If you are interested in Best Practice Awards and learning new, innovative ideas, then book a place at the 2016 Best in the World Conference taking place 7-11th November in Las Vegas. Find out more at this link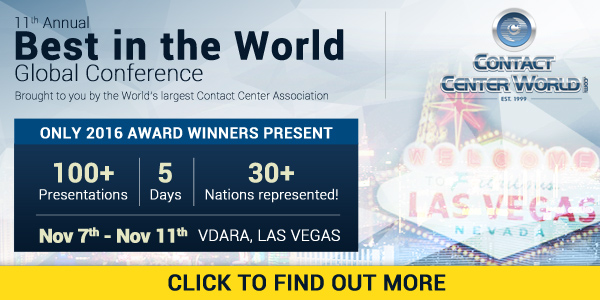 Related Articles
It was great to compete against MTK. Such a wonderful person and shared great insights (loved the idea of using whatsapp as a way of communicating ...


July 26, 2016 1:12 PM EST
---