Employee Engagement Awards

2019 SPRING/SUMMER EMPLOYEE ENGAGEMENT AWARDS - TopPlace2Work.com
... the AWARDS PROGRAM OPEN TO EVERY COMPANY!



the employee engagement award
HAPPY STAFF = HAPPY CUSTOMERS!
Every employee wants to work for a Top Employer and every Employer wants to be seen as a Top Place 2 Work!

The Employee Engagement - TopPlace2Work award from the world's largest Contact Center and Customer Engagement Association gives you the opportunity of winning an award for being a top employer in your country! It's easy to participate and every employer gains immensely valuable data in the process! Find out more below!
The benefits!
wHY YOU SHOULD ENTER THIS PROGRAM!
MASSIVE RECOGNITION

Recognition from peers worldwide

NEW STAFF

Helps you attract NEW Staff and keep employees motivated

FEEDBACK

You get fantastic feedback from staff

EXPOSURE

Shareholders, investors and existing/potential customers see this!

DATA PRIVACY

Its 100% confidential - only you know the actual data

PRESTIGIOUS AWARD

and, of course you win a prestigious award that shows how much better your company is!

This award is presented to the organizations with the overall highest employee engagement scored verified and validated by ContactCenterWorld.com using the fantastic TopPlace2Work survey program!
Entering is easy! It Only Takes less than 5 Minutes


STEP 1
Sign up at TopPlace2Work.com and select the 'Basic' TopPlace2Work Service - you will then only pay the small entry fee for the awards if you want to compete - see point 1 below! (if you also wish to receive certification and more in depth data from the program, there is a Premium option at a small additional cost - see TopPlace2Work.com for details)

STEP 2
Use one of the easy ways to let your staff know you are entering this award and invite them to take part - they fill in a confidential survey

Thats it! we gather results and allow you to see how you did and where you scored in over 24 key employee engagement metrics and you have amazing data!


At the end of the competetion, we award the Top Honours to those in the following classes (one per country):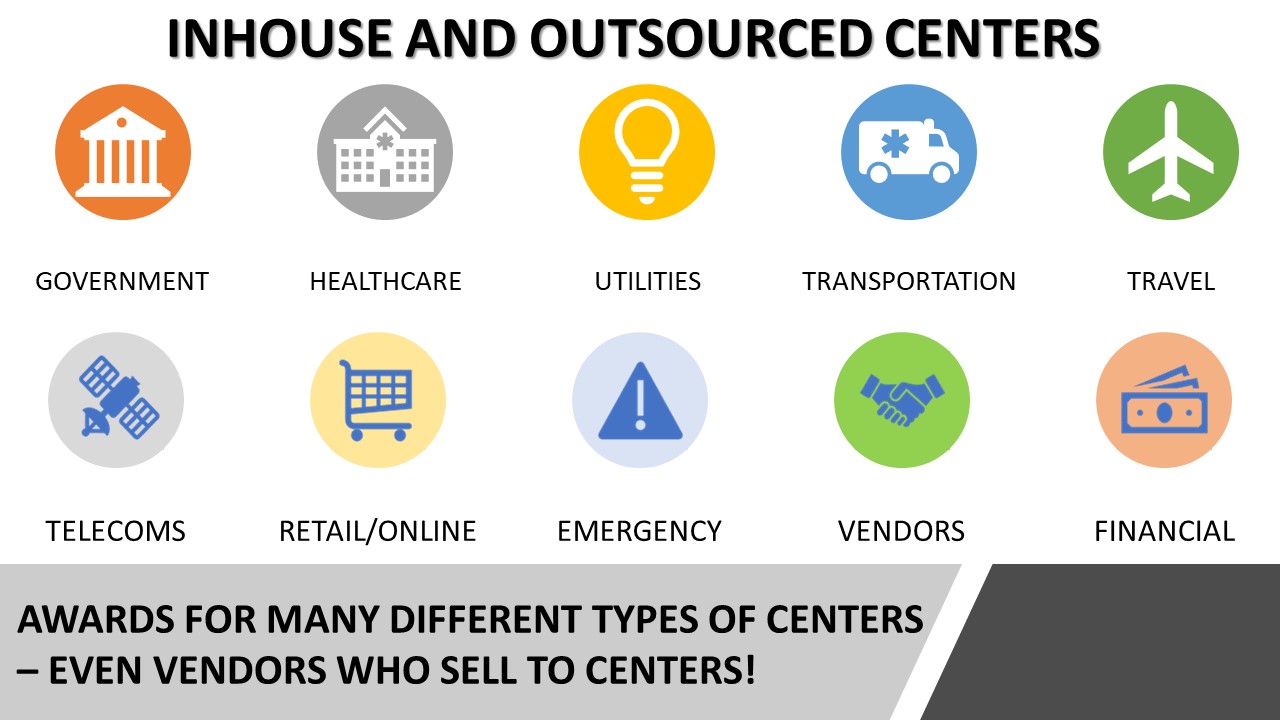 - we split entrants in the categories above into different sizes as follows
Small Center (under 50 FTE agents)
Mid Sized Center (51-249)
Large Sized Center (250-999)
Mega Sized Center (1000+)
Top Industry Vendor (under 50 staff)
Top Industry Vendor (over 50 staff)

Winners get the chance to claim they run the center or company with the highest engagement score in their country!
This will help you show your staff you care about their well being, show shareholders, customers and potential clients. Plus, this award will help you attract new staff who want to work for a caring industry leader!
2018 WINNER PROFILE
Realpage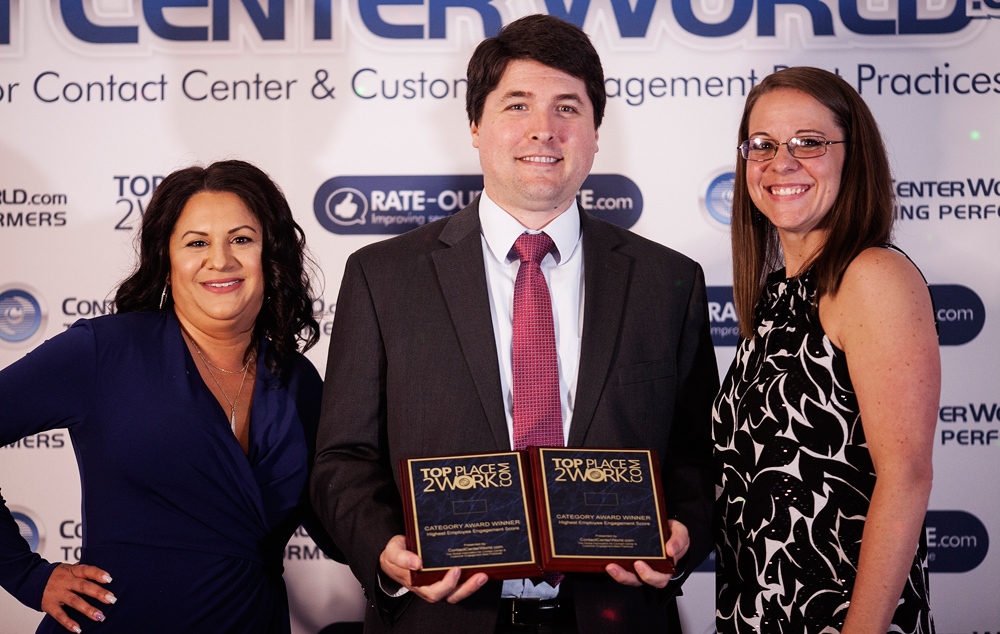 ---
program rules
process and rules of the program
We invite any center or vendor to enter at a nominal fee of just $395 USD per location - just register at TopPlace2Work.com and we will contact you to confirm you are entering then will send you a link for online payment.


The winners will be centers with the highest overall rating with valid scores by employees (staff) - we do some checks so make sure staff put in correct data for validation!


A valid score is one where the employee has left their details i.e. can be verified. Anonymous entries do not count


Entrants must ensure that their employees use the online tool


ContactCenterWorld.com will manage the entire program online.


The winners will be the organizations (separated by sector/size as stated above) with the highest employee engagement score validated by ContactCenterWorld.com


For all entrants the entry deadline is as follows:
For ENTRANTS based in
- North or South America 30th April
- Europe, Middle East & Africa 30th May
- Asia Pacific / Oceania 30th June



Winners will be announced at the Global NEXT GENERATION Contact Center & Customer Engagement Best Practices event in their region (details here

https://www.contactcenterworld.com/conferences

). If you choose not to attend, we will let you know the day after the award ceremony and can ship your award by courier (you are responsible for costs of shipping and any customs/duties)




The judge's decision is final.

ENTER NOW