WHY SPONSOR?

This unique and exclusive series of global conferences is yet another ContactCenterWorld industry first. As a leader we are proud to launch this innovative program to enhance the industry and we have developed a range of opportunities for organizations who provide products and services to the contact center community to showcase their solutions.

ContactCenterWorld has a diverse, growing membership of industry professionals around the world and our geographic reach surpasses every other resource for the industry, thereby providing a unique opportunity for local as well as truly global contact center solutions providers. Add to this the support from our partners - premiere industry associations around the world - and you have a unique opportunity to reach a very targeted audience.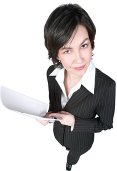 There are so many reasons to sponsor such a prestigious industry event:
To promote your products and/or services
To position your solutions with industry leaders
To show you support the industry initiative for image enhancement
To congratulate the winners and celebrate their award winning achievements
Because this is a unique event, sponsors also benefit from several very unique opportunities to share their knowledge and expertise. Delegates are senior executives from the very best contact centers in their respective region.
There is only one event per region every year and if you miss out on the opportunity you will have to wait another year!
For more information visit our information for vendors section at this page
www.ContactCenterWorld.com/sales
---
Become a JudgeWhy Sponsor? | Sponsorship Types | Request Prospectus
---